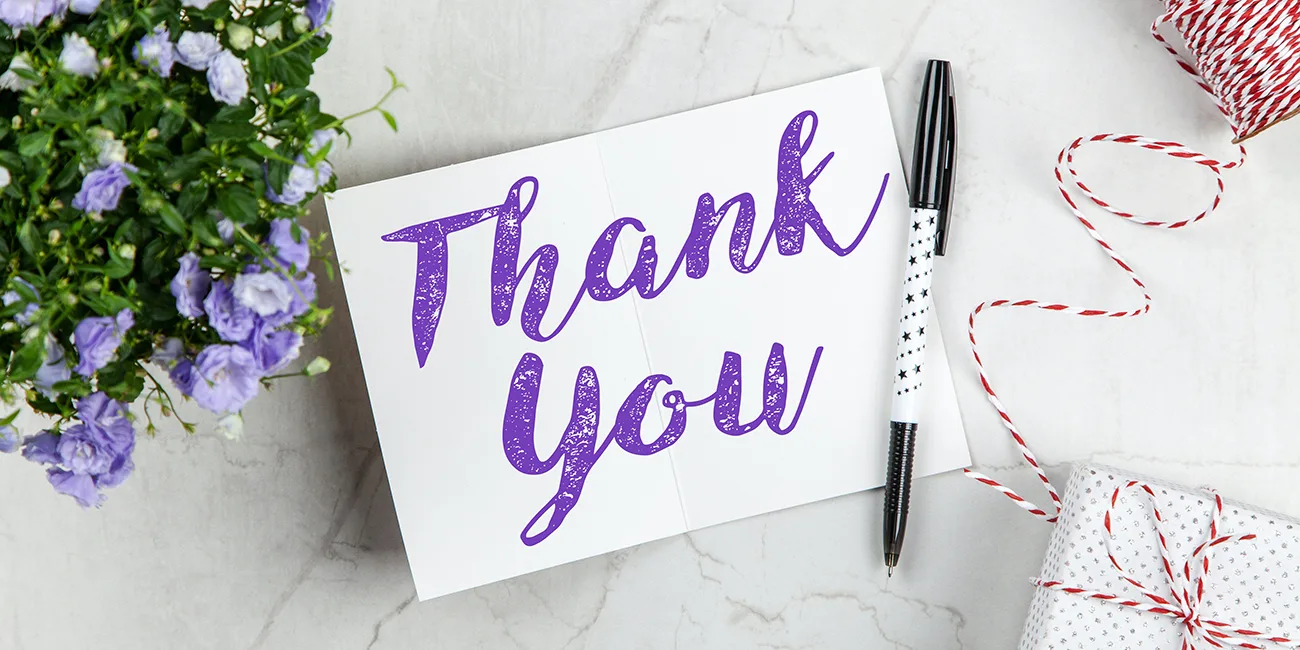 Wini Gifts is supported by our readers. At no additional cost to you, we may earn a small commission from the purchases you make using our links.
Learn more
We have compiled a list of the most thoughtful and unique thank you gifts to express your heartfelt gratitude for someone special. There are plenty of beautiful people in our lives that selflessly help us in one way or another. It could be family or close friends who support us through challenging times, a teacher or mentor who encouraged us to persevere, or perhaps even a doctor or nurse who looked after our wellbeing. Whoever that magnificent being is, you are bound to find the perfect thank you gesture below to let them know just how much they're appreciated.
Thank You Gifts: Personal
Below you will find a series of beautiful gifts that are of a personal nature. From unique personalized decor and stationery to mouth-watering treats or sentimental jewelry and accessories, these thoughtful gifts were made just for them.
If you're searching for a simple and beautiful gift to show your appreciation, this unique jewelry dish will make a wonderful gesture. This eye-catching trinket dish presents a striking botanical design, featuring original raised floral artwork combining a classic white and gold style. Perfect for holding her rings and other small jewelry items, this pretty sweet pea dish is beautifully packaged and ready for gifting someone special.
When it comes to small thank you gifts you can't go past this impressive selection of beautiful soaps. The unique gift set presents an impressive selection of rose-shaped soaps. The collection contains 9 assorted rose-shaped soaps, each featuring detailed delicately crafted rose petals. Handmade from coconut oil, the charming set of vegan soaps are scented with rose patchouli, honeysuckle jasmine, and plumeria, presented in sweet pastel tones and wrapped in a sleek and shiny white gift box.
Their taste buds will also be saying thank you when they receive these fine luxury chocolates. The Godiva 19-piece chocolate gift box contains a delectable assortment of milk, dark, and white chocolate delicacies filled with classic Belgian fillings. Featuring distinctive smooth, rich Belgian chocolate, flavors including Belgian hazelnut praline, dark chocolate ganache, coconut fondant, and more, just waiting to be devoured.
Meaningful and unique thank you gifts such as this beautiful Willow Tree figurine elegantly encapsulate the sentiment of gratitude. The Thank You figure presents a sweet hand-painted resin figure, endearingly clutching a bunch of flowers as a gift. Willow Tree figurines communicate beyond words through gesture to perfectly express your appreciation and thankfulness towards your desired recipient.
A wonderful stationery piece to express your thanks is this unique personalized journal. The Bloom Notebook features a bold and beautiful floral illustration presented in an artistic watercolor design. The vibrant cover offers unique customization with your desired recipient's name, including further personalization internally with a special note or image.
The coziest thank you gift perfect for family or close friends is this luxurious bathrobe. The unique waffle robe is made from signature bamboo lyocell fabric, to ensure a light, breathable, and silky soft garment. Featuring two classic and gender-neutral color options, this gorgeous bathrobe is perfect for him or her, and is also available in a silky
smooth vegan silk option
.
If you're searching for the most elegant thank you gift ideas that will wow, you can't go past a beautiful piece of Swarovski jewelry. This stunning necklace presents a unique contemporary design delicately crafted featuring a 3D-shaped hand motif clasping a clear pavé-embellished circle. This stunning on-trend rose-gold tone necklace is perfect for her, while this urban style
Bengal cross pendant
is ideal for a fashion-forward guy.
The perfect way to say thank you to anyone with a sweet tooth is with this delightful box of Mrs. Fields original cookies. The gift box contains a total of 18 delicious delights including 8 original cookies, 18 brownie bites, and 2 frosted round cookies. Cookies arrive beautifully packaged in a charming retro-style tin which is perfect for transport and as a beautiful keepsake storage tin.
A thank you gift wouldn't be complete without a beautiful thank you card. This unique 3D pop-up card presents a light teal cover with an artistic thank you message. Upon opening, a bright orange striped THANK YOU sculpture covered in vibrant pastel-toned paint splatters pops up to surprise a special recipient! For a more subtle card to convey your gratitude, these elegant
gold hot foil embossed thank you cards
are available in a box set of 6 cards and envelopes.
Thank You Gifts: Home & Decor
Below you will find a variety of unique thank you gifts perfect for their home or office. From eye-catching coasters and plants to stunning decor and accessories, you can be sure they will appreciate these stylish, one of a kind gifts that will brighten and enhance their many spaces.
The perfect example that small thank you gifts don't necessarily mean boring or cheap are these elegant agate coasters. These eye-catching coasters are crafted from beautiful natural white agate, with the edges of each piece electroplated with thick metallic gold. Each natural stone will vary in size, color, and appearance to create a unique yet cohesive set of striking coasters.
With their rare ability to live without soil, an air plant can absorb nutrients and water from the air around them. This unique air plant gift kit includes four lovely plants running from 1-3 inches tall, each housed in a beautiful sea urchin shell. A perfect addition to any space, the plants are perfect for the kitchen, living area, and desktop display. As an alternative, this unique
hanging air plant holder
presents an innovative minimalist plant option that is bound to stand out.
A beautiful candle is always a warm token to express your gratitude and appreciation. Modern and minimalist in style, the Hetkinen candle is a unique rapeseed and soy wax candle with a beautiful flickering flame created by its natural aspen wood wick. Spreading a soft scent of smoked wood with hints of birch, peppermint, lemon, eucalyptus, and fir needles, this delightful earthy candle features a generous 40 hour burn time and is housed in a stylish jar that can be reused for storing cotton swabs or accessories once the candle is finished.
One of the best thank you gifts for bookworms is of course a unique set of bookends. Inspired by space, these eye-catching bookends feature hand textured and hand-painted surfaces that strike a resemblance to the moon. Crafted from solid cast concrete, the strong and stable bookends create a discerning one of a kind appearance that is sure to make a lasting impression.
A beautiful vase is a wonderful gesture and a lasting keepsake to express your gratitude in style. Crafted from durable ceramic, this contemporary designed vase features a unique polygon patterned exterior that creates a modern fluid design. Available in two sizing options, this striking vase is perfect for both florals, or styling branches, and will make an eye-catching decor piece in their home or office spaces.
If you're searching for sweet thank you gift ideas to liven up their home, an elegant reed diffuser is sure to make a subtle, yet lasting impression. This beautiful organic Sea Salt and Orchid diffuser presents a smooth and elegant blend of soft floral notes of jasmine and sweet cream with salty sea highlights that will transport you to the ocean side. Housed in an elegant modern and minimalist bottle, this charming diffuser is 100% vegan, made from perfume grade fragrance oil, and contains natural reed sticks.
16. Candle Air Humidifier
A very unique and charming gift is this beautiful candle air humidifier. Designed to replicate a candle, the humidifier presents a sleek and modern design that will seamlessly blend into their many spaces. Featuring a 280ml capacity and 8 hour interval spray time, the humidifier can be used with water to provide a clean and hydrating mist, whilst releasing moisture from the air. Likewise, the device can be used with perfume or essential oils as an aromatherapy diffuser, and also produces a soft light that can double as a nightlight. Available in three contemporary color options, this stylish and portable humidifier will provide a breath of fresh air to any room.
Thank You Gifts: Kitchen & Dining
From charming and unique monogrammed pieces for their dining (or drinking!) pleasure to handy and practical everyday utilities, you will find a series of beautiful and purposeful thank you gifts perfect for their kitchen or whilst on the go.
When it comes to the most useful personalized thank you gifts, you can't go past an everyday staple such as a handy mug. This gorgeous mug presents a unique and contemporary design featuring a one of a kind beautiful hand-drawn floral illustration, seamlessly blended into their initial. Crafted from quality white ceramic with a stylish black interior and handle, this striking mug will contain 11 ounces of their favorite beverage and is conveniently microwave and dishwasher safe.
The perfect gift to say thank you to a feline fanatic or animal lover is with this amusing tea towel! The tea towel presents a quirky and playful design featuring a unique illustration depicting the neighborhood cats. Featuring 16 adorable kitties who roam the streets, this charming tea towel is made from sustainable and ethically sourced linen fabric with beautiful screen printing in water-based ink. Alternatively, for a more subtle, contemporary design, this
100% linen fig leaf hand printed tea towel
will make a stylish addition to any kitchen.
If you're after a personalized thank you gift idea that's functional, promotes health, and gets plenty of use, an insulated water bottle is the gift for you. Available in a plethora of colors, the bottle features a silicone seal to prevent leakage and a screw-on lid with a convenient carry handle. In terms of personalization, the message is created using premium vinyl, vertically positioned on 1-liter bottles, and along the base for 600ml versions.
The ultimate thank you gift for tea lovers is this innovative portable tea infuser! The Pure Zen Tea Tumbler allows tea drinkers to brew their favorite tea drinks whilst on the go. Featuring a premium stainless steel and leak-proof design, the infuser contains a durable double-walled glass that is both cool to touch and will avoid any frustrating leaks or sweating. This versatile tea infuser is also great for iced drinks, fruit-infused water, and cold brew coffee.
Inspired by a fusion of Scandinavian and Japanese design, the Theo tea mug personifies form, function, and modern elegance. The minimalist tea cup features rustic stoneware construction, a textured matte black exterior, a shiny glazed interior surface, and a bamboo lid which doubles a coaster. Whilst tea is its primary purpose, the versatile mug can also be used to serve miso and small appetizers.
This stunning cheese board is one of those unique thank you gifts that is sure to stand out. The slate and wooden cheese board has been expertly handcrafted from premium acacia wood and features a smooth slate board that can be uniquely personalized for your recipient. Featuring contemporary bold geometric branding of their initial on the removable slate board, this customized cheese platter board also comes equipped with two cheese utensils, perfect for serving. Another unique personalized alternative are these
stylish slate coasters
, featuring a customized etched design of your choice.
Like a Swiss army knife of the grilling world, this versatile grilling tool set contains everything he needs to cook and serve drinks while BBQing in the backyard. The five-in-one tool set includes a basting brush, spatula, fork, corkscrew, and the most important BBQ tool of all, a bottle opener. Each tool piece is made from quality aluminum, while the handle is made from wood, allowing for a fifteen character personalization option for a truly unique thank you gift.
Thank You Gifts: Hampers & Gift Boxes
Beautiful thank you gift baskets tend to be one of the most popular gifting options to express your gratitude for someone special. Whether it's unique and luxurious bundles for him or her, gift sets for coffee and wine lovers, or even the perfect relaxation package, we are confident they will appreciate these delightful hampers and gift boxes.
One of the best thank you gifts for women that will have her smiling from ear to ear is this beautiful women's gift set. The Sweet Serenity gift set presents an enticing collection containing BonBon assorted imported Sweedish gummy treats, an elegantly packaged handcrafted mini bar soap, and a soothing Harper and Ari rose scented candle. This delightful package will arrive beautifully packaged with a personalized thank you gift message to your desired recipient.
One of the best luxury thank you gifts for men is this stylish gift box just for him. The amazing gift set contains a selection of hand-picked dapper accessories and utilities for him to enjoy. The slick gift set includes a pair of luxury men's sunglasses, a sleek black flask, and a handy portable multi-tool, exquisitely presented in a smart black box and neatly sealed with a signature white ribbon ready for gifting a special gentleman.
26. Coffee Subscription Box
The perfect thank you for a bona fide coffee lover, an Atlas Coffee Club gift subscription will keep their mug topped up for months, or the year to come. Available in three months, six months, and year-long subscription lengths, each month subscribers will receive a shipment that includes a freshly roasted single-origin coffee, a unique postcard from the country of origin, and brewing tips with flavor notes. In terms of coffee options, you can select between ground and whole bean, light or dark roast, and half bag, single bag, or double bag options.
There's no better thank you gift idea than a gift that keeps on giving. The Vinebox quarterly club offers a unique selection of exquisite wines, housed by the glass in beautifully designed glass tubes. Every three months your recipient will receive a box containing nine different European wines, carefully selected and meticulously preserved. Each box contains four reds, four whites, and a single rose, all of which are created using classic grapes.
The most fitting way to express your appreciation for all they've done is with one of the best relaxation thank you hampers for them to relax and unwind. This gorgeous French lavender thank you spa gift box is a beautiful handmade collection containing an impressive bundle of goodies for them to enjoy. The indulgent set includes "Thank you so so much!" French lavender bath salt, 3 lavender essential oil bath bombs, artisan Dreamer's Soap, organic coconut beeswax lip balm, and a delightful hand poured lavender soy candle. Exquisitely wrapped with a personalized gift message, your special recipient will be truly grateful for this much needed deep relaxation gift!
Who doesn't love a box full of goodies? This charming men's gift box contains a combination of enticing consumables and grooming goods that will put a smile on his face. Included in the gift box is a bar of Woodlot Wildwood Charcoal soap and a choice of face oil or beard oil. For the coffee lover, a 340g bag of whole bean coffee and a little sweet organic maple syrup for pancakes, waffles, or porridge. This amazing gift box also contains a packet of delicious pecan choc chip cookies and a box of delectable Karat chocolate.
If you're after a thank you gift for a gentleman who loves to keep his face clean-shaven, the Murdock London Avenger gift set is sure to please. This elegant set includes the Ernest double-edged razor, 200ml of shaving cream, and 150ml post-shave balm. While the razor does all of the work, the smooth shaving cream cushions the blade and softens the skin, while the balm seals pores and moisturizes his skin post-shave.
Searching for more than Thank You Gift Ideas? Check out some of our other great list for more awesome gift ideas.