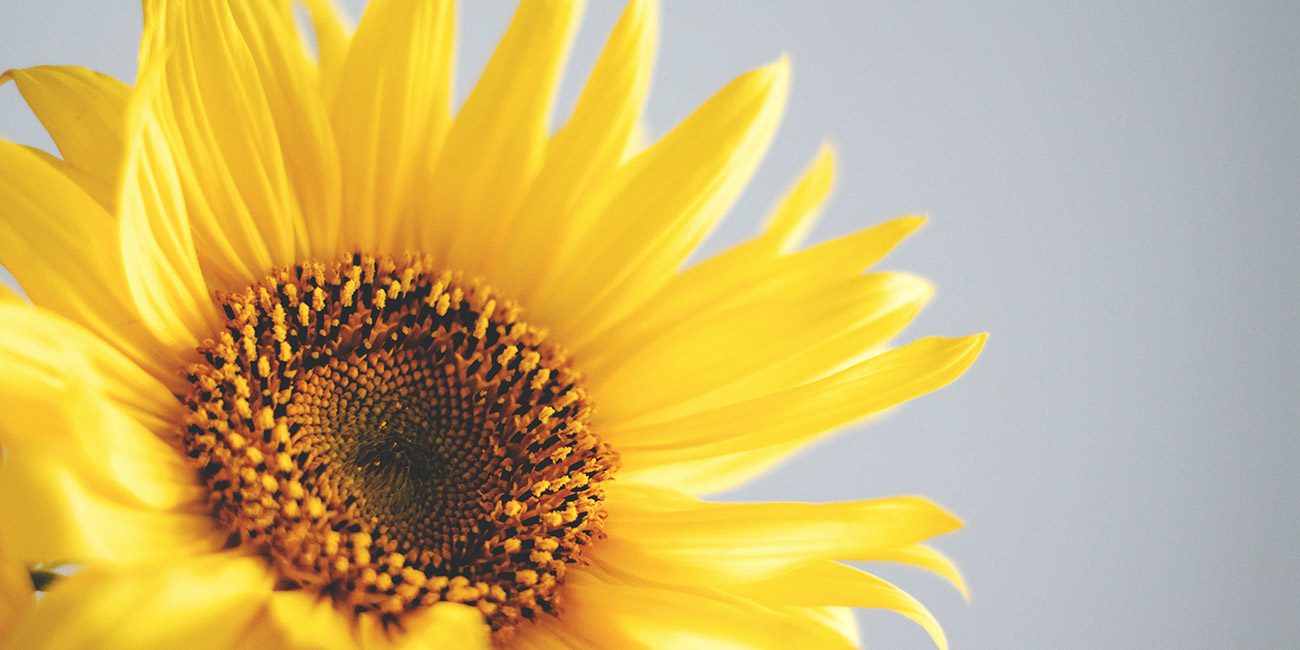 Wini Gifts is supported by our readers. At no additional cost to you, we may earn a small commission from the purchases you make using our links.
Learn more
We have compiled a list of the best and most unique sunflower gifts for your friends and family who are obsessed with these beautiful, vibrant flowers! From bright and happy jewelry and accessories to cheerful clothing and homewares, these delightful gifts are bound to spark happiness and joy in all who receive them.
Sunflower Gifts: Personal
Whether it's pretty sunflower jewelry or unique sunflower-inspired wearables, the below gifts for sunflower lovers will add a personalized touch to their everyday. These bold and vibrant accessories allow them to proudly display their adoration of this bright and happy floral for the world to see.
This beautiful sunflower bracelet is a cute little personalized accessory perfectly suited for anyone obsessed with sunflowers. The unique charm bracelet features an expandable gold plated bangle adorned with a striking antique gold pewter sunflower charm. The bangle also includes a custom hand stamped initial charm personalized just for your recipient, and will arrive packaged in a pretty box ready for gifting.
Stylishly fashionable, this cheery sunflower sweater is the perfect gift for happy everyday comfort. The Fabienne Chapot Lucy jumper presents a soft 100% cotton jumper displaying a beautiful embroidered sunflower pattern. Featuring a stylish crew neck cut with fitted cuffs and hem, this throw on and go sweater is a must-have wardrobe staple for bright and happy sunflower people.
One of the best and most comfortable sunflower gifts are these everyday shoes. The casual walkers present a bright pair of slip ons displaying a vibrant sunflower print. With a soft 100% textile lining, this pretty pair features pull tabs for easy access and also includes a fashionable chunky sole.
If you're after unique sunflower jewelry to surprise family or friends, this stunning ring is bound to get plenty of compliments! Dainty and delicate, this feminine ring presents a beautiful sunflower, featuring outstretched petals bursting with charm and elegance. The joyful sunflower sterling silver ring includes 36 sparkling 0.11-carat Jeulia Stones in vibrant citrine yellow.
A very beautiful and thoughtful gift for any sunflower lover is this unique sunflower necklace. Featuring a pretty sunflower pendant adorning a dainty chain necklace, the delicate sunflower illustration has been expertly laser engraved to produce a subtle yet striking design. This delightful necklace is made from high-quality sterling silver with the option of elegant sterling silver, 14K gold, or rose gold finishes.
A bright and happy gift to brighten anyone's day are these charming sunflower-inspired flip flops. Presenting a bold and vibrant acrylic and spray paint floral design, any sunflower lover will enjoy sporting these fun and unique flip flops during warm weather. Made from durable foam rubber, the flip flops feature comfortable soft polyester tops and thong style contoured rubber straps for easy slip-on.
The perfect opportunity to showcase their affinity loud and proud is this eye-catching sunflower T-Shirt. The central design features a beautiful bold ruby sunflower on a classic feminine cut shirt. The sharp and vivid printed design looks and feels amazing on heavyweight, soft pre-shrunk cotton and is available in 10 different background color options and a variety of sizes.
Sunflower Gifts: Accessories
Practical and stylish, the following gifts with sunflower designs present a range of purposeful items just waiting to be gifted! From versatile cases with bold sunflower designs to pretty everyday necessities, you can be sure sunflower lovers will take pride in sporting these beautiful and unique sunflower accessories.
A unique and versatile gift for a sunflower lover to store their coins, cosmetics, or accessories is this gorgeous zipper pouch. The artistically designed purse features a vibrant watercolor sunflower bursting to life in the summer atmosphere. The pouch presents vibrant, high-quality double-sided artwork that won't fade, printed on durable 100% polyester canvas that is fully lined for additional strength.
A unique and quirky gift for those who adore sunflowers is this cheerful phone case! The Singing In The Sun iPhone wallet presents a beautiful illustration fusing a budding bright sunflower with a traditional gramophone. The protective PU constructed phone wallet case features an open book-style with a built-in stand and elastic strap closure, including two handy slots for credit cards.
One of those delightful sunflower gifts to brighten accessories is this beautiful keyring. Perfect for keeping keys together, or accessorizing wallets and handbags, this uniquely designed keyring features a pair of vibrantly handcrafted polymer clay sunflowers attached to a silver-plated clasp and split ring. The keyring presents a uniquely feminine touch with the addition of premium silk tassels in a choice of elegant black, white, and peachy pink tones.
Perfect for a young lady obsessed with sunflowers, the next gift idea is a playfully stylish travel companion that protects her most important asset, her smartphone. The Chala crossbody cell phone bag is a convenient way to carry essentials, removing the need for an additional purse or clunky handbag. The faux leather sunflower companion incorporates two removable straps which can be adjusted to lengths between seven and thirty inches, transforming the cross body style bag into a purse or pouch. In addition to its fun design, the smartphone bag provides functionality and security featuring top zipper closure, soft internal lining, internal credit card slots, and a small but spacious front pocket.
One of the most vibrant and striking sunflower gift ideas is this gorgeous MacBook laptop case. Artistically captured using a macro lens, the case presents a detailed photograph of a beautiful blooming ruby red sunflower. Featuring a high-quality print on a polyester cover, this delightful case includes stylish black edging and detailing, including foam padding to protect from dust and scratches.
The perfect accompaniment to your beautiful sunflower gift is of course a gorgeous sunflower card! This unique 3D-design card presents a brown cover featuring a laser-cut sunflower with a brilliant yellow background. Inside, the card opens up to reveal a beautiful pop-up sunflower standing tall amidst a field of other happy golden-petaled sunflowers! Measuring 5 x 7 inches, this happy card is sure to brighten up anyone's day and bring a big smile to their face.
The following gifts with sunflower designs are fun and lighthearted in nature. Whether it's the gift of bright sunflowers all year round or an adorable plush companion, these delightful options are bound to make any sunflower loving recipient very happy.
What better gift to give a sunflower lover than.. sunflowers themselves! These gorgeous faux florals present a bright and cheerful bunch of sunflowers, perfect to make any DIY floral arrangement really pop. Presenting 2 vibrant blooms and 1 bud, this beautiful artificial flower bundle features real touch sunflowers, including flocked stems and leaves that will blossom all year long.
If you're searching for creative sunflower gifts to surprise a sunflower lover, this artistic puzzle is bound to amaze. The EuroGraphics 1000-piece puzzle presents the iconic Twelve Sunflowers by Vincent Van Gogh. With a large finished size of 19.25 x 26.5 inches, the vibrant and realistic depiction is manufactured using the highest quality blue board, offering a precise puzzle fit without fraying over time.
A fun little gift for big and small kids alike, this adorable plush will bring a smile to anyone's face! The delightful plush depicts Sunflower, a recurring character from the award-winning Plants vs Zombies video game. Measuring 5 ¾ inches tall, this soft friend will help defend lawns, adding a bright and sunny side to any oncoming zombie attack!
The perfect gift for sunflower lovers to personalize their car is this unique custom license plate. Presenting a dark, vibrant acrylic and spray painted sunflower design, the license plate features a sharp and vividly printed design that is bound to stand out. Made to fit most cars, the custom plate is manufactured from water-resistant aluminum for durability and longevity.
If you're searching for unique, portable gifts with sunflower designs that will impress, the following items are a perfect fit. From eye-catching carriers to a cheerful travel mug, these handy portable utilities will keep sunflower lovers in good company on their daily travels.
The perfect gift for sunflower lovers to enjoy a delicious homebrew whilst on the road is this handy portable travel mug. Ideal for coffee and tea on the go, the artistic mug is made from insulated stainless steel, featuring a 15oz capacity and a spill-proof removable lid. The travel mug is completely wrapped in the beautiful sunflower print, providing a calming contrast to an otherwise busy day.
You'll be hard-pressed to find sunflower gifts more bright and vibrant than this delightful tote bag! Perfect for groceries or daily accessories, the gorgeous tote presents a striking hand-painted bouquet of blooming sunflowers. Featuring a premium quality sublimated print on both sides, the bag is made from durable 100% spun polyester poplin fabric with a strong wide shoulder strap and is conveniently machine washable.
Fun, funky, and vibrant, this handy carry buddy will help transport books, devices, gym equipment, and other daily gear in style. Made from quality twill, polyester, and EPE foam, this gorgeous sunflower-inspired watercolor backpack is designed to be easy on the eyes and reliable on the shoulders. The bag features two side mesh pockets, a roomy zippered front pocket, a spacious twenty-four-liter capacity main compartment, and three inner pockets. In addition, the bag features a top carry handle and adjustable shoulder straps which are reinforced with comfortable foam padding.
A handy gift for anyone obsessed with sunflowers is this versatile lunch bag. The perfect gift to tote their lunch in style, this eco-friendly bag presents a beautiful vibrant design displaying a field of bold, blossoming sunflowers with butterflies. The vivid-fade-proof design is printed on waterproof and scratch-proof weave fabric, while internally the bag features food-grade aluminum foil to conveniently keep food insulated for up to 5 hours.
From a one of a kind umbrella to handy utilities for beverages, sunflower lovers will appreciate the following stylish and practical sunflower themed gifts, which are bound to get plenty of good use.
Providing shelter in the pouring rain, maintaining integrity in howling wind, and restriction-free open and close functionality is what elevates this amazing umbrella above the competition. The perfect birthday or Christmas gift idea, this beautifully bold sunflower umbrella will provide the sunshine on an otherwise gloomy day. The compact umbrella features a convenient C-Grip handle, double-layered design, and a unique inverted opening mechanism, allowing open and close of the umbrella in tight spaces! The innovative C-Grip handle is comfortable to hold and perfect for resting on an arm while performing tasks requiring both hands such as lifting groceries or typing a text message. Made from premium carbon fiber, this stylish oversized inverted umbrella prevents messy dripping and can also safely stand upright.
If you're after gorgeous sunflower gifts that will get plenty of good use, then a cheerful mug is a reliable choice! Perfect for tea, coffee, or any drink in between, this delightful mug features an array of bright and happy blooming sunflowers. Featuring a vibrant wraparound print, the boldly patterned mug holds up to 11oz of fluid and is conveniently dishwasher safe.
Sipping soda, ice tea, or juice has never been more appealing for sunflower and art lovers alike than with this creative reusable tumbler. The fine art-themed tumbler presents the iconic 1888 Van Gogh sunflower classic portrait, officially known as Tournesols. The vibrantly printed design is featured on the 16oz capacity double-walled acrylic cup, which also includes a reusable straw and is conveniently dishwasher friendly.
Made to house 12oz slim cans, the Brumate Hopsulator will ensure each sip is as cold as the first. Featuring beautiful yellow sunflowers against an elegant white backdrop, the insulated can cooler prevents condensation while providing insulation twenty times greater than regular can coolers. The Hopsulator Slim also features a non-slip base and push-lock technology for easy insertion and removal.
Below you will find the best sunflower home decor that will make any room feel brighter! From beautiful sculpture to vibrant artworks, our selection of unique decor pieces will bring life and happiness to their many spaces.
A stunning decor piece to gift sunflower-loving family and friends is this striking sunflower ornament. The beautiful Swarovski Flower Dreams ornament presents a gorgeous sunflower that will bloom forever. Featuring intense colors and more than 400 magnificent facets, this eye-catching collectible creates a brilliant look that encapsulates the joy of summer.
A unique gifting option for sunflower lovers is this beautiful wind chime. The sunflower wind chime features four detailed antiqued-blooms and brass bells suspended from a serpentined bar to create a serene soundscape. Each chime is individually handcrafted using recycled material and is the perfect soothing addition for both indoor and outdoor spaces.
In signature Willow Tree style, this charming ornament communicates through gesture to convey a sentiment of warmth, family, and friendship. The beautiful figurine displays a woman affectionately embracing a bunch of bright sunflowers and enjoying a simple moment of peace and love. The 5-inch hand-painted resin figure is carefully packaged and ready for display, perfect for gifting sunflower-loving family and friends to let them know how much you appreciate them.
Simple, minimalistic, and modern, this sunflower themed gift presents intricate mandala patterned artwork set against a Quartz mechanism clock. Hanging elegantly, the Golden Sunflower wall clock features a built-in hook and a solid plexiglass face. Available in black, white, and natural bamboo framing options, the unique sunflower design is contrasted with a choice of black, white, red, or aqua hands.
If you're after bold sunflower decor that will make a striking appearance in their home or office space, you can't go past this lively artwork! The design presents a cheerful, sunny photograph of a single sunflower, featuring vibrant oranges and dark brown hues, which are offset by the slightly textured beautiful seafoam green background. Printed using Deluxe Pigment Ink, this gorgeous portrait is available in a variety of sizing and framing options to suit any interior.
Sunflower Gifts: Homewares
Some of the best sunflower gift ideas come in the form of beautiful and purposeful homewares. Whether it's a cozy throw blanket to snuggle into or unique utilities for kitchen and dining, these delightful sunflower themed gifts will add a bright spark to any home.
Sporting modern flair, this gorgeous throw pillow is the perfect accent to brighten any space! The contemporary double-sided print presents a beautiful hand-drawn monochrome sunflower with a contrasting abstract watercolor background. Featuring a high-quality print on soft, yet durable 100% spun polyester, this vibrant throw pillow is available as a cover only, and with an optional polyester insert.
Perfect for lining serving trays, coving freshly baked goods, and of course drying, this beautiful cotton tea towel is an always welcome, handy kitchen companion. Standing tall and proud, this intricate sunflower illustration artwork is available in a strong black or gleaming yellow design. The towel itself is made from 100% cotton while the artwork is hand screen-printed using water-based ink that's free from toxins. Measuring 28 x 28 inches, the homely tea towel is a perfect birthday, Christmas, or mother's day gift idea.
One of the most striking sunflower home decor items available is this gorgeous paper towel holder. A handy kitchen utility, the sunflower paper towel holder will serve a useful purpose while creating a distinctive accent in their kitchen. The unique design features beautifully detailed hand-painted sunflowers and greenery adorning the sturdy iron holder.
There may be plenty of dining and decor related sunflower gifts, but this napkin holder is one that surely stands out from the crowd! The unique design features a bright yellow sunflower, carefully constructed to form the shape of a napkin holder. Handcrafted from ceramic, each piece is hand-painted with lead-free glaze and baked to produce a truly one of a kind gift that any sunflower lover will adore.
Both a functional and decorative piece for their kitchen is this beautiful set of sunflower themed canisters. The hand-painted ceramic set features a beautifully illustrated sunflower design combined with elegant rustic details. Made from lead-free ceramic, the stylish coordinating set of canisters comes in 3 varying sizes to fit 56oz, 60oz, and 90oz capacities.
36. Salt & Pepper Shakers
One of the cutest sunflower gift ideas for their kitchen and dining are these beautiful salt and pepper shakers. The delightful pair features a vibrant sunflower design with bright bustling bumblebees. Each design is individually hand-painted directly onto glass to create a truly unique, one of a kind gift that a sunflower lover will adore displaying, just as much as using.
Whether it's a steaming hot tea or a chilled glass of wine, why would they want to place their drinks down on anything else? A colorful piece of sunflower art, this abstract coaster set is a perfect platform for displaying their passion whilst protecting their tables and benchtops. The set of four vibrant coasters are printed on masonite board and feature a soft cork backing and striking glossy finish.
What better place for a sunflower lover to be than wrapped inside the warm embrace of their favorite flower! This beautiful throw blanket is a terrific sunflower themed gift for warmth, comfort, and decorative purposes. Placing the blanket on the foot of the bed will brighten up their bedroom, while a stint on the couch will decorate their living space. The bright sunflower throw is made from 100% cozy polyester fleece, is conveniently machine washable, and available in three size variations.
A smart option for storing dirty clothes, this beautiful sunflower laundry hamper can be conveniently packed away when not in use. Made from Oxford cloth, the practical basket features aluminum handles with soft grip handle coverings and a neat, foldable design. While the bag is made for housing clothing in need of a wash, it can also be used to store kids' toys, books, or shoes.
A sunflower home decor gift that's perfect for soaking up excess water, this gorgeous bath mat is the perfect platform after a relaxing bath. Made from soft polyester microfiber, the absorbent and slip-resistant mat will freshen up the feel of their bathroom, adding a touch of sunflower vibrance and flair.
Searching for more than the Sunflower Gift Ideas? Check out some of our other great list for more awesome gift ideas.