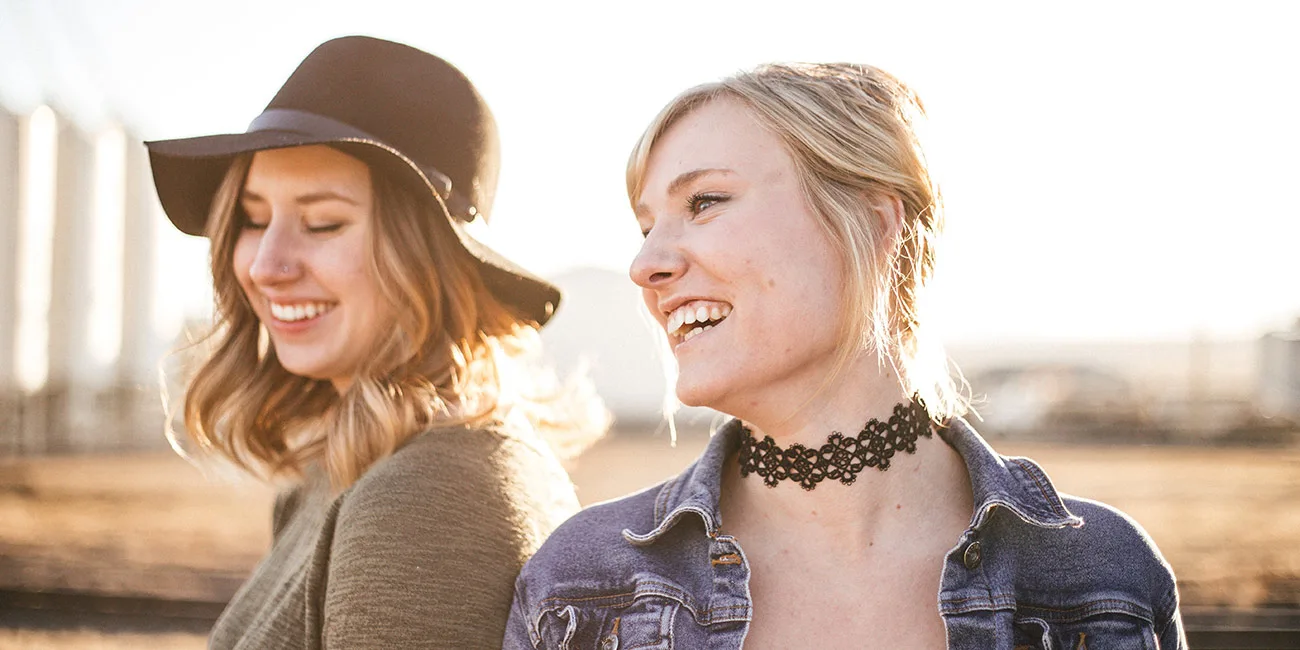 Wini Gifts is supported by our readers. At no additional cost to you, we may earn a small commission from the purchases you make using our links.
Learn more
We know that family can sometimes be tricky to shop for, which is why we've put together this list of very special gifts for sister in laws to help you out. From stylish and practical gifts for everyday use to those that cater to specific interests and lifestyles, we have sourced the most thoughtful and unique gifts for your deserving sister-in-law.
Gifts For Sister In Law: Utility
The following gifts for sister in law prove that practical items do not need to be mundane! Whether they're stylish cases for her tech or a warm and cuddly companion, she will find these useful accessories incredibly handy, while also holding an element of creative uniqueness to them.
The first on our list of gifts for sister in law is a stylish contemporary tote bag that will soon become her daily favorite. The Escape Triangle tote bag seamlessly combines design with function. This eye-catching tote features a modern and minimalist design that can be personalized with a foil-pressed leather tag featuring your sister in laws name! Made from 100% durable cotton with a brushed copper snap closure, this gorgeous bag is complete with butter-soft leather straps to accentuate a luxurious finish.
Turning the most practical of gifts into a piece of stylish decor, this Qi-certified wireless charger doubles as a minimalist piece of art, seamlessly blending into any bedside table, coffee table, or workspace. Handcrafted, each piece of wood is hand-selected, cut, sanded, and mounted with a quality metal frame. Further personalize this gift for your sister in law with beautiful custom engraving of virtually anything you can think of!
If you're searching for gifts for sister in laws who love their phone (it would be challenging to find one who doesn't!) then the following accessory will make the perfect present. This beautiful iPhone case features a bright floral pattern in a bold vintage esque design. Covers have a beautiful matte finish and are made from high quality, durable material with an easy clip-on and off feature. Is she an Android user? From eye-catching artwork to striking marble patterns, there are plenty of additional cases and designs to select from.
When it comes to a gift for sister in law who has everything, you can't go past a stylish case to protect her accessories. This beautifully designed hard sunglasses case offers a unique alternative to her old plain cases. Featuring a lively yellow blossoms design, the lightweight yet durable hard shell case will protect and store her glasses from scratches and dust, and also comes with a cute matching cleaning cloth!
One of those sister in law gifts that just shout adorable is this uniquely designed plush toy. Featuring a plump and ever-so-squishy dumpling, this sweet little companion also doubles as toasty comfort for her on those cooler nights. This charming plush is filled with a removable flaxseed pouch, that once heated in the microwave and reinserted, will provide her a comforting warmth with a beautiful lavender scent.
There are some gifts for sister in laws that perfectly combine aesthetics with practicality and the following item does just that. If she's the owner of a pair of AirPods, then a protective case to store and transport them is just what she needs. This beautifully designed trunk style case features a popular tartan pattern with black and gold detailing, and will make the perfect storage companion for her precious Pods while oozing stylish sophistication.
If your busy sister in law and coffee go hand in hand, then the following gift will be the accessory she wished she always had. The Pakt Coffee Kit includes everything she needs to make delicious barista-quality coffee whilst on the go. The set includes a compact electric kettle, pop-up pour-over cone, reusable filter, secure mug, and bean container, all neatly nestled inside a durable carry case. This innovative portable coffee kit has been created to withstand the rigors of travel and will serve her plenty of tasty brews for years to come.
Gifts For Sister In Law: Home & Decor
If you're after gifts for sister in laws who have a creative streak or hold anything unique with high regard, then the following presents will be right up their alley! From modern and minimalist pieces to practical and slightly quirky gifts that stand out from the crowd, your sister-in-law will not be disappointed with these great finds.
Minimalism at its best, this contemporary wall clock is the perfect statement piece for a sister in law who appreciates modern art. Handcrafted from 100% natural European solid oak, this unique piece is hand-cut and cleaned, then covered using a traditional gilding technique and meticulous hand painting. Robust, durable, and precise, this stunning clock uses a silent clock mechanism, ensuring absolute accuracy without making a sound. This beautiful design piece and utility will make a statement in her home or workspace environment.
If you're after gifts for sister in laws who have an eye for detail and appreciate creativity in all its forms, then this abstract piece of art will make a very welcome gift. The striking artwork features a unique marbled tone effect featuring purple, pink, and copper natural pigment inks. This beautiful fluid artwork is printed on 100% natural heavy-duty canvas with an eye-catching satin varnish finish. Featuring a natural pine wood frame and stainless steel mount, the artwork is available in a selection of 1, 3, and 5 panel size options, ready to hang in her desired living space.
If it's modern and minimalist sister in law gifts that you seek, then look no further than this unique vase set which perfectly embodies both. These sleek and slender magnetic vases stand elegantly as if they are performing a miraculous balancing feat! Each vase contains a magnetic base hidden under a tablecloth to magically secure each piece. Made from aluminum, these vases are perfect for both artificial and real flowers, adding a touch of intrigue to her space.
A unique gift for her that will get plenty of good use is a personalized bath mat. This special bath rug offers unique customization of a well-used utility and can feature any slogan, design, or branding to cater to her taste! The bath mat is made from 100% comfy microfiber material and features an anti-slip backing and neat binding around the edges. From humorous quotes to beautiful patterns, your sister in law will enjoy this customized gift just for her.
If it's practical and eco-friendly gifts for sister in law that you're after, then this natural mug will most definitely make her day. This artistic ceramic Keep Cup will be the perfect addition to her morning routine, keeping her beverage warm in style. The hand-thrown glazed stoneware mug presents a beautiful modern pink and white speckled design including your choice of a bamboo lid or silicone cover available in a range of colors.
Another nature-inspired gift for your sister in law, these unique coasters will brighten up any living space! This beautiful set of silver birch wooden coasters present a set of 4 different flowers, each represented in intricate detail. The handmade coasters are burnt using a pyrography tool, then delicately hand-painted with watercolors. Each coaster is treated with a heat-proof varnish and includes small felt pads on the bottom for further protection. If your sister in law has a penchant for peonies or roses instead, there is also the option to request a unique set of personalized florals.
Are you searching for the ideal gift for sister in law who has everything? This one of a kind lamp combines just the right amount of uniqueness and subtlety to add the perfect ambiance to any room. The beautifully illuminated flower lamp features calla lilies which symbolize magnificence and beauty. Made from soft cotton paper to emulate a real flower, the LED battery lamp shines a soft white glow when turned on, illuminating the gorgeous bouquet and creating an eye-catching effect.
One of those ideal gifts for a sister in law who enjoys traveling and takes pride in their many adventures is a unique Scratch Map. A Deluxe Edition of the original Scratch Map, this elegant black and copper themed version allows her to scratch off the many places she's visited. The map comes in a secure card tube and features many more islands and cities than its predecessor. With intricately detailed land and sea, she will be able to proudly display her adventures for everyone to see.
Modern, elegant, and eye-catching, the silhouette wall art is a special gift that will allow you to customize a unique piece of artwork just for your sister in law. Whether it's her favorite animal, artist, or even a portrait of herself, the side-profile photo that is uploaded will be created into a beautiful custom silhouette art print. Artwork options include foil-pressed, letterpress, or standard printing in a variety of vibrant colors and sizing options, including custom framing to suit her preference.
A thoughtful and highly personalized gift for your sister in law to appreciate all year long is a beautiful custom photo calendar. Customize each month for her with multiple photo layouts, colors, and even the option to add special text to specific special days of the year! Each calendar is printed on exclusive Signature Cover Paper featuring a luxurious cotton texture and is finished with stylish rounded corners and spiral bound top.
Gifts For Sister In Law: Health & Relaxation
These gifts for sister in laws are ideal for promoting health and well being. From accessories to aid a good night's sleep to others suited for rest and relaxation, if she likes to take care of her body and mind (or perhaps needs encouragement to devote more time to herself), then the following gifts will be warmly welcomed.
If you're searching for the ultimate sister in law gifts that offer secure comfort and blissful rest, then you can't go past a quality weighted blanket. The Layla Blanket will soon become her best friend, improving the quality of her sleep, and even providing relief from anxiety. The therapeutic blanket houses tiny glass beads to provide Deep Touch pressure, which is scientifically proven to release serotonin and produce a calming effect. Made from 100% cotton, with the reverse featuring a snuggly plush like fur, she will always enjoy the comforting embrace of this cozy blanket.
There are some gifts for sister in laws that promote peace and tranquility which she may have never even heard of, let alone considered! The Dohm Uno Natural Sound Machine produces a soothing white noise using its fan-based technology. Perfect for drowning out background noise and unwanted sound, your SIL can use it as a concentration aid for a good night's sleep. The Dohm Uno is very simple to operate, allowing her to refine tone and volume by simply twisting the cap and collar. Similarly, the motor speed is easily controlled by the on and off switch, clicking up for a slower speed and down for a louder sound.
What gifts for sister in laws will promote their health, wellbeing, and more "me" time? The Liforme Yoga Mat of course. Portable, durable, and eco-friendly, this vibrant Yoga mat features a perfectly balanced grip, ensuring each of her sessions are optimally effective. Whilst the mat is perfect for seasoned professionals, the AlignForMe system will also help guide beginners, navigating them through various poses.
The ideal gift for the sister-in-law who has everything, a unique aroma diffuser is an outside the box gift idea for her which is bound to be well received. The Moodo Smart Smart Aroma Diffuser requires no reeds to produce a range of calming and enticing scents. Using the Moodo App, she can easily configure fragrance combinations and also control the intensity, allowing her to easily mix and match using four beautiful scents. She will also enjoy the unique shuffle mode feature which periodically alternates each fragrance combination.
A very welcome gift for a wine lover, your sister in law is bound to appreciate the following sampler. This unique selection of white wines ranges from light and zippy citrus-tinged flavors to bold and rich oak sensations. The box set includes nine standard drinks accompanied by a wine tasting booklet to guide her through the complexities of each wine. The broad spectrum of white wines from France, Italy, and Spain are sure to delight any white wine enthusiast.
Gifts For Sister In Law: Stationery & Craft
The following gifts for sister in laws are the perfect choice for a creative soul. From stylish writing accessories to unique DIY label makers that will inspire plenty of her future projects and creative endeavors.
If you're searching for stationery gifts for sister in laws who adore having a notebook by their side, then the following gift will be right up her alley! This customizable notebook planner or address book from Minted features a gorgeous modern abstract design with muted brushed and watercolor strokes. Personalize this lovely gift for your sister in law by including her name on the cover and a photo and personal message inside.
If you're after the ultimate DIY sister in law gifts, then your SIL will feel she's won the jackpot with this truly unique label maker! The Cricut Joy is a pint-sized powerhouse with the ability to personalize almost anything and everything she can think of! In just a few simple taps, she will be able to easily customize and organize her kitchen and workspace, or personalize celebrations and bring her own ideas to life. Featuring a high-quality precision blade, the Cricut Joy can cut everything from vinyl to cardstock or peel-and-stick label paper. From unique cards to eye-catching decals and custom wine labels, the creative possibilities are endless with the Cricut Joy.
This sophisticated desk organizer is the ideal set for a sister in law who appreciates minimalism in all its forms. The Tofu wood stationery set presents a neat and stylish organizer with 3 distinct, minimalist cubes for all things stationery such as her pens, notes, business cards, paper clips, even cello tape. Beautifully crafted from 100% solid beech wood, this simple, yet elegant desk companion will not date.
27. Personalized Writing Paper
If it's beautiful and elegant gifts for sister in law that you seek, you can't go past a truly elegant personalized stationery set. Each set includes letter writing paper and coordinating envelopes, featuring a delicate custom pencil-drawn branch with personalization of their name in a soft calligraphy font. Available in white or ivory on a beautiful textured eggshell stock, this luxury stationery set can also be accompanied with a
coordinating gift pad
for her.
An exquisite gift for the stationery obsessed, this elegant journal will make a wonderful gift for your sister in law. The beautiful leather-bound journal has been crafted from natural full-grain leather and bound with a secure press-stud band. Available in 4 stylish classic tones, there is the option to personalize this gift with a bold engraving of your sister in laws initials or custom engraving of your choice. The journal also includes a small inner pocket for a business or credit card and comes with a handy notebook inside.
Gifts For Sister In Law: Kitchen
If you're searching for specific gifts for sister in laws who enjoy their time in the kitchen, the following presents are bound to please. Whether she's cooking for herself, or entertaining family and friends, you'll find both stylish and novelty utilities that will get plenty of good use!
If she's one to entertain often, a gift for sister in law who has everything is a beautiful wooden board. A chopping board like no other, this beautifully crafted resin chopping board features neutral pinks and copper mixed with black overtones to create a striking marbled effect. Made from high quality and sustainable acacia wood, the board is both water-resistant, antibacterial, and highly durable. The unique properties of resin offer a striking glass finish, that will not break if dropped! This striking cutting board will make the perfect base for her cheese boards and serving platters.
If it's useful gifts for sister in laws that you're after, then the following gift combines practicality with a beautiful nature-inspired design. This designer tea towel from the Australian Flora Collection features a unique Australian banksia pattern in dark and vibrant tones. Made from a lovely cotton-linen blend and outer edge hemmed, this tea towel makes the perfect gift for a sister in law who appreciates the natural world and fresh, modern design.
Wondering what funny sister in law gifts will put a smile on her face? Look no further than this quirky utensils set! Inspired by the Loch Ness Monster, the Nessie Collection contains seven must-have tools every kitchen needs. The adorable set features a colander spoon, ladle, tea infuser, pasta spoon, egg cup, sugar spoon, and even a bookmark, for recipe books of course! Unique, innovative, and easy to clean, the Complete Nessie Collection is a perfect gift idea for a sister in law with a fun sense of humor.
A cool and innovative kitchen gift, the Four Seasons shaker set will add a bit of fun to every meal. Perfect for birthdays and Christmas gifts for your sister in law, this seasoning shaker set is inspired by the four seasons, featuring cute little trees to align with spring, summer, fall, and winter. The set also includes a handy tray to keep the shakers in place and double as an eye-catching display piece.
Gifts For Sister In Law: Wearable & Jewelry
The following gifts for sister in law are thoughtful and intimate gestures. From the perfect slip-ons that ensure the comfiest of feet to eye-catching accessories that are sure to charm, these wonderful gifts will show her just how much you care.
Want gifts for sister in laws that you know they'll enjoy time and time again? The super cozy Women's Wool Loungers from Allbirds offer the perfect combination of comfort and effortless chic style. Made from the finest New Zealand Merino wool, these loungers ensure a comfortable step every time and possess moisture-wicking and temperature regulating properties to also minimize odor. Available in a range of stylish, muted tones, these relaxed loungers are the perfect complement to any style, anywhere.
If you're searching for practical and funny sister in law gifts for a SIL who doesn't take life too seriously, then the next gift is for you! She will never have to endure cold feet again with these adorable heated slippers featuring the iconic plump and cuddly Lil B Dumpling. These USB heated slippers are very simple to use – simply plug into any compatible USB port to warm up, then unplug and she will be free to roam and enjoy her toasty warm slippers!
A staple accessory for all women is a gorgeous pair of hoop earrings. These Otiumberg large oval hoops present a timeless style with an edge of difference. Crafted from 14-karat yellow gold vermeil, the hoops have a unique oval shape, offering a contemporary take on the classic gold hoop. These eye-catching hoop earrings will accompany her during any season, with an elegant golden hue to brighten up her everyday look.
The last item on our gifts for sister in law is a beautiful piece of jewelry that she is sure to get plenty of compliments for. This stunning Jeulia tennis bracelet embodies a timeless classic style that blends sophistication with radiance and sparkle. Crafted from high-polished sterling silver, this stunning bracelet features a fluid line of sparkling round stones that will create an elegant and graceful look with any of her outfits.
Searching for more than Special Gifts For Your Sister In Law? Check out some of our other great list for more awesome gift ideas.