Wini Gifts is supported by our readers. At no additional cost to you, we may earn a small commission from the purchases you make using our links.
Learn more
Cultural inspired accessories to vibrant and authentic homewares and decor, we have collected a selection of the most fun and lively Spanish gifts you will fall in love with! Whether your family heritage lies within Spain, or you simply have a strong affinity with this historical beauty of the Mediterranean, there is the perfect gift for everyone to express their adoration and appreciation for this beautiful culture.
From a Flamenco towel holder to a Talavera-inspired cushion, the following creative Spanish themed gifts will add a burst of life and Spanish culture to your many living spaces.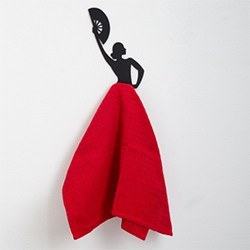 Part utility, part decor, this striking Flamenco dancing Spanish woman holds small towels that double as attire. Elegantly grasping a fan in one hand, the graceful kitchen towel holder features a smooth matte finish and a unique minimalist silhouette design that looks amazing in the kitchen and bathroom.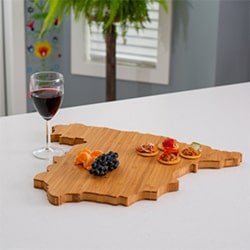 A novel take on a kitchen essential, this beautiful Spain shaped cutting board is perfect for preparing tapas and chopping ingredients for a delicious paella. In addition to chopping, the board makes for an excellent serving platter and doubles as a striking piece of kitchen decor when not in use.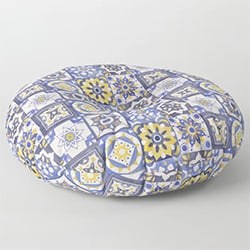 This artistic floor cushion makes for a fantastic gift creatives and Spain enthusiasts will love. The soft, muted patterned design takes inspiration from the world-famous ceramics produced in Talavera. Made from 100% soft polyester and featuring overstuffed cushioning for a firm, yet plush round or square shape, this charming floor cushion will add a touch of Spanish culture and comfort to a variety of living spaces.
When it comes to patriotic Spanish gifts with heart, this clock perfectly embodies both sentiments. The Identidad España clock presents a creatively unique design presenting the iconic Spanish flag represented within a thumbprint design. Utilizing Quartz mechanism, this eye-catching clock features a bamboo wooden frame with a clear plexiglass face that will no doubt be boldly displayed with pride.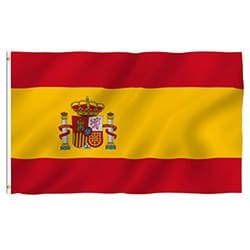 Anyone entranced by this beautiful language and country, or wanting to proudly display their patriotism, will be thrilled to receive this stunning Spanish flag. Featuring expert craftsmanship, the premium constructed flag presents a vivid color and fade-proof design, with double stitched edges that are further strengthened by a canvas header and hard-wearing brass grommets.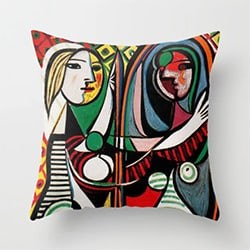 Any Picasso person will be mesmerized with this vibrantly artistic throw pillow depicting the famous artwork Girl Before a Mirror. Featured in this iconic artwork, Pablo Picasso has portrayed a young woman and her mirrored reflection in a bold and colorful design, packed with dazzling patterns and complex symbolism. Made from 100% polyester fabric individually sewn by hand, this delightful pillow presents a double-sided print and comes filled with a fluffy faux down insert providing superior comfort and style.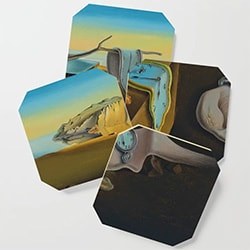 The only place you will want to rest your Spanish wine or Jerez is on these iconic Persistence Of Memory coasters. The unique 4 piece set presents snapshots of the original Salvador Dali painting made famous in 1931. Made from high density, yet lightweight fiberboard wood, each features a high-quality print with a glossy satin finish and will creatively protect benchtop and table surfaces.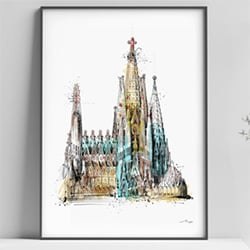 What better gift for your Spain loving friend than a unique art print of the iconic la Sagrada Familia. This beautiful artwork presents a stunning illustration of one of the most notable churches in Barcelona, and the world, designed by the famous architect Antoni Gaudi. Created using an artistic fusion of inks, watercolors, acrylic techniques, and modern imagery, this premium art print is produced on fine art satin coated paper using professional digital laser printing and is available in a variety of sizing options to suit both small and large interior spaces.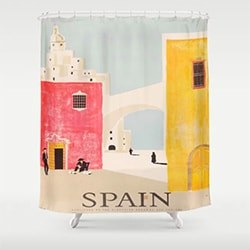 When it comes to creative Spanish gifts for family and friends, this Mediterranean-inspired shower curtain is bound to make bath time a little more authentic. The vintage-inspired design presents a mid-century travel poster in bold and vibrant tones that will make a subtle, yet impactful statement. Made from 100% machine washable polyester with a 12 buttonhole top for easy hanging, this delightful shower curtain will bring a breath of fresh life to their bathroom space.
From mouth-watering artisan chocolates and delicacies to on-point dining wares, the following section contains an exciting selection of Spanish food gifts any chef, foodie, or entertainer will be drooling over.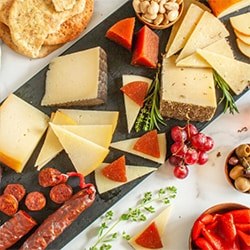 What better way to commemorate a special occasion than by gifting your Spain loving friend this delicious Spanish food hamper. The gift set is packed with a large variety of goodies including Manchego, Piquillo Peppers, and Tortas de Aceite (Spanish olive oil biscuits). Perfect for casual snacking and tapas night at home, the gourmet gift basket is ideal for foodies who have a taste for Spanish cuisine.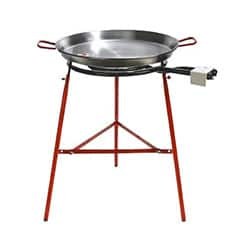 Anyone entranced with all things Spain and Spanish cuisine will be excited to receive this wonderful paella kit. The comprehensive cooking set offers both a paella pan and burner for chefs to create this authentic recipe to perfection. The amazing cooking kit presents a premium 24-inch carbon steel paellera featuring even heat conduction for stovetops, ovens, or grills. Also included is a 20-inch double-ring flame burner with independent controls and a sturdy tripod with a reinforced brace for Garcima burners.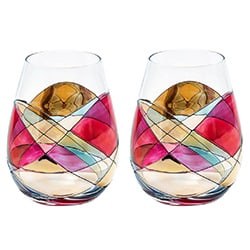 These authentic Antoni Barcelona wine glasses are the perfect gift for anyone who appreciates creative, luxury homewares. Each glass is expertly mouth-blown by highly skilled artisans, featuring an eye-catching soft, fluid, hand-painted design, creating beautiful finer details with each stroke to produce a one-of-a-kind piece of art. Inspired by the well-known la Sagrada Familia Cathedral in Barcelona, these breathtakingly stunning stemless wine glasses feature light mesmerizing colors and patterns and are the perfect choice for Spanish wine such as Tempranillo or Garnacha, or whatever your tipple of fancy may be.
When it comes to authentic Spanish gifts for an entertaining night with family and friends, you can't go past this amazing Sangria Kit! This fun pack contains a bountiful mix of 2 sangria mix packets from the renowned 1905 premier Spanish eatery, Columbia Restaurant. Also included in this wonderful entertaining kit are a bottle of their famous all-purpose Spanish seasoning mix, and five special recipes, including tapas delicacies to get the party started.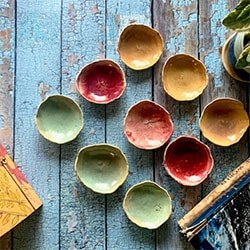 This beautiful handmade set of tapas plates are the perfect gift for plating one of the most popular traditional Spanish dishes. Ideal for serving small hot or cold appetizers and snacks including mother watering olives and Iberian ham, these charming tapa bowls present a bold selection of red, green, and beige plates with a rustic exterior and smooth, colorful interior. Expertly handcrafted from food-grade clay used stoneware and conveniently microwave and dishwasher friendly, these gorgeous tapas plates will add life and vibrancy to any dining session.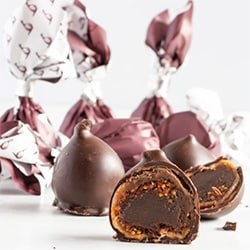 One of the most indulgent Spanish gift ideas to grace our list are these delectable artisan chocolates. This luxurious gift presents an exciting box of mouth-watering Spanish chocolate figs with brandy imported directly from Spain. The box of 8 gourmet chocolates contains tender young figs stuffed with a smooth blend of dark chocolate ganache and brandy and coated again in rich dark chocolate. Elegantly packaged, each chocolate is individually sealed with a beautiful foil wrap and tie to maintain flavor and freshness.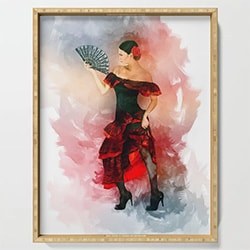 A wonderful utility to serve guests their sangria and tapas is this vibrant serving tray. The beautiful wooden tray presents a bold watercolor illustrated design featuring a striking flamenco dancer in a pose. Crafted from eco-friendly bamboo with a high-quality glossy print, this themed wooden tray is available in 2 sizing options and is just as perfect for use as a coffee table platter as it is a bathroom organizer or display piece.
The following fun Spanish themed gifts contain a handpicked selection of creative and unique utilities to display your adoration with pride.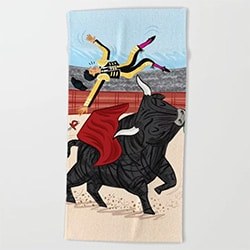 If you're searching for animated Spanish gifts with a bit of lighthearted humor, you can't go past this unique matador beach towel. The vibrant illustration presents a bold black bull, defiantly tossing the matador from its back. Made from a soft and absorbent polyester-microfiber, this oversized beach towel is just as perfect for sunny beach days as it is for lounging by the pool or in the park.
A creative and purposeful utility for anyone obsessed with Spain is this gorgeous laptop sleeve. Featuring stunning original artwork, this vibrant illustration presents rich, colorful imagery depicting the iconic City of Arts & Sciences. Printed on durable woven polyester with a fully lined soft microfiber interior to prevent scratches, anyone entranced by this beautiful city is bound to fall in love with the eye-catching laptop sleeve that encapsulates all that Valencia has to offer. This
beautifully patterned laptop sleeve
is a charming alternative, that creatively fuses a map of Spain with a pretty floral composition.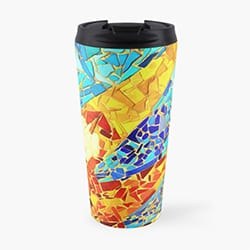 Anyone obsessed with Barcelona will be aware of Anton Gaudi's world-famous Park Guell. No detail spared, Gaudi is the mastermind behind this highly intricate and creatively designed architectural-inspired park. This stunning travel mug presents a vibrant and crisp photograph featuring part of the intricate ceiling mosaic from within the park. Made from insulated stainless steel and storing up to 15 oz of fluid, this unique travel mug is the perfect gift for Spanish lovers and art enthusiasts alike, ensuring they will have a piece of Park Guell with them, no matter where they room.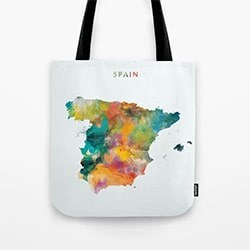 If you're searching for creative and unique Spanish Christmas gifts to surprise loved ones this year, this artistic tote is bound to receive high praise. The vibrant design fuses beautiful watercolor patterns with minimalist flair, featuring a distinct map of Spain emphasized over a stark white background. Handsewn from lightweight and durable fabric, this versatile tote features reinforced double stitched seams with a sturdy carry strap and is perfect for carrying groceries, books, or daily accessories.
From iconic utilities to thoughtful jewelry pieces, the following section contains a unique selection of Spanish gift ideas to cater to personal tastes and interests.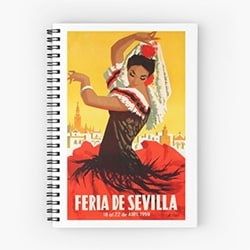 One of the most fitting Spanish gifts for anyone with a love for stationery is this gorgeous themed notebook. The vintage style cover presents a unique, eye-catching design of a classical 1959 poster advertising the annual Seville Fair held in the Andalusian capital. The bold and lively artwork features a traditional dancer, perfectly symbolic of the fun and festivities which take place over this tribute to the arrival of spring. This beautiful 120-page notebook includes a 350gsm front cover with a handy document pocket and is available in a choice of ruled or graph pages.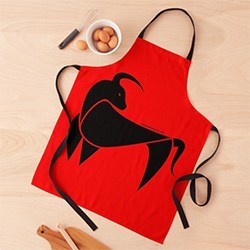 Equipped to handle any recipe thrown his way, Taurus El Toro is a vibrantly bold polyester cooking apron made to fit most adults. The energetic apron is a perfect gift for shielding your Spain obsessed friend's clothing from saffron, chorizo, and olive oil splashes as they prepare an authentic paella.
Any Real Madrid FC fan will be crazy for this authentic designed pint glass. The custom-designed utility presents an imported pint glass featuring iconic branding of the famous football club's crest printed in premium full-color on the front. Similar to this officially licensed
Real Madrid branded soccer ball
, this slick and stylish beer glass is a great gift that is perfect for fans and collectors both on game day and everyday display.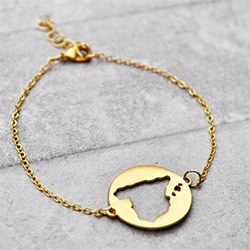 This bracelet is a thoughtful keepsake for anyone whose heritage or heart lies in Spain. The beautiful handmade accessory presents a unique charm featuring a smooth round disc with a silhouette map of Spain precisely cut from within and encapsulated in a dainty bracelet. Available in a wide choice of stunning finishes including 24K yellow gold plated, 14K rose gold plated, and both white and black rhodium plated, this charming bracelet is a very personal jewelry gift that is bound to be treasured forever.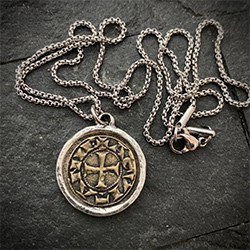 If you're searching for authentic and unique Spanish gifts to impress a loved one, you can't go past this striking rustic style necklace. The eye-catching accessory features an old Spanish coin replica turned pendant cast in solid bronze and encased in silver pewter to create a stunning two-toned effect. Adorning a bold stainless steel necklace, this unique pendant presents an intricate design with an aesthetic depth that is bound to be worn with pride.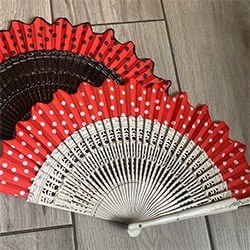 A must-have accessory for every Spanish fan or flamenco dancer is a traditional hand fan. The striking accessory presents a gorgeous handheld fan authentically crafted in Valencia, Spain. Crafted from wood and fabric, this work of art has been expertly hand-carved and hand-painted to perfection to represent a classic style flamenco skirt that will look just as beautiful displayed as it does during a performance.
From an amazing 3D puzzle to wonderful language learning cards and guides, these interactive Spanish themed gifts offer hours of fun and engagement.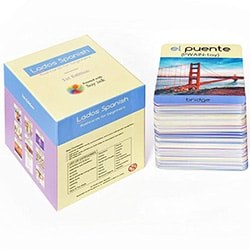 The next best thing to a language course with a native speaker is these fun and interactive flashcards. A Spanish lesson in a box, the beginner's guide contains 500 commonly used words printed on 220 vibrantly illustrated cards. Split into 28 helpful categories, each card includes correct easily identifiable pronunciation, making this a perfect learning gift for adults, kids, and teachers alike.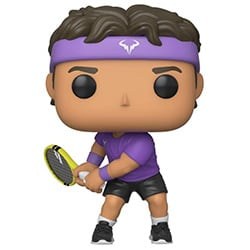 One of the best Spanish gifts for those who love all things Spain, including its celebrities and sports personalities, is a collectible action figure. This fun chibi-style Rafa Nadal POP! figure depicts the famous tennis star dressed in a purple outfit and holding his racquet in anticipation of his next shot.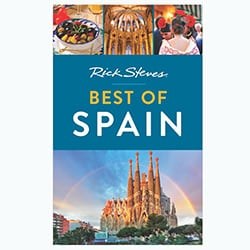 This detailed guide book covers the best Spain has to offer including travel planning and strategic advice, stretching a travel budget, and maximizing your travel time. Perfect for the friend planning a trip to their favorite country, the detailed guide covers short itineraries of major cities such as Madrid, Barcelona, Sevilla, and more. Amongst informative maps and vibrant photos, they will discover must-see sights they need to visit, places they should stay, and of course, the best restaurants for dining.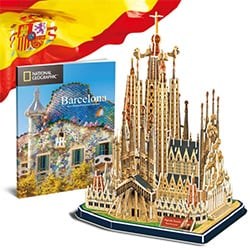 Modeled after one of the most awe-inspiring structures to have ever been conceived, this detailed 3D puzzle is a great gift for adults and kids alike. The 184 piece set allows anyone obsessed with Spanish architecture to construct Antoni Gaudi's masterpiece, La Sagrada Familia, and display it with adoration. Whether they are planning a visit or have already had the pleasure of experiencing its grandeur, this creative present is sure to fill them with excitement. In addition to the puzzle, the construction kit includes a Barcelona travel booklet, highlighting the culture, food, and architecture the city is famous for.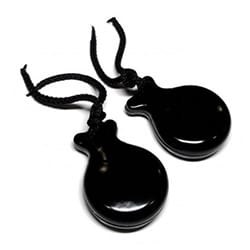 One of the most popular musical instruments in Spain, these lovely castanets will make the perfect gift for anyone who appreciates music and this beautiful dance form. The set presents an authentic Spanish handmade pair of black castanets, artisan crafted from premium materials. Each measuring 9 x 6 cm, this professionally made percussion instrument will produce the perfect clapping sound for the Flamenco dancer in your life.
Searching for more than Creative & Cultural Spanish Gifts? Check out some of our other great list for more awesome gift ideas.