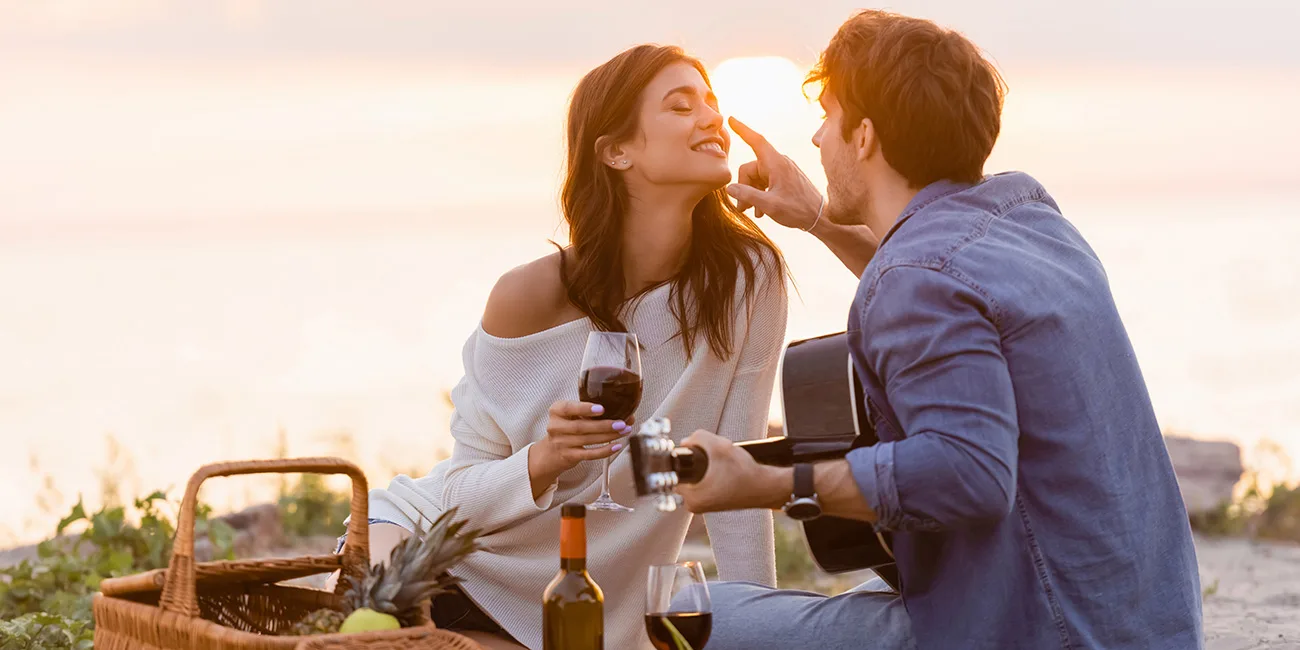 Wini Gifts is supported by our readers. At no additional cost to you, we may earn a small commission from the purchases you make using our links.
Learn more
If you've been searching for unique gifts for women that are both romantic and stand out from the crowd, then this is the perfect list of you. Featuring elegant, heartfelt items, from stunning jewelry to gifts that cater to her tastes, these beautiful, romantic gifts for her will be sure to earn you some brownie points!
Romantic Gifts For Her - Personal
There are plenty of romantic and unique gifts for women out there, so selecting one that also offers a personal touch takes the sentiment of giving one step further. The following unique and romantic gifts for her are equally beautiful gift-worthy items, all you have to do is pick according to her taste!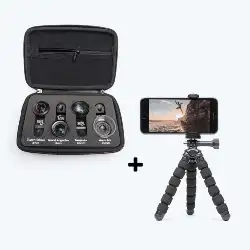 1. Phone Camera Accessories
The first item on our romantic gifts for her list is perfect for a girl that loves taking snaps with her phone. The Pixter Pro Pack enables a diverse range of photo options, turning every smartphone into a professional camera and every user into a photographer. The Pro Pack set boasts a variety of accessories including a Wide Angle Pro lens, Macro Pro lens, Super Fisheye Pro lens, Telescope Pro lens, 4 Pixter Clips, travel pouch, microfiber cloth, lens caps, carry case, and also a tripod! Compatible with rear-facing, front-facing, and dual-lens cameras, the Pixter lens kit can be used with all video and photo apps. The easy to handle flexible tripod comes with a Bluetooth remote that is compatible with both Android and iOS and can trigger the camera from up to 10m away. Perfect for vlogging, time-lapse, and selfies, the Pixter tripod is capable of handling a GoPro in addition to smartphones. One of the most unique gifts for women on the list, this lens and tripod kit is the perfect gift for almost any occasion.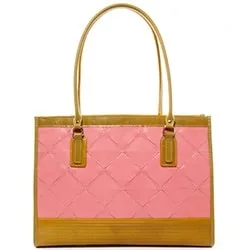 A perfect romantic gift for her to enjoy every day, this elegant handcrafted Fire & Hide bag is an eye-catching staple accessory that any girl would be proud to own. The unique handcrafted square tote has been designed to be carried over the shoulder or held by hand, featuring 2 poacher style pockets, an internal zip pocket, and a centralized zip section. The sophisticated Fire & Hide tote is constructed from decommissioned fire hose, rescued leather, and reclaimed lining, making it as environmentally friendly as it is exclusive. One of the most unique gifts for women on this list, this stylish handbag will show her how much you care.
The third romantic gift for her is a beautiful notebook offering unique laser-etched personalization options. The exclusive notebook by Elvis & Kresse is elegant, durable, and crafted with sustainability in mind. Similar to the entire Fire & Hide collection, this notebook is made from decommissioned fire hose and rescued leather. The notebook is available in a large range of color options including; British racing green, charcoal, cognac, yellow, limestone, and magenta. Featuring lined and unlined paper options, the notebook is a wonderful gift for partners, family, and close friends.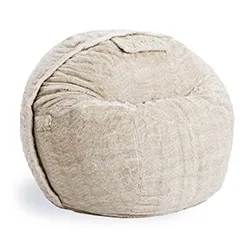 The fourth item on our romantic gifts for her list is a redesigned old favorite that offers additional space, comfort, and style. The Lovesac Sacs are a range of gigantic and elegant bean bag upgrades that take lounging to a whole new level. A cut above traditional bags, the internal khaki twill sac is built to withstand a battering. Lovesacs proprietary fill is secured with redundant locking head zippers and double overlock seams. Premium quality shredded Durafoam fill evenly absorbs body weight and won't compress over time, leading to long-lasting comfort. Beautiful and rich colored covers overlay the sac, all of which are hand-sewn and reinforced in areas prone to higher stress. The Lovesac has a seemingly endless variety of cover color options. meaning you're sure to find one to suit any room and interior style. If you're worried about moving, the covers are also interchangeable, providing you the option to select a shade that better suits your new space. Lovesac sacs are available in multiple sizes, from the miniature Gamersac to the BigOne measuring a whopping 6 feet wide! Luxurious and versatile, the Lovesac is one of the best and most unique gifts for women no matter what the occasion.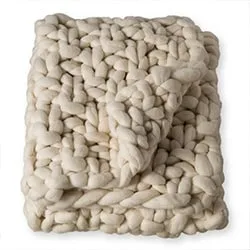 The next romantic gift idea will keep her warm and cozy during cold nights on the couch. This thick-knit Peruvian wool throw looks amazing, is soft on the skin, and won't stretch or lose shape over time. Comfortable and luxurious, the throw is extra warm and adds a stunning accent to a modern style home. Made from natural Peruvian highlands wool, the throw features a plush artisanal pattern, handmade braided design, and covers an enormous 50 x 70-inch space. Perfect for the bed or couch, this warm Peruvian thrown is one of the coziest unique and romantic gifts for her.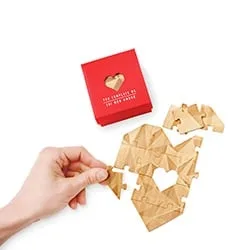 One of the most unique gifts for women, this romantic puzzle is the ultimate small gift or gift companion. A gift and card bundled into one, let your wife or girlfriend know how you feel with the You Complete Me creative keepsake. Simply piece the puzzle together, write your special message, and return the jigsaw to the box. Your partner will put the heart-shaped puzzle together and flip it over to reveal your message. Made from quality heat stamped wood, this cool romantic gift idea is also perfect for mailing and comes packaged in an adorable soft-touch box.
Next on our romantic gifts for her list is a unique gift set that helps create a calming space. The Mood Plant gift box set is a thoughtful collection of self-watering grow kits, available in three purposeful combinations; Harvest, Ritual, and Unwind. Each set contains a bamboo pot, plastic tray, coconut pith and perlite growing medium, activated carbon, wick, instructions, plant food, and a seed variation. The Harvest gift box contains organic Genovese basil seeds, pruning shears, and a 100% cotton tea towel. Harvest is perfect for creating an indoor countertop garden, for fresh supply herbs ready in about 2 months. The Ritual gift set contains non-GMO chamomile seeds, ceramic mug, and a nesting insert for straining the tea. The Ritual set focuses on growing, steeping, and enjoying your own homemade tea, and is the perfect gift if your partner appreciates herbal teas. The Unwind gift box contains non-GMO lavender seeds, pillow spray, a soy blend candle, and 100% cotton sleep mask. The Unwind sleep aromatherapy set helps create a soothing resting place with its balanced combination of relaxing scents. Offering a variety of applications with a touch of zen, these gift boxes by Modern Sprout are among the most unique gifts for women, fit to gift for any occasion.
Romantic Gifts For Her - Home Decor
The following gifts present beautiful styling accents that add life and vibrancy to any home or office interior. These unique gifts for women include one of a kind, eye-catching decor pieces that she is bound to fall in love with, particularly if she appreciates those finer details.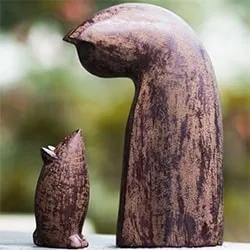 Idea eight on our romantic gifts for her list is a contemplative, peaceful, and modern decorative piece. Featuring an unlikely pair of companions, the set includes cat and mouse silhouettes, affectionately gazing at one another, demonstrating patience, tolerance, and understanding. Made from volcanic ash, the sculptures offer a natural feel and organic appearance. The beautifully crafted and versatile cat and mouse sculpture set is the perfect addition to any rock garden, undercover deck, fireplace, or benchtop. This unique set is both solid and durable and makes for a perfect Birthday, Christmas, or Valentines' Day gift idea.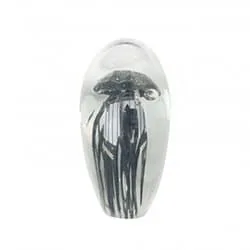 Adding character to an otherwise dull office space, a paperweight is a heavily understated decorative piece. This dark and mysterious glass paperweight encapsulates an eerie black jellyfish, adding a unique personal touch to her workspace. Measuring 14.5 cm in height and 7.5cm in diameter, the unique and unconventional gift idea is perfectly suited to a quirky personality or someone who appreciates the peculiar.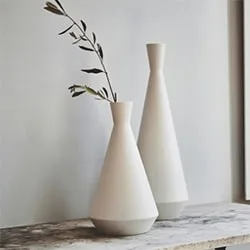 Romantic gifts for her item ten is a decor piece that perfectly demonstrates the beauty of minimalism. Highlighting elegance in simplicity, the tall Marseille vase presents a beautiful, slender frame measuring 53cm height and 21cm diameter at base. Earthenware in design and available in a stunning off white tone, this unique vase is ideally suited to modern spaces and is equally as eye-catching paired with minimalistic styling of a single branch or floral.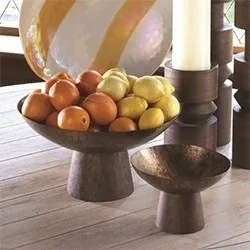 If you're searching for beautiful and unique gifts for women, the next idea is sure to please. The Totem Bowl-Walnut is a remarkable bronze iron decorative bowl sitting atop a wide-based stand. Inspired by 1960's totem style sculpture, the Totem Bowl features a rough textured finish and is available in two sizes. The bowl is perfect for kitchen tables, benchtops, and mantels, adding a rich and dark accent to the space. If you're looking for an alternative bowl without a stand, the
Laforge center bowl
is a beautiful centerpiece crafted from brutalist iron with braised brass accents and sealed with a matte lacquer.
If you're after a thoughtful, purposeful, and decorative gift for someone who may already have everything, then an elegant stick diffuser is the perfect present. The beautifully designed Nature Stem porcelain diffuser uses the natural absorbency of porcelain to diffuse aroma throughout a room. The detailed porcelain branches feature either an orchid flower or dragonfly and are designed to effectively absorb the fragrance and disperse it through living space. The package comes with a 4oz light floral fragrance, giving the room a fresh and clean scent within a day of usage. The diffuser not only produces a soothing scent, but the piece itself also exudes a calming, almost zen-like feel. A truly thoughtful gift idea, this Nature Stem stick diffuser is one of the most unique and romantic gifts for her.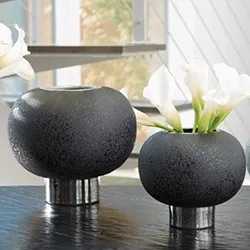 This stunning vase is yet another perfect gift for a lady who appreciates something a little different. The unique silver branded Sphere Vase presents a spherical design featuring molded ceramic with a volcanic texture, offset by an electroplated silver base. This modern vase offers global views and measures 5.5 inches diameter, 5 inches height, and will add a touch of sophistication and elegance to any interior.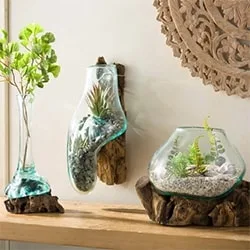 One of the most unique gifts for women, the next of our romantic gifts for her is the perfect gift for incorporating an organic element into your home. The teak and blown glass collection are an individually sold, matching set of beautifully handcrafted vases available as a vase sculpture, a tube vase, and also a hanging vase. The blown glass appears to be pouring over the dark teak base, adding a fluid and natural feel to the living space, with the ability to house elements of your choice. The blown glass vases are suited to florals, ferns, or organic materials such as sand, stones, and pebbles. This eco-friendly collection is made from reclaimed teak roots and recycled glass, making these vases as sustainable, as they are attractive.
Romantic Gifts For Her - Kitchen & Dining
The following unique gifts for women are specially selected for those women who love to entertain and also appreciate great style! These one of a kind eye-catching pieces are bound to spark conversation and sure to be well received by her.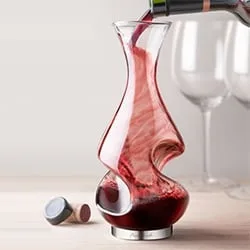 Is your gift intended for a wine lover? Help them get the most out of their wine drinking experience with a modern aerator. The stylish Modena wine aerator is the perfect way to prepare your favorite wine before taking your first sip. The elegant curved design exposes wine to just the right amount of oxygen, enhancing the fragrance and flavor. The Modena can house over 12oz of wine and is a great romantic gift idea for any occasion.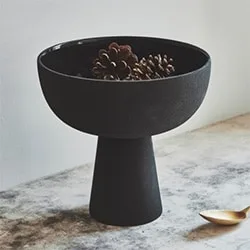 Yet another item on our list of unique gifts for women that will make a statement in any home is the Toulouse Bowl. This unique bowl is made from earthenware, featuring an organic textured exterior, with an internal polished finish. Standing 20cm in height and 20cm in diameter, this eye-catching bowl is ideal for use with a quick bite, or as a styling piece, perfectly complementing any modern space.
Idea seventeen on the romantic gifts for her list is another hand-blown glass piece, this time for wine lovers. The Vetro Vero Oro Decanters are beautifully crafted using lead-free crystal, creating both an elegant and timeless piece. Speckled gold leaf encloses a solid glass orb that has been tactfully placed, adding both character and creating a floating effect when a full bottle is poured. These stunning decanters feature a beautiful and functional design and are available in three styles, each of which can hold 750ml. A perfect gift for romantic occasions, the Oro Decanters will make drinking wine a savored experience.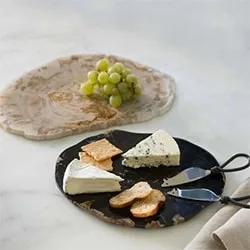 If your partner loves to entertain, this next gift idea is the perfect companion for serving guests delicious cheeses, small bites, or hors d'oeuvres. These genuine organic fossil serving trays are an attractive addition to any dining room or gathering space. Made from 100% petrified wood, these beautiful fossilized trays will spark conversation and entice guests to take another bite. Perfect for both functional and decorative purposes, these polished trays are ideal romantic and unique gifts for women.
Romantic Gifts For Her - Candles & Lighting
When it comes to sourcing romantic gifts for her and you're a little stuck for ideas, you simply cannot go past the following unique gifts for women. Beautiful candles and lighting will always be crowd-pleasers, and these one of a kind gifts for her are no exception.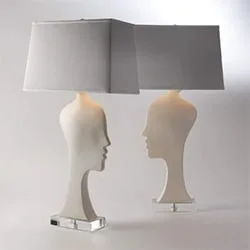 The nineteenth item on our romantic gifts for her list is a bedside companion that will brighten up her day and night. The exquisite silhouette lamp set is an amazing decorative and functional gift, with a modern minimalist touch. This stylish bedroom furnishing features a sleek human profile in a classical form. The fine Portuguese ceramic lamps are functional facing either direction and are a great addition to any modern home.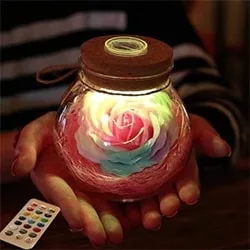 If a lavish lamp isn't what you're after, this cute light might be a better match. The Rose Light Bottle is an enchanting portable light, perfect for adding a radiant ambiance from a tabletop or bedside table. The light features a remote control for dimming, timing, and changing to one of 13 customized light color options. The perfect romantic gift for her on Valentines' Day or for her birthday, this adorable unique gift is sure to put a smile on her face.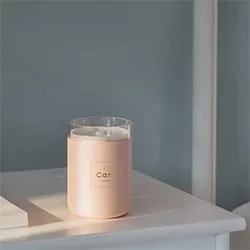 One of the most modern and unique gifts for women on the list, the USB diffuser is a thoughtful romantic gift for her to enjoy. Combining the traditional elegance of a wax candle with the contemporary scent of an oil diffuser, this simple, yet chic gift will keep a room smelling fresh for hours. The ultra-quiet lamp diffuser produces no heat, instead relying on ultrasound technology to dispense aromas. The candle lamp will continuously diffuse for up to 8 hours, holding 9.5fl oz of liquid. An excellent tool for creating custom scents, this USB cable lamp diffuser is also free from BPA and other toxic chemicals.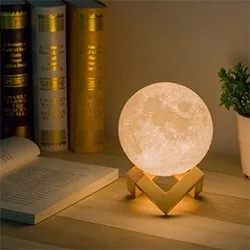 Number twenty-two on our romantic gifts for her list is an eye-catching glowing replica that functions as both a light and a unique decorative piece. This stunning 3D printed moon creates a warm ambiance, emitting either soft white or yellow light that can be swapped with a simple touch. Available in 3, 4, 6 and 7-inch options, the moon light comes packaged with rechargeable batteries and a USB power cord for portability. Printed using eco-friendly materials, this dazzling lamp rests on an edgy wooden stand and will seamlessly blend into any home or office space.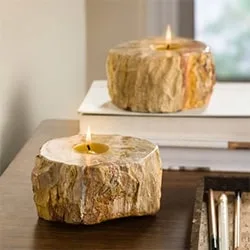 Both a functional and decorative piece, this unique gift for women will suit a variety of settings. The fossil tealight candle holder is handcrafted from genuine wood fossil, polished on top to beautifully display the silicification. Since the candle holders are hand made and contain aged earthy jaspers in different formations, each will offer their own unique variations. Organically beautiful, this decorative relic will find a new resting place on her desk, table, or mantle. Another unique alternative to the fossil tealight candle holder is this vintage votive featuring iron branches and a resin bird and nest.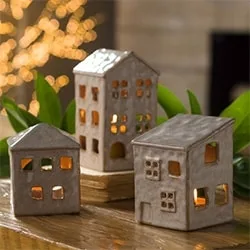 24. Ceramic Tealight Candle Holder
Protect your tealight candles from the elements with a warm and cozy place to rest. The next of our romantic gifts for her is this ceramic holiday village, perfect for housing tealight candles and creating a unique lighting ambiance. Opposite to the fossil holders above, the ceramic village tealight holders completely encase candles. Lights flicker in doorways and windows, benchtops come to life, adding atmosphere wherever they are situated. The holders are perfect for dispersing throughout a house or gathering in a single location. In addition to housing tealight candles, the ceramic village works beautifully with faux votives, making them a highly unique and versatile gift idea.
Romantic Gifts For Her - Personalized
Unique gifts for women won't get more exclusive than those that are personalized. The following items have the ability to be personalized, offering unique expression that only she will appreciate.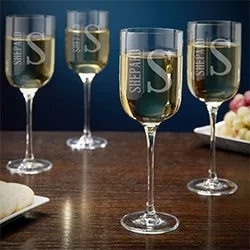 Idea twenty-five on the romantic gifts for her list is a classic white wine companion, ready for the next toast. The engraved white wine glass set contains 4 tall glasses featuring a unique and unforgettable personalized design. Each glass has a name and initial option, while the set can also be purchased without a personalization option. An elegant way to enjoy each sip, the glasses are made to be shared with friends on every celebration. If reds are her preference, then this set of
personalized red wine glasses
are an attractive alternative.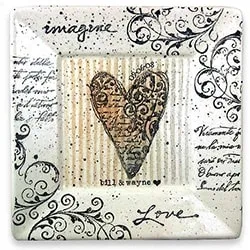 If you're after unique gifts for women to commemorate a special day and etch a lasting message, the Image Live keepsake plate is a great option. The personalized earthenware plate is a traditional gift combining contemporary artwork. Featuring a modern heart, cursive text, and classic scrolls, the display will sit perfectly on dressers, benchtops, or in-wall units as a treasured sentiment.
Romantic Gifts For Her - Jewelry
With plenty of jewelry options available for gifting, it can be difficult to source truly unique gifts for women. The following jewelry pieces have been selected which offer stunning simplicity and are just as suitable for special occasions, as everyday wear.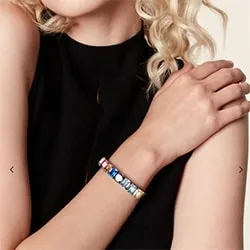 Looking for a simple, yet stunning gift that stands out? A vibrant bracelet is an excellent romantic gift idea for young women. The Dannijo Ambrose cuff bracelet is a bright casual accessory that's both fun and fashionable. The bracelet features eight colored glass crystals with an oxidized finish, embedded on silver-plated brass. Made in the USA, the studded Ambrose bracelet exudes femininity, provides instant glam, and can even be worn in a formal setting.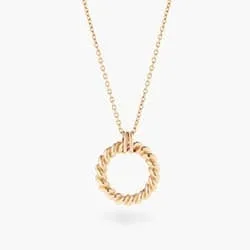 The next of our romantic gifts for her is a beautiful piece of jewelry that can be worn with both formal or casual attire. The yellow gold Eternal necklace features a beautifully designed vermeil pendant attached to a long cable chain. The simple, yet stunning twisted gold design creates an elegant look and texture, while the rounded chain rests gracefully around her neck. Perfect for wearing in conjunction with shorter chains, or as a single accessory, this necklace will be a thoughtful and appreciated addition to her accessory wardrobe.
Romantic Gifts For Her - Wall
The following unique gifts for women are truly unique gifting options. From eye-catching canvas prints to a different kind of night light, these beautiful and also practical options are the perfect gifts for women who prefer something original.
Counter the positive ions emitted throughout your partner's home with this unique Himalayan salt night light. Similar to an ionizer, the lamp emits negative ions, refreshing air and creating a balanced environment. The hand-carved night light is available in three distinct shapes; rectangular, diamond, and teardrop, each of which produce a brilliant warm orange light. One of the most unique gifts for women, the Himalayan salt night light will illuminate a dark hallway and provide a soothing home ambiance.
If your partner is a music lover, the next romantic gift idea will be right at home on her living room wall. Gift a print of your wedding song, the first song you danced to, or her favorite track, permanently displaying old memories of great moments in her life. This personalized creative piece features sheet music to the song of your choice, provided that the sheet music is commercially available. Canvases feature a striking silver print on high-quality materials, perfectly complimenting any home decor. These beautiful prints use water-based HP latex inks which are odorless and solvent-free, meaning they are a safe choice for the household. Available in 4 sizes, the thick canvases come ready to hang, containing all the required hardware. The sheet music art pieces are fitting personal and unique gifts for women containing a universal language everyone can understand.
The last item on the romantic gifts for her list is a set of decorative wall prints, perfect for brightening any living area. Spoilt for choice, the sets are available in four sizes, with nine different print designs. The prints feature abstract mountains, florals, creatures, and a cityscape. The versatile canvas prints offer the perfect complement to living rooms, dining rooms, bedrooms, or home office spaces. Ready to hang, the prints are featured on a set of three or five panels, easily maintained, and resistant to UV and fading.
Searching for more than Romantic Gifts For Her? Check out some of our other great list for more awesome gift ideas.