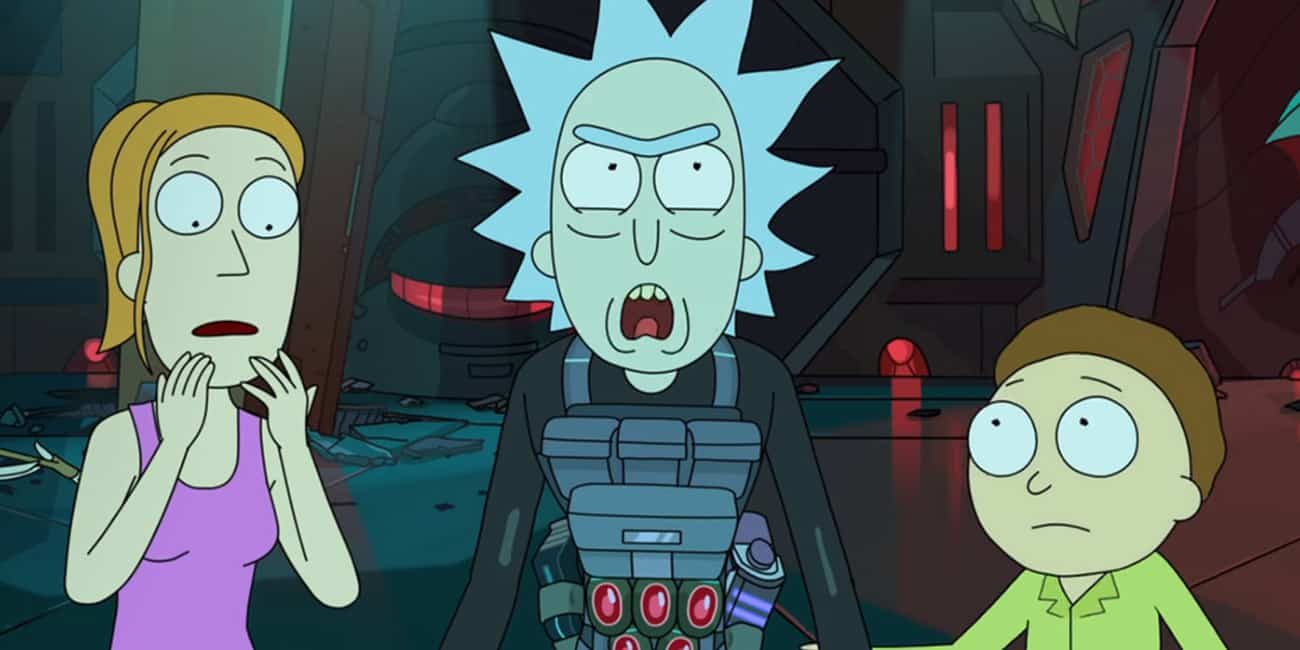 Wini Gifts is supported by our readers. At no additional cost to you, we may earn a small commission from the purchases you make using our links.
Learn more
If you're searching for the best of the best Rick and Morty merch to give die-hard fans of the cult-series, we have put together the ultimate gift list for you. From one of a kind series-inspired artwork and decor to handy accessories that proudly display their loyalty, even classic games with a twist, you will be sure to find the perfect gift for those fandom obsessed kids, both young and old.
Rick and Morty Merch: Games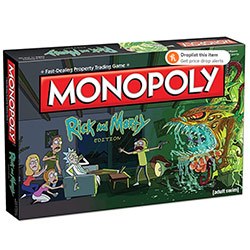 First on the list is the Rick and Morty Monopoly board game which is just like classic Monopoly only better, obviously. Why jet around using an iron, boot, or top hat when fans can select the Council of Ricks badge, Plumbus, or even Snuffles helmet. Building houses and hotels? Flooble Cranks and Gooble Boxes. What about Chance and Community Chest? Interdimensional Cable TV and Get Schwifty. While Rick's portrait adorns the $500 bill, Jerry is depicted on the $1, being less valuable than even Birdman and Mr. Poopy Butthole.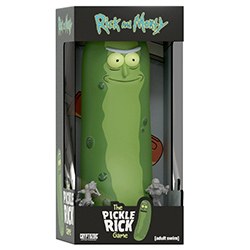 The Pickle Rick Game is a 2 player game, based on the infamous Rick and Morty episode, Pickle Rick. One player acts as none other than Pickle Rick, the other takes on the roles of both the Russian Embassy and Jaguar. Sparing no one, Pickle Rick's aim is to escape the heavily armed compound onto the helicopter, while the Russian Embassy and Jaguar focus on destroying Pickle Rick, otherwise known as Solenya. An added bonus – the game is presented in a detailed 12-inch outer casing of Pickle Rick, including an acrylic stand for prominent display anywhere of your choice!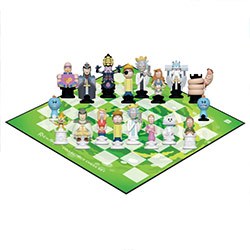 One of the most unique Rick and Morty gifts, this chess set is great for display and gameplay. Pitting good against evil, the set features a range of unique pieces and two sets of Meeseeks pawns – Meeseeks on the side of good and distressed Meeseeks on the evil side. The good side is made up of Rick, Morty, Summer, Beth, Snuffles, Birdperson, Squanchy, and Jerry, while the Evil side consists of Evil Rick, Evil Morty, Post-Apocalyptic Summer, Beth Mytholog, Snowball, Phoenixperson, Gearhead, and Jerry Mytholog.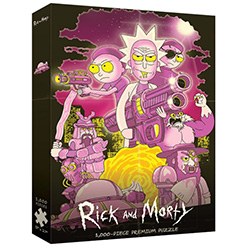 For Rick and Morty fans who love a good puzzle, the Big Trouble In Little Sanchez 1000 piece jigsaw is a gift they'll appreciate time and time again. The huge 19 x 27 inch movie poster features detailed artwork of Rick, Morty, and other iconic characters from the series. Throw randomly shaped puzzle pieces into the mix and fans are in for hours of fun!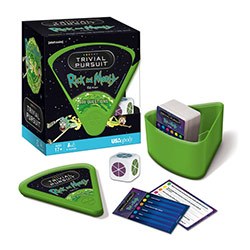 An awesome Rick and Morty merch idea for fans who brag about their unrivaled knowledge, the Trivial Pursuit Rick and Morty Edition game will put an end to any debate. Containing a holder, single die, and one hundred question cards, this officially licensed game will provide hours of competitive fun for two or up to five players.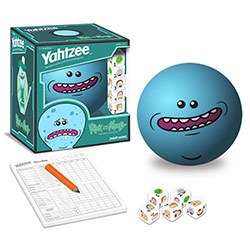 If they are a fan of Yahtzee, you can't go wrong with this Mr. Meeseeks inspired edition. The game set comes with five custom dice and a Mr. Meeseeks dice cup, putting a subtle fandom twist on America's number one dice game.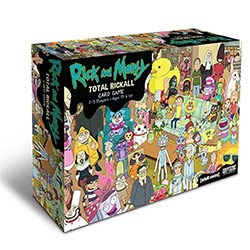 While the games above are thematic alternatives to classics, Total Rickall is its own unique game. The cooperative card game of parasites and faux memories features two separate rules or modes of play – standard and advanced. Easy to play and quick to learn, the point of Total Rickall is to see which one of the many crazy characters are your friends and which are space parasites.
Rick and Morty Merch: Action Figures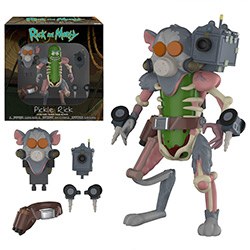 Inspired by the hilarious Rick and Morty episode, Pickle Rick, this 5-inch collectible figurine will be loved by all fans of Rick and Morty. Mutated Pickle Rick is presented in his amalgamated rat transformation, with all character accessories included. Unlike standard figurines, this buildable Pickle Rick is customizable, allowing you to pick and choose which deadly accessories you wish to dress him up for display!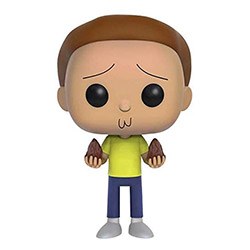 9. Morty Pop! Action Figure
As far as Rick and Morty gifts go, you cannot go wrong with a POP Vinyl collectible! This action figure features Morty, hesitantly holding mega seeds in both hands. Morty appears somewhat reluctant, seeing as Rick has suggested he hides the mega seeds in his bottom in an attempt to sneak them through interdimensional customs! Standing 3 ¾ inches tall, these figurines are ideal for display on workstations, dressers, or really anywhere you see fit!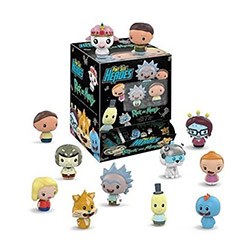 These Rick and Morty Pint Sized Heros are just adorable! Standing at 1.5 inches tall, each represents a cute, stylized mini-version of collectible characters from the series. Available in sealed mystery packs, half the fun is the surprise of not knowing which you'll receive next! Great as little stocking fillers or mini gifts for any Rick and Morty fan!
Rick and Morty Merch: Kids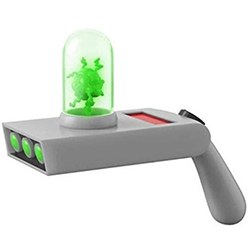 An iconic addition to any fan collection, this life-size collectible portal gun is a hands-down winner for Rick and Morty gift ideas. The 8-inch toy replica lights up, creating sounds from the series and also includes a light projection of a portal design! Perfect for role play, or just creating havoc, simply pull the trigger for galaxy travel!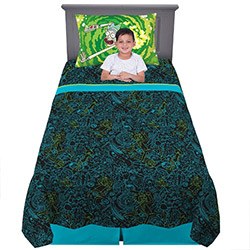 Be prepared for intergalactic dreaming with this Rick and Morty bedding set! The quilt cover boasts a variety of line drawn characters and humorous references from the series, while pillowcases display an animated Rick Sanchez undertaking interdimensional travel. This bold, vibrant design will add a burst of color to any room! Made from 100% polyester, the bed set is available in two sizes.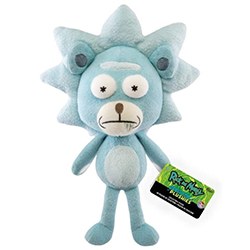 A cute little Rick and Morty merch gift for kids young and old, this plush teddy is a soft alternative to a plastic POP! Vinyl. From the episode: Edge of Tomorrow: Rick Die Rickpeat, the adorable blue teddy Rick features spikey Sanchez hair, bulging eyes, and the signature Rick drool.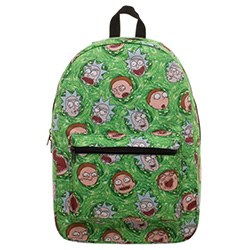 For those who love to wear their heroes on their.. back! Rick & Morty gift ideas for loyal fans don't get much better than this vibrant backpack featuring various animations of both Rick and Morty within the portal. 100% polyester canvas construction, with zipper closures and adjustable padded straps. Great for school days, weekend trips, or simply as a fashion icon accessory!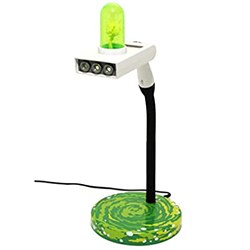 Ideal for any work station or the bedroom, this novelty Rick and Morty desk lamp is a statement piece all true fans will love! Standing over 16 inches tall, the portal gun designed lamp features two lighting modes – white for practicality, and green for interdimensional travel! With energy-saving LEDs, the desk lamp also features flexible gooseneck rigging, so you can point that beam at whatever you wish!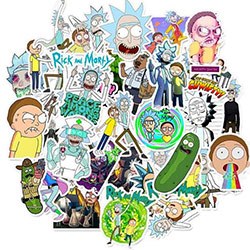 If you're after a simple, fun, and decorative gift, this set of Rick and Morty stickers is your answer. The pack features various adventures and design styles, from the popular portal exit to the Doc and Mharti inspired. Available in sets of ten, thirty, or fifty pieces, the waterproof stickers are perfect for laptops, skateboards, guitar cases, and even phones.
Rick and Morty Merch: Beverage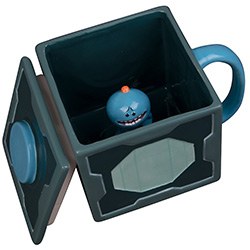 This is a Meeseeks box, let me show you how this works. You press this button and.. well, a Mr. Meeseeks does not appear, unless of course you open the lid. Inside this cool Meeseeks box coffee mug is an infamous Mr. Meeseeks who will ensure tea and coffee are brewed to perfection.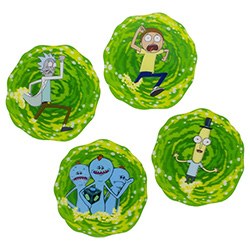 This official 3D coaster set is a must-have gift for any Rick and Morty fan. Featuring a vibrant portal design with iconic characters Rick, Morty, Mr. Poopybutthole and Meeseeks, these four unique coasters will definitely stand out, while dually protecting your table surface! Cheers!
Searching for Rick and Morty merch for fans who fancy a tipple (or two)? Look no further than the Szechuan Dipping Sauce inspired shot glass! Designed with premium quality opaque red glass, the bold design features Rick Sanchez drunk on Szechuan dipping sauce! A multipurpose gift for drinking, dipping, or even display, presented in a novel Chinese takeout box!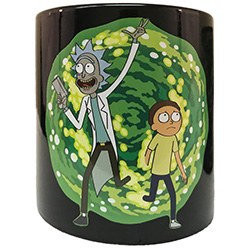 As far as Rick and Morty merchandise is concerned, you can't go past a good old branded mug. However, this unique mug does one better than your average drinking cup, changing color when hot liquid is added! Initially featuring Rick and Morty embarking on a journey through the portal, the mug quickly changes to a vibrant alternate universe, perhaps the home of some Kalaxian Crystals.. Made from premium quality ceramic, this official Rick and Morty mug will be enjoyed time and time again!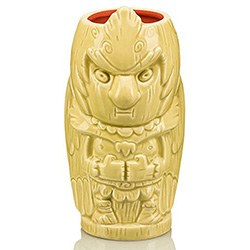 If you think the fan in question will get a kick out of a unique character, this cool Bird Person ceramic mug should do the trick. The officially licensed Geeki Tikis stands an intimidating 7.5 inches tall. Perfect for toasting their love of Rick and Morty, the molded mug can be filled with up to 24 ounces of tea, coffee, juice, soda, or alcohol of choice.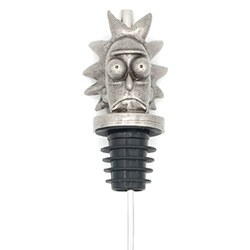 A Rick and Morty gift for mature fans, not a single drop of wine will make its way past this Rick. Made from stainless steel, the Rick's head wine stopper is a perfect addition to any fan's home, bar, or kitchen.
Rick and Morty Merch: Decor & Art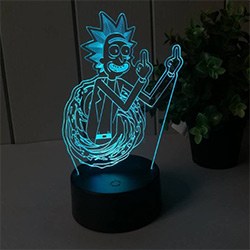 A gift of true enlightenment and tranquility, this 3D lamp depicts Rick wishing onlookers peace among worlds. Featuring seven color variations of green, red, yellow, blue, purple, white, and yellow, the lucky fan can proudly display this stunning visual, selecting a toner that suits their mood. Controlled by pressing the base, the funky cartoon lamp is powered by AA batteries or USB cable and is available in eight and ten-inch height options.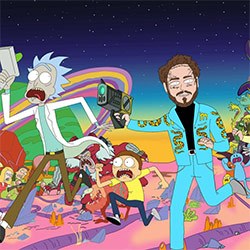 Perhaps the most unique Rick and Morty merch idea, this artwork transports fans young and old into the wacky world of Rick and Morty. What better gift to receive than getting an artist to draw the fan and their family or friends into the popular animated series! The finished portrait is delivered as digital artwork, which ensures quick delivery and an opportunity to select print size, quality, and custom framing.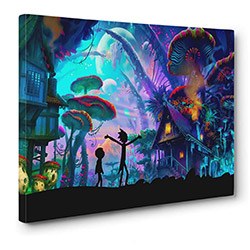 Searching for the ultimate Rick and Morty gift ideas? Look no further than this bold, large scale canvas, ready to hang in any room! Featuring Rick and Morty silhouettes amongst colorful hallucinogenic scenes, all artwork is printed on white semi-gloss artist canvas, stretched and gallery wrapped over a 1.5-inch frame. All hanging accessories included.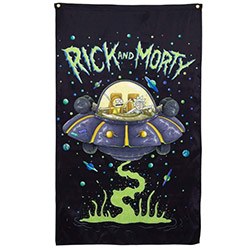 Rick and Morty fans big and small will love this indoor wall banner featuring none other than Rick and Morty. The large 100% woven polyester banner displays a high resolution printed design of Rick and Morty inside the space cruiser, with Rick steering, unashamedly inebriated, as per usual! Included with the banner are aluminum grommets for simple hanging.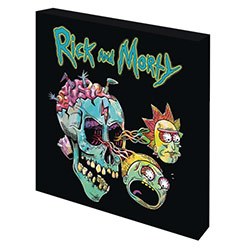 One of the coolest Rick and Morty gifts when it comes to wall decor, this high gloss masterpiece is perfect for bedrooms and man caves. In true outlandish often nonsensical Rick and Morty fashion, the design features a vibrant skull with our two favorite characters popping out of its sockets.
Fun Rick and Morty Merchandise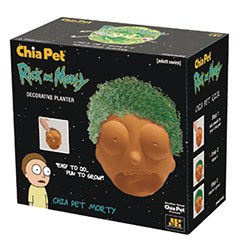 A funny and entertaining Morty gift that can only grow hair with a little helping hand. This easy to use Morty Chia Pet grows a thick full head of hair in just three simple steps; soak, spread, and water. The kit comes with a five-inch tall planter, seed packet, and mess-free drip tray, making indoor growing mess-free.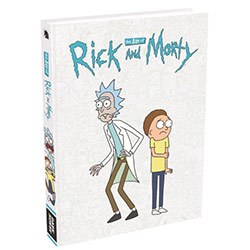 The best Rick and Morty merch must be unique, creative, and funny. With unrivaled literary genius, the poetic sentence structures and meaning derived from within its pages will have a profound impact on any reader, fan, or not. To borrow a quote from the forward "This is the forward of the book. You're reading it right now. Pretty soon you won't be reading it anymore. You may never read it again. You will continue about your life." Jokes aside, this book celebrates the artists behind the cult classic with special commentary and artworks from simple sketches to full-color masterpieces. Fans of the series will gain a deeper insight into the interesting animation process and how the characters' expressions were created.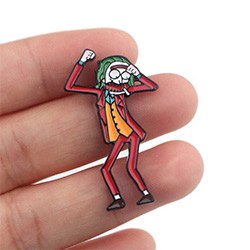 It almost feels natural seeing the smartest mammal in the galaxy depicted as Joaquin Phoenix's Joker. This creative cartoon brooch badge features Joker Rick as a still from the film, depicting the infamous dancing scene on the staircase just before the police call out to Arthur.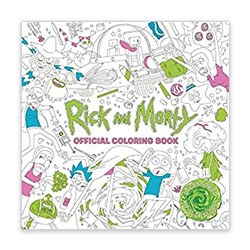 Adults and kids alike are sure to get a kick out of this official Rick and Morty coloring book. Featuring 80 pages packed with scenes and characters from the cult-series, the instructions are fairly straightforward; grab yourself a pencil, stay within the lines, and occasionally change pencil colors to make the picture a little more interesting.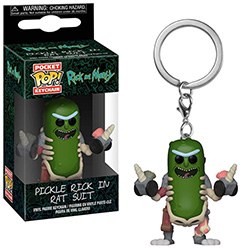 It's safe to say, the most loved Rick and Morty gifts are those that reference the infamous Pickle Rick. This 1 ½ inch keychain features Pickle Rick in his rat amour, ready for battle! Perfect for keys, backpacks, or as a statement fashion accessory, fans will enjoy taking Pickle Rick with them wherever they go!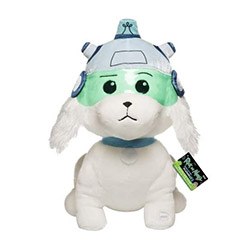 33. Interactive Plush Toy
From the captivating Rick and Morty episode, Lawnmower Dog, die-hard fans will adore this ever so adorable, yet all-powerful leader, Snowball. This 12-inch plush toy features Snuffles, the Smith family's pet, who after wearing an intelligence helmet from Rick, becomes privy to the oppression faced by dogs worldwide. Changing his name to Snowball, he assumes dominance, and here begins the crusade for his fellow-kind! This high quality, stylized plush toy can be squeezed to hear Snowball phrases from the episode.
Rick and Morty Merch: Utility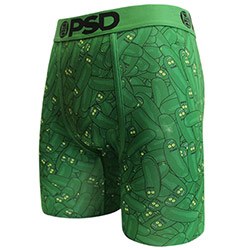 Searching for Rick and Morty gifts with a personal touch? It doesn't get more intimate than official Rick and Morty branded underwear! These boxer briefs feature the iconic character Pickle Rick, with a thick and comfortable PSD logo elastic waistband! The bold and vibrant design is a perfect gift to make any true fan chuckle!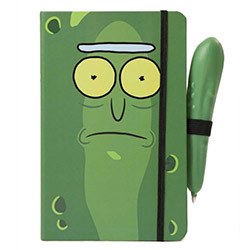 Documentation doesn't get any better than 192 pages of Pickle Riiiick. The vibrantly designed hardcover journal comes with a cool pickle shaped pen ensuring each fan receives an immersive journaling experience.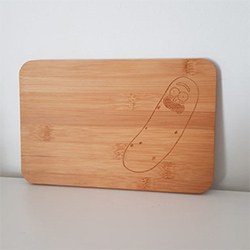 Whether they're a home chef or love entertaining guests, this Rick and Morty gift is sure to replace any board currently in their kitchen. Featuring a laser engraved pickle they wouldn't dare eat, the Pickle Rick bamboo board is great for chopping vegetables, serving guests, or sitting around looking awesome, just because it can.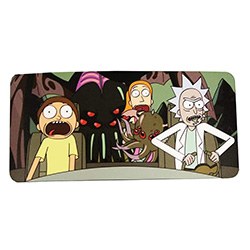 Searching for awesome Rick and Morty merch for fans who have just obtained their driver's license, or simply love their cars? Say congratulations with this universal car window shade! Depicting Rick, Morty, and Summer in the space cruiser escaping the Cthulhu monster, this car shade is also conveniently collapsible for easy storage. Keeping cars cool, while looking cool!
This collectible coin box is a fantastic Rick and Morty gift idea for fans of the series. Designed as Rick Sanchez's notorious space cruiser in the shape of a UFO, this unique money box is a detailed replica of the exact one seen in the series! This coin box is great for saving those dimes or simply as a stunning collectible display.
Inspired by the Get Schwifty episode, this official Rick and Morty wallet features a high-quality print of Rick and Morty from one of the scenes in the episode. The bi-fold wallet is PU construction, including a window for ID, and features signature GET SCHWIFTY black embossed lettering on the back. A classic collectible for any Rick and Morty fan who loves to get schwifty in here!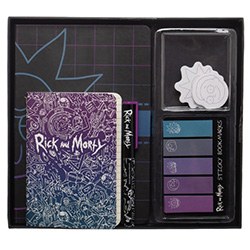 The perfect Rick and Morty merch for a home office, this supply set has all the desktop bits and pieces a true fan would want. Featuring a dark hardcover journal, artistically designed pocket journal, vibrant sticky bookmarks, a pen, and cool sticky memos, the set can be used for notetaking or just having a few laughs with friends.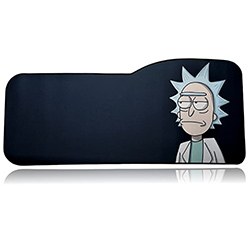 For fans who love to play, this gaming mouse pad is the perfect Rick and Morty gift idea! Boldly branded with Rick Sanchez's classic expression, this unique shaped elongated mouse pad designed for extended hand movements has been created specifically with gaming in mind. Also incorporating a natural rubber anti-slip base and optimized for fast, controlled movements for both laser and optical gaming mice, this gift will be loved by fans and gamers alike!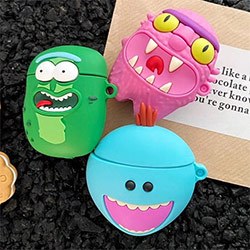 The question every fan will be asking once they open up the next Rick and Morty gift is; how could my AirPods have been housed in anything else?? These vibrant soft silicone Airpods cases feature wonderfully designed Pickle Rick, Mr. Meeseeks, and Scary Terry with a gloss finish over the silicone designs to really make them pop.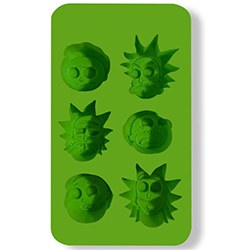 Fans of all ages will enjoy this official Rick and Morty ice cube tray! The novelty tray comes with six different ice cube formations, featuring hilarious facial expressions of both Rick and Morty from the series. It will be hard to miss this bright 'portal' colored tray in your freezer, while the silicone construction makes it easy to remove ice cubes. Fill these with whatever drink you please.. wubba lubba dub dub!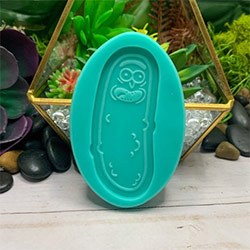 A versatile and unique accessory, this Rick and Morty resin mold is a fun and interesting gift for fans of all ages. Depicting none other than the notoriously fearless Pickle Rick, the mold is made of high-quality silicone for easy removal and produces a finished 3-inch tall and 0.8-inch thick Rick. Suitable for a variety of purposes, fans will have hours of fun creating different Pickle Rick designs for family, friends, and themselves!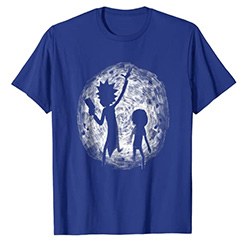 If you're after unique Rick and Morty officially designed fan artwork, this eye-catching T-Shirt depicts the duo embarking on yet another epic adventure. Featuring a silhouette hand-drawn design, the T-Shirt shows Rick enthusiastically stepping out of a universe holding his portal gun, with Morty following close suit. This soft and comfy Tee has a classic fit and is available in 5 bold color options that make the design pop.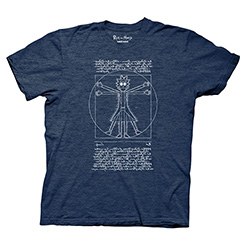 It is safe to assume when Leonardo da Vinci created Vitruvian Man, it would never have crossed his mind that a nihilistic, alcoholic animated genius would appear in his place. This official Rick and Morty T-Shirt features the infamous Rick Sanchez as Vitruvian Man, with the accompanying script to be deciphered in the mirror! Made from a soft, lightweight cotton-polyester blend, this unique T-Shirt will definitely stand out from the others.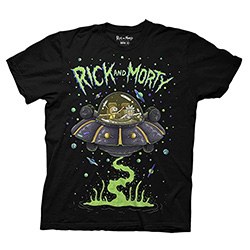 If you're after Rick and Morty T-shirts that are out of this world, the officially licensed Spaceship Dumping Tee perfectly depicts the hilarity of the series. Presenting a bold and vibrant design, the image features the duo inside the Space Cruiser, with a mortified Morty helplessly watching an intoxicated Rick shamelessly dumping.. who knows what into space. Made from a soft, smooth, and lightweight cotton polyester blend, this crazy design is available in a choice of 5 background color options to suit all fans.
Rick and Morty Christmas Sweaters, Hoodies & Shirts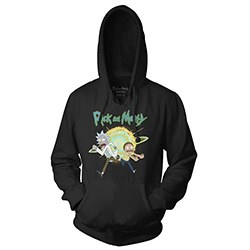 If you want to gift authentic Rick and Morty merch that epitomizes the cult-series in all its glory, then this officially licensed Rick and Morty hoodie does just that. The stylish dark hoodie presents a central vibrant design displaying iconic Rick and Morty branding and features an exploding universe with Rick and Morty nervously on the run, obviously after yet another of Rick's crazy plans or experiments have gone wrong. The pullover fleece hoodie is made from a comfy cotton polyester blend that is conveniently machine washable since it will no doubt get plenty of proud wear, time and time again.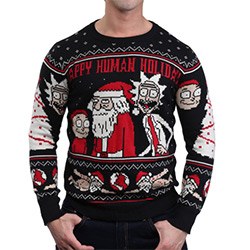 49. Ugle Christmas Sweater
If you're searching for Rick and Morty Christmas sweaters to commemorate the season, this Happy Human jumper to proudly display fandom loyalty. An ugly Christmas sweater like no other, the bold design is based on the slightly disgusting Anatomy Park episode, where Rick has dressed a random man as Santa Claus to create an educational theme park inside of his organs. The sweater front displays a jolly Rick, Morty, and Santa with a festive message, while the reverse features the giant naked sky Santa exploding when of course Rick's genius plans don't go according to.. plan. This authentic knitted sweater is made from a warm and cozy cotton polyester blend, featuring rib-knit neckband, sleeve cuffs, and waistband details. This hilarious holiday sweater will put all other ugly Christmas sweaters to shame!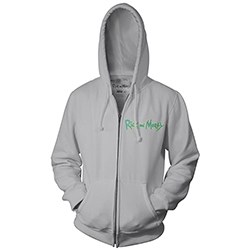 Featured in this unique Rick and Morty hoodie are the inseparable duo taking a trip to Wonderland.. or at least one of them! The officially licensed grey hoodie presents a minimalist branded zip front, with an eye-catching illustration on the reverse. A Rick and Morty meets Alice In Wonderland inspired design, the image depicts a dimension of weird creatures, wacky mushrooms, a lifeless Alice, and of course features an indifferent Rick with a skeptical Morty. Made from a soft cotton-polyester blend with generous sizing, this comfy hoodie is every fans out of this world dream.
Summer just wouldn't be the same without Rick and Morty gifts that are as hot as the season. Screaming pina colada louder than anyone else, this bright and lively Hawaiian shirt features a sea of palm leaves, pink flamingos, and of course, plenty of happy Hawaiian Ricks! Made from 100% rayon with a bold Hawaiian print, this officially licensed button-up shirt is just what fans need to put their feet up and get this party started.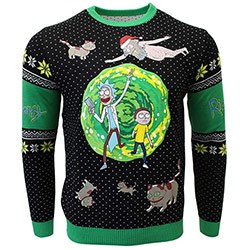 The season just wouldn't be complete without Rick and Morty Christmas sweaters for some absurd entertainment over Christmas lunch. The officially licensed jumper has been designed in true Rick and Morty festive style, featuring the iconic duo entering an interdimensional portal, while surrounded by floating kitties and naturally, a giant naked Santa. Knitted from premium quality yarn with a high-quality gel print design, this authentic sweater also includes a free Naked Santa bonus pin and comes in an awesome presentation box, ready for gifting.
Rick and morty Hats & Headwear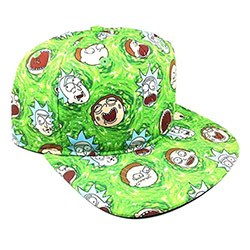 Summer is not complete without sporting one of the best Rick and Morty hats available. This officially licensed snapback features a unique sublimated all-over print featuring silly faces of the dynamic duo lost in a myriad of portals. Made from 100% polyester that is lightweight and breathable, this vibrant, casual hat is a fun accessory for Rick and Morty fans to sport their loyalty.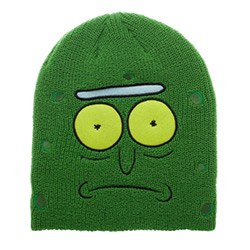 If you're searching for universal Rick and Morty gifts any fan will love, you can't go past this cult-worthy beanie. Everyone's favorite episode, this comfy beanie features none other than the notorious, Pickle Rick. The comfy polyblend slouch-style hat boasts a vibrant pickle green with embroidered facial features. This iconic beanie is just what every Rick and Morty fan needs to pickle-ize a bit of their wardrobe.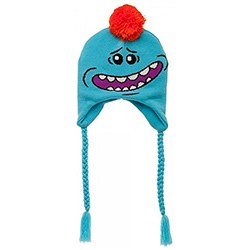 I'm Mr. Meeseeks, look at me! is exactly what this cap screams loud and proud. This officially licensed Rick and Morty Laplander features none other than a vibrant Mr. Meeseeks, ready and waiting to please. Made from 100% soft and stretchy acrylic with a bright orange pom, this is one awesome cap that will stand out from the rest.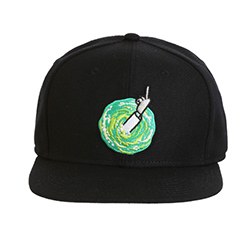 There are those Rick and Morty hats that bluntly say it how it is and this baseball-style hat does just that. Featuring an embroidered design of none other than Rick's proverbial middle finger popping out of another dimension, this official Rick and Morty snapback hat makes sure others know to mind their own business! Actions often speak louder than words, which rings true for this bold fan cap, presenting interdimensional defiance in style.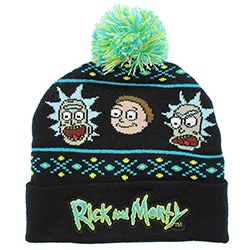 If you're searching for Rick and Morty merch gifts to warm their heads and hearts, you can't go past this bold beanie. The perfect accessory for those cooler months, this officially licensed beanie features a jacquard woven Rick and Morty faces, an embroidered logo on the wide cuff, as well as a vibrant blue, green, and white pom on top. Made from 100% acrylic to keep heads nice and toasty, this is one beanie fans will take on all their adventures across the universe.
Rick and Morty Socks & Footwear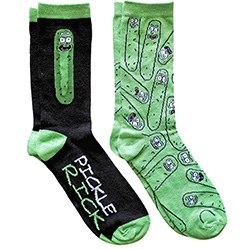 What Rick and Morty fan doesn't adore Pickle Rick? Fans of the series appreciate the witticism and ruthless antics that are, Pickle Rick. These men's crew Rick and Morty Socks will definitely cause a few smiles each time they're worn! Featuring bold, animated designs of Pickle Rick, these quality socks will keep those tootsies humorously warm.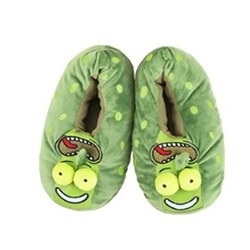 One of the best official Rick and Morty merch available, these Pickle Rick hug slippers are the perfect excuse to put your feet up at home. You will be hard-pressed to find a fan who doesn't love a Pickle in Plush! These vibrant men's slippers feature a super soft velour outer shell and cozy fleece lining over a foam insole. Whether you're trying to avoid family counseling, or simply want to avoid the rest of the world for a few days, these amazing Pickle Rick slippers will add a touch of manic genius to your laid-back days off.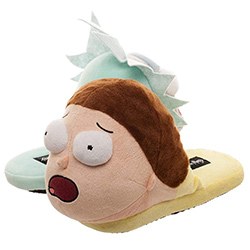 Any Rick and Morty enthusiast is going to be head over heels in love with these unique slippers. The Rick and Morty Besties slippers present a super comfy pair of plush slippers perfect for lounging indoors. The officially licensed set features mismatched 3D slippers of the duo, one featuring Rick's crazy smile, and the other Morty's expected anxiety-ridden expression. Including padded insides for ultimate comfort and grip material on the bottoms, these unique slippers are perfect for fans who want to Get Schwifty at home.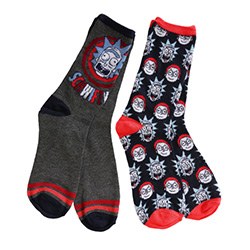 Another awesome set of Rick and Morty socks that fans will adore, this pack includes 2 pairs of stylishly loud crew cut socks. Featuring Rick's iconic intoxicated smile with notorious SCHWIFTY branding, and another featuring the classic duo, these comfy socks are the perfect opportunity for fans to proudly and boldly display their loyalty.
Searching for more than Rick and Morty Gifts? Check out some of our other great list for more awesome gift ideas.