Wini Gifts is supported by our readers. At no additional cost to you, we may earn a small commission from the purchases you make using our links.
Learn more
Fun and adorable homewares and decor, creative gadgets and utilities, and beautiful personal accessories, our extensive collection of panda gifts have something special for everyone obsessed with these beautiful, docile creatures. Traditional inhabitants of central Chinese provinces, these mountainous giants emoji cool, wet climates and while charmingly sweet, mostly prefer a solitary, peaceful life. Whether you are lucky enough to have seen wild pandas in their central Chinese province habitats, or simply enjoy observing them at the zoo, it is easy to fall in love with these gentle and intriguing giants of the earth.
From quirky art-inspired coasters to a gorgeous giant panda and red panda diffuser, the following section contains plenty of playful panda themed gifts as purposeful utilities and decor, perfect for use or to enhance a variety of living spaces.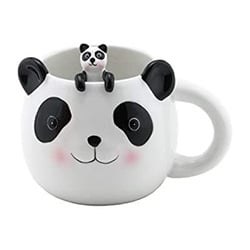 This unique panda mug presents an adorable utility panda lovers will adore. The fun novelty cup features a cute panda face front, with a cheeky baby panda peeking over the ledge to say hello. The tiny panda cub doubles as a sweet little spoon that is perfect for stirring drinks or enjoying desserts from your panda mug. Made from high-quality food-safe ceramic, this joyful mug set is both microwave and dishwasher-friendly and makes a wonderful collectible for animal lovers.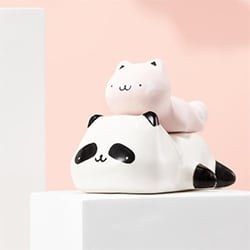 Enjoying a free ride in comfort, a cute red panda is piggybacking on top of her giant panda bear counterpart, who is taking a short rest from carrying the extra load. This adorable scent diffuser is handcrafted from quality ceramic, beautifying its environment and dispersing alluring aromas throughout any living space.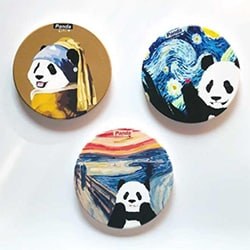 One of the more unique and quirky panda gifts to grace our list is this fun set of coasters. The art-inspired coasters present a series of fun illustrations featuring notable artworks fused with panda cuteness. The vibrant designs include Vincent van Gogh's The Starry Night and The Scream, Johannes Vermeer's Girl With A Pearl Earring, and a peaceful panda floating through space as The Astronaut. Available for individual sale or as a set of 3, each handmade ceramic coaster also comes with a stand to place this striking artwork on display for all to see.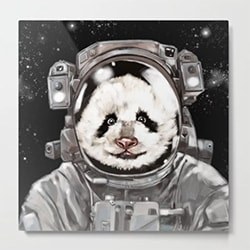 The perfect gift for an art-loving panda-obsessed friend is this amusing wall art. The metal art print presents a unique design featuring a wide-eyed panda astronaut, casually taking a selfie while floating through space. Featuring a crisp, detailed illustration with bold, vivid hues, the artwork is printed on ⅙ inch thick aluminum sheet canvas attached to a wooden frame and finished with an eye-catching high-gloss coating, ready to make an impact in any home or office space.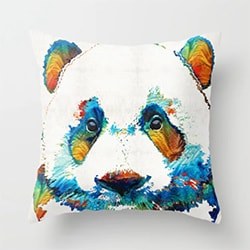 Exuding giant panda love with creative flair is this creatively vibrant throw pillow. A great gift to inject a burst of life into any space, the unique abstract artwork presents a vivid mixed media illustration featuring an unmistakable panda face. Featuring a crisp double-sided print, this delightful throw pillow is cut and sewn by hand, made from polyester twill fabric, and stuffed with a fluffy faux down insert, offering the perfect combination of comfort and style.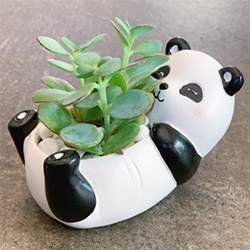 A very cute panda gift for those with endless love for these adorable creatures is this charming planter. The novelty planter features a cute little panda on his back with his tummy exposed and ready for planting. Expertly handcrafted from quality ceramic, this panda-inspired holder is perfect for housing small plants and succulents or even storing small stationery and accessories.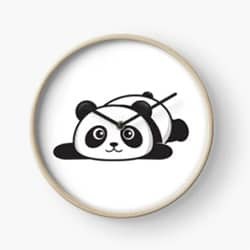 If you're searching for cute and purposeful panda gifts for your living or home office spaces, this fun clock ticks all the boxes. With a simple, yet stylish design, the panda clock presents a friendly little animated creature placed on his tummy and looking very relaxed and pleased with himself. Featuring a Quartz mechanism with a clear plexiglass face and solid bamboo wooden frame, this cute panda clock comes with a built-in rear hook, ready for hanging.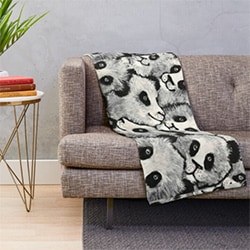 What could be more endearing than being covered in a blanket adorned by your favorite creature?! This charming cover presents a very busy, detailed pattern featuring lots and lots of happy panda faces. Made from soft and comfy polyester fleece with edge-to-edge sublimation printing, this charming panda blanket is available in 3 sizing options, perfect for your draping over the couch, the bed, or yourself.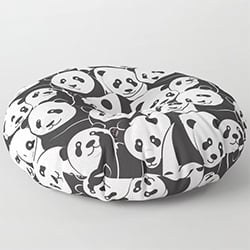 Panda fans everywhere are bound to go crazy for this fantastic panda-inspired floor pillow. The Pandamic floor cushion presents a busy pattern containing plenty of charming pandas covering this plump, plush, and firm accessory. Made from 100% polyester with a durable, high-quality print, this fun floor pillow is available in both round and square options and will add a pop of cuteness to any interior space.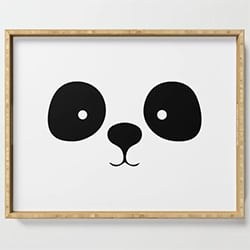 This eye-catching panda bear inspired serving tray presents a modern, minimalist design that will capture the heart of any panda enthusiast. Just as perfect for serving entrees and drinks, as it is for storing bathroom accessories or prominent display, the versatile accessory presents an eco-friendly bamboo tray with cutout handles and a high-quality glossy print design that is bound to stand out.
From a very unique and adorable glasses holder to a beautiful one-of-a-kind necklace, this section contains a handpicked selection of personal gifts for panda lovers they will take pride in sporting or enjoy putting to good use.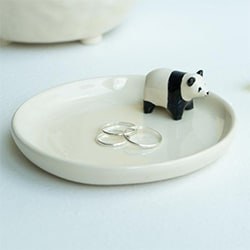 When it comes to elegant panda gifts for special occasions, this artisan jewelry dish is a beautiful gift they are sure to cherish. The panda-inspired jewelry dish presents exquisite craftsmanship featuring a stunning minimalist design that draws your attention to the graceful creature placed off-center. Each piece is carefully hand-shaped from white earthenware clay, coated with a sleek glossy glaze, and is the perfect keepsake for gifting this Christmas, a special birthday, or even for mom on Mother's day.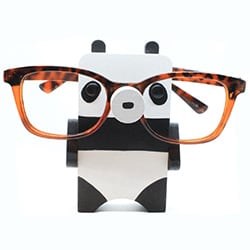 A wonderful bedside or desk accessory, it will be hard not to smile each time any panda lover reaches for their eyewear. This creative glasses holder presents a unique design featuring a cute little panda that will keep your glasses safe and easily accessible. Expertly handcrafted from poplar wood with hand-painted details, this fun little holder includes 3D panda ears, eyes, nose, hands, and even a cute little tail.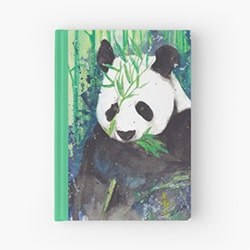 This eye-catching notebook is the perfect gift nature and animal lovers alike will fall in love with each and every use. The vibrant journal presents a vivid and unique watercolor illustration of a beautiful giant panda peacefully chomping away on some bamboo. Featuring a high-quality wraparound print on a hardback cover, this 128-page notebook has the option of ruled, graph, or blank pages and is ideal for journaling, To-Do lists, taking notes, or doodling.
One of the most endearing panda gift ideas for a loved one is this darling necklace. The perfect expression of sincere affection, the adorable 'hug me' design presents a charming little panda embracing a beautiful bright love heart. Crafted from premium sterling silver, the creative design includes a sparkling garnet red heart, creating a mesmerizing look as the light catches the stone. Alternatively, if a minimalist design is more to their taste, this
luxurious 14K gold panda necklace
presents a charming, dainty silhouette design that can be easily layered or is sure to stand out when worn solo.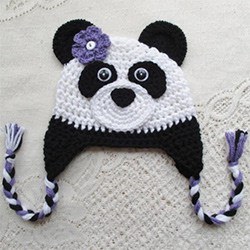 Panda-obsessed loved ones will adore staying warm this winter with this gorgeous beanie. The charming handmade hat presents an adorable panda face including endearing 3D panda ears and shiny button eyes. Each beanie is custom-made to order, hand-crocheted to suit your color and sizing preferences, including cute little optional features such as a bow, flower, or pigtails details.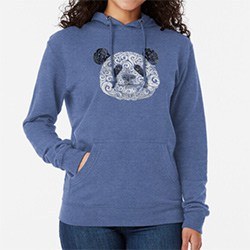 If you're searching for comfortable panda gifts, this lightweight hoodie is a perfect fit. Adorned with a creative swirly panda face, the thin pullover hoodie is ideal for in-between weather, when it's too hot for a jacket, but a little chilly for a tee.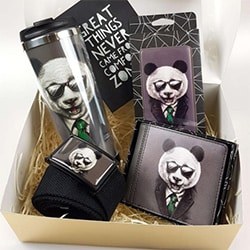 Long since removed from the bamboo forests of China, this cool panda bear is rocking sunglasses, shirt, tie, and jacket. For men who have an affinity for these extraordinary creatures, this wonderful gift set includes all of the vital pieces needed whenever leaving the house. What's inside the box you ask? A 10,000mAh power bank, stylish wallet, slick thermo travel mug, postcard, and a cool belt to keep his pants secure.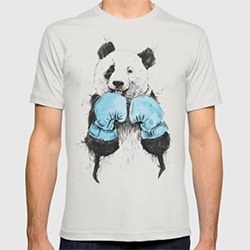 If you're after cool wearable gifts for panda lovers, this funny T-shirt is sure to get a few chuckles when worn out in public. Adorned with a boxing panda ready to strike, "The Winner" tee is ideal for loved ones and friends with a good sense of humor.
Gadgets and accessories are all the more fun and adorable when they are panda-themed! From a lively little speaker to a one-of-a-kind gaming controller, these amazing gifts are sure to delight anyone obsessed with this friendly creature.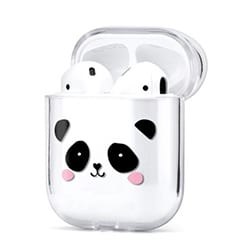 One of the most adorable panda gifts for AirPods owners, this transparent hardshell case prevents bumps and scratches from damaging the original casing. With options for both AirPods and Airpods Pro, this cute little panda can also be personalized to include your lucky recipient's name.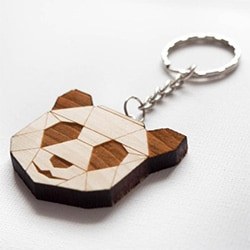 A stylish little accessory, this unique panda keyring presents a modern, minimalist design that will stand out from the rest. The custom keychain features a contemporary geometric pattern that creatively recreates a panda face. Expertly handcrafted, the artistic design is precisely engraved on the wooden pendant, with the option to also include a personalized engraved message on the reverse.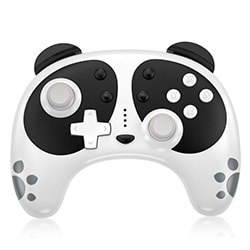 A great gift for a panda fan who is also an avid Switch gamer, this creative panda-themed controller will elevate their gaming experience. The wireless controller features four levels of vibration, turbo mode, and motion control that operates along six-axis. Allowing for six hours of continuous gameplay, the panda controller is a perfect Christmas or birthday gift for a young Nintendo Switch owner.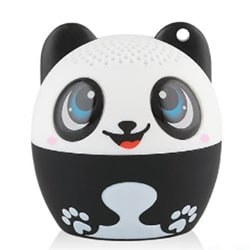 If you're after a cool little gadget both kids and adults can enjoy, this miniature panda bear is the idea for you. A pet they can rely on for rich audio, Pandamonium is a loud miniature speaker that delivers well beyond its stature. While the wireless speaker is great on its own, the gadget can be paired with an animal companion to produce immersive audio and a jungle feel.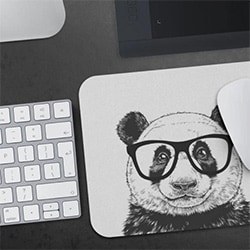 Smart and stylish, this panda-themed mouse pad will feel right at home working diligently next to you each day! The unique design presents an attentive panda with large glasses in a modern monochrome style that will seamlessly blend into any workspace. Made from ¼ inch thick durable neoprene, the mouse pad includes a soft rubber backing and polyester top for smooth and stable use.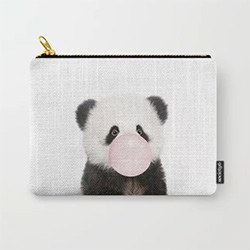 If you're searching for panda gifts with a touch of quirkiness, you can't go past this fun little pouch! The cute little utility presents a creative whimsical illustration featuring a wide-eyed panda cub blowing a large pink bubble gum bubble. Crafted from durable canvas material, the pouch features a soft interior lining with a faux leather pull tab and is available in 3 sizes, perfect for toiletries, makeup, stationery, and small electronics.
Nothing screams more fun than a lovable panda soft toy or body pillow! This section contains a hand-picked selection of exciting panda-inspired gifts that any child, young or old, is bound to fall in love with.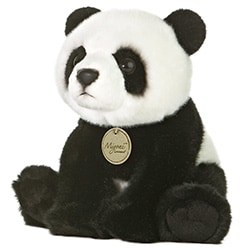 Anyone obsessed with pandas will immediately fall in love with this adorable panda teddy bear. Miyoni is the cutest toy panda cub you ever did see, featuring endearing dreamy eyes and soft and cozy plush fur. Crafted from premium materials, this life-like toy features exceptional craftsmanship, including air-brushed details and even a sweet little nametag.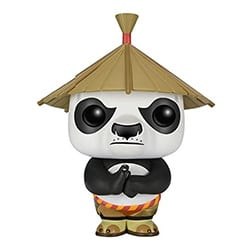 The next fun gift is ideal for a panda-loving kid, a grown-up collector, or a fan of the Kung Fu Panda movie franchise. Featuring Po wearing a conical coolie hat, the large martial arts action figure will stand guard over their desktop, protecting it from sneaky folk snooping around.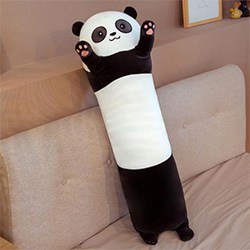 The next best thing to having a giant panda in your bedroom is this huge stuffed animal body pillow! The cuddly panda pillow presents a unique elongated design that is perfect for wrapping into a comforting embrace. Designed using a soft plush material and featuring cute 3D ears, paws, and even little feet, this super kawaii plush toy will soon become their go-to snuggle buddy.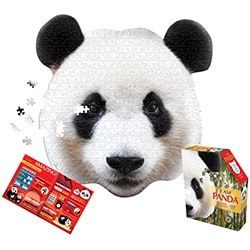 You will be hard-pressed to find a more unique panda gift than this realistic jigsaw puzzle. Shaped as a giant panda head, the "I Am Panda" puzzle contains over five hundred pieces, providing hours of fun and a beautiful image upon completion.
What child doesn't adore a cute and cuddly panda? From an adorable keepsake piggy bank to a unique nesting doll set, the following panda themed gifts are bound to delight and excite young ones.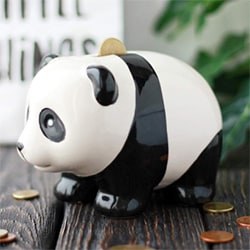 One of the best panda gifts for teaching children to save, this cute piggy bank is shaped in the likeness of their favorite animal, collecting change for safekeeping. Featuring a detailed replica-style design and solid ceramic construction, the handmade panda coin box can also be personalized with your young recipient's name.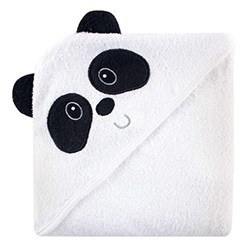 A cute panda gift for a cute little one is this charming cozy hooded towel. The generously sized baby hooded towel presents a creative design featuring an adorable panda face featured on the hood including small 3D panda ears. Made from plush and absorbent woven terry cotton that is soft and gentle on baby's skin, this delightful hooded towel will make bathtime a fun and enjoyable experience for everyone.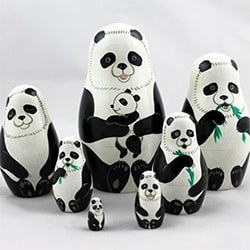 A wonderfully unique Christmas or birthday gift kids young and old will appreciate is this beautiful set of panda nesting dolls. The creative design presents a series of traditional Matryoshka Russian nesting dolls, artistically recreated in the style of an adorable panda family. Expertly handcrafted from eco-friendly natural wood, each unique doll is individually hand-painted using water-based paint and finished with acrylic lacquer, creating a lasting, one-of-a-kind keepsake that will be treasured for years to come.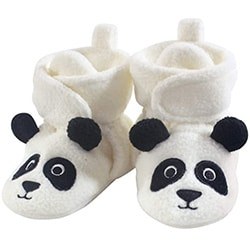 One of the cutest panda gift ideas for a little one, these cozy fleece booties will keep them snug and warm all winter long. The novelty children's slippers present a charming panda face design, including fun 3D ears, easy to secure wrap-around Velcro closure strap, and non-skid soles for safety. Conveniently machine washable, these adorable little slippers are made from 100% plush polyester that is soft, gentle, and comfortable on baby's skin.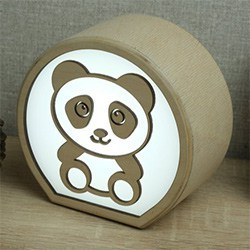 A fun gift for young panda fans, this sweet panda night light will both illuminate and delight little ones. The baby night light presents a creative design featuring an adorable panda-shaped silhouette. Handcrafted from premium natural plywood and using non-toxic paints and natural oils, this gorgeous night light will gently illuminate dark spaces and create a pleasant ambiance in any nursery or bedroom.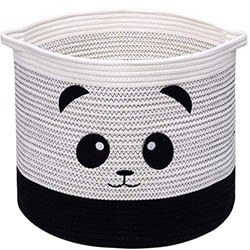 When it comes to cute and practical gifts for panda lovers, this versatile storage basket is a novel accessory that will find many uses around the home. The hamper basket presents a charming minimalist design, featuring a panda face silhouette with a matching black band. Made from 100% eco-friendly premium cotton rope, the woven basket is both soft and firm, able to withstand rigorous use, and is also conveniently machine washable. Measuring 13.7 inches in diameter, this hamper basket is perfect for storing baby's laundry, toys, shoes, and much more.
From an eye-catching duffel bag to a crazy laptop sleeve, the following section contains a variety of useful travel and utility gifts for showing off panda-pride whilst out and about.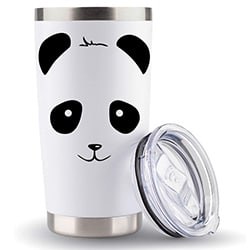 A vital panda gift for someone who requires tea or coffee on the go, this cute little cub is travel-friendly and protective of temperature. Keeping drinks hot long enough for even the slowest drinker to finish, the creative tumbler is constructed from stainless steel and capped with an easy slide lid.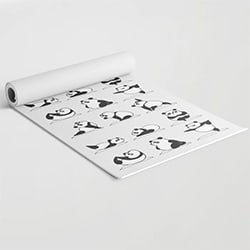 The best present for a panda lover who enjoys exercise, meditation, and yoga, this adorable mat depicts an active panda cub in an array of postures and poses. The lightweight yoga mat is perfect for home sessions and studio use, featuring a latex and heavy metal-free design and a convenient strap for easy carry.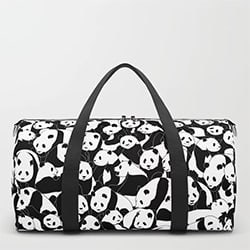 Ensuring clothing and accessories can be easily transported, this panda bear duffle bag is perfect for gym junkies and avid travelers alike. Available in three sizes, the bag is adorned in their favorite animal and features an adjustable shoulder strap, soft polyester lining, and a durable poly fabric construction.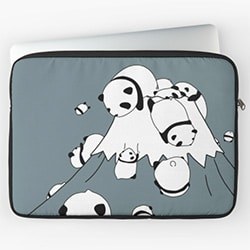 Climbing up and tumbling down a snow-capped mountain somewhere in China, panda-obsessed loved ones will adore this fun laptop sleeve. Featuring a high-quality print, the padded zippered laptop sleeve includes stylish black edging and details and is the perfect Christmas or birthday gift to satisfy a panda craving.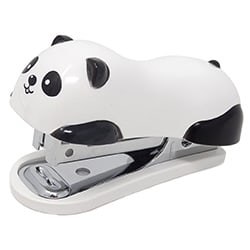 Stationery and panda lovers alike will be vying to have this fun little utility on their desk! When it comes to novelty panda gifts that serve a practical purpose, you can't go past this cute mini panda stapler. The compact set presents a panda-shaped stapler, featuring an adorable design with this charming creature, including cute 3D details such as panda ears, feet, and tail. Measuring a tiny 2.36 inches long, this adorable little stapler can staple 2-12 sheets of standard copy paper, and also comes with a box of 1000 No. 10 staples.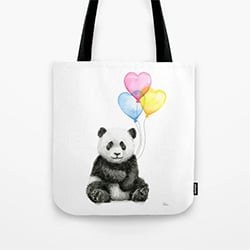 If you're searching for the cutest panda-themed gifts with a touch of whimsy, you can't go past this beautiful baby panda tote. The gorgeous tote bag presents an adorable young panda cub peacefully seated while holding a bunch of colorful heart-shaped balloons. Constructed from a premium lightweight yet durable canvas material, this hardwearing tote is available in 3 sizing options and is perfect for groceries, books, and everyday accessories.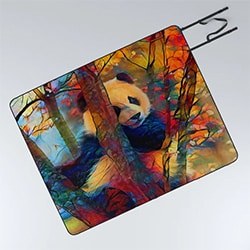 Any panda lover will adore showing off this vibrant blanket while out enjoying the great outdoors. Perfect for sunny days at the beach or park, this gorgeous blanket presents a colorful, eye-catching design featuring an adorable giant panda looking very comfortable amongst the shedding autumn trees. Made from durable woven polyester, the blanket features a water-resistant top and bottom to protect from moisture, and a UV coating to ensure this crisp, bold design doesn't fade in the sunlight.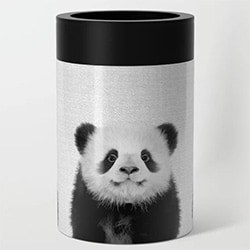 One of the more fun panda gift ideas perfect for those hot summer days is this stylish can cooler. The chic design presents a sleek monochrome illustration of an adorable baby panda. Featuring a lightweight, stainless steel construction with double-wall insulation, this cute can cooler will keep drinks chilled (or piping hot), and is just as perfect for use as a pen holder or dresser accessory.
Searching for more than Lovable Panda Gifts? Check out some of our other great list for more awesome gift ideas.