Wini Gifts is supported by our readers. At no additional cost to you, we may earn a small commission from the purchases you make using our links.
Learn more
Long Distance Relationship Gifts
Are you stuck with ideas for the perfect long distance relationship gifts for your significant other? Our collection of gift ideas offers a variety of options to show your affection from afar. From romantic keepsakes to practical pieces, even those that cater to specific interests, you'll be sure to find the ideal gift for your special loved one here.
Long Distance Relationship Gifts: Romantic
What better gift to receive than one which insights romance and is a token of your love and commitment. Check out our most charming his and hers long distance relationship gifts below.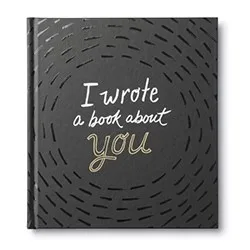 One of the best and most endearing long distance relationship gifts is this unique personalized book for your loved one. Sweet, fun, and lighthearted, I Wrote A Book About You is a hardcover fill-in-the-blank book that is designed to be filled out by you and given to someone special in your life. Filled with simple, yet meaningful prompts and delightful illustrations, the book can be completed in under an hour and is the perfect way to offer a very personal touch to any gift-giving occasion.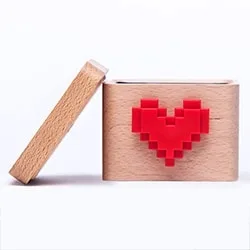 What better way to celebrate a special occasion and move your relationship closer than with a romantic lovebox. Once your partner receives their special gift you can tell them just how much you miss them in a very unique and memorable way. No matter where you are in the world, each time you send them love, the little heart will spin, letting them know there is a heartfelt message from you waiting inside. The heart will continue spinning until the lid is opened and the message inside has been read. To return the affection, your partner needs only to manually spin the heart and you will receive a shower of hearts on your Lovebox App.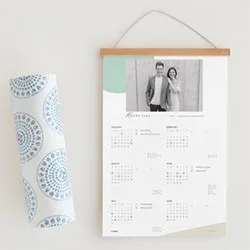 An amazing long distance relationship gift idea that helps keep fun times together in sight at all times is a beautiful custom photo calendar. While framed photos provide a great memory, a unique calendar with important dates is a romantic reminder of just how much you care. The design is reversible and contains the same photo on the front and back, displaying six months on each side. In addition to this lovely print design, the calendar comes with a removable magnetic hanging bar, which can also be used to hang art and photos once the year has passed.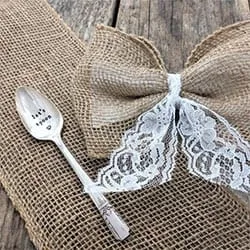 A small and unique gift that will act as a daily reminder of your love is this personalized silver spoon. Perfect for eating cereal, ice-cream, stirring drinks, or scooping honey, each stamped spoon is made to order using vintage silver plated flatware for a traditional touch. Stamped by hand using an antique kick press, select a special message for her that will be delivered beautifully gift wrapped and ready to enjoy.
Long Distance Relationship Gifts: Popular
There are certain gifts you know will be well received and the following are just that! From cool wireless headphones to those that entice their taste buds, these amazing and highly useful long distance relationship gifts are sure to be very popular with your significant other.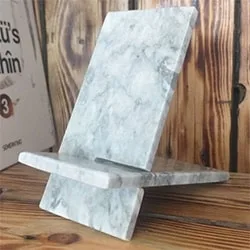 Relieve your partner of the burden of holding their phone while you talk for hours on end with this elegant and sturdy phone stand. Made from beautiful natural Turkish marble, the stand can be used to hold any phone, tablet, and even books while you're not on a voice or video call. The stand is available in six striking color variations and looks amazing in any modern or classic setting.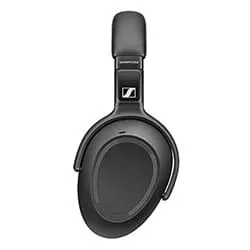 Whether for wearing while chatting on the phone, video calling over Skype, or for keeping them company while apart, one of the smartest long distance relationship gifts is a pair of headphones. The Sennheiser PXC 55-II Wireless headphones will silence the world around them, allowing them to focus on what they want to hear. The freedom of wireless, a comfortable fit, and long-lasting battery life make this a perfect travel partner, while the Sennheiser Smart Control App allows for a tailored listening experience. In addition to the headphones, the box comes equipped with a USB charging cable, audio cable, flight adapter, and a convenient travel case.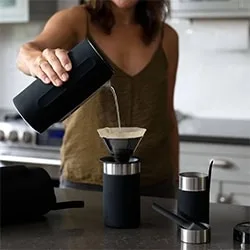 If your partner is a coffee lover, the next gift idea will allow them to pour a cup of barista-quality coffee wherever they go. The Pakt Coffee Kit includes all the components required to make an amazing coffee, conveniently nesting for compact carry. The innovative kit includes a popup pour-over cone, reusable filter, secure mug, and bean container, all packed inside a durable case. Built to withstand the rigors of travel, the Pakt Coffee Kit ensures each piece is secure and silent while on the road (or in the air).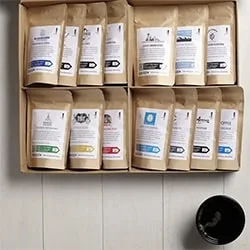 While the comfort of a hot cup of coffee won't make the distance any shorter, it will however keep them warm and awake on those late-night calls. The World Coffee Tour Box contains sixteen gourmet coffee samples from all over the globe, from Latin America all the way to Africa. In addition to the 1.8 pounds of coffee contained within the box, delicious artisan chocolates, handy brewing tips, and tasting notes are also included.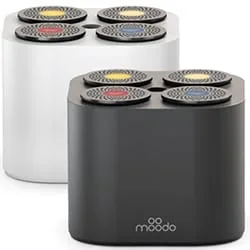 One of the most unique long distance relationship gifts for him and her, this fragrance diffuser requires no reeds and produces amazing custom scents. The Moodo Smart Aroma Diffuser fills each room with a perfectly balanced scent, allowing you to mix and match up to four beautiful fragrances. Easily controlled via the Moodo App, they can use a preset mixing combination, create their own using sliders, and even control the fragrance intensity. A cool feature of this diffuser is its fragrance shuffle mode which alternates each fragrance combination periodically.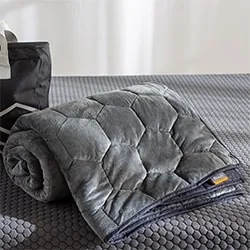 Send a giant hug their way with this therapeutic and comforting weighted blanket. Second only to your loving embrace, the Layla Blanket relieves anxiety and improves the sleep quality of those it covers. Sleeping under a weighted blanket is ideal for both men and women who endlessly toss and turn during the night. How does it work you ask? Rejuvenating sleep is promoted by Deep Touch pressure, scientifically proven to release serotonin. The blanket itself features hexagon quilting, which houses tiny glass beads. One side of the weighted blanket is made from 100% cotton while the other a cozy plush like fur, that feels amazing to snuggle into.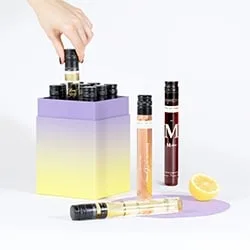 Looking to gift a lovely bottle of wine, but not sure which they will like most? The next gift idea contains the perfect combination of whites, reds, and a rose, uniquely bottled and elegantly packaged. Included in the box are nine standard drinks, accompanied by a wine tasting booklet explaining the complexities of each wine. With such a unique selection of wines, the Vinebox Light & Flirty box stands out from the crowd and is sure to be thoroughly enjoyed.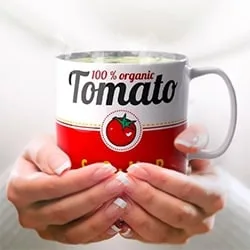 What better way to keep warm on a cold winter night than snuggling up with a hot mug of soup, connecting with your sweetheart over a voice or video call. The giant tomato style soup mug does exactly what the name suggests, it holds a large volume of steaming hot soup. The vibrant Belvi mug features a giant-sized handle, is made from quality ceramic, and holds approximately 17oz of liquid.
Long Distance Relationship Gifts: Kitchen
Does your partner have a penchant for all things delectable? Whether they're a fan of the kitchen or simply love a great gadget, the following unique and practical long distance relationship gifts are sure to entice!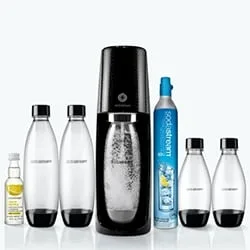 13. Sparkling Water Maker
Creating tasty, refreshing sparkling beverages from the comfort of home is easier than ever with the next cool gift idea. The Sodastream One Touch is a sparkling water maker that turns ordinary tap water into a fizzy delight in just seconds. Following a simple three-step process, your partner can make sparkling water, classic sodas, or fruit drinks while saving money and the environment in the process. The One Touch starter pack comes boxed with the electric sparkling water marker, carbonating cylinder, and a 34 oz bottle.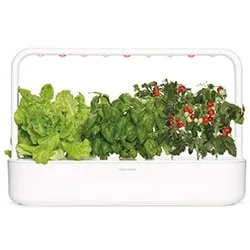 A highly innovative long distance relationship gift for your health-conscious partner, the following present provides the ability to grow and harvest their own miniature plantation with minimal knowledge and effort. Automatic watering, pro-grow lighting, and helpful Companion app make the Click & Grow Smart Garden 9 a perfect source of nutrients they can easily and conveniently access at any time. The set and forget garden system operates in a similar manner to coffee pods, where capsules are plant varieties rather than flavor variations. With faster-growing cycles and reduced exposure to nasty herbicides and pesticides, the Smart Garden system delivers fresh and delicious herbs and vegetables from inside the home.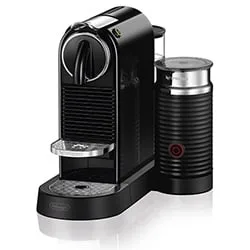 If your partner is rushing out every morning for a barista-made coffee, the next gift idea will be an amazing surprise. The elegantly designed De'Longhi Nespresso machine perfectly extracts flavor from capsules, producing great tasting coffee every time. Available as a stand-alone unit, or bundled with an Aeroccino milk frother, the De'Longhi combines a rich and creamy coffee with perfectly frothed milk. While The Nespresso machine makes a great cup of coffee, it is also easy to maintain, featuring a magnetically attached drip tray, removable capsule container, and detachable water tank.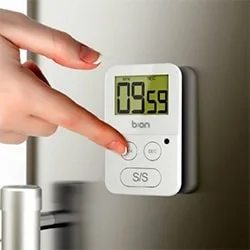 Is your partner constantly forgetting to check if their meal is done? Nobody enjoys burnt food so the next idea on our long distance relationship gifts list sounds the alarm when it's time to check the progress of what they hope will be dinner. The b:on kitchen timer features a large LCD screen, and alarm light, while the rear magnet ensures it's secure and convenient placement on any fridge or flat metallic surface. When the timer goes off, a loud sound is produced, preventing them from ever overcooking and incinerating any dish.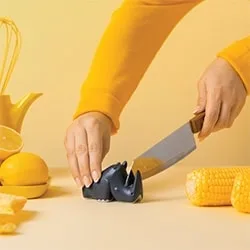 Necessary for attending to blunt blades, the rhino knife sharpener ensures chopping vegetables for dinner is a seamless task. This cool little kitchen accessory will keep them company as they prepare a meal, serving as a cute companion in addition to its utility purpose. While it may not provide a means of communication and together time, the rhino knife sharpener will serve as an iconic reminder just how much your loved one cares.
Long Distance Relationship Gifts: Women - Utility
If you're searching for the most charming long distance relationship gift ideas for your girlfriend, fiancé, or wife, the following cute and practical gifts are a perfect choice. From a luxurious sleep mask or hairdryer to fun and adorable companions, you can be sure these amazing useful gifts will be most appreciated!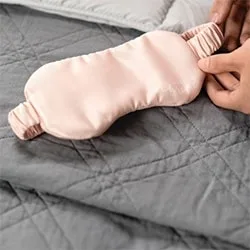 What better gift to receive than one which promotes a great night's sleep?! This lush and silky soft satin sleep mask is a unique gift for her that will soon become part of her nighttime routine. Available in a beautiful soft blush tone and featuring a subtle 'wake up brave' message printed on the front, this cozy sleep mask can also be paired and gifted with a matching pillowcase for the ultimate blissful slumber!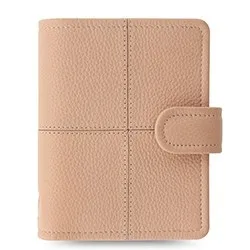 Does she thrive from being highly organized? If she prefers pen and paper over electronic calendars and notes, then this stylish pocket organizer is the perfect gift for her. The Classic Stitch Soft Pocket Organizer presents a luxury full grain leather organizer with beautiful cross-stitch detailing, blind embossed logo, and a classic turned edge construction. Also featuring wallet, card, and slip pockets and a classic strap closure, she will appreciate the luxury of simplicity and being able to store her information in style.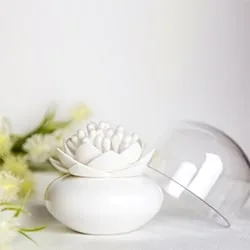 Definitely one of the more unique long distance relationship gifts, this next item will be welcomed by anyone who appreciates art in its many forms. Combining elegance, simplicity, and practicality, the Lotus Cotton Bud Holder is a one of a kind cotton bud holder. Designed in the shape of a beautiful blossoming lotus, the container will neatly contain and artistically display her cotton buds.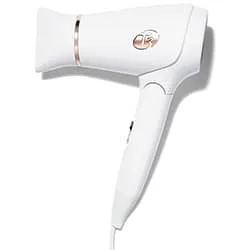 A highly practical, useful, and often not thought of gift that may be in need of an update is her hair dryer. The T3 Featherweight Compact Hair Dryer is a highly compact and ultra-lightweight folding hair dryer that is perfect for travel. Featuring the Tourmaline SoftAire system, this hair dryer can rapidly dry large sections of hair without causing frizz and enhancing shine. Available in a stylish white finish with striking rose gold detailing, this hair dryer packs small, but with a powerful punch for effortless high-speed drying.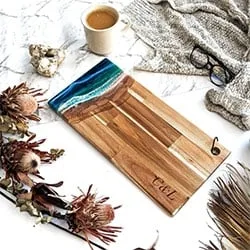 One of the most artistic long distance relationship gifts for your girlfriend, this serving board is ideal for chopping vegetables and presenting finger foods to guests. Made from durable acacia hardwood and decorated with a striking vibrant resin, this beautiful board is both water-resistant and antibacterial. The uniquely designed board is available in three different sizes and includes a laser engravement so she can view your personal message every time it's used.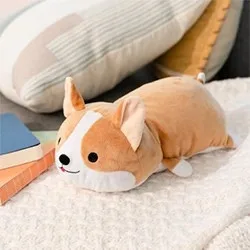 A gift idea that will keep her even warmer than being inside your loving embrace, the Milo Corgi Toasty is a super soft plush with a hidden superpower. Relaxing, cute, and cuddly, this adorable Corgi is filled with a removable flaxseed pouch that's heated in a microwave. When reinserted, the heat pack provides comforting warmth and an amazing lavender scent, soothing both body and mind.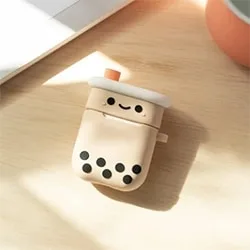 One of the cutest gift ideas on the list, this little Airpods case will keep them safe and secure whenever they are packed away. Offering ample protection from bumps and drops, the adorable Pearl Boba Tea case will put a smile on her face every time she listens to audio. Featuring a sweet little bubble tea character, the case itself is made from durable silicone and also conveniently features a charging port on the underside so her Airpods don't need to be removed when packed.
Long Distance Relationship Gifts: Men - Utility
The following long distance relationship gifts for your boyfriend or husband combine modern aesthetics with practically. From stylish watches to convenient cases, these elegant accessories will make a very welcome gesture.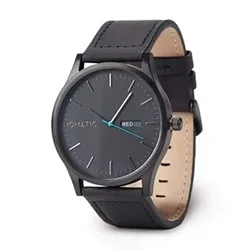 The next gift idea is a charming fashion accessory which also happens to tell the time. Powered by Swiss movement, the Namanitic men's watch features a minimalist face embedded in an elegant stainless steel casing. With an easy to interchange leather wristband and a thirty-meter water resistance capacity, he will be able to wear this stylish piece anywhere in all conditions.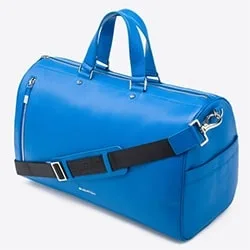 One of the smartest long distance relationship gifts, this weekender bag is as practical as it is elegant. Offering ample space for him to pack essentials, the Bugatchi leather bag is perfect for pragmatic men with a taste for quality. The large duffel bag features a removable shoulder strap, sturdy top handles, external zip pocket, a side compartment, and multiple slip pockets.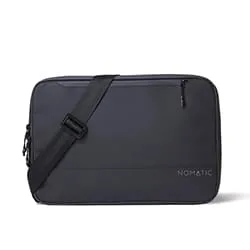 Perfect for simplifying every day carry and streamlining travel, the Nomatic Tech Case provides him with neat and easy access to all of his gear. Featuring a sleek slimline design, removable shoulder strap, and luggage pass through, the case facilitates expedient passage through TSA checkpoints and offers convenience in-flight tech management. The case is made from strong water-resistant materials and can be used to house tablets and 15" laptops.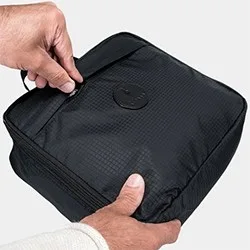 One of the more essential long distance relationship gifts for a man who frequently travels and of course, comes to visit, is a smart packing case. The Alpaka Gear packing cube features a Japanese odor-absorbing mesh that can be easily cleaned and reused for his next trip. While it's primarily intended for clothing, the anti-odor cube can also be used to transport toiletries, preventing contents from spreading scents and staining his clothes if they leak.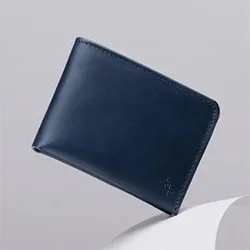 If elegant and useful is your aim, an ever-reliable bifold wallet is a great option. This charming wallet features a slimline design, easily slotting into his pocket for safe carry. Handcrafted from organic cow leather from Sweden that will beautifully age over time, this dapper wallet is available in three classic tones and can also be personalized with a customized monogram.
Long Distance Relationship Gifts: Geeks
While romantic and practical gift ideas are top of mind when searching for long distance relationship gifts, the following presents are of a slightly different nature! Steering away from the norm, we have put together a handful of ideas that will appeal to those a little nerdy, geeky, and ever so slightly quirky.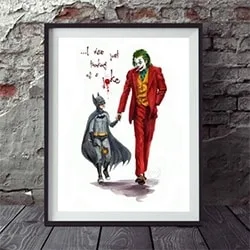 Is your partner a little on the quirky side? This beautiful art print featuring The Joker and Batman is perfect for those who love the villain just as much as the hero. The unique watercolor painting depicts Arthur Fleck played by Joaquin Phoenix holding hands with a young Bruce Wayne. A great gift idea for Christmas, birthdays, and maybe even romantic holidays, this awesome wall art will liven up their room and spark conversion with each new visitor.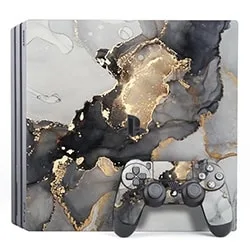 While it's not one of the more romantic long distance relationship gifts, a custom gaming console skin is a unique idea that's perfect for Christmas and birthdays. Made from eco-friendly vinyl, this incredible marble decal is available for both PS4 consoles and controllers. Not a PS4 owner? A wide variety of custom skins are available for
Xbox One and Nintendo Switch
gaming consoles, running from beautiful soft designs to attention-grabbing artistic ones.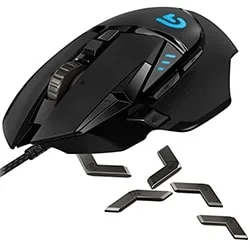 A nerdy gift that's straight to the point, the Logitech G502 is one of the most popular gaming mouses available on the market. With personalized weight balancing, customizable scrolling speed, and a snappy click response, this mouse perfectly fits the palm of any hand lucky enough to take control.
One of the best long distance relationship gifts for self-professed geeks who also love LEGO is the 1989 DC Batman Batmobile. Much more than a children's toy, this amazing building kit is made up of over three-thousand pieces and measures almost two feet long once construction is complete. Along with the model, the set contains three cool action LEGO mini-figures – Vicki Vale, The Joker, and of course Batman himself.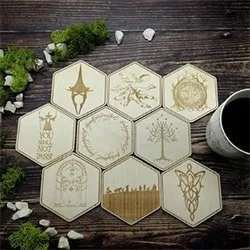 If Lord of The Rings is an all-time favorite of theirs, you can be sure they will love this cool set of coasters. An awesome birthday and Christmas surprise, the middle-earth themed set contains nine hexagonal coasters, each with its own unique design. Laser engraved on high-quality birch plywood, these coasters will protect benchtops and tables from stains, moisture, and heat.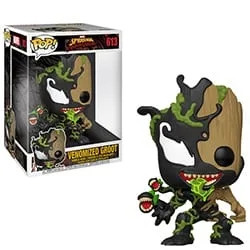 35. Large Bobblehead Figure
The ultimate gift idea for big kids who are obsessed with marvel, this POP! Vinyl towers above the rest. While most figures stand four inches tall, this Venomized Groot is a soaring ten inches from head to toe! The sculpting and detail on this Bobblehead figure are second to none, characterizing Venom the sentient alien Symbiote, consuming Groot the extraterrestrial tree monster.
Long Distance Relationship Gifts: Women - Interests
If you know her well, then selecting long distance relationship gifts that cater to her interests is the way to go. Whether she loves beautiful jewelry or unique artwork, it will be easy selecting the perfect gift you can be sure she'll appreciate.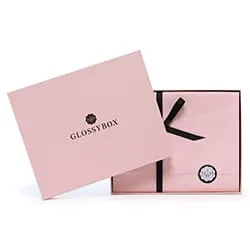 36. Beauty Box Subscription
Every woman loves surprises, and with the next gift idea, you can gift her a new surprise each and every month. The Glossybox beauty subscription offers four subscription lengths ranging from one month, all the way up to one year. The beautifully packaged box includes five different products delivered straight to her door each month, and contains beauty items from well-known brands ranging from perfumes and shampoos to skincare.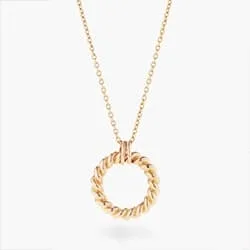 If you're searching for long distance relationship gifts that are sure to make a lasting impression, you can't go past this stunning necklace. The Eternal necklace perfectly combines beauty with simplicity, featuring a striking yellow-gold vermeil pendant attached to a long cable chain. The unique twisted rope design paired with a soft chain makes this a perfect piece she will gracefully sport all year long.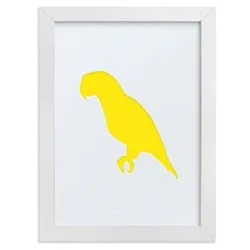 38. Custom Silhouette Artwork
Innovative, elegant, and vibrant, the next gift idea preserves memories in a fun and unique way. Minted have created this awesome silhouette letterpress wall art which can be customized with a side profile of your choosing. Gift your girlfriend an image of you gazing into each other's eyes, or a design of their favorite pet or animal. The beautiful wall art is available in three sizes and can be ordered fitted with a variety of frames. In addition to custom framing, you can choose from up to twenty different silhouette colors – from a vibrant pink to a muted gray.
If you're after an eye-catching piece of jewelry to impress, then the following gift is for you. The silver Humble Beauty Bracelet presents a classic and versatile design featuring beautiful sparkling emerald and round stones. Crafted with a bolo clasp, the bracelet can be adjusted to fit and also worn stacked with other accessories. With a sparkling, high-polish finish, this striking bracelet will create a touch of elegance to any style or outfit of hers.
Long Distance Relationship Gifts: Men - Interests
Does he enjoy being active? Or perhaps appreciates a tipple or two? Whether it's training or craft beer that he's into, selecting those long distance relationship gifts that cater to his tastes and needs are sure to be well received!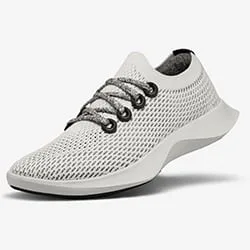 If he loves to keep fit and active outdoors, the next gift idea will serve him well this upcoming birthday or Christmas. Made from renewable materials, the Allbirds Tree Dasher sneakers provide unrivaled comfort and a shoe that conforms to his every step. The supportive footwear is designed to breathe while remaining stable, strong, and durable through high athletic performance. Available in six appealing color options, the Allbirds Tree Dashers can be conveniently machine washed making maintenance and cleaning a breeze.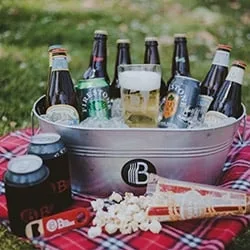 One of the most welcome long distance relationship gifts for guys who love beer, the Ultimate Beer Lover bundle allows him to taste brews he never knew existed. The amazing variety pack includes a dozen craft beers, hand-picked from three different breweries. In addition to the delicious beverages, the pack comes with a bottle opener, gourmet popcorn, 16oz pint glass, and a large metal tub for icing his drinks.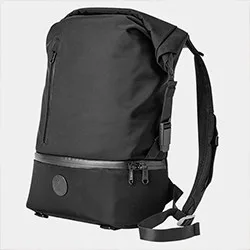 This cool all-purpose backpack is the perfect Christmas or birthday gift for a man who's constantly on the go. University students, young professionals, and even adventure seekers will love the Shift Pack from Alpaka Gear. Comfortable to wear, spacious, and built to last, the backpack contains one specifically unique feature. The handy roll-top design allows the backpack to expand from twenty liters to thirty liters, providing a significant spatial expansion whenever it's required.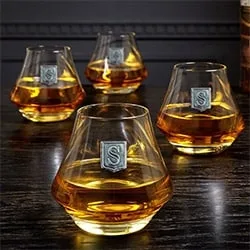 A great personalized gift option for a liquor connoisseur, this unique set of whiskey glasses are great for both Christmas and birthdays. The DiMera glasses feature a silver regal crest containing a letter that can be customized or removed, depending on your preference. He will enjoy each sip of his freshly poured scotch or cognac even more knowing it rests in a gift he received from you. A cool companion to the majestic four glass set are these
suave whiskey stones
, perfect for keeping his drinks cold.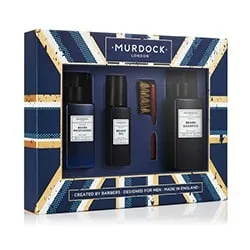 44. Beard Maintenance Set
The final idea on our long distance relationship gifts compilation is essential for maintaining his handsome and masculine beard. The Murdock London beard pack contains all the essentials for keeping a beard clean, tidy, and silky smooth. Shape is preserved via the Keats Wood Brush, while Beard Oil prevents it from becoming dry. The Shampoo and Moisturizer clean and condition, softening his beard and the skin underneath, resulting in a beard you can look forward to snuggling up with.
Searching for more than Long Distance Relationship Gifts? Check out some of our other great list for more awesome gift ideas.