Wini Gifts is supported by our readers. At no additional cost to you, we may earn a small commission from the purchases you make using our links.
Learn more
A gift guide for those llama-obsessed among us, we have compiled the ultimate gifts for llama lovers that will make them squeal with delight! Easily confused with the humble alpaca, llamas are also friendly, social, and inquisitive creatures that are very easy to fall in love with. Our gift list contains a wonderful selection of unique llama gifts, perfect as Christmas or birthday presents. From adorable decorative pieces to clothing and accessories to declare their loyalty loud and proud, you will be sure to find the perfect llama gift here to suit all tastes.
If you're searching for awesome llama gift ideas that will make them jump for joy, the following wearable gifts give new meaning to the word cute! From charming llama-inspired clothing to unique llama accessories, these wonderfully unique and adorable gifts ooze llama-charm in fun, wearable style.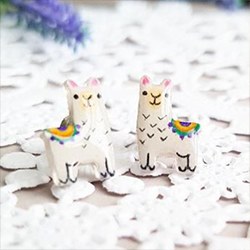 These cute studs are perfect for any llama lover who likes to accessorize their look with unique jewelry. Featuring a pair of sweet and vibrant llama friends, these charming llama earrings are specially hand-drawn using premium colored pencils and sealed with crystal clear domed resin to create a very unique piece.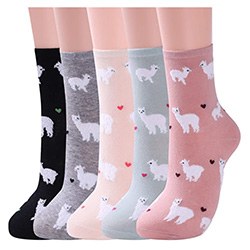 This is one adorable gift any fan of llamas is bound to be head over heels for (pardon the pun!). The set of charming novelty socks features 5 unique pairs of cute llama socks just waiting to be worn. Made from a lightweight and super comfy cotton-spandex blend, these socks will feel like walking on a soft cloud, offering comfortable llama-style, all day long.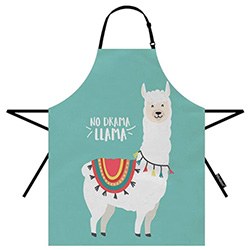 Vibrant and bold, this cheerful llama-inspired apron will put a smile on any chef's face! Featuring the popular slogan No Drama Llama, the delightful apron presents a very happy llama on a beautiful aqua toned background. Made from premium polyester fabric, this durable kitchen apron features a breathable and waterproof construction, including a soft and comfortable adjustable cotton neck strap to fit a variety of sizes.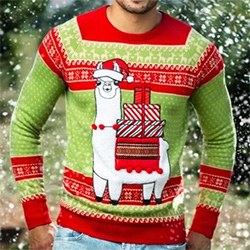 A pretty ugly sweater for your llama loving friend, this decked-out Christmas critter comes bearing gifts. The wonderful Andean critter is embroidered in comfortable acrylic material and is pictured wearing a Santa hat and Chilean cloth.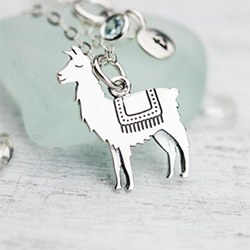 A wonderful gift for a special occasion, this beautiful custom necklace is a very unique piece of jewelry they are bound to adore. Featuring a gorgeous intricately designed llama pendant attached to a high-quality sterling silver cable chain, there is also the option to personalize this accessory with a pretty sterling silver birthstone charm or your recipient's initial. Alternatively, this stylish
tiny charm
featuring their favorite furry friend is a wonderful standalone gift for them to add to an existing chain or bracelet.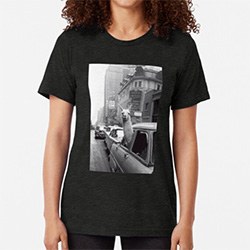 The perfect way for your llama loving friend to show off their passion is by donning the furry critter on a shirt front for the entire world to see. Taking a casual ride through Times Square as llamas have been known to do, this charming back seat driver is checking out the traffic conditions up ahead. The artistic T-shirt is pre-shrunk, made from a soft and comfy moisture-wicking tri-blend fabric, and is also available as a
lightweight hoodie
and
tank top
.
If you're after presents for a llama lover who would joyfully exhibit their passion for the world to see, then the following items will be right up their alley! From adorable travel utilities to fun practical accessories, these lively gifts are bound to bring a smile to their face.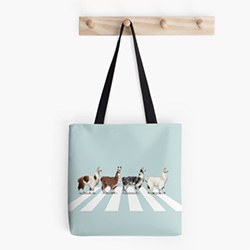 If you're searching for quirky llama gifts they can proudly cart while on the go, this amazing tote will soon become an everyday staple. The creative design showcases their favorite friends doing as the Beatles have done, replicating the famous Abbey Road album cover. Available in polyester and cotton, this sturdy tote bag features a wide shoulder strap and three convenient sizing options.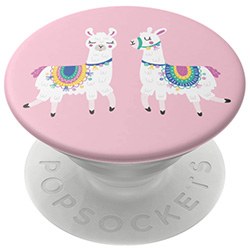 A great gift idea for a young llama lovers birthday, this PopSockets device grip is perfect for phones and tablets. Made for taking selfies, watching videos, and stable texting, this neat little gadget conveniently pops out whenever they need the extra support.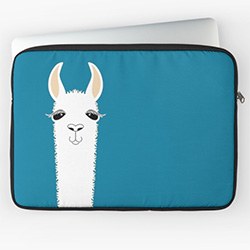 Securely housing MacBooks and tablets, this vibrant laptop sleeve is a perfect tech companion for any llama lover. Made from 100% polyester, the cute llama portrait laptop case is fitting for 12, 13 and, 15-inch laptops, protecting them from scratches and minor impacts.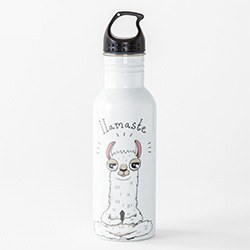 A great gift for llama lovers, this funny water bottle features a playful twist on the customary Hindu greeting Namaste, while depicting their furry yogi friend meditating. The bottle itself can hold up to 20 fluid ounces, featuring a large opening, leak-proof cap, and a beautiful white finish. A pretty alternative option, this custom slimline
stainless steel water bottle
presents an elegant fuzzy companion with unique personalization.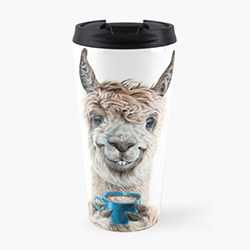 An essential for any coffee lover, portable transport for a homemade caffeine hit is made even better when they can take their favorite animal along for the ride. This quirky llama mug holds fifteen ounces of fluid, featuring an insulated stainless steel interior for keeping their brew warmer for longer.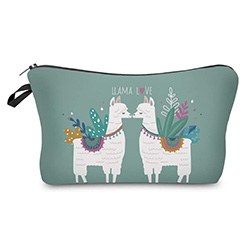 Whether for housing cosmetics, art supplies, or essential accessories, this water-resistant cosmetics bag will keep contents safe and in their place. A perfect gift idea for Christmas or their birthday, the vivid llama love pouch illustrates a colorful pair of llamas gazing lovingly into each other's eyes. The sturdy bag is constructed from soft polyester and features several alternative prints including cactus llama and no drama llama.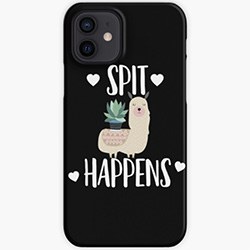 Preventing damage from scratches, bumps, and minor drops, this reliable iPhone case covers edges without obstructing buttons or the rear lens. Your llama loving friend is sure to chuckle with each call and text, reading the words "spit happens" that surround the cute llama design. The cover itself features options that fit most iPhone models and is available as a slim protective snap case, flexible soft case, and a double-layered tough case.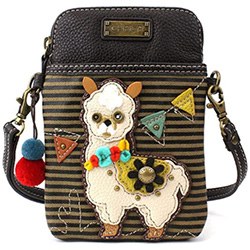 Abstract and fun, this crossbody cell phone purse is the perfect accessory for girls who don't want to carry too much stuff. Ideal for credit cards, money, and of course, their smartphone, the dazzling little bag comes with two straps for hand carry and crossbody use.
If you're wanting to gift unique, decorative gifts with llamas that stand out from the crowd, the following items are sure to pop out. From charming decor pieces to creative everyday utilities, these wonderful gifts feature a variety of fun and cute pieces presenting these wonderful creatures in all their glory.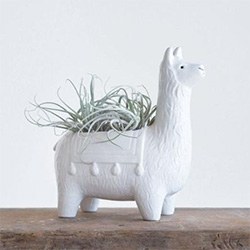 Playfully providing a touch of home decor, the next gift for llama lovers is ideal for housing small indoor plants such as succulents, baby toes, and cacti. Perfect for an animal lover with a soft spot for this tall and furry critter, the adorable planter stands six inches tall and is finished in a beautiful white glaze.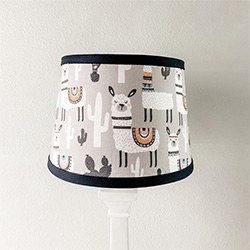 This adorable llama lamp shade is the perfect accent for animal lovers to liven up their living spaces. Presenting a stylish muted palette featuring their friendly companion surrounded by a unique cactus design, this lamp shade is available as a drum style with uno fitter and measures 7 inches tall and 10 inches wide, gently tapering towards the top.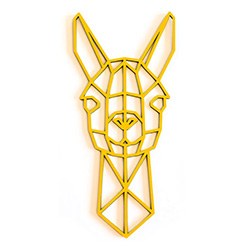 This contemporary style wall art features a geometric silhouette that will make a unique minimalist statement piece in their home or office space. Available in a range of colors and sizes, the modern decor is manufactured from smooth and sturdy fiberboard using premium paints finished with a protective clear coating.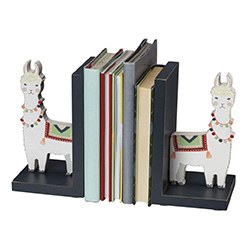 The lucky gift recipient of these whimsical style bookends is going to fall in love with this unique decorative utility. A perfect accessorizing piece for any llama fan to spruce up their home or office space, these charming bookends add personality and character to any bookshelf or desk. Featuring boho and glitter details, the delightful pair also contains bottom rubber feet for stability and protection of surfaces.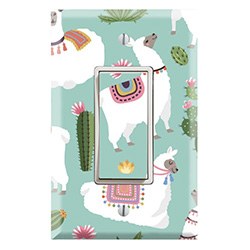 Add character to any room with a custom plate cover for light switches and power outlets. Designed using UV-resistant print, the playful llama themed cover is easy to attach and clean.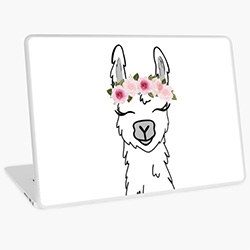 Revamp their boring laptop panel into a delightful work of art with an adorable animated laptop skin. Donning a floral crown, this peaceful beauty will motivate any lady llama fan to take their laptop out and get to work! The unique artistic decal provides scratch protection, featuring a gloss finish and bubble-free installation that's easy to attach.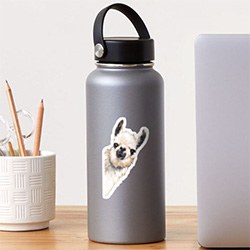 What animal lover wouldn't love their favorite creature posted all over their most used items? Stickers add an element of personalization and fun to any gadget they touch, and this sneaky llama is no different. Water-resistant and durable, these removable kiss cut stickers are available in four sizes and three distinct finishes.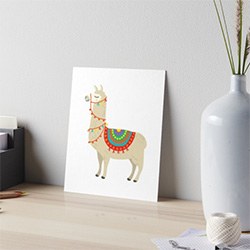 Unique and artistic, the next llama lover gift idea is a lightweight art board that's perfect for hanging. Printed on quality watercolor paper, the decorated Bolivian llama stands gracefully, awaiting the day your loved one places them on their bedroom wall.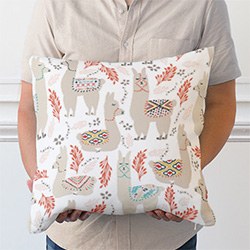 A soft furnishing for comfort and decor, this elegant llama pillow features their favorite furry friend peacefully grazing while clothed in a colorful Peruvian garment. The creative design is printed on a choice of luxury linen or premium cotton, arriving filled with an alternative down insert. Perfect for gifting at any special occasion, the llama pillow is available in five size variations including a rectangular lumbar and four squares.
Are you after charming llama gift ideas that also serve a useful purpose? From gorgeous mugs to hilarious coasters, including some cute and innovative gifts in between, you will find plenty of fantastic llama-toting items for everyday use.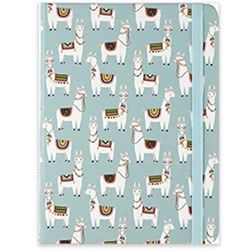 A blank state for recording important life events, doodling sketches, and capturing innovative ideas, this charming hardcover journal is destined for greatness. The notebook is filled with 160 lightly lined pages, featuring sewn binding and rounded edges for longevity.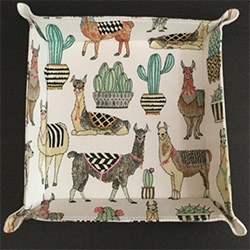 One of the best gifts for llama lovers who leave their belongings all over the place, this collapsible tray ensures nothing gets misplaced again. Crafted from a delightful patterned fabric with snap button corners, the tray is ideal for storing jewelry, sunglasses, keys, and phones. Alternatively, this
pretty ceramic jewelry tray
makes a wonderful decorative piece and organizer for rings and small ornaments.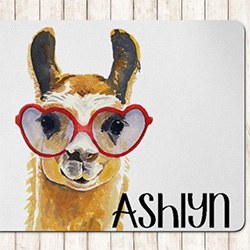 What better motivator for loved ones to work and study than this personalized monogram mouse pad. Starring their fuzzy companion rocking gorgeous heart-shaped sunglasses, the polyester pad features grippy rubber backing and an illustration that won't fade or peel.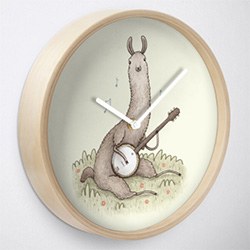 Passionately strumming away on his banjo, this llama gift humorously decorates walls while letting you know what time it is. Modern and minimalist, the wall clock is constructed from bamboo wood and features a plexiglass face and a natural finish. Controlled by a Quartz mechanism, the banjo llama clock is sure to find a permanent place on your loved ones living, dining, or bedroom wall.
May bathing be in union with their favorite wooly companion, this humorous bathroom accessory is oozing with llama love. Preventing slips while soaking up excess water, the bathtub llama bath mat provides a perfect platform for drying off. Made from soft polyester, the mat features a fade-resistant color print, non-slip underside, and is available in two size variations.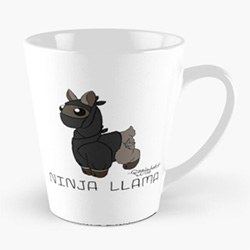 A smile and giggle with each sip they take, the lucky recipient will love filling this mug with steaming hot tea and coffee each day. Featuring an adorable yet deadly ninja warrior, the funny llama mug is made from quality ceramic and is available in both classic and tall mug options.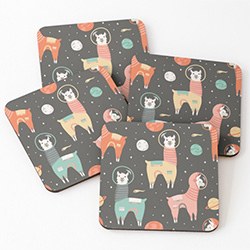 A decorative utility to rest their llama mug, only a true fanatic would have ever believed these fuzzy creatures would become astronauts. Made from cork and masonite, the playful set of coasters depicts a herd of llamas exploring the deep expanses of space.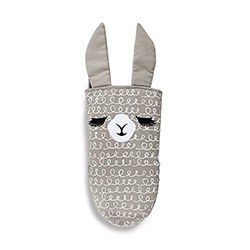 One of the best llama gifts for a home chef is this adorable, one of a kind oven mitt. Featuring none other than their lovable fuzzy friend, the unique design also includes cute ears, while the neutral grey design is stylish enough to blend in with any kitchen decor.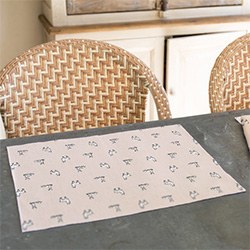 When it comes to functional and cute llama decor, you can't go past this pretty table accent. Made from luxurious, natural-fiber textiles, these unique placemats feature a beautiful and elegant pattern of hand-drawn llamas and are finished with a simple, yet crisp narrow rolled-edge hem in coordinating thread color.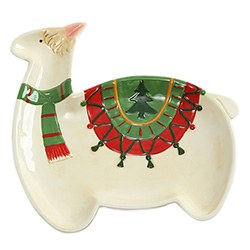 Both a functional and decorative piece to spruce up their Christmas gatherings, this cheerful Holly Llama Christmas platter is the perfect blend of Christmas charm and lighthearted holiday festivity. Designed in the shape of this lovable creature adorned with Christmas themed gear, the ceramic platter is 10 inches wide and 11 inches tall and can be used for serving or display.
The following section contains a variety of fun and creative gifts for llama lovers, young and those also young at heart. From highly original cookie cutters to an amazing 3D lamp, and even an enjoyable coloring book, there are plenty of llama-inspired gifts for the kitchen, bedroom, or outdoors.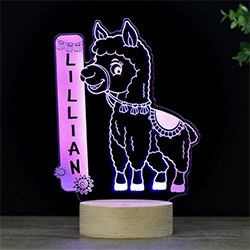 If you're after cute llama gifts kids will simply adore, this laser-etched caricature lamp is ideal for any special occasion. Resting inside a natural wood base, the vibrant lamp illuminates around a friendly young llama with a personalized sign by her side. While vibrant, the lighting won't prevent young ones from getting shuteye and with a simple touch, kids can toggle through sixteen different colors.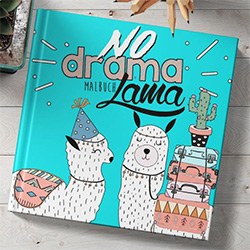 A fun coloring book for children and adults alike, this delightful gift is filled with pages galore of llama goodness. Featuring a series of unique and amusing illustrations, the amazing painting book offers hours of creative and relaxing entertainment with their one and only favorite creature.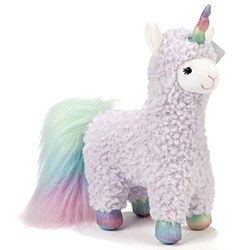 Squishy llama love with a sprinkle of unicorn, this Llamacorn plush toy is a perfect amalgamation of the two legendary creatures. Rocking rainbow-themed hooves, horn, and tail, the beautiful toy plushie is soft, huggable, and makes for a great sleeping companion. If you're searching for a more accurate replica of the friendly creature, this
large lifelike plush
features realistic details including tri-colored fur, perky ears, tufted eyebrows, a furry tail, and soft hooves.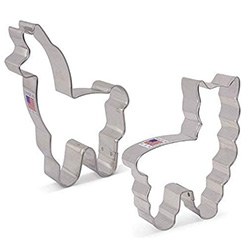 A cute and original gift, this llama cookie cutter set is a unique gift for chefs to have some creative fun at home. Made from the highest quality USA food-safe steel, this charming set presents two different sized cookie cutters in the shape of their favorite fuzzy critters. These hard-wearing and durable cutters feature deep 1-inch cuts for perfectly shaped cookies, fondant, brownies, cakes, or even craft clay creations.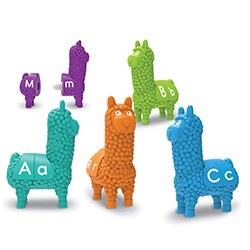 For the baby llama fan in your family, you can't go past this innovative and adorable learning resource! The Snap-n-Learn educational resource includes a jar full of furry friends that snap together for a fun way for youngsters to learn uppercase and lowercase letters. Featuring 5 bright and fun colors, these Snap-n-Learn letters will help little ones build hand strength, coordination, and essential fine motor skills every time they play.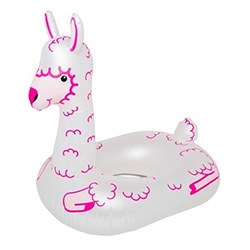 What could be more enjoyable this summer than being pool bound and enveloped in an adorable llama?! This amazing large pool float features a vibrant and happy companion that is over 3 feet long for relaxed lounging on their favorite study creature all day, every day.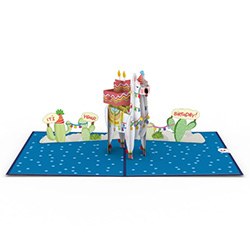 Everyone knows that great llama gifts are not complete without a great llama card! This unique 3D birthday card presents a cheerful and vibrant cover with the words 'sound the a-llama'. Upon opening, recipients will be surprised to find the delightful fuzzy creature standing tall and proud, adorned with festivities and holding a birthday cake just for them. Standing 5 x 7 inches tall, the card also includes a little blank note card that slides away for you to add your own personal touch.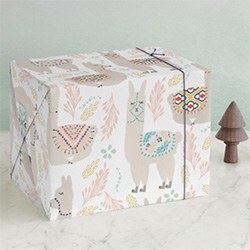 Any kid, young or old, will appreciate this beautiful wrapping paper before opening their wonderful llama gifts. The gorgeous artwork features a pastel-toned design with a pattern of furry creatures adorned with vibrant coats and surrounded by unique nature-inspired flourishes. Available as a set of 5 sheets, this fun wrapping paper is also great for party favors or DIY crafting projects.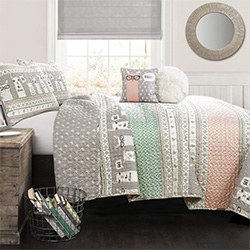 Oozing sophistication, style, and animal charm, this gorgeous bed set will add vibrant life to any child's bedroom. The reversible 5-piece quilt set features beautiful print including stripes of llamas, cacti, and geometric shapes available in both navy and turquoise/pink color options. Made from comfortable, easy to care for material, this amazing bed set comes complete with a quilt, matching pillow shams, and two unique decorative throw pillows.
Searching for more than Cute Llama Gifts? Check out some of our other great list for more awesome gift ideas.