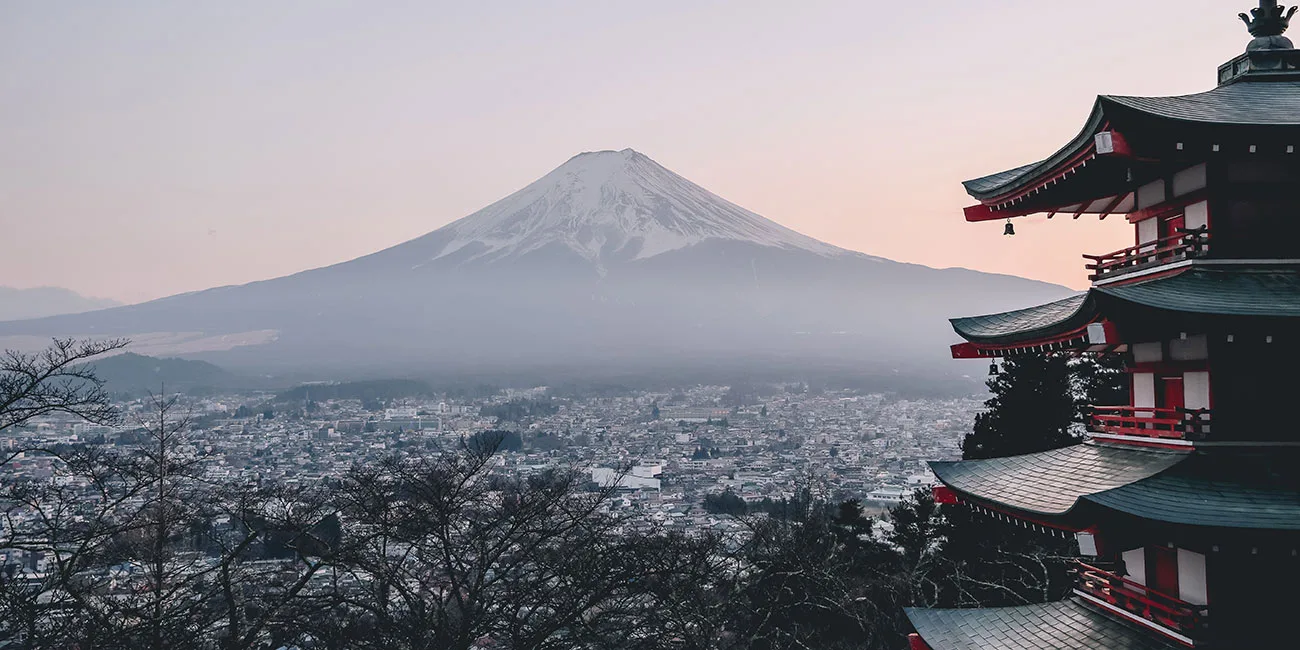 Wini Gifts is supported by our readers. At no additional cost to you, we may earn a small commission from the purchases you make using our links.
Learn more
We have compiled the most amazing Japanese gifts guide for your family and friends who adore Japan! If they're obsessed with the country, fascinated by the culture and traditions, or simply love all things kawaii, we have handpicked a selection of the most unique Japan-inspired gifts bound to invoke a genuine arigatou from any Japan lover.
Some of the best Japanese gift ideas are those which fuse Japanese culture and style with personalized items. Whether it's funky sushi socks, a comfy ramen-eating cat hoodie, or beautiful accessories, you can be sure you'll receive an enthusiastic response when gifting these much-loved Japanese inspired accessories just for them.
If you're after the most cute Japanese gifts available, you can't go past these delightful socks. Beautifully packaged in a traditional takeaway box, these Sushi Socks are just as enjoyable to receive as they are to wear. This unique pack of socks presents 5 modern and colorful socks packaged as delicious sushi, including sauce bottles, and even wasabi and ginger made from fabric! Designed in Europe from the highest quality textiles, these comfy cotton socks are also available in other Japanese sushi assortments and will make the perfect gift box for anyone obsessed with Japan.
This bold and vibrant journal is bound to capture the attention of lovers of Japan and creatives alike. The Heavy Rain Over Neo Tokyo journal presents a unique design capturing a glimpse into the small neon-illuminated bars down the streets of Shimbashi on a rainy night. The high-quality print is presented on a wrap-around hardback cover, with 128 pages available in ruled, graph, or blank pages perfect for sketches, scribbling, and notes.
Bold and intense, this beautiful Japanese scarf will be appreciated by lovers of Japan and creatives alike. An innovative fusion of the famous Great Wave of Kanagawa and a bowl of traditional ramen, this artistically designed scarf will look just as amazing adorning their bedroom wall or themselves. Made from soft microfiber polyester, the Great Ramen Wave of Kanagawa scarf features a lovely semi-transparent effect with the unique design visible both front and reverse.
One of those kawaii Japanese gift ideas that are bound to get a squeal are these delightful house slippers! Featuring an adorably, luscious plump dumpling, the Lil B Dumpling heated slippers are a cute and creative solution for cold feet! The innovative design is very simple to use – simply plug the slippers into a compatible USB port for charging, unplug when heated, then cozily roam to your heart's content!
Super cute and super comfy, this adorable hoodie is a wonderful gift for family and friends who are lovers of all things kawaii. The sweet design features a cheerful anime-style cat enjoying a bowl of delicious ramen. Made from a soft cotton-polyester blend with air-jet spun yarn to reduce pilling, this lightweight hoody also includes a handy front pouch pocket, stylish rib knit cuffs and waistband, and is available in a choice of 11 bold and subtle color variations.
If you're after super cute Japanese gifts it doesn't get more kawaii than these delightful hand warmers. Rilakkuma is an adorable soft toy bear whose name translates to 'relaxed bear' in Japanese. Offering comfort and warmth, Rilakkuma is the perfect companion to keep hands warm and toasty. Featuring an innovative design, simply plug hand warmers into any USB port and select the level of warmth for your hands! These charming and unique hand warmers are perfect for keeping hands warm during computer or video gameplay.
7. Origami Crane Earrings
These cute and unique Japanese-inspired earrings are a beautiful piece of jewelry that will be warmly welcomed by any Japan lover. The remarkable tiny origami crane earrings have been delicately folded from high-quality paper in a beautiful blue and gold print on an eggshell background. Measuring a minuscule 0.5 inches, these delightful stud earrings have been sealed with several coats of premium acrylic varnish to make them water-resistant and durable for wear.
Japanese Gifts: Fun & Utility
Some of the best Japanese theme gift ideas come in the form of fun and quirky everyday items! From a Hello Kitty themed camera to funky lunch accessories, or an origami set to inspire and create, these practical and entertaining Japan-inspired gifts will be enjoyed time and time again.
Just when you thought Hello Kitty couldn't get any cuter, she shows up in the form of a camera! A wonderful gift for lovers of Japan and all things kawaii, this Fujifilm Instax camera presents a cat-shaped design emulating Sanrio's charming Hello Kitty. Simple and fun to use, the compact point and shoot camera will automatically print out photos after every shot for instant gratification! Featuring automatic brightness adjustment and a variety of creative photography modes, including a mirror for selfies, this delightful set also includes a colorful lanyard and cute Hello Kitty stickers.
If it's practical Japanese gift ideas that you're considering, this lunch set is a wonderful alternative to a boring lunch box! The Good to Go lunch set features a beautiful blue Japanese-inspired koi fish design that stands out from the crowd. Featuring a durable lunchbox, fish-shaped ice pack, silicone band, and bright insulated cooler bag, the BPA-free food-grade safe set is perfect for everyday use, while displaying their adoration for all things Japanese.
If you're searching for a cool Japanese gift (pardon the pun), the cute Pearl Boba Tea mini fridge is the perfect bedroom and home office companion. The compact fridge is a handy appliance that can neatly store drinks, small food items, or can even keep beauty products chilled! The adorable 10L mini fridge has low power consumption and conveniently features two removable shelves to stack and store all kinds of products with varying heights.
It's impossible to get enough of this fat squishy dumpling! A lovely gift for lovers of dumplings, mochi, and all things kawaii is the Lil B Dumpling Mochi plush. The lusciously plump toy doubles as a toasty companion, offering comforting warmth on cooler days and nights. Filled with a removable microwavable flaxseed pouch, the delightful plush provides pleasant warmth while emitting a soothing lavender scent.
For cute Japanese gifts, it doesn't get more kawaii than these adorable lamps! The Giant Boba and Mini Boba lights are two charming buddies that will keep good company when the sun sets. The soft amber and cherry blossom colored boba tea shaped lights are powered by AC adapter, micro-USB, or the option of batteries to produce a soft glowing light. Perfect for adding a soothing warmth to any room, these delightful companions will feel right at home on bedside tables and desks.
The perfect gift for those obsessed with Japanese manga is this amazing POP! Figurine. The animated collectible features Todoroki, one of the main characters from the Japanese superhero manga series, My Hero Academia. Measuring 3 ¾ inches tall, the unique and vibrantly designed figure comes in a window display box and will no doubt be proudly displayed on their work desk or shelf.
If you're after stunning Japanese gifts that seamlessly fuse art and everyday wares, this mug is worth consideration. The bold Armored Samurai travel mug displays a digital illustration of a traditional stoic Samurai warrior decked in full armor with a dark spatter and ghostly smoke emerging from his body. Holding up to 15oz of fluid, the artistically designed travel mug features insulated stainless steel to keep drinks at optimal temperature and is conveniently dishwasher friendly.
The perfect gift for the manga obsessed is this amazing box set of the Tokyo Ghoul series. Based on the interesting life of Ken Kankei, an ordinary student whose encounter turns him into a half-human, half-Ghoul hybrid, the complete set includes 14 volumes of the original Tokyo Ghoul series. Packaged in a vibrantly designed keepsake storage box, this ultimate manga set also includes an exclusive double-sided poster.
If you're searching for Japanese style gifts that their taste buds will remember, you can't go past this wonderful snack box. A very unique gifting option for anyone obsessed with Japanese culture and cuisine, the Assortment "Dagashi" Box contains 35 pieces of delicious Japanese goodies for them to enjoy! From unique savory snacks to delicious sweet candies, Dagashi are the perfect opportunity to savor new and exciting flavors that will make any Japan lover very, very content.
If you're searching for artistic Japanese gift ideas, the following guide is sure to insight creativity! The Amazing Origami Kit is an exciting book designed for origami paper folders of all age and skill levels. The 64-page full-colored guide features clear step-by-step instructions and diagrams for fun and original origami art, including 144 premium origami folding sheets to create plenty of unique origami art. For something extra special, including this beautiful silk-screened
Japanese chiyogami paper
featuring white cranes in golden clouds will create a truly delightful gift for any Japan lover.
Japanese Gifts: Accessories
Below are the best Japanese theme gift ideas in the form of stylish accessories. From Japanese-inspired decals for their electronics to the most kawaii case to house their AirPods, Japan lovers are going to adore gifts that allow their obsession for all things Japanese to shine through with these everyday pieces for the home and on the go.
These beautiful Japanese-inspired decals add a unique and stylish touch of Japan to players' gaming devices. Created for a Nintendo Switch Console, the eye-catching illustration presents a flowering Japanese cherry blossom with picturesque charcoal landscape. Featuring high-quality front and back sticker decals for the entire console set, the skins will enhance and protect devices from scratches and dust and are also available in a
myriad of additional creative designs
for other consoles.
Searching for cute Japanese gifts for the kawaii-obsessed? This Pearl Boba Tea AirPods case is the most lovable companion to house a pair of AirPods! The adorable case presents a charming little boba teacup, with big smiles, pearls, and even a straw. Made of 100% durable silicone, this delightful case will protect AirPods from any bumps and drops and also includes a handy spot for convenient in-case charging.
A traditional gift for any Japan lover is this beautiful handheld fan. Made from 100% handmade silk and bamboo, this vintage style fan displays a pretty geisha in kimono amidst a blue Japanese landscape featuring a temple and cherry blossoms. The perfect accessory for keeping cool or for decorative purposes, this premium quality handheld folding fan also includes a lovely fabric sleeve for storage, protection, and gifting.
If you're searching for truly beautiful Japanese gift ideas it is worth considering the traditional art of kintsugi. This unique style of Japanese pottery is the practice of repairing fractures in porcelain with varnish or powdered resin with gold. This charming one of a kind piece presents a Japanese-made bowl in a speckled deep blue that has been broken and repaired with metallic gold. These traditional handmade ceramics are a precious and unique gift any lover of Japan or Japanese art will greatly appreciate.
Bold and ferocious, this unique Japanese-inspired laptop decal is sure to make a lasting impression on any laptop. The Great Sushi Dragon laptop skin presents a vibrant design seamlessly fusing Japanese culture and art. Displaying a fearless 'sushi dragon' emerging from The Great Wave, the illustration combines a dark and muted pallet that also subtly incorporates Japanese text and animation. Featuring an attractive high gloss finish and easy application, this creative decal protects from scratches and dust and will not leave any sticky residue once removed.
Japanese Gifts: Home & Decor
Below you will find the perfect Japanese gift ideas for the home that allow their love for Japanese culture to shine through their space. From one of a kind artwork and decor to beautiful traditional homewares, these unique, practical, and artistic pieces are bound to be warmly received.
Some of the best Japanese style gifts are artistic pieces that seamlessly integrate tradition and creativity. A very unique take on The Great Wave of Kanagawa, The Great Wave of Pug throw pillow presents an illustration that bears a strong resemblance to the traditional wave, with the exception of a sea of pugs! The vibrant and quirky design features a double-sided high-quality print, made from soft and durable 100% spun polyester, and is available in a variety of sizes to add a burst of life to any room.
This beautiful Japanese-inspired mug is an elegant and practical gift for anyone who adores Japan and tea. Featuring a unique cherry blossom illustration, the Tea Forte mug presents an all-in-one teacup perfect for steeping tea. Made from quality ceramic, the double-wall insulated mug includes a built-in infuser to steep tea within the cup and a convenient lid that also doubles as a resting tray to sit the infuser once done!
One of the more obvious Japanese gift ideas for anyone obsessed with Japanese culture is a quality sushi set. The elegant and uniquely designed set comprises two sets of chopsticks, a share plate, and two sushi plates with built-in saucers. Crafted from stylish and premium black Melamine, the set can withstand the rigors of everyday use and is also conveniently dishwasher friendly.
A delightful gift for anyone who appreciates tea or Japanese culture is this beautiful teapot set. The Japanese style iron teapot can be traced back to the Japanese Edo Period of the 1780s and is a popular item in Japanese households even today. This elegant teapot set has been designed in a stunning unique blue fish scale pattern, with a cast-iron exterior and smooth enamel interior. Featuring a cast iron tea kettle with wooden lid holder, 4 cast iron teacups, stainless steel infuser, and a cast iron trivet, the charming tea set is presented in a vintage-style box that is perfect for gifting family and friends.
Another one of those elegant Japanese gifts that are worthy of both display and use is this beautiful Japanese sake set. This contemporary set features a sleek and minimalist design that presents a classic, yet modern style. Handcrafted from quality ceramic, this delightful set includes four small dishwasher safe sake cups and a pitcher, available in attractive black, white, and gray natural finishes.
A vibrant scene that will add a burst of life to any Japanese lover's bathroom is this funky bath mat. The striking design presents a candy overlay on the unique neon streets of Tokyo. Displaying a high quality, full-color printed design that won't fade, the bath mat is made from soft and absorbent polyester microfiber and features a premium foam non-slip underside.
One of the most beautiful Japanese gifts, this unique work of art will make a striking statement in any space. The traditional design print displays two prominent figures in Japanese folklore – Amaterasu and Tsukuyomi, the husband and wife sun and moon gods. The ink wash style illustration depicts the aftermath of the Uke-Mochi murder, the split of the couple, thus separating night from day. The image is giclée printed on beautiful Canson Photographique Photo Rag, made in France from 310 gsm pure cotton with a smooth, matte finish, and is available in three sizing options ready for framing.
If you're searching for a traditional Japanese style gift, this beautiful water fountain will bring a sense of tranquility and calm to any home or office space. The Begonia Flowers water fountain presents metal begonia leaves and flowers that gently capture the peaceful water as it cascades into the dark finish basin below. The lovely indoor cascading fountain features a resin and metal construction with a stylish copper finish that will add a touch of elegance to any tabletop interior.
If you're searching for modern, yet traditional Japanese gift ideas, this unique decor piece is sure to stand out. The acrylic block print features a vibrant back mounted with a high-quality photographic print perfect for a desk, tabletop, or shelving. Featuring a beautiful illustration of the old Japanese capital Kyoto, the artwork is placed in a 1-inch thick solid free-standing acrylic block, with diamond cut sides to provide a sharp image from any angle and further hand polished for a crystal clear finish.
Searching for more than the Japanese Gift Ideas? Check out some of our other great list for more awesome gift ideas.