Wini Gifts is supported by our readers. At no additional cost to you, we may earn a small commission from the purchases you make using our links.
Learn more
Housewarming Gifts For Men
Practical, interesting, and homely accessories and gadgets are the most needed housewarming gifts for men who have made the exciting move into their new home. Whether he's just purchased his first new house or is branching into an apartment of his own, we have included the best gifts to shower friends and loved ones at their upcoming housewarming party. From the ultimate in lounging comfort to stylish and purposeful home and dining essentials, even a handy dustpan set too, our extensive gift guide ensures everything he needs and wants for his new home is all right here.
From an all-in-one charging hub to an all-immersive Fire Stick bundle, you are bound to find an ideal gift below with plenty of engaging electronics and unique modern conveniences that make life easier and a lot more entertaining.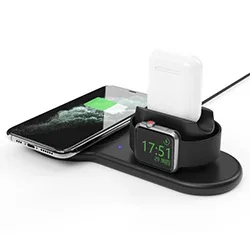 A great gift for men who are still using cables, this charming wireless charging station is perfect for rejuvenating his Apple devices. The handmade dock is slip-resistant and the flat design ensures gadgets left to charge remain secure. Safeguarding from overcharging, the device features over-temperature, over-voltage. and over-current protection, also identifying foreign objects.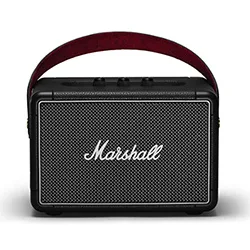 A great housewarming gift for adding a little vintage rock flavor to his newly acquired dwelling, the Marshall Kilburn II is a charming Bluetooth speaker that's both powerful and versatile. Multi-directional sound ensures music is equally crisp no matter where he sits, while multi-host functionality means he can easily switch between controlling devices. In addition to home listening, the speaker doubles as his getaway companion, featuring twenty hours of battery life, making it ideal for camping or fishing trips.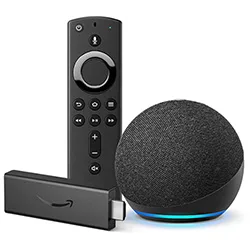 Providing entertainment for his new man cave, the Fire TV & Echo Dot bundle integrates video streaming and voice control for an improved smart home experience. The Fire TV Stick plugs directly into a HDMI port, adding smart TV capability and a multitude of channel apps. An upgrade from previous versions, the Echo Dot 4th gen features an elegant round design and front-firing speakers for improved voice clarity. Together, he will be able to ask Alexa to search for and play his desired movies with minimal effort on his behalf.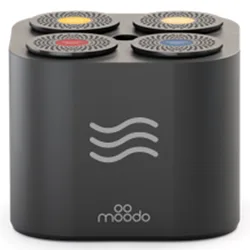 If you're after the perfect gift for a man who relentlessly keeps his place clean and smelling fresh, this idea is for you. An aroma diffuser and air purifier rolled into one, the Moodo Air 2 is a smart upgrade to reeds and electric diffusers that rely on essential oils. This innovative gadget uses four fragrance capsules to release wonderful scents, with countless custom combinations and a selection of pre-set options. The Moodo device is app-controlled, featuring options for smart scheduling and interval mode.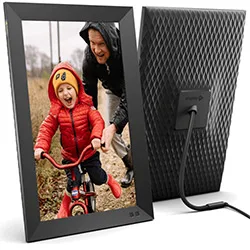 One of the best housewarming gifts for men who don't like cluttering their home with pictures, a digital frame allows him to display photos of all his loved ones from a single location. The Nixplay Smart Frame is available in three modern designs, showcasing photos and video in portrait and landscape mode. Libraries are stored and controlled within the Nixplay app, which allows him to select playlists using Alexa voice commands.
For the tech enthusiast who recently purchased a new home, Google's learning thermostat ensures his bachelor pad remains at the perfect temperature all day long. Featuring an elegant modern design, the thermostat allows him to create custom schedules and account for an unattended home. The device settings can be controlled on any device, or he can adjust the temperature the old school way by walking over and giving it a twist.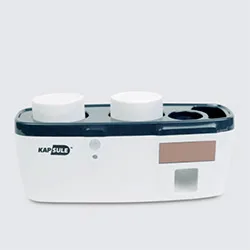 7. Sanitizing Toothbrush Holder
A unique gift idea for his new bathroom, this innovative toothbrush holder successfully disinfects in as little as seven minutes. Equipped with a medical-grade UV-C bulb, the Kapsule sanitizing toothbrush holder provides sanitation for both the toothbrushes and cups. Eliminating 99.9% of germs, the holder is easy to mount, USB and solar-powered, and rated for up to 2500 hours.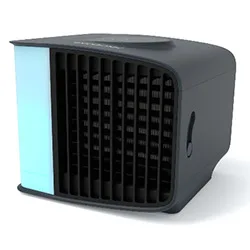 So you've heard all about his new bachelor pad, the pros, cons, unique aspects, and scheduled improvements. If one of the grumblings is unbearable heat and humidity, the EvaSmart personal air cooler will make a great housewarming gift. The smart gadget is a cooler, purifier, and humidifier rolled into one, featuring a stylish modern design and customizable colored lighting. Controlled by touchscreen or remotely via smartphone, the EvaSmart is ultra-quiet, energy-efficient, and capable of smart home integration.
From a one of a kind industrial table lamp to an elegant and functional dustpan set, below you will find a selection of the most unique and practical housewarming gifts for men to enhance their many living spaces.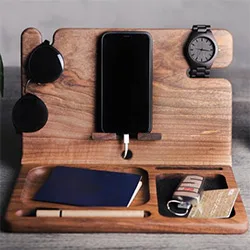 Ideal for organizing his workspace and bedside table, a docking station houses all of his daily carry essentials. This charming personalized organizer is perfect for his new house, offering practicality, convenience, and smart modern design. Notches can be used for his watch and sunglasses, while storage slots are meant for keys, wallets, and pens. The device stand is fitting for both storage and charging, providing an excellent destination for a phone not presently in use.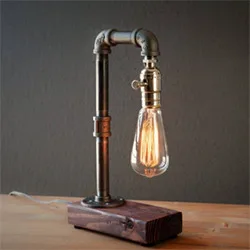 A great gift for a man who seems to have it all is this creatively designed table lamp. The industrial style Edison lamp presents an innovative and unique design that promotes the light bulb as the focus of this artistic-inspired utility. Expertly handcrafted in the USA by a team of experienced craftsmen, this stunning lamp features a beautiful wooden base, refined antique style brass or silver piping, and the choice of 4 socket variations including full range dimming to create the idyllic ambiance. Showcasing the greatest attention to detail, this eye-catching table lamp is a unique home lighting element with character that will be the center of conversation with family and friends.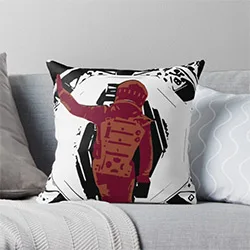 A unique piece of home decor that will add intrigue and interest to any living space is this eye-catching movie-inspired throw pillow. The creative design presents vivid artwork inspired by Stanley Kubrick's brilliant masterpiece, 2001 A Space Odyssey. Made from soft and durable 100% spun polyester, the soft and durable throw pillow features a vibrant double-sided print that is bound to make a bold statement.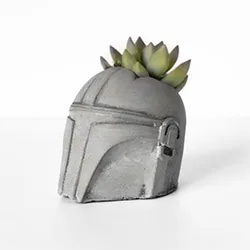 The king of decorative male housewarming gifts, this miniature Mandalorian is destined to add life to his newly acquired living space. The handmade planter is perfect for succulents and cacti, but can also be used to house the bits and pieces cluttering his desk. Constructed from concrete, the Mandalorian helmet replica features soft smooth finishes and natural blemishes for additional character.
The perfect way to welcome friends and family, a new doormat provides a smooth segway inside from outdoors. Adorned with a simple, yet bold star design, the durable doormat is easy to clean, maintain, and encourages visitors to scrape their footwear before entering his new home.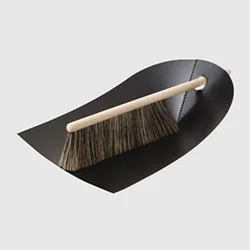 Swiftly clearing scattered debris, this dustpan and broom pair are a great alternative when a vacuum is inconvenient and unnecessary. Functional, elegant, and creative, the broom is made using natural bristles and wood, while the dustpan features a flexible plastic design. A great gift idea for any home, the minimalist dustpan set is available in black and light grey color variations.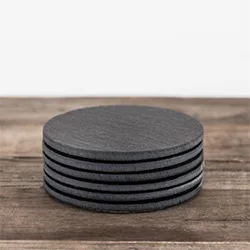 If you're searching for simple and functional housewarming gifts for men, an elegant coaster set is a great option. A perfect resting place for coffee and cold drinks, the slate coasters feature a charming charcoal surface and a non-slip cork underside. The set includes six pieces so he can comfortably entertain five people knowing his coffee table is protected.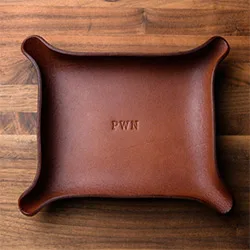 This stylish catchall tray is the perfect accessory his new house needs to ensure important belongings never go astray. A welcome addition to his entryway, home office, or living room, this elegant tray presents expert craftsmanship, handmade using premium full-grain leather finished with a stunning satin resin and burnished edges. This charming catchall is a wonderful keepsake that can also be personalized with a beautiful hand-stamped monogram and is available in up to 11 attractive veg-tanned leather color options to suit any interior.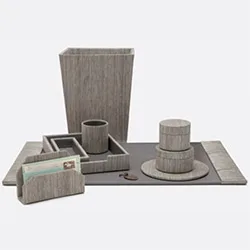 The perfect gift to complement his home office setup is this elegant Napali desk accessory set. With a sophisticated finish resembling smart menswear fabric, the unique desk organizer features a natural organic pattern made from fine strands of woven water hyacinth. Expertly handmade, each set includes a beautiful desk blotter, mouse pad, business card holder, and waste paper basket, including plenty of trays and holders to store ample writing tools and small stationeries.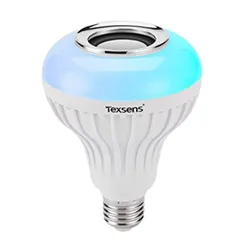 18. LED Light Bulb Speaker
What new home owner wouldn't love a dash of vibrance when moving into an unfamiliar space? This enjoyable LED bulb combines light with audio, playing songs over Bluetooth, and changing colors via remote. Whether it's music in his man cave or creating a unique living room vibe, this quirky little gift is sure to be a welcome surprise.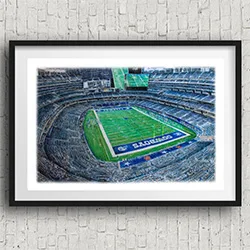 One of the best housewarming gifts for him to decorate the new place, a spirited sports arena wall art piece is perfect for the lounge, office, and man cave. From
blueprints
to
art prints
, and even creative
mosaics
, there's an arena for every fan and artistic design to match.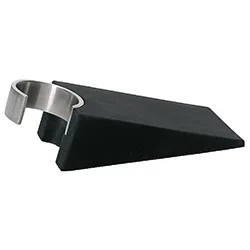 A highly practical and unique housewarming gift is this stylish doorstop. The WEDO doorstep will wedge firmly under an open door to keep it safely open, whilst conveniently hanging neatly from most door handles when not in use. Featuring a premium stainless steel arm and black rubber body, this beautifully engineered home accessory presents a stylishly subtle functional accessory that will seamlessly blend into any interior space.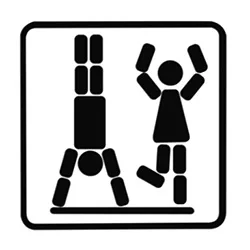 If you're after a small and entertaining home decor gift, this Ladies & Gentlemen bathroom door sign is sure to make him laugh. Twenty-one magnetic pieces can be used to create amusing symbol positions, or he can stick to the traditional his and hers.
From practical kitchen staples to stylish dining accessories, the below section contains some of the handiest and innovative housewarming gifts for men that are bound to be well received and get plenty of good use.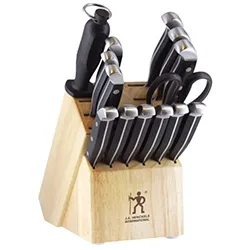 Perfect for men starting out with a barren kitchen, this well-crafted knife set is an essential addition to their kitchen utensils collection. Effortlessly carving through meat, bread, and vegetables with ease, this extensive set is constructed from stainless steel and topped with a sleek ergonomic riveted handle.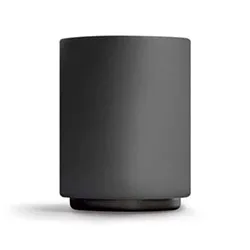 For a man interested in elegant design, these beautiful artisan-designed cups are perfect for morning caffeine hits and sharing a coffee with friends. Cream is guided to the cup's surface by a hidden slope, while the double-walled ceramic maintains temperature without burning his hands. The captivating Fellow Monty cup comes in contemporary matte black and matte white finishes, featuring a stackable construction and four sizes to match his taste.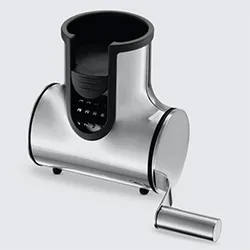 Because cheese is the staple of every delicious meal and often he will prefer it grated. With the Rosle cheese mill, your lucky recipient will no longer be required to balance a handheld grater, risking the skin on his fingers in the process. This practical and well-constructed cheese mill is crank-operated, relying on a little thumb pressure to press down the lid. Alternatively, if he does prefer a traditional style grater, this playful
Shredder cheese grater
is a fun and unique option, with a bit of lighthearted humor thrown into the mix.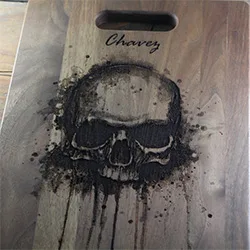 A personalized housewarming gift for manly men, this detailed skull cutting board is perfect for chopping and display. Available in stunning bamboo, maple, and walnut, the board is laser engraved, hand-sanded, and available with a handle or styled as a paddle. If an aggressive skull is a little much, a great alternative is this
"King Of The Grill" cheese board
, containing a custom message as well as your recipient's name.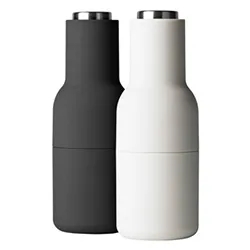 26. Salt & Pepper Shakers
Suave and polished, this modern grinder set is a great gift for flavoring food and wowing dinner guests. The Menu bottle grinder is a towering eight inches tall, featuring a large reserve capacity and a durable ceramic grinding mechanism. Grounds can be adjusted from fine to coarse, while the innovative upside-down design leaves behind no residue.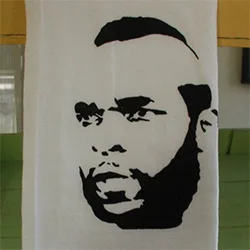 When it comes to nostalgic housewarming gifts for men, it doesn't get more unique than this fun tea towel! Fans of the A-Team and Rocky will appreciate the humor behind this 'T' Towel, featuring none other than the iconic Mr. T. Measuring 30 x 30 inches, the bold design presents a black silhouette illustration hand silkscreened onto a 100% cotton sack towel that will create a lasting impression in his new domain.
Taking a dining experience to another level is this stylish contemporary set of flatware. Designed and crafted in Italy, the stainless steel flatware presents a cutlery set with a smooth, beautifully contoured finish that is just as aesthetically pleasing as it is to eat with. Containing all the tableware essentials, this stunning set is available in a range of modern finishes including matte black, vintage copper, and matte silver that is perfectly paired with white porcelain for a polished dining table look.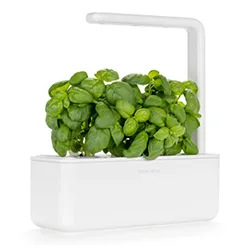 Smart Garden 3 is an ideal gift for health-conscious men with no yard space and little gardening experience. With minimal space required, the indoor garden practically automates the growing process, watering on his behalf and providing optimal lighting. This innovative and practical housewarming gift provides an endless supply of fresh herbs he can use for salads and cooking.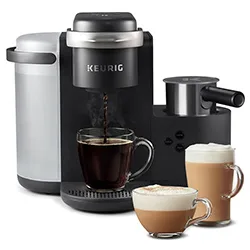 The best gift idea for a man who loves his morning brew, the Keurig K-Cafe coffee maker helps create barista-style coffees from the comfort of home. Whether he prefers straight coffee, cappuccinos, or lattes this intuitive unit has him covered. The included frother is perfect for dairy, soy, and almond milk, while the removable water reservoir ensures refilling is simple and convenient. While options are plenty, straightforward controls allow him to select his coffee size, strength, and whether he will be adding milk.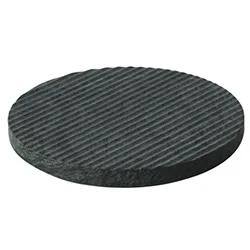 A must-have essential for every new house is a quality trivet. Protecting precious surfaces from scorching hot pots and pans, this trivet is far from simple, presenting a beautiful object that adds character and contrast to any atmosphere, even when not in use. Crafted from stylish marble, the highly unique design features one smooth, flat side, while the other features contrasting textured linear lines with a matte surface, showcasing the alluring organic structures and patterns within the marble.
From an iconic one-of-a-kind cooking apron to a fun cookie jar, below you will come across a handpicked selection of amusing and entertaining housewarming gifts for guys that will inject a bit of fun and nostalgia into their new adobe.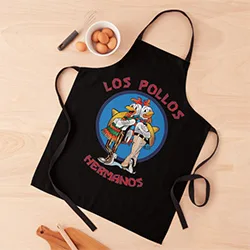 Inject a touch of cult series humor into his culinary adventures with this fun Breaking Bad inspired cooking apron! The bold and vibrant design presents iconic branding from the series featuring the well-known fast-food establishment, Los Pollos Hermanos. Made from 100% durable polyester, this hard-wearing apron includes a strong neckband with extra long black ties, and is also perfect for use whilst in the garden, at the BBQ, or even art studio. Alternatively, if Gus Fring and BB isn't quite his cup of tea, this
Big Lebowski inspired apron
features the prominent Persian Kashan rug with the famous quote 'That Rug Really Tied The Room Together'.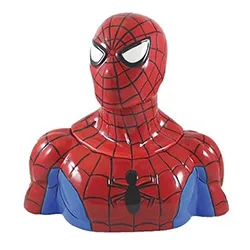 When it comes to nostalgic housewarming gifts for men, this bright and fun accessory is sure to liven up his kitchen. The officially licensed Spiderman cookie jar presents a bold and vibrant design featuring none other than the iconic Spiderman. The quality ceramic container is perfect for storing anything from baked goods to sweets and will bring a smile to his face each time he sneaks a treat.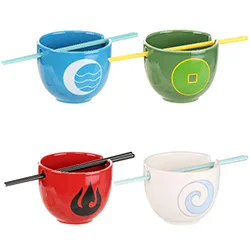 Avatar fans and noodle lovers alike will adore this fun dinner set, perfect for harmonious dining at the next family gathering. The officially licensed bowl set takes inspiration from the popular series Avatar: The Last Airbender, with each colorful bowl featuring a unique design representing each respective nation. The vibrantly designed set includes a pair of themed chopsticks that neatly fit within the bowl and are ideal for daily use with delicious ramen, or even as a wonderful keepsake collectible.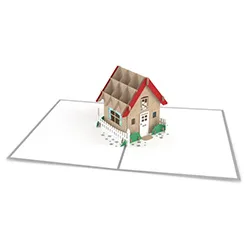 The only fitting accompaniment to the perfect housewarming gift is this creatively designed gift card. The stunning 3D card presents a shimmering silver cover featuring a simple illustration of a humble abode. Upon opening, this small house transforms into a beautiful single-story home, featuring red roofing details, small windows, and complete with an intricately designed welcome mat. Peeking through the windows, he will also be surprised to find the home fully furnished inside! This unique card presents a thoughtful sentiment for new homeowners and includes plenty of surrounding space to express your well-wishes and support.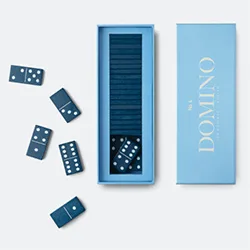 An elegant and unique gift for guys, this revamped iteration of the classic tile game also works as a coffee table showpiece. The set includes twenty-eight wooden pieces, colored in a delightful modern dark blue and housed in a charming powder blue display case.
If you're searching for a highly practical housewarming party gift, the following section contains a variety of handy tools and appliances to help keep things tidy and efficient around the home.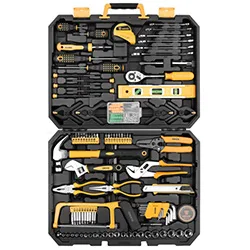 Because a hammer and wrench are simply not enough, this general-purpose tool set contains everything he needs for simple home repairs. Safeguarded in a solid, durable plastic case, the 168 piece set includes drive sockets, screwdriver bits, and hex key wrenches, in addition to common handheld tools.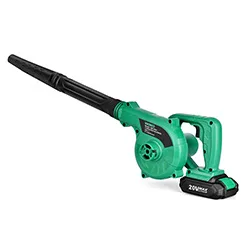 If you're after housewarming gifts for men that will help keep his new place neat and tidy, the Kimo Cordless leaf blower is an excellent option. Powerful and lightweight, the 2-in-1 vacuum and sweeper can clear leaves and debris or capture dust in the included reusable collection bag. A tube extender eliminates the need for bending, and finally, the long-life lithium battery achieves a full charge in just 60 minutes.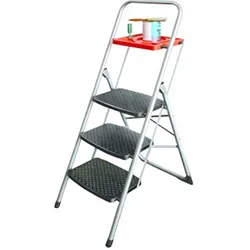 With a new home comes a new responsibility, and this sturdy utility ladder will help him address many of them. A useful tool for small home repairs, he can safely balance on one of three wide steps and rest paint cans, light bulbs, and hand tools on top of the utility tray. Anti-skid stoppers prevent sliding and once his project is complete, the utility ladder neatly folds away.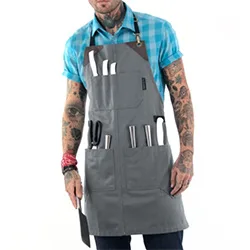 A quality hard-wearing work apron is an ideal gift for use during gardening, BBQ'ing, carpentry, or wherever his passion takes him. The handcrafted, heavy-duty apron is made from a soft, yet durable 14 oz cotton canvas that is reinforced with genuine leather patches. Featuring comfortable generously sized and adjustable cotton straps, including anti-rust Zamak-coated hardware, this smart and stylish apron is the perfect companion for keeping him clean and tidy, with his tools and implements close at bay.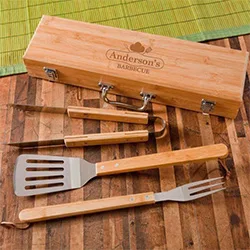 Wondering what to get a guy who just picked up his new house keys? For a man who loves to entertain, this personalized gift set contains all the utensils he needs to throw a lively outdoor barbecue. Encased in a monogram bamboo box, the set includes a spatula, tongs, and fork, perfect for flipping burgers and turning steak.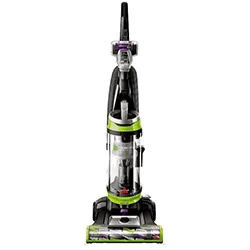 The perfect gift idea for a son or sibling, a vacuum cleaner lets him know that the time for fun and games has come to an end. Jokes aside, the importance of a reliable vacuum cleaner cannot be understated and if he doesn't already own his own, this is a good place to start. The Bissell Cleanview Swivel is ideal for floorboards and carpets, easily maneuvering around household furnishings. Featuring a triple action brush, edge-to-edge cleaning, and a rapid empty dirt bin, the vacuum ensures a dreaded household chore is simple and hassle-free.
Whether he has a taste for beer, wine, or whiskey, below you will find a wonderful hand-picked selection of housewarming gift ideas that cater to his beverage of choice.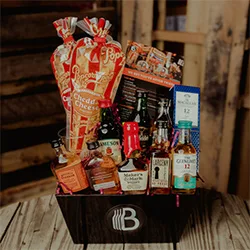 One of the best housewarming gifts for men who enjoy a tipple or two is this bountiful whiskey lover's hamper! Featuring a plethora of goodies, the Ultimate Whiskey Sampler features a lavish selection of alcohol samples including Jameson Irish Whiskey, Johnnie Walker Black Label, Larceny Bourbon, Glenfiddich 12 Year, plus plenty more. This indulgent set also includes delicious gourmet flavored popcorn, a whiskey cocktail recipe card, and a BroBasket tumbler, all presented in a handy BroBasket reusable container.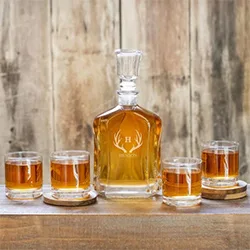 A wonderful keepsake and the perfect gift for his home bar collection is this delightful decanter and glass set. The custom-designed set includes a beautiful personalized heavy glass decanter and 4 stylish lowball glasses. Available in 6 different personalization options featuring both modern and traditional designs, this sleek and stylish set is guaranteed to get plenty of use with good friends for years to come.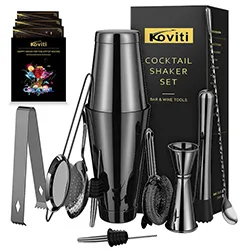 If your housewarming gift is for a man who loves to entertain, an elegant bartender kit is a fitting utility. Ideal for parties and quiet gatherings, this twelve-piece cocktail shaker set includes everything he needs to mix a perfect drink. Whether he's mixing a vodka martini or a refreshing mojito, his jigger, strainer, and tongs will be right by his side, helping him pour like a pro.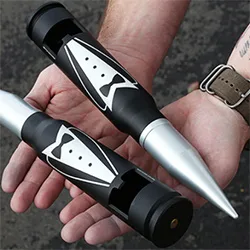 For a man that believes there's no such thing as overkill, may the next beer he cracks open be with this giant MOAB bottle opener. The ultimate male housewarming gift, this mammoth bullet doubles as a home decorative piece for military men and firearm enthusiasts.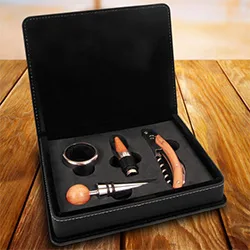 Well established as a dinner and party staple, wine needs only a few tools to aid opening, pouring, and storing. This personalized housewarming gift is ideal for a man who loves wine, featuring an elegant monogram case with a black velvet interior. Included in this charming set are a corkscrew, stopper, pourer, foil cutter, and drip collar, each accented with elegant wooden finishes.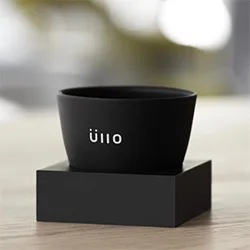 Perfect for the wine enthusiast, this stylish accessory is a handy tool that is sure to impress his guests. The Ullo wine purifier presents an innovative little device that effortlessly purifies both red and white wine. Selectively filtering sulfites, with the option to also aerate, the Ullo purifiers wine by the glass or bottle, directly into a decanter, whilst still keeping all the natural wine tannin, flavors, and aromas to enjoy.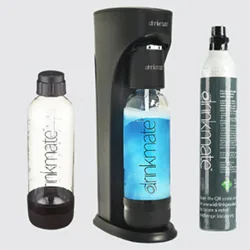 A unique housewarming gift for men who enjoy fizzy drinks, effervescence is in abundance with the Drinkmate carbonator. Operated by the simple push of a button, the Drinkmate requires no batteries or power, only a cylinder of CO2 to achieve perfect bubbly beverages. Although he can technically carbonate any drink he desires, the appliance is best used for creating delicious sodas and healthy sparkling water.
From the ultimate bean bag to indulgent spa baskets, the following section contains a selection of comforting gifts that will add a touch of relaxation and calm to his bachelor pad.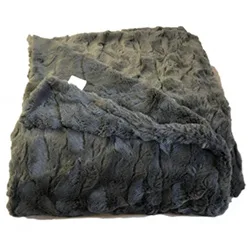 A warm and comfortable throw blanket is a welcome addition to any home interior. This beautiful faux fur blanket features a plush and sumptuous heavy-weight throw that exudes a cozy, yet highly luxurious feel. Measuring a generous 60 x 72 inches, this lush accessory will effortlessly soften any interior, whilst providing a snuggly companion during those cooler days and nights.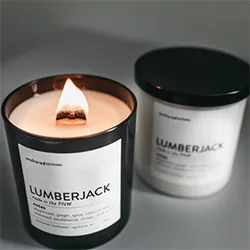 Ditching the traditional housewarming gift of a bottle of wine, this masculine scented candle is just what he needs for his new bachelor pad. The Lumberjack candle features a bold and alluring blend of fragrance oils infused with essential oils including sandalwood, teakwood, spice, and subtle undertones of peppercorn and tobacco leaf. Hand-poured from 100% soy wax with untreated cedar wooden wicks, this stylish candle is housed in a dark and sophisticated branded jar, and with a generous 60 hour burn time, will create a warm and inviting ambiance throughout his living space.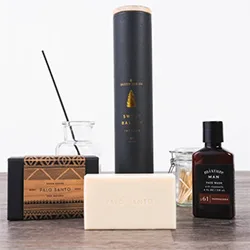 A rejuvenating spa set is a thoughtful and unique housewarming gift basket that he will warmly welcome. This wonderful men's gift set presents a refreshing collection of products to invigorate the body and senses. Featuring an inciting woody scent of balsam and palo santo, this masculine spa set includes a luxurious bath bar, a bottle of Mixture Men's face wash, and a Skeem Design increase set including a set of apothecary matches, everything needed to leave him feeling fresh and relaxed.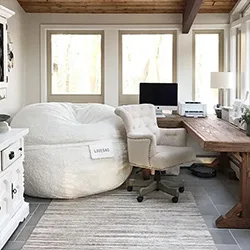 Serving up the ultimate lounging experience, Lovesacs Supersac is a bean bag stuffed with premium filling and enveloped in a durable cover. The unique gift turns any vacant nook into a comfortable living space, proving an ideal place for reading, snuggling, or just taking a nap. Covers are both customizable and interchangeable, so he can update his Lovesac to match a changing interior.
Searching for more than Housewarming Gifts For Men? Check out some of our other great list for more awesome gift ideas.