Wini Gifts is supported by our readers. At no additional cost to you, we may earn a small commission from the purchases you make using our links.
Learn more
Choosing the perfect gifts for hedgehog lovers is easy since these adorable and fascinating creatures make just about anything cuter! If you know a hedgehog owner, or perhaps even have a hedgie lover in your life who is besotted with these lovable animals, then our creative list of hedgehog inspired gifts are bound to make them squeal with delight!
Creative and unique, the following hedgehog gift ideas contain beautiful themed pieces to use within or decorate their home. From delightful artwork and decor to adorable one-of-a-kind utilities, these adorable creatures will make any everyday item brighter!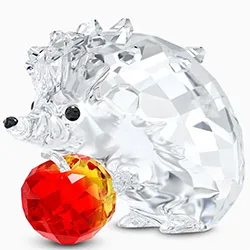 A special idea for your favorite hedgehog lover, this miniature Swarovski crystal figurine is a fitting keepsake for decorative display. Fun, captivating, and extremely cute, these detailed little hedgies emit a larger than life radiance despite their modest stature.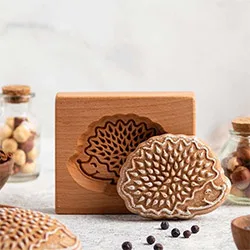 Add a special hedgie touch to cookies and gingerbread with an adorable handcrafted baking mold. This embossed wooden stamp is handcrafted from premium beech wood and perfect for creating dozens of edible little critters.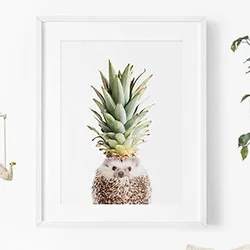 One of the more unique and whimsical hedgehog gifts is this delightfully amusing print! This happy and vibrant artwork presents a very friendly hedgehog with a spiky pineapple top hat! This creative piece is produced on professional-grade photography paper with a beautiful luster finish, arriving promptly and ready for simply framing and then fun, decorative display.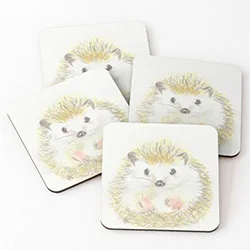 Because their hedgehog mug needs a place to rest, these illustrated hedgehog coasters offer support, while providing much-needed protection for their coffee table and benchtops. Backed by soft cork, the wonderfully illustrated design is printed on a hardy masonite board which is suitable for beverages of any temperature, hot or cold.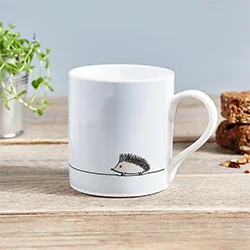 For the tea and coffee drinker who often sips alone, this adorable hedgehog mug will keep them company day or night. Made from fine china, the coffee mug features a super cute little hedgie exploring her surroundings. The hand-painted design is unique, minimalist, and tasteful, ensuring unboxing is met with a giant smile. An adorable alternative, this cute
custom hedgehog mug
is a great gifting option that can also be uniquely personalized with their name.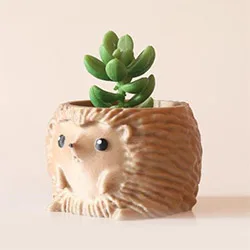 A creative addition to liven the home or office space is this original hedgehog themed planter. Uniquely created using 3D printing, each planter is custom made to order, available in two sizing options with a wide variety of colors to choose from. Perfect for housing small flowers and succulents, this planter is a wonderful gift that any hedgehog lover will be bound to appreciate.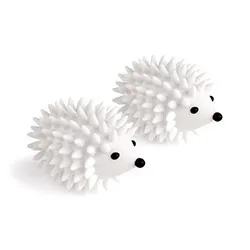 This cute pair of hedgies burrow into clothes dryers, ensuring sufficient airflow by separating tumbling laundry. A natural fabric softener, your lucky recipient will rest assured knowing their favorite friends are hard at work minimizing static and reducing drying time.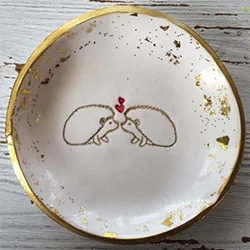 One of those adorable hedgehog gifts that scream sweet romance is this charming trinket dish. Crafted from polymer clay with beautiful gold-toned detailing, this gorgeous dish features a pair of hedgehogs very much in love. Perfect for storing small jewelry pieces, keys, trinkets, paperclips, bobby pins, and more, this pretty little dish is a very thoughtful gesture for your hedgie lover.
The following gifts for hedgehog lovers are perfect for those obsessed with these cute and spiky creatures. From beautiful accessories to fun and unique clothing, they will enjoy sporting their favorite animal on these personal and wearable pieces.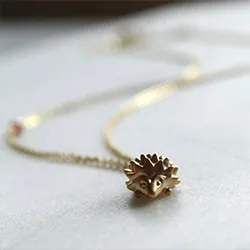 You'll be hard-pressed to find a cuter creature necklace than this friendly spiky companion! The tiny hedgehog necklace presents a delightful 3D gold plated hedgehog placed on a dainty 16-carat gold plated cable chain, and accentuated with a pretty deep orange Hessonite garnet gemstone. Arriving beautifully tissue-wrapped in a cute little linen bag, this dainty and whimsical necklace is a subtle and stylish way to express their adoration for these adorable creatures.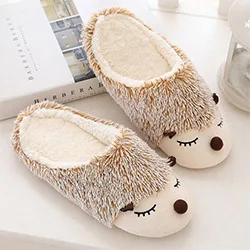 Fuzzy and sweet, you can't help but smile each time you slip on these delightful slippers. Presenting a pair of blissfully resting hedgehogs, these charming slippers feature adorable 3D details including a plush furry coating, button nose, and felt-like ears. Made from a soft cotton blend, these comfy slippers will keep anyone warm and happy as they lounge around at home.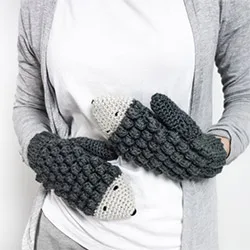 Your favorite hedgehog lover is going to be head over heels when they receive this wonderful gift! Expertly handcrafted, this one of a kind accessory presents a pair of beautiful crochet hedgehog mittens. Featuring a beautiful two-toned design that includes two little eyes and a nose, these unique acrylic knit mittens will keep hedgies warm and happy when cooler weather hits.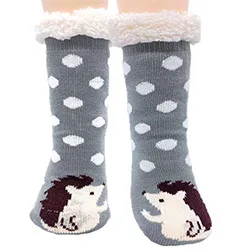 These amazing hedgehog socks are just about the cutest thing to ever cover your feet! The charming fluffy slipper socks feature an adorable pair of friendly hedgehogs placed over a stylish grey and white dotted pattern. Made from a super soft and cozy polyester-cotton blend, these thick and warm slipper socks feature a soft fleece lining perfect for cold weather and also include silicone rubber grips on soles to prevent slips and falls.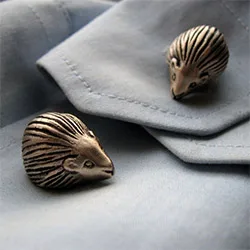 These gorgeous forest creatures make for a highly unique gift for well-dressed animal lovers. Sculpted from premium bronze with beautiful intricate detailing and quality stainless steel hooks, this elegant pair of hedgehog cufflinks are expertly handmade in a boutique studio in Stockholm and make for a very thoughtful and endearing gift for someone very special.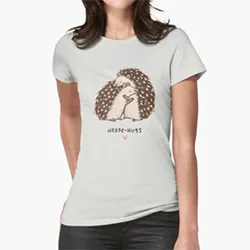 When it comes to charming hedgehog gifts for someone you love, you can't go past this adorable tee! The sweet design presents two plump and cute hedgehogs in an affectionate embrace placed over a soft pastel blue background. Available in a variety of sizing options, this comfy T-Shirt is made from 100% cotton and available in a flattering and stylish slim-fit cut that can be dressed up or down.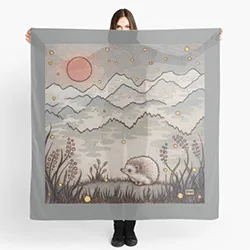 Artistically unique, this beautiful scarf is a wonderful accessory for lovers of this adorable creature. The scarf features a creative print of a cute little hedgehog roaming amidst the fog, artistically created using pyrography and natural pigments on wood. Made from soft microfiber polyester with a slightly transparent effect, this scarf is just as perfect for when the weather gets a little cool, or even adorning their bedroom wall.
For those who want the world to know about their fascination, these creative hedgehog themed gifts will do just that! Whether it's the cutest toothbrush holder you ever did see or a fun little AirPods case, these functional and adorable pieces are bound to be very warmly welcomed.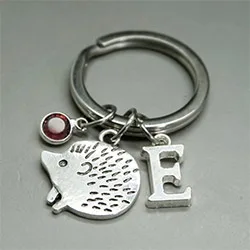 A cute and functional accessory, this stylish hedgehog keyring is perfect for keeping their keys in check or even accessorizing handbags, wallets, and more. The keyring includes a beautifully engraved hedgehog charm, featuring the option to personalize the piece with their initial and a pretty round birthstone of choice.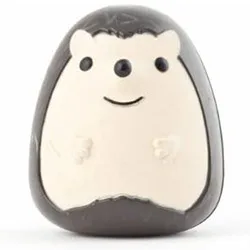 If it's small and cute hedgehog gifts that you're after, then this adorable toothbrush holder is a great mini gift or stocking filler for Christmas. This plump and happy hedgehog is a tiny companion they will look forward to greeting them each day with a pleasant smile. Keeping their toothbrush dry and clean, the case features two suction cups that adhere to a mirror, tile, glass or any smooth surface in the bathroom.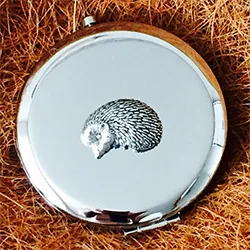 A great little accessory for the handbag or home, this cute hedgehog compact is one charming keepsake they will adore. The collectible presents an antique style compact mirror featuring a strikingly detailed pewter hedgehog on the cover. Uniquely crafted in the UK by highly skilled pewter craftsmen, each emblem has been expertly sculpted to perfection to create a beautiful and elegant piece.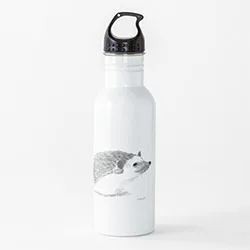 What's tall, durable, and perfect for any hedgehog fan? A water bottle depicting their favorite furry friend of course. For hydration on the go, this lovely present will become their trusted travel companion, never spilling, sweating, or fading away.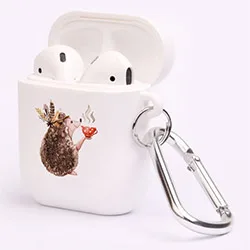 A great little companion to keep good company whilst out and about, this wild hedgehog will ensure the safekeeping of their precious AirPods. The protective case presents a beautiful mini illustration featuring the adorable fuzzy creature enjoying a nice hot cup of tea. Securely fitting both AirPod 1 & AirPod 2 generations, this sturdy case is made from premium TPU, safely protecting against bumps, drops, and scratches.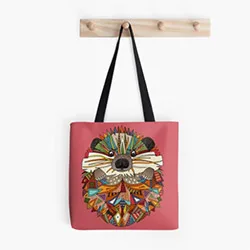 What better gift for your favorite hedgehog lover than this gorgeous versatile tote they can proudly cart with them wherever they please! Featuring a very vibrant and creative abstract geometric design, this is one unique hedgehog that is bound to stand out! Sturdy and stylish, the tote bag features a 100% durable polyester shell, including super strong shoulder straps, and a bright, long-lasting sublimation printed double-sided design.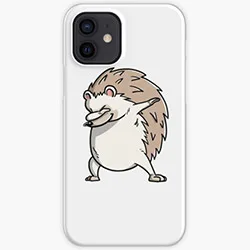 While Sonic may be famous, he doesn't have the style and flair of this cool dabbing critter, head dropped and arms angled up. A funny hedgehog gift for kids and adults alike, the protective iPhone case is shock absorbent, Qi-compatible, and available for most iPhone models.
The following section of gifts for hedgehog lovers contains plenty of fun and interesting items for kids big, and small. Whether it's an adorable piece of soap so pretty you wouldn't want to use, a delightful plushie, or a unique stamp for creative crafting, all these amazing gifting options scream cuteness overload!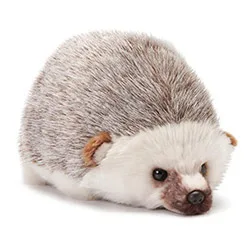 You'll be hard-pressed to find a stuffed animal cuter than this! This gorgeous plushie presents a small huddled hedgehog which is oh so lovable and huggable. Featuring highly detailed features, this lifelike hedgehog toy is crafted from premium diverse plush material with air-brushed accents to create a truly realistic design. Soft and squeezable, this little hedgehog is the perfect size for little hands to hold on to or snuggle with at bedtime.
Who doesn't love stickers? Any hedgehog fan is going to adore this versatile mini sticker, perfect for decorating and personalizing laptops, windows, water bottles, and more! Featuring a delightful little purple plant hedgehog, the kiss-cut vinyl sticker is super durable, water-resistant, and removable, available in matte, glossy, and transparent finishes. A great idea would be to gift a few stickers for more decorating options or pair them with this adorable
hedgehog succulent sticker
.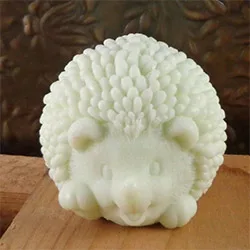 Some cute hedgehog gifts are just impossible not to fall in love with! This delightful soap has been crafted in the shape of an adorable baby hedgehog, smiling playfully as he lifts his foot. Custom made in a wide range of scents and colors of your choice, this is the perfect gift for hedgehog fanatics, young and old, bringing some hedgehog inspiration to the bathroom.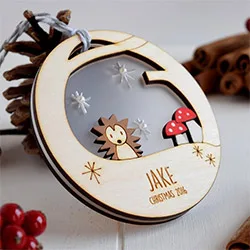 If you're searching for creative hedgehog-inspired Christmas gifts for children, this unique custom bauble will make a beautiful keepsake. A lovely personalized Christmas bauble, this sweet decor piece depicts a cute baby hedgehog amidst a pretty frosty woodland backdrop. Delicately handcrafted from wood and acrylic, each bauble is made to order and engraved with the name of the child and the year.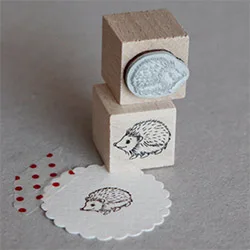 A unique and appropriate gift for the hedgie who enjoys crafting is this gorgeous stamp. Featuring a beautifully detailed design of a loveable hedgehog, this premium stamp has been expertly handmade using laser-engraved rubber and mounted on a springy foam layer and is great for use when creating cards, Christmas and birthday tags, personalized notes, and more.
The perfect accompaniment with any gift for your hedgehog loving partner is of course an amazing hedgehog card! Great for a birthday, Valentine's Day, or any special occasion, this gorgeous 3D card is the ultimate romantic gesture that will bring out all the warm and fuzzies. Featuring a unique vibrant laser-cut cover, the pretty love mushroom opens up to reveal an adorable hedgehog serenading his love! Measuring 5 x 7 inches, the card also includes a little blank note card that slides away to add a personal message.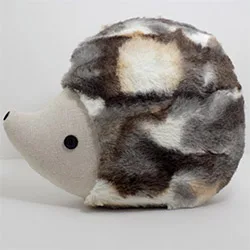 The next best thing to having your own pet hedgehogs is this comforting plush pillow to curl up with! This unique pillow has been designed in the shape of an adorable hedgehog, except unlike the actual creature, this little guy is super fluffy and cuddly. Crafted from very soft polyester crushed Minky fabric and stuffed with premium fiber fill, this friendly companion has been expertly handcrafted, sparing no attention to detail, and makes for a wonderful accent pillow to decorate any bedspread, lounging, or play space.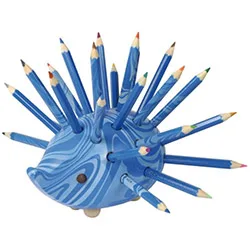 Why would kids want to organize pencils any other way? Protecting the cute creature from lingering predators, pens, pencils, or crayons come together to form pencil-sharp protective prickles. The vibrant wooden pencil holder comes packaged with twenty-four matching coloring pencils, one for each spike hole.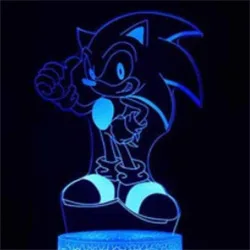 We couldn't in good conscience complete this list without featuring the most famous hedgie of them all. For the little Sonic fan, this Sonic hedgehog gift is an illuminating creation that will light up their bedroom at night. Featuring two 3D panels, the creative night light is child-friendly, easy to operate, and can alternate between seven different colors.
Searching for more than Adorable Hedgehog Gifts? Check out some of our other great list for more awesome gift ideas.