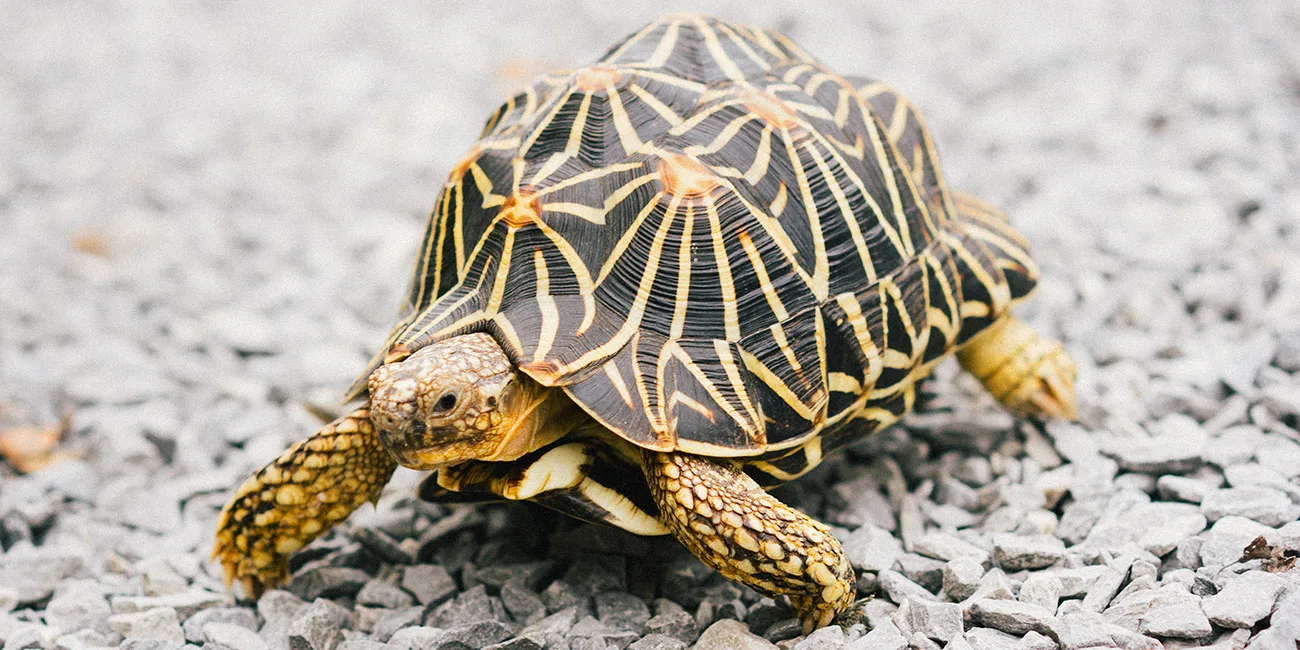 Wini Gifts is supported by our readers. At no additional cost to you, we may earn a small commission from the purchases you make using our links.
Learn more
Created just for the turtle-obsessed amongst us, we have put together the ultimate list of gifts for turtle lovers that will make them squeal with delight! From adorable decorative pieces to clothing and accessories that declare their loyalty loud and proud, you will be sure to find the perfect turtle gifts to suit all tastes.
If you're looking to gift unique, decorative gifts with turtles that stand out from the crowd, the following items are sure to pop out. From charming decor to everyday utilities, these wonderful gifts feature a variety of cute and amusing pieces presenting these delightful reptiles in all their glory.
Adorably elegant, this beautiful Swarovski baby turtle figurine will make a charming keepsake. The crystal sculpture features Shelly the Turtle in varying hues of green and yellow with a red bowtie neatly placed on its chest. Crafted from 270 shining crystal facets, this stunning ornament perfectly encapsulates a trustworthy and endearing friend.
What better present to gift a turtle lover than a subtle and playful way to pass on that passion to their young children? This cute and cool sea life nursery print measures 16 x 11 inches and features Tony the Turtle casually traversing the seas with his baseball cap turned backward. This adorable print is available as a single design, and can also be partnered with Oliva the Octopus and Wayne the Whale in the
underwater creatures set
.
A soft furnishing that will stand out, this funky throw pillow featuring their favorite reptile friend is one of the best decorative gifts for turtle lovers. Perfect for adding contrast to any living space, this lively ocean turtle silhouette also comes in
watercolor
,
blue ombre
, and
pink sunset
designs. Available in five size variations, the comfy polyester throw pillow features a double-sided print, concealed zipper, and the option for cover only or an insert inclusion.
Transform a boring laptop panel into a delightful work of art with this cute animated laptop skin. Large exaggerated eyes, a giant smile, and wearing modern DJ headphones, this cute baby turtle is dancing to his favorite tunes. The creative decal provides protection from scratches, featuring a gloss finish with easy to attach bubble-free installation. Compatible with a large range of MacBooks and PC laptops, the 3M Controltac decal stickers also won't leave a sticky residue when removed.
A unique naturistic piece to brighten any room is this beautiful artwork. Inspired by the majestic leatherback sea turtle, this delightful illustration features two leatherbacks, large and small, featured against a white landscape. Available in a variety of sizing and framing options to suit, this beautiful print will add a calming beach house feel to any interior space.
Portraying an affectionate mother embracing her baby, the next turtle gift lovingly decorates walls while letting you know what time it is. This modern minimalist wall clock is constructed from bamboo wood, featuring a natural finish and plexiglass face. Controlled by a Quartz mechanism, the Sweet Turtle Hugs clock is sure to find a permanent place on any turtle lover's living, dining, or bedroom wall.
A fearsome addition to their POP! Vinyl Collection, Raphael from 90's superhero cartoon series Teenage Mutant Ninja Turtles stands guard wearing his red eye mask and holding his iconic sai's. The geekishly cool chibi styled figurine is large enough to love, strong enough to withstand knocks, and cute enough to catch the eye of any onlooker.
Stepping out of a bath or shower, onto a low poly art bath mat starring their favorite little critters is a great gift idea for birthdays and Christmas. Preventing slipping and soaking up excess water that would otherwise find its way onto the floor, the polygon turtle pair provides a perfect platform for drying off. The soft polyester bath mat features a non-slip underside, fade-resistant color print, and is available in large and small size variations.
Illustrated using shapes, lines, and vibrant colors, the trippy sea turtle design is a perfect display for their home, office, or lounge room. The sleek acrylic block decor is diamond cut with precision, hand-polished, and features back-mounted prints that can be perfectly viewed from any angle.
Are you after charming turtle gift ideas that also serve a useful purpose? From gorgeous mugs to hilarious coasters, including some cute and cuddly gifts in between, you will find plenty of fantastic turtle-toting items for everyday use.
The perfect canvas for recording daily events, breaking down goals, and capturing ideas is undoubtedly a beautiful journal. Depicted on the cover is a black and white sketched tortoise carrying a traditional style home on top of her shell. This hardcover Tortoise House journal is a cute little turtle gift that writers and those who enjoy journaling will enjoy.
One of the coolest gifts for turtle lovers, both adults and kids will enjoy floating around in the summertime with this ginormous pool float. The ride-on inflatable turtle is constructed from durable vinyl and features heavy-duty handles and a quick release valve for speedy deflation. Also included with the turtle float is a heavy-duty repair kit in case of accidental tear or puncture.
A smile and chuckle with each sip, your recipient will love filling this mug with a steaming hot coffee or tea each morning. Featuring a cute caricature of a meditating turtle, peacefully sitting with its legs crossed and eyes closed, the Golden Turtle Sound mug is made from quality ceramic and is available in both tall and classic options.
The following present is a cool gift idea for a turtle lover with a sense of humor, who you know will get a chuckle each time they rest a beverage upon its surface. Made from cork and masonite, the tortellini turtle coaster set features a cute little turtle with a giant sauce-covered tortellini for a shell.
Whether it's for housing art supplies, cosmetics, or essential accessories, this zippered pouch will keep all their goods safe and in one place. Featuring a repeating pattern design, the black and aqua abstract turtle is inspired by native art, using shapes and shading in two-dimensional form. The versatile zippered pouch is constructed from strong polyester canvas, lined for additional durability, and comes in three spacious size variations.
If you're after gifts with turtles for the fan-obsessed who wish to cart their turtle-loyalty for the world to see, then the following items will be right up their alley! From adorable travel utilities to fun practical accessories, these lively gifts are sure to bring a smile to their face.
Perfect for lugging sporting goods, gym clothes, and travel accessories, this versatile rounded duffle bag will quickly become an everyday necessity. Conveniently available in both small and spaciously large sizing options, the bag features a playful baby sea turtle pattern, hand-drawn and colored in aqua, teal, and turquoise tones. The funky bag features an external mesh pocket, removable shoulder strap, and an internal zipper pocket for safely storing smaller accessories.
An essential part of modern coffee culture, portable transport for a homemade caffeine hit is made even better when they can take their reptile friend along for the ride. Inspired by the magnificent Ploughshare Tortoise, the design portrays the reptile head held high, colored in rich orange, yellow, and purple tones, contrasted against a muted pink backdrop. Featuring a beautiful wraparound print, the tall travel mug holds fifteen ounces of fluid with an insulated stainless steel interior for keeping a brew warmer for longer.
Securely housing MacBooks and tablets, this charming laptop sleeve is a perfect tech companion for any turtle and tortoise lover. Containing a multitude of illustration styles, the vibrant laptop sleeve features the giant Galápagos tortoise, Sea turtle, Ploughshare tortoise, and amazing Mary River Turtle. Made from 100% polyester, the laptop case is suitable for 12, 13 and, 15-inch laptops, protecting them from minor impacts and scratches.
If you're searching for turtle gifts they can proudly cart while on the go, this amazing tote will soon become their everyday staple. The print is designed using rich and intricate mandala art, focusing on circles, lines, and shading to add depth and meaning to a two-dimensional image. Made from soft, yet durable polyester poplin fabric with a strong wide shoulder strap, this wonderful turtle carry bag is available in three convenient size variations.
Preserving the temperature of contents stored within, this double-walled stainless steel barista tumbler is smooth to the touch and easy on the eyes. A fitting gift for turtle lovers, the boho style travel tumbler depicts turtles gracefully swimming in mystical blue and purple pastel waters. The bottle itself can hold up to 17 fluid ounces, featuring a spill-resistant design, large twist-top opening, and vacuum-sealed insulation.
Preventing scratches and providing a layer of protection from bumps and drops, this reliable iPhone case covers edges without obstructing buttons or the rear lens. Based on Orly Skiffback the Dungeons & Dragons Tortle Bard character, the humanoid tortoise is illustrated wearing his sword and eyepatch, with bagpipes over his shoulder and a beer stein in his right hand. This cover design features options that fit most iPhone models and is available as a flexible soft case, slim protective snap case, and a double-layered tough case.
Perfect for a young lady obsessed with turtles, the next gift is a playfully stylish travel companion that protects her smartphone and stores her necessities. The Chala crossbody cell phone bag is a convenient way to carry essentials, replacing the need for a clunky handbag. Made from faux leather, the bag displays a unique embroidered turtle design with detailing and features a top zipper closure, internal credit card slots, soft internal lining, and a small but spacious front pocket.
Wondering what those great turtle gift ideas are that will make them jump for joy? The following gifts give new meaning to the word cute! From charming turtle-inspired clothing to cozy turtle comfort, these wonderfully adorable gifts ooze turtle-charm in fun, wearable style.
Colorful and warm, the next of our turtle gifts will keep you cozy when lounging at home, or comfortable while out having a picnic on a sunny day. The adorable googly-eyed baby sea turtle is ready for a cuddle as she clumsily swims amongst the fish in the ocean. Featuring high-quality edge to edge sublimation print work, the blanket is made from 100% soft polyester fleece and is conveniently washing machine friendly.
The perfect way for your turtle adoring recipient to show off their love for turtles is by donning the little reptile on a Tee for the entire world to see. We all know turtles are well suited to marine life, but who would have guessed they would make great astronauts? Well, the verdict is out and this T-shirt proves it, as this colorful pair find themselves endlessly floating in outer space. The delightful space turtles T-shirt is pre-shrunk, made from a soft and comfy moisture-wicking tri-blend fabric that is ethically sourced.
A little too cold for a Tee, but too warm for a jacket? A lightweight hoodie is a perfect solution, both breathable, yet warm and ideal for milder temperatures. The beautiful sea turtle illustration is inspired by mandala art, depicting a unique illuminated shell pattern and dark green toned extremities. Featuring a handy kangaroo pocket and spandex ribbed cuffs, the lightweight hoodie is made from a preshrunk cotton to prevent further shrinking, and French terry spun polyester for added comfort and flexibility.
A beautiful piece of jewelry to display their adoration for this gorgeous reptile is this elegant Swarovski turtle necklace. The delicate gold-toned plated pendant showcases a Hawksbill Turtle, embellished with sparkling crystals in vibrant green tones. The pendant comes with a stunning palladium-plated chain and is the perfect accessory for some summer sparkle.
If you're after spectacular gifts for turtle lovers to adorn themselves or their home with pride, this beautiful scarf will do just that. The lovable Japanese turtle carries around a porcelain shell with a charming bonsai plant growing from within. Made from microfiber polyester with a beautiful semi-transparent effect, this unique scarf is perfect for those who adore turtles, animals, or appreciate Japanese art.
Searching for more than Terrific Turtle Gifts? Check out some of our other great list for more awesome gift ideas.