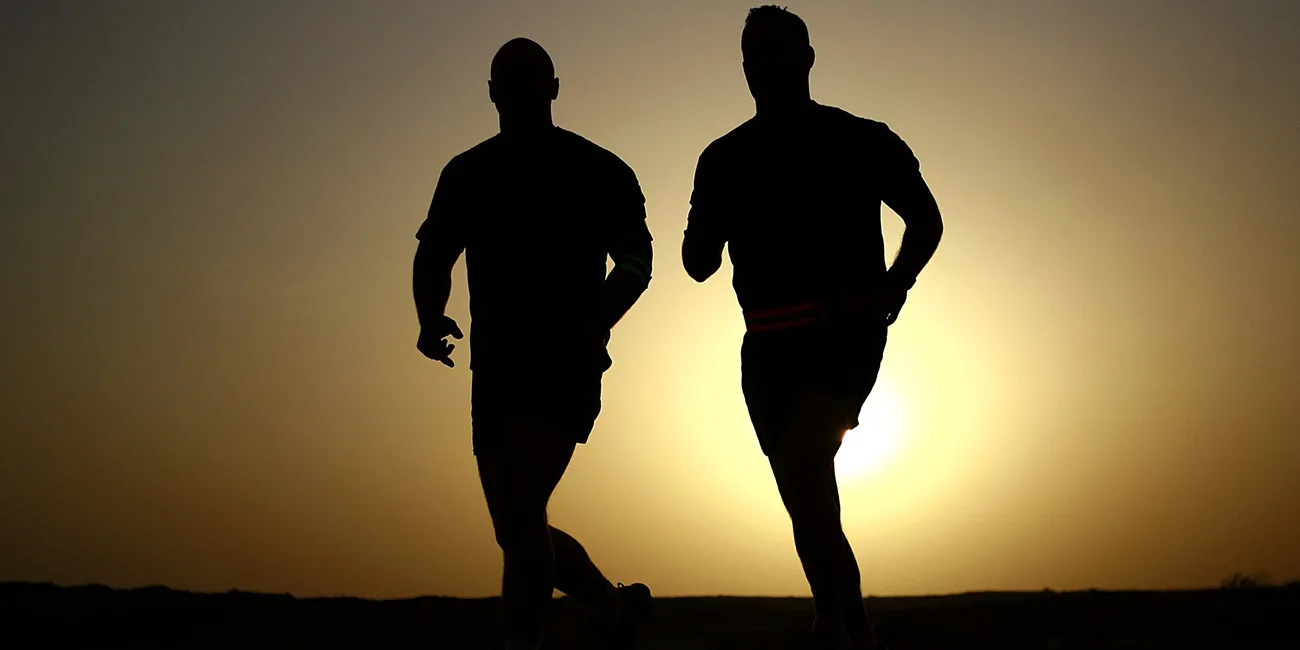 Wini Gifts is supported by our readers. At no additional cost to you, we may earn a small commission from the purchases you make using our links.
Learn more
We have collated the ultimate list of both practical and endearing gifts for runners that they are bound to adore! There are a range of options to suit their specialty, from unique training gear and accessories to assist their running sessions and aid their experience, to everyday personal items and special mementos to signify their accomplishments and passion. So whether it's gifts for marathon runners or trail runners or those who run for leisure that you're buying for, we are sure you'll find the ideal gift that complements their enduring passion for running.
Gifts For Runners: Accessories
The following section includes useful accessories for runners to assist and enhance their running sessions. From amazing tangle-free headphones for motivational, hassle-free running to practical accessories that will assist their training, you can be sure the following gadgets and accessories for runners will be very welcome gifting options.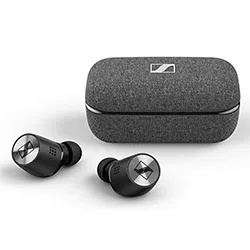 If you're searching for the best gadgets for runners that motivate and enhance their running experience, the Sennheiser Momentum True 2 is the ultimate choice. These state of the art earbuds feature active noise cancellation, customizable touch control, smart pause, and a generous twenty-eight hours of battery life when stored in their case. In addition to the myriad of amazing features, the Momentum True 2 is ergonomically designed, providing unparalleled comfort on each and every run.
There are some gifts for runners that are indispensable and the following is surely one of them! The FlipBelt is the ultimate solution to carry all their necessary items while on the move, hands-free. The patented high-tech Spandex-Lycra belt features a versatile internal pocket system easily accessible from four exterior openings. Simply flipping the belt inside out locks everything in place, allowing runners to carry their phone, keys, gel packs, or credit cards safely and securely. With a very comfortable non-bounce and even design that is conveniently machine washable, the FlipBelt will soon become any jogger's best friend.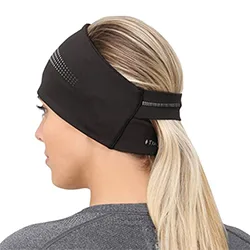 What are those gifts for runners that they cannot do without? Any runner can relate to the frustration of sweat and hair interfering with their vision when all they want to do is run! The TrailHeads ponytail headband is the perfect companion, offering a stylish and comfortable solution for runners. Made from luxuriously soft brushed fabric, the headband features moisture-wicking fabric to easily absorb sweat and a stretchy 4 ¼ inch opening that accommodates most ponytails, and can also be worn without. The unique headband also includes reflective cover stitching and logo, perfect for enhanced visibility during the evening and late-night runs. Another great alternative option perfect for winter is this stylish
cable knit headband
with a soft and warm fleece lining to keep runners cozy during the cooler months.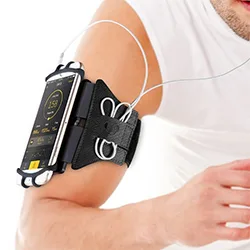 If the FlipBelt is not quite their thing, one of those great gift ideas for runners is a running armband. The VUP running armband is an ultra-lightweight accessory designed for speed and comfort during wear. The rotating armband easily and securely attaches to their arm for full accessibility while on the move. The sports band offers 180-degree rotation with an open face design, including a built-in hidden key holder, and also features reflective material for safe running after dark.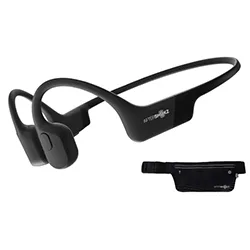 5. Bone Conduction Headphones
Whether they're running on an open road or prefer getting out on the trail, hearing what's approaching is paramount to their safety. The AfterShocks Aeroplex are perfect for the runner who likes to remain aware of their surroundings, keeping their ears clear and allowing natural sound to enter. Uniquely delivering audio through the cheekbone, the bone conduction headphones rely on vibration for audio rather than the direct sound they would get using headphones and earbuds. The AfterShocks Aeroplex features eighth hours of battery life, a durable waterproof design and a lightweight frame, weighing less than an ounce.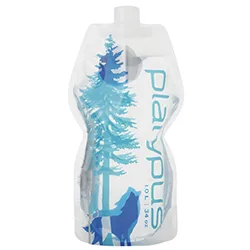 This unique versatile water bottle is the ultimate travel companion for active people. The Platypus SoftBottle is a reusable collapsible drink bottle that is significantly lighter in weight than a standard hard water bottle. Featuring a smart compact lay flat design, the base expands once filled so the bottle stands upright and also includes a push-pull cap that conveniently dispenses contents without removal of the cap.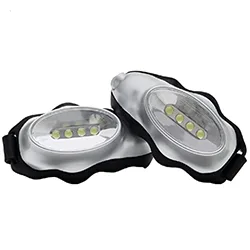 If you're searching for unique and creative gadgets for runners, look no further than these illuminating knuckle lights. Made for running in the dark, the handy lights not only signal to oncoming vehicles that there is someone on the road, they light up the entire path in front of the wearer ensuring they avoid any hidden obstacles. The knuckle lights come in a set of two and feature soft silicon straps, wide flood beams, and are suitable for use in all weather conditions.
The TrailHeads running gloves are a wonderful winter accessory that allows the runner in your life to keep warm and access all their smartphone running apps without taking the gloves off! Available in
his
and
hers
options, the thermal quick-drying gloves feature four-way stretch fabric, conductive tips, and silicone palm grips for increased dexterity.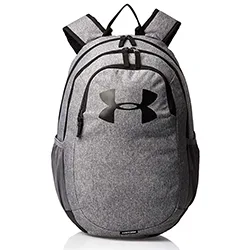 If you're after the best gifts for runners who enjoy traversing the wilderness, or those who incorporate running sessions into their daily commute to work or school, then the following item makes for both a practical and purposeful gift. The Under Armour Scrimmage 2.0 backpack presents a versatile, long-wearing backpack fit for any kind of weather. Made from 100% polyester, the lightweight and comfortable bag features Under Armour Storm technology that easily repels water without sacrificing breathability. The multi-purpose bag holds a generous 25-liter capacity and includes 2 zip-shut compartments, a quick-stash front pocket, and mesh water bottle pockets on both sides.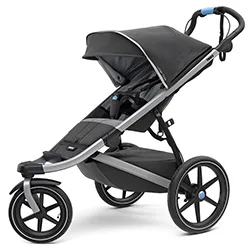 For runners that are expecting or have just welcomed a new baby, a running stroller is a thoughtful gift to keep their motivation and passion alive during those early years. The Thule Urban Glide 2 is a stylish yet robust pram that is the perfect transport for taking baby with them on a daily run. Featuring superior built-in suspension, integrated hand brake, and a swivel front wheel that locks into place for running, new parents will feel reassured taking their precious cargo with them each and every outing.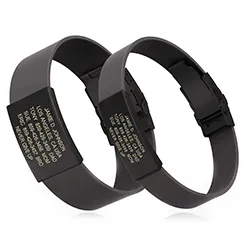 A valuable gift for runners that is not often considered is a quality ID bracelet. Particularly important for solo runners and those who frequently travel, an identification bracelet is a useful accessory that will notify strangers of important details should anything happen to them while they're out running. Made from durable silicone, the sleek and lightweight ID bracelet contains a tough stainless steel clasp and stylish customizable faceplate allowing up to 5 lines of crisp engraved text for vital information such as their name, DOB, emergency contact, and any allergies or pre-existing medical conditions.
Gifts For Runners: Training Aids
There are a number of necessities that greatly benefit runners of all kinds during their regular training sessions. Whether it's the ultimate smartwatch for performance metrics and satellite tracking, or useful accessories for a smooth running experience, we have put together the best training aids that runners are bound to welcome with open arms.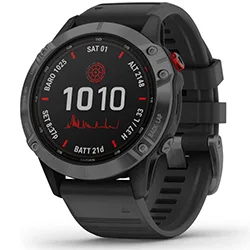 Next up is a gift idea for runners who love to run on the road or off the beaten track. Essential for any athlete serious about performance, the Garmin Fenix 6 Pro is an endurance powerhouse smartwatch with a rugged yet sophisticated design. The GPS-enabled running watch uses a wrist-based heart rate monitor, so no more clunky strap and transmitter attached to their chest. With a myriad of running features, the Fenix 6 Pro makes use of multiple satellite systems, pace guidance, respiration tracking, and ABC sensors for weather and altitude, including a compass for direction. Perhaps the most impressive feature of the Garmin 6 Pro is the combination of topographical maps and its round trip routing function, which allows runners to enter their desired running distance and the Garmin provides a suggested route! In addition to the watch and documentation, within the box they will find a charging cable that can also be used for data transfer and with the Sapphire editions, a stylish Quickfit 22 silicone band.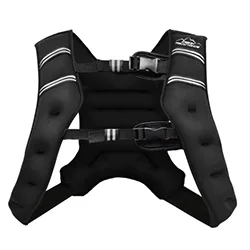 Comfortable and balanced, the following gift for runners increases the intensity of their workouts by simply being worn. Filed with scent-free iron rather than smelly sand, the Aduro Sports weighted vest is perfect for adding a level of difficulty to their running sessions. The vest comes in five weight variations, ranging from a modest 4lbs all the way up to 25lbs. Made from neoprene for maximum comfort and breathability, the Aduro Sports weighted vest features adjustable buckles and a convenient mesh storage pocket.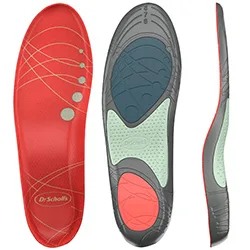 Is the runner in your life complaining about sore knees, shins, or heals? Dr. Scholl's running insoles significantly reduce the shock associated with each step by 40%, helping prevent and minimize common running injuries. Designed specifically for running shoes and sneakers, these insoles will help reduce the wear and tear on feet and legs, allowing runners to stay in their zone and focus on their end goal.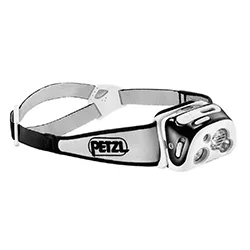 One of the most essential gadgets for runners who run in low lighting, the Reactik headlamp is perfect for safely speeding past obstacles as they veer off the beaten track. Emitting 300 lumens of lighting power, the headlamp utilizes reactive lighting technology, featuring an integrated sensor to analyze and automatically adjust the lighting. The Reactik presents three lighting types: focussed, wide, and mixed, and can be easily recharged via USB. Most impressive of all is the Bluetooth functionality which connects the headlamp to the mobile app. Why would you connect a headlamp to an app you ask? A range of functions can be accessed via the app, such as battery charge monitoring, available burn time, on the fly light adjustment, custom profiles, and the creation of morse code emergency messages, just in case.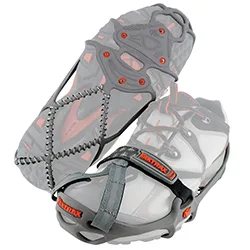 Never let the winter get in the way of a good run with this pair of Yaktrax traction cleats. A perfect birthday or Christmas gift idea, these cleats are designed to allow runners to easily traverse terrains even in extreme conditions such as snow and ice. Comfortably fitting over all running shoes no matter the brand, the Yaktrax traction cleats are available in four variations that cover a range of shoe sizes.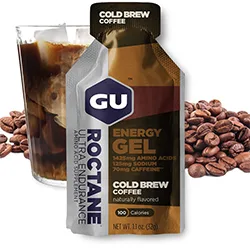 An essential consumable gift for runners, this twenty-four pack of endurance gel helps with refueling and replacing electrolytes lost through sweat. With a variety of flavor options such as chai latte, cherry lime, and cold brew coffee, the carbohydrate gel also contains branched-chain amino acids for improved cardiac output and reduced mental fatigue, helping the body re-energize for their next training session.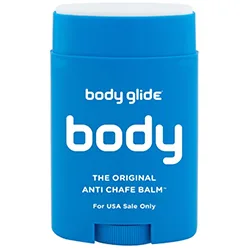 Because nobody enjoys chafing and some don't like compression tights, the following gift for marathon runners is easily applied and allows for a comfortable run. Preventing hours of skin rubbing before it begins, Body Glide is made to be used on any troubled areas such as inner thighs, underarms, chest, and shoulders to stop irritation from friction. The handy balm can be used in both dry and humid conditions, providing lasting protection while allowing sweat to escape, and is also available in a version
for her
.
We have compiled a selection of the best training gear for runners to provide a seamless running experience each and every session. From amazing running shoes to versatile performance clothing, the following garments and accessories are bound to enhance their training sessions, whether rain, hail, or shine.
One of the best and most obvious gift ideas for runners is a brand new pair of running shoes. Whether the runner in your life is a
man
or
woman
, the charming Tree Dashers by Allbirds offer stability, breathability, and superior support. Made from premium renewable materials, these amazing running shoes are machine washable, odor-reducing, and perfectly conform to their steps with the innovative use of flexible soles.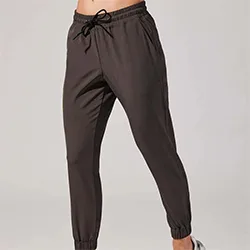 Because running in comfort is important, these slim-cut joggers are just as perfect for a casual jog as they are for grueling running sessions. Available in Burnt Olive and Purple Charcoal, the Evade 3 Signature Joggers are a perfect piece of training attire for women. The material features a four-way stretch that moves to support the wearer and a drawcord band ensures a perfect fit around the waist. If the runner in your life is a man, the
Prospect Active Joggers
provide thermal comfort for warm, lightweight, and durable wear.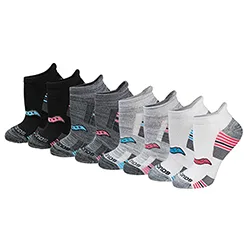 Looking for some gifts for runners who have everything? An article of clothing always welcome by amateurs and experienced runners alike is a fresh pair of socks. The polyester-spandex blend Saucony performance socks feature venting technology and target zone cushioning for added comfort in high impact zones. For a
men's alternative
, these comfort fit no-show socks offer a great balance of support and comfort.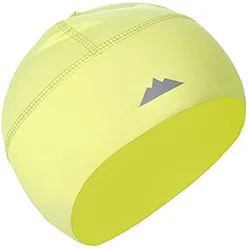 An ideal gift for runners particularly during cooler months is a high-performance beanie. Lightweight and stylish, this award-winning skull cap style beanie features a flat-seam construction that comfortably fits over ears. Made from stretchy and breathable fabric, the beanie easily wicks away sweat while running and also features a brushed thermal lining that retains heat to keep the head and ears warm.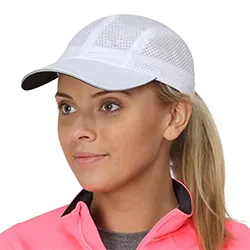 This performance running hat is what every runner needs to protect them during the warmer months so they can focus on their goal. Presenting a sleek and stylish design, the lightweight quick-dry sports hat delivers a snug, customized fit that also comfortably allows for a ponytail. Made from aerated poly-mesh moisture-wicking fabric to keep runners dry and comfortable, the design also features a dark underbill to keep their face shaded, reduce glare, and enhance visibility and is also available in stylish
men's design
.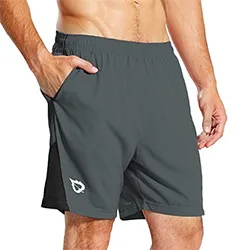 If you're searching for functional and fashionable gifts for runners this summer season, a pair of stylish athletic shorts are going to be warmly welcomed. These versatile men's running shorts feature lightweight quick-dry moisture absorbing and sweat releasing fabric to keep runners dry and comfy. Side mesh panels enhance ventilation, whilst built-in mesh liner aids support and protection. The shorts also include handy side pockets for storing items and reflective elements for visibility in low light. A great alternative training gear option for women are these gorgeous
running yoga-style shorts
, featuring a high waisted band and stylish and comfortable snug fit.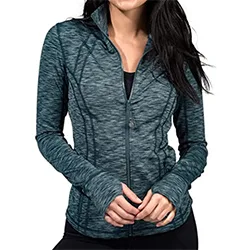 Seamlessly combining fashion and practicality, this stylish jacket is the perfect accessory for her daily running sessions. Made from premium nylon and spandex material, the track jacket is light and airy, whilst providing a super soft layer of warmth without overheating or preventing ventilation. Featuring a full zip-up innovative style suited to flatter a range of body shapes, the running jacket includes handy front pockets and thumbholes to increase hand coverage and warmth during chilly seasons and is available in 25 beautiful color variations. This functional and attractive jacket style is also available in a
hooded men's version
, featuring a comfortable slim fit, whilst offering full range of movement during training.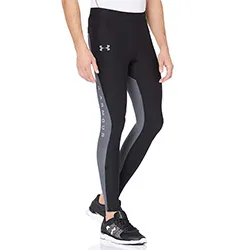 Ideal for running in the cold of winter, these Under Armour compression tights are the perfect companion for runners, seamlessly fusing functionality with aesthetics. Tough and lightweight, the HeatGear Glare Tight features a unique center-front Speedpocket waistband exclusive to Under Armour that expands to keep all body parts completely secure. Water-resistant and bounce-free, the tights include a built-in brief for added support, anti-odor technology, and feature reflective details for greater visibility whilst running in low-light.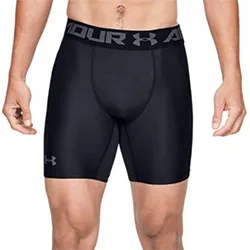 Designed as a second skin, these amazing Under Armour compression shorts feature a soft and lightweight construction that delivers relentless support for runners, without sacrificing comfort. Made from fast-drying sweat-wicking material that also features anti-odor properties, the ergonomic design of these compression shorts keeps seams at distance from high abrasion areas and increases durability. The shorts include a stretch-mesh gusset and inseam panels to deliver strategic ventilation whilst on the move, an engineered elastic waistband, as well as 4-way stretch construction for seamless movement in every direction.
Gifts For Runners: Recovery
Every runner needs time for rest and recovery to recharge their body for.. their next running session of course! From the ultimate stretching and flexibility tools to the perfect stress-relief post-workout shoes, we have compiled a few of the most unique and effective recovery products and accessories to unwind, strengthen, and prepare their bodies for the next challenge.
If you're wondering what are the best gift ideas for runners that they will benefit from, then the next item should be a priority on your gifting list! The original Stretch Out Strap is the first stretching strap on the market, designed to easily perform deep solo stretching exercises for greater flexibility. The durable 6.4-inch professional nylon strap includes 10 individual foot and hand loops to allow convenient, targeted stretching of muscles in the core, back, legs, arms, shoulders, and more. The Stretch Out Strap is the perfect tool for runners to utilize both pre and post running sessions, promoting greater flexibility, improved range of motion, enhanced muscle recovery, and reduced risk of injury.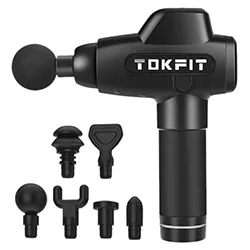 An innovative and useful gadget for runners, this recovery tool improves circulation and relaxes muscle tension without the need for a professional massage. The runner in your life will fall in love with the Tokfit T2 massage gun, which comes with six different massage heads and twenty adjustable speed settings. Addressing different muscle groups and application types, the six heads that accompany the Tokfit T2 include a U-shaped head, flat head, cylinder head, wedge head, air-cushioned head, and a multi-purpose spherical head. The myofascial massage gun features a Lithium battery with up to 8 hours of charge, an AI smart chip and a touch screen digital display for easy operation.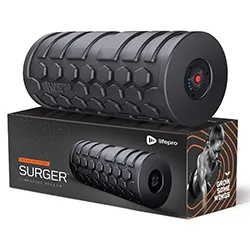 A cool gift for runners who are obsessive about their pre and post-workout routines, the following tool allows them to prepare their muscles for stretching and helps them recover after an enduring run. The Surger Vibrating foam roller is a powerful and customizable training aid that helps break down knots, loosen muscles, and improve circulation, keeping the runner in your life limber on demanding runs. The versatile vibrating roller features a built-in timer, long battery life, and four intensity setting options.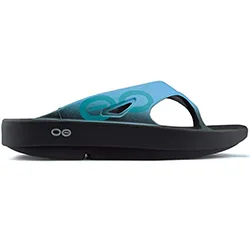 A great Christmas or birthday gift idea for runners who push themselves to the limit, these OOFOS recovery sandals help with stress relief after a tough run. Featuring a patented footbed cradle and motion centric design, the sports recovery sandals absorb 37% more impact than regular shoes and sandals. Machine washable and odor-reducing, the OOFOS will reduce stress on runners' ankles, feet, knees, and lower back.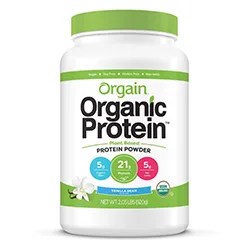 The gift of quick muscle recovery, this delicious and smooth protein powder seamlessly mixes with water and almond milk for a quick and easy pre or post routine snack. Made from a blend of pea protein, chia seeds, brown rice, and fiber, Orgain is a USDA certified organic, vegan, and dairy-free. The uncompromisingly clean nutritional supplement contains no GMO ingredients and is extremely conscious when it comes to the content of its flavoring.
Gifts For Runners: Personal
If you're searching for a special gift for a runner that will remind them of their enduring passion, a gift of a personal nature will always be received with much affection. Whether it's unique running-inspired decor and accessories or customized pieces to commemorate their many successes, we are sure the following gifts for running enthusiasts will blow them off their feet!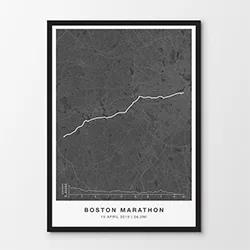 33. Personalized Marathon Map
If you're searching for truly special and personalized gifts for runners who are dedicated to their passion, then the following gift is sure to amaze them. The unique custom artwork presents a high-quality map print depicting their marathon path with personalization details that can include their name, date of the event, finish time, and even elevation.
All prints
are professionally produced on premium matte paper using archival pigment inks and include a white border, ready for framing.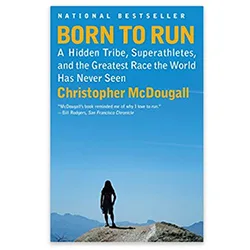 One of those all-time best motivational gifts for runners is the bestselling book Born To Run. This astonishing book captures the entertaining story of award-winning journalist Christopher McDougall, an often-injured runner who sets out to discover the secrets of the Tarahumara Indians who have honed the ability to run hundreds of miles without rest or injury. From Harvard science labs to valleys and peaks across North America, McDougall takes readers on a journey that will engage the mind and inspire the body with the realization we were all born to run.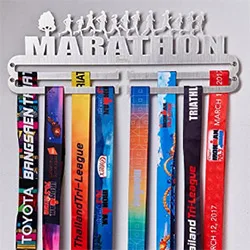 The perfect trophy display to showcase their ongoing achievements is this striking medal display. A wonderful gift for marathon runners, the display features a precise steel-cut design, boldly displaying the words MARATHON with a series of running silhouettes above. The display is made from high-quality stainless steel, with easy access to attach and remove medals. An equally great alternative is this
artistically edgy medal display
board, featuring a vibrant design with a series of hooks to attach their many successes.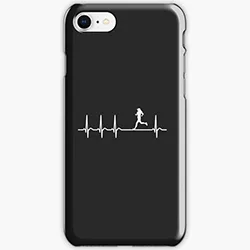 This sleek and stylish phone case is one of those great gifts for female runners they will be proud to own. Featuring a bold, yet minimalist design, the case presents a female silhouette running over a heartbeat pattern. The slim-fitting clip-on protective case is made from impact-resistant polycarbonate, with a side wrap design allowing full access to ports, and is available in both snap and tough case options.
The perfect object to display their passion loud and proud is their very own laptop. This laptop skin presents a retro design displaying a vintage colored sunset with a silhouette of a runner in a distressed finish. The form-fitting vinyl decal features intense colors with a vibrant glossy finish, providing resistance to dust and minor scratches, and is easily removable with no sticky residue. Some other great alternative laptop skin designs for runners include this bold and to the point
statement decal
, or an encouraging female
running silhouette
if you're after running gifts for her.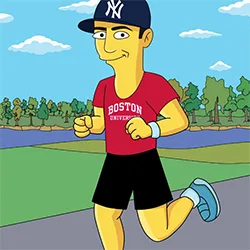 One of the best personalized gifts for runners is this witty and unique custom portrait. The customized cartoon artwork features a self-portrait stylized as an iconic yellow cartoon character! Created from a single photograph and delivered as a digital file, the versatile artwork can be printed on a poster, canvas, T-Shirt, mug, or anything fitting to their taste! This is one very thoughtful and special gift any runner will treasure forever.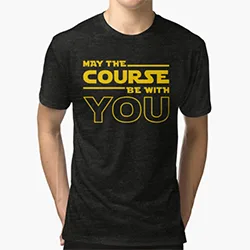 If you're after funny gifts for runners who are loyal to their passion and don't take life too seriously, then this T-Shirt is for you. May The Course Be With You Tee features a bold design, presenting a witty take on the encouraging Star Wars slogan. The slim-fit T-Shirt is made from soft pre-shrunk moisture-wicking fabric that presents a unique stylish vintage look.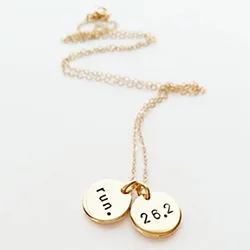 If you're after the perfect gifts for marathon runners to commemorate their success, a striking piece of jewelry offers a memento they can treasure forever. This simple and beautiful necklace features two hand-stamped disc pendants, engraved with the word 'run', and the other displaying their distance run. Both the chain and pendants are available in a variety of designs and materials to suit different tastes. Alternatively, if you're after special keepsake running gifts for him, these
stylish cufflinks
present marathon date, time, and distance, to perfectly capture his achievement.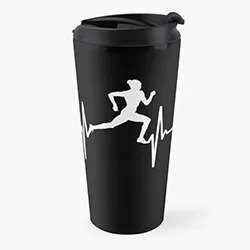 A useful gift just for runners that will get plenty of good use is this travel mug. Featuring a running silhouette perfectly fitted into a heartbeat pattern, the bold, yet minimalist design allows runners to proudly show off their love for running. The 15 oz insulated stainless mug features a wraparound print design and is also conveniently dishwasher friendly.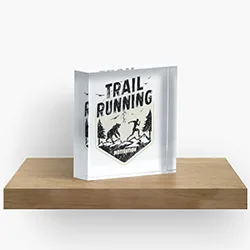 If it's funny gifts for runners that you're after, the last item on our list is bound to get a good laugh! Perfect for runners with a good sense of humor, this acrylic display block presents a unique sketched design featuring a bear chasing a runner through the wilderness with a humorous motivational slogan. The 1-inch thick free-standing decor piece features a vibrant back mounted photographic print with diamond cut sides for sharp visibility from any angle and a hand-polished crystal clear finish.
Searching for more than Awesome Gifts For Runners? Check out some of our other great list for more awesome gift ideas.