Wini Gifts is supported by our readers. At no additional cost to you, we may earn a small commission from the purchases you make using our links.
Learn more
The most fitting gifts for a music fan are those that help them appreciate music all that more, or proudly express their adoration of the medium. With that in mind, we have carefully composed the ultimate gift list for musical aficionados and audiophiles of all ages and genres. From unique wall art and decor to music-themed utilities for the home and office, or music gadgets to inspire and create, our extensive selection of music gifts contains only the best presents that music lovers are bound to adore.
When only the best gifts for music lovers will do, the following selection of premium music gifts are bound to impress. From a unique vintage style speaker to the ultimate portable turntable, these very cool gifts for musicians are exactly what they need and want.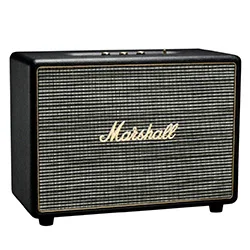 1. Vintage Bluetooth Speaker
The first of our premium music gift ideas is a large portable speaker, perfect for any room in the house. Much bigger than your average miniature portable unit, this Marshall Woburn Bluetooth speaker is a whopping 15.75 inches wide x 12.13 high x 7.87 long! The attractive classic style design features the iconic Marshall gold script logo, vinyl casing, gold piping, and fret cloth drawn from vintage inspirations. The build quality is matched by its sound quality, with clear treble, thumping bass, and a clean life-like mid-range. This speaker has a 90W output, with a maximum sound pressure level of 110dB at 1m. The Marshall Woburn speaker allows for custom controls over bass and treble, in addition to multi-input for connecting CD players and turntables.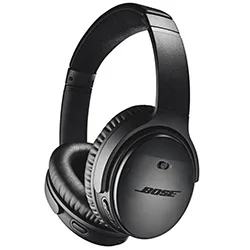 The best transportable audio gift idea, a pair of wireless, noise-canceling headphones can go along for the ride wherever they travel. The Bose QuietComfort 35 II wireless headphones come with three levels of noise cancellation, noise rejecting dual-microphone system, and balanced audio performance. These headphones feature easy Bluetooth pairing and boast up to 20 hours of battery life! Also included is access to future updates and Bose AR, a Bose audio augmented reality platform. The Bose QuietComfort 35 II also comes with built-in Google Assistant and Amazon Alexa, so listeners have easy access to all their favorite songs and playlists.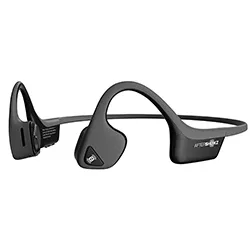 3. Bone Conduction Headphones
One of the most unique gifts for music lovers, these modern, bone conduction headphones will be a welcome surprise! AfterShokz Air Wireless Bone Conduction Headphones utilize technology to wirelessly deliver music through a listener's cheekbones, whilst ensuring the ears are completely open! These incredibly lightweight headphones produce rich bass and a wide dynamic range for premium quality audio. The AfterShokz Air open ear headphones feature Bluetooth 4.2 connectivity, multipoint pairing, and Android & iOS compatibility for super easy listening. The headphones boast up to 20 days of standby time, with 6 hours of continuous music, perfect for work travel or while exercising.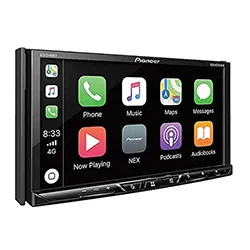 A great music gift for car owners, a new stereo receiver can breathe serious life into any dull drive! The Pioneer AVH-2400NEX is both Apple CarPlay and Android Auto compatible and works well with Pandora, SiriusXM, and Spotify streaming services. The system also features built-in Bluetooth for hands-free calling and a 7" LCD touchscreen display with a customizable interface. The Pioneer AVH-2400NEX is compatible with a multitude of file formats including WAV, MP3, MPEG-1, for optimal digital media playback.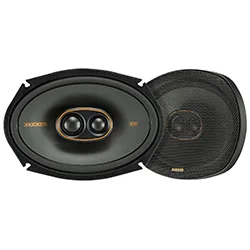 High-quality car speakers are a perfect gift for music lovers who spend endless hours trapped inside their vehicle! The Kicker Car Audio Speakers set delivers remarkable performance and ultra-clean bass. Featuring 2 Kicker CSC674 6.75″ speakers, and 2 CSC6934 6×9″ speakers with removable grill covers, this set is the perfect way to upgrade any factory car sound system for improved clarity and deeper bass.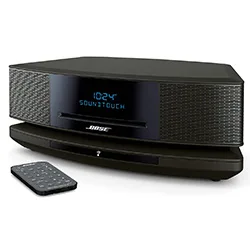 If retro is not the style you're after, then a contemporary home music system could be the gift you're searching for. Renowned for exceptional sound quality and superior performance, Bose has created this sophisticated Bose Wave SoundTouch Music System IV. Utilizing exclusive Bose waveguide speaker technology, this unit delivers rich, lifelike, room-filling sound. The system offers one-touch access to music services such as Spotify, Pandora, and Amazon Music. In addition to streaming, the unit works seamlessly with Bluetooth and a wireless connection via a home Wi-Fi network. The Bose Wave SoundTouch comes with an easy to use infrared remote, with a large variety of options and can store up to 6 presets for instant access.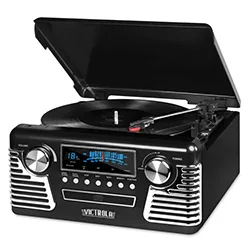 Which music enthusiast doesn't love the sound of vinyl? This retro turntable is a perfect music gift idea, helping revive those old records sitting around gathering dust. Featuring a classic nostalgic design, the Victrola Suitcase Record Player has a 3-speed turntable and includes built-in stereo speakers for maximum portability. This belt-driven turntable also features a strong wireless Bluetooth connection, allowing playback from other devices from up to 33 feet away. The Victrola is lightweight and easy to carry, making the turntable one of the most unique gift ideas for music lovers.
From custom one of a kind works of art to striking decor pieces for the home or office, some of the most unique music gift ideas can be found below.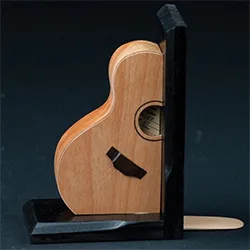 A novel decor item, these vintage Martin guitar style book holders are the perfect gift for any music-loving bookworm, or simply as a decor piece to display a few favorite reads. If perhaps a vintage style isn't quite right, these authentic
Fender Stratocaster guitar body bookends
offer a more contemporary look and feel.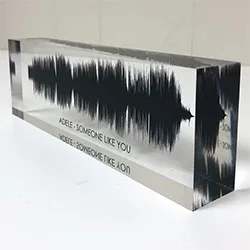 If you're after a truly unique music gift idea, this personalized acrylic block is the present you've been searching for! The soundwave block takes their favorite song or personal composition and prints it onto this stunning price of art! Available in a variety of colors, this statement piece will stand out displayed just about anywhere!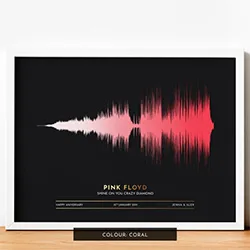 10. Custom Sundwave Wall Art
What better decorative gift for a music lover than a soundwave art print, taken from their all-time favorite song. Sure to be a hit with any muso, the design is available in a multitude of colors, print sizes, and is even available as a canvas print. Customization is easy, simply select your color, name the band, and select the desired song.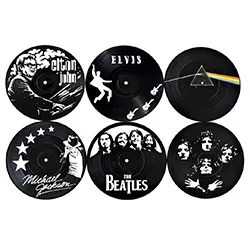 A creative gift for those who can't get enough vinyl is this set of retro music coasters. The set includes 6 classic vinyl record design coasters featuring Pink Floyd, Michael Jackson, Elton John, Elvis, The Beatles, and Queen. These coasters are easy to clean, offer high protection, and have a non-slip rubber backing. These nostalgic coasters are the perfect gift for music lovers for any occasion.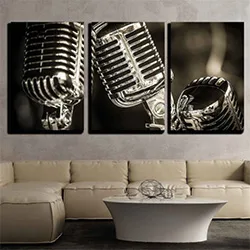 If a soundwave poster is a little subtle, then a three-piece canvas print may be a better alternative. This 3-panel music inspired wall art canvas features three vintage chrome microphones, perfect for the living room, bedroom, office, or studio. The beautiful canvas is professionally stretched and stapled to a shrink-resistant wooden frame, ready to hang as soon as it arrives.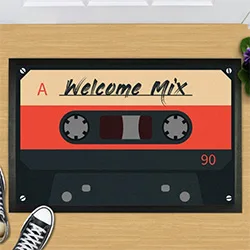 If you're searching for practical, one of a kind music gifts that stand out from the rest, you can't go past this unique doormat. The perfect gift for any old school music lover, this welcome doormat has been designed in the style of a mixtape! Featuring a vibrant, eye-catching design, the doormat measures 23.6 x 15.7 inches and is made from durable rubber with a polyester coated patch panel.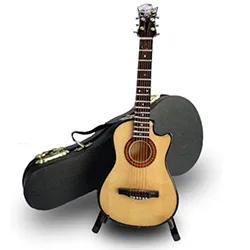 A mini ornament to decorate the smallest of spaces, this traditional guitar comes with its very own stand and case. The intricately designed guitar features 4 beautiful wood finishes and a 6 string design. Standing at 6.3 inches in height means this decor piece won't go unnoticed, even in its tiny form! These exquisitely crafted mini ornaments can also be found in the form of electric guitars, violins, and even a banjo, making them the perfect gift for any music lover!
So what exactly are those cool gifts for musicians that they crave? We have compiled a handpicked selection of the most useful software and gadgets to assist and enhance their musical capabilities or explore creative ventures.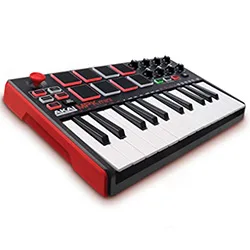 A midi keyboard is a great way for musicians to practice and record audio on a computer or laptop. The professional Akai MPK Mini MKII is a 25 key portable USB powered midi keyboard that comes in 3 striking color combinations. The ultra-compact and lightweight midi keyboard features velocity-sensitive keys, 8 performance-ready MPC style drum pads, and 8 backlit Q link knobs. Specifically engineered for rapid production potential, all housed in an ultra-portable footprint!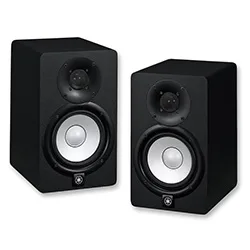 Studio monitors are a welcome addition to any home music production studio and double as amazing listening speakers. The Yamaha H Series studio monitors are intended for nearfield listening and produce a flat sound response, meaning they perfectly reproduce the sound being played. These monitors are available in 5, 6.5, and 8-inch cone sizes, in stunning classic black or crisp modern white designs. The Yamaha H series features high-performance drivers to create sonic purity without any coloring or alteration of the original sound, easily making them one of the best gifts for music lovers.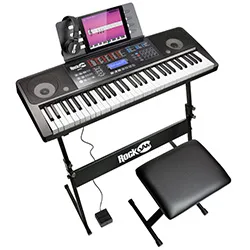 What better present to give a music enthusiast than the gift of learning music! The RockJam Electronic Interactive Teaching Piano features a digital keyboard with 61 full-size piano keys to give a traditional piano feel, whilst maintaining a compact design for portability. This super kit package also includes a bonus stand, stool, sustain pedal, and headphones. The keyboard features a touch display, record and playback functionality, and midi output, allowing users to easily integrate with DAWs such as Ableton Live and Apple Logic.
A great idea for the musician who creates music on their computer, a digital instrument is a gift that will truly wow the recipient! This Native Instruments Maschine Mk3 Drum Controller is a great music production tool, lending itself well to all forms of digital music, including dance and hip hop. The package comes with a 25GB Komplete 11 Select library which contains multiple Creative FX, Pro Sound, and Maschine 2.0 software – Native Instruments own digital audio workstation (DAW). The Maschine Mk3 Drum Controller features a 16 button drum pad, touch-sensitive parameter knobs, a smart strip for strumming notes, and two high-resolution color screens.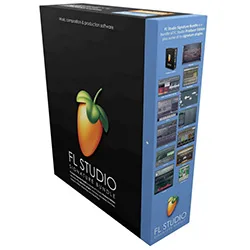 If a digital instrument is slightly over the top, another cool gift for musicians is a stand-alone digital audio workstation (DAW), allowing them to create music using plugins and a midi input. The Image Line FL Studio 20 Signature Bundle is a powerful audio production tool that comes packaged with over 80 digital instruments and plug-in effects! Although a Midi device is desirable for use with music creation software, FL Studio has an inbuilt drawing tool, which easily enables users to draw in sequences from within the DAW.
The below section contains a hand-picked selection of amazing music gift ideas in the form of creative gadgets, all under $100.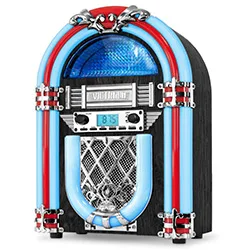 One of the most novel and nostalgic music gift ideas, a desktop jukebox adds a touch of retro to any space it fills! This amazing Victrola desktop jukebox comes with a CD player, FM radio, SD card reader, and Bluetooth capability. The system features color-changing LED light tubing with a nostalgic design and stands at approximately 15 inches in height. The Victrola Jukeboxes' powerful 10W speakers allow for loud listening, while the wireless Bluetooth signal can be streamed from up to 33 feet away. The system also features a 3.55 Aux-In jack for connecting devices directly using a cable.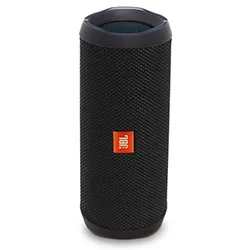 Portable speakers are a great way to share your music with friends straight from your phone or portable device. The JBL Flip 4 waterproof Bluetooth speaker features voice assistant integration with a 12-hour battery life, so you can play music all day without recharge! This speaker also allows up to 2 simultaneous smartphones or tablets to connect wirelessly. The Ipx7 waterproof rating means there's no need to worry that spills, rain, or even complete water immersion will damage the device.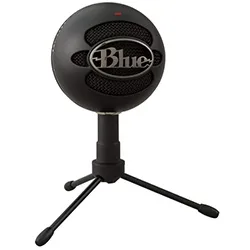 Not all music gifts need to play music! The unique vintage-inspired Blue Snowball iCE condenser microphone is a great mic for recording, streaming, and podcasting. Crystal-clear audio makes it perfect for Skype or FaceTime conference calls, while the tripod stand provides reliable stability. The Blue Snowball iCE features easy plug and play USB capability for both PC and Mac, with no additional installation drivers. This microphone was designed to work seamlessly with any software, meaning compatibility is never an issue.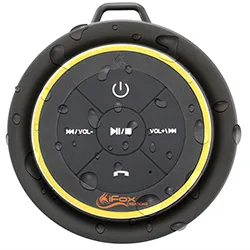 A fun and innovative little gift for music lovers, this gadget plays music while they shower! The iFox Bluetooth shower speaker is 100% waterproof to complete submersion and is built to last. This Bluetooth 4.1 speaker attaches to the shower via a strong suction cup and contains white filled buttons for easy visibility. The iFox shower speaker features a long-life battery that lasts up to 10 hours, a mere 6 second connection time, a whopping 33-foot connection range, and a 3 hour recharge time. The speaker also has a 1-year money-back guarantee, so you can be assured the manufacturer stands behind the quality of this product.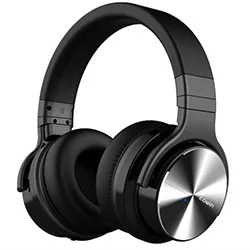 24. Active Noise Cancelling Headphones
If you're after value for money, the next gift idea is perfect for birthdays, Christmas, or any other special occasion. The Cowin E7 Pro headphones feature ANC technology, powerful sound, accurate bass response, and a built-in microphone. The bold design and solid build quality is supported by soft ear cushions for comfortable, long term listening. The Cowin E7 Pro offers an outstanding 30 hours of battery life per charge, meaning listeners can go days without requiring a recharge.
The below section contains a variety of creative music gadgets for family and friends, all conveniently under $50.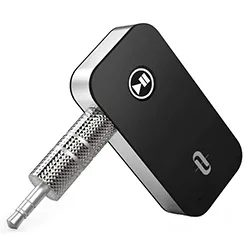 A compact gift idea for those who still depend on wired car stereos with no Bluetooth capability. The TaoTronics Bluetooth receiver is the perfect car gadget to transform an old system, allowing up to 15 hours of streaming per charge. This Aux receiver unit provides high-quality sound for hands-free calling, including easy to use controls to adjust volume and skip tracks.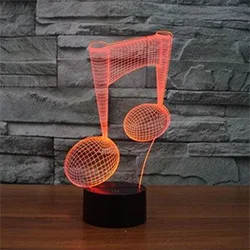 A vibrant decorative gift idea, this music inspired night light will liven every room! The night lamp displays a 3D visualization of a musical note, featuring 7 impressive color display options that are fit for lighting during sleep. Bright enough for an exciting effect yet dim enough for sleep, the cool light features a flat plate that creates an illusion of depth and shape.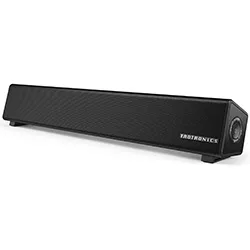 Providing exceptional sound for a compact unit, a mini soundbar is one of the best gifts for a music lover who spends time in front of a monitor. The TaoTronics Bluetooth computer soundbar allows for both wireless streaming and AUX cable connection. The ultra-compact, space-saving design makes this a perfect minimalist gift that will suit most desk themes and designs. The TaoTronics Bluetooth soundbar features two 5W speakers, elegantly encased with volume and track selection controls on the side of the unit.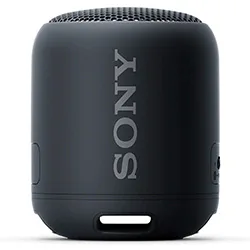 28. Small Portbale Speaker
Great for improving increased volume and sound quality of devices, a portable Bluetooth speaker is one of the best music gifts for audio on the go. The amazing Sony SRS-XB12 Mini is IP67 rated waterproof and dustproof, available in 6 contemporary colors, and contains up to 16 hours of battery life with each charge.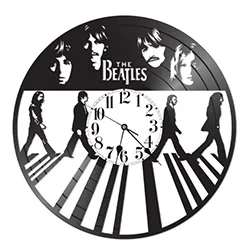 A 12-inch record to place on their wall, this unique art clock features a silent mechanism and hanger for display out of the box. The vintage style Beatles themed vinyl clock features an amalgamation of 'Meet The Beatles' and 'Abbey Road' album covers. If The Beatles or even music bands are not what you're after, these unique vinyl clocks also feature
Bon Jovi
,
BB King
,
Johnny Cash
, and more.
If you're searching for purposeful gift ideas for music lovers, the following music-themed utilities will be right up their alley. From unique cooking utensils to novelty ice cubes and pens, these practical music inspired gifts will be appreciated by music lovers, time and time again.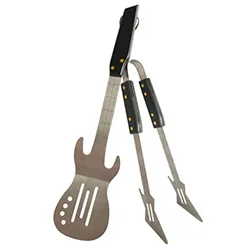 There's no better way to spend a Sunday afternoon than cooking a barbecue, enjoying your favorite classic tunes while flipping burgers with a rock guitar spatula! The Rock Guitar BBQ tool set features a spatula and tongs designed exactly like a classic rock guitar. Manufactured from heavy-duty stainless steel, these tools are incredibly durable and also easy to clean. The perfect gift, this 2-piece tool set is sure to strike a chord with any music-loving BBQ enthusiast.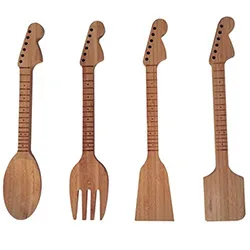 If barbecuing isn't your recipients' cup of tea, an alternative gift for music lovers is a music-themed cooking utensil set. This unique guitar neck designed cooking utensil set is a must-have for any muso's kitchen! Manufactured from 100% bamboo, the set comes with 2 spatulas, a spoon and fork, and is safe for use with non-stick cookware. Designed for long-term kitchen use, this cooking utensil set is one of the most useful gift ideas for music lovers.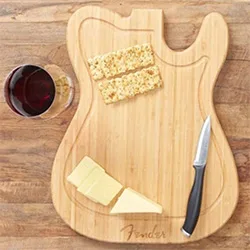 More music-inspired gift ideas on the kitchen front, this time a unique cutting board for chopping in style. Made from 100% bamboo, the Fender Stratocaster cutting board is a fun Fender collectible for guitar lovers and rockers alike. Smartly designed, this board is of considerable size and features natural knots and color variations for a truly authentic look and feel.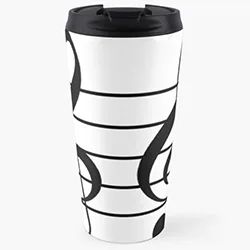 A cool music gift for any caffeine fanatic who loves their drink to go, this stainless steel travel mug is perfect for tea or coffee. Holding 15oz, the travel mug features an insulated stainless steel design and a tight-sealing removable lid to limit spills.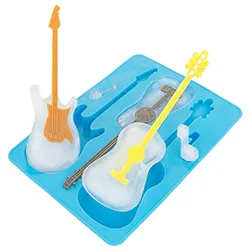 These eye-catching music-inspired ice cube trays will be a welcome addition to any music lover's next drink. The novelty trays present a series of guitar ice cubes with attached stirrers to jazz up any beverage. Featuring one electric guitar, two acoustic guitars, and two musical note ice cubes, the tray is made of durable and flexible silicone, while the multi-colored guitar neck stirrers are plastic.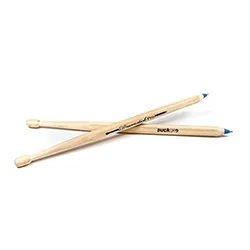 One of the most fitting gifts for music lovers and drummers alike is this novelty music-inspired pen. Part pen, part drumstick, the set includes 2 ballpoint pens uniquely designed in the shape of drumsticks! Featuring an outer casing made from wood, these drumsticks work just like normal stationery, but can also transform into instruments whenever the timing is right.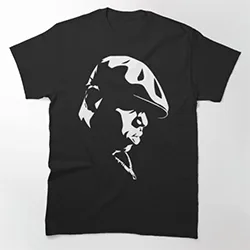 Fans of old school rap will do a double-take when they see this amazing Biggie T-Shirt. The unique design features none other than one of the greatest rappers of all time, Notorious B.I.G. The unmistakable silhouette presents Biggie Smalls represented in a bold design and available in a choice of 16 different colored T-Shirts.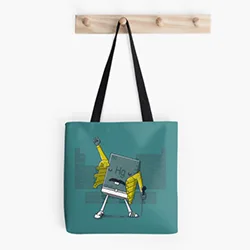 Music lovers and science fans alike will truly appreciate this quirky tote. The unique music inspired design features a mercury element Freddie Mercury, proudly rocking it out in front of a periodic table background. The bold design is dual printed on a durable, easy to carry tote bag that features a strong wide shoulder strap and is also conveniently machine washable.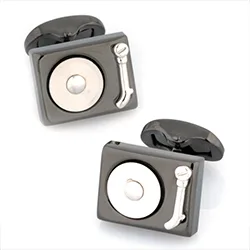 One of the more funky gift ideas for music lovers is this stylish pair of music-themed cufflinks. Whether they're a mix-master, someone with musical aspirations, or simply appreciate a good beat, these DJ turntable cufflinks are bound to be received with high praise! The unique design features a set of beautifully crafted gunmetal and polished rhodium-plated turntables, neatly packaged and ready for gifting in a classy cufflink gift box.
Below you will find a handpicked selection of the most unique music gifts to suit any taste. From one of a kind playing cards and shot glasses to iconic POP! Vinyl decor, these quirky and unique music inspired gifts are bound to surprise.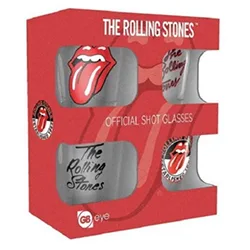 Get the party started with a set of music-themed shot glasses. This set of The Rolling Stones shot glasses feature 4 design inspired glasses featuring the now-iconic tongue and lips logo. Each shot glass has its own unique design, making this a set every rock and roll fan will love.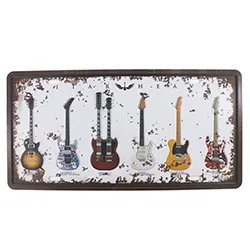 If you're after small gifts for music lovers, this one hits the nail on the head. The 6 x 12-inch vintage design license plate makes for perfect wall decor to achieve a rustic feel in any room. The guitar print and aged finish make this wall license plate souvenir one of the most affordable rustic gift ideas for music lovers.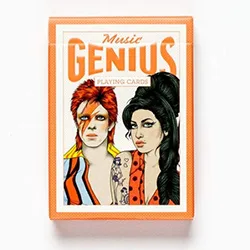 What better way to spend time with friends than over a game of cards! This Genius Music playing card set creatively depicts a unique musical artist on each card. Each suit is divided into genres which include R&B/Blues, Soul, Folk/Country, and Rock 'n' Roll. Notable artists including Michael Jackson, David Bowie, and Freddie Mercury, making this playing card set one of the most fun gift ideas for music lovers!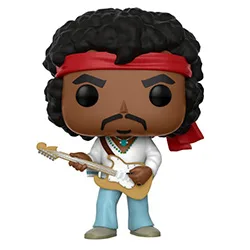 Another cool music gift idea, Funko POP! Vinyl figures are fun, eye-catching, and perfect for nerdy music enthusiasts. This Jimi Hendrix Woodstock figurine sits at 3 ¾ inches tall and makes for a great desktop decorative gift. Funko also produces an alternate version of Hendrix, in addition to other famous artists including
Kurt Cobain
,
Axl Rose
,
Prince
, and even
Biggie Smalls
.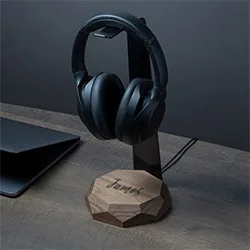 The perfect gift for music lovers and gamers alike is this stylish wireless charging stand. Crafted from premium steel and a choice of beautiful oak or walnut wood, the decorative utility is the ideal resting spot for a pair of headphones and a smartphone. The personalized charging stand features unique customization with a name, logo, or both, and will seamlessly blend into any bedroom or office space with its sleek design.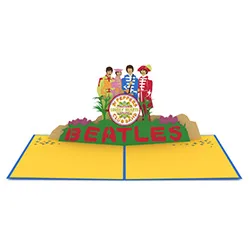 One of those great music gift ideas that may not initially spring to mind is a music-themed card to accompany your special gift. Perfect for any Beatles fan or music lover, the Sgt. Pepper's 3D card is a special commemoration to celebrate the 50th anniversary of the album's release. The cheerful, vibrant design presents a blue cover featuring a laser-cut version of the Sgt. Pepper's Lonely Heart Club Band drum. The card opens to reveal The Beatles in their iconic suits, standing behind the drum with "Beatles" spelled out in flowers.
Searching for more than Gifts For Music Lovers Check out some of our other great list for more awesome gift ideas.