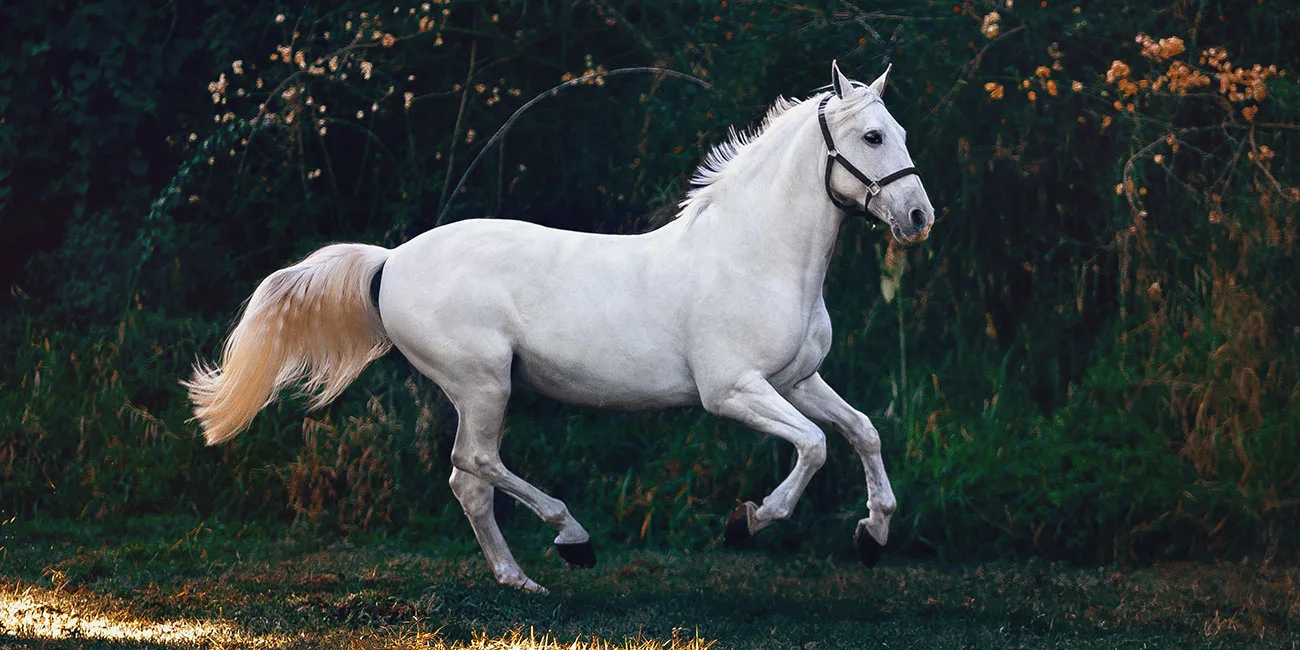 Wini Gifts is supported by our readers. At no additional cost to you, we may earn a small commission from the purchases you make using our links.
Learn more
Are you searching for amazing gifts for horse lovers to surprise an equine lover? Whether they're equestrians, leisurely riders, or simply enthusiasts of these magnificent creatures, we have compiled a list of beautiful and unique horse gifts that are bound to impress! From eye-catching decor to one of a kind jewelry and accessories, we are certain you find a wonderful gift below for your horse-loving family and friends.
Gifts For Horse Lovers: Utility
Below you will find a handpicked selection of beautiful horse themed gifts that also serve a useful purpose! From striking coasters and bookends to gorgeous blankets perfect for snuggling up with, these fun and practical gifts will be warmly welcomed by horse lovers.
If you're after horse gifts that will truly wow the recipient, this set of stunning coasters will do just that. The breathtaking image features a lone black stallion captured in a deep gaze. The dark and sophisticated set of coasters features a high quality, vibrant print with an eye-catching glossy finish. Crafted from masonite board with a protective cork backing, these beautiful coasters are available in a set of 4 and are perfect for hot and cold drinks.
The perfect gift for horse lovers who are regularly on the go is this handy travel mug. The portable mug displays a beautiful and unique digital painting of a horse, featuring detailed watercolor brush strokes and vibrant hues. Made from insulated stainless steel with a removable lid, the eye-catching travel mug will hold up to 15oz of their favorite hot or cold beverage.
One of those unique gifts for horse lovers that is sure to make them smile is this delightful clock! The Happy Dave wall clock presents a friendly, curious horse, just asking to be noticed. The novel design features a high-quality polypropylene print with a modern plexiglass face. The Quartz mechanism clock includes a quality bamboo wooden frame available in black, white, or natural finishes, with 4 customizable metal hand color options, perfect for their bedroom, study, or even living space.
If you're after an extravagant gift for horse fans, this is one gift that is sure to impress. The Two's Company bookends present a striking pair of steeplechase horse bookends, perfect for horse lovers and bookworms alike. Designed with a quality Sheesham wood base featuring detailed aluminum crafted steeplechase horses, this unique set of bookends will make the ideal accessory on any bookshelf, study, or mantlepiece.
The coziest of gifts for horse lovers to snuggle up with is this elegant throw blanket. Perfect for their bedroom or a living room accent, this lovely blanket displays a beautiful brown and white mare. Featuring a high-quality edge to edge sublimation print, the cozy blanket is made from fluffy polyester fleece that is conveniently machine washable.
Gifts For Horse Lovers: Accessories
We know it can be challenging searching for unique horse gifts for family and friends, given they probably have every great horse-inspired gift out there! This is the very reason we have scrutinized and put together this list of amazing accessories for horse lovers. From gorgeous tote bags to one of a kind keyrings, the following gifts are bound to impress any horse lover!
A stunning bag worthy of display, this gorgeous tote will fast become a much-loved accessory of any horse lover. The unique tote bag presents an eye-catching watercolor illustration of a beautiful horse, featuring intricate watercolor strokes in stunning natural, muted tones. Available in three sizing options, the tote is made from soft, yet durable polyester poplin fabric and features a strong wide shoulder strap to carry anything from groceries to everyday necessities. This amazing horse-inspired tote with its stunning abstract design is sure to get many compliments from horse and art lovers alike.
If you're after stylish and practical gifts for horse lovers they are bound to fall in love with, then this unique personalized keyring is the perfect gesture. The design presents a fine line illustration of an elegant horse, beautifully engraved on a natural leather back. Available in 8 striking leather colors to suit any taste, the tag features hand-stitched edging in black waxed thread and is attached to a quality stainless steel ring. A wonderful gift for any special occasion, this pretty keyring can also be personalized to include their name, initials, a date, or a custom message of your choice.
What better accessory to gift any horse lover than a striking phone case. The slimline case displays a beautiful stallion in graphite artistically dripped with sapphire blue watercolor in a high-quality full wrap design. The clip-on protective case features a durable impact resistant polycarbonate shell that is compatible with all Qi-standard smartphones. This spectacular case perfectly captures the serenity of this beauty and will be adored by horse lovers and artists alike.
This unique dazzling hardcover journal is a wonderful gift for horse lovers and creatives alike. The bold illustration presents a series of vibrant brush strokes to create a beautiful abstract styled horse. Featuring a high quality fully printed wrap-around design, the 128-page journal features 90gsm paper stock and is available in a selection of ruled, graph, or blank pages to suit.
If you're after creative gifts for horse lovers, you can't go past this unique case. The eye-catching zippered laptop sleeve presents a bold digital illustration of an abstract horse silhouette. The unique design features a fusion of vibrant colors in a high-quality polyester cover print, including foam padding for increased protection.
This gorgeous little zip wallet is a unique and practical accessory that horse lovers will adore. The unique CHALA wristlet wallet presents a whimsical style, featuring a colorful horse design with beautiful embellishments and detailing. Crafted from quality faux leather with a patterned fabric lining, the zany purse wallet contains plenty of storage space for ID's, credit cards, cash, and also includes a handy external coin wallet.
If you're after beautiful horse gifts, this unique handbag is worthy of gifting someone special. The CHALA crossbody bag presents a gorgeous canvas handbag perfect for casual everyday use. The unique design displays a detachable horse coin purse, featuring beautiful antique brass toned hardware, with eye-catching fabricated flower and heart-shaped wooden button details. Made from quality washed canvas, the bag also includes an adjustable shoulder strap and contains an internal cushioned fabric lining with extra padding throughout to protect valuables.
Featuring a soft, chestnut coat with a flaxen mane and tail, this gorgeous plush toy will make a wonderful gift for horse lovers, big and small. Measuring 11 inches long, the Clydesdale Horse toy is crafted from durable materials with a soft polyester fill, displaying intricate details including soft white feathering at his feet and bright red show ribbons on his mane and tail. A stately pose and engaging expression give this beautiful toy a lifelike appearance that will inspire creative play or decorative display for any horse-loving enthusiast.
Gifts For Horse Lovers: Art & Decor
Below you will find the most creative and unique horse themed gifts for horse lovers big and small. Whether it's stunning artwork or magnificent sculptures, the following horse-inspired art and decor pieces are sure to make a stand out impression.
A stunning print that will brighten any room is this beautiful photographic print. A wonderful gift for horse lovers and those who appreciate beautiful photography is this unique capture of Icelandic horses. Featuring a pair of brown and white wild ponies, this high-quality print is available in a wide range of sizes, available as both unframed posters and professionally framed timber prints ready to hang.
A wonderful gift, this beautiful plaque is the embodiment of friendship, caring, and a true love of horses. Willow Tree's Quiet Strength is a hand-sculpted and painted resin bas-relief plaque that communicates beyond words the special bond between human and equine. Featuring a keyhole hanger for wall display, this tender sculpture can also be purchased with a plaque stand, perfect for display on a shelf, table, or mantle.
One of those elegant gifts for horse lovers they will cherish for years to come is this beautiful print. The Three Horses wall art captures the spirit and innate wildness of these graceful creatures. Featuring three fine charcoal drawn horses in motion, this unique print is available in four colors, including a variety of sizing and framing options to suit any room and style.
A unique figurine suited for both play and decor is this stylish wooden horse. Designed by Kay Bojesen, the horse figurine features a beautiful and timeless silhouette inspired by the design of the 1930s. Crafted from high-quality walnut, the horse features straight legs, a curved neck, black eyes, and a bridle, and is sure to stand out in any living room, office space, or even nursery.
If you're searching for stylish, art-inspired horse gifts, the following sculpture is a highly fitting present. The Ming Dynasty Horse decor presents beautiful antique bronze wire sculpted representations of primitive Ming Dynasty horses. Crafted from bronze iron, the matching pair features an elegant intricate fluid design and will make the perfect gift for horse lovers and art-enthusiasts alike.
The perfect way to introduce offspring to these beloved creatures is with a set of adorable prints. The Sweet Horses art prints depict four affectionate horses in colorful settings that are perfect for little ones. Available in 3 sizing options, with and without personalization, these cute custom designed prints will brighten up any nursery or child's room and make a beautiful keepsake for years to come.
Gifts For Horse Lovers: Jewelry
If you're searching for unique horse gifts for anyone obsessed with these beautiful creatures, some beautiful jewelry is worth considering. The following gifts are pretty accessories that allow horse lovers to display their endearing affection in style.
Cute as a button, these miniature horse earrings will make a delightful gift for any horse lover. The pair of studs feature an elegant horse silhouette and are a sweet and subtle way to display their affection and appreciation of these beautiful creatures. Handcrafted from genuine sterling silver, each pair is hand-sanded, soldered, and polished to a high shine.
This pretty personalized necklace is one of those delightful gifts for horse lovers of all ages. The elegant necklace features a beautiful horse outlined pendant, including the option to pair with a matching personalized initial engraved disc. Available in stunning silver, gold, or rose-gold finishes, the stylish set also includes a coordinating stainless steel chain with clasp and comes elegantly packaged, ready for gifting someone special.
A charming gift for horse lovers is this beautiful piece of jewelry perfect for everyday wear. This sweet bracelet presents a beautiful silver horse pendant and accompanying personalized engraved disc with silver beads displayed either side. The elegant charms are attached to a contrasting black rope bracelet, that includes an adjustable chain clasp to suit various wrist sizes.
Gifts For Horse Lovers: Wearable
If you're after fashionable and practical horse themed gifts for them to display their loyalty in style, the following presents are all creative and comfy gift suggestions that are bound to get plenty of good wear.
Combining fashion and comfort, this cozy pair of socks will soon become an all-day staple for horse lovers. The Ariat over the calf style socks feature a lovely blue and grey striped design branded with beautiful horses and logo band across the top. Made from a comfortable cotton-blend, these delightful socks are available in one size fits all and are sure to make a great impression.
Another one of those highly creative gifts for horse lovers is this unique T-Shirt bound to turn heads. The horse T-Shirt displays a bold wind-blown stallion, vibrantly dressed in a beautiful assortment of rainbow colors. The eye-catching T-Shirt features a high-quality print on pre-shrunk, tri-blend moisture-wicking fabric that is both soft and comfy for everyday wear.
If you're after a modern and fashionable gift for a horse enthusiast, this one of a kind sweatshirt will be right up their alley. The minimalist design displays a black geometric style outline of a dressage horse in mid-trot. Made from heavyweight pre-shrunk cotton-rich fleece, the comfy crew neck style jumper also features stylish ribbed cuffs, neckband, and hem.
For those who love to horse-around in comfort, a great gift are these gorgeous slippers. The super comfy house slippers are the perfect accessory for those chilly nights or cold, gray mornings. Made from snuggly acrylic with a faux suede outer sole and soft foam insole, the slippers also feature pompom-tipped drawstring laces in stylish ribbed cuffs. This gorgeous pair of knit slippers presents a pattern of galloping horses, horseshoes, and geometric figures, a unique equestrian spin on a traditional Fair Isle pattern.
Gifts For Horse Lovers: For Men
It can be challenging gift hunting for men in general, let alone sourcing unique horse gifts for an equine enthusiast in your life! Below you will find a selection of hand-picked stylish and practical horse inspired gifts that any horse-loving gentleman is bound to appreciate.
The perfect gifts for horse lovers who appreciate stylish and practical gifts is this amazing duffel bag. Presenting a bold and rugged design, the bag displays a beautiful art print of wild horses galloping freely. Featuring a vivid artwork sublimation print, the generously sized duffel bag is made from durable polyester and will become a handy companion for carrying their everyday necessities.
The perfect gift for a horse-loving gentleman are these sleek and sophisticated coasters. The set of 4 coasters features a majestic stallion in dark mystical tones, displayed in a high-quality vibrant print on durable masonite board. The design incorporates a fusion of traditional and modern geometric-inspired design to create an impressive, eye-catching design worthy of any horse-lovers table.
The last, but certainly not the least of our wonderful horse gifts is this striking laptop cover. The unique laptop sleeve displays a series of abstract wild horses running freely through a stream. The beautiful illustration features intense brush strokes in muted colors in a high-quality polyester printed cover, with black edging, a zippered closure, and internal foam padding for protection.
Searching for more than Gifts For Horse Lovers? Check out some of our other great list for more awesome gift ideas.