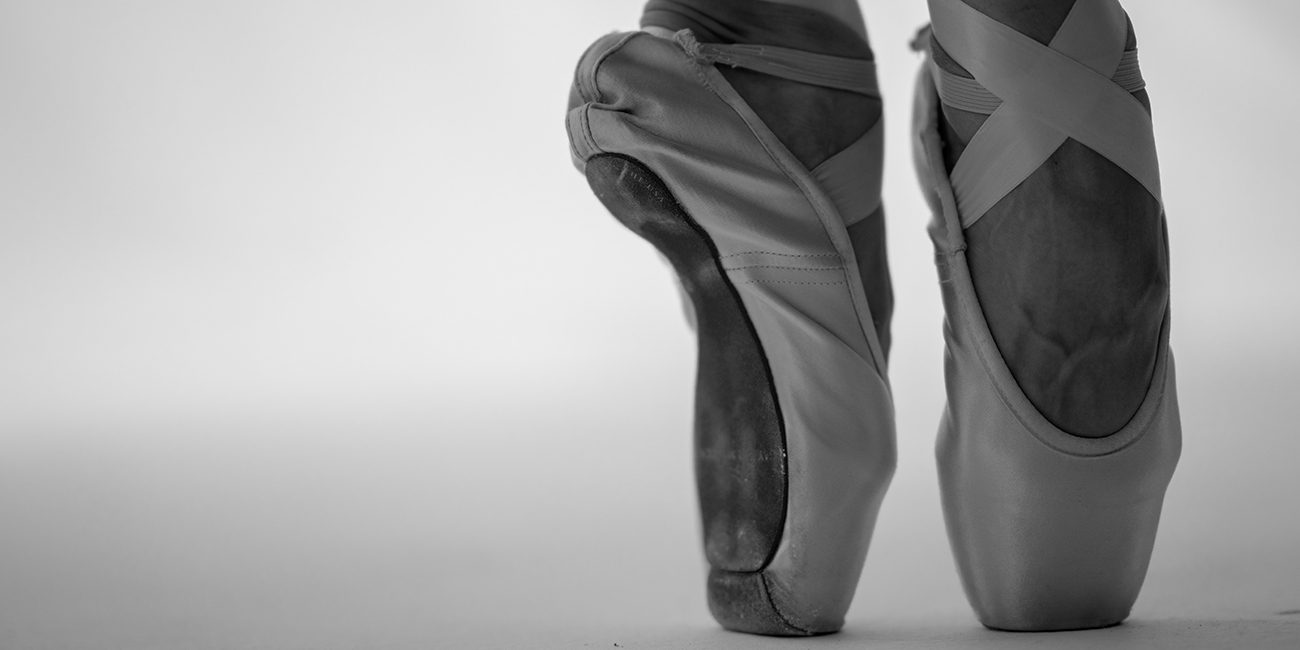 Wini Gifts is supported by our readers. At no additional cost to you, we may earn a small commission from the purchases you make using our links.
Learn more
From stylish clothing and accessories for classes and recitals to beautiful dance inspired decor and unique utilities, our ultimate list of gifts for dancers contains special gifts for those dance enthusiasts in your life. Whether they're into ballet, freestyle, jazz, or hip-hop, you're bound to find the perfect gift below that will make them dance for joy.
Gifts For Dancers: Clothing & Accessories
Below you will find a great selection of beautiful gifts for ballet dancers they can wear or use every day. From a versatile dance bag to stylish attire, even accessories for the perfect hair bun, the following dance-inspired gifts are sure to get plenty of good wear.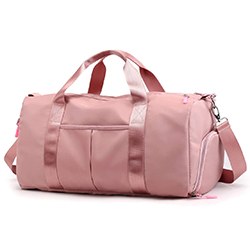 First on our list of amazing gift ideas for dancers is this versatile dance bag. This stylish gym bag is the perfect companion to easily transport their gear to training and recitals. Both fashionable and durable, the bag presents a generous capacity, containing both wet and dry compartments, perfect for neatly separating smelly shoes from clean clothing, and features premium hardware, double stitching, and a reinforced handle able to withstand frequent use. As an alternative for a younger dancer, this cute
tutu dress dance bag
will make the perfect dance accessory.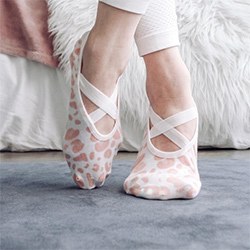 If you're searching for small and stylish gifts for dance students, these unique ballet socks are bound to please! These cute ballet grip socks mold to each foot shape, mimicking the movement of feet, toes, and ankles, allowing dancers to have natural balance when toes spread and move around. Made with breathable material to keep toes cool, free from sweat, and to promote circulation whilst moving, these striking ballet socks also feature a fashionable pink leopard print that will stand out from the crowd.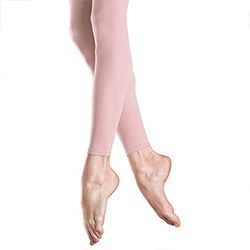 A staple piece in every dancer's wardrobe is a quality pair of tights. Made by renowned dancewear company, Bloch, these premium footless ballet and dance tights are perfect for dance classes and recitals. Featuring a soft-feel Nylon and spandex blend in 4 attractive color options, the flexible and comfortable, yet durable tights are ideal for changing between ballet flats and pointe shoes.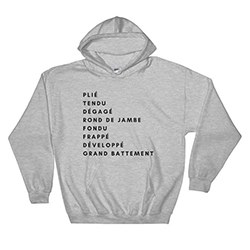 One of the most fitting gifts for dancers and dance enthusiasts who know their ballet is this unique hoodie. The stylish ballet-inspired hoodie contains a series of ballet terminology in a modern typographic design. Made from a cozy cotton polyester blend, this fashionable hoodie features a double-lined hood, athletic rib knit cuffs and waistband, and a handy front pouch pocket, and is the perfect garment for warming up in before class or curling up in at home.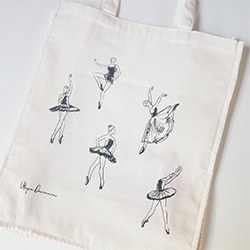 This stylish modern ballerina tote is just as perfect for shopping, as it is accompanying them to the dance studio. Featuring a series of beautifully illustrated ballet dancers in various creative poses, the generously sized tote bag is made from lightweight canvas and features reinforced edges for extra support.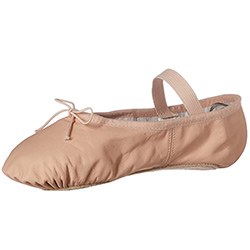 One of those gifts for ballet dancers that will get plenty of good use are these beautiful ballet shoes. These premium quality Dansoft ballet shoes by Bloch are an ideal student ballet slipper. Crafted from strong, yet flexible and supple leather upper with a breathable cotton lining, these charming ballet shoes also feature an attached elastic vamp strap and a cute adjustable elastic drawstring that will hug the foot from plié to pirouette.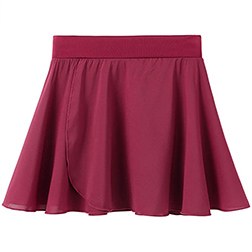 This beautiful dance skirt is the perfect gift for both young and adult dancers alike. The Stelle dance skirt presents a classic ballet dance wrap skirt in elegant free-flowing chiffon. The perfect addition to any dance or ballet leotards, this feminine wrap skirt is available in 4 attractive color choices in both pull on and adjustable tie options.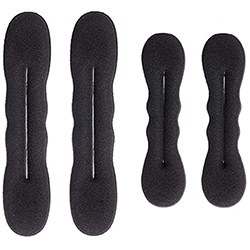 One of the best and most useful dance gifts for dancers of all forms is this convenient hair bun maker. Perfect for creating beautiful hair bun hairstyles with ease, each set contains 4 premium quality bun makers made from flexible and durable high-density sponge available in 3 different colors. Quick to use, while adding volume and fullness to updo hairstyles, dancers will have fun experimenting with a variety of styles, from the iconic ballet bun to French twists, and plenty of other beautiful updo's.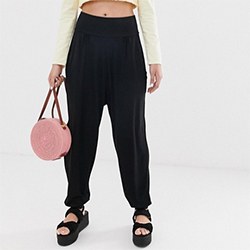 If she's searching for the ultimate comfort to wear on her way to class or while at home lounging, you can't go past these cozy lounging pants. Made from a soft and lightweight viscose elastane blend, these ultimate jersey harem pants present a stylish, relaxed fit featuring a wide-cut stretch waistband and stylish fitted cuffs.
Gifts For Dancers: Personal
Searching for the best gift ideas for dancers they can wear and display their passion with pride? The following unique dance inspired jewelry and accessories are beautiful keepsake gifts they are bound to adore.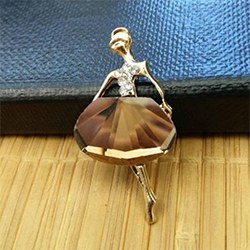 This beautiful pendant is a gift that will be adored by dancers and worn with pride. Perfectly paired with a long sweater necklace, the unique eye-catching doll pendant presents an elegantly graceful ballet dancer. Measuring 42mm x 20mm, the stunning design features striking round crystal and brown gemstones set within this stylish gold charm.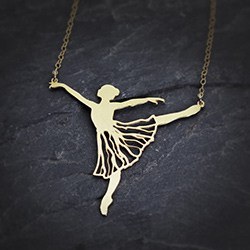 This breathtakingly beautiful necklace is one of the most unique gifts for dancers to proudly display their passion for the world to see. The stylish ballerina necklace presents a contemporary, minimalist design inspired by beauty, elegance, and determination. Exquisitely handcrafted, the elegant pendant displays the silhouette of a ballerina in arabesque pose featuring an unmissable unique floral shaped tutu and is available in both 18K gold and sterling silver options. As an alternative, this
art nouveau style pointe shoes necklace
is an equally stunning piece that is also bound to stand out from the crowd.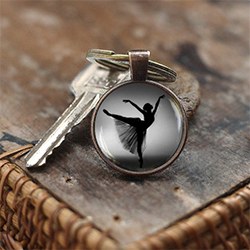 A small and unique gift perfect for ballet dancers is this pretty keychain. The stylish design presents a beautiful ballerina silhouette in an iconic arabesque pose. An antique bronzed tone keychain holds the circular pendant, with the printed image securely encapsulated in dome crystal glass.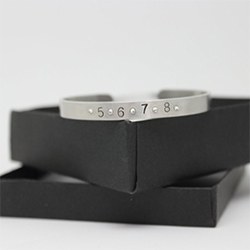 If you're after dance gifts with a modern flair, you can't go past this unique cuff bracelet. The handmade contemporary style dance bracelet presents a metal stamped design with the common dance phrase 5678. Crafted from premium aluminum, brass, or copper in both shiny or brushed matte finishes, this striking bracelet also features inlaid Swarovski crystals that add a bit of sparkle, and can be personalized with names and dates when gifting.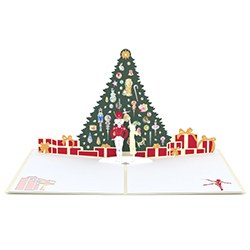 The perfect addition to accompany any gift for a dancer is this unique Nutcracker card. The officially licensed design of the Boston Ballet's The Nutcracker presents a beautiful beige cover with an iconic nutcracker in red attire. Upon opening, a large Christmas tree stands tall featuring colorful festive ornaments, with The Nutcracker Prince and Clara standing central, and ballerina and harlequin dancers uniquely laser-cut on both front corners. This charming card is ideal to congratulate or encourage a special ballet dancer or ballet-lover in your life.
Gifts For Dancers: Performance & Recovery
Dancers put their heart and soul into their passion, so of course they need the best equipment and tools to maintain peak performance. From the ultimate portable dance floor to the best recovery tools to ensure they're fit and ready for another day, the following section contains much-needed gifts to assist with their training.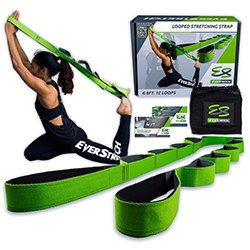 One of the best stretch bands on the market, the EverStretch stretching strap is a premium strap that will help dancers comfortably improve their mobility and flexibility, as well as reduce the risk of injury. The unique non-elastic stretching strap contains a series of durable loops with super-strong stitching and soft neoprene padded lining in the outer loops. The EverStretch band comes with a breathable mesh carry bag, quick start flyer with exercises, and a digital eBook stretching guide with access to additional educational resources.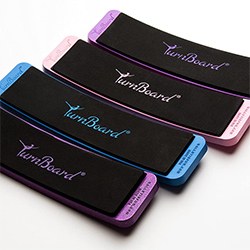 One of the most fitting gifts for dance students to help improve their turning or pirouette is a quality turn board. Made in the U.S.A., the official Ballet Is Fun TurnBoard was designed to have very little friction, allowing dancers to concentrate on the individual components of turning, with the option of rising to relevé. This turn board is the preferred training tool for dancers, aiding in finding their center, improving spotting and their confidence, leading to better and increased turns, even when turning without the TurnBoard.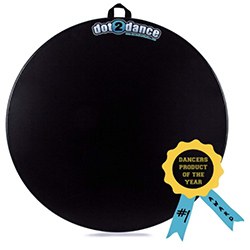 One of the best gift ideas for dancers is without a doubt a portable dance floor to practice when and where they please! Awarded #1 dancers product of the year, the official dot2dance portable dance floor presents a premium quality authentic "Marley" dance flooring, acknowledged as the safest surface to dance and perform on. Portable and lightweight, the versatile dance floor includes a non-slip gym mat backing to protect flooring and also features a safe tuckable nautical grade carrying handle to easily store and conveniently take dot2dance wherever they go.
A quality foam roller is one of those great gifts for dancers that will always come in handy to help relieve pain, improve flexibility, and reduce injury. Ideal for use both pre and post-dance classes and recitals, the TriggerPoint CORE foam roller presents a premium solid foam roller with a unique multi-density grid pattern to provide targeted compression. The perfect self-massage tool, this solid and durable foam roller also comes with access to free online instructional exercise videos.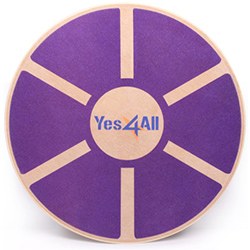 A balance board is an ideal training tool for dancers to assist with strengthening their core muscles and develop their balance technique. This premium wooden wobble dance board features a wide durable, non-slip surface, providing a secure grip for safety and features a lightweight and portable design for use both at home and for workouts whilst out.
One of those useful gifts for dance students that they really need is a quality foot massager. This premium portable dance foot massager is made by renowned dance experts Bloch and is ideal for hard-working dancers on the go. The massager can be used anywhere and anytime to smooth aching and tired feet; simply place it on the floor and roll the foot back and forth, adding as much pressure as necessary. The massage tool is perfect for relieving tension under the arches and smoothing out knots in the feet after long days of dancing.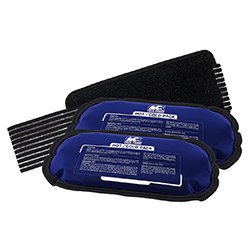 A highly practical and welcomed gift dancers will appreciate are these hot and cold ice packs. Perfect for easing swelling and relaxing muscles post-dance workouts or performances, simply place in a freezer to cool or into a microwave to warm for quick relief. The handy set contains 2 premium large reusable gel packs, including a handy adjustable Velcro comfort strap.
Gifts For Dancers: Art & Decor
Our list contains many great presents for ballet lovers, and none more unique than the following beautiful art and decor pieces. From breathtakingly stunning figurines to stunning contemporary artwork and collections, these impressive gifts will be adored by dancers and dance enthusiasts alike.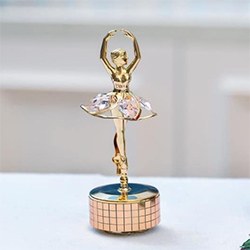 A striking gift fit for a special ballet dancer is this beautiful music box. The Matashi ballet music box is a traditional music box with a unique design. This elegant music box features a stunning female ballet dancer en pointe, sitting atop a beautiful, golden wind-up music box. Expertly crafted from 24K gold with stunning pink crystals along her tutu, once wound, the intricately designed ballerina will dance gracefully to the soft music of Swan Lake or Memory.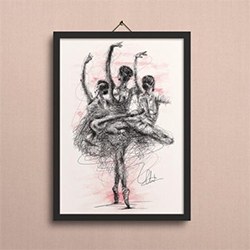 If you're searching for creative gift ideas for dancers, this striking fine art print is definitely worth considering. The ballet-inspired giclee art print presents a unique digitally designed scribble illustration, artistically depicting the graceful elegance and fluidity of the dance form. Printed on premium smooth white paper, this stunning contemporary artwork is available in 3 sizing options, ready for framing and gifting a special dancer.
24. Ballerina Fashion Book
Ballerina: Fashion's Modern Muse is a revelatory, irresistible treat for dance aficionados and fashionistas alike. Written by fashion and ballet experts, the 288-page hardcover collectors book examines how the figure of the ballerina came to be a prominent influence on fashion design. Featuring iconic couturiers such as Balmain, Balenciaga, Chanel, Dior, and Yves Saint Laurent designed ballet-inspired dresses and gowns, the book is also illustrated with archival photography by such masters as Richard Avedon, Edward Steichen, Irving Penn, and Cecil Beaton, along with newly commissioned photography of contemporary ballerinas wearing ballet-influenced couture. Another magnificent collection,
The Style Of Movement: Fashion and Dance
, is a beautiful visual masterpiece focussed on the relationship between style, fashion, and dance as its subject.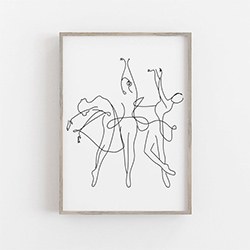 One of those creative gifts for dancers they will appreciate if they adore minimalism in all its forms is this stunning art print. The artwork presents a beautiful ballet-inspired line art illustration, depicting the fluidity of the dance form. This contemporary black and white print is available as a high-resolution downloadable file, ready for framing, and will also look amazing printed on a cup, T-Shirt, or another gifting medium of your choice. Alternatively, this lovely collection of
complementary ballerina line art illustrations
will create a stunning wall art feature in any home or office space.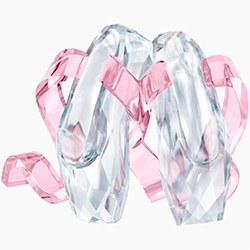 This stunning pair of ballet shoes is one of the most luxurious dance gifts for a very special dancer. The beautiful crystal figurine presents a graceful pair of ballet shoes, inspired by the femininity and finesse of classic ballet dancers. Sparkling in clear Swarovski crystal with pink crystal laces, the breathtaking design features exquisite craftsmanship incorporating 188 delicate facets to create this magnificent work of art.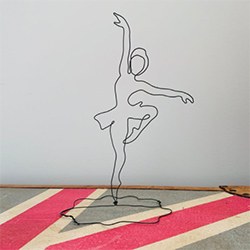 A cute little one of a kind gift for a dancer is this innovative wire art sculpture. Expertly handcrafted from a thin piece of wire, the creatively constructed wire art presents a graceful ballerina in retiré devant pose. This unique piece of decor is bound to stand out on her desk, shelf, or bedside table.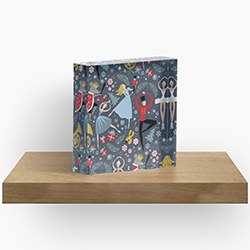 If you're searching for gifts for dancers for Christmas or birthdays who are fans of the classic Nutcracker ballet, this pretty acrylic block is a unique gift. The Nutcracker inspired piece features a creative design filled will characters and Christmas-themed illustrations from the popular story. The striking decor piece features the vibrant back mounted photographic print in a 1-inch thick solid diamond cut hand polished free-standing acrylic block, perfect for their desk, tabletop, or shelves.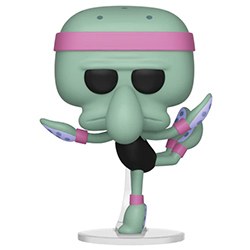 A fun and quirky gift for dancers who are fans of SpongeBob Squarepants is this amusing figurine. The POP! Vinyl Figurine presents grumpy Squidward Tentacles dressed in his dance attire and striking a ballet pose. The hilarious figure stands 3 ¾ inches tall and comes in a window display box, perfect for prominent display in their bedroom or study.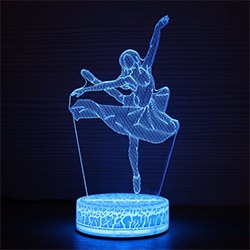 The most striking and beautiful night lamp perfect for a young dancer's room is this unique 3D night lamp. This charming LED lamp presents a captivating 3D illusion of a graceful dancer mid-pose. Featuring 7 different eye-catching colors that change automatically, this delightful night lamp is made from eco-friendly acrylic, powered via USB, and will create a striking visual emphasis in any bedroom or living space.
Gifts For Dancers: Homewares & Utilities
The following section contains beautiful and practical gifts for ballet dancers they are sure to fall in love with. From the ultimate drink bottle to artistic accessories to adorn all their favorite things and spaces, these creative and useful dance-inspired gifts will be warmly welcomed.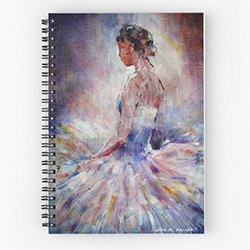 This artistic notebook is a lovely gift any dancer will adore. The cover presents a beautiful painting of a ballerina in contemplation, vibrantly depicted through creative brush strokes. The eye-catching spiral notebook features 120 pages on 90gsm paper stock, including a handy document pocket at the back, and is the perfect medium for jotting down thoughts, notes, or reminders.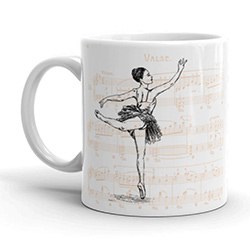 This elegant mug is the perfect gift for dancers who enjoy a hot beverage. The beautiful ceramic mug presents a unique wraparound design displaying pretty illustrations of a ballet dancer and ballet shoes atop a soft contrasting musical score background. The mug features a sturdy construction and glossy vivid print that will conveniently withstand microwave and dishwasher use and is available in both 11oz and 15oz capacities.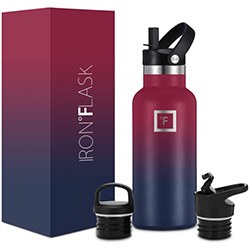 One of the best gifts for dancers that is sure to stand out from the crowd is this gorgeous water bottle. The Iron Flask water bottle presents a stylish and innovative design to rival standard water bottles. Made from premium stainless steel, the double-wall insulated water bottle will keep drinks cold or hot for many hours, while the unique design ensures the bottle will never leak or sweat, no matter the drink temperature. The bottle also comes with three different lids (straw, flip, and handle) to select from, and with a durable and elegant powder-coated exterior available in a wide selection of chic on-trend colors and patterns to suit all tastes.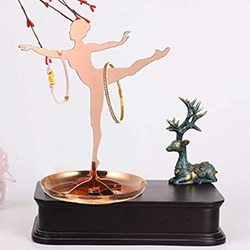 One of those pretty dance gifts that will find the perfect place on their dresser is this beautiful jewelry stand. Poised elegantly in an arabesque pose, this graceful ballerina will effortlessly organize necklaces, bracelets, and earrings on her front arm and extended leg. Made from high quality, durable material, the stylish rose gold ballerina stand also contains a dish at the base for holding rings and other small items.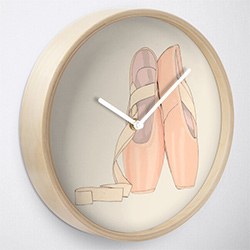 This pretty pastel toned illustration of ballet shoes en pointe will gracefully decorate their wall while letting them know what time it is. This contemporary minimalist style wall clock is constructed from bamboo wood, featuring a natural finish and plexiglass face. The clock features four customizable metal hand colors to choose from and includes a built-in hook at the back for easy hanging.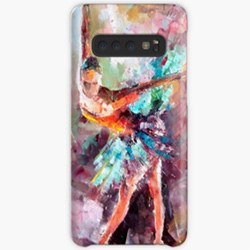 This eye-catching phone case is one of those great gift ideas for dancers that will get plenty of good use. The artistic phone cover presents a striking, vibrant design depicting a dancer mid pose and created in the unique style of acrylic impasto. This slim, one-piece, clip-on protective phone case features an impact-resistant shell with a wrap-around design that provides full access to all ports. Another chic, yet subtle cover design is this
ballet shoes clear phone case
, which is available for a range of devices.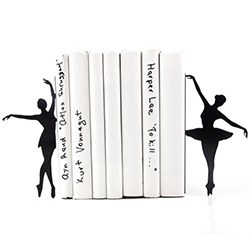 The perfect gifts for dancers who are also bookworms is a charming set of bookends. This modern and unique set of metal bookends presents a pair of graceful ballerinas "Allongée". Laser-cut for precision from sheet steel and featuring a beautiful powder-coated finish, the bookends also include anti-slippery silicone pads for additional furniture protection.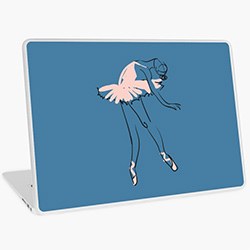 A bold, yet subtle way to express their passion with pride, this unique ballet-inspired laptop skin is the perfect accessory to enhance their electronics. The contemporary design presents an artistic line art illustration reinforcing the fluidity and flexible form of a ballet dancer. The glossy form-fitting decal is made from premium 3M vinyl for bubble-free installation and will provide resistance to dust and minor scratches.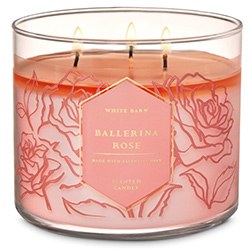 Everyone loves candles, so when considering what dance gifts will brighten someone's day, this luxurious candle should be on the cards. The White Barn Ballerina Rose candle presents a delightful 3-wick candle that will radiate an enticing rose and peony floral fragrance to fill an entire room. Made using premium fragrance oils and soy-based wax and wicks, this pretty candle is also housed in a beautiful glass jar that can be repurposed as a jewelry container or cotton jar at the end of its candle life.
Last, but certainly not least on our list of presents for ballet lovers is this one of a kind ballet-inspired throw pillow. The unique pillow design presents a soft-toned illustration featuring a young ballerina preparing for dance. Featuring a vibrant double-sided print, the pillow is made from soft and durable 100% spun polyester with a concealed zip opening and an optional pillow insert. Just as perfect for gifting a young aspiring dancer, as it is for an established or past dancer to reminisce the early days, this beautiful throw pillow will make a wonderful statement piece placed over their bedspread or on their favorite chair.
Searching for more than Graceful Gifts For Dancers? Check out some of our other great list for more awesome gift ideas.