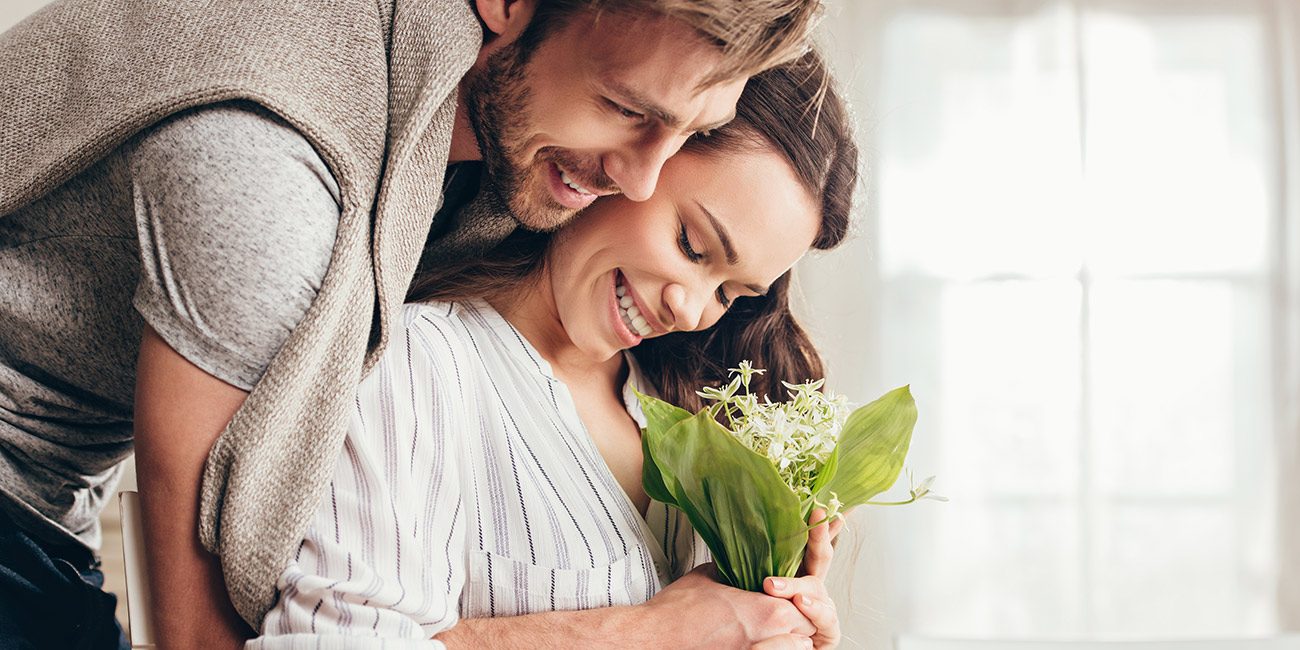 Wini Gifts is supported by our readers. At no additional cost to you, we may earn a small commission from the purchases you make using our links.
Learn more
Whether it's the best wedding, anniversary, or Christmas gifts for couples that you're after, our carefully curated gift guide contains a wide selection of thoughtful, romantic, and unique gifts to satisfy lovers of all ages and personalities. When considering what to gift a couple, think about some interests they share, including their lifestyle, to select a thoughtful and meaningful gift they will appreciate and get good use of. If the pair have polar opposite personalities and you're struggling for ideas, purposeful gifts for the home or fun games they can enjoy together are always a great go-to option. So, from the travel fanatics to the home chefs, to those with fur babies, this couples gift list is packed with great ideas for every personality and budget, helpfully categorized for you to select the perfect gift for your favorite pair.
Finding the perfect wedding gifts for couples these days isn't an easy feat. Since most couples are already living together and have all the things they like and need, it can be challenging coming up with new and unique gifting options. From custom artwork to keepsakes, we have put together a handpicked selection of special gifts for weddings and anniversaries to ensure you find the perfect gift the lucky couple will be bound to appreciate.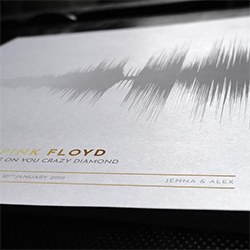 1. Personalized Soundwave Art
If you're searching for a unique personalized gift for your favorite couple, then this custom soundwave print is exactly what's missing from their home. The beautiful artwork converts a memorable song or a treasured personal composition into a stunning work of art. Whether it's their first dance song from their wedding or the song playing on the day they first met, this one of a kind decorative piece will make the perfect wedding or special anniversary gift, and is also available in an
alternative metallic foil circular design
.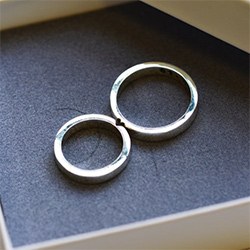 The perfect present for couples who are besties at heart is this gorgeous couples ring. The unique ring presents two interlocking bands that connect to form a subtle heart shape design. The expertly crafted handmade item is presented in sterling silver with a protective waterproof e-coating, and is also available in stunning 9ct white, solid yellow gold, or rose gold with the choice of a smooth or textured finish. This special gift can also be personalized with a name, date, or location coordinates stamped internally or externally on the band and arrives beautifully presented in a white branded gift box. This contemporary style
silver bracelet with a unique rectangular buckle clasp
is a wonderful alternative gift, with special pricing for the purchase of two bracelets.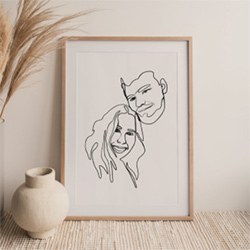 A thoughtful wedding gift for close family and friends is a commissioned portrait. Custom drawn from a photograph, the contemporary style artwork presents your favorite couple in a unique line art design. Expertly created from a single line which is symbolic of eternal love and unity, this one of a kind piece can be delivered as a digital vector file, a museum quality print, or on fade-resistant canvas, ready for framing and gifting. Alternatively, this
custom hand-drawn charcoal or pencil portrait
is an equally wonderful gifting option that is bound to make a lasting impression.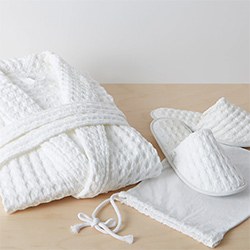 When it comes to romantic anniversary gift ideas for couples, you can't go past a luxurious pair of matching robes. This delightful spa bundle is the ultimate self-care gift for lovebirds to relax and unwind. The indulgent set presents a super cozy bathrobe featuring a beautiful waffle-weave texture that is ultra-soft and absorbent, and cloud-like slippers with a cushy texture and flexible rubber soles. Available in crisp white and stylish silver grey options, these luxe his and hers sets are bound to be worn every weekend at home.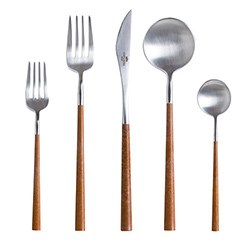 One of the most fitting gifts for newlyweds, this stunning contemporary cutlery set is bound to be warmly welcomed. While we're confident they already have a set of cutlery, it is almost guaranteed the newly engaged couple are yet to treat themselves to a set of premium dinnerware. The Mito flatware set is crafted from beautiful wood brushed metal stainless steel to create a timeless design with a touch of elegance. Each piece is precision-crafted for exceptional durability, with a single 5 piece set featuring a fork, spoon, knife, dessert fork, and dessert spoon.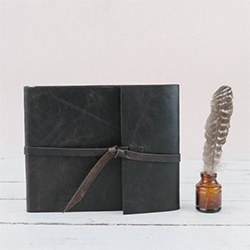 One of the best gifts for loved ones to securely store their favorite memories is this traditional photo album. The premium leather photo album resembles an old-school leather album exuding vintage and rustic flair. Handcrafted from soft top-grain leather, this gorgeous keepsake features a beautiful wrap-tie closure with the option of either heavy archival paper pages, or archival clear sleeves for 4×6 inch photographs. Available in black and brown natural leather, this special gift also includes the option of unique personalization in a variety of fonts and finishes.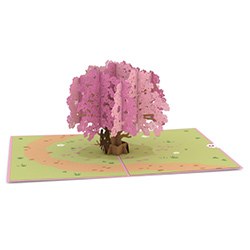 Special anniversary or wedding gifts for couples wouldn't be complete without a beautiful card. This romantic inspired 3D pop-up card is the perfect piece to commemorate love. A pretty laser-cut purple flowering Dogwood branch adorns the front of this blush-toned card that opens to reveal a blooming two-toned pink and purple Dogwood tree. Two lovebirds rest upon a low-hanging branch, gracefully gazing into one and other's eyes amongst the beautiful scenery. This delightful and unique 3D card is just waiting to be gifted to a very special couple.
Some of the best gift ideas for couples who are tricky to buy for are fun games and interesting utilities they can enjoy together. From unique date night concepts to entertaining puzzles and artwork, the following gifts will help couples connect, communicate, and keep them engaged for hours.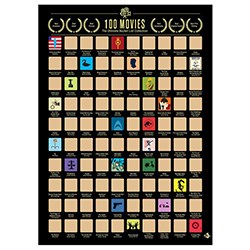 8. Movie Scratch Off Poster
Does your favorite duo love television and film? If the answer is a resounding yes, a movie scratch poster might be just what you're after. The 100 Movie Bucket List combines fun, decor, and date night, keeping score of each classic they've seen or simply must watch together.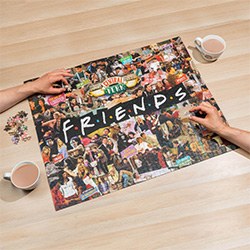 A perfect gift for inspiring teamwork, a shared passion jigsaw puzzle lets them piece together their favorite movie, series, or band. This 1000 piece Friends themed jigsaw pictures features snapshots from classic episodes, evoking their favorite memories as each piece is connected.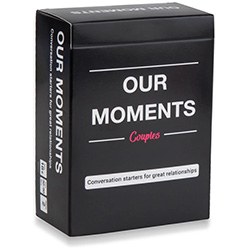 10. Couples Conversation Game
Fun and engaging, these wonderful conversation cards for couples are a thoughtful gift for couples, new and old, to engage and reconnect. A great Christmas or anniversary gift for them, Our Moments is designed as a unique card game, presenting a series of conversation starters that will encourage couples to communicate, listen, and learn from one another. Featuring 100 thought-provoking questions, the game is based on the simple concept that couples who make time for each other, stay together. Ideal for relaxed play during the holiday season, or anytime throughout the year, Our Moments is the perfect way to get to know someone in a new relationship or to reconnect with a long-term love.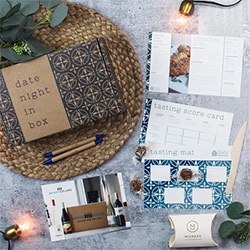 A great date night gift for couples who are ready for some rest and relaxation at home is this delightful date night in a box subscription. Each month a pack of unique goodies to enjoy a date night in is delivered straight to your door. Every box includes several interactive activities, accessories for ambiance, high-quality snacks or mixers, chef-curated menus, connection with your partner, and more! Stress-free with no planning required, date night in boxes feature uniquely curated themes each month to keep things interesting.
If your favorite couple loves cartoon classics and enjoys creative projects, a set of LEGO Art is a perfect gift idea. Piecing together this wonderful mosaic will recharge date night, leaving them with a cool portrait to place on display. The innovative set allows them to recreate the popular Disney characters Mickey Mouse and Minnie Mouse, or combine them into a giant artwork with the purchase of another set.
These custom date nights dice solve the age-old question "what do you want to do tonight?". One of the best gifts for married couples who are stuck for new date night ideas, these personalized date night dice are a wonderful thought-provoking gift to insight new life into their date nights. The unique set features 3 engraved wooden dice: one for what to eat, one for an activity, and one for what to do after. Dice are completely customizable and can be as naughty, nice, or crazy as you please, with standard phrases available also. Tucked into a durable cotton bag, each set comes with a wooden dice tray and a custom tag that can be personalized with the couple's names or a short phrase.
A great gift for creative couples who enjoy new challenges and projects is this unique crafting machine. The ultimate craft machine, the Cricut Joy offers limitless possibilities for couples to design and create personalized and unique stickers, labels, and cards. Whether they're adding a personal touch to a room with custom decals, creating labels to organize their spice jars, or designing personalized cards for family and friends, this little powerhouse does it all. Featuring a compact design with Bluetooth compatibility, this easy to use craft machine works exceptionally well with a variety of common materials.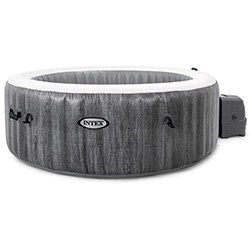 The happy couple will undoubtedly become much happier with the addition of an inflatable hot tub, equipped with powerful jets and a capacity for six. Easy to set up and operate, the portable spa features a built-in water treatment system, wireless controls, and two premium headrests.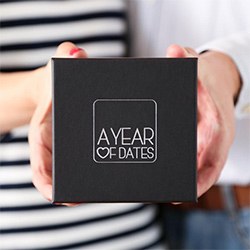 The perfect romantic idea for your favorite duo, this box of date night cards is a creative anniversary gift they will adore. The boxed set contains 52 sealed envelopes with 51 date ideas to help inspire a different date each week! Dates are all color-coded so they can choose if they go out, stay in, or want a day out. The set also includes 5 blank cards and unsealed envelopes so the couple can include special date ideas unique to themselves.
The perfect go-to gifts for couples are of course beautiful decor and practical utilities for their home. In this section, you will find stylish accessories for their living and office spaces, the latest must-have electronics, and plenty of cute couple gifts too.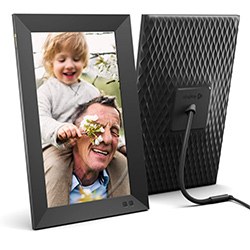 A perfect present for displaying snaps of themselves and loved ones, a digital photo frame combines all the pictures that haven't yet made it to the physical world. Whether for gifting parents, grandparents, children, or friends, the Nixplay Smart Frame is perfect for truly special occasions. The device allows for photo and video sharing without media inputs, instead of relying on a WiFi connection and playlist to rotate through their photo album.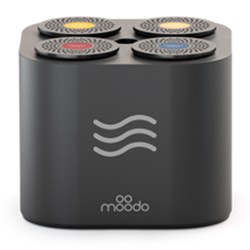 18. Fragrance Diffuser & Purifier
Searching for a thoughtful and unique gift for a pair of techies? Moodo Air adds a layer of sophistication to diffusion and air purification, providing endless fragrance possibilities and smart home integration. The device accepts four scent capsules, similar to that of a coffee machine, and uses them to create custom fragrances that cover large living spaces. Moodo's app is the central control hub, allowing users to adjust fan speed, personalize scent mixes, and even set up custom schedules.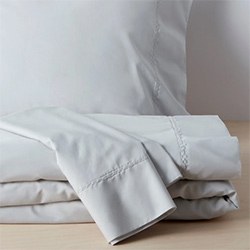 One of the most luxurious gifts for couples for their home is this beautiful set of organic cotton sheets. The premium bedding set presents a laid back, lived in ultra-soft feel; so comfortable they won't want to leave their bed! Featuring 100% organic cotton with a 300 thread count percale, this amazing set includes luxe details such as embroidered flange detailing and a flex fitted sheet designed to stay in place with a unique two-way stretch.
20. Personalized Mousepads
This stylish modern desk accessory is a unique personalized gift perfect for busy couples working (or playing!) from home. The gorgeous mouse pad presents a circular-cut design, crafted from premium Italian vegetable tanned leather that will create a stunning rich patina effect over time. The custom-designed mousepads can be personalized to suit each couple, featuring a monogram, their initials, or even a short phrase, presented in stunning gold foil or striking blind debossing.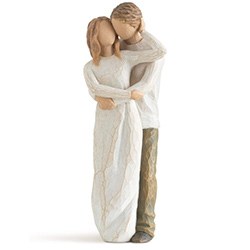 If it's cute couple gifts that you seek, you can't go past an iconic Willow Tree sculpture. The beautiful hand-painted figurine presents a loving pair in an affectionate embrace, coupled with a fitting sentiment 'for those who have found their true partner in love and life'. The best gift for a couple in love, this special figurine is a true expression of tenderness and caring, communicating beyond words through gesture to perfectly capture emotions. Alternatively, this
contemporary style nickel-brass sculpture
is an equally beautiful gifting option, perfect for a modern space or a couple who appreciates abstract art.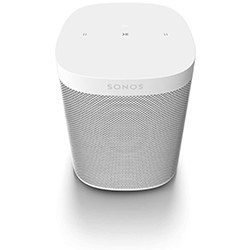 A practical gift for couples who love music and entertaining, the Sonos One SL smart speaker is a compact device, producing rich and crisp sound. The SL part of its name stands for speechless, meaning there's no microphone and no active listening for increased home privacy. While perfect just sitting around on benchtops, the speaker can also be mounted to a wall and paired with another unit for stereo sound.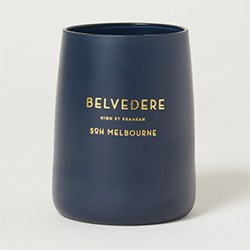 An elegant housewarming gift for your favorite couple, this indulgent candle is exactly what their home is in need of. The luxurious Belvedere candle has been expertly handcrafted, fusing an enticing blend of uncut Belvedere tobacco and rose to create a truly sensual aroma. Beautifully housed in a stylish and sophisticated hand blown navy matte glass vessel, each candle features a generous 70 hour burn time deserving of enjoying with low lighting and a drink in hand.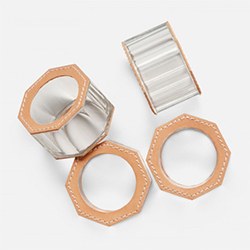 Why keep napkins and their beloved partners apart when they look so amazing united? A gift for married couples who love to entertain, this beautiful set of napkin rings ensure their next dinner party is styled to perfection. The box set contains four stylish contemporary rings, designed from full grained leather on an edgy crystal glass.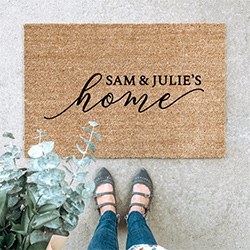 A great gift for housewarming and anniversaries, this large personalized doormat welcomes visitors while gently nudging them to wipe their feet before entering. Made from 100% natural coir coconut fibers, the doormat is available in three sizes and a selection of four minimalist design styles that feature the couple's names or initials. Equally elegant, this alternative
bold welcome doormat
is a great option for married couples.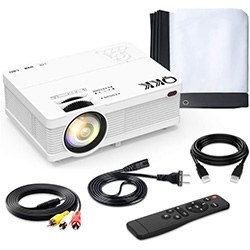 Creating a theatre-like atmosphere from the comfort of their home, a mini projector transforms any room into an instant cinema. Perfect for a date night packed with movie action, this compact projector comes bundled with all the pieces to get them up and running including a portable screen, remote, and HDMI cable.
Health and wellbeing are particularly important for many couples, some who even center their lives and relationships around it. A healthy body and a healthy mind are of equal importance, which is why we have handpicked a special selection of gifts for couples that focus on relaxation, cultivating peace, and general fitness and wellbeing.
When it comes to thoughtful anniversary gift ideas for couples, a premium weighted blanket is worth its price in gold. Specifically designed to aid relaxation and deliver comfort, the Layla weighted blanket is a therapeutic aid that can improve sleep quality and even provide relief from stress and anxiety. The comforting blanket contains tiny glass beads internally that provide Deep Touch Pressure, a scientifically proven technique that releases serotonin to produce a calming effect. Made from 100% soft cotton with a snuggly plush fur on the reverse, loved ones will feel like they are wrapped in an amazingly warm, safe, and comforting embrace.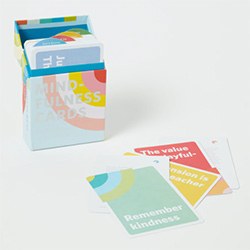 After some Christmas gift ideas that are affordable, compact, and fun to use? Mindfulness cards focus their attention on being present, covering four key categories: Rest & Balance, Curiosity & Joy, Insight & Awareness, and Kindness. Each card contains a calming sentence and corresponding exercise, matching thoughtful inspiration to a specific action.
The perfect present for married couples and newlyweds alike, The Life-Changing Magic of Tidying is a unique guidebook that will help couples transform their cluttered homes into spaces of beauty, peace, and inspiration. Japan's expert declutterer Marie Kondo has developed a successful step by step tidying method to tackle your home in the correct order, keeping only the things that you really love, and to do it all at once – quickly! The KonMari method will not just transform your home; once mastered it can then be applied to all aspects of your life in order to create the life that you really want.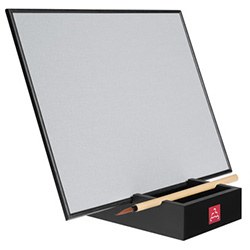 A relaxing housewarming gift for a Zen couple, the original Buddha Board provides the canvas for creativity and stress relief. Watch as brush strokes slowly disappear, paving the way for new additions or a clean slate. The board itself comes equipped with a brush and an ergonomic stand with a bowl for housing water.
31. Allbirds Running Shoes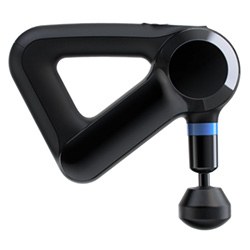 If you're after a unique wellness gift for couples, the Theragun Elite is top of its class. Offering five speeds and 30lbs of no stall force, this amazing percussive therapy massager helps alleviate muscle tension and fatigue while speeding up recovery. The device is light to hold and easy to use, providing a customized massage solo or with the helping hand of their partner.
If you're searching for great gift ideas for couples who appreciate good food, the following section contains a wide selection of electronics, accessories, and treats they can enjoy together or with family and friends. Whether it's personalized matching aprons, the ultimate fondue set, or an amazing gift basket, this hand-picked selection of gifts for foodies and home chefs is bound to tantalize, excite, and inspire couples to spend more time cooking and eating.
Because you can't go wrong with pizza, this extra-large pizza stone can handle temperatures of up to 800 degrees to produce mouth-watering traditional pizza and plenty of other baked goods. Ideal for a newly engaged couple moving into their new place, the large plate is fit for grills and ovens, turning amateurs into pizza baking pros.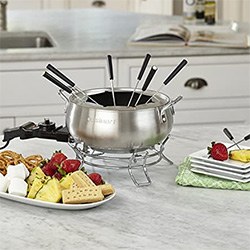 The Cuisinart fondue set is the ultimate fondue maker, containing everything couples need to create mouth-watering fondue. The sleek and stylish fondue maker presents a stunning brushed stainless steel 3-quart bowl with adjustable temperature control to create desirable chocolate, cheese, broth, or oil recipes. Featuring an easy to clean, non-stick interior, the set also includes 8 fondue forks and a fork rack, making this amazing fondue set the perfect gift for couples who love to entertain, or even for an intimate date night in.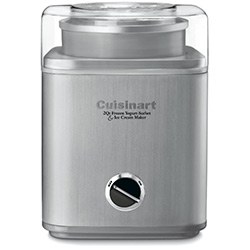 An endless supply of indulgence is on the cards with the Cuisinart ice cream maker. In as little as twenty-five minutes, the device turns the contents into delicious ice cream, sorbet, or frozen yogurt dessert. With a functional design that's completely automated, the Cuisinart ice cream maker is a perfect housewarming, wedding, or engagement gift for couples to enjoy.
When circles and squares are boring, this geometric cutting board steps in to please those interested in things that are a little different. Cut from poplar wood, chopping ingredients becomes an experience, while serving platters to guests is sure to spark a conversation. If you're after a p
ersonalized cutting board
, this amazing alternative allows you to engrave a special message, serving as a utility as well as a keepsake.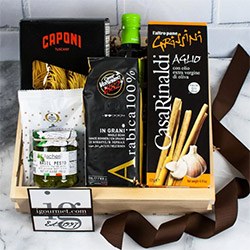 This flavourful care package stacked with mouth-watering treats is curated for foodies with a special love for Italian cuisine. The Gourmet Essentials gift basket has everything one might expect, from delicious Tuscan egg pasta to rich basil pesto and even grissini, the iconic Italian breadsticks.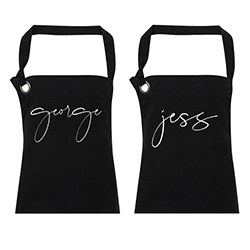 A fitting gift for family and friends who enjoy their time in the kitchen is a personalized set of matching aprons. Made from luxury heavy cotton canvas, these elegant aprons can be personalized with the couple's names, initials, or even a classic quote. Featuring a full front bib, detailed stitching, and premium hardware, these stylish and durable aprons are sure to get plenty of good wear by your favorite couple.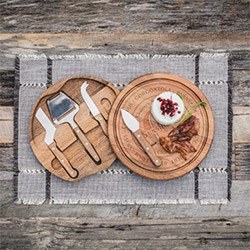 39. Personalized Cheese Board
A lovely personalized gift, perfect for entertaining is this charming custom cheese board. The beautifully crafted cheese board features a unique pull away drawer design that opens to reveal either a 3-piece or 4-piece set of stainless steel and wooden cheese tools. Available in two sizing options, the front of the cheeseboard features unique custom engraving with a choice of the couple's names, a monogram, logo, quote, or other personalization of choice.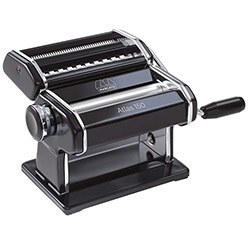 A great gift for lovers of traditional pasta and Italian cuisine is this genuine Italian pasta machine. Made by renowned machinery experts Marcato, the sleek Atlas pasta machine efficiently and effortlessly creates mouth-watering homemade fettuccine, lasagne, and tagliolini. This amazing machine comes equipped with an easy to use hand crank, clamp, and pasta cutter, featuring ten position settings that allow couples to create pasta to their desired thickness.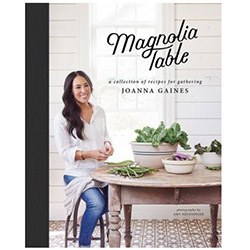 A fun Christmas gift for couples who are always exploring new recipes, the Magnolia Table cookbook guides readers through a modern collection of tasty American classics. No meal is left uncharted as the book's 125 recipes cover delicious dinner, lunch, breakfast, snacks, and desserts.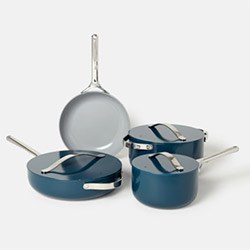 Four stylish cookware essentials with a non-toxic ceramic coating, what more could they ask for when preparing breakfast, lunch, or dinner? The last obstacle standing in the way of a perfectly cooked meal, there is nothing worse than the right combination of ingredients entering an old worn-out pan. The shiny new set is available in three stunning classic colors including navy blue, cream, and perracotta.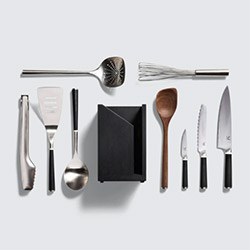 A premium collection of tools for the kitchen, this beautiful set of utensils works well as an engagement and wedding gift. Loved ones will make short work of meal preparation, chopping, cooking, and plating in style. The stylish set is housed in a selection of stand colors which include a light maple, dark grained walnut, and a sleek midnight black design.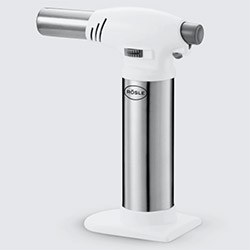 Does the special couple love dessert? Do they enjoy experimenting with both sweet and savory dishes? The Rosle kitchen torch is not only the right tool for caramelizing sugar, it is also great for browning, creating a delicious crispy layer, and even melting cheese.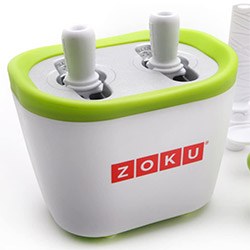 While our tastes and preferences change as we age, one thing remains, we all love popsicles. Your happy couple is guaranteed to enjoy the Zoku Duo, a utility that freezes delicious icy pops in only seven minutes. How does it work you ask? Simply pre-chill Zoku in the freezer and when you feel like a pop, take it out and fill it with juice or yogurt.
There are many couples whose pets are an extension of themselves, which is why we have included gifts especially for their fur babies. From a beautiful custom portrait to the ultimate in surveillance and automated systems, below you will find a unique selection of gifts for married couples who simply adore their fur babies.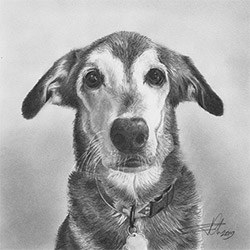 A highly creative wedding anniversary gift for married couples who simply adore their fur baby (or other unique pet), this breathtaking custom pet portrait will provide a beautiful and lasting memory for years to come. Available in four sizing options, the detailed likeness is hand-drawn using graphite pencil on premium art paper.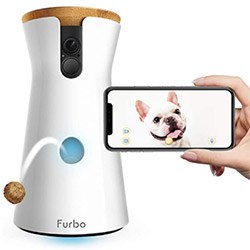 When pets, surveillance, chatter, and food combine you get Furbo, the ultimate dog camera allowing owners to do more than just watch. The innovative gadget tosses treats, listens out for barking, and allows for a two-way conversation to take place. Alerts are sent to a device whenever pets start to bark and subsequent visual monitoring appears in day mode and night vision.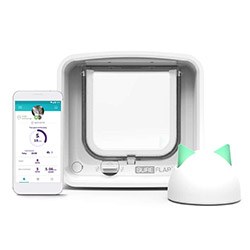 Because cats come and go as they please, the SureFlap bundle keeps an eye out, tracking movements and granting access. The bundle is a great gift for cat owners, scanning their pet's microchip for entry and preventing strays from entering. Included with the door is a hub that connects the flap to the Sure Petcare app so couples can monitor their feline friend wherever they are.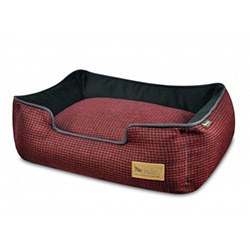 Add a touch of luxury and comfort to the lives of their furry friend with this classic style pet bed. The lounge is stacked with cushioning, from a comfy central pillow to elevated side padding, ideal as a headrest.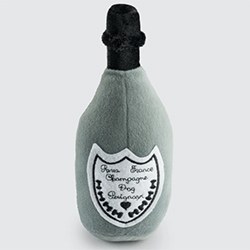 A Christmas gift idea for loved ones with a pampered little pup, this Dog Perignonn chewing toy is a humorous take on the classic Dom Pérignon champagne. The parody plush contains a squeaky interior, offering hours of fun for their spoiled furry friend.
What are the best gifts for couples who enjoy exploring the great outdoors? From practical utilities for day trips to useful accessories for destination stays, below you will find a unique selection of gifting options the adventurous couple is bound to adore.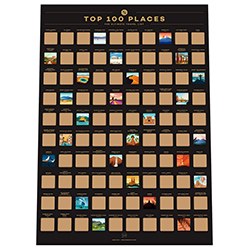 51. Top 100 Places Scratch Poster
After a unique gift idea for an adventurous couple? This Top 100 Places scratch-off poster provides inspiration and draws their attention to some of the most beautiful places on earth. From natural wonders to historic ruins, this gift idea is jam-packed with trip ideas every jetsetter will love.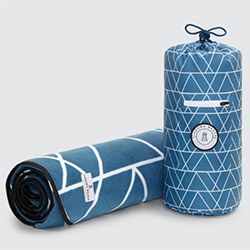 Both a practical and romantic gift for a special couple is this versatile picnic blanket. Featuring a top side made of cozy polyester fleece and the bottom a waterproof Oxford fabric, this picnic blanket is the perfect companion for regular outings to the park, beach, or even outdoor concerts. Available in 3 bold, vibrant patterns, the blanket includes a handy stuff sack with a pocket for small accessories and an adjustable backstrap for convenient transport.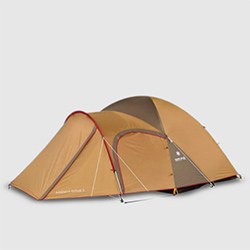 One of the best gift ideas for married couples who enjoy camping, a two-person tent provides them cover from the elements when they venture out into nature. The Amenity Dome S offers ample sleeping and living space, featuring side pockets, a removable rainfly, and an outer vestibule for shoes and items that would otherwise clutter the inside.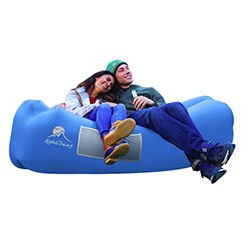 The perfect present for couples who love spending time outdoors, an inflatable lounger is the compact cushion they need to preserve their behind from rough and cold surfaces. Relying on a simple scoop, roll, and clamp mechanism, the lounger requires no blowing and no pumps.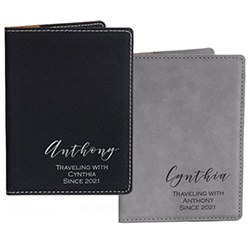 One of the best gifts for couples who jet-set together, a personalized set of his and her passport covers keeps documents, money, and cards organized on their travels. The matching set includes two laser engraved vegan leather covers, paired in stylish black & grey, or light & dark brown.
56. Destinations Of A Lifetime Book
The ultimate travel guide for an adventurous couple, this amazing National Geographic book will take them on a photographic tour of the world's most spectacular destinations. Featuring hundreds of the most breathtaking locations, both natural and man-made, Destinations Of A Lifetime presents stunning, vivid images taken from world-class photographers and coupled with evocative text. From where to go, where to eat, where to stay, and what to do, Destinations Of A Lifetime is bound to entice and excite couples of all ages, ensuring the most enriching and authentic experiences.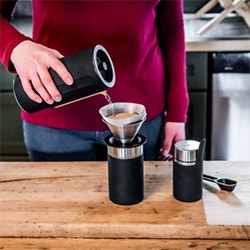 Your favorite couple is sure to fall in love with this innovative travel accessory, perfect for when there's no cafe or coffee machine on their travels. A coffee lover's delight, the portable Pakt coffee kit requires only water and a power outlet to brew a perfect cup. Inside the hardcover case they will find a kettle with base, mug, bean case, popup pour-over cone, and a reusable filter.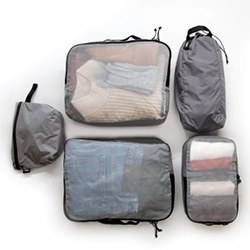 A great gift for travelers, The Pakt packing cubes are perfect for organizing the inside of backpacks and luggage, separating items for easy access. Included in the set are two large zippered cubes, a single small zippered cube, a single drawstring stuff sack, and a single zippered pouch.
Do they love their bubbly? Or have a penchant for all things coffee? If your favorite pair is very much into their beverages, the below section is just for them. From perfectly matching mugs to the ultimate wine preservation kit, beverage, wine and coffee lovers alike will drool over our hand-picked selection of amazing electronics and unique accessories that will make their drinking experience all the more special.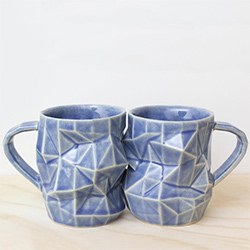 If you're searching for a special gift the happy couple can enjoy together, these unique ceramic mugs are a fitting choice (pardon the pun!). The perfectly matching mugs present a quirky set of interlocking geometric mugs that connect to form an abstract affectionate pair. Expertly handmade, each cup is 3D printed and slip cast, featuring a fresh crisp blue glaze that once set, enhances and brings out the distinct geometric edges.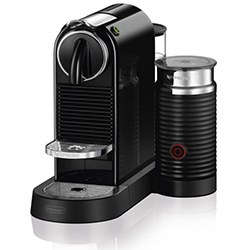 This amazing one-touch coffee machine will provide couples barista-style lattes, cappuccinos, and espressos from the comfort of their home. One of the more premium gifts for couples, the DeLonghi Nespresso bundle presents a high-performance device with an Aeroccino machine that produces a smooth, frothy finish. Featuring a fast heat-up system, removable water reservoir, and adjustable cup sizes, the DeLonghi Nespresso perfectly extracts the delicate flavor of each coffee capsule, producing a perfect cup, each and every time.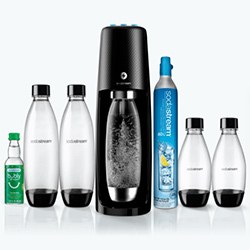 61. Sparkling Water Maker
Ideal as an engagement gift or when your favorite pair are moving into their new home, this sparkling water maker makes refreshing beverages with the push of a button. The Sodastream One Touch transforms tap water, even creating tasty soft drinks with the addition of a little flavor. For delicious beverages, simply insert a cylinder, attach the bottle, and select the desired carbonation level.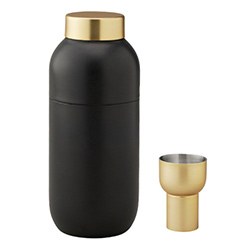 Minimalistic and elegant, this wonderful cocktail shaker set is a perfect addition to any bar, allowing the lucky recipients to mix amazing drinks. Made for cocktail loving couples, the Collar shaker features a unique silhouette, smooth black Teflon coating, and a stunning brass accent. The measure cup is all brass and reversible in design for two separate spirit volumes.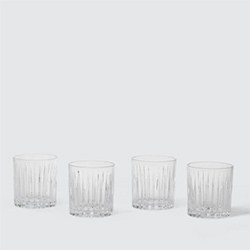 This elegant set of whiskey glasses are one of those great Christmas gift ideas for couples who enjoy a tipple or two. The Relief whiskey glass draws on timeless Danish design to bring sophistication and style to everyday life. The set of 4 glasses feature a unique rugged glass construction that will make that relaxing drink all the more enjoyable. If you're interested in the perfect gift to complement this stunning whiskey set, the
El Matador crystal bull bourbon decanter
makes for a very special gift.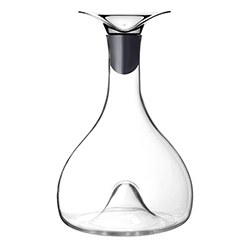 A great gift for a couple who love their reds, this elegant wine decanter allows wine to breathe in luxury. Ideal for truly special occasions, the fluid shaped carafe is constructed from glass, uniting with a steel pouring nozzle which is held in place by a silicone stopper.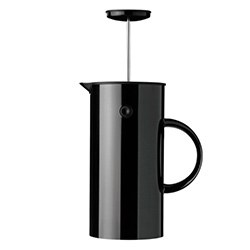 The perfect gift for a couple of coffee lovers who prefer a traditional French press over drip systems and pod machines, a press mechanism allows for a custom brewing time, personalizing both flavor and strength. Utilizing its double-walled design, the EM press coffee maker focuses on volume and heat retention, keeping up to eight cups warm for a long duration.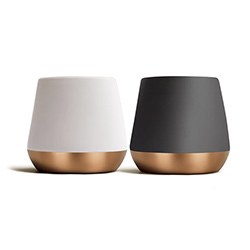 A sophisticated, refined, and practical gift idea, the Joey ceramic mugs are great for newlyweds, newly engaged, and those moving into their new home. Double-walled for heat retention and ergonomically shaped for maximum comfort, these charming mugs come in black and white with a sleek copper base.
If the special couple are a pair of coffee lovers, a seemingly everlasting surprise is a gift subscription that periodically delivers a fresh batch of premium coffee beans to their doorstep. Crafting your special gift is easy, simply select the bag size, how often to deliver, what type of coffee they prefer, and the total number of bags you're gifting.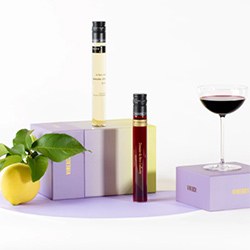 Whether you're looking at gifting a unique case of delicious wines or signing them up to the quarterly wine club, Vinebox has you covered. Each case is unique, with some containing nothing but reds, some nothing but whites, and others a delightful blend of delicious reds, whites, and rosés. The choice is entirely up to you, but hurry cases sell out fast!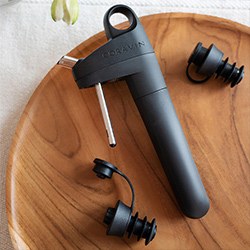 69. Wine Preservation Kit
In need of a unique gift idea for a team of wine enthusiasts? The Coravin Pivot prolongs the life of their wine, giving them four weeks to finish a bottle that would otherwise last only five days. Preservation works by replacing a cork with one of the two included stoppers. The Needle on the Pivot is inserted through the stopper, utilizing an argon gas cylinder that sits in the handle to slow oxidation.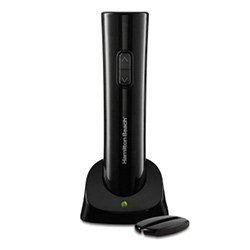 70. Automatic Wine Openener
A perfect gift for a perfect couple, wine lovers will enjoy easy access to their favorite bottles with this charming electric wine opener. The device comes equipped with a charging base, foil cutter, and an ergonomic handle, ensuring popping bottles is a seamless experience.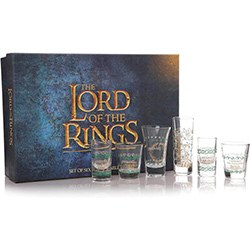 Whether you're looking for a small Christmas gift idea or a fun housewarming gift, you can't go wrong with a set of novelty shot glasses. Perfect for drinking and display, this Lord of the Rings set contains quotes from the movie and a map of Middle Earth in a green and gold themed design.
Sometimes practical gifts for couples are the best, which is why we have selected a few unique gifts just for their home. From the ultimate indoor garden to a handy video doorbell, we are almost certain the following gifting options will surprise them (in a good way of course)!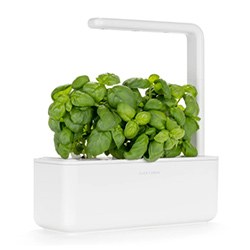 A unique gift idea for a pair of health-conscious green thumbs, an indoor garden provides an endless supply of fresh herbs for cooking and salads. The Smart Garden 3 can be placed just about anywhere, requiring minimal attention once setup. Automatically delivering optimal lighting, water, and nutrients, the garden is perfect for time-poor couples with limited outdoor space.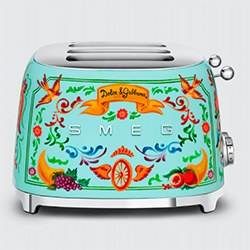 If you're after unique gift ideas for married couples who have it all, you can't go past this one of a kind luxury toaster. Renowned for their iconic retro-inspired appliances, SMEG has collaborated with luxury fashion designer Dolce & Gabbana to produce an eye-catching kitchen appliance worthy of display. The stand out design presents bright hand-painted artwork displaying a vibrant collection of birds, fruit, and colorful motifs. Featuring 4 large single compartments with 2 independent control panels, 6 browning levels, 3 additional functions, and 2 crumb trays, toasting has never been more in vogue.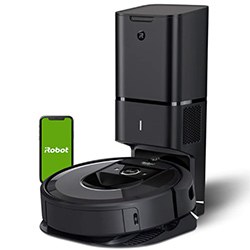 If you're after a premium engagement or housewarming gift, this handy little time saver ensures the house is always clean. The iRobot Roomba i7 is possibly the smartest robot vacuum available, listening to voice commands and effectively mapping a home. Self-cleaning once its task is complete, the vacuum disposes of dirt in its base which only requires emptying every sixty days.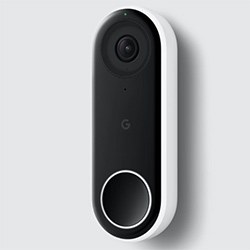 Ideal for an engaged or married couple who own their own home, a video doorbell allows them to see and talk to whoever's at the door – remotely of course. The device is capable of differentiating between people and objects and provides real-time alerts that are saved for up to three hours.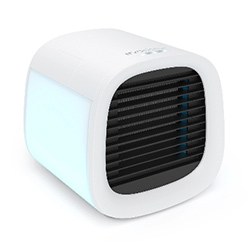 Why settle for a fan when the evaChill personal air cooler can fill a room with naturally cooled air using minimal power consumption and with whisper-quiet delivery. The functional and elegant cooler purifies, chills, and humidifies, producing a generous nine hours of endless airflow with a single tank refill. A unique gift idea for family and loved ones, this portable utility provides a freshening breeze when temperatures soar.
Searching for more than Gifts For Couples? Check out some of our other great list for more awesome gift ideas.