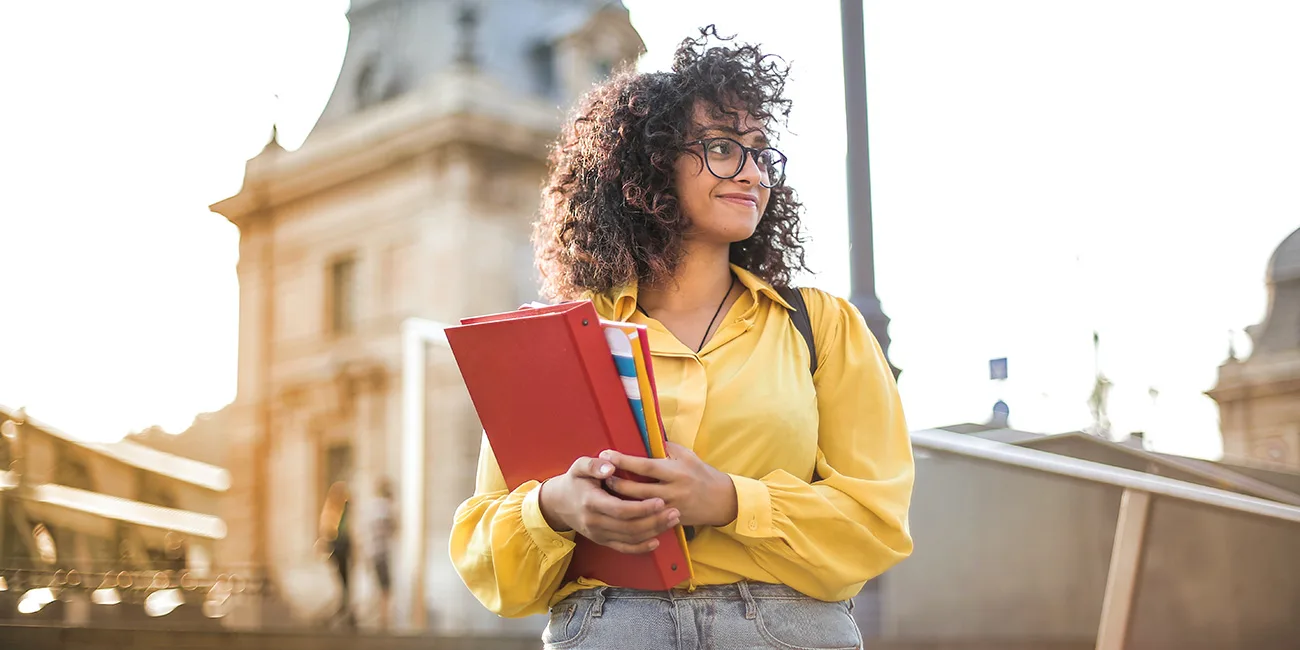 Wini Gifts is supported by our readers. At no additional cost to you, we may earn a small commission from the purchases you make using our links.
Learn more
Truth be told, the best gifts for college girls that will make them really happy are practical, innovative, stylish pieces – and if they combine all three, that's even better! We have compiled the ultimate gift guide for college girls with items we know they will adore. From luxurious self-care accessories to handy devices while they are on the move, we are confident you will find the perfect gift to capture their interests and needs.
Gifts For College Girls: Decor & Accessories
Below you will find some of the coolest decor and accessories gifts for college girls! From gorgeous sculpture that doubles as a charging stand to creative decor for their electronics, we are sure these unique gifts for young women will be enthusiastically received.
One of the most unique and innovative items on our list of college girl gifts is this versatile piece of decor. The beautiful bedside lamp, not only doubles as a stand but is also a wireless charger! The decorative design features a pair of two-toned sparrows, perfectly poised on opposite branches that provide warming illumination that is adjustable to suit. The lamp also features a smartphone wireless matte black charging dock which can accommodate up to two devices at the same time, while branches also function to hold headphones, watches, and other jewelry and accessories.
When considering the most fun gifts for college girls you can be sure they'll love, you can't go past this amazing photo printer. The stylish Fujifilm Instax Camera will swiftly and easily print all her favorite moments to share and capture forever. Featuring Bluetooth capability, she can add fun filters and frames to photos and video stills, and even get social and design and print photos with family and friends.
If you're after great gifts for college girls to personalize their gear, a unique laptop decal is a perfect choice. This laptop skin sticker features a colorful and vibrant abstract pattern that is sure to stand out. Made from vinyl that ensures strong adherence, the laptop decal is available in a range of sizes and designs to suit, including front, back, and keyboard coverage options.
A lovely gifting option to brighten her bedroom is some beautiful artwork. The inspiring Night Mint Blossom print features a budding floral amidst a dark expanse of space, the artist's vision of what plants may look like in an alternative universe or dream-like space. The stunning mixed media creation is available in a variety of sizing and framing options to suit her space.
This unique smartphone holder will feel right at home on her desk or bedside table. Too preoccupied with taking selfies, the Stephi phone holder is a stylish and fitting desk accessory for young women. Made of metal, the black silhouette will gladly support her phone during video chats, while she watches movies, or simply while it's resting on her desk.
Gifts For College Girls: Personal
It's those super useful and slightly indulgent gifts for college girls that we know they are going to love. Whether it's super cozy wears or accessories to aid rest and relaxation, these luxurious gifts for young girls are exactly what they want and need.
Perfect for keeping fit, or running between classes, the next gift is a super comfortable and practical gift for young women. The Allbirds Tree Runners are silky-smooth, breathable, supportive footwear that is made from responsibly sourced eucalyptus tree fibers. Featuring astonishing flexibility that conforms to her every movement, these amazing runners are conveniently machine washable and available in 9 stylish color combinations.
An essential gift for college girls who love to exercise is a sleek and stylish fitness tracker. The elegant Fitbit Inspire HR is perfect for tracking heart rate, distance covered during exercise, and daily energy expenditure. One of the most notable features of the Fitbit smartwatch is its ability to track her sleep duration, quality, and stages. With late-night study sessions and the occasional party, she will be able to glance into the app, check her sleep score, then make necessary adjustments to her sleep schedule. The versatile tracker also allows her to check SMS', emails, and set silent vibrating alarms.
Perfect for lazy days indoors or studying in comfort, these are the socks to be in! The officially licensed Wonder Woman Socks are the coziest pair of slipper socks to lounge in. Presenting a bold and vibrant design featuring the iconic Wonder Woman logo, these fun socks are made from soft polyester and acrylic and are conveniently machine washable.
A weighted blanket is a perfect companion to offer her secure comfort, improving the quality of her sleep, and even providing relief from anxiety. This all-natural blanket has been designed with 7 layers of high-quality materials to optimize temperature control and comfort. Featuring millions of premium micro glass beads that are known to release serotonin and produce a calming effect, this luxurious weighted blanket also comes with a plush minky duvet cover that is so snuggly she won't want to leave its warm embrace.
One of those unique and thoughtful gifts for college girls to ensure they're well-rested is this beautiful silk pillowcase. Crafted from pure Mulberry silk, the luxurious silk pillowcase is a bedroom essential for any college girl. The natural fiber pillowcase is hypoallergenic and gentle on the skin and hair, the secret to unimpeded beauty and blissful rest.
There's nothing better than spending a weekend in a cozy robe. Just as perfect for late mornings, as late-night cramming sessions, this luxurious robe is a staple for every college girl. The plush bathrobe is made from comfy polyester microfibre and available in fashionable blush, grey, white, and navy options.
The perfect excuse for her to relax and unwind, these luxurious bath salts are a thoughtful gesture. Vegan and made from 100% natural ingredients, the soothing bath salts contain a delicate blend of lavender, chamomile, and rose geranium oils, including Himalayan and Dead Sea salts to relax the body and mind.
A wonderful gift for those cooler mornings and nights, this lovely throw blanket is a great gift for a college girl to cuddle up to while studying at her desk, or relaxing in front of the TV. Made from lushly soft polyester, this luxurious faux fur throw blanket is available in beautiful jade and rose colors.
Gifts For College Girls: Study
If you're after gifts for college girls to assist them in their learning journey, the following options will always come in handy. The following useful study and organizational aids will get plenty of good use and be most appreciated.
A gift every college student would be proud to call their own is an iconic Apple iPad Pro. The ultimate fusion of laptop and tablet, this sleek and powerful device is a versatile tool for both work and play. Featuring the world's most advanced mobile display, the iPad Pro presents a 12.9-inch edge to edge crystal clear Liquid Retina display with ProMotion and True Tone for fluid scrolling and superior image accuracy. The A12Z Bionic chip outpaces most PC's to power through pro workflows and games, while an in-built ultra-wide camera allows for epic shots, including a LiDAR scanner for more immersive augmented reality. Compatible with plenty of fun and useful learning accessories such as Magic Keyboard and Apple Pencil, the iPad Pro will fast become her favorite companion.
One of the most ideal gifts for college girls is a convenient lap desk. The Home Office Pro will fast become her favorite companion for comfortable study sessions on the couch or her bed! The versatile lap desk presents an ergonomic wrist pad for comfortable typing, precision-tracking mousepad for superior accuracy, and even a media slot so her smartphone is always visible and within reach. Beneath, premium dual-bolster cushions filled with mirco-beads deliver a comfortable and stable work surface, while creating an air-flow channel to reduce unwanted heat from the laptop.
A stylish and practical gift for her living space is this innovative LED desk light. The unique lamp boasts a variety of amazing features including adjustable design freedom to cast the perfect spotlight, 7 brightness levels and 5 color modes for customizable illumination, and even includes a built-in USB port to simultaneously charge her devices! Presenting a sleek minimalist design available in 4 contemporary colors, this state of the art desk light is the perfect workspace or bedside companion.
This delightful organizer is a must-have for any college girl to help plan out her classes, assignments, catch-ups, appointments, and much more. The cover features a unique hand-drawn illustration of a friendly cat, personalized with her name. The planner includes two sheets of colorful stickers to highlight birthdays, special events, and reminders, with the option to further customize the interior cover with a special message and photo.
Gifts For College Girls: Travel & Accessories
The best gifts for college girls who are always on the move are these amazing travel-related gifts. From convenient bags and cases to unique portable utilities, these sleek and stylish travel companions will no doubt come in handy for busy college girls.
Whether she's listening to lectures, a Podcast, an audiobook, or her favorite tunes, every college girl needs a quality pair of earbuds. The Sennheiser Momentum True Wireless 2 are designed with a very comfortable fit for convenient all-day listening. With generously long battery life, including customizable controls and smart pause features, these amazing wireless earbuds will provide her the ultimate immersive audio experience.
The perfect gifts for college girls are any which can be personalized! This beautiful coral vegan leather laptop case is the perfect tech accessory to stylishly keep her laptop safe. Displaying her name in a feminine cursive font embroidered with bronze metallic thread, the case features a padded design to keep electronics safe from dust and scratches. The sleeve also comes with an optional leather tassel and fur pompom charm which can be used as a keyring or to add girlish glamor to her case.
A stylish and unique drink bottle is exactly what every college girl needs. Standing out from the rest, the Hip Bottle is reminiscent of a traditional hip flask, the ideal shape for tossing into her purse or bag. Lightweight with a durable twist-top cap for leak-free carrying, the water bottle includes stylish silicone accents that provide soft grips and fashion points.
Every young college girl needs a handy tote to carry her daily essentials between classes. This Modish Tote is a fashionable accessory that can conveniently be used as both a handbag tote and a backpack! Made from highly durable CORDURA fabric with anti-scratch texture, this stylish and versatile bag has specific compartments for her laptop and water bottle, with additional storage for all her other accessories.
If you're after practical gifts for college girls that will get plenty of good use, this sleek travel mug will serve her well. The Midas Touch travel mug presents an abstract painting fusing blue and blush-toned hues with striking gold splatters in a unique wraparound print design. The 15oz capacity insulated stainless steel mug features a removable lid and is conveniently dishwasher friendly.
An innovative take on the traditional lunchbox is this unique version perfect for busy college girls. The Mepal lunchbox is the perfect portable storage solution for fresh sandwiches every day. Made from durable, food-safe plastic, the lunchbox features a special sealing ring ensuring sandwiches stay nice and fresh. The 1.5L capacity box also includes a convenient divider that can be used to neatly separate additional food and snacks.
If she's after a fashionable bag to accompany her between classes or adventurous weekends, this versatile backpack is the perfect gift for her. The Macaroon backpack presents a gorgeous washed denim and nautical toned backpack made from water repellent crinkle nylon twill with real leather trimming. Featuring multiple compartments to organize all her daily essentials, this spacious and stylish backpack includes a padded adjustable strap and is comfortably perfect for all-day wear.
An appropriate gift for a young college girl is a quality suitcase. Whether she's traveling back home to visit family and friends, or expanding her horizons with weekend adventures, the American Tourister Moonlight is a versatile and durable suitcase to withstand her travels in style. The suitcase offers effortless maneuverability, features an expandable luggage option, and is available in 12 modern and attractive style options to suit any taste.
Gifts For College Girls: Utility
The following gifts for college girls contain fun and innovative tech perfect for every day. From a portable charger to ensure they're never left without juice to small yet powerful speakers that pack a punch to get the party started, these amazing electronics are sure to come in handy on the regular.
An essential modern utility, the INIU power bank provides a quick boost to her smartphone, tablet, or Bluetooth speaker whenever the need arises. The 10000mAh external battery features high-speed charging, quality construction, and a playful paw power indicator. In addition to its charging capability, INIU contains a convenient flashlight and multiple input types. The power bank comes packaged with a micro USB cable, manual, travel pouch, and most importantly, a three-year warranty.
Juggling so many classes and with so much on her mind, it is not uncommon for a young college girl to misplace her keys, phone, or other important accessories. The Tile Essentials pack presents a comprehensive set of super handy Bluetooth trackers for her to easily locate her belongings with a quick ring or map search! The ultimate super sleuth, the 4 pack set includes 1 Mate, 1 Slim, and 2 Sticker Tiles featuring a 200 feet Bluetooth range and 150 feet range for stickers. Easily attached to her phone, keyrings, wallet, remote, laptop, bag, and more, she will never struggle to locate her everyday things again!
The perfect gift for ambient listening, playing her favorite podcast, and listening to music while outdoors or on her free nights in! The JBL Charge 3 provides up to twenty hours of quality playtime while doubling as a device charger if she needs a little extra juice. Featuring JBL's powerful and crisp signature sound, this versatile portable Bluetooth speaker also includes voice assistant integration, a durable waterproof construction, and multiple device connectivity.
If you're searching for fun gifts for college girls an instant camera will be a great hit! The Fujifilm Instax Mini 9 provides the perfect opportunity for her to capture all those precious college memories to instantly display and share. Featuring a brightness adjustment dial, close-up lens attachment, and even a selfie mirror, this delightful instant camera is available in 5 vibrant color options.
A highly appropriate gift for any college student is their own coffee machine! The Nespresso Essenza Mini by De'Longhi is their smallest single-serve espresso maker that packs a powerful punch. The machine perfectly extracts the flavor from capsules to produce barista-quality coffee every time. Available as a standalone machine and also bundled with the Aeroccino milk frother and capsule packs, the Essenza Mini is destined to be one amazing gift she will adore.
A very handy gift for her to have come those warm summer days and nights is a portable air cooler. The Evapolar evaCHILL is the ultimate portable evaporative cooler that will allow her to cool herself wherever she goes! Operational by a single button, the lightweight and compact cooler features up to 9 hours of use and can be powered through a power socket, or even laptop or power bank.
Gifts For College Girls: Homewares
Whether their residence is on campus, shared housing, or they're lucky enough to still be staying in their family home, all college girls will encounter new found freedom, and with that comes maturity! The following gifts for college girls contain unique and useful homewares that they will want and need. From a cute and handy personal mini-fridge for late-night study snacks to handy organizational utilities, you can be sure these helpful and versatile gifts will be much appreciated.
A unique and handy gift for any college student is their very own personal mini-fridge. This adorable compact fridge features a happy Pearl Boba Tea character that will bring a smile to her face as he brightens up her space. Perfect for storing drinks, her late-night snacks, or even beauty products, the 10L mini-fridge features low power consumption and convenient removable shelving to easily store products of varying heights.
A practical necessity for every college girl that doesn't necessarily have to be boring is this stylish laundry basket. The Ferm Living Spear laundry basket features an alternating pattern of rectangular spears in a vibrant fusion of pastel and dark tones that will add a burst of life to any space. Made from 100% organic cotton with sturdy brown leather handles, this modern basket is just as ideal for dirty laundry as it is for storing her shoes or other personal items.
The perfect gift to liven up her dorm room, bedroom, or introduce her to a new hobby are these delightful planter pots. This super cute animal planter collection features 4 adorable animal-inspired pots to select from. Featuring a playful corgi, friendly sheep, beautiful bunny, and charming hedgehog, each planter is made from high quality ceramic with a drainage hole and is great for hard-wearing and easy to care for plants such as succulents and cacti.
On our list of unique and thoughtful gifts for college girls is her very own Smart Garden. Perfect for encouraging college students to prepare and eat fresh, healthy food, a self-growing indoor garden is an ideal system, particularly if she is time-poor and doesn't have access to garden space. The innovative system provides automatic watering, lighting, oxygen, and nutrients, using plant capsule pods to produce fresh, GMO-free ingredients 365 days of the year for her to enjoy.
A unique gift for her dorm room or bedroom is this lovely aroma diffuser. The Moodo Smart Aroma Diffuser configures fragrance combinations using four alluring scents to produce a range of enticing and calming environments. The device will allow her to easily control the intensity, including creating personalized scents, and includes a shuffle mode that periodically alternates each fragrance combination.
More storage options are just what every college student needs to keep their space neat and tidy. This versatile storage cart is the perfect solution to keep her books, toiletries, or kitchen utensils organized and conveniently accessible. Featuring heavy-duty swivel caster wheels with lockable breaks, this handy storage cart presents a sleek, minimalist design to seamlessly blend into any of her living spaces.
Who said storage containers need to be boring? A highly practical gift for a young college girl are these vibrant, space-saving storage containers. The Nest Lock Multi-Size Containers present a 5-piece nesting storage set containing varying container sizes that uniquely stack within one another. Microwave and dishwasher safe, the unique BPA-free containers will neatly free up precious cupboard space.
The last of our gifts for college girls place a quirky twist on a household staple for tea drinkers. The Umbrella Tea Infuser presents a delightful infuser in the shape of a cute bright blue umbrella. Made from 100% food-safe silicone, the umbrella will daintily rest on the rim of her cup to create the perfect brew.
Searching for more than the Gifts For College Girls? Check out some of our other great list for more awesome gift ideas.