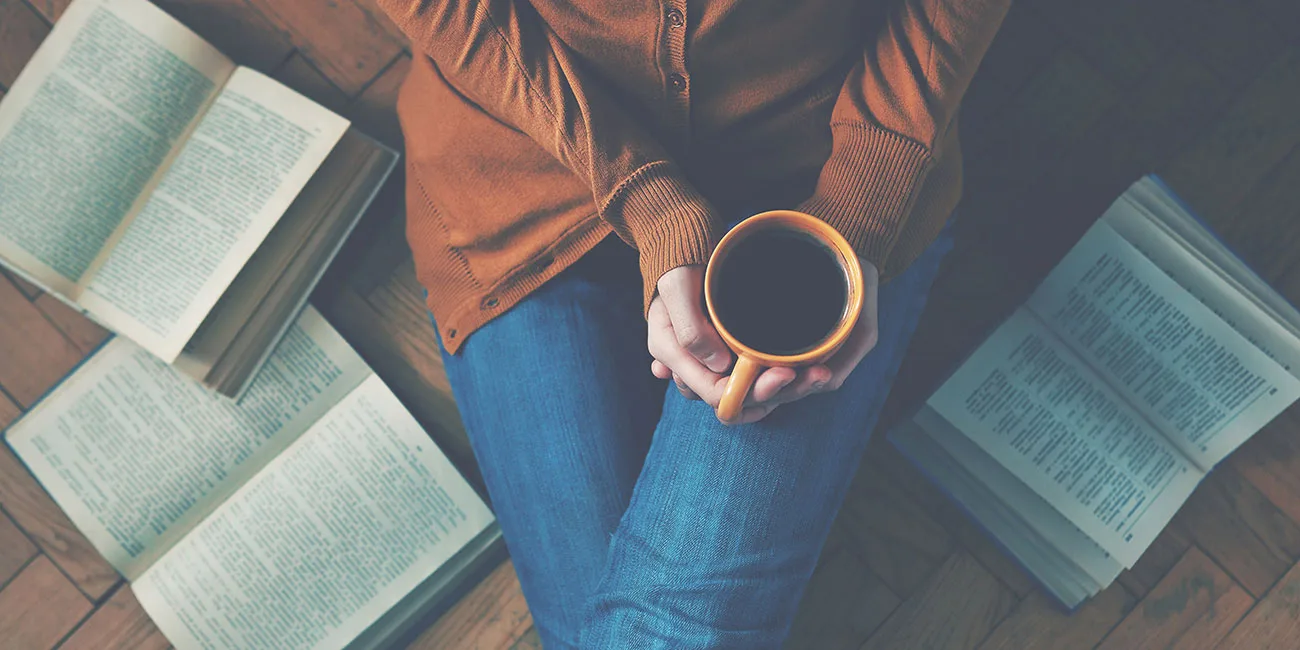 Wini Gifts is supported by our readers. At no additional cost to you, we may earn a small commission from the purchases you make using our links.
Learn more
When considering the best gifts for book lovers it may seem the obvious choice are, of course, books! The questions then become, what authors do they aspire to? What genres capture their interest? Or which characters do they have an affinity with? If you know your bookworm well, then selecting the perfect gift that aligns with their tastes will be simple! Alternatively, if you're struggling to remember just which writers they adore or who press their buttons, the task at hand may appear challenging… So we have created the ultimate list of gifts for readers to assist your search for the perfect present for your book-loving recipient! From one of a kind decor and artwork to luxurious pieces, even handy accessories, there are so many wonderful and useful gifts to delight and inspire readers of all kinds. Whether you know them well, or are just getting to know them, you will find plenty of unique genre-specific and also stylish and purposeful book-related gifts, helpfully categorized for your perusal.
Gifts For Book Lovers: Decor
If you're after unique book lover gifts to inspire and enhance, the following gifts will add a book-inspired burst of life to any environment. From eye-catching sculptural works of art to bold, yet subtle unique homewares, these beautiful decor pieces will allow their love of literature and the written word to elegantly shine through their space.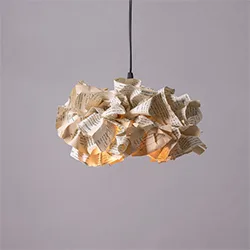 A magnificent gift to capture the heart of any book lover is this stunning eye-catching lampshade. The book paper lampshade is a striking one of a kind piece made of 100% book paper from vintage books in different languages. The design is constructed from multiple overlapping pages forming cascading waves to create a unique design. Expertly handcrafted, the parchment paper is coated with wax to ensure resistance to dust and allow for simple cleaning. This beautiful lampshade will create a romantic atmosphere that will transform any room into a lovely, inviting space.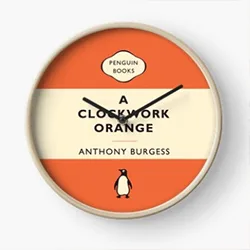 Great gifts for readers who are fans of the famous work A Clockwork Orange will appreciate this unique style clock. The book-inspired clock face presents a bold, vibrant design displaying the classic Penguin Books cover of the novel printed on polypropylene. The modern Quartz mechanized clock features a plexiglass face, with a bamboo wooden frame available in natural, black, or white finishes, and 4 customizable metal hand colors to select from.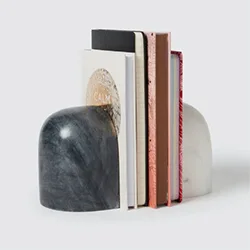 These gorgeous bookends are the perfect addition to add a touch of modern elegance to any book lovers' home. This sophisticated set of Luru bookends are crafted from premium Black Indian Selvara marble and White Indian Banswara marble to create a striking yet perfectly balanced color contrast. Featuring a bold and elegant, yet natural aura, these eye-catching bookends allow bookworms to show off their personal collection and will make a welcome addition to their bookshelves or mantlepiece.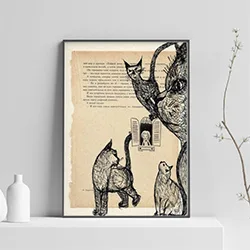 A unique piece of artwork perfect for book and cat lovers alike is this delightful illustration print. This beautiful design was inspired by the artist's beckoning to paint on an old, disintegrating Altas from 1951. Featuring a young girl overlooking four affectionate felines, the artwork is the idyllic fusion of vintage literature and line art illustration.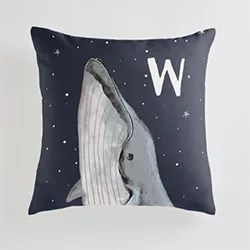 The best gifts for readers are those accessories they can appreciate while enjoying their favorite pastime. This gorgeous cushion will make a wonderful gift for fans of Moby Dick and admirers of the deep blue. Featuring a beautiful humpback whale gazing into the night sky, this luxury pillow is made from soft, natural fabric with designs printed using deluxe pigment ink. Each pillow includes an alternative down insert and an option for free initial personalization to create the perfect gift.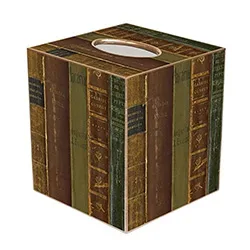 If you're after one of a kind decorative pieces that will inspire readers, this unique tissue holder is sure to delight. The beautifully designed tissue box holder presents a square papier mache cover designed to neatly fit over standard cube size tissue boxes. The vintage design features a collection of classic novels with spines neatly aligned. An eye-catching design that is sure to please lovers of traditional literature, this elegant tissue box is the perfect decor for their bedroom, office space, bathroom, or even home library.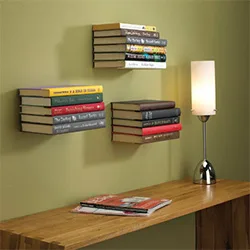 One of those perfectly suited gifts for book lovers is this charming modern book shelf. Featuring a stylish, minimalist design, the Umbra floating book shelf discretely conceals itself to transform their books into a floating work of art. Available in white and silver options, the book shelf includes hidden mounting hardware to achieve the desired eye-catching floating effect.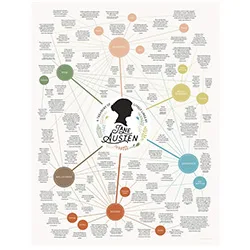 For advocates of the witty and always on point Jane Austen, this unique and informative poster is exactly what they've always wanted! The Curious Charts Jane Austen poster features a series of memorable quotes from Pride and Prejudice, Sense and Sensibility, Emma, and more. Featuring the romantic and the wise to the audacious and barbed, this beautiful graphic captures the funniest, wittiest, and most inspiring lines from all her classic novels.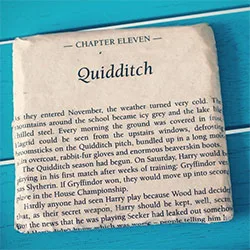 The perfect gifts for readers of the Harry Potter series, these one of a kind coasters are a must-have for any fan. The Harry Potter coasters present a set of 4 unique coasters featuring recycled pages from the classic Harry Potter and the Philosopher's Stone novel. Made from beautifully textured slate with natural raw edges, the designs use the chapter title pages to create a striking effect that is sure to stand out on their coffee or bedside table.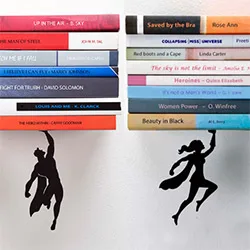 If you're after a gift for readers that's a little quirky and unique, these floating bookshelves are far from boring! The Supercouple Floating Bookshelves are a unique pair of his and her bookshelves that magically suspend books in mid-air! Featuring 'Supershelf' and 'Wondershelf' silhouettes, each character will defiantly support a stack of books, giving the illusion there is no shelf at all.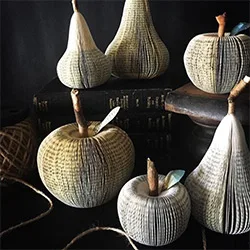 If you're searching for gifts for book nerds to dazzle and inspire, you can't go past these unique sculptures. This amazing book art presents delightful apple and pear sculptures that have been expertly handcrafted from recycled books! Each sculpture is individual, featuring a beautiful vintage sepia tone. These special works of art make a wonderful display both as stand-alone pieces, grouped, or added to a vignette.
Gifts For Book Lovers: Accessories
Below you will find the perfect gifts for readers which will allow them to wear their hearts on their sleeves. From eye-catching covers to one of a kind bags readers will adore, these wonderful book-inspired accessories will proudly sport their enduring affinity with reading.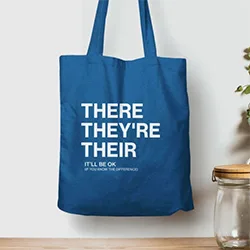 If they appreciate great literature, it's safe to assume they appreciate precise grammar. A fun and wonderfully amusing gift for readers is this witty tote bag. Featuring a bold typographic design, the There Their They're tote ever so politely reminds others of the importance of correct grammar! Handmade from 100% cotton canvas, this unique tote bag is perfect for groceries or books and is sure to turn heads.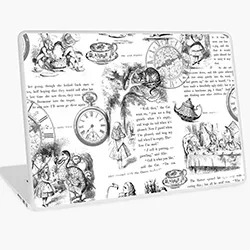 An eye-catching addition to any laptop for those Alice In Wonderland fans is this stunning vintage style decal. The Alice Pages Laptop Skin is a 3M form-fitting vinyl decal sticker for readers to protect and style their laptops. Presenting a classic black and white design with beautiful illustrations from the novel, the decal features a gloss finish to provide intense, vibrant color and sharp line detail that make the decal pop.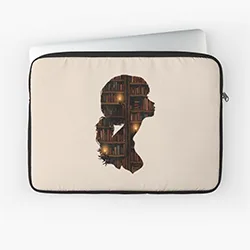 One of those great gifts for readers to accompany them while on the go is this stylish laptop sleeve. The perfect place to store her MacBook, the Girl Loves Books laptop sleeve presents an elegant minimalist design featuring a female silhouette displaying dimly lit bookshelves full of enticing novels. Inspired by the concept 'with my head in between the pages', this modern laptop sleeve includes stylish black edging and detailing, including foam padding to protect from scratches.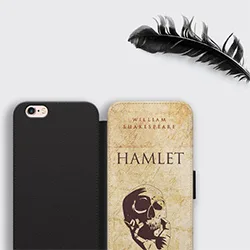 One of those wonderful gifts for book lovers who wish to hold Shakespeare near and dear is this unique smartphone case. The faux-leather wallet phone case displays a beautiful cover design of Shakespeare's Hamlet featuring the most iconic image connected with the literary piece, a human skull. The classic style phone case includes three internal compartments, including a beautiful textured black back cover.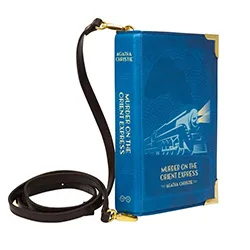 The perfect fusion of fashion and literature, this stunning handbag is a one of a kind gift that any book owner will be proud to own. This unique book bag is a celebration of literature and reading, allowing your book-loving recipient to express themselves through their favorite novel. This striking clutch features a deep blue design of the classic Agatha Christie murder mystery 'Murder on the Orient Express.' Inspired by hardback books, the bag is expertly handcrafted from 100% vegan materials and features a hidden magnetic closure, beautiful gold hardware detailing, and an adjustable detachable strap. Available in both small and medium sizes, this novel handbag is available in a variety of fiction to suit their literary taste.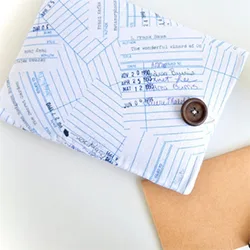 One of those lovely old-school inspired gifts for readers is this one of a kind tablet case. Featuring a charming nostalgic cotton library card themed print, the tablet sleeve is a unique accessory that will dually protect their tablet from bumps and scratches. Handmade, each sleeve features a lightweight and durable foam padding with internal yellow Kona cotton fabric and finished with a cute string and button closure on top.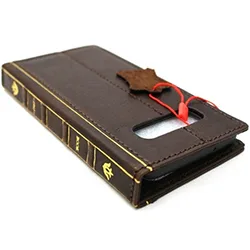 A fitting accessory for readers who hold traditional books in high regard is this wonderful vintage phone case. Made from genuine leather, this unique phone case has been designed in the style of a beautiful classic hardcover book. Expertly handcrafted, the case includes detailed stitching and fine gold-tone embellishments to recreate a lifelike novel to keep your iPhone or Android smartphone safe and secure.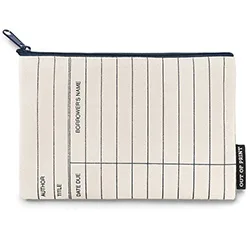 A cute little gift that book lovers will appreciate is this adorable mini pouch. The Out Of Print Literary Pouch features a traditional library card design, reminiscent of the good old days of borrowing library books. Crafted from 100% cotton canvas, this mini zippered pouch is ideal for stationery, cards, makeup, and other small nick-nacks.
Gifts For Book Lovers: Jewelry
Beautiful and unique, these gorgeous jewelry book lover gifts will capture the hearts of readers. From a charming bracelet to grammatically correct earrings, these stunning pieces are fittingly appropriate for all your book-loving family and friends.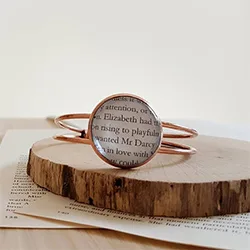 Inspired by the classic literature of Jane Austen, this romantic bracelet epitomizes sophistication and elegance. The unique cuff bangle presents a dainty double band open design, delicately wrapping around the wrist to highlight a beautiful bezel center. Sealed beneath is the romantic literature of Elizabeth Bennet and Mr. Darcy, encapsulated forever beneath an eye-catching glass cabochon. Handcrafted with care, this stunning bracelet is available in five beautiful finishes, including rose gold and antique silver to perfectly complement any attire.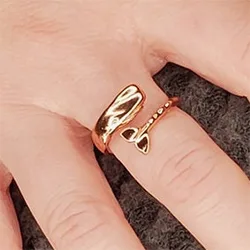 If you're searching for the best gifts for readers who appreciate the classic American novel Moby Dick, this unique piece of jewelry is a highly fitting gift. The sperm whale ring is perfect for those who admire the great behemoths of the deep, especially Moby dick the most famous sperm whale of all. Expertly handcrafted, this beautiful ring has been cast in solid bronze, then thick-plated with rose gold and hand-burnished to bring out all the finer details of this magnificent creature.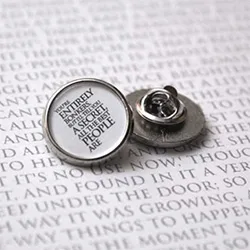 A wonderful gift for any Alice In Wonderland fan or for quirky family and friends is this delightful Mad Hatters Pin badge. Featuring an elegant typographic design, the unique brooch displays the classic original quote 'You're entirely bonkers. But I'll tell you a secret, all the best people are.' Measuring 18mm in diameter with a push close silver plated butterfly clasp, these beautiful antiqued silver-plated pins are available in 18 different Wonderland quotes to perfectly adorn any piece of clothing.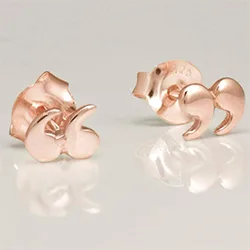 If you're after one of a kind gifts for book lovers, then these quirky earrings are definitely worth considering. The Quotation Marks earrings are a unique and particularly fitting gift for any book lover that will make a bold statement of their fondness towards the written word! Featuring a cute pair of 5mm wide speech marks, the set even includes the correct '66' '99' style for precise attention to detail. Handmade from quality sterling silver, coated in beautiful 18ct rose gold, these playful stud earrings will also arrive in a pretty box ready for gifting.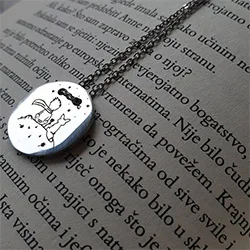 This beautiful piece of jewelry is a wonderful gift for readers who find close affinity with the classic French novel Le Petit Prince (The Little Prince). Made from quality stainless steel, this unique pendant features a fine delicately engraved design of the Little Prince, the Rose, and the Fox, gazing into outer space. Expertly handcrafted, the pendant is available in gold plated and silver options, and makes a lovely keepsake.
Gifts For Book Lovers: Personal
The following section contains great gifts for readers that are of a personal nature. From cozy wearables to snuggle into while reading to subtle luxuries for a bit of indulgence, these wonderfully unique gifting options for readers are sure to delight.
A cute gift for those with glasses and dog lovers alike is this unique glasses stand. Designed in the shape of an adorable white Samoyed, the amazing glasses holder functions as both eyeglass art and eyeglass display. This one of a kind accessory can be custom made to feature any canine that will devotedly keep their glasses safe while adding a sense of whimsical to their desk, table, or shelf.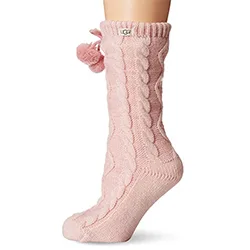 One of those small luxury gifts for book lovers is this lovely pair of socks. The perfect companion for their many reading sessions, these super-soft UGG Women's Socks are just what they need to cozy up and enjoy a good old book. Made from a luxuriously soft fleece-lined acrylic blend, the beautiful crew cut socks are adorned with pom pom and lacing details and are available in 6 bold and muted tones to suit any taste.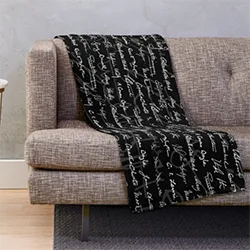 There are those amazing gifts for book nerds you know will be welcomed with open arms and the following is surely one of them. The Literary Giants Throw Blanket presents a dark and sophisticated design of the literary greats throughout history. Beautifully designed, the blanket features signatures and autographs from Shakespeare, Austen, Dicks, Christie, Orwell, Shelley, Poe, Hemingway, and more! Made from 100% polyester fleece with a soft, fluffy hand feel, this cozy blanket will be every reader's dream to cuddle up to with a great book.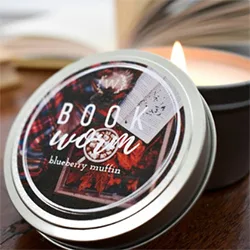 A lovely gift for book lovers that will create a pleasant reading environment is this delightful candle. The Bookworm candle produces the scent of delicious, freshly baked blueberry muffins. Handmade from natural soy wax with a fusion of sweet-scented natural and synthetic fragrance oils, the candle produces a generous 25 hour burn time and is the perfect gift for book lovers, library dwellers, and bookstore fanatics alike.
The best gifts for readers are those super cozy garments that they can snuggle into while enjoying their favorite book. This charming hoodie features a stack of books with an adorable mug casually seated on top. The comfy pullover hoodie is made from heavyweight cotton-rich fleece and includes a pouch pocket, matching drawstring, and stylish rib cuffs, with the option of front or back display of the cute graphic.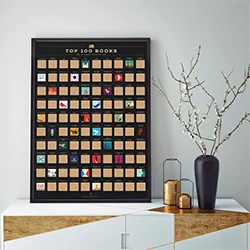 A unique and highly fitting gift for an avid reader is this amazing Scratch Off Poster. The Top Reads Of All Time Bucket List poster is full of life-changing books loved by readers worldwide. From ancient classics to recent bestsellers, award-winning novels, and children's stories, this bucket list of books will challenge readers and entice them with new books to read! Featuring a premium quality timeless design displaying 100 unique icons, readers will enjoy scratching off the gold layers to reveal spectacular illustrations as they make their way through this engaging bucket list.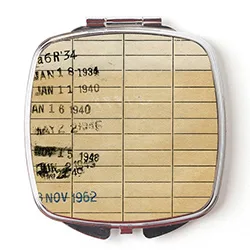 A cute little gift perfect for readers and lovers of vintage style is this beautiful compact mirror. The compact features a classic library checkout due-date card, reminiscent of the good old days of borrowing books. The library card design is printed on the outside of the mirror, using high-quality heat transfer printing for a vibrant, permanent, lasting image that will not fade, peel, or rub off. Measuring 2.25 inches square, the silver compact opens to a mirror each side and makes a great purse mirror for book lovers to carry while on the go.
Gifts For Book Lovers: Books
It goes without saying that some of the best gifts for readers are going to be books.. but the biggest question is, which books do they like, want, or need? The following section contains a selection of novel and unique book options that are sure to satisfy their curiosity and bound to capture their interest.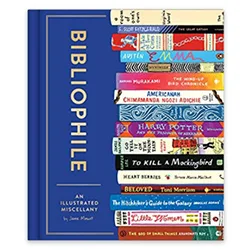 Undoubtedly one of the best gifts for bookworms is this beautiful compilation created specifically for book lovers, writers, English majors, and poetry devotees. The Bibliophile Book presents an illustrated miscellany, bringing literary people, places, and things to life through signature and vibrant illustrations. From the world's most beautiful bookstores, or insight into their favorite authors, to quizzes to test their knowledge of the written word, this delightful 224-page hardcover book is a source of endless inspiration, literary facts, and recommendations that are bound to enchant those who love to read.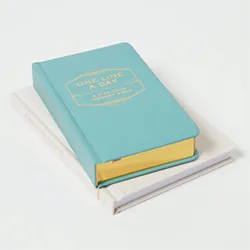 If you're searching for one of a kind gifts for book lovers, this unique journal is definitely worth considering. The One Line a Day journal is the perfect gift if writing full journal entries isn't a realistic option! This journal is a novel way for readers to summarize and capture their daily thoughts, ideas, or random information from each day of the year.. for the next five years! Featuring a beautiful hardwearing hardcover design with a page ribbon place holder, this modern journal will make a lovely collective piece that readers can reflect on for years to come.
34. What Would Jane Do? Book
For admirers of Jane Austen, this little book filled with quips and wisdom is a delightful treat they will thoroughly enjoy. What Would Jane Do? presents a pocket collection of the best quotes from Jane's novels and letters. Presenting a quote to a page, the book is divided into 10 chapters, each containing quotes pertaining to a particular subject. This beautiful hardcover book features an elegant layout printed on premium quality paper and will make a wonderful collector's item.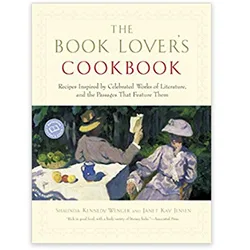 When it comes to unique gifts for readers, The Book Lover's Cookbook is sure to inspire and entice book lovers in more ways than one! This one of a kind book features 352 pages filled with tasty recipes inspired by celebrated works of literature and the passages that feature them. From Mrs. Leibowitz's hearty Lentil-Vegetable Soup (Frank McCourt's Angela's Ashes) to delicious Carrot Pudding (Charles Dickens's A Christmas Carol), readers will find plenty of delectable dishes for the literary palate.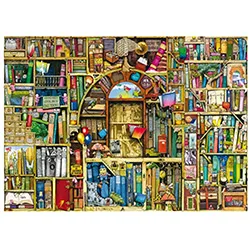 36. Bizarre Bookshop Puzzle
A special gift for those who enjoy puzzles and reading alike is this unique jigsaw puzzle. The Bizarre Bookshop 2 is a 1000 piece jigsaw featuring a highly detailed, colorful puzzle by Colin Thomspon. The whimsical design includes curious creatures, weird windows, and well-known book titles with quirky, yet amusing differences hidden amongst the colorful tones. Unlike other puzzle brands, every piece in this Ravensburger puzzle is individual with a completely unique shape. Crafted with premium quality materials featuring extra-thick cardboard combined with fine linen paper to create a glare-free scene, this adult puzzle will provide readers only the best puzzling experience.
Gifts For Book Lovers: Book Accessories
The most useful gifts for readers are those handy tools that will help them enjoy their favorite pastime. From stylish page holders to beautiful book plates, the following reading accessories are sure to enhance their reading experience.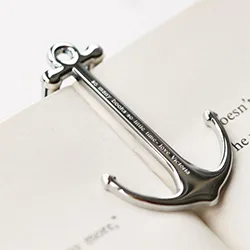 A sophisticated and unique gift for any reader, this book anchor will soon become their favorite companion come reading time. This book anchor is the perfect tool to hold pages in place when reading for a far more relaxed and comfortable reading experience. Made from high-quality gloss finished metal, the elegant page saver will be delicately engraved with a special message or quote of your choice. This is one impressive and beautifully designed book anchor worthy of gifting for any special occasion.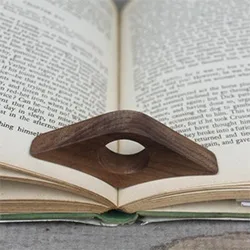 Another one of those very useful gifts for readers is a thumb page holder. This book page holder is designed to assist readers who want to hold a book open with one hand while holding a drink in the other. Slim enough to fit at the bottom of the page without obstructing text, this simple yet elegant page holder is available in two different thumb-size holes and is handmade from genuine walnut, oak, or elm, beautifully finished with Danish oil and wax.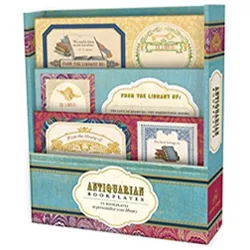 The perfect gifts for book nerds are those which allow them to personalize their nearest and dearest. This set of Antiquarian Bookplates presents 55 bookplates for readers to customize their library. The sophisticated set of bookplates each features a beloved literary quote with a charming illustration. Designed in the style of beautiful antique books, the set presents quotes from the likes of Jane Austen, Jonathan Swift, and Samuel Johnson, featuring a combination of classic and sophisticated labels to appeal to a wide range of tastes and genres.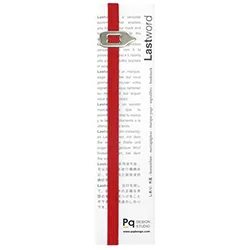 An obvious gift for readers is a bookmark to ensure they never miss a page. The Lastword Bookmark presents a unique modern style bookmark that will not only mark a page, but will also point to the last sentence so they can continue regarding exactly where they stopped! The bookmark features a polished metal cursor and premium elastic that neatly wraps over the pages, ensuring it won't fall out like standard bookmarks. A lovely
alternative place marker
is this stylish magnetic bookmark, crafted from premium brown leather, lined with sky blue suede and matching thread, which presents the option to personalize this bookmark and create a truly special gift.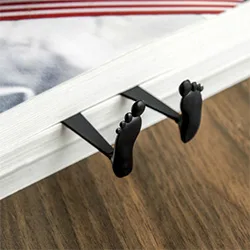 One of those quirky gifts for book lovers, this unique bookmark will make the perfect reading companion. The super cute bookmark design features legs that stick out over the end of pages, appearing as if readers have crushed a tiny little character inside! Measuring 5.11 x 2.83 inches, this delightful bookmark is sure to bring a smile to faces while keeping their page for the next reading session.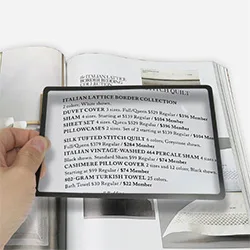 A great gifting option for an aging reader, this magnifying postcard is perfect for use with novels, magazines, and newspapers. Offering three times magnification, the flexible magnifying glass enlarges reading surfaces, reducing strain from overconcentration. The postcard measures seven by four and a half inches and is constructed from durable PVC.
Gifts For Book Lovers: Gadgets
What are the most amazing gadget book lover gifts that readers will appreciate the most? From the ultimate label maker to accessorize their books and spaces to electronic devices that expand their reading experiences, this unique selection of gadget gifts for readers will be welcomed with delight!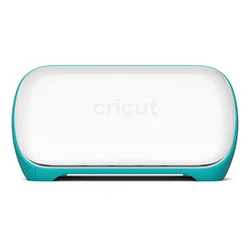 One of the best DIY gifts for readers that will allow them to explore their creativity for their favorite pastime is this unique label maker. The ultimate craft machine, the Cricut Joy is a small, yet powerful device that will give book lovers the ability to personalize all their favorite reads and accessories! An amazing printing and cutting machine rolled into one, the Cricut features a high-quality precision blade that easily cuts through everything from cardstock and vinyl to peel-and-stick paper. Whether creating beautiful labels for their vast collection of books, customizing folders, creating unique bookmarks, book-inspired posters, decals, stickers, or cards, the creative possibilities for readers are endless with the Cricut Joy.
A gadget worthy of any book lover, this sleek and modern reading tablet reads just like a sheet of paper that can be held in one hand. The Kindle Paperwhite prevents eye strain by reducing glare and utilizing front-lit technology to light up its screen. Features such as text customization and Whispersync allow users to personalize their reading experience by adjusting text size, weight, type, and to easily switch from reading to listing. Unlike paper books, the Kindle Paperwhite will not be damaged by water, IPX8 rated for two meters submersion, allowing bookworms convenient and carefree bathtime reading. This amazing tablet is available in 8GB and 32GB storage capacities in four beautiful muted color options.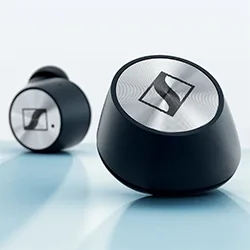 Whether it's taking a step aside from reading to let the mind relax, or listening to an audiobook on the go, a pair of quality earbuds are a perfect gift for book lovers. The Sennheiser Momentum True Wireless 2 are designed for convenient all-day listening presenting a generous long battery life and very comfortable fit. With innovative features such as customizable touchpad controls and smart pause, the Momentum True 2 are an obvious choice for a truly immersive audio experience.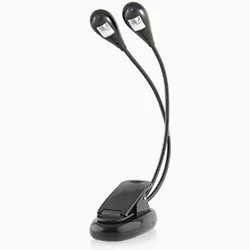 Does the bookworm you know enjoy reading late into the night? If the answer is yes, a clip-on book light might be just what they need. This battery-powered double-headed LED book light is perfect for focussing light where it's required. Featuring two adjustable arms and a sturdy padded clip, the lightweight book light can clip onto book covers, shelves, and tables.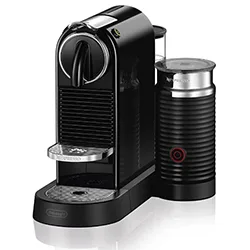 An essential gift for a reader who loves caffeine, the following gift idea provides them a tool to brew the perfect coffee before each reading session. The De'Longhi Nespresso machine features an elegant, compact design and comes with an Aeroccino milk frother for creamy cappuccinos and perfectly frothed lattes. Featuring a fast heat-up system, energy-saving function, and temperature control, this amazing coffee machine will produce barista-quality coffee in a choice of espresso and lungo sizes.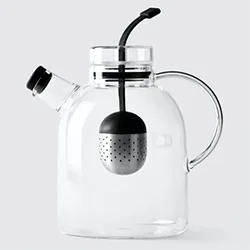 One of the best gifts for readers who enjoy a perfectly brewed cup of tea is this modern kettle teapot. Elegant and minimalist in style, this teapot design draws inspiration from traditional Oriental cast iron teapots. Featuring a unique heat-resistant glass exterior with a toggle centerpiece tea egg, book lovers can immerse themselves reading while creating the perfect brew.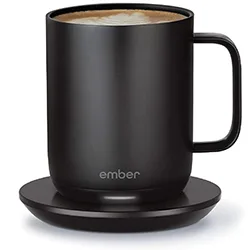 The smartest gift for bookworms who get so lost in their books they forget to drink their coffee is a mug that stays hot for hours. The Ember Smart Mug will keep contents steaming hot for an hour and a half when taken off its coaster, or all day when paired. Key features of the electric mug such as target temperature setting, auto sleep, smart LED, and smartphone controls will provide readers a truly unique coffee and tea drinking experience.
Gifts For Book Lovers: Utility
The following selection of gifts for readers contains a collection of useful every day book-inspired and themed gifts. From handy portable accessories to luxurious comfort, these stylish and purposeful utilities are bound to be warmly received by book lovers and get plenty of good use.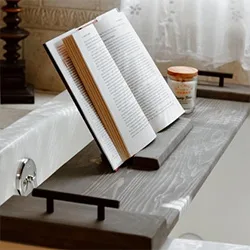 An indulgent gift for readers who enjoy relaxing baths just as much as they adore books is this gorgeous bath caddy. The luxury wooden bath caddy is custom made to fit any bathtub, with the unique option to include a handy book holder or even wine slot upon request. Made from solid pine wood with a choice of 8 beautiful protective stain finishes, the caddy features high quality black modern handles and will seamlessly blend into any bathroom.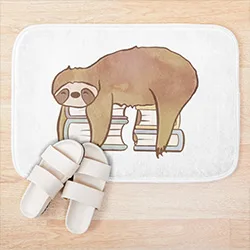 One of those great gifts for readers who also adore sloths is this cute bath mat. Featuring an adorable sloth reading (well, sleeping) on a pile of books, this charming mat is exactly what book lovers want to be stepping onto. Made from 100% soft polyester microfiber with a non-slip bottom and high-quality full-color printing that won't fade, this bright and cheerful sloth will be hanging around for years to come.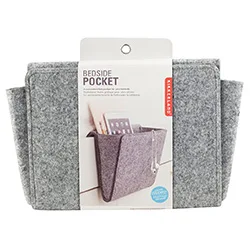 You'll be hard-pressed to find a more practical gift for readers than this useful bedside caddy. The Kikkerland caddy is the perfect bedside companion for reading enthusiasts who like to start or finish the day with a good read from their bed. The slimline felt designed caddy discretely slots into bedsides and couches to conveniently store reading material such as books, magazines, and newspapers, but can also neatly house their tablets, remotes, other electronics, and cords.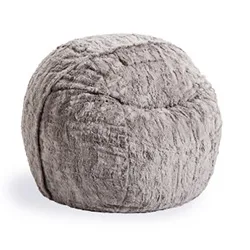 If it's luxurious gifts for book lovers that you're after, this modern bean bag takes lounging to a whole new level. The Lovesac presents a premium quality beanbag that will soon become their favorite companion to relax into and enjoy a good read. The beanbag is filled with high quality shredded durafoam that evenly absorbs body weight and maintains its properties over time for the perfect comfortable molded fit each and every time. The Citysac beanbag is available in an extensive selection of stunning richly colored cover options to suit all tastes and preferences.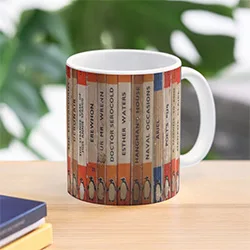 A gift that is always warmly welcomed is a brand new mug. This unique mug is the perfect gift for readers of all ages, featuring a vibrant design displaying a lineup of vintage Penguin Books. The classic design presents a lovely wraparound print that will hold up to 11oz of their favorite beverage and is also conveniently dishwasher friendly.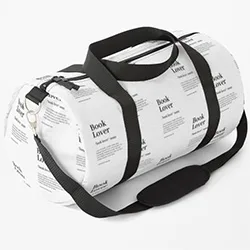 The perfect gifts for bookworms are those which display their loyalty loud and proud for the world to see. This unique style duffle bag is a book lovers dream, clearly defining them to a T. Featuring a bold and modern style, the black and white Book Lover Definition bag presents a dictionary-inspired design that is sure to turn heads. Made from 100% durable polyester with a vivid sublimation print, the generously sized bag is the perfect companion to tote some serious baggage with this voluminous classic.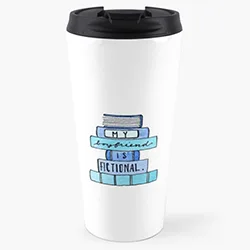 Last, but not least on our ultimate gifts for readers list is this cute and quirky travel mug. The Books in Blue travel mug features a series of charming blue illustrations suited for the book-obsessed! Featuring a lovely wraparound print, the travel mug is constructed of premium insulated stainless steel to hold up to 15oz of their beverage of choice. Proudly stating their loyalty to books in style, this travel mug is the perfect companion to accompany them on their many fictional and non-fictional adventures.
Searching for more than the Gifts For Book Lovers? Check out some of our other great list for more awesome gift ideas.