Wini Gifts is supported by our readers. At no additional cost to you, we may earn a small commission from the purchases you make using our links.
Learn more
Whether you're interested in practical gardening gifts for men or unique and creative gift ideas for the green thumb in your life, our great selection of gardening gifts have you covered. With such a wide and varied selection of gift options available for gardeners, it can be easy to get bogged down with choices, which is why we have handpicked the best selection of garden tools, accessories, and personalized pieces, helpfully categorized for you. So from the seasoned gardener to the humble novice, we are sure you'll find the perfect gift for him to enjoy within his favorite domain.
This section contains a handpicked selection of the most useful tools and accessories every gardener needs at their disposal. From the one and only pair of pruning shears he'll ever need to a very unique and handy bucket caddy, we are confident he will appreciate and get plenty of great use with the following great gifting options.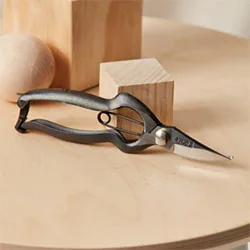 A true collector's piece for your favorite gardener, premium shears crafted from Hidehisa steel provide an effortless pruning experience. Hand-forged in Japan using traditional techniques, the Banno Sentei pruning shears are optimized for maximum comfort and minimal force. Cutting through branches and stems 10mm in diameter, superior functionality is matched by stunning design, offering a form and finish only skilled craftsmen can achieve.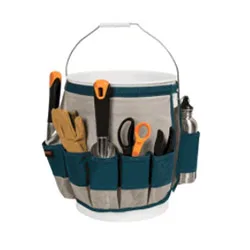 If you're after a perfect gift for the green thumb who fills his bucket with yard waste then has no place for his tools, this item is for you. Wrapping around five-gallon buckets, the canvas caddy carries all of his equipment, leaving his bucket free for scraps and dirt. The handy carry companion holds nine tools and a pair of pencils, maximizing transportation capacity to eliminate unnecessary back and forth.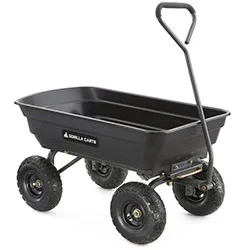 One of the most valuable gardening gifts for men, a new garden dump cart is a natural replacement for his trusted old wheelbarrow. Balance, maneuverability, and haul capacity make the Gorilla Cart an essential garden accessory for mid to large scale garden projects. Sturdy and hard-wearing pneumatic tires help contents traverse almost any terrain, while a deep bed caters for large volumes of mulch, dirt, and rocks. The cart is capable of supporting up to 600 pounds of weight, which can be effortlessly pulled along using its comfortable padded handle.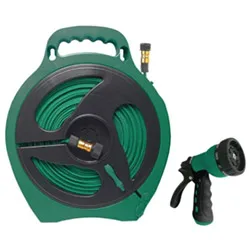 Every keen gardener needs a compact and reliable garden hose for watering his large garden and cleaning dirty tools. The Landscapers Select flat reel hose comes bundled with a male adapter, ten pattern spray nozzle, and a fifty-foot hose. Featuring a sturdy stand, ergonomic handle, and easy to wind reel, the hose automatically drains water by leveraging its built-in water ringer.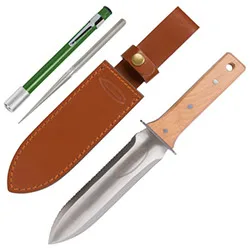 A tool for dividing plants, weeding, and planting bulbs, this ultra-sharp Hori Hori gardening knife comes equipped with a sharpening rod and leather sheath. One side of the knife contains a serrated edge that helps cut through roots, and on the back is a ruler for measuring depths. The Hori Hori is constructed from solid 420 stainless steel which is housed in a hardwood handle with a protective handguard.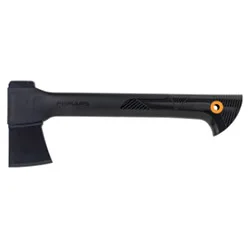 Logs, stems, and sticks won't stand a chance when challenged by the force of this lightweight hatchet. A great chopper and splitter, the Fiskars 14-inch hatchet features a hardened forged steel blade, shock-absorbent frame, and textured handle for additional grip. Virtually unbreakable, the handy tool will help him break apart branches and wood for easy removal and better garden maintenance.
From comfortable and durable all-weather gardening shoes to custom gardening gloves, these great gardening gifts feature must-have accessories and creative personalized pieces that he both wants and needs.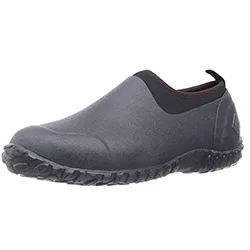 If he's still using sneakers or clunky boots, one of the best gardening gifts for men is a pair of shoes built for the garden. Offering superior stability in rain and mud, the Muck Boot gardening shoes are constructed from stretchy waterproof neoprene and lined with a breathable moisture wicking air mesh for durable use all year round.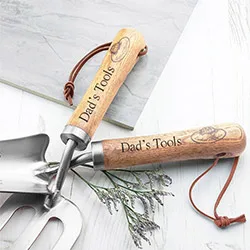 A unique father's day gift for an avid gardener, this charming garden tool set contains a premium stainless steel fork and trowel. Beautifully engraved with a personalized message, handles are crafted from solid ash wood and come with light leather straps so they can be displayed with pride when not in use.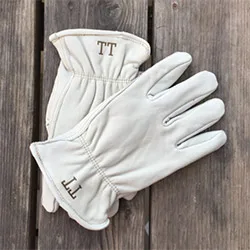 If you're searching for a personalized gardening gift for him to use while he's in the garden, you can't go past a pair of quality gardening gloves. Made from premium cowhide, these gorgeous soft leather gloves feature his initials stylishly laser engraved on both cuffs.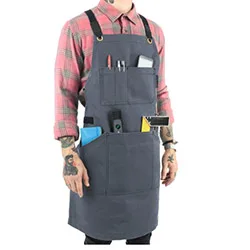 Offering a convenient place to wipe hands whilst keeping their handy tools at bay, a quality gardening apron is a must-have item every gardener needs. Handmade from heavy-duty, waterproof dry-waxed canvas, this amazing apron features a durable and hard-wearing construction that will also soften and mold to their shape over time. A unique adjustable cross back design alleviates the neck pressure present with standard aprons, whilst quality craftsmanship features generous double-stitched utility pockets, anti-rust and anti-allergy Zamak-coated hardware, and stylish vintage brass harnessing for a polished look.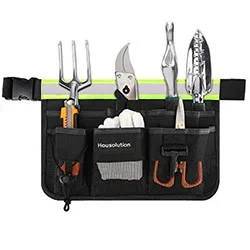 A gift that grants quick access to all of his gardening tools, this portable tool belt ensures all of his equipment is within arm's reach. Knives, shears, and trowels are conveniently stored in large opening compartments, ready and waiting for the next time he plants and prunes. The rugged belt features an adjustable strap, high impact buckle, and mesh compartments that conveniently allow water and soil to shed, protecting the longevity of his garden tools.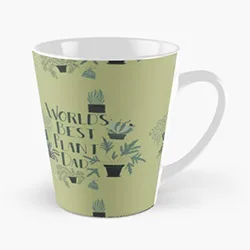 One of the most fitting ideas for a dad obsessed with herbs, flowers, and coffee beans, this lighthearted gift is ideal for fathers day and Christmas. If he's the world's best plant dad, this ceramic coffee mug will remind him every time he drinks his tea or coffee. Love this design? A couple of cool companions or alternatives are a decorative
acrylic paperweight
, and a spacious
drawstring bag
.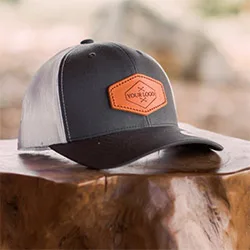 If you want to get creative, a perfect gift idea for your favorite gardener is this customizable trucker hat with a rugged leather patch. The hat can be customized with a personal message or you can find a logo of his favorite tool or plant and have it laser engraved on the front.
For a gardener who is a bit tricky to buy for, the following gardening gifts for him contain a handpicked selection of the best practical tools for maintenance and must needed preparation of their garden space. From a very handy leaf mulcher to a highly original composting device, these very useful gifts will get plenty of great use over the years.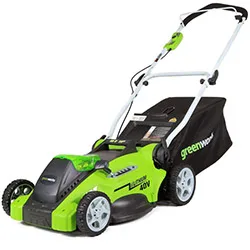 A natural replacement for his aging gas lawnmower, this battery-powered green mower has no pull cords and produces no fumes. The silent and smooth Greenworks G-MAX features five mowing heights, mulching and bagging capability, and 45 minutes of battery life per charge. Perfect for small to mid-sized yards, the battery-powered mower is easy to maneuver, ensuring he can effortlessly maintain a lawn that matches his beloved garden.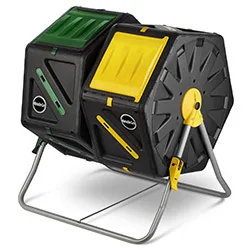 Forget digging, turning, and hand mixing, the heavy-duty Miracle-Gro tumbler is the perfect place to cure fertile compost. A great gardening gift for men who are serious about plant nutrition, this dual chamber compost tumbler allows two separate batches to cure simultaneously. The hexagonal design optimizes the mixing process, while the aeration holes are ideal for airflow and draining excess liquids. Easy to assemble and operate, the Miracle-Gro dual-chamber tumbler is capable of generously holding over 18 gallons in each compartment.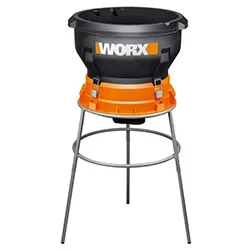 One of the more practical gardening gifts for dealing with piles of leaves is a sturdy and maneuverable leaf mulcher. In addition to speeding up decomposition for his compost bin, a mulcher is extremely useful for efficiently bagging large volumes of leaves. The powerful Worx WG430 bladeless eclectic mulcher can mulch up to 53 gallons an hour, reducing eleven full bags of leaves down to only one.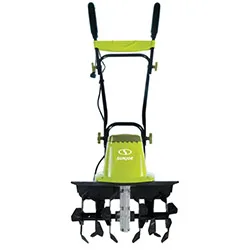 A handy tool to help prepare his new seedbed, the Sun Joe tiller and cultivator breaks up tough dirt whilst dismantling any weeds in its path. Featuring a powerful 12-amp motor, six wide-angled tines, and manual wheel height adjustment, the tiller and cultivator aerates soil for easy planting.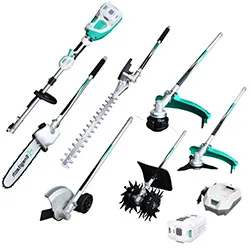 18. Cordless Gardeing Set
The ultimate gardening set for a man dedicated to maintaining his surroundings, this set will help him sculpt his lawn and hedges to absolute perfection. Built around a multifunctional power head, Enegitech's electric gardening tool set contains a durable lithium-ion battery, charger, and six interchangeable attachments. The attachments include brush cutters, hedge trimmer, edger, string trimmer, cultivator, and pole saw, ensuring no job is too difficult, nor will it consume too much of his time.
Some of the best gardening gift ideas for him are often the most practical tools and accessories that will get the job done! From the most comfortable garden kneeler to handy leaf scoops, these practical and useful unique gifts are bound to be very much appreciated.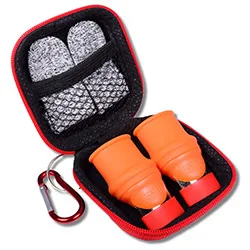 19. Harvesting Thumb Knife
Harvesting the fruits and vegetables of his labor will become a breeze, leaving both hands free to hold, pick, and pack. A silicone thumb knife is ideal for pruning small branches in addition to surgically picking his cucumbers, tomatoes, and melons. The set comes with two silicone thumb knives, two anti-cut finger covers, and a convenient little case for clean storage.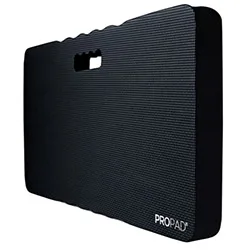 Searching for practical gardening gifts for men? A soft and comfy garden kneeler provides the layer of protection for his knees whenever he's working close to the ground. Made from high-density foam, this durable kneeling pad is designed to retain its integrity and withstand impacts from tools and rocks.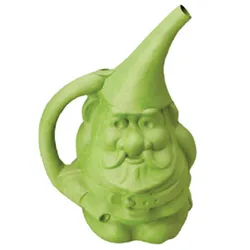 Any keen gardener is bound to get a chuckle out of this creative novelty watering can. Perfect for father's day, Christmas or birthdays, the mystical green garden gnome is less for decor and more for keeping his plants sufficiently hydrated.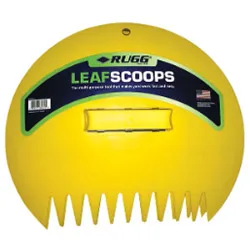 Before he can remove or mulch the leaves scattered over his lawn, they must first be collected and bagged. The Rugg leaf scoop provides a quick and easy way to gather leaves, branches, and scattered debris from a pile and move them into bins and bags. While the scoops are not intended to replace a rake, they can certainly be used to conveniently rake up small areas that are within arms reach.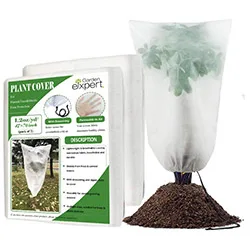 An ideal gardening gift idea for him to better protect his beloved trees, a set of plant covers allow air and sunlight in while protecting from nasty frost damage. In addition to frost, an avid gardener will find them handy for protecting potted plants and fruit trees from insects and birds who decide to feast.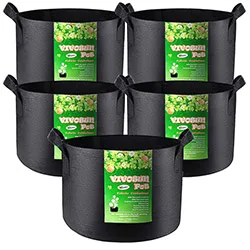 A perfect gift to replace plastic pots, heavy-duty grow bags are great for developing strong roots before planting. Capable of holding up to ten gallons of soil, the pots feature sturdy handles for easy moving and are constructed from thick fabric, allowing pots to stand upright.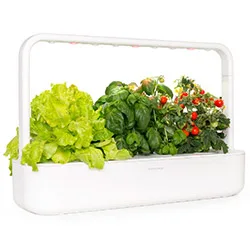 If you're searching for a unique gift for your favorite gardener that provides organic fresh herbs all year long, then this amazing indoor garden is a wonderful alternative to their traditional herb garden. The Smart Garden 9 PRO is an innovative app-controlled self-growing garden that requires nothing more than sprouting and the occasional filling of its water reservoir to produce their favorite plants and herbs. Self-watering and automatic lighting features ensure premium growth of organic herbs, fruits, salads, and flowers, free of GMOs and pesticides for them to enjoy.
If you're after great gardening gifts for men that are not quite tools or accessories, then below you will find some original decorative pieces that will add a unique touch to their gardening space. From a beautiful garden stool to the ultimate garden-themed outdoor chess set, these creative gifts add character and promote more outdoor time in their favorite domain.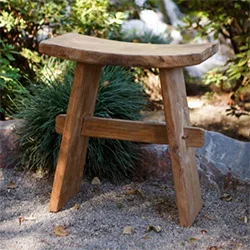 This beautiful garden stool is a unique gift that provides a contemplative resting place for garden lovers to enjoy their domain. Inspired by traditional Japanese design, the garden stool presents a stunning modern Zen design, emphasizing beauty in simplicity. Featuring a comfortable concave seat with sturdy, durable legs, this charming piece of furniture has been expertly handcrafted from rich, durable teak wood, and will instantly add a layer of warmth and texture to their garden.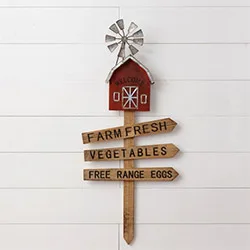 The perfect gift for a keen gardener who has it all, this unique garden stake will add a touch of country charm to their garden design. The epitome of farm charm, this delightful stake features rustic barn and windmill accents, including signs for 'vegetables', 'free range eggs'. Made from composite wood and metal and measuring almost three feet tall, this decorative garden piece will seamlessly blend into any country aesthetic.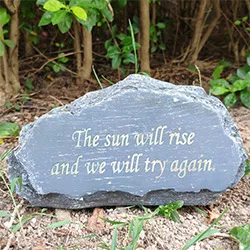 A thoughtful keepsake that will add a special touch to their outdoor space is this amazing personalized garden stone. The hand-carved and painted decorative outdoor stone can be customized with any message, word of encouragement, lyric, or garden quote. Made from polyresin and treated with a special finish, this durable garden stone is both sun-resistant and waterproof, seamlessly blending in alongside a walkway, under their favorite tree, or near some flower beds.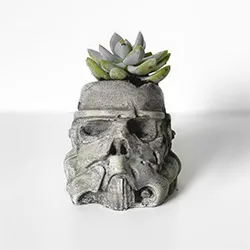 Your favorite gardener is destined to have his jaw hit the floor when he first lays eyes on this handmade concrete planter. Perfect for indoor plants such as succulents and cactus, this Stormtrooper will look awesomely intimidating on his office desk or windowsill. Not a Star Wars fan? Perhaps
Spiderman
,
Black Panther
, or
Iron Man
are more to his liking.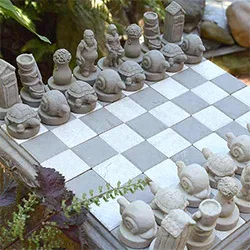 A unique gift for the quiet crevasses of his garden, this amazing outdoor chess set injects a garden motif into the classic game. The delightful solid cast stone set portrays kings and queens as gardeners and bishops as flower urns. Pawns are snails and turtles, while knights are shovels and buckets.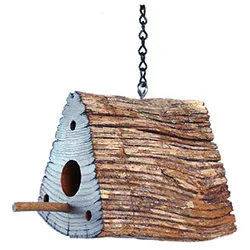 A decorative gardening gift for men who could do with a little extra company, this wonderful birdhouse is a perfect gift to help attract cavity-nesting birds to his garden. Uniquely constructed using triangular portions of antique chestnut railing, the wooden birdhouse contains a 1.25-inch opening and a detachable face for easy cleaning.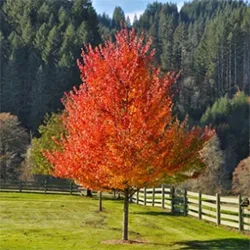 If you're wishing to give a unique gardening gift that will add beauty and appeal to their garden, then a maple tree makes for a wonderful gesture. Whether it's a striking Bloodgood Japanese Maple, a pretty October Glory Maple, lush Crimson Queen Japanese Maple, or magnificent Red Maple Tree, there are plenty of charming maples to choose from that are guaranteed to have color and beauty all year round. Each plant is carefully packaged in a special box designed for shipping plants, securely shipped right to their door.
Searching for more than Gardening Gifts For Men? Check out some of our other great list for more awesome gift ideas.