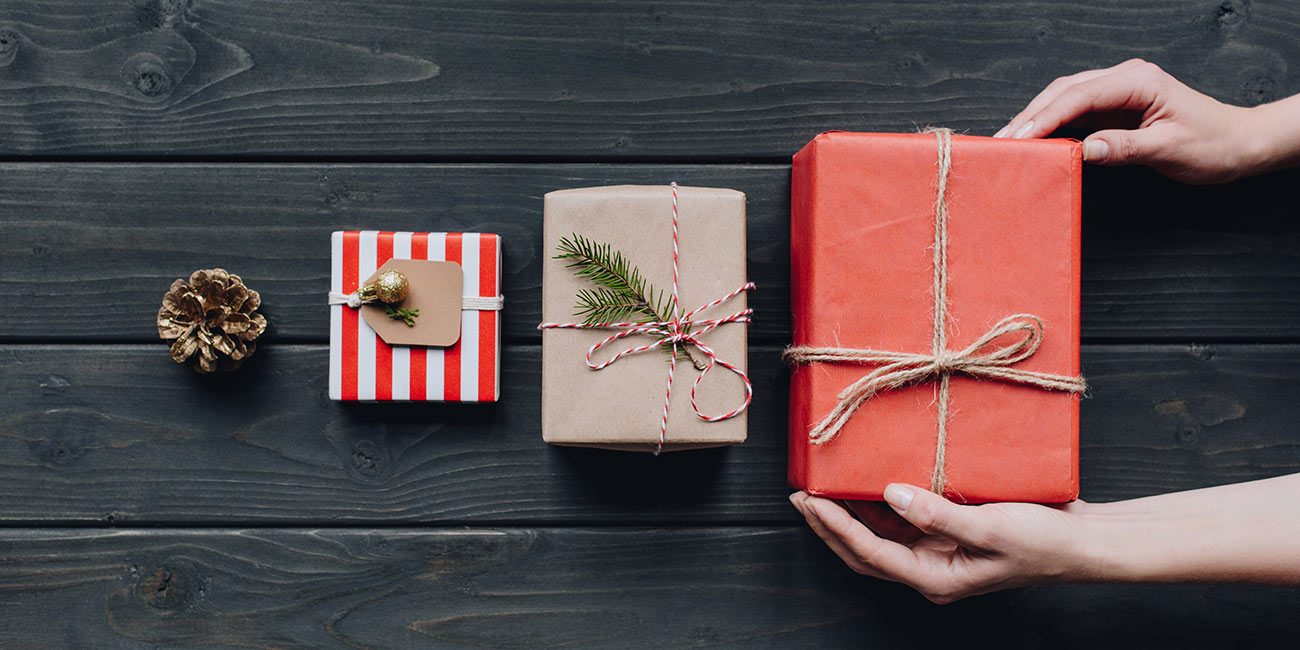 Wini Gifts is supported by our readers. At no additional cost to you, we may earn a small commission from the purchases you make using our links.
Learn more
White Elephant Gift Ideas
Whether you're after funny white elephant gift ideas or white elephant gifts everyone will fight for, this list has you covered. While the point of gift exchange is to add a little fun to a Christmas gathering, each family or group inevitably agrees on a different budget or theme. For this very reason, Wini Gifts have categorized our white elephant, Yankee swap, and dirty Santa list into simple categories to suit your budget or needs.
White Elephant Gift Ideas: Under $20
The following white elephant gift exchange ideas cover plenty of gift-worthy suggestions that conveniently fit into an under $20 budget! From quirky taco and cheese holders to stylish, eco-conscious utilities, you'll find plenty of highly purposeful and creative options here that are all reasonably priced.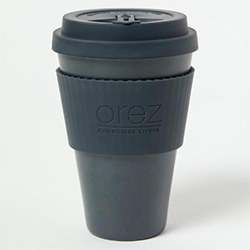 The games begin with a bamboo coffee cup that's sure to grab the attention of your environmentally conscious family members. The Orez cup features a silicone lid, silicone sleeve, and sixteen liquid ounce capacity. Perfect for coffee, juice, or tea on the go, this sustainable bamboo fiber cup is a logical replacement for plastic alternatives.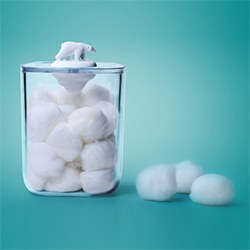 Cute, fun, and decorative, the next of our white elephant gift ideas is a smart household storage accessory. This cool multipurpose container is constructed from recycled plastic and can be used for storing cotton buds, loose leaf tea, or paper clips. The container features a minimalistic polar bear standing on an iceberg as a lid handle, lending support to anyone attempting to access its contents.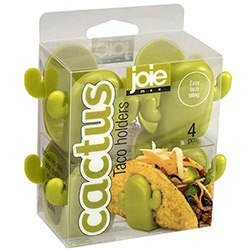 A cool gift exchange idea for a family of taco lovers, this flexible cactus nestles crunchy shells making filling, serving, and eating a whole lot easier. The Joie Cactus Taco Holder prevents cracked tacos while freeing up a hand for filling and holding a beverage. BPA-free and easy to clean, the funky taco holder adds a touch of fun to every home taco night.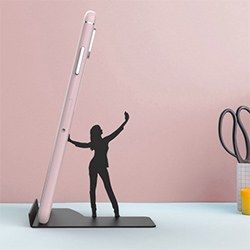 Say cheese! This unique smartphone holder is too preoccupied with talking selfies to complain about the tough task of keeping phones upright. Stephi is made of metal and loves supporting your phone while you watch videos, screen a recipe, or simply while it's resting vertically on your desk. While this design is perfect for ladies, if you think it's the gentlemen in your family who would be most amused,
Pete
,
Reid
, and
Mike
are alternative designs that are more creatively suitable.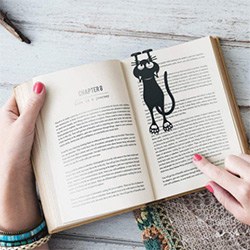 If you're after white elephant gift ideas that are slightly quirky and a bit of fun, the following will be right up your alley. The Curious Cat bookmark is a cute and unique placeholder featuring an inquisitive black cat who wants to climb over the edge of your book. For those who enjoy reading, but always lose their bookmarks, this is the perfect solution!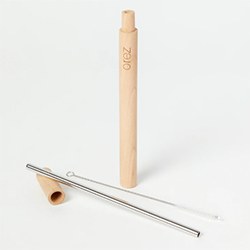 A sustainable, unique, and incredibly useful gifting option is a reusable straw. The sleek designed Orez straw will allow you to elevate your drinks, both responsibly and in style. The set comes complete with two quality stainless steel straws and a useful wire brush for cleaning, all packaged in a beautiful beechwood carry case. The perfect gift for both eco-conscious individuals and straw-drinkers alike, this cute gift also comes with a 100% cotton travel bag for easy transport while on the go.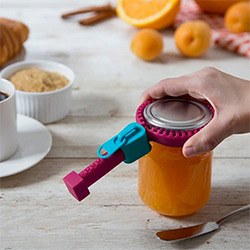 The best white elephant gifts are often those unusual, yet highly practical gadgets that are not thought of when gifting! They will never have to strain their wrist again with this super handy jar opener. The ZIP-EAT! easily wraps around any lid to give that extra strength needed to pop open a lid. Made from plastic and silicone, the opener is dishwasher friendly and 100% food safe for peace of mind. Never again will they have to deal with the frustration of a stubborn jar!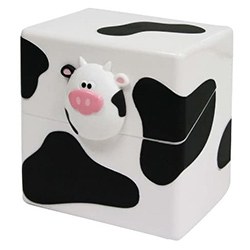 If it's adorable white elephant gift ideas you seek, you can't go past this quirky cheese slice holder! Designed in the style of a fun, happy cow, the MooMoo cheese pod is a compact size holder that will keep cheese slices fresh and organized in the refrigerator and makes serving easy. Made from BPA-free plastic with a 24-slice capacity, this friendly cow can also be used to store other little nick-nacks and is a great gift for animal and cow-lovers alike.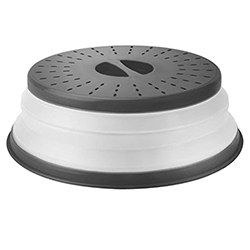 While it may be a little unconventional, the next gift exchange idea is one that will provide a great service come mealtime. The Tovolo collapsible microwave cover prevents food splashes, keeping your microwave spotless. Featuring vents for releasing steam and grips for easy liting, the lid also compresses for convenient storage.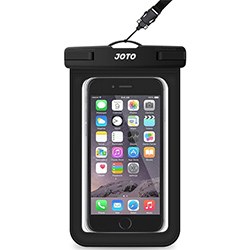 A useful little gift that's straight to the point, this cool waterproof dry case is sure to be snapped up by anyone who uses their phone around water. The Joto universal waterproof pouch ensures your smartphone is safe from dust, snow, and of course drowning. Featuring a touch-friendly surface, scratch resistance, and a secure seal lock, the case is suitable for all phones under 6.8 inches long.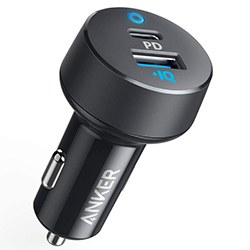 There are some white elephant gift ideas that everyone will agree are lifesavers and the following item is just that! Have you ever jumped in your car only to realize your phone battery is almost dead? With the Anker car charger, you will never have to encounter such a situation again. Featuring a whopping 18W of charging power and universal compatibility, the charger also includes Anker's MultiProtect safety system for total protection of your devices and a convenient LED power indicator, which is extremely useful for locating when in use at night.
When it comes to highly sought-after gift exchange ideas, it doesn't get more obvious than this purposeful present. In the age of technology, everyone needs a safe and visible place to secure their phones while driving. This handy magnetic phone holder attaches to both metal and wooden surfaces and offers a 360 degree mount for optimal vision.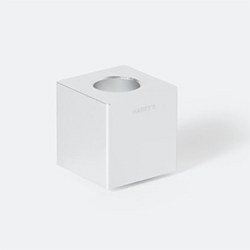 While you can be forgiven for your initial observation of a cube with a hole, this is in fact a unique and extremely elegant razor stand. Made from anodized aluminum with a contemporary feel, the stylish stand features a rubberized base for superior grip and the ability to keep razors upright and neatly organized. The razor stand is a minimalist solution worthy of display, excelling in space-saving and keeping blades dry.
White Elephant Gift Ideas: Fun & Funny
If you're after fun or funny white elephant gifts that are not your average gag gifts, then the following list of curated gifts are for you. From a unique Chia Pet to creatively designed utilities, these fun and quirky items are bound to get a laugh, or at least a smile or two!
The original plant-pet, a fun and amazing white elephant gift for your family or friends is a Chia Pet! This officially licensed product is a modern take on the traditional pet, featuring a collection of favorite movie characters, actors, emojis, and more! The entertaining set includes a unique style pottery planter (in this case, a potted Groot), a plastic drip tray, and enough chia seeds for up to 3 plantings. Pet owners will enjoy a luscious green coat in just a few weeks and will enjoy watching the chia plant sprout and develop into a hilarious creation. Chia planters can be washed and replanted indefinitely so the fun will never end!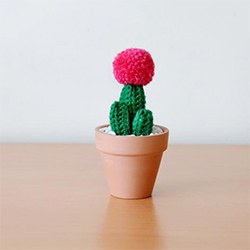 If you're after slightly kitsch white elephant gift ideas, then this cute set of imitation cacti is a fun gifting option. You will certainly get a laugh or two with this adorable trio, featuring a collection of three mini crocheted budding cacti! Made from a mixture of soft wool, cotton, and acrylic yarn blends, these three little amigos create a playful summer-vibe that will brighten any drab space. Topped with sweet candy-colored handmade pom poms, these vibrant potted cacti are the perfect addition to any study space, bookshelf, window sill, and more!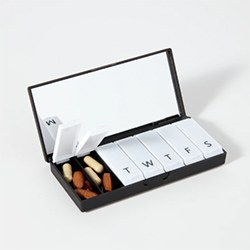 If you're looking to avoid a fight between grandma and your bodybuilding brother in law, skip over the next of our funny white elephant gifts. Featuring a modern minimalist design with a classic matte finish, this charming pill box is perfect for storing supplements and daily medications. The case includes seven individual compartments, internal mirror, and day of the week initials so tracking pills is easy and organized. With dimensions similar to that of a smartphone, the case fits perfectly into handbags, gym bags, and even pants pockets.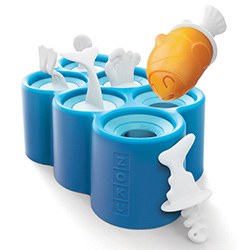 If you're after white elephant gift ideas that scream fun, these charming popsicle molds will do precisely that. The Zoku fish pop molds are uniquely designed popsicle molds featuring various underwater sea creatures. Popsicle designs include a clownfish, octopus, shark, pufferfish, whale, and friendly scuba diver. Made from 100% BPA-free and phthalate-free silicone, these delightful molds are perfect for healthy fruit and yogurt snacks, or even cheeky chocolate and candy combinations. Also available in entertaining dinosaur, space, and polar themed versions, these entertaining set of popsicles are just as fun to make as they are enjoyable to eat!
Who would have thought something as simple as a sponge holder could be funny? Well, meet Mr Sponge – a dapper gentleman designed to store your sponge in style! Featuring a top hat, sleek mustache, not to mention a classic monocle, Mr Sponge will let your hard-working sponge get a moment to chill out and dry as his charming bow tie. Designed to attach to kitchen and bathroom tiles or the inside of sinks, Mr Sponge will stylishly keep your sponge dry, while allowing your sink to get the perfect drainage.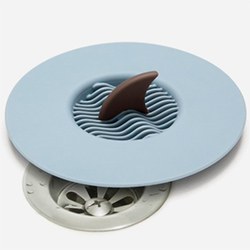 A strainer isn't exactly the first thing that pops to mind when it comes to white elephant gift ideas, however for this one, you can make an exception! Emerging from the depths of your sink, this playful drain strainer adds a touch of humor to filtering out debris. Made from soft and durable silicone, the shark fin sink strainer is a creative gift exchange idea that fits most kitchen and laundry sinks.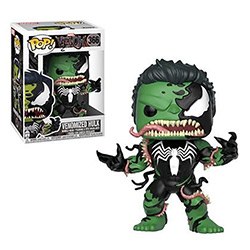 One of the best white elephant gifts to weed out the Marvel loving nerd in your family, A POP! Vinyl is a gift they are destined to fight for. This four-inch-tall Venomized Hulk is a perfect hybrid of the sentient alien symbiote and the bulging green superhero. One of a series of venomized heroes, also available in the series are venomized
Captain Marvel
,
Rocket Racoon
, and
Daredevil
.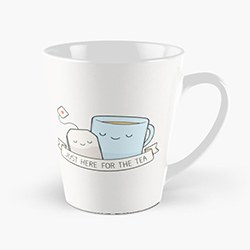 If sipping tea is their favorite pastime, you can be sure they will be after this cute and humorous tea mug. The "just here for the tea" mug depicts an adorable teabag snuggling up to a friendly mug. Available in tall and classic sizes, this mug features a wraparound print, ceramic construction, and holds twelve fluid ounces. While this mug is a delightful option, equally well designed and funny, the
bed and breakfast
,
tea cup party
and
coffee & tea
mugs are some nice alternatives.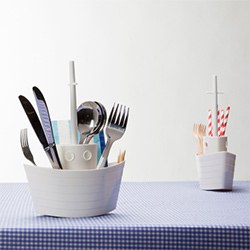 For those white elephant gift ideas with a bit of quirk, this innovative cutlery holder is definitely worth considering. Creatively designed in the shape of a yacht, the playful dinner boat holds utensils on its deck and uses napkins as its sail. Ferrying knives and forks to their destination will become a nautical adventure with this surprise Christmas gift worth friendly fighting for.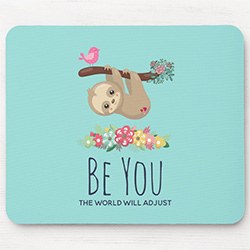 One of the cutest gift ideas on the list, this fun little mouse pad will make directing a cursor that much more enjoyable. Relaying the message to be oneself, the funky mouse pad depicts a cartoon sloth comfortably hanging from a tree branch. The young tech-savvy ladies in your family or friends group will do battle to see who ends up with this funny Christmas gift.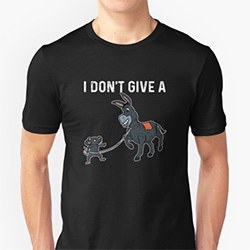 What are those funny white elephant gifts with a bit of cheeky humor? This amusing tee will set the record straight in a simple and straightforward manner for the whole world to know! The fun T-Shirt creatively sports the phrase "I Don't Give A Rats Ass" featuring a friendly cartoon rat with his donkey. Made from a comfy cotton-blend, the T-Shirt is available in a stylish slim fit and also comes in long-sleeved, V-Neck, Scoop, and other style options. The perfect design for those who don't care what others think about them, the proud owner will get plenty of good laughs from onlookers as they sport this hilarious T-Shirt around town.
White Elephant Gift Ideas: Under $30
If you're after unique gifts for a white elephant gift exchange that fit within your $30 budget, then the following section has a plethora of options just for you! Whether it's amazing gadgets, handy everyday utilities, or beautiful luxuries, you will find wonderful and creative gifts just waiting to be discovered!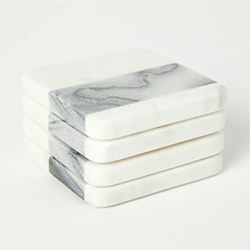 If elegant and useful is your aim, an ever-popular set of coasters is a great option. Available in all white and white-gray, these gorgeous marble coasters will look perfect on any coffee table. The set of four luxurious coasters feature a square cut and modern design, excelling in protecting surfaces from water stains and scratches.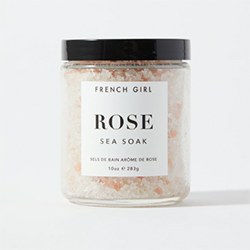 Who doesn't enjoy a warm bath? These calming bath salts are perfect for those who are looking to unwind after a long and difficult day. Exuding serenity and calm, the rose sea soak alleviates stress stored in the body and mind, helping to let go and relax. The soak contains six salt varieties and four oils that combine to produce the unique delightful aroma of ylang-ylang and rose.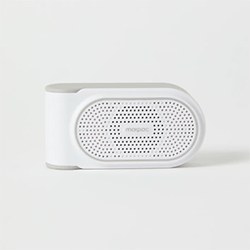 One of those very unique white elephant gift ideas that will be highly sought after is this portable sound machine. The GO Travel Sound Machine by Yogasleep is perfect for busy individuals who struggle to sleep while away from home. The device features eleven high-quality audio options so they can select the one most soothing to their ears. While the GO Travel is great for inducing sleep, it can also be used to focus when in a slightly distracting environment.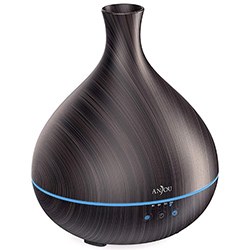 28. Essential Oil Diffuser
What better way to spice up your gift exchange than with an aromatic essential oil diffuser. The ladies, and even some gentlemen, will steal from one another hoping to land this elegant gift. The essential oil diffuser produces a soothing cool mist, featuring twelve hours of continuous aromatherapy, automatic shutoff, and whisper-quiet activity.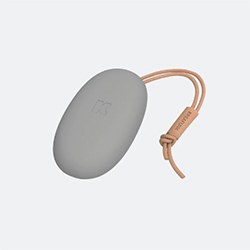 Undoubtedly one of the best white elephant gifts, this is one common utility you just can't do without. While most chargers focus on function without form, the Kreafunk is as fashionable as it is functional. The stylish mini power bank features a 3000 mAh lithium battery capable of charging tablets and smartphones in under three hours.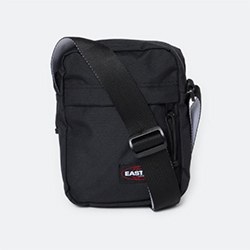 If you're thinking about handy white elephant gift ideas that are compact and functional, then the following gift is just what you've been looking for. The Eastpak One mini-bag is a multi-functional everyday bag for active people on the go. Featuring a 2.5L volume capacity, zippered closure and pockets, and convenient adjustable shoulder strap, this multi-functional bag is the perfect solution for hands-free travel.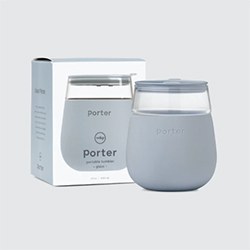 Perfect for taking drinks along for the ride, this elegant portable glass ensures not a single drop is spilled. Wine and cocktail lovers are sure to be drawn to the porter glass as they imagine sipping their favorite drop in the great outdoors. The glass itself is constructed from quality silicone and durable borosilicate glass and features a plastic lid with a convenient retractable drinking seal. Suitable for cold liquids, the porter glass holds a 15oz capacity and can be safely cleaned in a dishwasher.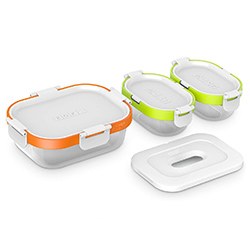 32. Storage Container Set
There are some white elephant gifts everyone will fight for, and believe it or not, this gift could be one of them! The Zoku Neat Stack is a seven-piece food storage set that can be safely used with dishwashers and microwaves. Transparent walls reveal contents without the need for opening, and leaking is eliminated with watertight lids and snap-on latches. The space-saving containers are stackable for convenient transport and storage, while the included lid-inset freezer pack keeps food chilled for hours.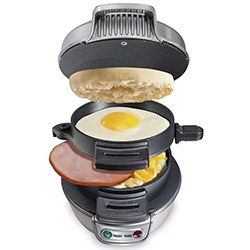 33. Breakfast Sandwich Maker
One of the best and most useful white elephant gift ideas is this convenient breakfast sandwich maker. The Hamilton Beach single will allow the lucky recipient to prepare delicious sandwiches with minimal time and effort. All removable parts are dishwasher safe and the non-stick surfaces are easy to wipe down.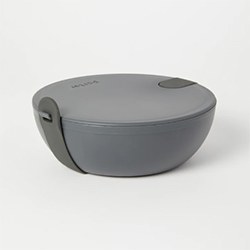 A gift idea that facilitates healthy eating, this beautiful portable lunch container is perfect for family and friends who take prepared meals to work. Whether for leftovers or food that's specifically prepared, your meal will be safe and cozy inside this elegant porter bowl. The 4.25 cup capacity bowl is secured with a snap-tight silicone strap, ensuring all of its contents are eaten by you and not your laptop. BPA-free and FDA approved, the lovely porter bowl is conveniently dishwasher safe and suitable for microwaving.
White Elephant Gift Ideas: Creative
The following creative white elephant gift ideas cover fun and unique options that most others wouldn't have thought of! From useful contemporary-designed utilities to some very special electronics, these intriguing items will entice and delight recipients, offering gifts that are creatively and wonderfully different.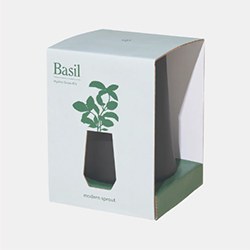 Are there a handful of budding green thumbs in your family or friendship group who don't have the space, time, or know-how for a garden? Help them easily grow fresh and delicious herbs with this awesome hydro grow kit. An amazing surprise to unwrap, the modern indoor grow kit produces a tasty organic basil plant. Inside the box they will find all the ingredients needed to grow a healthy thriving plant including basil seeds, plant food, glass vessel, growing medium, a stainless steel pot, carbon, and a wick.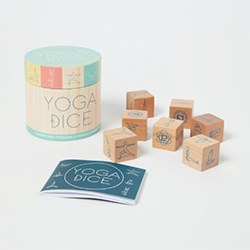 One of the most creative white elephant gift ideas, this unique set of dice will be swiftly snatched up by the yogi in your group. The set contains seven wooden dice featuring a variety of poses, from seated to balancing, and even a little twisting. Each dice aligns with a different chakra, offering endless inspiration for yoga practitioners of all experience levels.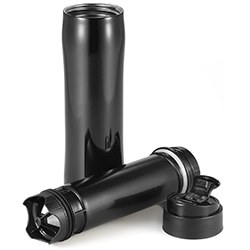 For those white elephant gift ideas that perfectly combine necessity and practicality, you can't go past a handy coffee press. The ideal solution for coffee lovers on the go, this is one gift that will change hands on more than one occasion. The portable French press features a sleek streamline design and a double-walled vacuum ensuring your coffee stays hot, or cold, if that's what you're after.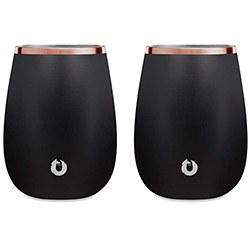 If you're searching for the best white elephant gifts that will appeal to anyone who enjoys a drink, then the next item is for you. The Snowfox stainless steel wine glasses are great for whites and reds, while on the go or at home, with great company, or even a quiet drink alone. Insulated to maintain optimal temperature, the glasses feature a thick-lipped rim for smooth drinking, with a 13oz capacity and a shatterproof design that reduces damage and prevents breakage.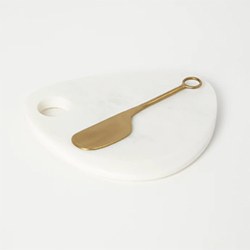 This gorgeous little gift is as delightful to use as it is displayed. The small marble board and spreader presents a beautiful white marble board paired with a coordinating brass spreader knife. Featuring a unique rounded triangular shape with organically curved edging, this gift will make for a luxurious cheese-eating experience.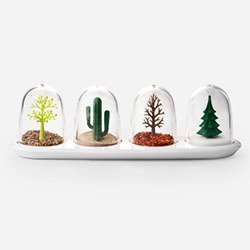 One of the best white elephant gift ideas which duly embrace the holiday season is this very fitting shaker set. The Four Seasons shaker set is a unique seasoning set inspired by the four seasons. Designed to match the tastes of spring, summer, fall, and winter, each shaker features season-specific flora to accompany a matching spice. Easy to use and clean, the set also includes a tray to conveniently store the shakers and for eye-catching tabletop display.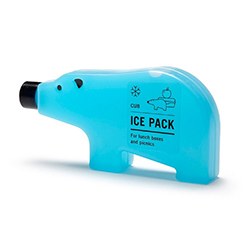 The following present is certainly one of the more creative white elephant gift ideas that will come in handy on hot summer days at the beach. The polar bear cub ice pack chills lunch boxes, picnic baskets, and iceboxes, keeping contents icy cool and fresh. The brilliant blue bear is made from BPA-free food-grade plastic and comes pre-filled with non-toxic fluid, so all you have to do is pop him in the freezer each time.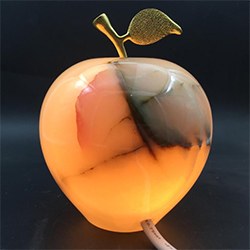 The following item is such a creatively unique gift, we can almost guarantee it has not been gifted before. Crafted from the faintest beautiful pale-green onyx, this eye-catching mini lamp has been designed in the shape of a delectable apple. The purposeful and decorative piece also features gold-toned stem and leaf details at the top, and with easy plug-in and go functionality, this striking mini lamp will add a soft warming glow to any room or space.
The following gift is without a doubt one of the most creative and unusual white elephant gift ideas that will be put to good use. Who doesn't have a favorite sweater or shirt that seems to continuously collect pilling?! The Steamery Pilo fabric shaver removes lint and excess fabric, leaving clothes smooth and looking brand new. Featuring an ergonomic design and fifty-minute lifespan, the nifty little fabric shaver makes removing pilling a breeze.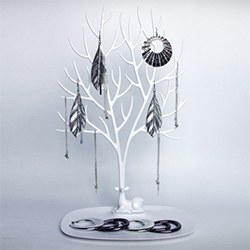 A beautiful and unique gift, this creatively designed accessories holder has been crafted in the shape of an elegant deer tree. Gracefully seated on the base of the tray, the deer's antlers then extend into strong and sturdy tree branches, just waiting to be adorned with accessories. This one of a kind decorative piece is designed to keep jewelry and accessories organized and displayed in an aesthetically pleasing way.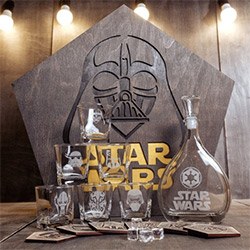 An idea sure to raise the eyebrows of every movie buff in your family, this unique gift is ready to unleash the force. Nerds and Star Wars fans alike will do friendly battle trying to get their mitts on this marvelous whiskey decanter. Made from high-quality European glass, the stunning laser engraved decanter is capable of holding 25oz of whiskey and will look awesome on any shelf or benchtop in the house.
White Elephant Gift Ideas: Under $50
If your white elephant gift exchange has an extended budget, it will most certainly broaden the scope of gifts to consider, allowing you to splurge on some luxurious presents. From contemporary electronics to lavish options for a bit of indulgence, you can be certain the following gifting options will be welcomed by all with open arms!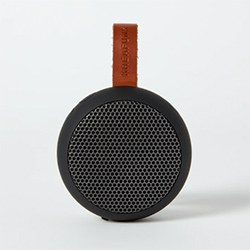 After a white elephant gift everyone will fight for? The Kreafunk aGO portable speaker will turn the passive family member, who only selects wrapped gifts, into a thief! Designed to be used in any environment, the wireless speaker features a splash-proof design with a sturdy outer shell. The aGO produces an immense sound for its size and features a ten-hour battery life for long-lasting playtime. Perfect for adventures, gatherings, and home use, this mini Bluetooth speaker is a buddy you can rely on to provide a smooth and immersive ambiance.
Covered in a durable 100% recycled fabric, the next of our white elephant gift ideas is the perfect smart speaker for every room in the house. Available in four charming colors, the Google Nest Mini can be used to conveniently play music, listen to sports, check out the news, and listen to podcasts. Responsive to voice commands, the smart device can even recognize a user's voice from across the room. While Google Assistant can be used to prompt an action, users are also able to connect and stream to Google Nest Mini from their smartphones.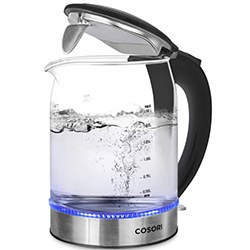 An ideal addition to any kitchen, this is one appliance the entire family will have their eye on. The Cosori electric kettle incorporates Stix Thermostat Technology, safely boiling an entire jug in three to seven minutes. Constructed from durable food-grade glass and stainless steel, no water touches plastic from boil to pour. The kettle features a wide opening lid, LED activity indicator, and boil-dry protection that turns the kettle off when empty. Durable, unique, and easy to clean, the Cosori kettle is the missing piece ready to complete every modern kitchen.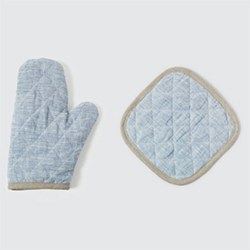 A beautiful gift that's perfect for bakers and cooks, this modern potholder set protects both the pots in your kitchen and the person it covers. Featuring a beautifully quilted design and a contemporary stonewashed finish, these linen holders are a fitting upgrade to the pair your family and friends have delayed replacing.
If it's modern and elegant white elephant gift ideas that you're after, this beautiful set of bowls is the perfect fit. The mini bowl set presents a striking set of marble and wood bowls that are as functional as they are artful. The collection includes white-wash and natural wood finish bowls, and stunning white and black marble bowls. These modern stackable bowls are ideal for sauces, snacks, and keeping cooking ingredients organized.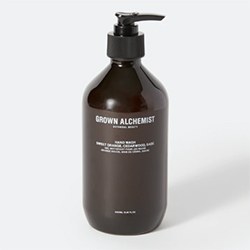 A practical gift with artisan flair, this beautiful hand wash is an ideal gift for anyone and everyone! 100% vegan, the sweet orange, cedarwood, and sage hand wash has been designed to gently nourish and soften skin. With every use, this nature-inspired hand wash will leave hands smelling delightfully enticing.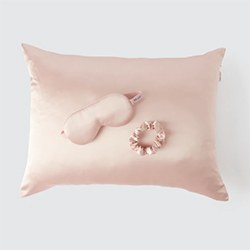 One of those gift exchange ideas that oozes rest and relaxation is this gorgeous satin sleep set. The Kitsch sleep bundle contains a standard size pillowcase, an eye mask, and a scrunchie, all made from 100% smooth satin polyester. Available in a beautiful soft feminine blush tone, this cute set is a frizz and crease-free solution to a blissful night's sleep and smooth morning.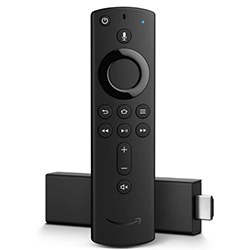 All the tech nerds will be lining up to steal the next gift idea as soon as the wrapping has been removed from the box. The Amazon Fire TV Stick 4K allows users to conveniently take their home entertainment with them on vacation or even to a friend's place! The 8GB stick houses all of your favorite content, while the included remote control performs the basic function of controlling your TV in addition to Alexa voice activation.
White Elephant Gift Ideas: Under $100
The ultimate gifting budget to work with, the following section contains unique and creative suggestions for recipients, all within an extensive $100 budget. From stylish utilities to very useful gadgets, these modern gifting options present one of kind, luxurious presents that are very special indeed.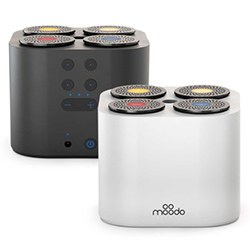 A white elephant gift everyone will fight for, this modern diffuser mixes and automates beautiful scents. The elegant Moodo smart aroma diffuser features sixty continuous hours of fragrance per capsule, operational by a power source, or with a long seven-hour battery life. The device can simultaneously house four capsules, which are available in over fifteen varieties. Moodo's smartphone app can be used to trigger a different scent morning, noon, and night, or mix different scents to create your own unique aroma.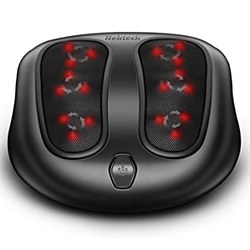 What could be better than the gift of unlimited massage? The Nekteck foot massager provides shiatsu therapy to the lucky feet resting on its surface. Featuring three levels of height adjustment, heat function, and a large operation button, the personal massager relieves foot pain from the comfort of home. The unit contains six heads with eighteen rotating nodes, a convenient carry hand, and a hideaway cord to reduce tangles when stored.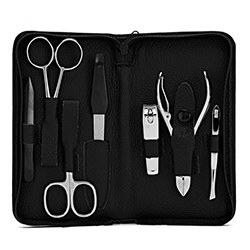 One of the best white elephant gifts for men, the Murdock London manicure set will have brothers, dads, and grandpas fighting for the prize. The charming seven-piece set contains all the tools needed to keep his fingers and face neat and tidy. Included in the comprehensive set are a pair of nail clippers, nail nippers, beard scissors, nose scissors, file, and tweezers. All tools are housed in an elegant black zip case, keeping them safe from dust and scratches.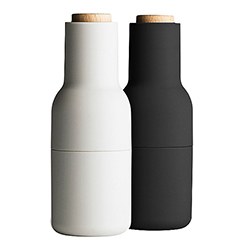 A household staple with a twist, this set of modern mill grinders presents everyday function with a unique surprise. The beautifully crafted bottle-shaped grinders have been designed with the grinding mills at the top, specifically constructed to eliminate waste and mess both during storage and when in use. Featuring a clean and minimalistic Scandinavian inspired design, this grinder set is available in six contemporary pairing options that will seamlessly blend into any kitchen or dining setting.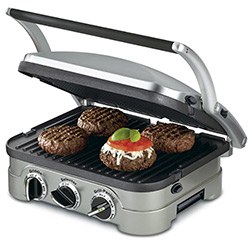 One of those white elephant gift ideas that will truly wow is the following amazing 5-in-1 appliance. The Cuisinart grill is the perfect compact grill that allows you to easily and conveniently create delicious meals. The multifunctional counter unit contains 5 cooking options including a contact grill, panini press, full grill, full griddle, and half grill/half griddle. Very straightforward to use, the grill features simple controls to select functions, including adjustable temperature controls and helpful indicator lights alerting when desired temperatures are reached. With the added convenience of non-stick, removable, dishwasher friendly plates, this is one handy gadget that will get plenty of good use!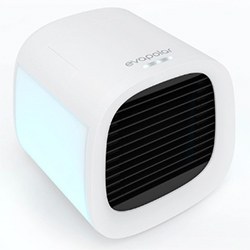 Useful, charming, compact, and portable the next idea is sure to become a gift exchange target for many family members and friends. A unique white elephant gift everyone will fight for, the Evapolar evaChilll is an evaporative air cooler that can be operated by a single button. The funky little cooler features four speed modes, super-quiet operation, LED side lighting, and a large tank for up to nine hours of cooling. An easy pour water funnel is stored inside the unit, while inorganic nanofibers prevent the growth of mold. The Evapolar evaChilll also features a carry handle for convenient portability and can be powered by socket, laptop, or power bank.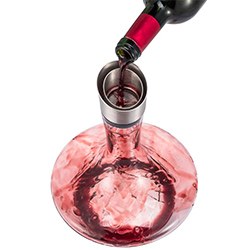 The final item on our white elephant gift ideas compilation is a beautifully designed wine decanter that is also capable of rapid aeration. Handblown from quality lead-free crystal glass, the stunning iceberg carafe elegantly pours wine over its stainless steel bottle stopper without spilling a drop. The decanter combines filtering, decanting, and pouring, removing oxygenates and sediment, while significantly reducing aeration time. Wine spreads down the bottleneck along the decanter wall creating a beautiful waterfall effect which also increases contact between wine and air. The decanter also comes with a drying stand and cleaning beads, ensuring the carafe stays clean and ready for the next bottle you wish to enjoy.
Searching for more than the Fun White Elephant Gift Ideas? Check out some of our other great list for more awesome gift ideas.