Wini Gifts is supported by our readers. At no additional cost to you, we may earn a small commission from the purchases you make using our links.
Learn more
From playful and quirky homewares and decor to elegant and stylish wearables and accessories, we have compiled the most unique and interesting French bulldog gifts any dog owner will be swooning over! Very easy to fall in love with, these wide-eyed affectionate and playful creatures are certainly not shy of the limelight and always enjoy a good cuddle. Whether you're a French bulldog breeder, doting owner, or just a huge fan of this cute little pup, we are sure you'll find the perfect gift to satisfy your craving for this lovable breed.
From stylish accessories to comfy lounging gear, the following section contains an amazing selection of gifts for French bulldog lovers, all inspired by their number one pet and companion.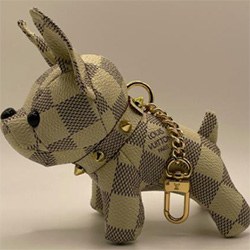 Exuding effortless style in miniature form is this super cute French bulldog keyring. The one-of-a-kind luxury-inspired keychain presents an elegant pup decked out in iconic haute couture. This gorgeous sophisticated charm features striking gold hardware and branding and is available in 4 stylish letter and 3 classic grid patterns to complement any bag as a bag charm or used as an elegant keyring.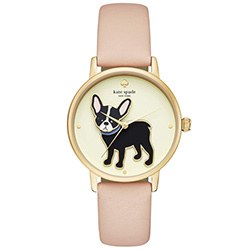 This charming and stylish Kate Spade New York watch is the only timepiece any Frenchie lover will want to be seen wearing. The elegant Quartz watch presents a beautiful French bulldog-inspired design with a touch of effortless chic style. Featuring a stunning gold plated stainless steel case with an adjustable Vachetta leather strap, mother of pearl dial face, and iconic Kate Spade New York branding, this lovely watch is also water-resistant up to 30 meters for all day, everyday wear.
Bubbling with French bulldog love, this artistic tee is perfect for any Frenchie fan who appreciates creativity in addition to all things cute and cuddly. Available in men's and women's styles, the comfortable T-shirt is made from fine jersey cotton, while the print design is also available in
gray
, and
brown
colored doggy alternatives.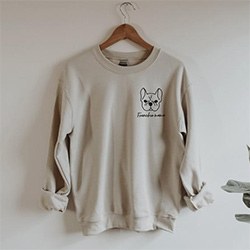 You will be hard-pressed to find a better wearable French bulldog gift than this stylish sweatshirt. The Frenchie Mama long sleeve will be worn with pride, boasting their love for their favorite little dog. True to size, the laidback sweatshirt is a cotton-polyester blend featuring a rich sharp Frenchie print.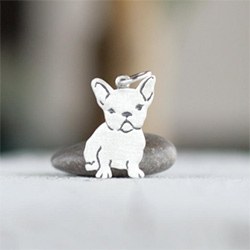 The perfect gift that will allow you to always carry your favorite companion close to your heart is this delightful French bulldog necklace. This pretty accessory presents a beautifully designed French bulldog pendant, minimalist in style, yet featuring just enough fine detailing to precisely depict this charming creature. Expertly handcrafted from premium sterling silver, this lovely pendant comes with a pretty cable chain, elegantly gift boxed, and ready for gifting someone special or treating yourself.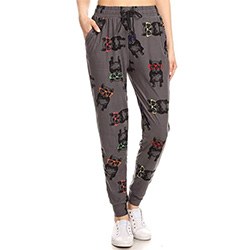 These funky joggers will make the perfect Christmas or Birthday gift for a doting French bulldog mom. These amazing lounging pants present a fun and vibrant design featuring French bulldogs sporting different colored sunglasses in a lively and youthful pattern. Super comfortable and flexible, the premium joggers are made from high-quality stretchy fabric and feature a stylish high waistband and tapered cuffs. These cozy joggers are just as perfect for daily walks with her best friend as they are for enjoying casual weekends at home.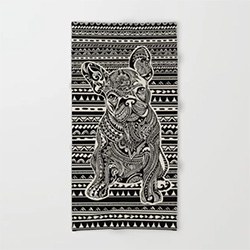 Fluffy, soft, and super absorbent, your Frenchie dog lover can enjoy a bathing experience that's a little more stylish. Featuring a creative tribal-inspired design of their beloved French Bulldog, the eye-catching design is also available as a hand towel, and in a bundled set of four.
If you're searching for French bulldog stuff with an element of quirk, these playful socks will be right up your alley. The Olympic Lifting Frenchie socks present an amusing pattern featuring a series of illustrated French bulldog's heavy lifting! Crafted from a very soft and comfy stretch knit, these fun crew cut socks include reinforced toes and heels for additional cushioning and all-day comfort and style.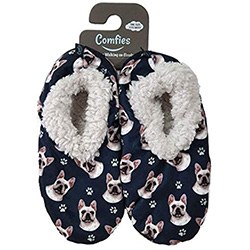 If you're searching for super comfy and super cute French bulldog gifts you can't go past these adorable women's slippers. The doggy-inspired design presents a beautiful pattern of white French bulldogs and pawprints over a dark navy background. Made from high-quality plush material that is super snuggly and warm, these slippers have been designed with durability and comfort in mind and will feel like you're walking on clouds! Featuring a protective non-skid bottom, these charming home slippers are conveniently machine washable and also available in a variety of sizing options.
A perfect blend of playful and rugged, this minimalist leather patch hat features their four-legged friend in iconic silhouette form. Keeping your Frenchie fan protected from the sun, the mesh backing provides breathability, while the snapback closure guarantees a snug fit.
From the most delectable little pouch to a cute novelty coffee mug, the following section contains a great selection of fun and playful gifts featuring their favorite breed of dog.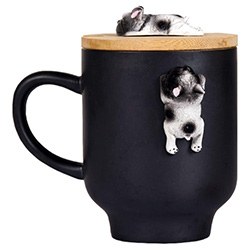 This novelty French bulldog mug is designed to make each morning a little easier, allowing a Frenchie lover to enjoy their special cup of joe. What sets this coffee mug apart from all the others? Other than its unique bamboo lid, the adorable design contains a miniature French bulldog on both the cup and cover.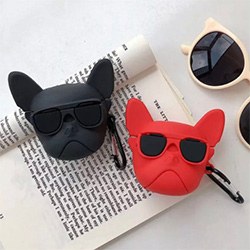 One of the best French bulldog gifts for AirPods owners, this cool protective case is perfect for your loved ones' birthday and as a creative Christmas stocking stuffer. The 3D silicone case depicts a cartoon-style Frenchie chilling in sunglasses, while stylishly protecting their gear from bumps, scratches, and drops.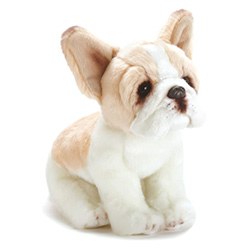 A perfect gift for the French bulldog lover on your friends' list, this adorable pet plush is a playtime friend for kids and adults alike. Unlike many modern toys, this Frenchie plush accepts no batteries, nor does it need to be plugged into the wall! With its lifelike features and airbrushed accents, the adorable little dog is soft and cuddly for snuggles, and highly realistic for an authentic feel.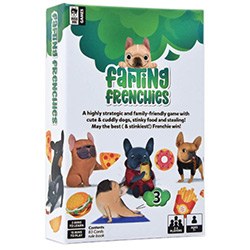 Farting Frenchies is a humorous competitive card game French bulldog enthusiasts of all ages can enjoy. The main objective of the game is to build the largest farty dog squad, achieved by collecting, matching, nullifying, and stealing from other players!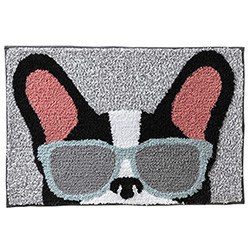 This playful rug screams Frenchie love through and through featuring a large, bold modern design of a French bulldog wearing a pair of stylish sunglasses. The soft, tufted design is perfect for use in the bathroom, entryway, or even a nursery or playroom, oozing cool cuteness throughout your home.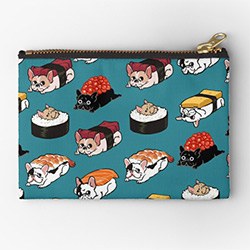 Dog lovers everywhere will be drooling over this adorable sushi platter! The playful pouch presents a fun and vibrant double-sided design presenting a lovely assortment of French bulldogs dressed as nigiri, gunkan maki, and hosomaki delicacies. Made from durable polyester canvas with a sturdy metal zipper, this vibrant mini pouch is available in 3 sizes and the perfect accessory for storing makeup, stationery, small electronics, and much more.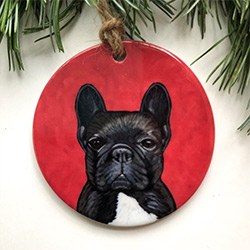 This charming French bulldog ornament is a must-have decoration every proud owner will want to flaunt this Christmas. The custom decorative piece presents a sleek round ornament featuring a beautiful French bulldog illustrated portrait personalized with your best friend's name and the year if you wish. Expertly designed on a 2.75-inch ceramic disc with hand-lettered details in a fade-resistant paint pen, this lovely keepsake ornament is available with either brindle or cream Frenchies on a choice of 3 complementary colored backgrounds.
If you're searching for the perfect French bulldog gifts to style your living and office spaces with your favorite pet, the below section contains a creative selection of homewares and decor to brighten any environment.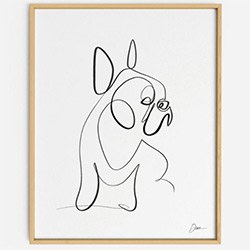 This unique French bulldog art piece presents a stunning, one-of-a-kind design that is bound to receive plenty of compliments. The beautiful hand-drawn illustration presents a minimalist style design artistically created from a single calligraphy line. This creative artwork is printed on premium bright white matte paper using archival ink and is available in a wide range of sizing options to suit any interior space. Alternatively, this vibrant
baby French bulldog watercolor illustration
will add a burst of color and life to any room.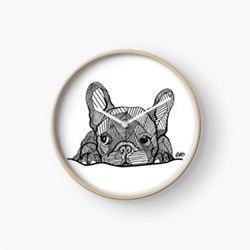 An original gift for a dog lover obsessed with Frenchies, this beautiful puppy wall clock is adorned with a face that's so cute they will spend hours just staring at the time. The cute pup clock has three frame color options to select from, operating on a Quartz mechanism, and ready to hang straight out of the box.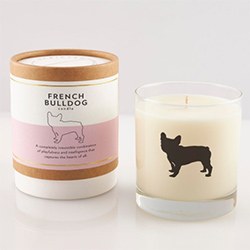 As much as we love these delightful furry companions, every French bulldog owner knows that sometimes.. smells happen. A wonderful lighthearted gift, perfect for a Frenchie mom this Christmas is this charming scented candle. This French bulldog-inspired candle presents an enticing blend of wildflowers, natural greens, and cool summer air. Each candle is hand-poured, made from 100% soy wax, premium fragrances and essential oils, with a lead-free cotton wick. Housed in a stylish reusable signature branded glass and featuring a generous 50 hour burn time, this lovely candle is beautifully packaged in an elegant gift box with modern gold foiling and embossed details.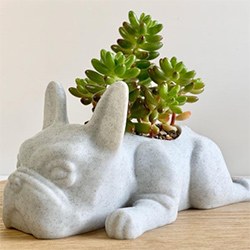 Does your intended recipient love flowers? This amazing little piece of French bulldog merchandise is perfect for housing cacti, succulents, and asparagus ferns. Available in black, white, and chocolate, their favorite pet dog breed is depicted laying on his tummy, just waiting for someone to come along and give him a scratch.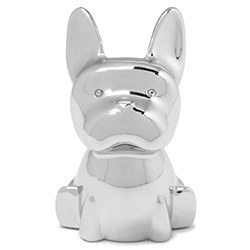 The only other guardian any Frenchie mom wants protecting her precious rings is this charming little companion. The unique ring holder presents a playful and whimsical dog-inspired design featuring a beautifully crafted French bulldog-shaped ring holder. With a sturdy metal construction and modern, shiny chrome finish, this petite holder can store multiple rings on the dog's tail and is the perfect gift for birthdays, Valentine's Day, Mother's Day.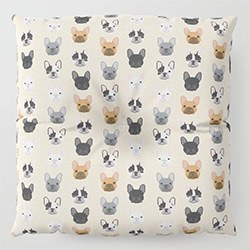 Decorated in black, brown, and white Frenchies, this beautiful floor pillow is the perfect portable seat for use throughout their home. The colorful repeating pattern is contrasted by a muted pastel-toned backdrop, allowing the visual to pop whether positioned on the floor, or as a sofa furnishing.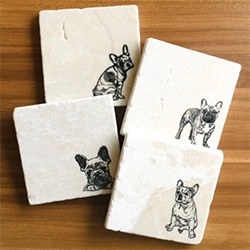 One of the loveliest French bulldog gifts functioning as both a practical utility and decorative statement to your loyalty are these stylish doggy coasters. The artistic set of coasters present a series of 4 unique French bulldog illustrations adorning the corner of each square tile. Crafted from chic tumbled marble, these coasters present a naturally textured stone that is slightly raw in appearance, with a lacquer applied to protect each design and a corked bottom to prevent sliding and protect surfaces.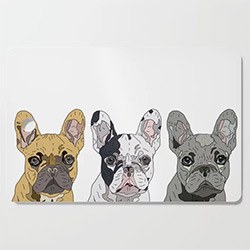 A functional and one-of-a-kind gift for a French bulldog lover that will add a touch of playfulness to their kitchen and food prep is this fun cutting board! The eye-catching board presents a unique design featuring a durable Baltic birchwood side for everyday use, and a lively triple French bulldog illustration on a smooth satin reverse. This creative cutting board also includes a 1-inch hole, perfect for hanging display or easy handling use as an attractive serving board.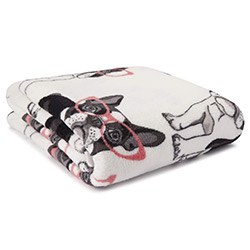 Any Frenchie fan will enjoy snuggling up with this cozy blanket featuring none other than their loyal companion. This delightful throw blanket presents a beautiful whimsical design featuring a wide-eyed and attentive French bulldog wearing a striking pair of pink glasses. Made from a super cozy and snuggly coral fleece, this fun throw measures 50 x 60 inches and is the perfect doggy-inspired accent for your sofa or bed.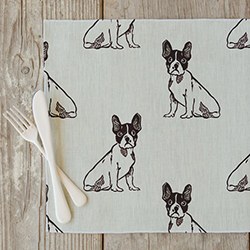 What could make dining more exciting than adorning your tablescape with your favorite dog? These charming placemats present a simple, yet elegant design featuring a white French bulldog pattern that will add a playful touch to any room. Printed on a choice of premium cotton, luxury linen, or premium lightweight linen, these beautiful placemats are finished with a stylish crisp narrow rolled-edge hem in coordinating thread color.
From a quirky notebook to a playful backpack, the following section contains a wonderful selection of travel and utility gifts for French bulldog lovers that will make them swoon over their beloved pet all the more.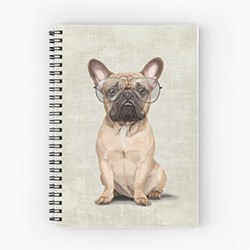 One of the most charming French bulldog gifts to grace our list is this dapper young gentleman. Adorning the cover of this delightful notebook is a beautiful illustration featuring a smart and alert French bulldog that means business! Perfect for journaling, note-taking, or To-Do lists, the playfully designed 120-page notebook is available in a choice of ruled or graph pages and also includes a handy document pocket inside the back cover.
Whether you're hitting the shops, on your regular commute, or simply chilling on the weekend, you'll want to have this loyal French bulldog mug by your side. Dog lovers will be head over heels for this adorable coffee mug featuring a very cute and wide-eyed black French bulldog. Using a creative mix of water-soluble crayons and acrylic paint, the beautiful mixed media painting presents an eye-catching wraparound design on the insulated stainless steel travel mug. Holding up to 15 oz of beverage, this handy mug also includes a removable lid and is conveniently dishwasher safe.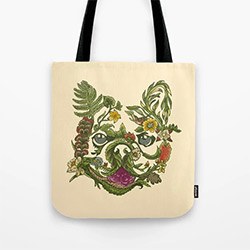 What could be better than a stylish tote sporting Frenchie love for the world to see? Perfect for groceries, books, and daily accessories, this highly creative tote bag presents a vibrant, artistic design of your favorite dog depicted within a unique botanic silhouette. Crafted from lightweight, yet durable canvas, the striking tote includes double-stitched reinforced seams with a hardwearing carry strap and a high-quality print that will never fade.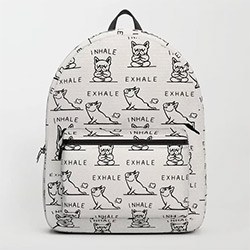 One of the most amusing gifts for French bulldog lovers, this versatile backpack is a playful utility they will enjoy carting around. The Inhale Exhale backpack presents a lighthearted patterned design featuring a French bulldog in meditative and very relaxed positions! Crafted from durable spun poly fabric, this hard-wearing backpack includes both front and interior pockets, strong adjustable shoulder straps, and padded nylon back and bottom for comfortable all-day wear.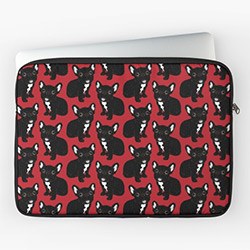 If you're searching for a purposeful and creative French bulldog gift, this brindle Frenchie laptop sleeve offers the best of both. Adorned with an adorable wide-eyed black French bulldog puppy, the case features a high-quality print, containing protective foam padding, stylish black hardware, and can accommodate 15-inch Macbooks and laptops.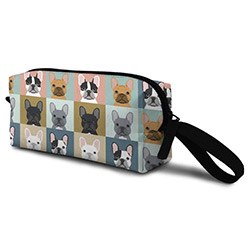 A lovely Christmas gift full of Frenchie love is this gorgeous toiletry bag. The compact and multifunctional clutch presents a striking design featuring a beautiful pastel-toned checkered pattern of adorable French bulldogs. Made from durable and waterproof Oxford cloth with a high-quality zipper and handy strap, this lightweight and versatile bag is perfect for carrying toiletries, makeup, stationery, or small accessories.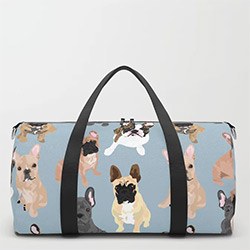 The perfect gift for a French bulldog lover who regularly packs for the road, this duffle bag offers plenty of storage space and a bold, unique print starring their favorite breed. Available in three spacious sizes, the bag features an adjustable shoulder strap, sturdy carry handles, a handy interior pocket, and stylish brushed metal hardware.
Even when clear skies turn grey, Frenchie lovers can flaunt their adoration with this charming dog-inspired umbrella. Fusing practicality and style, the fashionable umbrella presents a clear birdcage bubble design featuring a couple of French bulldogs making a subtle appearance. Made from high-quality, durable materials, the ergonomically designed umbrella is also windproof, ensuring you never have to deal with an inverted umbrella again! Compact, and lightweight, this stylish Frenchie accessory will ensure you're well protected without ever losing visibility.
Searching for more than Fantastic French Bulldog Gifts? Check out some of our other great list for more awesome gift ideas.