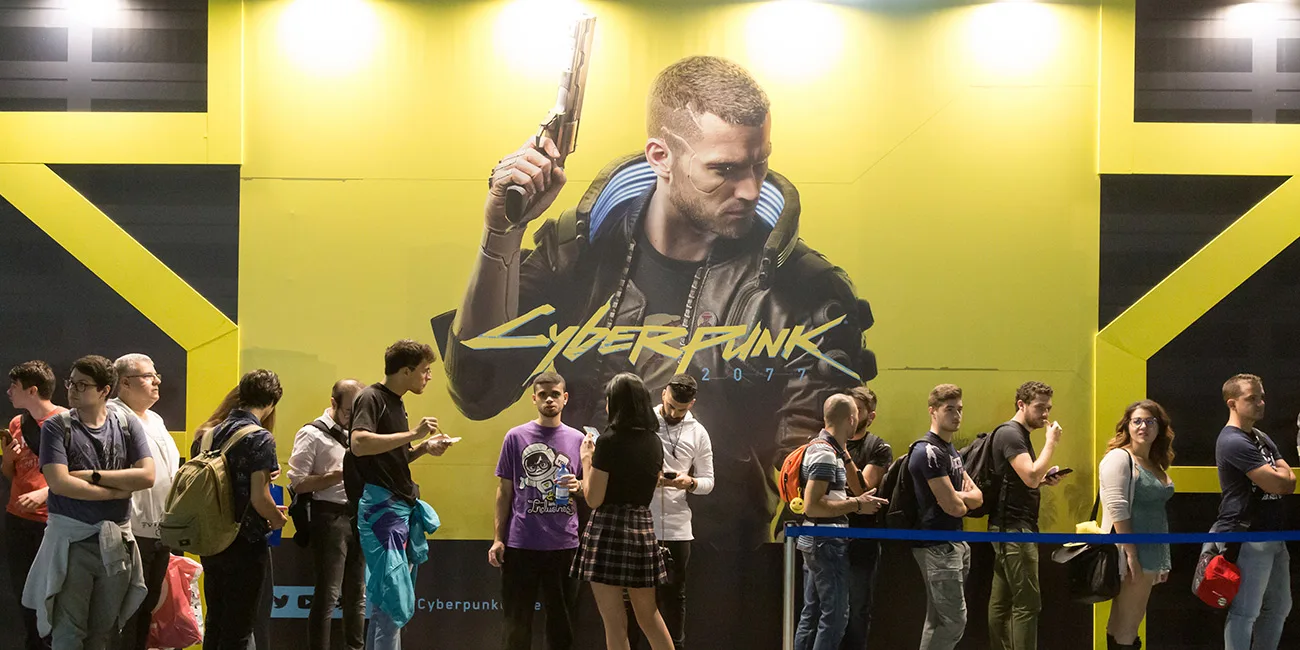 Wini Gifts is supported by our readers. At no additional cost to you, we may earn a small commission from the purchases you make using our links.
Learn more
If you're searching for the best Cyberpunk 2077 merch available, we have created the ultimate list of goodies to satisfy your craving! From striking figurines and eye-catching display pieces to stylish accessories and captivating Night City guides, below you will find a plethora of Cyberpunk merchandise for family, friends, and perhaps even yourself.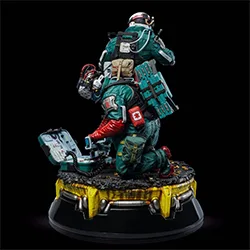 Hand-painted and featuring unrivaled details, this premium Cyberpunk 2077 action figure is always on call. Standing an astonishing 15-inches tall, the Trauma Team Elite Response Unit figure depicts one member standing guard as the other gets to work. One of the most breathtaking action figures, each element has been finely crafted and thoroughly thought out – from textured uniforms to the intricacies of their helmets.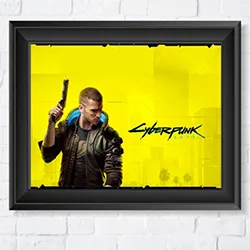 Featuring V, the main protagonist, this quality art print is perfect for man caves, gaming rooms, and any place requiring a vibrant gaming makeover. The unofficial Cyberpunk 2077 merch decor is available in both A1 and A2 sizes and comes printed on a choice of premium 180gsm Photo Matte or 190gsm Photo Satin paper.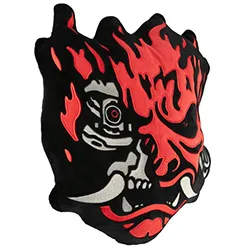 One of the coolest officially licensed Cyberpunk 2077 merch gifts, this Samurai plush pillow is a perfect addition to any lounge chair in need of extra cushioning. The cuddly and cozy plush is made from velboa fabric, offering a soft comfortable finish and a way to fight back against boring floral throw pillows. The front of the plush features the Oni image logo, while the rear contains Cyberpunk branding and the Samurai font logo.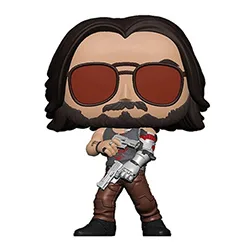 4. Johnny Silverhand POP!
The most breathtaking Funko POP! of them all, this Keanu Reeves inspired rock rebel is the perfect addition to any POP! Vinyl Collection. Standing boldly in action-pose, Johnny Silverhand is depicted wearing his stylish shades and holding two pistols, ready for the next gunfight.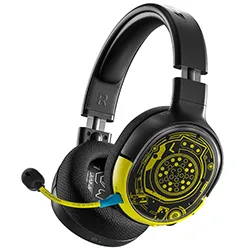 The headset of choice for savvy computer hackers, this SteelSeries Arctis 1 Netrunner Edition gaming headset will elevate your gaming experience. Featuring signature Arctis sound quality, the headset offers over twenty hours of battery life, on-ear controls, a steel-reinforced headband, and a detachable microphone. The limited-edition design contains bold Cyberpunk 2077 branding on top of the headband, vibrant Netrunner themed earcups exteriors, and Netrunner designed ear placements for cool finishing touches. Perfect for gamers that enjoy a multitude of platforms, this gaming headset is compatible with Playstation, PC, Nintendo Switch, and Android devices.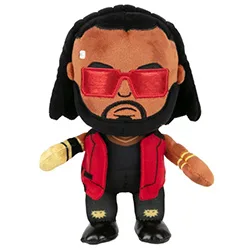 Wearing his iconic red sunglasses, this Dexter DeShawn is your personal fixer pal waiting to connect you with some of the shadiest characters in Night City. The funky and cuddly detailed plush stands 9 inches tall and is constructed from a combination of soft polyester, rayon, and tricot. Not the guy you're looking for? Not to worry, you can choose
Johnny Silverhand
,
Royce
, or a
Trauma Team
Security Specialist.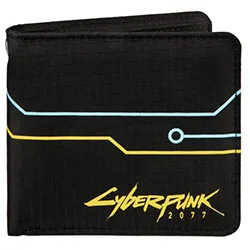 If you're after a Cyberpunk 2077 merch gift for yourself, a friend, or a loved one, you can't go past this sturdy bi-fold wallet. The durable wallet features a streamlined lightweight design that accommodates notes and four cards, including a translucent ID slot. Officially licensed, the hacker themed design incorporates the blue and yellow neon theme with a sleek black material foundation.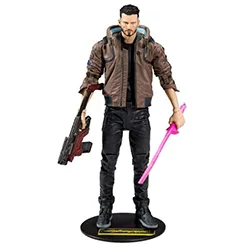 Standing seven inches tall, the default male V action figure is designed with over twenty moving parts for maximum articulations. This amazing action figure comes equipped with awesome weapons which include the Kang Tao G-58 Dian SMG, the Militech M221 Saratoga pistol, and an Arasaka Thermal Katana. In addition to the detachable weapons, V comes with a circular base containing Cyberpunk 2077 branding, which is perfect for display.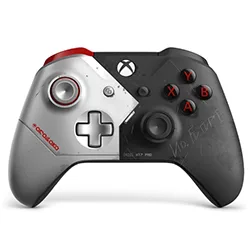 Inspired by Johnny Silverhand and his cybernetic arm, the Cyberpunk 2077 Xbox One controller reflects a rugged Arasaka corporation themed design. Compatible with Xbox One, Xbox Series X, and Windows 10, the limited edition controller features custom mapping which is controlled via the Xbox Accessories app.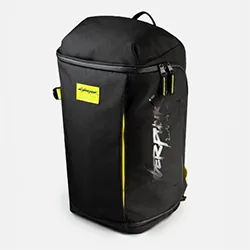 A popular Cyberpunk 2077 gift idea perfect for Christmas and birthdays, this functional backpack bears the subtle game markings on both the rear and side panel. The durable twenty-liter capacity backpack is constructed from Cordula 420D nylon, ensuring the backpack is lightweight, strong, and water-resistant. The key feature of the bag is its extensive organizational capacity, offering thirteen separate compartments for convenient storage and access.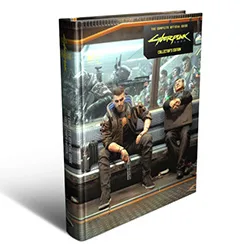 Most helpful of all Cyberpunk 2077 merch, the Official Guide Collector's Edition ensures all of Night City's secrets are revealed. Delivered on quality art paper between a hardcover shell, the comprehensive guide allows players to work their way through the game without missing a thing. The guide delivers a streamlined progression which includes branching paths and all endings completely mapped out while remaining sensitive to potential spoilers. In addition to the endless strategies and walkthroughs, the guide includes concept art and a hi-res map marked with points of interest and collectibles.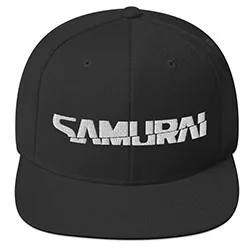 Available in black, grey, and maroon, this unofficial Cyberpunk 2077 snapback hat bears the markings of Samurai, the famous rock band of Johnny Silverhand. Made from an acrylic and wool blend, the stylish one size fits all hat features a plastic snapback closure, classic flat brim, and a green under-visor for a contrasting pop.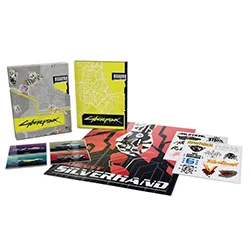 Filled with rich art, history, and story insight, the reader is transported into the world of Night City where cyberware and weapons are necessary tools for survival. The World of Cyberpunk 2077 Deluxe Edition sets the scene for what's to come, providing a detailed background of how the city evolved to its current state. The set is centered around the hardcover book which features a map of Night City on its vibrant yellow cover. In addition, the deluxe edition includes postcards of four Night City vehicles: Archer, Thornton, Rayfield, and Quadra, a creative Johnny Silverhand poster, and temporary tattoos of the various gangs running rampant in Night City.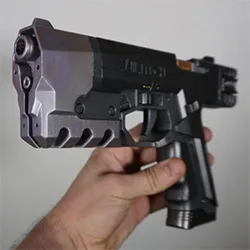 14. Militech M-10AF Lexington
One of the most jaw-dropping unofficial Cyberpunk 2077 merch items available, the Militech M-10AF Lexington replica brings the game to life. Equipped with a removable magazine, bullets, and functioning trigger, the 3D printed plastic model is the ultimate gift for Cyberpunk fans.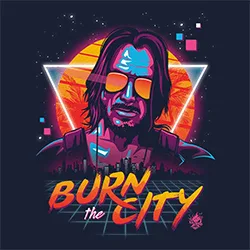 Designed in classic synthwave fashion, this retro style T-shirt is based on Johnny Silverhand proclaiming "we have a city to burn". The stylish tee features vibrant color tones and is available in six base fabric colors including: black, charcoal, dark chocolate, deep royal, military green, and navy.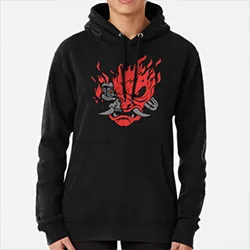 The perfect Cyberpunk 2077 merch apparel for when it's too warm for a jacket, but a little too cold for a Tee. This lightweight hoodie is a great solution, both breathable, yet warm and ideal for milder temperatures. The design showcases the Samurai logo from the iconic rock band lead by the legendary johnny silverhand.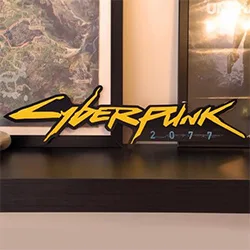 Ideal for decorating a console surface, bedroom wall, or gaming room shelf, this vibrant Cyberpunk 2077 laser cut sign boasts a sleek glossy finish. Available in two sizes; 5.2-inch and 1.5-inch, the 3D sign is constructed using acrylic pieces, which are assembled to craft a striking solid work of art.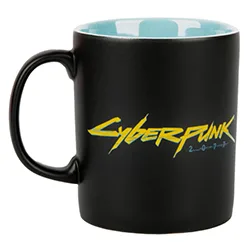 Perfect for a coffee or tea drinking Cyberpunk fan, this official ceramic mug will make your daily brew that much more enjoyable. Featuring Cyberpunk 2077 branding printed to withstand fading, the mug is finshed with a teal glass interior and matte black exterior.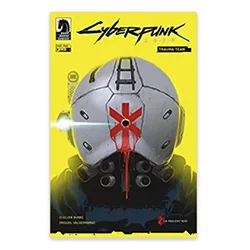 The first of a series of four from Dark Horse comics, the Cyberpunk 2077 Trauma Team comic book follows the story of Nadia, an EMT assistant. Trauma Team International specializes in rapid response medical services, extracting high profile clients from high-risk scenarios. The comic is filled with interesting peripheral characters and features amazing art and visuals that align with the video game.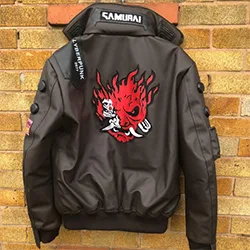 The most playful Cyberpunk 2077 merch item on our list, this detailed cosplay coat resembles V's jacket as worn in the game. Made from faux leather, the jacket is decked out with Samurai branding and various tags and patches, giving off a true Cyberpunk vibe.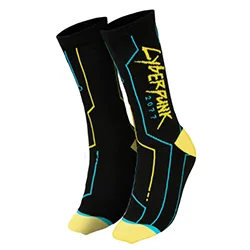 For the feet of those with and without cybernetic enhancements, the officially licensed Cyber Tech socks are vibrant and cozy. Made from a cotton, elastic, nylon, and spandex blend, the socks contain the Cyberpunk logo and are available in one size fits most. If you're after something a little more adventurous, the
Samurai On The Run
socks feature the bold Samurai logo in a rich red design.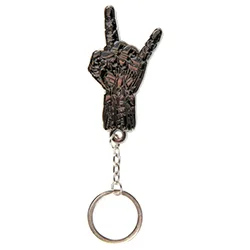 Breathe life into a boring collection of keys with a traditional rock salute crafted in modern Cyberpunk fashion. The Johnny Silverhand keychain features a relief cut design containing detailed cyber elements etched on a metal surface.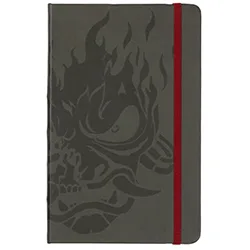 Perfect for note keeping and capturing imaginative inspiration, a new journal is a perfect tool for creative fans. The Dark Samurai journal features debossed cover logo art, 192 lined pages, and an elastic cover strap to keep the journal closed.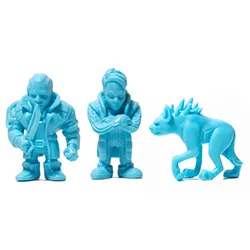 Vibrant, intimidating, and finely detailed, this cool set of Voodoo Boys characters are perfect for play or display. Standing two inches tall, the miniature figures include Placide, Bridgette, and their hyena. If you prefer their Animal rivals, this set of Monos is showcased in a bright orange design.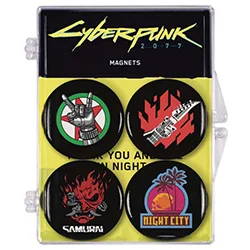 A decorative Cyberpunk 2077 merch item, this gritty set of fridge magnets are sure to look amazing on any metallic surface. The miniature magnets feature four unique designs, ranging from the Samurai logo to the rock and roll hand salute.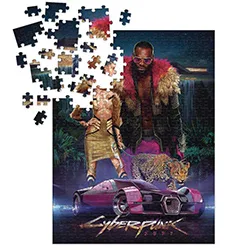 What has one-thousand pieces and comes together to form an amazing piece of artwork? This Neokitsch style Cyberpunk puzzle of course. Depicting Night City characters draped in luxury and style, the stunning final design measures 27 inches tall and 20 inches wide.
Searching for more than the Cyberpunk 2077 Merch? Check out some of our other great list for more awesome gift ideas.