Wini Gifts is supported by our readers. At no additional cost to you, we may earn a small commission from the purchases you make using our links.
Learn more
Vibrant and endearing accessories and utilities to fun and playful novelties and decor, our curated gift guide contains cow gifts perfect for anyone obsessed with this intelligent farm animal. These wonderful animals are friendly and curious by nature, making it very easy to fall in love with this gentle bovine. Cows, and their male counterparts bulls, come in many different breeds, shapes, and sizes, so we have included all kinds of unique, stylish, lively, and entertaining cow-inspired pieces that every cow fanatic is bound to be moo-ved by.
From vibrant, and artistic tote bags and T-shirts to sweet and dainty jewelry and everyday essentials, the following gifts for cow lovers contain gorgeous personal accessories that will get plenty of adoration.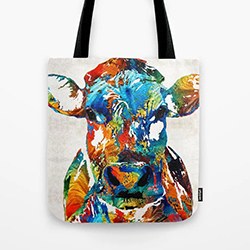 This gorgeous artistic tote bag is a great gift that is sure to make a bold and impactful statement! The creative cow design presents a beautiful vibrant colored cow with an intense and captivating gaze that is bound to catch anyone's attention. The abstract artwork employs a unique mixed media design, printed on fade-resistant, lightweight, yet hard-wearing poly-poplin fabric that is reinforced with double-stitched seams for further durability. The perfect accessory for beach days, grocery shopping, or study books, this stunning tote will proudly and boldly display your adoration for the humble cow.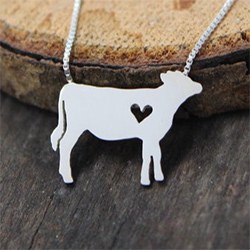 A charming necklace for your cow-loving sweetheart this Valentine's day is this dainty little necklace. The beautiful necklace features a distinct yet graceful silhouette of a cow with a pretty love heart cutout. Uniquely handcrafted using the delicate wax casting method, this charming pendant comes with the option of a box or Rolo chain and is the perfect way to keep a favorite creature close to your heart. This creative
Highland cow necklace
is a unique alternative presenting an artistic wire design.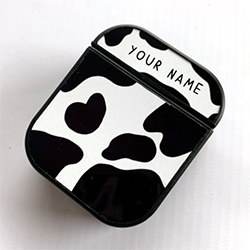 When it comes to small and stylish cow gift ideas, this personalized AirPods case is sure to be a great hit. The storage box presents a durable, hardwearing case to safely and securely store and charge precious AirPods. Featuring a striking iconic cow print design with an attractive slight shimmery finish, each case is uniquely customized to feature a name or nickname and is available in Airpods Gen 1, Gen 2, and Pro casing options. If you're looking for a coordinating gift set, this lovely
cow print phone case
presents a delightful matching print design to perfectly coordinate accessories.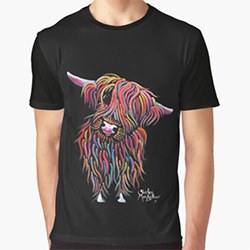 Starring Bolly the hairy cow, this colorful masterpiece has to be one of the most eye-catching Highland cow gifts we've seen, no bull! The T-shirt is a boxy fit for comfortable everyday wear, while the vibrant high-quality print can be placed on the front or the back.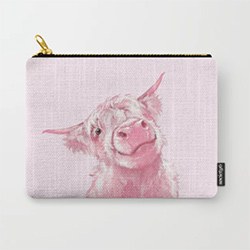 One of the most charming cow gifts that scream kawaii is this adorable carry-all pouch. The versatile pouch presents a creative design combining a mix of realism and whimsical cuteness featuring a very friendly and inquisitive Highland cow in pretty pink tones. Made from durable canvas with a soft black interior lining and faux leather pull tab, this lovely pouch is available in 3 convenient sizing options, perfect for stationery, toiletries, or small electronics.
From a stylish, eye-catching backpack to a playful mini fridge and tabletop vacuum, the following section contains cute cow-themed gifts for use at home and whilst on the go.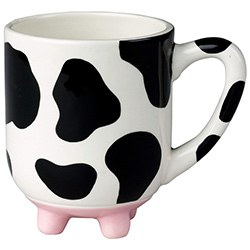 Adorned in a Holstein Friesian style design, this creative cow-themed mug stands on feet resembling udders. Ideal for a coffee lover who enjoys generous volumes, the ceramic cow mug holds 20oz and is secured with non-skid silicone grippers. The handle is spacious and easy to hold, while the lively pattern adds texture to the kitchen when not in use. This
happy cow face mug
is an equally cute alternative gifting option if you prefer to be greeted with a smile over udders each morning.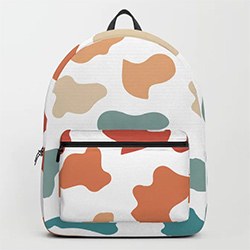 This unique cow-inspired backpack presents a stylishly abstract and artistic approach in design. The retro-inspired backpack features a bold and vibrant rainbow pattern design that is bound to stand out in a crowd. Featuring heavy-duty construction, this hard-wearing backpack is crafted from durable spun poly fabric and includes both interior and front pockets, adjustable shoulder straps, and a padded nylon bottom and back for all-day comfortable wear.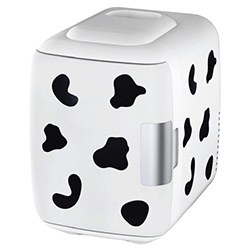 Perfect for drinks, snacks, and personal care items, the portable cow-themed Cooluli mini fridge stores four liters of contents while operating in near silence. Doubling as a warmer, the energy-efficient fridge can be powered via a wall outlet, car lighter, and even power bank.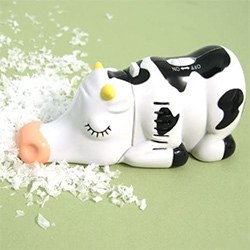 One of the most innovative gifts for women and men who adore cows and farm animals, this novelty item is both a powerful vacuum and unique coffee table decor. Enjoying an afternoon nap, the mini tabletop vacuum uses her snout to clean dust and crumbs.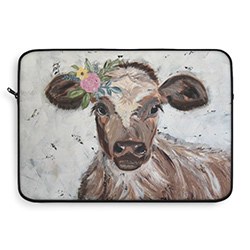 What could be more appealing than having your favorite animal encasing your precious laptop? One of the most elegant cow gifts to grace our gift list is this pretty laptop cover. Gracing the front cover is a beautifully painted illustration of a peaceful cow, created with delicate brush strokes in soft pastel tones. Made from 100% polyester with a black backing, and available in a variety of sizing options, this stylish companion will graciously protect laptops from scratches and minor impacts.
This playful coffee mug is exactly what cow lovers need when drinking their freshly brewed beverage on the go. Guaranteed to capture a few laughs from colleagues and onlookers, the travel mug is wrapped in a nosey Jersey cow print and topped with a secure lid. The insulated stainless steel construction is easy on the hands while providing heat retention so their coffee stays warm longer.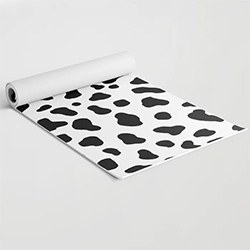 If it's cow themed gifts for a dedicated yogi that you seek, then a cow-patterned yoga mat will be right up their alley. Free from heavy metals and latex, the design is sure to turn a few heads when it's first unrolled in their frequented studio. The lightweight and durable yoga mat is accompanied by a woven polyester carry strap, for the added convenience of hands-free carry.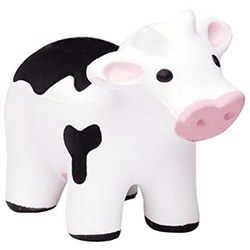 This is one dairy cow that will make those long, hard days just a little bit less stressful. Featuring a cute and friendly bovine, this foam stress toy is the perfect tool for cow lovers to re-moo-ve the stress after a busy day. Made from a very soft and squishy material, this novelty stress aid will find a comfortable grazing patch on your desktop or bedside, just waiting for her next squeeze.
From adorable plushies and toys to fun moo-themed accessories for bedrooms or bathtime, the following delightful cow gifts for children will inject playfulness and joy into the lives of little ones and adults alike.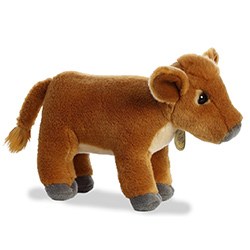 Short of a pet cow, a super cute cow teddy is the best gift your bovine obsessed loved one can receive. This miniature Jersey calf plushie is a perfect home companion, ideal for children and adults who are still young at heart. Sturdy legs ensure the calf remains upright, while the true-to-life design is more replica than cartoon depiction.
Playfully collecting loose change, this colorful cow piggy bank is a gift idea both children and adults can enjoy. The cartoon-style coin bank is beautifully designed, featuring a soft silica gel construction for safety and durability. A removable rubber stopper allows coins to be removed, and a 1.5-inch slot ensures all change successfully makes its way in.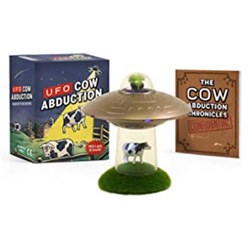 Happily grazing away on her personal patch of grass, our heroic cow is being rudely interrupted by a pending UFO abduction. With no way for the farmer to protect his herd, this brazen alien is casually hovering overhead, beaming said cow into his spacecraft. The funny abduction kit contains four pieces: grass patch, cow, beam, and UFO. The cockpit latch opens to an interactive alien who can be pressed down to produce spooky sound effects and flashing lights.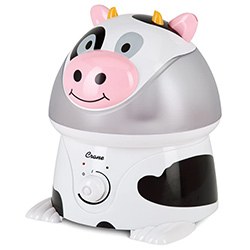 A gift idea for the bedroom of any cow-loving kid, this adorable humidifier helps combat irritations caused by dry air. The ultrasonic humidifier features a gallon water tank, whisper-quiet operation, and a 360-degree lid that sends mist in the right direction. Variable settings allow for precise control over humidity levels, and an auto-shutoff ensures the unit does not continue to run if water runs out.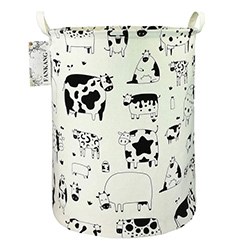 A lovely addition to a new nursery or child's bedroom is this delightful storage basket. Presenting a charming black and white pattern of cute cows, this beautiful hamper features a highly practical collapsible design that can be easily folded for space-saving storage convenience. Made from a durable linen-cotton blend with a waterproof coating, this lightweight and versatile basket is perfect for storing laundry, toys, books, shoes, or whatever your heart desires.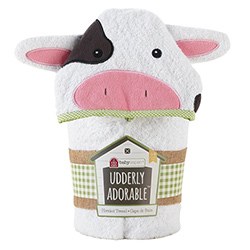 One of the best cow gifts for a baby shower or new parents, particularly if their favorite farm animal is a pig, is this adorable towel. The tiny hooded spa towel presents a friendly cow face with 3D details, including appliqued eyes and trimmed with cute green gingham fabric. The soft and cozy white terry hooded towel is machine washable and suitable for newborns to young toddlers.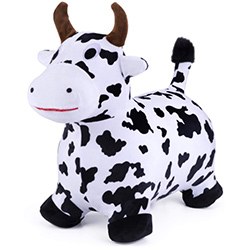 The perfect gift for enhancing a young child's playtime, boys and girls alike can enjoy a fun little ride using the Bouncy Pals hopper. Encased in a soft plush cover, the inflatable hopping cow encourages physical activity and is suitable for use outdoors and inside the home. If the little one loves a range of farm animals, this
joyous blue bull
is a fantastic alternative.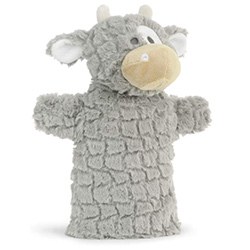 This cute and funny cow is a delightful toy that will bring hours of fun and entertainment for little ones and parents alike. The stuffed plush puppet toy presents an adorable cow with a fluffy light grey exterior including two small horns and beautiful hand-sewn details. Made from a very soft and plush polyester fabric, this snuggly hand puppet will help youngsters improve their communication skills, and is also a wonderful way to bond with your little one.
From an amusing stacking game to unique nano-blocks, the following fun gifts for cow lovers contain a hand-picked selection of interactive and playful games for plenty of cow-inspired entertainment.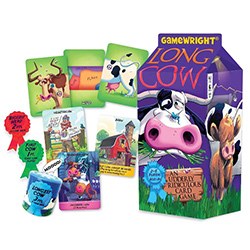 Quick, easy, and fun, Long Cow is a set-building and card-collecting cattle construction card game where the objective is to build the longest cows. Holstein, Highland, and Longhorn cow breeds make up the majority of the deck, while scattered wild cards, action cards, and calf cards are used to make things interesting. The child-friendly set is made up of cartoon-style artworks and packs away in a vibrant milk carton.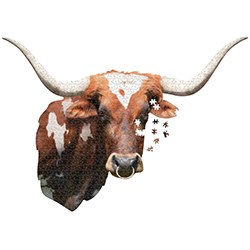 One of the most interesting and enjoyable cow gifts we could find, I Am Longhorn is an amazing five hundred-piece puzzle that is built into a cow-shaped head. Backed by premium chipboard, the image is sharp and realistic, while the pieces are clean-cut and finished in high gloss. If they love a variety of animals, these amazing jigsaw puzzles also come in a
horse
,
bear
, and
buck
designs.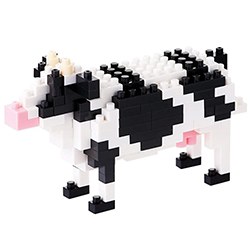 Providing an interesting challenge with a rewarding finale, this fun set of nano blocks comes together to form a LEGO-like dairy cow. The novelty construction figure is built using 170 miniature blocks, guided by a detailed assembly manual to aid in completion. Perfect for birthdays and Christmas, the cute cow can be partnered with a range of additional animals including a
giraffe
,
dachshund
, and
green opaline budgie
.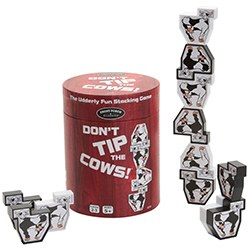 Because cow lovers don't approve of cow tipping, this simple little game provides the practice they require to keep them upright. Don't Tip The Cows is a turn-based stacking game with the simple objective of preventing the tower from tumbling. The set contains eighteen cow-shaped blocks, nine with a black base, and nine in white.
Elegant and stylish lampshades and bookends to decorative figurines and stunning wall art, the below section contains creative and artistic cow-themed home and decor pieces that will add life and vibrancy to any interior.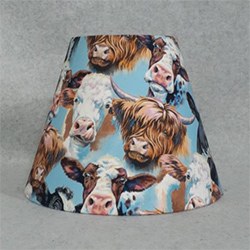 Bold and elegant, this gorgeous cow lampshade will add a unique character to any interior. The gorgeous design presents a vibrant pattern containing different breeds of cows adorning a beautiful sky-blue background. Each shade is expertly handmade, featuring strong wired top and bottom rings, with the body of the shade made from thick high-impact polystyrene that is highly durable, yet allows plenty of light to shine through the lightweight cotton fabric.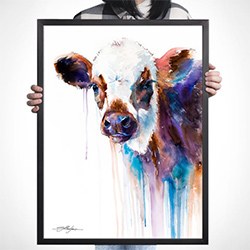 One of the most striking cow themed gifts is this breathtakingly beautiful cow illustration. The gorgeous mixed media artwork presents a beautiful cow print designed with a unique blend of watercolor, paint, and pencil techniques. Printed with high-quality Epson pigment inks on museum-quality paper, this creatively abstract piece is available in a variety of sizing and framing options, and is bound to make an impactful statement wherever it rests.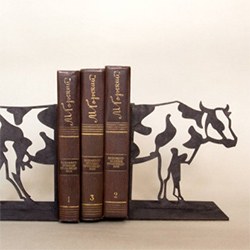 Bibliophile friends and animal lovers alike will easily fall in love with this unique pair of bookends. The handmade decorative utility presents a charming pair of cow bookends, featuring an elegant silhouette outline of this glorious bovine. Each handmade set is crafted from eco-friendly plywood, available in a natural finish or up to 6 water-based paint colored options.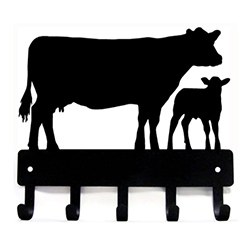 One of the loveliest cow gifts for the home is this charming and creatively designed key hanger. The unique laser-cut silhouette design presents a beautiful cow and her calf, precisely cut out of strong 16 gauge steel. Featuring 5 perfectly rounded hooks below, the hanger is easily wall-mounted and ideal for storing house keys, kitchen utensils, medals, leashes, and more.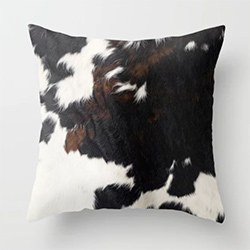 Does your cow-obsessed friend love decorating in cow print? This beautiful faux-cowhide throw pillow is a perfect embellishment for couches and sofas. Adorned with a detailed double-sided print, the pillow is available in three different sizes, each including a soft and cushy insert.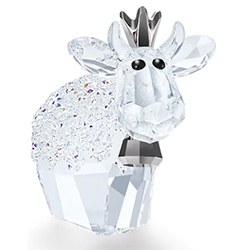 Thoughtful and personal, this beautiful figurine is fitting for a special occasion such as an anniversary or a birthday. Your favorite cow lover will instantly fall in love with the buoyant Princess Mo, who is adorned with silver accents and a stunning aurora borealis styled hide. The stunning decorative figurine features 163 crystal facets, 750 miniature crystal fragments, and a limited-edition engraving on the bottom.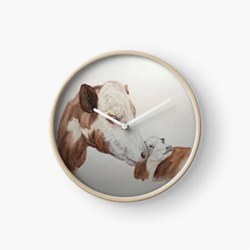 If you're after a heartwarming gift for a cow lover, this Hereford cow wall clock depicts a loving connection between mother and calf. The natural bamboo clock features a clear plexiglass lens, reliable Quartz mechanism, and rear hook for hanging straight out of the box.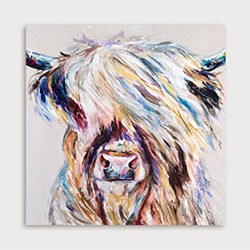 An artistic Highland cow gift for a benchtop or coffee table, this lovely set of coasters contains four distinctive cow designs. Each individual coaster is a unique piece of watercolor art, colorful, elegant, and sure to spark conversion when visitors arrive.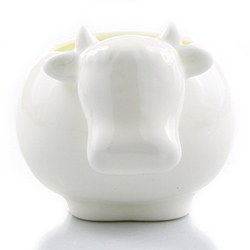 One of the cutest decorative cow gifts, this lustrous ceramic planter will enhance any living space it fills. Well suited to a multitude of indoor plants, your beloved cow lover's home or office can be filled with the greenery of cacti, baby toes, and succulents. The beautiful cow planter is hand-painted and crafted with a small hole on the underside to release water and prevent overfilling.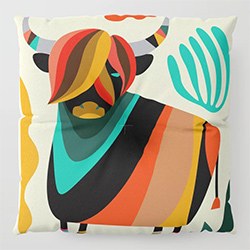 Abstract, colorful, and vibrant, this cow themed gift promises to provide a comfortable seating option that never loses shape. The Highland cow floor pillow is made from 100% un-coated polyester, overstuffed for firmness, and center stitched for durability. Two sizing options provide flexibility, while square and circular variations each offer a unique and distinct character. When not providing support, the pillow is great as a soft furnishing, decorating an empty corner, or adding a little energy to their couch.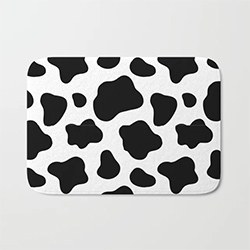 Available in two sizes, this beautiful cow print bath mat is excellent at absorbing excess water after a shower. A perfect gift to brighten up any bathroom, the underside is grippy to prevent slipping, while the surface is soft and squishy. Although the bathroom is its intended destination, the mat can also be used in front of the kitchen sink or as a resting place for your cow lovers' pets.
Searching for more than Moo-ving Cow Gifts? Check out some of our other great list for more awesome gift ideas.