Wini Gifts is supported by our readers. At no additional cost to you, we may earn a small commission from the purchases you make using our links.
Learn more
Adorable, faithful, and affectionate creatures, it's easy to see why corgi gifts are so popular with the many who adore them. A special breed of dog, Welsh corgis are renowned for their short little legs, plump round behind, and perky long ears, which is why there is no shortage of cute corgi merchandise! We have handpicked a great selection of the most charming, amusing, and original corgi-themed gifts to help narrow your search of finding the perfect gift that will delight your corgi-obsessed family and friends.
Below you will find the most fitting gifts for corgi lovers who wear their hearts on their sleeves. From an adorable squishy full-body corgi pillow to a beautiful and stylish necklace, these gorgeous personal and wearable gifting options will no doubt be received with a delighted squeal!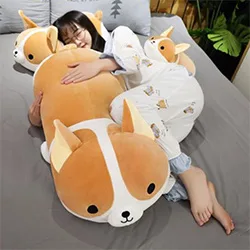 The next best thing to spooning their favorite companion is snuggling up with this extremely squishy pillow. Any true corgi fan will be head over heels to receive this adorable giant-sized corgi shaped pillow. Handmade from super-soft plush material, the plump and adorable pet presents a friendly corgi that will offer comforting affection all day long. Available in a variety of creature sizing options, including a furry full body pillow, this delightful kawaii pillow toy will make a wonderful Christmas or birthday gift.
One of those amazing corgi gifts that offer lounging comfort all night and day are these comfortable pajama bottoms. The Welsh corgi unisex pajamas present a modern stylish design featuring a friendly pattern of corgis over a light blue paw backdrop. Made from a very comfortable cotton-polyester blend, the high-quality fabric can withstand regular washing and will not fade over time. Featuring a classic straight-leg design with elasticized waist, drawstring tie, and two tapered front pockets, these amazing pajama bottoms are conveniently available in 4 sizing options.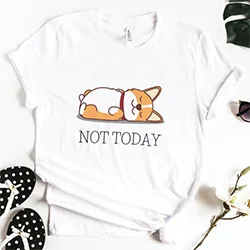 A simple yet bold statement that perfectly sums up the sentiment of the day is this humorous corgi t-shirt! The unisex tee exudes an adorable, relaxed vibe, presenting a plump and lazy corgi adorning the front, with the emphatic statement NOT TODAY. Made from a comfortable 100% light soft cotton fabric, this happy T-Shirt features a high-quality print available in 8 stylish colors and a variety of sizing options.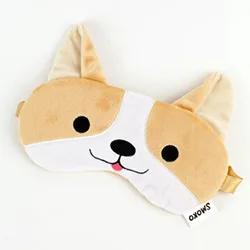 Who else would you want to drift off to blissful slumber with? A great gift for corgi enthusiasts and animal lovers alike is this adorable eye mask. Presenting Milo, a sweet and friendly corgi turned sleep mask featuring charming little fluffy ears and a happy disposition. Made from a lovely polyester-cotton blend, this novelty eye mask will be super comfy, super soft, and super cute all night long.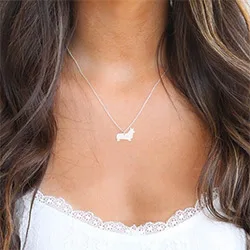 This charming necklace is one of the best corgi gift ideas for owners who like to wear their hearts on their sleeves. The gorgeous handmade necklace presents a dainty pendant featuring a beautiful silhouette of their favorite companion. Available in stunning gold, rose gold, and silver finishes, this pretty dog necklace can also be personalized if you wish.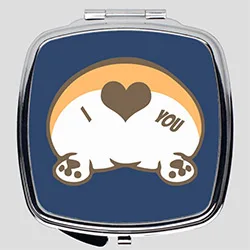 The perfect gift for Valentine's or a special romantic occasion that combines practicality with a bit of lighthearted humor is this amusing compact mirror. The fun utility presents a bold 'I love you' corgi butt perfectly contrasting the dark blue background. Measuring 2.25 x 2.25 inches, this lovely silver compact features both top and bottom mirrors with a secure clasp closure.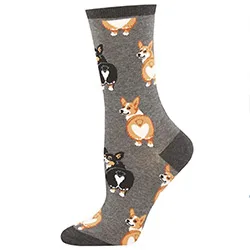 These fashionable dog socks are the perfect corgi gifts for a loved one to display their adoration with pride. Stylishly subtle, the Socksmith corgi butt socks present an adorable all-over pattern of friendly corgi butts that will keep good company all day long. Made from a soft cotton-nylon blend, these lovable socks feature a comfortable crew-cut style with athletic ribbed cuffs to keep socks in place and are available in three attractive color options.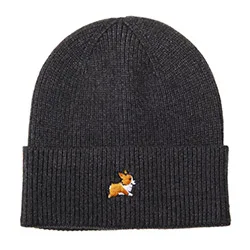 Any corgi fan will enjoy sporting this gorgeous beanie during those cold winter days walking their favorite companion. The stylish handmade beanie features a tiny bold, yet subtle emblem sporting a happy walking pup. Available in 7 contemporary colors, this lovely hat is made from a viscose, polyester, and nylon blend, featuring a soft stretch knit construction that delivers all-day comfort and warmth.
From a one of a kind cutting board to delightful Christmas decor, the below section offers a unique selection of corgi gift ideas that are fun, enjoyable, and original.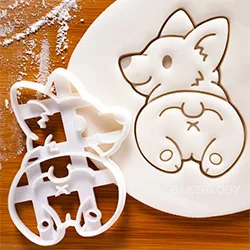 This unique corgi cookie cutter will take their baking endeavors to a whole new level! The cute cutter is the perfect kitchen accessory to create fun and entertaining goodies for everyone to enjoy. The cookie cutters are available in three unique shapes including an adorable corgi butt, happy corgi, and sleepy corgi. Made from sturdy plastic that is dishwasher safe, these unique cutters are suitable for not only cookie and biscuit dough, but also craft clay and fondant.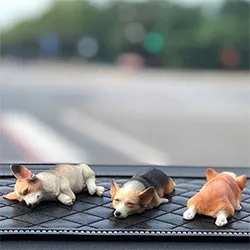 One of the cutest corgi themed gifts to grace refrigerators, whiteboards, or cabinets are these delightful corgi magnets. The mini pet magnets present a special collection of corgis, peacefully resting their tired little heads. Available in a variety of corgi colors and styles, these beautifully handcrafted resin magnets will get plenty of smiles each time they are seen around the home.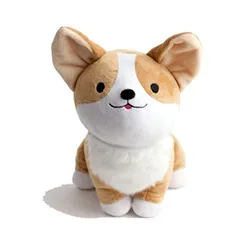 Meet Milo, the ultimate corgi soft toy every owner or corgi enthusiast will be hanging to receive. The closest thing to real corgi love, this amazing plush presents a gorgeous fluffy canine just asking to be pet. Simply double pet his head and watch Milo's ears magically move in friendly reciprocation! Made from a super-soft cotton polyester blend, this great gift also comes with an included battery to enjoy straight away.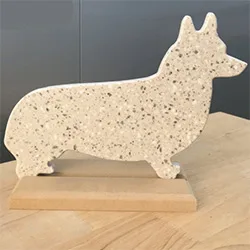 The coolest corgi gift a kitchen can contain, this stunning cutting board is constructed from recycled countertops. Repurposed to avoid landfill, the beautifully designed silhouette cutting board is elegantly displayed on the included stand whenever it's not in use. Rubber feet reduce skidding and increase stability, while the solid non-porous construction is more hygienic than a wooden alternative.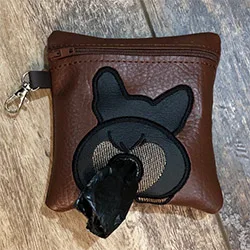 If you're after a dog owner gift with purpose, this corgi butt poop bag holder ensures their little friend never leaves behind a mess. Constructed from highly durable marine-grade vinyl, the cute zippered pouch houses two rolls of bags which are easily accessed via a humorously positioned ring.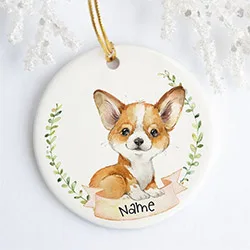 This adorable personalized corgi Christmas ornament is a very special decorative keepsake that will be treasured for years to come. The intricately crafted ornament presents a gorgeous hand-drawn illustration of a charming little corgi, personalized to feature their name below. Available in 5 different corgi colors and with the option to include a custom message on the reverse, this beautiful ornament is the perfect way to celebrate their beloved puppy, commemorating lifetime firsts and momentous occasions.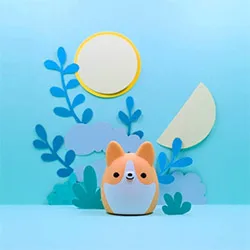 An illuminating gift idea for your favorite corgi lover, this hand made light will follow them into every room, just like their beloved companion. Providing fun decor for adults or nighttime companionship for children, the portable LED light can be set to run endlessly and on a fifteen-minute timer.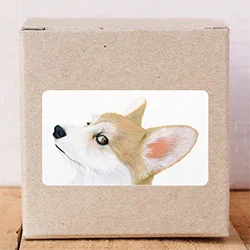 Small corgi gifts that will brighten anyone's day include this delightful set of custom stickers. The unique design presents a hand-drawn close up of a curious and attentive corgi, just waiting to be discovered! Available for purchase in multiples of 8, the high-quality artwork is printed on premium uncoated sticker paper and is perfect for adding a special touch to envelopes, goodie bags, handmade treats, and more.
From an adorable little AirPods case to a fun little bottle stopper, the below section contains unique gifts for corgi lovers to use and proudly cart with them whilst on the go.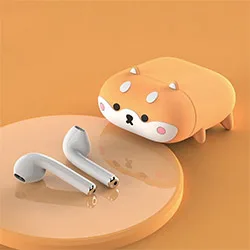 This adorable corgi dog is a great gift for AirPod owners, transforming their boring old case into a cute portable pet. The kawaii-style protective case is constructed from soft, yet durable silicone, preventing scratches, shocks, and dust from entering. Best of all, the beautiful corgi case is both charger friendly and compatible with wireless charging docks.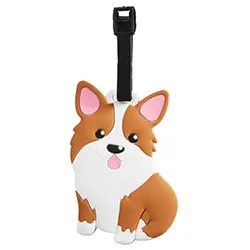 When they are in desperate need of a reliable travel companion, this little canine is up for the journey. A corgi gift jetsetters are sure to love, the durable luggage tag features a vibrant design that's bound to draw their eye in the baggage claim area.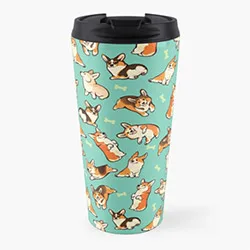 This charming and friendly corgi mug is bound to make anyone smile each time they catch a glimpse of these happy canines. The versatile travel mug presents a delightful wraparound pattern of jolly corgis in a variety of stances and positions over a striking mint green background. Made from insulated stainless steel with a removable lid, this fun travel mug holds up to 15 oz of fluid and is also conveniently dishwasher friendly.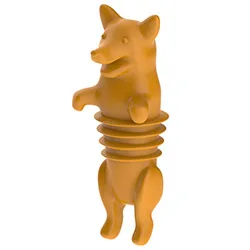 For a cardigan corgi fan who loves their wine, this delightful bottle stopper preserves unfinished bottles with an air-tight seal. The captivating silicone cork enters bottle necks feet first, using his cute little tummy to prevent air from entering and contents from spilling.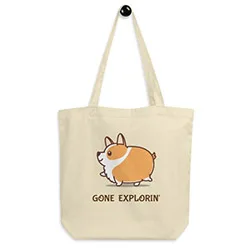 A cute and fun corgi themed gift to cart whilst on the move is this charming eco-tote bag. Made from 100% certified organic cotton, the Gone Explorin' tote presents a plump little companion eager to embark on a busy adventure. Featuring an open main compartment with sturdy 1 inch wide dual straps, this inviting tote bag is perfect for transporting books, groceries, small electronics, and other daily necessities.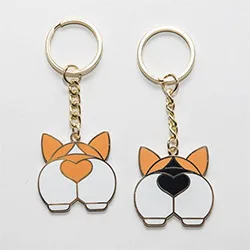 This stylish keychain presents a gorgeous well rounded and plump corgi backside! Beautifully handmade, the charming brass plated keychain features a sturdy hard enamel construction and is the perfect gift for safely housing keys, or accessorizing bags and wallets.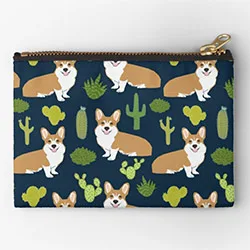 If it's fun and slightly quirky corgi gifts that you're after, look no further than this unique zipper pouch! The lively design presents an energetic pattern of their favorite dog breed combined with a variety of vibrant cacti. Made from durable polyester canvas with a sturdy metal zipper, this versatile pouch will soon become a little personal valet for makeup, stationery, a phone, cards, or other daily necessities.
What dog lover doesn't want to adorn their living spaces with items that remind them of their beloved? Whether it's a gorgeous welcome mat or an adorable glasses holder, these interesting and unique gifts for corgi lovers will allow them to appreciate their favorite companion all the more.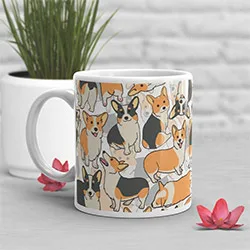 Tea, coffee, and even water will taste remarkably better when sipped from this patterned Pembroke Welsh corgi mug. The adorable mug makes use of vibrant long-lasting dye and is adorned with friendly black, red, and tri-colored corgis. A slightly more lighthearted design, this
alternative coffee mug
features a corgi butt design that will cause a chuckle each sip.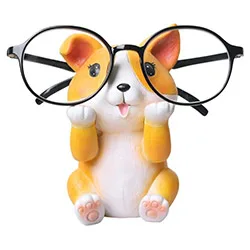 There's nobody they trust more to hold their much-needed eyeglasses when not in use than this little canine friend. One of the cutest corgi themed gifts, the handcrafted display stand offers functionality, fun, and a handy space that ensures they never get misplaced.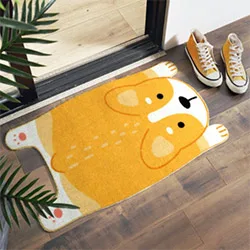 One of the best corgi gifts for newlyweds or as a housewarming gift is this amazing custom designed mat. Creatively shaped in the style of an adorable tummy-bound corgi, this beautiful and functional utility will find the perfect home within any bathroom, nursery, or as the ultimate corgi lovers welcome doormat.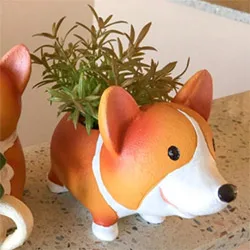 For housing succulents, air plants, and cacti, this vibrant little herding dog will cozy up their living space, filling it with corgi love. The eye-catching corgi planters are available in three distinct design styles including; taking a nap, holding a watering can, and standing upright with a giant grin on her face.
A playful canine gift to brighten their workspace is this unique and amusing mouse pad. The 3D mouse pad presents a corgi themed design featuring their favorite pooch's behind doubling as comforting hand and wrist support! Made from durable high-quality silicone with supportive polyurethane fiber, this amusing mouse pad is the perfect gift for corgi lovers with a good sense of humor. An alternative vibrant, yet slightly more subtle design, this
corgi mouse pad
features a friendly companion eagerly ready for some mouse play.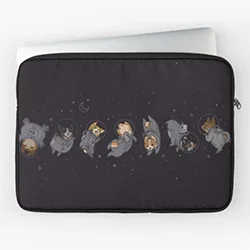 We all know that corgis are out of this world, but this laptop sleeve proves it! Having a blast out in space, the astronaut-themed design illustrates seven cuddly canines covered in space gear. The impressive corgi gift is ideal for transporting Macbooks and laptops, preventing scratches and damage from minor impacts.
A Welsh corgi gift idea for protecting the coffee table, this set of coasters is an obvious improvement on a classic piece of art. The version of Starry Night van Gough wishes he had painted, the lighthearted artwork is printed on coated hardboard and backed by a soft and durable cork.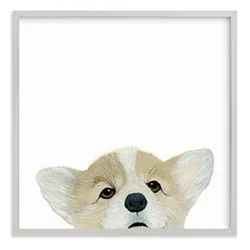 Corgi lovers everywhere will immediately fall in love with this charming puppy art print. The modern, minimalist illustration presents a gorgeous little pup making a friendly appearance, just enough to notify you of their loyal presence. Printed using deluxe pigment ink, the premium artwork print is available in a wide variety of sizing options, including a selection of beautiful framing finishes to suit any living space.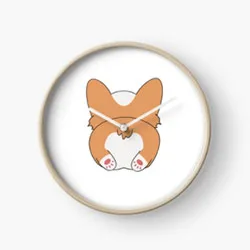 This cute little Welsh corgi butt is perfect for distracting onlookers who are trying to glance at the time. Ideal for decorating bedroom, kitchen, and living room walls, the minimalist corgi butt clock adds a fun lively touch to any space it fills. The clock itself is controlled by a Quartz mechanism, featuring a durable plexiglass face and modern bamboo frame.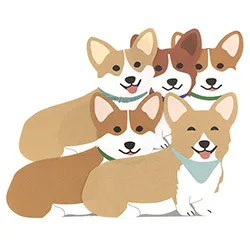 The perfect gift for filling a Christmas stocking, this adorable memo pad contains ninety sheets of corgi love. Although its true purpose is for jotting down notes, ideas, and reminders, your corgi loving friend will likely use it as desk decor, feeling compelled to preserve its cuteness.
Searching for more than Cute Corgi Gifts? Check out some of our other great list for more awesome gift ideas.