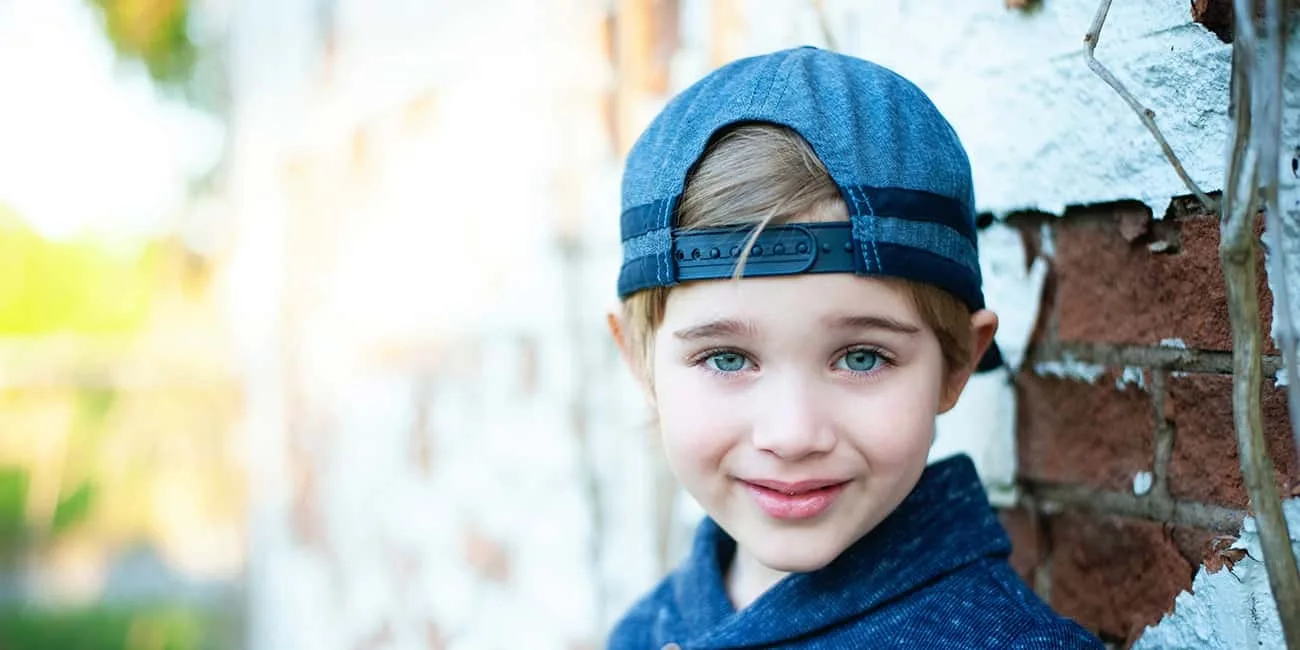 Wini Gifts is supported by our readers. At no additional cost to you, we may earn a small commission from the purchases you make using our links.
Learn more
Best Gifts For A 7 Year Old Boy
Are you bewildered with the question, just what do 7 year old boys like? Well, you're not alone! It can be challenging selecting gifts at this age, which is specifically why we have put together this useful list of the best gifts for a 7 year old boy! From presents that encourage them to get off the couch, to those that challenge them mentally, even a bunch of exciting interactive gadgets too, these gifts will stimulate and challenge growing boys! So whether for Christmas & birthdays, or any special occasion in between, you are bound to find engaging gifts that will keep them occupied for hours!
Best Gifts For A 7 Year Old Boy: Fun
When searching for the best toys for 7 year old boys, you can be certain any toy that incites fun will be received with gratitude! We have put together our top fun gifts for 7 year old boys that are both unique and engaging. From action hero themes to those that will get him active, these enjoyable gifts will get plenty of playtime.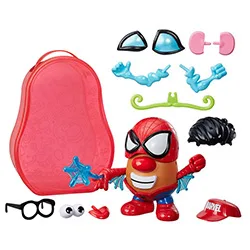 The first toy on our best gifts for a 7 year old boy list is an entertaining classic with a modern superhero twist! Mr Potato Head is a children's favorite, allowing young kids to mix and match facial features and limbs on a plastic potato. The Marvel Spider-Spud is a Spider-Man themed version of the toy that fights crime or sports a disguise to hide his true identity. Perfect for young boys, the Spider-Spud suitcase features twenty-two fun play pieces including a base, legs, and twenty interchangeable accessories such as glasses, a hat, mask, and more! The movie-inspired superhero can also be easily packed away in his suitcase for loads of fun on the go.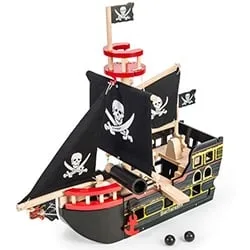 One of the coolest toys for 7 year old boys, this incredible wooden pirate ship will set sail on his bedroom floor! The Barbarossa Pirate Ship is a great gift for encouraging his imagination and enabling him to become captain of his fierce crew. The detailed ship features a trap door, movable wheel, retractable plank and even spring-loaded cannons with cannonballs. Scaled to transport
Budkins
Wooden Characters (sold separately), the infamous Barbarossa Pirate Ship encourages indoor play without the need for screens and modern technology.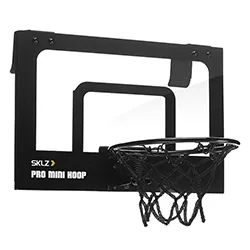 An awesome Christmas & Birthday gift idea for young boys, this indoor basketball hoop provides real action on a smaller scale. Both decorative and functional, the SKLZ Pro Mini Basketball Hoop easily attaches to the top of his bedroom door transforming his personal space into a mini arena. The hoop features a shatterproof backboard, spring-loaded steel rim, nylon net, and door mounts with foam padding to prevent any potential damage. Available in standard, extra-large, glow in the dark, and micro options, each set also comes with a mini ball and differing sizes of backboard and rim diameter for hours of fun.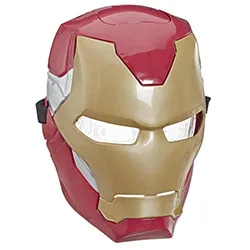 One of the best gifts for a 7 year old boy as far as roleplay is concerned is a cool face mask from his favorite superhero movies and comics. The Avengers Iron Man Flip Mask teleports the young man into the world of Tony Stark and instantly transforms him into the fearsome Iron Man. The realistic mask features a sturdy adjustable strap, a face panel that flips upwards, and even light effects that reflect those of Tony Stark's high tech helmet. If Irom Man is not a fan favorite of his, similar masks are available in
Spider-Man
,
Black Panther
and
Ant-Man
variations.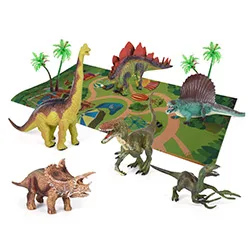 If he's obsessed with dinosaurs, the next toy for 7 year old boys is sure to be a hit. The Dinosaur Paradise Activity Play Set takes him back to prehistoric times, into the wonderful world of dinosaurs! Featuring a creative dino park themed activity mat, the set contains 9 dinosaur breeds including Brachiosaurus, Velociraptor, Triceratops, T-Rex, Dimetrodon, Stegosaurus, Tyrannosaurus, Therizinosaurus, and Giganotosaurus. The realistic and detailed figures are also accompanied by a set of trees and an easy to pack storage case. A great gift for solo and group play, the dinosaur playmat will keep young children creatively entertained as their imaginations run wild.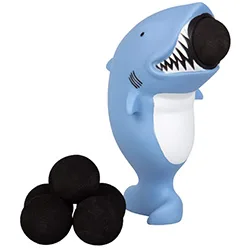 If you're after simplicity, one of the best gifts for a 7 year old boy this Birthday or Christmas is a fun little Animal Popper. The Hog Wild Poppers are a straight forward squeeze toy that propels soft foam balls up to twenty feet away. Six soft foam balls are included with the popper toy, simply load them into the shark's wide-open mouth to ready them for propulsion! This cool toy is also available in several fun animal styles including a
Dragon
,
Penguin
,
Whale
, and
Squirrel
.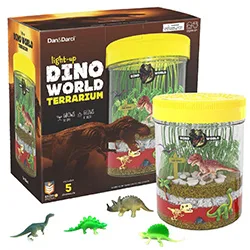 A captivating light-up Dino World Terrarium is a perfect bedside companion, providing a magical prehistoric experience for any young boy. This miniature Jurassic world contains a natural environment that grows during the day and lights up at night. Featuring an illuminating LED light, the unique kit contains a six-inch tall jar, Micro-USB charging cable, miniature dinosaurs, stickers, spray bottle, sand, rocks, and seeds, ready for little hands to get creative. In addition to all of the bits and pieces, this fun little kit also comes with a learning guide to help get him started.
Best Gifts For A 7 Year Old Boy: Outdoors
Outdoor themed toys for 7 year old boys are always going to be a hit! We have featured the best outdoor gifts that are both fun and interesting, and also a little something different. The following gifts will challenge them, spark their curiosity, but most importantly keep them engaged and entertained!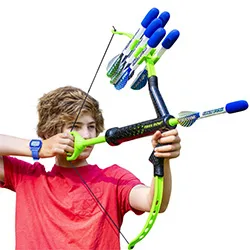 An interesting outdoor Christmas & Birthday gift for young boys, the next idea helps him take aim in the safest possible way. The Marky Sparky bow and arrow Archery Set is great for playing in the backyard or at large parks. This cool children's archery set features a quality faux bow and six foam-tipped arrows that can be propelled over one hundred feet at amazing speeds! The durable and lightweight arrows can be stored on the bows quiver for quick access, while the removable launch tube makes packing and storage super convenient.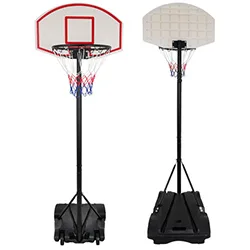 Idea number nine on our best gifts for a 7 year old boy list is a fun outdoor sporting utility that can be adjusted as he grows. The Zeny Portable Basketball Hoop is an awesome outdoor play buddy that can be easily rolled out onto the driveway. Featuring a weighted mobile base, nylon net, shatterproof backboard, and heavy-duty steel pole, with a hoop that can be adjusted from 5.4 to 7 feet in height. The base can be filled with sand or water and further weighed down by placing heavy items on the flat upper surface. A great way to start his basketball career, the adjustable hoop system is great for practicing shooting, neighborhood pick up games, and a general fun time outdoors.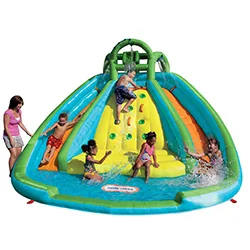 One of the coolest water toys for 7 year old boys, this backyard water slide is every young boy's dream come true. The Little Tikes Rocky Mountains River Race will provide hours of summer fun, playing in the sunshine and sliding into refreshing water. Featuring two slides, a climbing wall with foot holes and a surprise dump bucket, the water slide ends in an amazing central splash pool! This fun package includes a heavy-duty blower for inflation, repair kit, and stakes for holding the slide in its place. With spray holes that keep the slide and wall moist, this inflatable slide is sure to be a neighborhood summer favorite.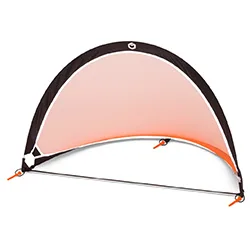 If you're after something to promote outdoor activity, the next idea is one of the best gifts for a 7 year old boy. The pop-up soccer goal will help bring out a little competition while he burns off energy! Great for teaching skills and for fun games with family and friends, these Portable Soccer Nets are a convenient game to take on the go that can be easily folded and packed away. Featuring an indestructible frame, reflective net, and choice of three sizes, the pop-up nets are a wonderful outdoor Christmas or Birthday present.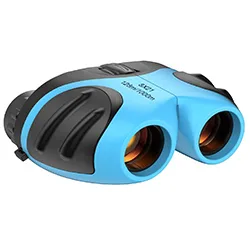 Help bring out the adventurous little explorer with this super-safe pair of binoculars. The Dreamingbox shockproof Binoculars are surrounded by soft rubber that will protect his eyes while he spots wildlife and gazes far into the distance. With the perfect grips designed for children's hands, the binoculars also feature a rubber coating that absorbs shocks from any potential drops and rough adventurous play. Available in a multitude of fun, vibrant colors, this unique gift for the great outdoors provides crystal clear viewing at an 8X magnification.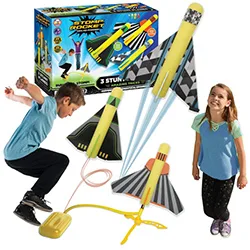 The last outdoor gift idea for young boys is a foot-powered catapult made for foam planes. There's nothing quite like propelling your own aircraft and watching it fly around and land hundreds of feet away! The Stomp Rocket stunt plane toy does just that, featuring a sturdy launch stand, stomp pad, and three stunt planes. Stunt planes are attached to the launch pad which is connected to the stomp pad. All he has to do is jump on the stomp pad to send a burst of air through the tube, propelling the plane in the direction the launch pad is facing. The three included planes execute different stunts ranging from gliding, performing loops, and wild crazy tricks. If a stunt plane gets lost or damaged, Stomp Rocket offers
refill packs
so you can always replace any missing aircraft.
Best Gifts For A 7 Year Old Boy: Electronic
If you're searching for toys for 7 year old boys that will keep them occupied for hours on end, then the following gifts live up to the challenge. When it comes to selecting the best gifts for 7 year old boys it's hard to go wrong with electronic toys. Whether an exhilarating 3D stunt car or super fun Nintendo Switch, the following toys will encourage his playfulness and sense of adventure. These presents are perfect gifting options come Christmas & birthday time, or for any special celebratory event in between.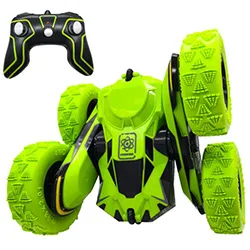 If you're after a gift that's portable and can be used anywhere he goes, this one's for you. The exciting Threeking Remote Control Stunt Car is perfect for indoor and outdoor play, excelling on any terrain. The large soft rubber tires easily grip on dirt and sand, glide through puddles, and navigate rocks and grass. Featuring a rugged frame and long remote transmission, this stunt car contorts like no other. With a 360 degree rotation, the car is capable of spinning in circles, flipping itself over, and even driving upside down! One of the coolest RC electronics on the market, the Threeking Stunt Car is a unique gift ideal for any occasion.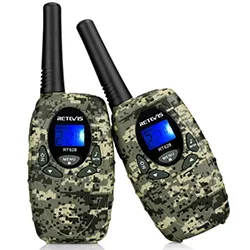 The second electronic idea on our best gifts for a 7 year old boy compilation works best when used with a sibling or friend. An awesome little communication device, the Retevis Kids Walkie Talkie pack is perfect for adventures and play around the home, or for enjoying while on camping adventures. Each device is small, light, and easy to operate, featuring hands-free play and keypad lock functions. Available in four bold colors – red, black, silver, and camouflage, these walkie talkies provide crystal clear transmission over a long distance for hours of fun!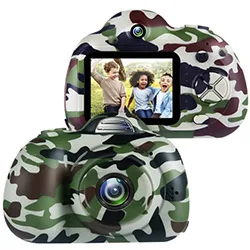 Start him on the journey to becoming a photographer with the next toy for 7 year old boys. A great birthday or Christmas gift idea, this kid's camera will help him capture the world from his own unique perspective. Easy to use and packed with functions, the camera features auto smile snaps, timed shooting, and a shockproof silicone shell for extra protection. In addition to the camera, the package includes a USB cable, 32GB SD Card, lanyard, cartoon stickers, and instruction manual. Taking clear images and captivating 1080p video, the OmWay Kids Camera is a fun and unique gift, perfect for stimulating his creativity.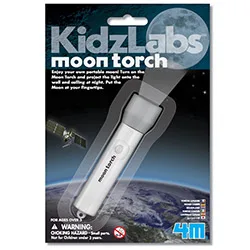 Idea seventeen on our best gifts for a 7 year old boy list is fitting for night time fun. The KidsLabz Moon Torch projector combines the utility of a torch with the comforting brilliance of moonlight. All he has to do is turn on the torch, point it at any surface, and watch the moon appear! In addition to this cool portable moon, KidzLabs also produces an interesting
X-Ray Projector Torch
with slides that produce eight see-through human structures.
One of the most popular toys for 7 year old boys, the next idea is one of the best Christmas & Birthday gifts a kid can receive! The Nintendo Switch Mario Kart 8 Deluxe Bundle is a great electronic gaming machine for solo play and sharing the fun with family and friends. The fun set includes a Nintendo Switch console, left and right joy-cons, grip, strap, AC adaptor, HDMI cable, as well as a downloadable version of the fast-paced and always entertaining Mario Kart game! The coolest feature of the Switch console is the versatility of its play modes. The console allows children (or adults!) to play with controls attached to the device screen, detached from the screen, and on a TV just like traditional gaming consoles.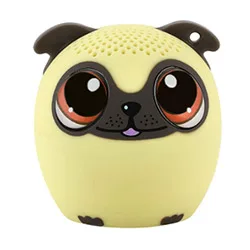 The next gift idea for young boys is a fun little animal that produces a very big sound. These adorable animal-themed Bluetooth speakers from My Audio Pet can be used as a single speaker or paired for stereo quality sound. Perfect for listening to his favorite tunes, the powerful golf ball sized pets are available in a multitude of styles including a dragon, beaver, monkey, and raccoon. An awesome combination of portable, playful and usable makes this one of the best gifts for a 7 year old boy.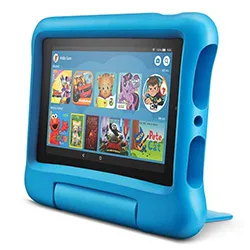 If you're worried that technology in the hands of young boys is susceptible to damage, this gift idea will put your mind at ease. The Amazon Fire 7 Kids Tablet is built for children, with its solid kid-proof case and kid-friendly functionality. The tablet features educational goal setting, a parental control filter. and screen time limits preventing him from spending too much time in front of the screen. In addition to its functionality, the Fire 7 Kids Tablet allows streaming via WiFi, provides 16GB of internal storage space, and offers a 512GB expansion via its SD card slot. With over six hours of battery life, this colorful tablet encourages learning, creativity, and play.
Best Gifts For A 7 Year Old Boy: Creative
The following toys for 7 year old boys are wonderful gifting options to promote exploration and encourage his creativity. From unique building sets to creative painting kits, these fun and engaging toys will also help him focus and develop patience while letting his creative side shine through!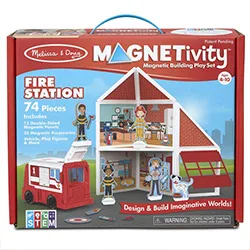 21. Magnetic Building Set
The first creative gift idea for young boys is a unique building set that doesn't require blocks to put together. Using the power of magnets, the Fire Station Magnetivity Play Set will nurture his imaginative thinking, while promoting spacial awareness. The interactive set contains seventy-four pieces, enabling him to explore numerous panel combinations and accessory placements for hours of building fun. If you're interested in a variation of this innovative fire station, alternative Magnetivity magnetic building play sets include a
pizza & ice cream
shop,
school
, and a
pirate cove
.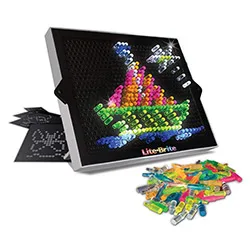 One of the best creative gifts for a 7 year old boy, the classic Lite-Brite Toy encourages creativity, while providing a stencil for him to work from. With more pegs and a larger screen size, this updated version of the 1967 classic is brighter than ever! Featuring two hundred brightly colored pegs, LED bulbs, and six design templates, the Lite-Brite provides creative fun that can later be displayed as room decor. Four different light modes highlight his creations which can include a sailboat, mountain scene, dune buggy, elephant, unicorn, and flowers if the templates are followed. The set can be bolstered with this
refill pack
, expanding his set by one hundred pegs and eight new templates. The most fun he will have using lights, the Lite-Brite is a perfect creative Birthday or Christmas present for 7 year old boys.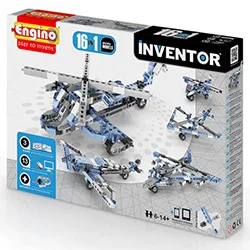 One of the most creative toys for 7 year old boys, this sixteen-in-one aircraft set will provide a new challenge with each construction. The Engino Aircraft Model set allows him to create a plethora of amazing aircraft types such as Jets, Seaplanes, Acrobatic Airplanes, and Helicopters. Included in the set is an extraction tool, three paper model instructions, and access to all sixteen interactive blueprints via the Engino website. The set is made out of sturdy snap-fit pieces that are non-toxic, elegantly colored, and can be connected on any angle. In addition to this cool aircraft version, Engino produces other spectacular sets including
Cars
,
Amusement Parks
, and
Architecture
options.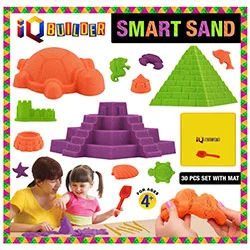 Idea twenty-four on our best gifts for a 7 year old boy compilation is soft, colorful, and easy to mold. The Art Play Sand Kit by IQ Builder promotes sensory development, creativity, and best of all – fun! 100% safe, the kit contains twenty-four molds, a sand scooper, five crafting tools, a large nylon mat, and five pounds of kinetic sand. The Smart Sand feels great to the touch, is easily molded, and comes in three colors; green, purple, and orange. With a seemingly endless amount of sand and molds, young boys can forge worlds full of animals and structures, creating countless hours of fun.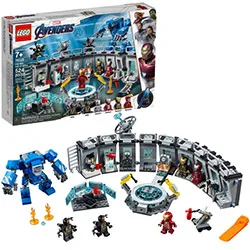 If the young man in question is a Marvel fan, the next gift idea is sure to excite this upcoming Birthday or Christmas. The Lego Avengers Iron Man Building Kit will allow him to recreate Tony Stark's Hall of Armor. The set features a rotating podium, Igor suit, cockpit, modular weapon storage, suit storage, and six mini-figures. The 524 piece set stimulates creativity, allowing him to construct as well as roleplay, bringing his inner superhero to life.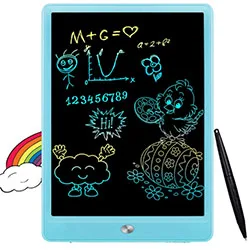 One of the coolest creative toys for 7 year old boys is a tablet designed for him to use as an electronic canvas. The Ansel LCD Drawing Tablet is made for children to refine their writing and drawing skills while having fun in the process! Featuring a rainbow-colored screen, changeable battery, delete key, and lock screen, the tablet can protect his work and easily erase unwanted scribble in preparation for him to start over. Great for on the go and doodling at home, the ten-inch tablet is light, compact, educational, and entertaining.
The next idea on WINI GIFTS best gifts for a 7 year old boy post is a creative night light that can display his works of art. The Crayola Picture Projector is a children's flashlight that enables kids to draw and write on the top surface. Then, with the simple push of a button, he will be able to cast his creations onto any surface and easily wipe them off to start over! Any young boy will have hours of fun creating drawings and finding new, unique, and sometimes funny surfaces to project them onto! The creative light also includes three markers that can be neatly packed away in a storage slot found on the bottom of the projector.
Another fun creative gift for children, this little art kit uses nature as a canvas. The Jar Melo Rock Painting Kit for kids will allow him to create unique works of art on top of smoothed river rocks. The kit contains twelve acrylic paint colors, ten river rocks, two paintbrushes, and an instruction booklet to begin. While the instructions provide inspiration and direction, he can use his imagination to create whatever comes to mind. Whether for Christmas or Birthdays, this awesome rock painting kit will allow his creative juices to flow.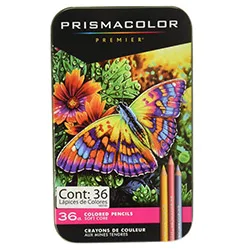 One of the top creative gifts and toys for 7 year old boys, a set of coloring pencils are great for the serious little artist, coloring book enthusiast, and even a casual scribbler. The beautiful Prismacolor premier thirty-six piece set features soft and thick cores that are resistant to chipping and cracking. These impressive pencils produce rich stroke pigments and smooth even colors, perfect for saturated effects and shading. If thirty-six is not enough, the Prismacolor colored pencils are also available in sets of forty-eight, seventy-two, one hundred and thirty-two, and even one hundred and fifty!
Best Gifts For A 7 Year Old Boy: Books
Believe it or not, some of the best gifts for a 7 year old boy can sometimes come in the form of a book! Most books encourage quiet time and reflection, both attractive qualities for 7 year olds boys to cultivate, however that doesn't mean books need to be boring! From interesting facts to funny jokes, the following gifts are full of fun to captivate young minds and encourage reading.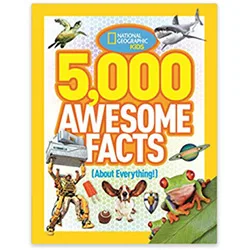 An age when curiosity thrives, what better book to gift that one full of interesting facts and information! This fun-filled compilation book of 5,000 Awesome Facts is sure to be a hit with any 7 year old. Lively and information-packed, the book combines illustrations with interesting facts, helping young boys learn about the world around them. From sharks and reptiles, to sports and spies, wacky words, and historical mysteries, this captivating book of facts with a vibrant, high-energy design will engage his questioning mind and keep that little brain ticking for hours on end!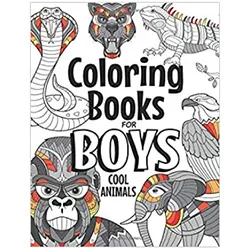 31. Cool Animals Coloring Book
One of the best gifts for a 7 year old boy who loves coloring is this action-packed coloring book! The Cool Animals Coloring Book is a great Christmas or Birthday gift, featuring beautifully hand-illustrated animals, simply waiting to be colored in! This coloring book presents a wide variety of animals, perfect coloring spaces, and a great mix of detailed and simpler coloring pictures so he will never get bored! The book also includes single-sided designs with special blank pages to minimize color bleed through and enable removal of pictures for framing his works of art. Featuring plenty of cool animals, including a gorilla, tiger, panda, baboon, owl, lizards, fish and more, there are hours of fun to be had as he colors to his heart's content.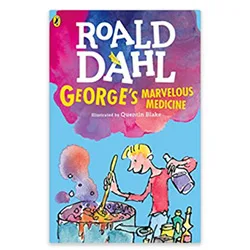 32. George's Marvelous Medicine
A delightful tale any 7 year old boy will enjoy reading, George's Marvelous Medicine by renowned children's storyteller Roald Dahl, has been captivating young readers since 1981. The humorous story revolves around George, a young boy who has been left in the house alone with his Grandma. A horrid, cranky woman who bullies and bosses him around, George believes she is a witch and decides to make a potion of his own to cure her grouchiness. As the tale unfolds, young boys will enjoy reading the disgusting concoction George creates and hearing the implications of his actions unfold in this funny and captivating story.
33. Funny Jokes For 7 Year Olds
What 7 year old doesn't love a good laugh?! One of the best gifts for a 7 year old boy, this joke book will have him in fits! Funny Jokes for 7 Year Olds features plenty of hilarious jokes, riddles, tongue twisters and knock-knock jokes that he will enjoy learning and reciting time and time again for family and friends. This brand new collection of jokes promises hours of good, clean fun and giggles for the whole family.
Best Gifts For A 7 Year Old Boy: Educational
We have done the searching for you and put together a range of educational toys for 7 year old boys that encourage learning, yet are still fun and engaging! From robotics that will spark a lifelong interest in technology to toys that will challenge and spark his curiosity, you can be sure to find the perfect gift for Christmas & birthdays to nourish his love of learning.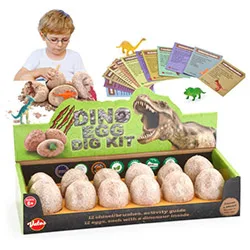 34. Dinosaur Eggs Dig Kit
An awesome gift idea for the budding paleontologist, these eggs facilitate excavation and discovery. The Dinosaur Egg Dig Kit will help educate him on the Earth's rich history in a fun and adventurous way. Featuring a dozen eggs, chisels, and learning cards, the set enables him to chisel away at eggs to unveil a unique miniature dinosaur! Dinosaur figures are partnered with a card, giving him an understanding of the name, history, habits, and characteristics of each dinosaur he excavates. A great gift for getting his little hands dirty, the Dinosaur Egg Dig Kit is sure to boost his interest in dinosaurs and history.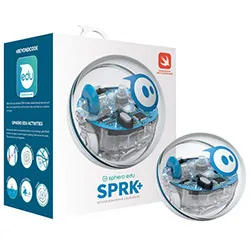 One of the best gifts for a 7 year old boy, this smart little sphere combines creativity with programming. The Sphero SPRK+ is a unique interactive STEM toy roughly the size of a baseball that is controlled by the Sphero Udu Smartphone app. The cool transparent aesthetic allows him to peek inside to see the motor, circuit board and flashing LED lights. Featuring programmable sensors, scratch and water-resistant surface, Bluetooth connectivity, and an hour of playtime, this amazing rolling robot is both fun and a great learning tool that will spark his interest in programming and electronics. The Sphero SPRK+ can be programmed in three ways; draw and drive, Javascript, or by using scratch blocks. In addition to this cool electronic educational toy, Sphero also produces a
mini version
,
bolt
, and even a
four-wheeled rover
.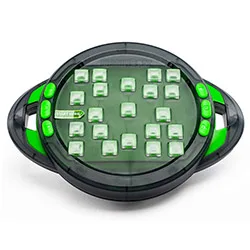 If you're after a tech gift that doesn't involve a phone, a great educational toy for 7 year old boys is this handheld game. A good Christmas stocking stuffer or cool little Birthday gadget, Educational Insights Brainbolt Brain Teaser will help him train his memory. The simple yet engaging game uses lighting sequences, requiring players to recall which squares have been activated, pressing them in the correct order. The game is portable, fun, and can be used as a solo game, or even for head-to-head challenges with siblings and friends!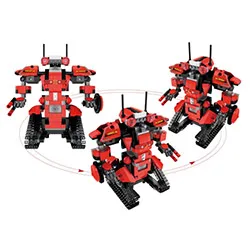 Combining building blocks with robotics, the Mould King Remote Control Robot is a creative and fun do-it-yourself STEM set. One of the best educational gifts for a 7 year old boy, this amazing robot is constructed using 392 pieces and steered using a simple remote control. The robot features 40 minutes of playtime with each charge and moves in every direction, including a 360-degree rotation. Available in 4 color and style combinations, the awesome electronic toy is a fun project the entire family can get involved in.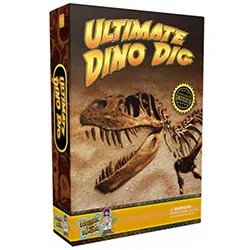 38. Dinosaur Dig Science Kit
One of the coolest science toys for 7 year old boys, the Ultimate Dinosaur Dig is an excavation brick containing real dinosaur fossils! Not too dissimilar to the Dinosaur Egg Dig Kit above, but instead of digging up miniature dinosaurs, he can uncover a real dinosaur tooth, bone, and even a dinosaur poop. The kit contains all the necessary digging tools such as brush, digging tool, and magnifying glass, as well as an activity booklet and a 3D puzzle. Offering great value and a fun learning experience, young boys will love this explorational prehistoric science kit.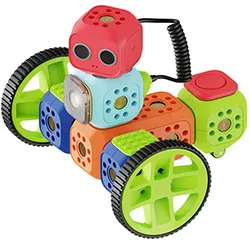 Another great gift to help him stimulate his interest in science and technology, the Robo Wunderkind Robotics Kit provides children the opportunity to build their own robots and program them in a fun and playful way. Encouraging building and coding skills, the robust and well thought out STEM toy also features LEGO compatibility and is designed to work with a multitude of platforms including Android, iOS, Windows, and Fire OS. Building complex design is made possible by the LEGO adapter, which provides limitless possibilities for him to customize his robot. In addition to having fun with design, the app enables him to learn simple and basic programming functions, as well as complex loops and if-then statements. If you're searching for a special educational Birthday or Christmas gift, the Robo Wunderkind promotes programming education in addition to creative design.
Best Gifts For A 7 Year Old Boy: Games
The following game toys for 7 year old boys bring back a classic pastime which is just as much fun now as they were for generations passed. These toys teach patience, strategy, and most importantly, are hours of enjoyment, ideal for those cold and rainy days spent indoors.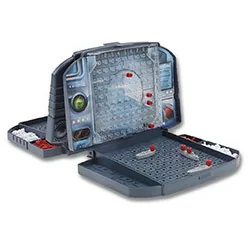 The first gift idea for young boys in our games section is a classic favorite that first originated from a pencil and paper game played on a grid. A challenging strategic guessing game, Battleship will allow him to go head-to-head with family and friends. The objective of the game is to sink your opponent's fleet of ships before they are able to sink yours! The Battleship game set includes two battle cases, ten ships, white miss pegs, and red hit pegs. A fun and challenging two-player game, Battleship takes him away from screens and into an epic battle.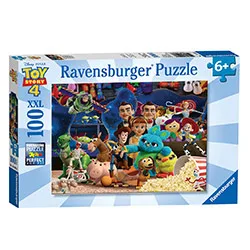 Idea forty-one on our best gifts for a 7 year old boy list is a one hundred piece puzzle, perfect for Christmas & Birthdays. The Toy Story 4 Jigsaw Puzzle contains all of his favorite characters from the film such including Woody the cowboy, Buzz Lightyear the space ranger, and Hamm the pig. Featuring ultra-thick cardboard and an anti-glare surface, the fun puzzle promotes patience and perseverance and will give him a real sense of accomplishment when completed. This awesome puzzle limits frustration by ensuring each piece is uniquely shaped, reducing connectivity with pieces that are not supposed to fit together.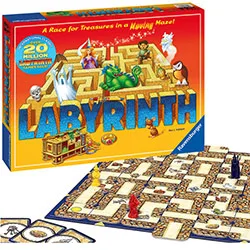 Next of the game toys for 7 year old boys is the Labyrinth family board game, suitable for two to four players. Family days indoors will be filled with adventure as you compete to be the first to reach all of your treasure! Tiles containing paths and treasure items are laid out over the board, with every player beginning their journey in a designated corner. Each player is dealt a stack of treasure cards and is required to reach their treasure items by following the path of the tiles. This game set contains a stack of maze cards, treasure cards, and four playing pieces that are maneuvered around the board in the quest to reach the bounty. The Labyrinth Board Game is fun and easy to understand, quick to learn, with playtime between twenty and thirty minutes.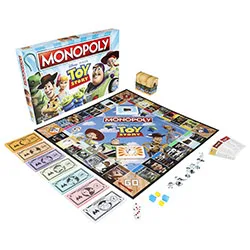 Possibly the best game gift for a 7 year old boy, this children's Monopoly set is just like the original, only smaller. Made to accommodate up to six players, this Toy Story-themed edition of Monopoly is based on the movie, replacing property, playing pieces, and drawing cards with elements from the action-packed movie. Community Chest and Chance cards are replaced by Andy's Toy Chest and Birthday cards, while Ferris Wheel replaces the Boardwalk square. The game features similar rules to the classic, making the transition easy when he's ready to play with the big kids.
Best Gifts For A 7 Year Old Boy: Collectable
If you're searching for toys for 7 year old boys they're sure to love, you can't go past a good collectible. 7 year old boys hold their heroes and those they admire close to their heart, so a collectible of his favorite action hero or character is a toy he'll be proud to own. Whether for display, play, or both, collectible toys make ideal Christmas & birthday gifts for young boys that won't end up at the bottom of any drawer.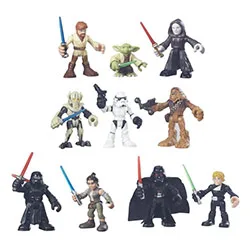 44. Star Wars Action Figures
We begin the collectible section with an extensive set of Star Wars figures, small enough to place all around his room, but large enough for all those finer details. Standing two and a half inches tall, these little figures are bursting ready for battle. The amazing set of ten realistic action figures features Chewbacca, Luke Skywalker, Yoda, Darth Vader, Obi-Wan Kenobi, and more. Among the best miniature action toys for 7 year old boys, this Star Wars collection encourages imaginative galactic roleplay, filled with legendary battles between the forces of good and evil.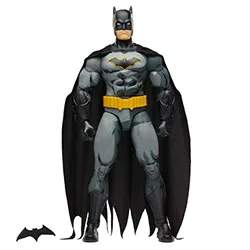 What young man doesn't love Batman? One of the coolest and best gifts for a 7 year old boy, this twenty-inch tall Batman figure will make for an awesome Christmas & Birthday surprise. Exceptionally well detailed, this large comic book styled crime fighter will protect him from the destructive forces of the Joker, Riddler, and Penguin. This caped crusader features twenty-three points of articulation, allowing the figure to be positioned into unlimited stances, perfect for roleplay or display in his bedroom. In addition to the amazing design, this large comic Batman replica comes with a realistic cape and two Batarang throwing weapons.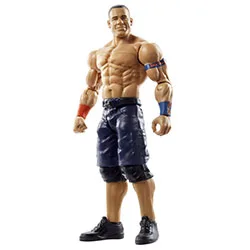 If he's a little wrestling fan, the next gift idea is the perfect addition to his collection of action figures. The WWE series John Cena figure is his first step towards recreating his all-time favorite matchups. The popular wrestling superstar stands at an intimidating six-inches tall, featuring articulation and authentic detail. In addition to John Cena, WWE offers an extensive range of wrestlers including
Undertaker
,
Triple H
,
Seth Rollins
, and
AJ Styles
.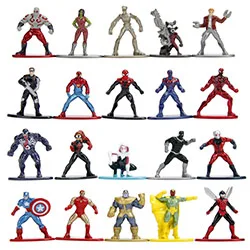 47. Marvel Collectible Figurines
Reminiscent of old school toy soldiers, these nano Marvel figurines are made from die-cast metal. The best gifts for a 7 year old boy tend to be engaging, timeless, and made to last, and these figures are no exception. The large set features twenty unique Marvel superheroes and villains including Star-Lord, Spiderman, Venom, Black Panther, Iron Man, and more. Each character is approximately one and a half inches tall and designed in line with authentic character likeness using premium metallic paints. In addition to this set, alternative figurine packs include
X-Men
,
DC Comics
, and
Marvel Classic
.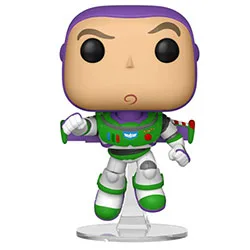 48. Buzz Lightyear Figure
The final collectible toy for 7 year old boys is sure to put a wide grin on his face upon opening his birthday or Christmas present. The Buzz Lightyear POP! Vinyl figure is mounted on a sturdy base and positioned as if he is flying through the air. In typical POP! fashion, the funny space ranger has an exaggerated head, stands four inches tall, and is an officially licensed Toy Story product. If Buzz is not his favorite Toy Story character, POP! have created a number of his friends including
Woody
,
Alien
, and
Bullseye
.
Best Gifts For A 7 Year Old Boy: Usable
The following items are the best gifts for a 7 year old boy that are practical, but still very much sought after! From action hero themed pieces, to useful accessories for both travel and home, these unique presents will make very appealing gifts for any young boy.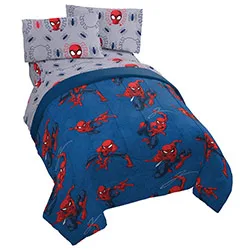 Add adventure to bedtime with this crime-fighting superhero bed set that will have him looking forward to tucking himself in! The Amazing Spider-Man bed set offers a comfortable sleep in addition to its cool action-packed design. The set includes a flat sheet, comforter, fitted sheet, and pillowcase, and is made from 100% polyester and fiberfill batting. A gift that will make any boy smile, this cozy bed set helps fight crime and sleepiness after a long, tiring day.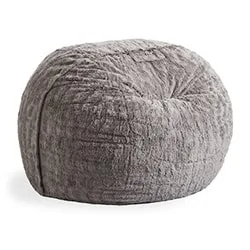 Number fifty on our best gifts for a 7 year old boy compilation is a charming kids bean bag chair suitable for hours of lounging. The Lovesac Gamersac is a premium upgrade to the classic bean bags we all remember. Filled with shredded dura foam, the cozy sac is just the right size for a single child. The Gamersac offers numerous cover options – from thirteen quick ship options, to over one hundred custom ordered designs. If this sac is a little too small, Lovesac offers a variety of sizes with their
Citysac
,
Pillowsac
, and
Moviesac
sacs.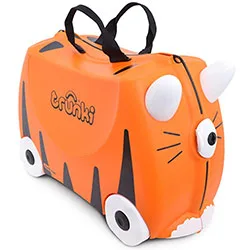 If you're looking for a Christmas or Birthday gift that's unique, usable, and extremely cute, the next idea checks all three boxes. Trunki Ride-On Suitcases are created to resemble critters and vehicles, offering both a packing utility and a fun rideable toy. The suitcase features a multifunction strap, wheels, and easy to use secure catch, allowing him to enjoy a fun ride without the case opening. Suitable for big trips and even a small getaway, the carry-on has an eighteen-liter capacity, with elastic straps and an internal pocket for segmented storage. This very cool kid's suitcase is available as a fire engine, beetle, pirate ship, tiger, and unicorn.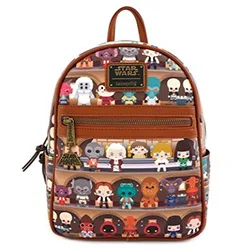 One of the best gifts for a 7 year old boy is one he can carry along with him wherever he goes. If he's a young Star Wars fan, the Loungefly Mini Backpack will allow him to take his favorite characters to school and on family trips. The fun cartoon style backpack is set in a Mos Eisley cantina, a spaceport town in Tatooine. This officially licensed Star Wars backpack features zippered closures, front pocket, and side pouches, with plenty of room to store all his necessities.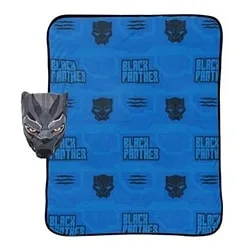 Searching for unique and usable Birthday and Christmas gift ideas? The Black Panther Nogginz and Blanket Set will add some Marvel flair to his room and an extra layer of warmth for those cooler nights. The striking blue and black blanket features claw marks, logo, and Black Panther text, and measures forty inches wide and fifty inches tall. Also included in this set is an awesome pillow in the shape of the Black Panther helmet, allowing him to comfortably rest upon and be covered in one of his heroes.
Best Gifts For A 7 Year Old Boy: Wearable
If you're still stuck with gift ideas, sometimes the best gifts for a 7 year old boy are those that are functional, but of course still cool! From awesome animal slippers to a very stylish Spiderman watch, these unique wearable themed gifts will get plenty of wear.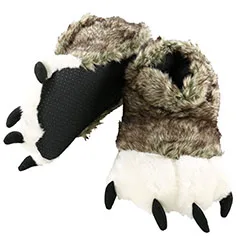 The first unique wearable gift idea for young boys will keep his feet warm and comfortable while encouraging a roleplay transformation. Made to replicate the feet of animals and imaginary creatures, these Animal Paw Slippers are a fun way for him to put up his feet after school and play. The slippers feature long claws, furry feet, and a non-skid sole to ensure he always maintains his balance. With plenty of designs to choose from, the striking Animal Paw Slippers are available as a wolf, dinosaur, Yeti, Bigfoot, two monster variations, and three different bears.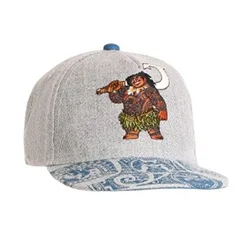 Another cool idea for 7 year old boys is a snapback cap featuring one of his favorite characters. If he enjoyed the movie Moana, he's sure to love this adjustable baseball-style cap. The cap features the heroic and funny Maui character, played by Dwayne "The Rock" Johnson, with a patterned design on the bill. The embroidered image depicts Maui holding his magical fish hook and grinning, always up to mischief! Officially licensed and made from 100% polyester, this hat will keep him well protected during his many outdoor adventures.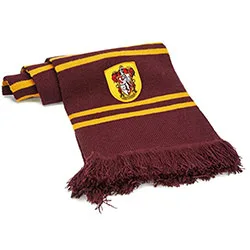 Is the young man a Harry Potter fan? If the answer is yes, the next Christmas & Birthday gift idea is the perfect cold-weather accessory. Help him keep warm and cozy in winter while representing the world-famous house of Gryffindor. This elegantly stripped Harry Potter scarf features a faux leather Gryffindor lion patch, with stylish interwoven tassels at each end. Ideal for school days, outdoors, and casual games of Quidditch, the crimson and gold scarf is a great usable gift idea for any little Harry Potter admirer.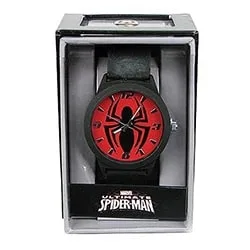 The final idea on our best gifts for a 7 year old boy post is the ultimate accessory for any young Marvel aficionado. The Spider-Man emblem watch will not go unnoticed by his friends as he sports the symbol of one of his heroes. This bold and striking battery-powered analog watch features the Spider-Man logo on its face, with a flexible vinyl band keeping it in place. A perfect gift for any celebration, the amazing Marvel watch is sure to be an instant hit.
What do 7 year old boys do for fun?
7 year old boys are incredibly curious by nature, with a zest for learning and a keen interest in the world around them. Most boys are fairly active and have started to enjoy more formal sporting activities and games. They also have fun exploring and challenging themselves, whether physically, mentally, or creatively. 7 year old boys enjoy playing with their friends, but will also appreciate downtime to themselves for reading or perhaps playing on their own.
What do 7 year old boys like?
7 year old boys tend to have an insatiable curiosity and eagerness to learn and be creative. Any activity that stimulates their mind, or challenges them physically and combines fun and entertainment at the same time will keep them engaged for hours.
What is the best gift for 7 years old boys?
The best gift for a 7 year old boy will depend on the young gentleman who is being gifted the present. Generally, electronic gadgets and building sets will always be well-received, but to select the perfect gift it will be useful to know a bit about the recipient so you can tailor your gift to also suit their tastes.
What is the best toy for a 7 year old boy?
Similarly, the best toy for a 7 year old boy will also be dependent on their tastes and personality. It will be useful to find out if they have a particular action hero they admire to base your gift selection around this theme. Or perhaps you're aware he enjoys constructing or loves being active, which again can help guide your gifting towards building sets, or sporting and outdoor toys.
What games should I include at a 7th birthday party?
A fun 7th birthday party will always include great food, great gifts, and of course great games! It is important to have at least 2-3 active games lined up for the birthday, spaced out throughout the event to keep youngsters engaged and entertained. Active games that include prizes or rewards such as limbo, tag, or a pinata challenge will always be entertaining with plenty of laughs between! Other game options that are old favorites, but still a lot of fun include pin the tail on the donkey, pass the parcel, and of course, a surprise treasure hunt for party favors will always go down well as birthday celebrations come to an end.
Searching for more than the Best Gifts For A 7 Year Old Boy? Check out some of our other great list for more awesome gift ideas.