Wini Gifts is supported by our readers. At no additional cost to you, we may earn a small commission from the purchases you make using our links.
Learn more
Christmas Gifts For Parents
Our hand-picked list contains only the best Christmas gifts for parents this year, including a great selection of thoughtful, purposeful, and entertaining presents for your folks. Throughout the year your Mom and Dad are always there for you, through good times and bad, constant pillars of strength. So naturally, Christmas is the perfect time of year to express your heartfelt gratitude with a unique and meaningful gift for them. Whether it's practical goodies for the home and garden, creative and innovative appliances and devices, or special personalized pieces, we have all bases covered to ensure you find the perfect gift that will make them feel truly appreciated.
Christmas Gifts For Parents: Home & Decor
The best gifts for parents are often unique, personalized pieces they can proudly display within their home. From beautiful decor pieces to one of a kind calendars and artwork, the below section contains a variety of special gifts your parents are bound to appreciate.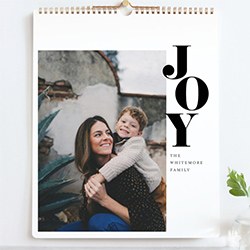 A special keepsake for the upcoming year, a personalized calendar is a beautiful memento to gift parents come Christmas time. Customize the cover and each month with multiple family photo layouts and colors, including custom text for special dates during the year. Printed on luxurious cotton texture stock, the unique calendar design features rounded corners and a spiral-bound top for easy display.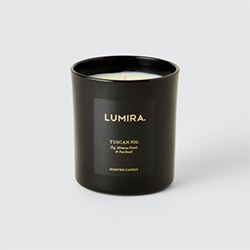 There are certain Christmas gifts for parents that will leave a lasting impression and this beautifully scented candle is surely one of them. This premium Tuscan fig candle will brighten and delightfully warm up any space with an enduring 80-hour burn time. Inspired by the Italian countryside, sweet fig is offset by an earthy base of patchouli and musk that instantly recalls the aromas under the Tuscan sun.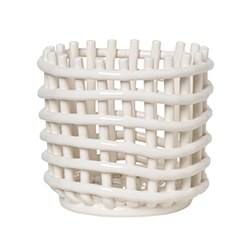 Contemporary and unique, this versatile ceramic basket is a one of a kind gift that serves a multitude of purposes. Combining pottery and traditional weaving, this striking and fun ceramic basket can be used for housing pot plants and storage of fruit or accessories, while the eye-catching design also works well as an interesting stand-alone decor piece.
If you're searching for one of a kind presents for your folks, one of the best gifts for parents this Christmas is an artificial plant. The unique faux tropical split philodendron plant will add a breath of fresh air to their home. The gorgeous leaf bush stands 15-inches tall featuring a lifelike natural green tone, and the best part of all is they require no sun or water to stay lush and vibrant forever.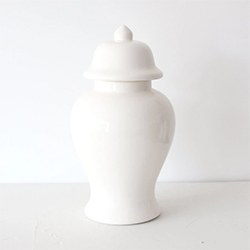 Beauty in simplicity, this pretty ginger jar vase is the perfect base to display an assortment of blooming florals or dried flora. The classic swallow-tail lidded jar has been artisan hand poured and hand-painted before being fired for a stunning and durable glossy finish that is both food and water safe.
One of those beautiful keepsake Christmas gifts for parents, this pretty ceramic bauble will be the perfect addition to their Christmas tree! Delicately hand-painted in pretty nature-inspired designs, the custom bauble is elegantly calligraphed with a family name or short phrase of your choice. Each bauble is finished with a protective matte sealant with a choice of luxurious red, green, or gold velvet ribbon.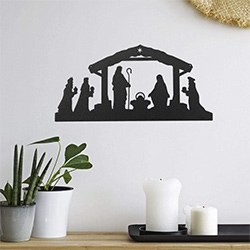 The reason for the season, this charming religious-inspired gift presents a beautiful piece of Christmas decor for the home. Featuring fine workmanship, the intricately designed silhouette presents the iconic nativity scene with baby Jesus, Mary, Joseph, and the three wise men. Made from premium, durable steel, this unique decor sign is available in eye-catching black, silver, and gold finishes.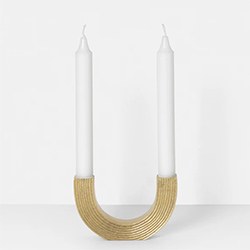 A modern design that stands out from the rest, this unique candle holder presents a simple yet elegant shape to form the foundation of this sculptural candle holder. Enhanced by grooved lines in solid brass, a beautiful sense of depth characterizes the candle holder's surface. With room to accommodate up to two candles, this unique holder makes for a stunning decor piece that will enhance tablescapes and room styling.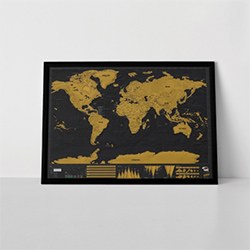 The most decorative way for your parents to show off their travel experiences, a beautiful scratch map creatively reveals each place they've visited. Overlaid with rich gold foil, a smooth matte underlayer displays vibrant locations, increasing in color with each jet setting adventure. The Scratch Map Deluxe Xl is 46 inches wide, 33 inches high, and features additional panels indicating bodies of water and summits.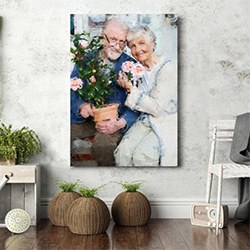 If you're after special Christmas gifts for parents this year, why not surprise them with a unique custom portrait. The mixed media artwork is hand created using innovative digital technology with a striking acrylic paint and paste finish. A gift to rival others, this one of a kind piece offers a beautiful keepsake that will be treasured for years and generations to come. And for pet lovers, a wonderful alternative is this beautiful watercolor
custom pet painting
, presenting furry friends in an endearing peekaboo style portrait.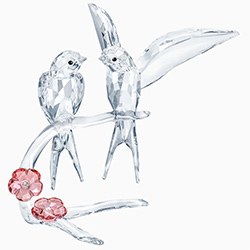 Perhaps a little more mom than dad, but nevertheless, a beautiful Swarovski crystal sculpture is a thoughtful little Christmas gift for your folks. Gracefully perched on a branch, two swallows gaze lovingly into each other's eyes, one with their wings expanded appearing as if they had just landed. The wonderful nature-inspired sculpture is crafted from clear crystal, also featuring two pink flower head accents resting upon the branches.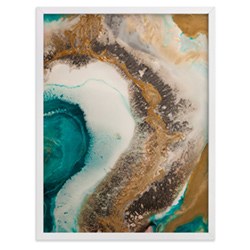 If your parents appreciate beautiful artwork or require a vibrant print to brighten up their space, this unique work of art is just what they need. The raw, creative design presents a series of mediums in resin, inspired by the elements of the great outdoors. Eye-catching gold highlights are accented with teals and white tones to create a show-stopping piece that is bound to make a statement. This stunning print is available in a variety of classic and specialty framing and border options to suit any space.
Christmas Gifts For Parents: Kitchen & Dining
If you're stuck on Christmas gift ideas for parents this year, creative and purposeful gifts for the kitchen, or those that enhance their dining experience are bound to be winners. From one of a kind napkin rings to the ultimate pizza maker, the below section contains unique and interesting gifts that will get plenty of good use.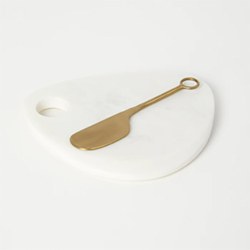 One of the best gifts for parents this holiday season is a beautiful cheese board and spreader. The stylish white marble board presents a contemporary design featuring a unique rounded triangular shape with curved edging. Paired with an elegant brass spreader, this modern dining piece will add a little bit of luxury while entertaining.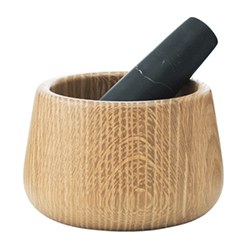 Both stylish and practical, this beautiful and unique mortar and pestle set elevates an everyday kitchen staple. Made from exclusive and durable materials, the mortar is crafted from solid oak, while the pestle is constructed from elegant and robust marble. The precise design and shape of the pestle ensure a comfortable grip and ease of use.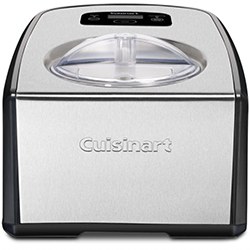 A fun and exciting Christmas gift for your parents, this ice cream maker will have them mixing a batch as soon as they open the box, even if it is mid-winter! The Cuisinart ICE-100 features touchpad controls, a countdown timer, and a 1.5-quart removable container. A beautiful stainless steel casing houses its commercial quality compressor, nullifying the need for chilling, and allowing for multiple batches to be made in succession. The sturdy unit includes two paddles, one specific to gelato and one that produces the high levels of aeration required to make mouth-watering fluffy ice cream.
Elegant and essential to every kitchen, this knife sharpener ensures your parents effortlessly prepare home-cooked meals, especially when you come for a visit! Restoring blunt blades is as easy as hold and swipe, resurrecting knives to former glory with as little as three simple swipes. The sharpener features 13-degree edges, a long handgrip, and solid footing that protects surfaces.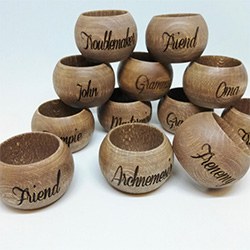 A unique and truly personalized gift for your parents to use at Christmas lunch or their next social gathering are these charming custom napkin rings. Handcrafted from natural wood, the beautifully engraved napkin rings can be personalized with a surname, initials, or the names of family members, and add a special finishing touch to set the perfect dining tablescape.
If you're after a useful utility gift, a sink drying rack minimizes clutter and mess on kitchen benchtops. The rack is suitable for in-sink and sink-side drip drying, featuring a removable utensil holder and rubber-coated feet. Constructed from wire and molded plastic, the cute drying rack is one of the best budget Christmas gifts for parents this holiday season.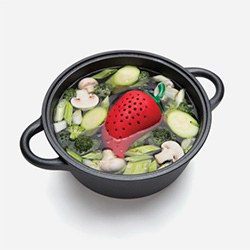 Your parents will no longer be required to pick out herbs from stews and soups with this handy little chili. The Ototo chili herb infuser keeps everything together in one place, so contents can be removed once the dish is complete. Made from food-safe silicone, the infuser is resistant to boiling water, is dishwasher safe, and ultra-effective at releasing flavor.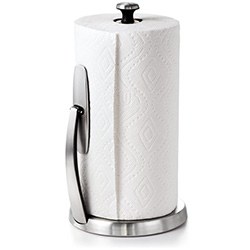 Practically stylish, a quality paper towel holder makes for a purposeful and unique gift that is sure to stand out in your parent's kitchen. The contemporary style paper towel holder presents a sleek brushed stainless steel modern design that allows for simple single-handed tearing – meaning no more wasted paper or torn edges! A spring-activated arm locks open for loading, accommodating any size or brand of paper towels, while the quality craftsmanship features a premium weighted non-slip base for stability.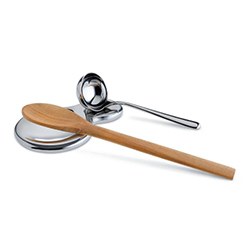 You'll be hard-pressed to find a more practical and purposeful gift than this unique spoon rest. One of the best gifts for parents, the Alessi T-1000 spoon rest features a particular shape characterized by two concave parts, allowing you to conveniently rest more than one kitchen utensil at a time! The fluid, free-flowing design is reminiscent of drops of liquid metal, inspired by the well-known Terminator film, and makes for a contemporary style kitchen essential.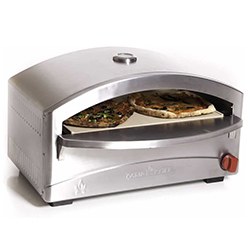 The perfect homemade pizza is just one Christmas gift away with the Camp Chef Italian pizza oven. Made from premium stainless steel, the gas-powered oven is a perfect complement or alternative to a backyard barbeque. The artisan oven bakes like it's made from brick, allowing for granular flame control with its adjustable ignition valve, to produce scrumptious pizzas cooked to perfection.
Christmas Gifts For Parents: Gadgets
The below section contains some of the most unique and useful gadget related Christmas gifts for mom and dad. From an innovative indoor garden to relaxing massage aids, these purposeful and engaging gifts will be received with thanks!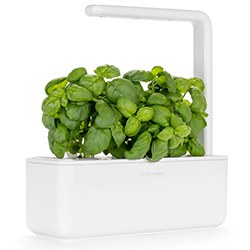 If you're after a gift that's unique, innovative, and healthy, the Smart Garden 3 by Click & Grow checks all of the boxes. The indoor garden is perfect for growing fresh herbs in confined spaces and areas where a traditional garden is just not possible. Smart Garden 3 houses three plant pods, automatically watering while providing lighting and nutrition. In addition to the unit, the box includes two lamp arm extensions, three basil plant pods, and a guide with professional tips.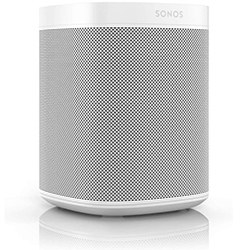 If modern entertainment is what you're after, one of the smartest Christmas gifts for parents is a voice-controlled speaker. The Sonos One is a powerful smart speaker, perfect for tech-savvy parents who need an audio boost. Fitting for any room in the house, the rich detailed sound can also be upgraded to stereo quality with the addition of a second unit.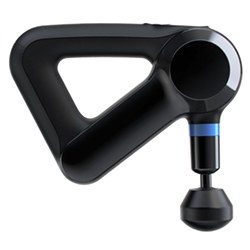 The ultimate Christmas gift for mom and dad, a modern percussive therapy massager helps effectively relieve muscle tension. The Theragun Elite is extremely quiet and contains a premium ion battery that provides two hours of continuous message on a single charge. Best of all, the massage gun can be used solo, easily reaching most muscles, while areas such as the middle of the back, parents will be required to give each other a helping hand.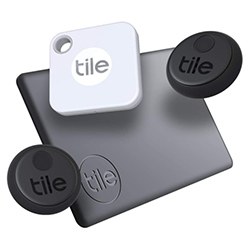 An unavoidable truth of life is that vital items will continually get misplaced or lost and the next Christmas gift idea helps find those items. The Tile Slim & Mate pack contains two keychain trackers and two thin trackers that easily slot into wallet compartments. Finding nearby items is as simple as ringing the tile tracker using the Tile smartphone app. When out of range, the Tile app will display the last known location and if need be, the Tile network can lend a helping hand.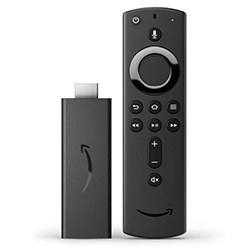 Fast streaming, Full HD, and Alexa Voice remote – what else could your parents ask for? The Fire TV Stick is a dongle that magically increases the IQ of your parent's TV, making it smart. With the addition of smart functionality, apps such as Netflix, Prime Video, and YouTube are made available, significantly expanding their entertainment library.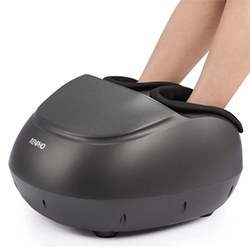 Christmas gifts for parents don't get much more relaxing than a foot massage in a box. The Renpho foot massager offers kneading and shiatsu, delivered in a choice of three intensities, including a heating function for freezing cold nights. Air compression gives feet the feeling of being hugged, while the timer ensures both mom and dad get a fair turn.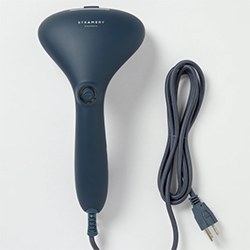 Elegant and effective, the Steamery Cirrus No.2 plays the role of iron, eliminating creases and wrinkles in no time. This amazing clothes steamer features a 90ml water tank which facilitates over six minutes of continuous activity, including a stainless steel front plate for even spread. Requiring only fifteen seconds to produce strong dry steam, the lightweight Cirrus No.2 is available in stylish light pink and royal blue color variations.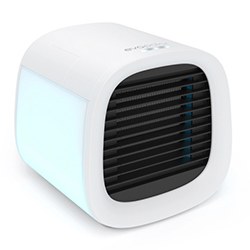 One of the best gifts for parents who don't have a fully air-conditioned house or office, or to carry with them on road trips, a portable cooler will effectively chill any space they spend time in. The Evapolar EvaChill is portable and lightweight, providing effective cooling for up to nine hours per refill. Conveniently powered by way of socket, power bank, or laptop, the device also purifies and humidifies in addition to cooling. The EvaChill features whisper-quiet operation, leak-proof system design, and an easy to fill top-loaded tank with a funnel for fewer spills. While cooling indoors is its primary use, a continuous gush of cold air on a hot sticky night camping is not beyond the cooler.
A cool tech Christmas gift for parents who want to stay connected, this Echo Show 5 bundle includes the smart unit and stand. The device features a 5.5-inch screen, front-facing 1MP camera with privacy shutter, and top buttons locations for easy manual control. Simple to set up and use, the Echo Show enables your parents to catch up on news, control smart home devices, and make hands free video calls to friends and loved ones.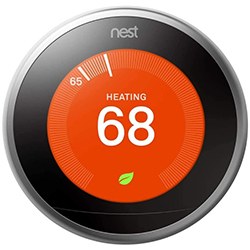 32. Google Nest Thermostat
An innovative tech gift for the home, a Google Nest smart thermostat takes care of the temperature and reduces power bills with its smart learning capabilities. Featuring a beautiful sharp display, the device is Alexa compatible and remotely controlled allowing for temperature changes from a laptop, tablet, and mobile devices.
Christmas Gifts For Parents: Mom
You are bound to receive big brownie points with our hand-picked selection of amazing Christmas gifts for mom. Whether she's into cooking, fitness, tech, or travel, you will be sure to find a wonderful gift below to suit her personality and interests.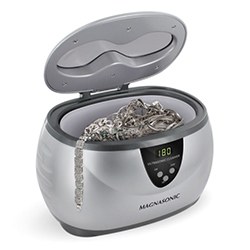 Perfect for the mom who owns a lot of jewelry, the next gift idea helps keep each piece sparkling clean. The Magnasonic is a professional jewelry cleaner utilizing ultrasonic sound waves to effectively remove dirt. Featuring five preset cleaning cycles, the cleaning gadget is suited to glasses, watches, and hygiene items in addition to jewelry.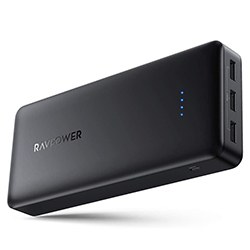 34. Portable Mini Charger
If your mom's phone is constantly running low on battery, a useful and thoughtful Christmas gift idea is a portable charger. Old phones and long calls are no match for this 320000mAh power bank, resurrecting devices four times over. Capable of simultaneously charging three devices, the portable power source is compatible with both iPhone and Samsung devices.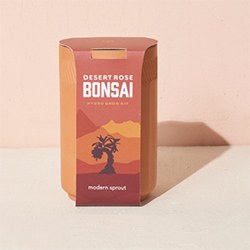 Considering separate Christmas gifts for your parents? This wonderful little grow kit is a perfect gift for mom, bringing her the joy of living plants without the ongoing work. Modern Sprout's terracotta grow kits offer a range of wonderful self-watering plants that utilize wicking to sustain life. The kits come with seeds included and are available in a range of plant types including Desert Rose Bonsai,
Prickly Pear Cactus
, and
Healing Aloe
to name a few.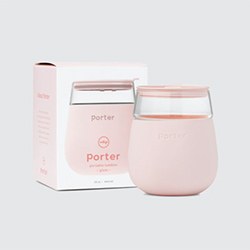 Whether she's enjoying a glass outdoors or getting a drink to go, this lovely Porter cup adds a touch of class to portable wine and cocktails. Wrapped in a stylish grippy matte silicone, the beautiful borosilicate glass cup is available in a selection of mint, charcoal, slate, and blush color options.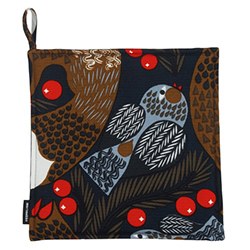 A household staple that will always be put to good use, one of the best gifts for parents is a quality pot holder. A welcome update to replace her worn-out veterans, Mom will appreciate this beautifully designed pot holder. The design presents an enchanting animal pattern in alluring shades of dark blue and brown, featuring foxes, birds, and trees. The pot holder is made of padded cotton fabric, with a convenient loop for hanging, and is perfect for use both during the holiday season and all year round.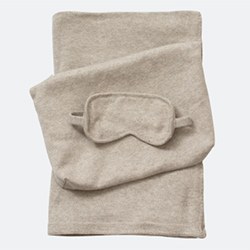 A cute little gift for her traveling adventures, this organic cotton travel set features a luxurious fine knit throw and matching eye mask so she can stay comfortable and well-rested whilst on the go. The beautiful accessories are made from premium organic cotton and come neatly packaged within a handy pouch designed to conveniently slide right over her luggage handle.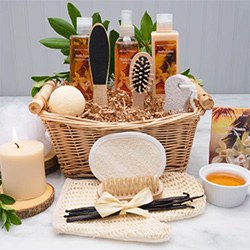 If you're searching for luxurious Christmas gifts for mom, this amazing spa collection is bound to win you some brownie points! The ultimate spa basket, this wonderful gift set contains everything she needs to pamper and care for her hands, feet, and entire body! The therapeutic set includes a hand massager, wooden brush, loofah, sisal sponge, sisal bath belt, pair of slippers, foot file, and alluring warm vanilla sugar scented shower gel, hand soap, and body lotions to help her relax and unwind.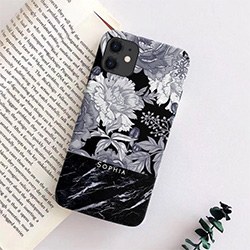 A creative gift for your Mom this Christmas is a vibrant new phone case. The artistic phone case features a beautiful monochrome floral and marble design, with the option to personalize with her name. The protective phone case will fit a variety of cell phone devices and is available in a soft silicone case, snap case, or a tough casing option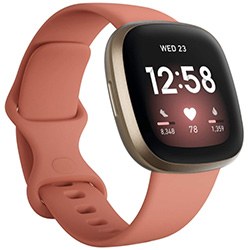 Part motivator, part health checker, a health and fitness smartwatch is the perfect gift for mom this Christmas. The Fitbit Versa 3 tracks walking distance, heart rate, and sleep, providing personalized insight into her daily activity. While functionality is its primary objective, the watch looks amazing, proving to be a fashionable fitness accessory and a great complement to everyday attire.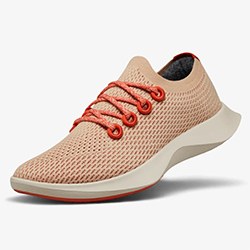 Make moms' daily outdoor activity that little bit easier with a brand new pair of runners. Whether for shopping, or exercise, the Allbirds Tree Dashers will be there to provide support. The runners are ethically constructed from renewable materials, it's sugarcane midsole conforming to each and every step she takes.
Christmas Gifts For Parents: Dad
Are you on the hunt for Christmas gifts for dad that are not the same old options as previous years? From custom drinking pieces to unique accessories to suit their personality and interests, our hand-picked selection of gifts for your dad are far from boring and ordinary.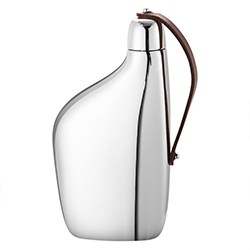 If dad has been known to table a few drops of his favorite scotch within arm's reach, the next gift idea is for you. Modern and charming, the Sky hip flask is crafted with mirror polished stainless steel and contrasted with a stylish leather strap for carrying. The sculpted design stands out in any space, while its solid construction makes it a useful container for transport.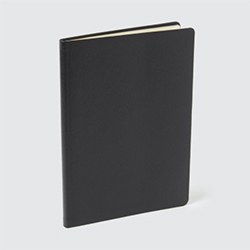 A great Christmas gift for your parents when you want items that match, a modern journal facilitates writing in style. Available in stylish burgundy, navy, black, and tan finishes, this is the perfect tool for jotting down his thoughts, motivations, and goals. The journal features a beautiful pebble-grained leather cover and is filled with luxurious silver gilt-edged ivory paper.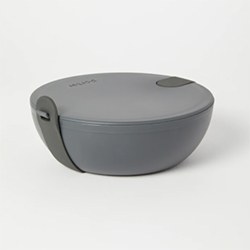 Transporting food has never been this easy, the versatile porter bowl secures contents, keeping them fresh for meal breaks. Constructed from durable plastic, the container is microwave safe and features a non-slip lid with a tight-fitting silicone strap. Not even dad can make a mess using this elegant Tupperware alternative, which is available in mint, charcoal, and slate.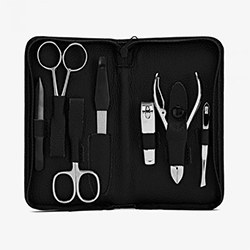 Putting the man in manicure, Murdock London produces a set worthy of gifting your dad. The set includes all the bits and pieces required to maintain nails, beards, and nose hair, including tweezers and a file. Made in Germany, the seven-piece set is housed in a stylish black case, zippered all around to keep contents secure.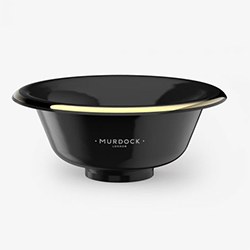 If you're thinking of buying separate Christmas gifts for your parents, a luxurious shaving bowl is a great idea for your dad. For use with foam, cream, and shave soap, a shave bowl provides the platform he needs for mixing a fluffy lather. Murdoch London offers two amazing variations, the Flemming (pictured) and the
Doyle
, which features a convenient side handle.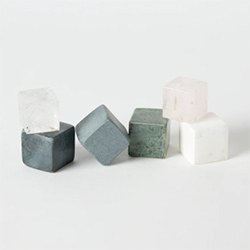 Because nobody enjoys a watered-down drink, a set of chilled whiskey stones provide a sensible alternative to traditional ice cubes. Hawkins New York drink rocks present a collection of six unique cubes, reusable, and perfect for drinking with a partner. The stones come in a neat cotton bag and are also available as
spheres
if preferred.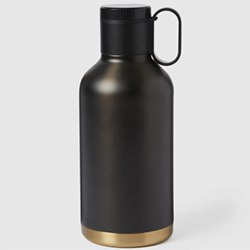 Because dad's priority is ensuring his beer does not decline in quality, this handsome beer growler is perfect for storing homebrew and transporting refills home from his go-to brewery. Housing 64oz of brew, the growler features double-walled insulation, a metal handle, and a removable lid that conveniently attaches to the handle so it will not be misplaced.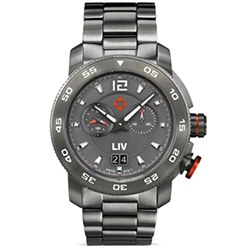 If you're after memorable Christmas gifts for each parent, you can start with a premium watch for dad. The Liv GX Alarm is elegantly designed with a gunmetal gray face, case, and bezel, including a handful of vibrant orange elements for the perfect contrast. Featuring Quartz movement and anti-glare sapphire crystal, the Swiss watch also offers a selection of three stylish band options: silicone, waxed leather, and a classic bracelet.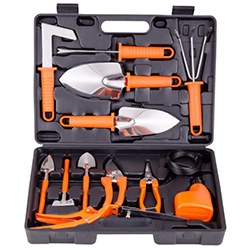 For the green thumb father who spends time crafting his garden, a gardening set ensures he has the right tools for the job. Each tool features an ergonomic handle for a comfortable grip and stainless steel construction for durability and longevity. Loosening soil, weeding, and pruning will be a breeze with this fourteen piece tool set, each one securely housed in a strong molded shell box.
Christmas Gifts For Parents: Beverage & Bar
If you're searching for unique Christmas gift ideas for parents who enjoy a drink or two, the below section contains a selection of the best beverage and bar inspired gifts for coffee lovers, wine connoisseurs, tea drinkers, and everyone in between.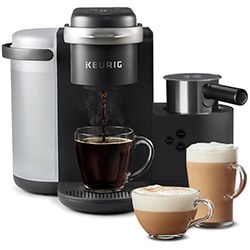 The best gift for parents who love coffee, a coffee machine that makes frothy lattes and cappuccinos from the comfort of their home simply can't be beaten. The Keurig K-Cafe coffee maker morphs parents into baristas with its push-button operated frother and convenient coffee settings. Simple to use and easy to clean, the coffee machine features a 60oz removable reservoir, smart start, and energy-saving functionality. Another useful aspect of the unit is the ability to fill tall travel mugs, making coffee on the run even easier.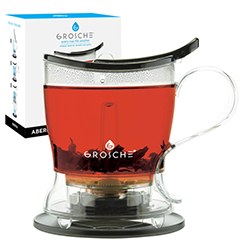 A wonderful Christmas gift for parents, this innovative tea steeper is perfect for tea lovers who enjoy a sip with good company. The wonderful tea infuser features a shatterproof construction, anti-warp filter, and a choice of 17oz or 34oz capacity. Best of all, tea is easily dispensed from the bottom, so no more messy spills and drips.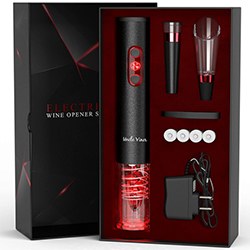 A unique Christmas gift for mom and dad, this wine opener ensures there's never any trouble popping the cork. Perfect for parents who love a glass or two with dinner, an electric wine opener means no more manual twisting and no more accidental spills. The elegant gift set includes an electric corkscrew, aerated pourer, foil cutter, and a vacuum stopper for keeping wine fresh for longer. Also included in the set are a charger and four AA batteries, allowing for eighty opened bottles on a single charge.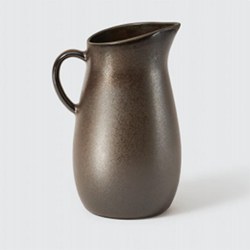 Crafted in sleek and minimalist Nordic design, the Raw Stoneware Jug is a glazed earthen beauty that will elevate their dining table. Handmade with a beautiful matte finish, the 20 oz pitcher is the perfect vessel for water, cider, or any of their favorite beverages, and can also double as a unique vase.
An amazing gift for your coffee-loving parents, this elegant coffee grinder brings out the rich tastes and aromas of freshly ground beans. The Collar grinder is constructed from strong ceramic and features a mechanism for adjusting the coarseness of their grind. Its functional design may easily be overshadowed by its beauty, minimalistic in style with a stylish matte black and brass plated finish.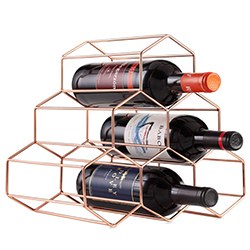 A unique decorative Christmas gift for parents to display their favorite bottles, this honeycomb wine rack beautifully houses six standard wines. The modern wine rack features a free-standing display and a wrought iron frame that allows onlookers to view each bottle unhindered.
Hello, elegance! These gorgeous coasters present a set of 4 exquisite marble coasters that will protect your parent's tables while exuding beautiful design. Featuring a stunning white and grey marble pattern, the coasters also include rounded edges for a smooth and stylish finish.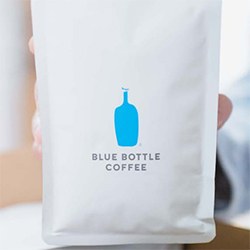 A special Christmas gift for parents who appreciate a quality cup of brew is a Coffee Subscription, delivering rich bodied flavors straight to their door. A unique gifting option, Blue Bottle coffee offers a choice of espresso, single-origin, and delicious blends, packaged in 6oz or 12oz bags.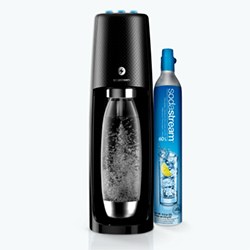 One of the best gifts for parents who enjoy a fizzy beverage, the Sodastream One Touch puts bubbles into water for a healthy refreshing drink with a twist. The stylish kitchen gadget is available in black or white color combinations and is bundled with a carbonating cylinder, plus a one-liter bottle. For parents who prefer a little flavor, Sodastream offers a range of mixes from fruit drops to old fashioned lemonade and even cherry cola.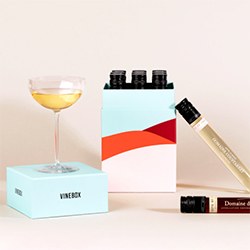 The perfect Christmas gift for wine connoisseur parents, a unique assortment box of reds, whites, and rosé arriving each month is like a never-ending surprise. The Vinebox quarterly wine club sends nine of the season's best wines, each bottled in a unique glass tube. Packed in single glass servings, cases contain both trending and vintage releases.
Christmas Gifts For Parents: Bathroom
Sometimes the most practical Christmas gifts for mom and dad are the best! The below section contains some of the most unique and interesting pieces for their bathroom that are bound to be warmly welcomed.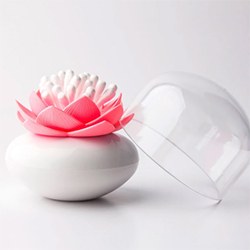 If you're stuck on Christmas gift ideas for parents who have everything, the following creative gift is just what you're after! This one of a kind cotton bud holder presents a very unique design, crafted in the shape of a beautiful flowering lotus, featuring intricately designed petals blossoming to reveal a budding cotton bud center. The stunning minimalist design presents an elegant soft white finish, including a clear dome lid to protect cotton buds whilst not in use, and will seamlessly blend into any bathroom space.
A mess-free solution for bathrooms and kitchens, an automatic soap dispenser is a great replacement for bars of soap and plastic pump bottles. The Umbra Otto is a sensor-based dispenser that holds 6oz of sanitizer or soap. Battery-powered, the device distributes .07oz each time a hand is placed under the nozzle, allowing for just under ninety washes per fill. The top-loading dispenser is available in white and nickel, featuring an elegant modern design your parents will love.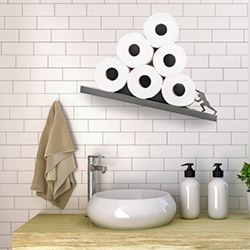 One of the funniest Christmas gifts for parents, this toilet paper shelf is made functional by the strong man holding his ground. Based on the legend of Sisyphus, instead of endlessly rolling a boulder uphill, he holds off toilet rolls only to have them return when refilled! This unique gift is sure to put a smile on the face of anyone using the porcelain throne, while also providing a humorous surprise as your parents unwrap their gift.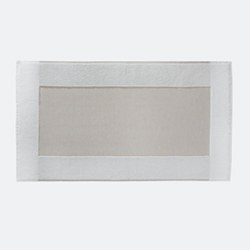 A practical and handy gift for your parents this Christmas is a beautiful bath mat. The Macro tub mat presents a soft and absorbent rectangular bath mat available in both classic taupe and charcoal tones with a unique wide taped border and will seamlessly blend into any bathroom design.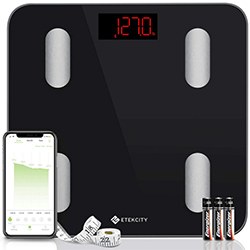 A great bathroom gift idea for parents who are on a health kick or maybe just need an upgrade is a set of digital scales. The Etekcity body scales measure more than just weight, indicating visceral fat, subcutaneous fat, body fat percentage, and BMI levels. That's not all, bone mass, body water, skeletal muscle, and muscle mass measurements are also provided. The scales are able to sync with fitness apps, so if your parents are tech-savvy, they can track their body composition over time.
Christmas Gifts For Parents: Travel
The below section contains a unique selection of the best travel-inspired gifts for jet setting parents, or to inspire your folks to pack their bags and explore.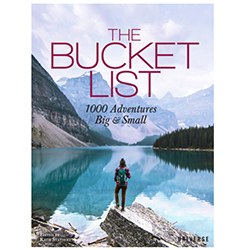 A beautiful travel book to inspire dreams of adventures big and small, The Bucket List is the ultimate guide to fun, fantastic, and life-affirming activities for both young and old. From sports-related endeavors, natural wonders, cultural experiences, culinary delights, or self-improvement, this comprehensive guide offers a wonderful collection of activities from all around the globe. Whether your parents are more active or laid back, serious-minded or lighthearted, this book is bound to captivate their imagination for discovering new, stimulating activities.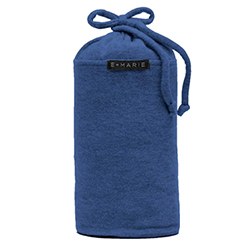 One of those lovely Christmas gifts for parents to pack on their next adventure, this travel blanket is a cozy companion they will appreciate whilst away. The Everything Travel Blanket proves that comfort and style don't have to be mutually exclusive when traveling! Compact and lightweight, this beautiful soft-brushed knit blanket can be worn as a scarf to accessorize, then later used as a warm and comforting blanket whilst traveling. Featuring easy machine wash care, this versatile travel blanket also comes with a safe-keep bag for convenient storage.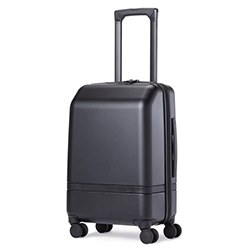 If quality is a top priority, the Nomatic carry-on exceeds all expectations. Perfect for short trips both domestic and abroad, the durable case ensures seamless packing, maximizing space, and optimizing organization. The case is strong enough to withstand a sledgehammer blow, featuring silent Hinomoto wheels and efficient magnetic straps to secure your parent's luggage.
Who doesn't need more space when packing their luggage? The Nomatic vacuum bag requires no physical vacuum to shrink, instead, relying on an air valve to facilitate compression. Contents are stacked into the bag, the top opening is sealed together, and the bag is then rolled to reduce in size.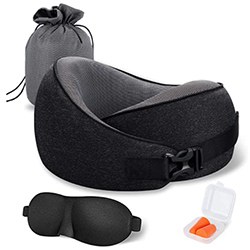 One of the most fitting Christmas gifts for parents during long haul flights or drives is a comfortable neck pillow. The MLVOC travel pillow is a pure memory foam neck pillow featuring a unique Y-shape and adjustable buckle, allowing 360-degree rotation of height and thickness to perfectly angle the pillow to suit their sleeping preference. Made from soft, cool, and breathable material, this luxury travel pillow provides superior neck support, ensuring a comfortable experience to help fall asleep easier and relieve travel fatigue.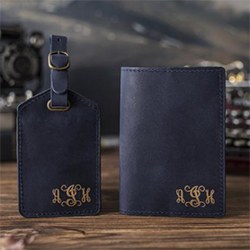 One of the best gifts for parents who travel a lot, this elegant travel wallet holds passports, boarding passes, and cards. Made from distressed cowhide, you can customize the lettering to include an initial, name, or an entire message. The wallet comes partnered with a matching luggage tag and is also available as a pocket-free passport cover.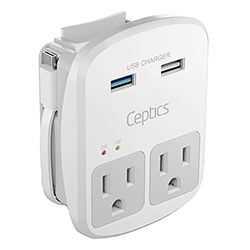 A must-have gadget for any traveler, a world travel adapter is a smart Christmas gift for parents that jet set internationally. The Ceptics adapter includes six power attachments that allow devices to be powered using European, Chinese, Australian, Japanese, and UK outlets. Equipped with built-in surge protection, the adapter is compatible with fast charge devices and features two US outlets, two USB ports, and a micro USB cable.
Searching for more than Christmas Gifts For Parents? Check out some of our other great list for more awesome gift ideas.