Wini Gifts is supported by our readers. At no additional cost to you, we may earn a small commission from the purchases you make using our links.
Learn more
From creative and unique pieces to playful and minimalist-inspired pendants, our handpicked selection of stunning cat necklaces contains special jewelry to suit every cat lover. Whether you're after fun and youthful pieces for everyday wear or elegant and refined necklaces for special occasions, these delightful accessories are bound to make any pet lover very happy.
If you're after striking cat jewelry that is slightly left of field, the below section has you covered. These creatively designed pieces contain a variety of unique charms that make an eye-catching statement any cat lover will boldly display with pride.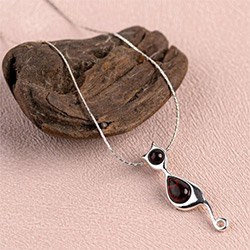 One of the most striking silver cat necklaces to grace our list is this one of a kind piece. The stunning pendant presents a feminine, fluid design, expertly handcrafted to form a beautiful feline silhouette. Featuring accents of genuine Baltic amber in an alluring black cherry tone, this gorgeous necklace presents an elegant and bold design that is bound to receive plenty of compliments.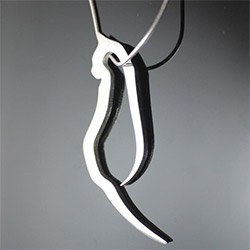 A cat pendant that will stand out from the rest, this attractive piece oozes bold and modern elegance in a simple yet striking design. Expertly shaped from a single piece of silver, the handcrafted pendant presents a minimalist artistic feline design. Featuring perfectly angled curves and a sharp pointy tail, this sleek necklace is available in 2 sizing options and presented in an elegant slimline, fluted box ready for gifting someone special.
A wonderful gift to surprise a special cat person is this beautifully intricate custom pendant. Handcrafted from premium silver, the unique pendant presents a highly realistic engraving of your cat breed of choice, featuring detailed craftsmanship and fine detailing specific to your favorite feline friend. Made from premium sterling silver, this personalized piece can also be customized to feature different cat eye colors that truly make the design pop.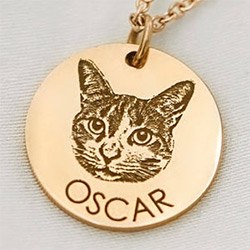 Another beautiful variation of a custom pet pendant is this modern custom engraved tag. A highly personal and thoughtful gift any cat lover will appreciate, this unique item presents a circular tag featuring a personalized engraving of your very own companion. Crafted from hypoallergenic tarnish resistant stainless steel in a choice of stunning gold, rose gold, or silver finishes, this special tag also includes your pet's name available in a variety of font styles, creating a timeless piece you will never want to take off.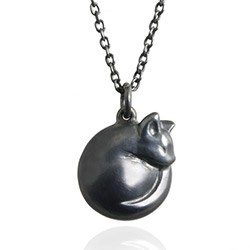 This one of a kind black cat necklace presents a unique, contemporary style that is bound to stand out from the rest. The original piece presents a sleepy black companion, perfectly curled into a peaceful slumber. Handcrafted in the UK, this limited-edition eye-catching necklace is made from solid sterling silver, then oxidized and polished to create a beautifully bold and refined statement piece that can also be personalized for gifting a very special cat person.
From original wire sculpted pieces to colorful and unique pendants, the below collection contains a bold and vibrant selection of artistic and creatively designed charms for cat lovers who appreciate something a little different.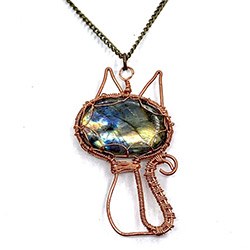 A statement piece of jewelry like no other is this artistic wire wrapped cat pendant. The intricately handmade piece presents a cat silhouette, creatively constructed from a blend of shiny and vintage copper that radiates a beautiful two-toned appearance. Within the cat's head is a light dancing oval shaped labradorite stone with beautiful green, blue, pink, and gold hues.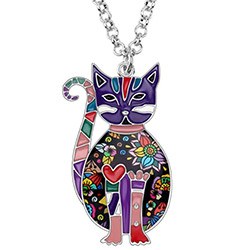 One of the more artistic cat necklaces to grace our list is this bold and vibrant kitty. The creative design presents a 3D cat silhouette featuring lively, colorful floral and mosaic patterns. With a beautiful and vivid collection of tones and motifs, this stunning fashion necklace comes attached to a cable chain and is also available in 5 other striking designs.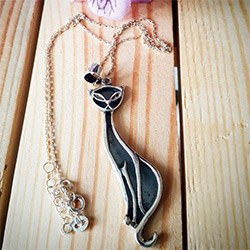 For an artistic cat lover who appreciates the performing arts, this sophisticated cat pendant is the perfect fit. Handmade from premium sterling silver, the elegant elongated black feline is strikingly reminiscent of le Chat Noir culture. This unique style collection also includes a
pretty choker necklace with pearls
.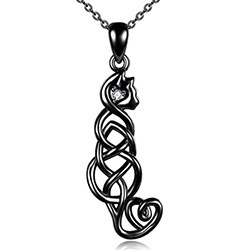 A highly unique piece of statement jewelry, this bold cat pendant is the perfect gift for a creative cat person with distinct taste. The original fluid design presents a striking cat silhouette outline, creatively constructed within the shape of a Celtic knot and featuring a sparkling gemstone encapsulated within the cat's head. Crafted from genuine sterling silver with a black coating, this eye-catching pendant is also available in gold, rose gold, and silver finishes, and beautifully presented in an exquisite gift box.
For those who find happiness in all things minimalist, the following creatively unique pieces will be right up their alley. From simple cat silhouettes to petite and dainty pendants, these strikingly bold, yet subtle charms will perfectly pair with any outfit or style.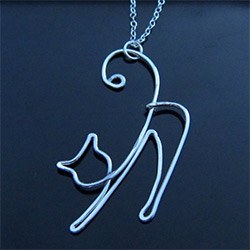 One of the most simple, yet striking cat necklaces to grace our list is this minimalist wire cat silhouette. The creative design has been constructed from a single piece of wire, expertly handcrafted to precisely depict the elegant feline form. This simple and delicate pendant has been hand-hammered to create texture on the tulip and is available in stunning sterling silver, and beautiful 14K gold and rose-gold finishes.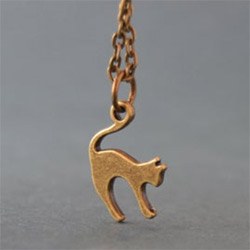 Any vintage cat lover will adore this dainty petite antique style necklace. The small charm features a tiny bronze cat, precisely shaped with an arched back and ready for prowl or play. Featuring a beautiful antique bronze tone with a dark patina, this charming pendant comes perfectly paired with an adjustable length necklace and can also be personalized with initials or birthstone charms.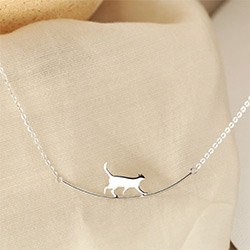 Any cat person will be all too familiar with a feline's innate ability to effortlessly grace a fence line with ease. This stylish minimalist piece of jewelry presents a lovable feline, casually walking the tightrope. The dainty design is made from genuine sterling silver and is a beautiful necklace for everyday wear.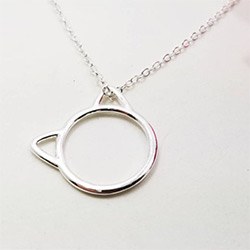 A perfect gift for a lover of all things minimalist is this gorgeous cat head necklace. The modern pendant features a simple yet strikingly unmistakable silhouette outline, perfectly positioned dangling from a single ear on a dainty cable chain.
From adorable kitty yarn play to some happy iconic kitties, the below cat jewelry contains fun and playful pieces that will make a wonderful gift for those who adore these amazing creatures.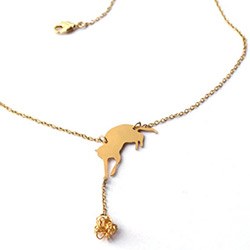 This adorable necklace is a fun piece of jewelry that is so unique it is bound to receive plenty of compliments. The gold cat necklace presents a playful kitty, casually playing with a dangling messy ball of yarn. Made from premium thick 18K gold plated brass, this stunning pendant is precisely placed between two jump rings, attached to a dainty gold-filled chain.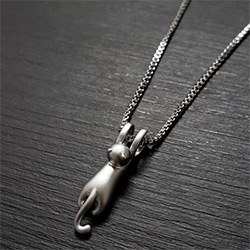 Fun and unique, this playful pendant will make a wonderful gift for cat lovers everywhere. The delightful necklace features a charming kitty just hanging out around your neckline. Beautifully designed, this feline companion's paws are elegantly looped within the dainty chain and is available in genuine sterling silver and also silver and gold plated finishes.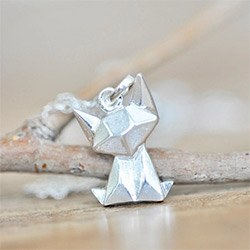 A unique cat pendant for kitty fans and lovers of all things Japanese is this original origami cat necklace. The adorable handcrafted pendant features a playful little cat, creatively shaped in a geometric origami design. Presented on a dainty necklace, this contemporary pendant has a modern matte silver finish that is perfectly paired with any casual outfit or style.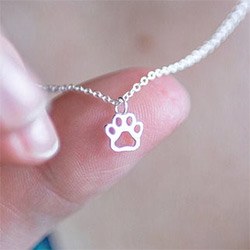 The most beautiful and daintiest of cat paw necklaces, this pretty pendant is a beautiful keepsake for a cat mum who likes to keep her fur-baby close to her heart. Handmade from premium sterling silver, the pretty jewelry piece features a delicately intricate silhouette outline of a cat paw attached to an elegant curb chain. An alternative design, this lovely
gold paw print disc necklace
includes personalization of your kitty's name or nickname and is a beautiful daily reminder of your pet.
The perfect piece to solidify your friendship and adoration of the feline species is with this original yin yang cat necklace. The creative cat-inspired friendship necklace presents two affectionate kitties in a warm embrace as together they form the unique shape of a moon. Both cats are slightly different silver color tones, and once separated, each cat gracefully dangles upside down attached to a dainty cable chain. This charming set of 2 necklaces can also be personalized and comes beautifully wrapped ready for gifting your bestie.
An original take on the hanging cat necklace is this charming hanging kitten necklace. The stunning design presents an intricately handcrafted kitten pendant, featuring a tiny young kitten casually grasping the cable chain above. Made from premium sterling silver, this adorable necklace is a one of a kind design and special jewelry piece for a special occasion.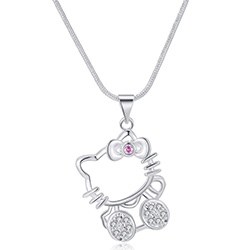 A very cute cat necklace featuring the kitty of kitties, this pretty pendant is sure to be a hit with Hello Kitty fans and cat lovers alike. The eye-catching silver plated pendant features the iconic superstar portrayed with her unmistakable silhouette outline. This charming pendant hangs from a delicate foxtail chain and features sparkling cubic zirconias with a pretty pink highlight within Hello Kitty's signature bow.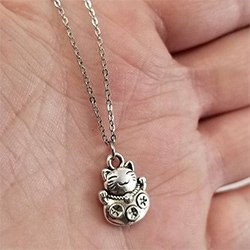 A symbol of good luck and prosperity, any cat lover will be chuffed to be wearing this adorable fortune cat. The Maneki Neko pendant presents a plump little Japanese cat who exudes happiness, good fortune, and charm. Made from surgical grade stainless steel that will not tarnish or oxidize over time, this cute dainty pendant can also be personalized for the lucky recipient.
From colorful and vibrant designs to pretty and creative pedants, the below section contains fun and youthful cat necklaces for the young and young at heart whose love for cats runs deep.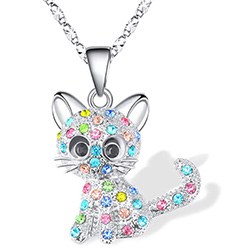 Any young cat lover will flaunt this vibrant necklace with pride! The radiant pendant presents a dainty cat pendant featuring a friendly young kitten adorned with sparkling colorful cubic zirconias. Tarnish-resistant and durable, this cute cat necklace comes with a matching adjustable silver chain and is the perfect gift for a special little miss.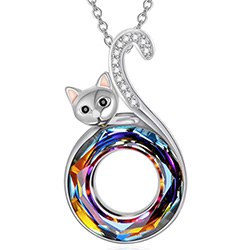 This bright sterling silver cat pendant is as unique as it is eye-catching. The smooth and vibrant design presents a colorful and attractive pendant featuring a curious kitty shaped in a stunning circular design. This brilliant and striking piece includes multicolored volcano crystals and rows of Swarovski pavé crystals that gather a dazzling light on this gorgeous cat necklace.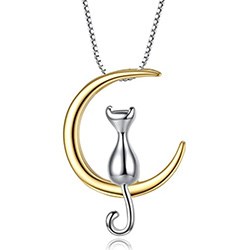 Peacefully reflecting under the night sky is this serene, contemplative feline friend. The sterling silver and gold cat necklace presents a poised kitty with a relaxed tail seated elegantly over a moon crescent. Gracefully encapsulated within a silver snake chain, this dainty necklace can easily be dressed up or down with any outfit.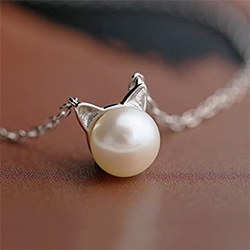 A wonderful gift with an element of uniqueness is this gorgeous pearl cat necklace. The fun piece of jewelry presents a beautiful freshwater pearl as the central focus with two small silver cat ears protruding either side to form a cute cat face. A dainty cable chain encapsulates this elegant pendant that comes beautifully packaged in a stylish presentation box ready for gifting.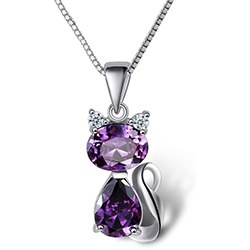 When it comes to glamourous cat necklaces with sparkle, this bright kitty exudes an elegant radiance that won't go unnoticed. The charming necklace presents a brilliant feline pendant adorned with sterling silver inlay Swarovski element amethyst and gleaming zircon crystals. Also featuring a mischievous tail that curls up, this fun and youthful charm will make a wonderful birthday or Christmas gift for a young girl or tween.
From endearing everyday pendants to striking sophisticated pieces, the below section contains an elegant and unique collection of cat necklaces that will make a wonderful gift for someone special.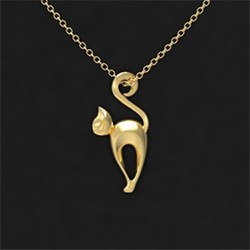 A highly unique and elegant necklace, this sophisticated pendant is the perfect gift for a cat lover with refined taste. The stunning charm presents a dignified feline, perfectly poised with a smooth arched back. This chic cat pendant encapsulates strength and feminine charm and is available in gold plated brass, rhodium-plated brass, polished silver, or luxurious 14K yellow gold.
If you're after a beautiful everyday piece of cat jewelry, you can't go past this sweet heart pendant. Encapsulated within a gorgeous heart silhouette outline is a very relaxed kitty, with arched back and front paws casually outstretched. Crafted from real sterling silver and decorated with shining cubic zirconia, this pretty delicate necklace will make a wonderful mother's day or birthday gift for someone special.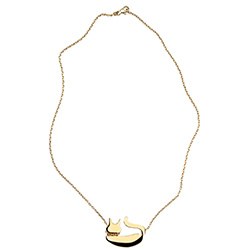 There are those special cat necklaces reserved for special occasions only and this unique pedant is surely one. Part of the Alex Jona design collection, this stunning necklace has been handcrafted in Italy, presenting a fluid design portraying a very relaxed feline. Made from 18K yellow gold and presented on a matching gold cable chain that elegantly graces the cat's neckline, this luxurious necklace will arrive beautifully gift wrapped inside an elegant pouch or jewelry box.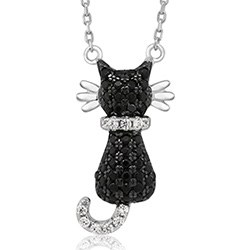 This glistening cat necklace presents a unique and elegant charm that is sure to make a lasting statement. The pretty pendant presents a sophisticated black cat with an intricate floral design, featuring sparkling round zirconia collar and tail embellishments. Attached to a genuine sterling silver cable chain, this sparkling necklace can be easily dressed up or down with any outfit.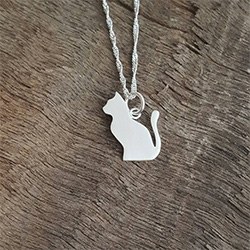 With an elegant and poised silhouette, this charming cat pendant depicts a proud feline just waiting to be shown off. Expertly handcrafted using a saw frame and fine blade, this pretty sterling silver piece presents a smooth and refined cat silhouette with a brushed finish, perfectly paired with a dainty sterling silver Singapore chain.
Searching for more than Cool Cat Necklaces? Check out some of our other great list for more awesome gift ideas.