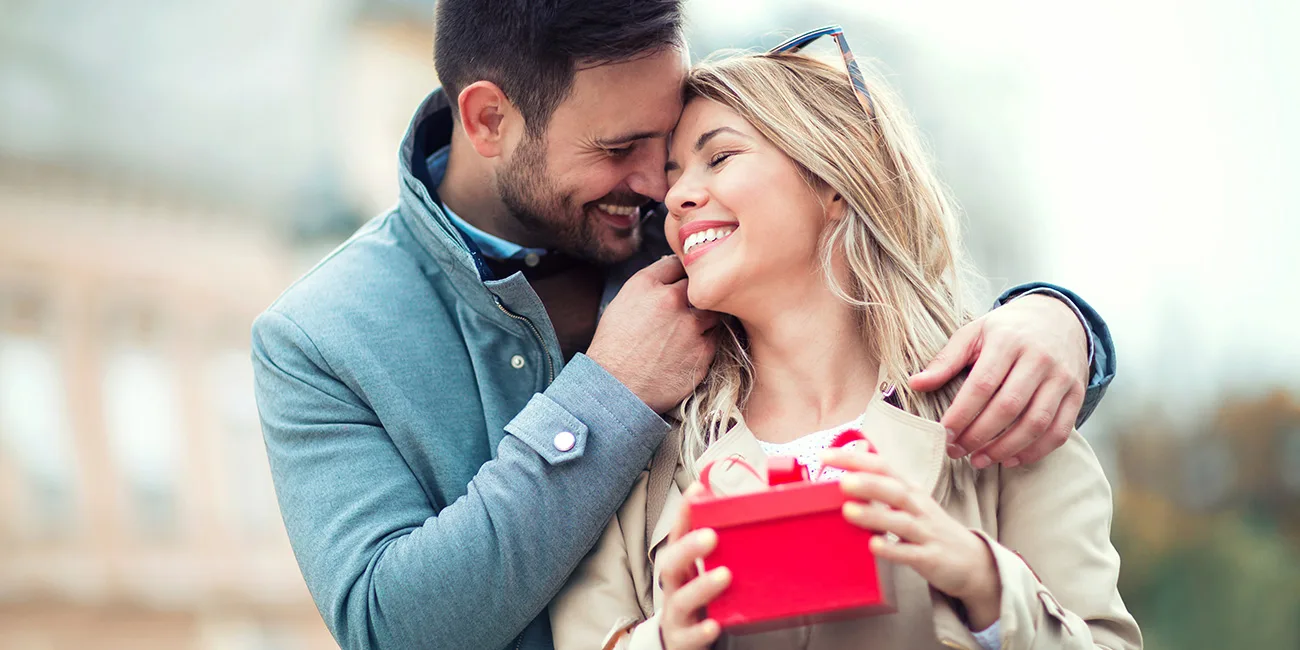 Wini Gifts is supported by our readers. At no additional cost to you, we may earn a small commission from the purchases you make using our links.
Learn more
Birthday Gift Ideas For Your Girlfriend
It's a very special day for her and no doubt you're searching for only the best and most creative birthday gift ideas for your girlfriend to let her know how appreciated she is. From thoughtful keepsakes and beautiful decor to practical pieces with purpose, our extensive list of creative birthday gifts for girlfriends will be sure to impress her!
Birthday Gift Ideas For Your Girlfriend - Personal
Creative birthday gifts for girlfriends that cater to her passions and interests will always have a sentimental touch and be well received. From beautiful keepsakes to elegant gifts with purpose, these thoughtful gift ideas will be sure to make her smile.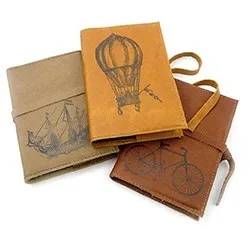 If you're after small romantic birthday gifts, this beautiful travel companion is one she can take on your next trip. The rustic leather travel journal provides an elegant space for her to collect experiences that can be reflected upon in ways pictures simply cannot. Small enough to fit into bags and suitcases, yet large enough to document countless adventures, this journal incorporates a wrap-around strap and also comes with a cherry wood bookmark. The journal is crafted from soft and durable cowhide leather and features vintage transportation images of a hot air balloon, tall ship, bicycle, and world map. Available in three distinctive color options; Desert Gold, Soft Taupe, and Saddle Brown, the journal also includes a gift boxing option. Easily refilled with a new 6 x 4-inch notebook when full, this vintage yet creative birthday gift for your girlfriend is a perfect thoughtful surprise.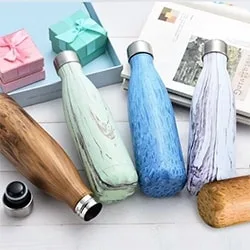 Help keep your lady hydrated with the next practical and chic birthday gift idea for your girlfriend. This stylish and sleek Nordic water bottle is the perfect companion for work, exercise, and adventure. With a mouth large enough to fit most ice cubes, this water bottle will keep drinks cool for up to 24 hours. Available in 9 fashionable color variations; Wood, Smoke, Pink, Mint, Blue Marble, Purple Spiral, Navy, Granite, and Blue, the high-quality stainless steel reusable Nordic water bottle is both BPA free and environmentally friendly and makes for a very cool birthday gift.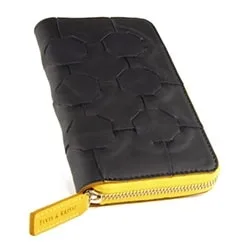 Another thoughtful gift for your girlfriend's birthday is this everyday essential, with a creative design. The Fire & Hide hand-woven leather purse combines craftsmanship and style with environmental sustainability. Uniquely manufactured from hand-woven rescued leather, reclaimed parachute, and decommissioned fire hose, this purse was voted best purse in 2019 by The Independent. Available in 5 elegant finishes, this unique handmade purse features a zippered coin pocket, note slots, 12 credit card slots, and even a compartment large enough to fit her smartphone.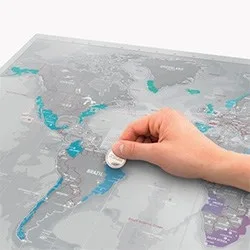 A fun and creative birthday gift for your girlfriend, the next idea will have her planning trips years in advance! The Scratch Map is the perfect wall decor piece that serves as a nostalgic snapshot of her globetrotting adventures. This luxurious design is printed with shimmering metallic ink, featuring a top layer of removable platinum foil, and includes a high scratch quality coin, to simply scratch away and reveal destinations! Also available in five other style, size, and color combinations, there's an option to suit any interior design. Select from platinum foil, rose foil, silver foil, black with gold foil, white with gold foil, and blue with green foil. From scratching away capital cities to unveiling local wildlife, this map is sure to find a permanent place on her wall.
A perfect smartphone companion, our fifth birthday gift idea for your girlfriend is one that will get plenty of use, fast. The Urbanears Pampas are as elegant as they are crisp. These wireless Bluetooth headphones feature a collapsible design for convenient storage, including over ear caps to block out noise. The uniquely designed Pampas are built for extra-long listening comfort, with optimally angled caps and a cushioned headband. An astonishing 30 hours of wireless playtime ensures a battery that will last for days on end, so there's no need to charge daily. Available in 2 contemporary color options, the bold design of the Pampas earphones stand out from the competition, while the optimized acoustics provide an immersive musical experience. Featuring instant music sharing, responsive control knob, and 30 foot Bluetooth range, these will be the last and only headphones your girlfriend will ever need.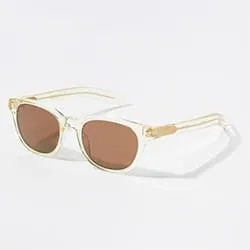 If you're after a safe surprise option, the next item on our birthday gift ideas for your girlfriend list will be sure to impress. The Flatlist Logic designer sunglasses are classically elegant and a perfect everyday eyewear accessory. Feature materials include Zeiss optics lenses, handmade Italian Mazzucchelli acetate frames, and durable German OBE hinges. 100% UVA/UVB protective, these stylish round lenses are available in three attractive frame styles options; Tortoise, Crystal Yellow, and Shimmery Horn, and make for a very cool birthday gift idea for your girlfriend.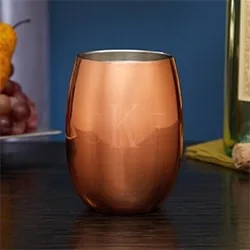 A creative birthday gift idea for your girlfriend this year is a stylish engraved wine glass. This elegant copper stemless wine glass offers a great personalized touch allowing for a monogrammed message. A perfect gift for wine lovers, the stemless glass features vacuum insulated double stainless steel walls for keeping drinks at ideal drinking temperature for longer. Also available as a
set of four
, this wine glass set allows friends and family to enjoy a special drink together.
Birthday Gift Ideas For Your Girlfriend - Candles & Lighting
If your girlfriend seems to already have everything, or you're stuck for gift ideas, candles are always a well-received gift. When it comes to creative birthday gifts for girlfriends, you can't go wrong with a gift that offers illumination, warmth, and a touch of romance, all rolled into one!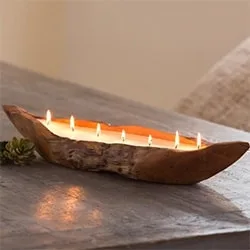 The next item on our birthday gift ideas for your girlfriend list will add the perfect ambiance to any interior. This handcrafted teak boat candle is a unique decorative piece that can be used to light up a room or backyard deck. Handcrafted in Bali, the rich dark gold wood is resistant to moisture, cracking, and will not warp over time. Each vessel is unique due to naturally occurring wood variations, making this a one-of-a-kind gift. An eco-friendly palm wax and beeswax blend fills the boat which measures 23.5 x 5.2 inches. Both a functional and decorative piece, the teak candle boat is one of the most romantic and creative birthday gifts for your girlfriend.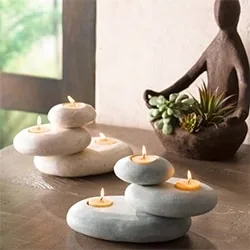 If you're searching for a gift with a soothing vibe, look no further than the Zen Stone Stack. This unique tealight candle holder will set a calming environment in any home or office. Featuring a contemporary design, these decorative and practical cairns (or stone stacks) are made of natural stone and will blend seamlessly into any interior. Available in two subtle color options; blue and white, this candle holder makes for a great gift, no matter what the occasion.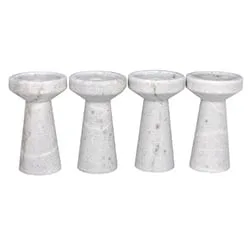 The second set of candle holders on our birthday gift ideas for girlfriend list presents a natural finish with a touch of elegance. The Noir Aleka marble candle holders will add a sophisticated touch to any mantle or dining table. Hand-carved from solid black or white marble, each stone boasts its own characteristics, making each piece uniquely individual. Made for use with pillar candles, these captivating holders can be purchased as a set of 4, and are available in black and white color variations. This opulent set is crafted to last a lifetime and will be a much-appreciated gift she will never forget.
Birthday Gift Ideas For Your Girlfriend - Home Decor
Searching for creative birthday gifts for girlfriends that appreciate styling and interior decor? Then the following gifts are sure to please her. From stylish display items to elegant functional pieces, you're sure to find a beautiful, unique gift for her.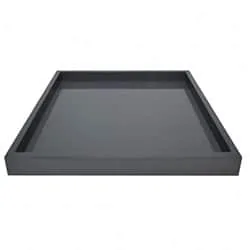 If your girlfriend enjoys decorating her home, she will love the next gift idea. This beautiful lacquer display tray will provide accents and finishing touches to any room. Available in grey and white options, this modern and elegant rectangular tray perfectly houses decorative elements such as jars, vases, and other decorative accessories. Available in 3 size variations means the display tray fits a variety of spaces, while the high shine finish ensures the piece easy to clean. In addition to housing household elements, the tray can also be used to serve guests snacks and tea. With such a wide variety of uses, this is one of the best and most creative birthday gifts for your girlfriend.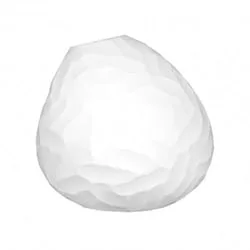 With a plethora of decorative options, sometimes the simplest gift works best. Item number twelve on our birthday gift ideas for girlfriend list presents a unique finish to a classic household item. The Mont Blanc features a creatively designed curved glass vase with a stylish pure matte finish. The beauty of the texture is heightened at night when light reflects off its numerous edges. This eye-catching vase is available in two size options; a 30cm tall vase, and a 25cm regular size. This is a creative birthday gift your girlfriend will love and cherish for years to come.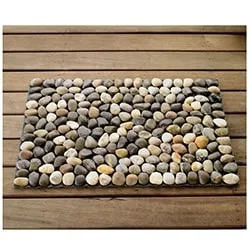 This next gift idea brings the beauty of nature to her home in a unique way. The River Rock floor mat is created using smooth river stone pebbles, creating an eye-catching welcome for visitors, or is equally stunning on a bathroom floor. This artistic floor mat is available in four amazing stone color options that include; Black, White, Ochre, and Multi-Colored. The mosaic style mat features hand-gathered stones with a matching felt backing, creating a therapeutic like feel on treading feet. One of the best birthday gift ideas for your girlfriend, this mat will impress your partner and all of her guests. If you're after a companion gift, these
riverstone coasters
&
riverstone placemats
are a perfect fit.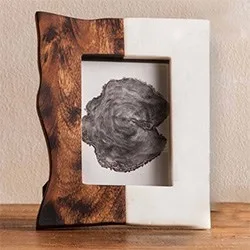 A beautiful gift you can customize, the next girlfriend birthday gift idea can be used to house one of many memories. This handmade photo frame is crafted from elegant marble and sustainably sourced stained mango wood, featuring your choice of vertical and horizontal split. Together, these elements give the frame an eye-catching symmetry. The frame measures 5 x 7 inches for the vertical split, and 4 x 6 for the horizontal split version. If you're searching for a simple and meaningful present, gifting a frame with a personal photo is one of the best birthday gift ideas for your girlfriend.
The fifteenth item on our birthday gift ideas for your girlfriend list is an innovative upgrade to an old favorite. Introducing the enormous, yet elegant Lovesac, providing a lounging experience unrivaled by traditional bean bags. The internal khaki twill sac is built to last a lifetime, able to withstand whatever is thrown it's way, while double overlock seams and double redundant zippers with locking heads encase Lovesac's proprietary fill. The fill itself is made of premium shredded Durafoam, which won't compress over time and evenly absorbs body weight for a more comfortable experience. Overlaying the sac are rich and beautifully colored covers, hand-sewn and reinforced in just the right places. Lovesac offers a large range of cover materials and color options so the sac will fit seamlessly into any room design. Lovesac covers are interchangeable, machine washable, and will maintain quality of time. The sac itself is available in many sizes, from the 6 foot wide, 4-foot tall "BigOne", to the miniature "Gamersac". The Lovesac is a truly unique and creative birthday gift your girlfriend and you can enjoy together.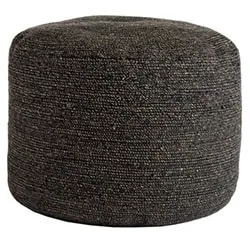 A girlfriend birthday gift idea that is both useful and decorative. The Melia Jute Pouf is a comfortable footrest, doubling as a convenient compact table. Made from handwoven Jute, the elegant Pouf is available in both natural sand and black tones. In addition to its earthy hues, the Melia Jute Pouf is hardy and constructed to hold its shape. Perfect for kicking up your feet, or resting a bowl of crisps, this Pouf will become a staple during your partner's relaxation time.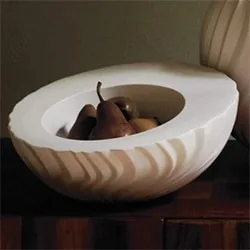 Item seventeen on the birthday gift ideas for girlfriend list is an eye-catching decor piece to enhance any interior. The Magura Bowl takes a standard bowl and transforms it into a work of art. The solid ceramic bowl features a stylish design incorporating swirled ridges to give texture to the piece, while the unique shape allows for global views. Measuring 13 inches diameter, 6.5 inches in height, and available in a striking snow-white finish, the Magura Bowl is a textural wonder that will add to the visual interest of any room.
Yet another creative birthday gift your girlfriend will appreciate if she values elegance and simplicity. This Large Flat Bowl features a shallow design and clean lines, creating the perfect canvas for styling within your home or office. Contrasting tones and textures, paired with pure matte earthenware, frames a glazed taupe interior to create a stunning effect, inviting light to dance across the surface. Measuring 50cm diameter, 9cm height, this stunning decor piece exudes minimalistic elegance in all forms.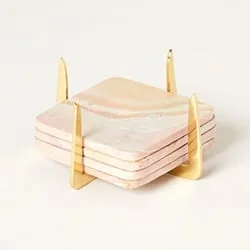 The next birthday gift ideas for girlfriend item is an elegant upgrade of a household staple that serves as more than a stunning coffee table accent. The Rose & Fitzgerald Soapstone coaster set adds a lush modern touch to any tabletop or nightstand. This stunning set includes 4 marble coasters and a mid-century inspired pure brass coaster holder. The blush, grey, cream and gold tones blend seamlessly with the hand-cut brass tone. A unique and creative birthday gift your girlfriend will love, this coaster set will provide a stylish resting place for coffee and beverages.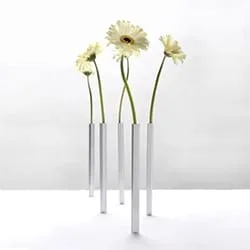 This next girlfriend birthday gift idea adds a minimalistic touch with a level of intrigue. These tall, thin magnetic vases will spark the curiosity of any guest, as each stand piece appears to be performing a miraculous balancing feat. Magnetic bases, hidden under a tablecloth, create this breathtaking effect as they secure each of the aluminum vase stands. Suitable for both artificial and real flowers, the magnetic vase set can hold water, adding vibrant life to any space. If you're after something a little more playful the
Florino Friendly flower vase
will add character and welcome guests with open arms.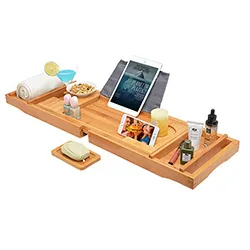 Help make bath time luxurious, fun, and even more relaxing with a tool that helps keep everything within arms reach. The Bathtub Caddy tray is the perfect birthday gift idea for your girlfriend to enjoy while winding down after a long day. Made from bamboo, the waterproof tray is expandable, allowing it to rest securely on any roman tub. With a seemingly endless list of features, this tray is equipped with a book or tablet holder, cup, or candle holder, wine glass holder, smartphone holder, soap dish, and even two sliding utility trays! Bathtime will never be the same with this creative birthday gift for your girlfriend to relax and enjoy.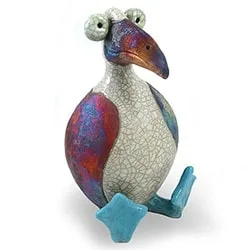 Fun and friendly, this birthday gift idea for your girlfriend is sure to put a smile on her face. The sculpture is a Raku style depiction of the Blue-Footed Booby, an eastern pacific ocean bird known for its vibrant blue feet. The handmade sculpture sits 7 inches tall and features radiant blue, copper, and burnt orange tones created during the oxidation process. This unique and creative birthday gift is one your girlfriend can display on her dresser, side table, or living area.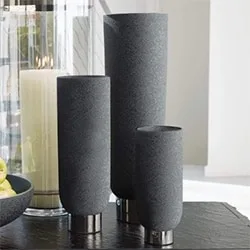 A compromise between the magnetic vase set and the Mont Blanc, this vase will add artistic sophistication to your living space. The twenty-third item on our birthday gift ideas for your girlfriend list is perfect for a modern home wishing to add a sophisticated, dark accent. This tall, elegant, and pragmatic vase features an electroplated silver base and a black, volcanic textured ceramic finish. Available in three sizes, the vase is the perfect gift that's both stylish and practical.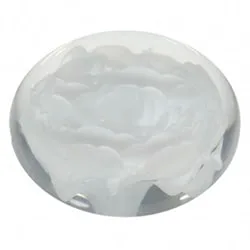 A heavily understated decor piece, a paperweight can add much character to an otherwise simple office or room. This beautiful glass paperweight encapsulates an elegant white rose, adding a chic and soft touch to her workspace or room. Measuring 8cm diameter, and 6.2cm height, this is one highly unique and creative birthday gift your girlfriend most likely doesn't already own, and will truly appreciate.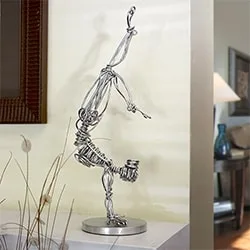 The next idea is a creative birthday gift for your girlfriend perfect for display indoors or in an undercover outdoor space. Strong and sturdy, this freestanding handstand work of art captures popular gymnastics and yoga positions. The amazing handmade aluminum sculpture is created from a single strand of wire, balancing minimalism with intricacy. The unique artisanal frame features twists and weaves that depict an elegant pose, creating this eye-catching piece. If you love the thin wire design but are unsure about the form, also available in this style of art are a stag, horse, lizard, pegasus, and tree of life.
Birthday Gift Ideas For Your Girlfriend - Kitchen & Dining
For creative birthday gifts for girlfriends who appreciate all things dining, we have put together the following gifts. These unique and elegant pieces are both stylish and functional, and sure to be enjoyed by herself and guests alike.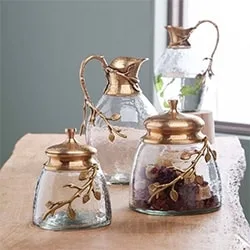 26. Decanters & Canisters
Items twenty-six on our birthday gift ideas for girlfriend list are nature-inspired and handcrafted to vintage perfection. The beautiful cast silver branch decanters and canisters are perfect for adding a classic touch to any home. These pieces feature a hammered pour spout, organic flowing handle and branch art, and beautiful hand-blown dimpled glass. Both the canisters and decanter stand on a wide sturdy base and will look stunning on your girlfriend's dining or coffee table.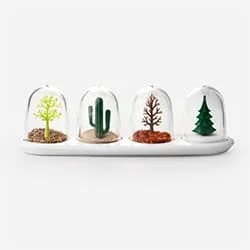 This next girlfriend birthday gift idea adds a touch of fun to the modern home. The Four Seasons seasoning shaker set slowly unveils the surprise hidden contents with every shake. As the name suggests, the set is inspired by the four seasons and features trees that align with winter, summer, fall, and spring. The Four Seasons shaker set is food-safe, easy to wash and 100% recyclable, even the packaging is made with the environment in mind. Each set comes with four shakers and a tray that both keeps them in place, and is perfect as a decorative display accent. In addition to the season's inspired shaker set,
Animal Parade
also combines four cute companions, replacing trees with wildlife. The charming set features a polar bear, deer, camel, and bunny and is otherwise identical to the Four Seasons set.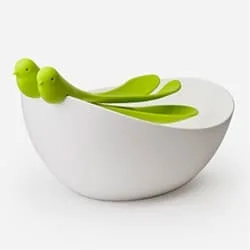 A perfect partner to the shaker set above, the next item on the birthday gift ideas for girlfriend list is both elegant and fun. The next time friends and family gather for lunch or dinner, impress them with this playful sparrow salad bowl set. The set features a beautiful modern white salad bowl with two sparrows nesting on the edge. The sparrow's tails are the fork and spoon serving utensils, seamlessly blending into the overall design. The sparrow salad set is food-safe, ultralight, and can be easily cleaned using soapy water. This set is a unique and creative birthday gift your girlfriend can also take out on date nights and family gatherings.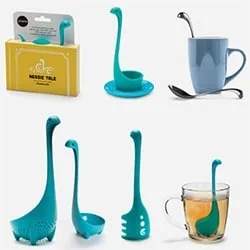 One of the most creative gift sets on the list, this collection is sure to put a smile on her face every time she cooks or relaxes with a warm cup of tea or coffee. The complete Nessie collection is an adorable 7-piece set that makes work and play fun. Featuring the beautifully designed turquoise Nessie as the handle of numerous utensils, the thematic set is perfect for serving a variety of dishes. The set contains a ladle, colander spoon, pasta spoon, tea infuser, egg cup, bookmark, and stainless steel sugar spoon. Each of the items contained within the set are available as individual utensils, with most pieces also offering green and magenta variations.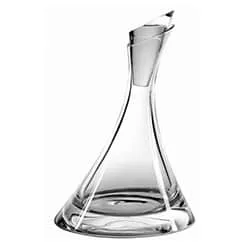 If the vintage style decanter above was not to your taste, this modern design will be much more to your liking. Handmade in Portugal, this Oz crystal wine decanter is modern and elegant, standing over one foot tall. The decanter features a sleek asymmetric form, creating a striking centerpiece for any contemporary table and benchtop. The polished finish and minimalist silhouette contrast makes this one of the most classy items on the birthday gift ideas for girlfriend list.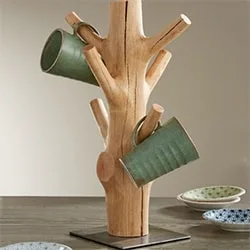 Girlfriend birthday gift idea number thirty one adds an organic decorative touch to any benchtop or table. The Yosemite mug rack is the perfect organizational companion for any tea and coffee-loving household. The nature-inspired rack is crafted from salvaged Thia mangosteen trees and sits on top of a sturdy metal base. This eco-friendly rack features cleaned, cured, and stained wood that has been rescued from the routine burning of orchards no longer producing fruit. Simple, yet elegant, the Yosemite mug rack is a creative birthday gift for your girlfriend to store her mug collection.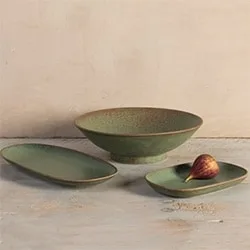 Help your partner serve guests in style with item thirty-two on our birthday gift ideas for girlfriend list. This magnificent Terra Green stoneware set is an entertainer's delight, presented as a beautiful organic shaped serveware collection. This Japanese artisanal set features an earthy brown underlayer covered by a subtle green speckled finish. The quality dinnerware pieces can be used as serving platters, or as decorative pieces for styling tables. Microwave and dishwasher friendly, the Terra Green stoneware set is a creative birthday gift your girlfriend will love to use.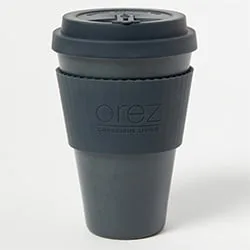 If simple, portable, and stylish is what you're after, the next birthday gift ideas for your girlfriend fits the description. The Orez bamboo coffee cup is elegant, functional, and eco-friendly. Manufactured from 100% bamboo fiber with a silicone lid, the Orez helps eliminate single-use cups and bulky portable alternatives in a single product. Available in a contemporary modern dark grey, the minimalist coffee cup features a secure lid, retractable sipping plug, and heat protection cylinder.
Birthday Gift Ideas For Your Girlfriend - Utility
When it comes to creative birthday gifts for girlfriends who appreciate gifts with purpose, then the following items are sure to please her. Combining both practicality and style, this selection of functional pieces covers both everyday essentials, to unique gifts that cater to her interests.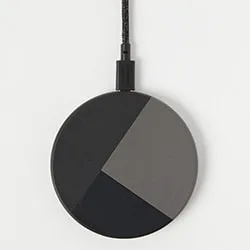 One of the most creative birthday gifts for your girlfriend on the list, the Native Union drop charge pad charges devices in style. The marquetry design pad provides functional utility with an elegantly blended dark-toned finish, suitable for any living space. The pad features aircraft-grade aluminum and a specially designed silicone tread for preventing device slippage and overheating. This high-performance electronic beauty charges all Qi-compatible devices including Apple and Samsung. Ideal for home and office use, this girlfriend birthday gift idea is an excellent accessory for convenient and easy charging.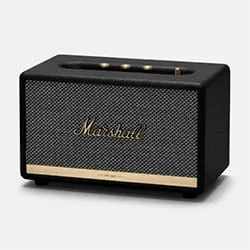 The next birthday gift ideas for your girlfriend delivers loud, high-quality sound in a portable box. The Marshall Action home Bluetooth speakers turns any device into a potential stereo, breathing life into the party! These speakers feature a gold iconic Marshall logo and brass topside control panel, adding a touch of sound history to your home. The beautifully designed vintage-style speaker is available in three classic color options; black, white, and tan. The Marshall Bluetooth speaker is a creative birthday gift your girlfriend will love, and that you can both enjoy.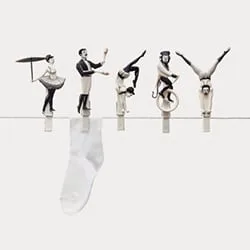 The next idea is the perfect birthday gift for your girlfriend to adore from a distance as you hang the clothes out to dry! Jokes aside, the Pegzini Family adds a daring and creative circus flair to the boring old clothesline. These vintage style pegs feature five captivating characters performing awe-inspiring feats such as handstands, walking the tightrope, and juggling. The gravity-defying set is creative, unique, and sure to put a smile on her face this upcoming birthday.
A cute kitchen addition, the next birthday gift idea for your girlfriend is a minimalistic utility that's both fun and innovative. The jumbo cutlery drainer drains cutlery and utensils through its long runny nose. The elephant designed drainer releases excess water, that would otherwise sit idle, back into the sink. An incredibly practical and useful gift, the jumbo drainer is available in dark grey and cream, and can also be used as a toothbrush and toothpaste holder!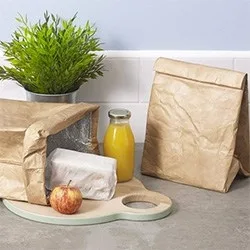 Following a time-honored tradition, this creative birthday gift for your girlfriend is a great lunch or snack companion. The brown paper lunch bag provides a glimpse into the past with a unique modern twist. Unlike the bags of old, this paper bag is tear-proof, leak-resistant, won't unravel as you travel, and most importantly – is reusable! The brown paper lunch bag provides insulation to keep hot items hot and cold items cold, a feat a plain bag is yet to accomplish. Featuring a magnetic shutting opening, this bag will keep contents fresh and ready to eat or drink.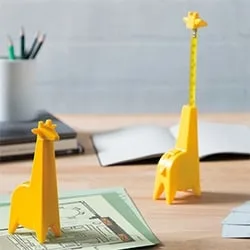 The next birthday gift idea for your girlfriend happens to be the Savanna's most accurate giraffe. Miss Meter measuring tape puts an entertaining spin on an otherwise mundane tool. The Miss Meter giraffe is 15cm/5.7 inches tall and adds a cute, fun touch to any bench or desktop. If your girlfriend is constantly borrowing your measuring tape, the Miss Meter is a unique gift she will both love and use.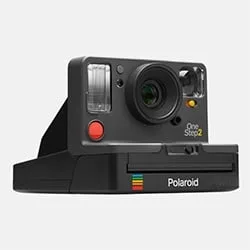 A blast from the past making a glorious return, the Polaroid One Step 2 VF Camera is a modern update perfect for her birthday. A pioneer in instant photography, this latest addition offers instant print gratification in a digital world. The camera uses i-Type film, offering a rich spectrum of color no matter the shot. Capturing memories that last a lifetime, the Polaroid features a long-lasting battery, optical grade lens, and custom-designed shutter system.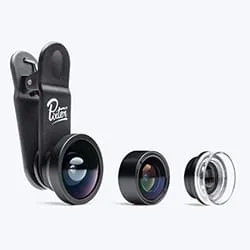 A perfect gift idea for a snap happy girlfriend, the Pixter starter pack will have her taking amazing professional looking photos from her smartphone. The kit comes with three high-end lenses and is compatible with single, double, and triple-lens Android and iOS smartphones. The Pixter starter kit features a wide-angle lens for a 160-degree window, a fisheye lens for a 180 degree distorted effect, and a Macro lens for microscopic photos. In addition to lenses, the kit contains a convenient travel pouch, microfiber cloth, front and back lens caps, and a clip for attaching the lenses. This lightweight, portable and creative birthday gift for your girlfriend will make impossible phone shots, possible.
Searching for more than Birthday Gift Ideas For Your Girlfriend? Check out some of our other great list for more awesome gift ideas.