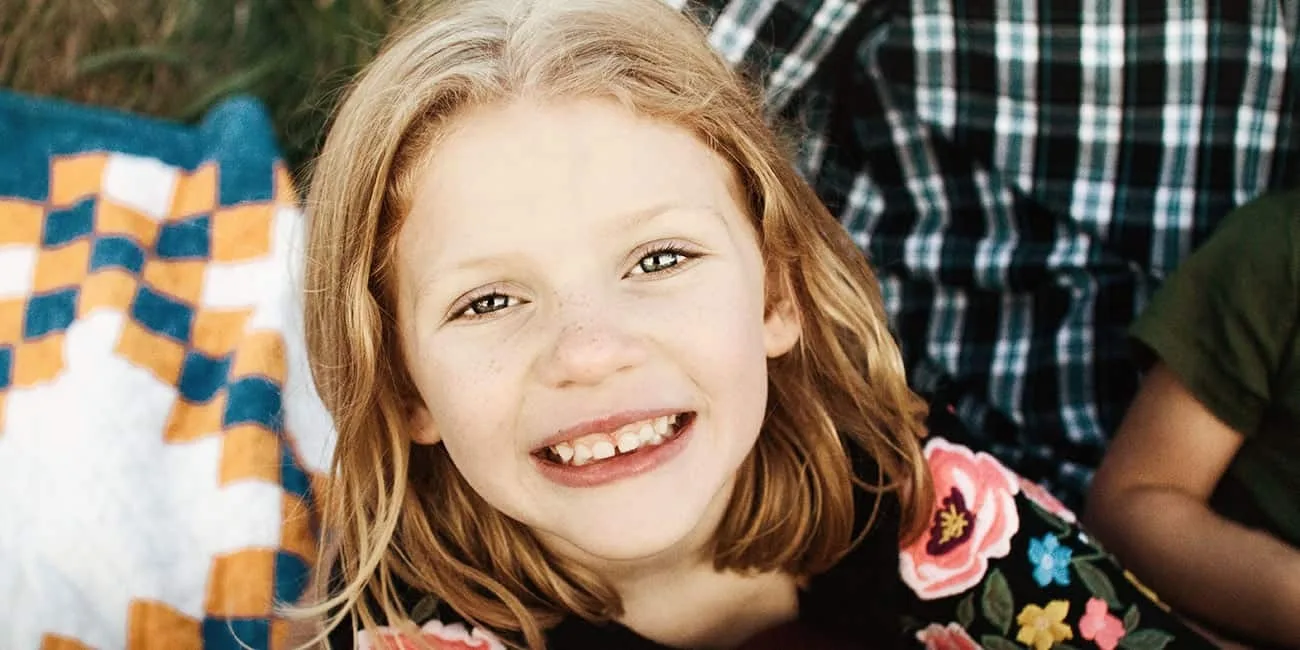 Wini Gifts is supported by our readers. At no additional cost to you, we may earn a small commission from the purchases you make using our links.
Learn more
Best Gifts For A 7 Year Old Girl
Are you on the hunt for the best gifts for a 7 year old girl? An age when young girls are starting to discover their interests and socializing more, it can be difficult to know what toys for 7 year old girls will capture their interest! For this very reason, we have put together an extensive list of gifts for 7 year old girls, from those that spark creativity to toys that encourage learning and development, you will be sure to find the perfect gift to captive young minds and challenge her intellectually.
Best Gifts For A 7 Year Old Girl: Creative
When it comes to finding toys for 7 year old girls that will capture her interest, you can't go past gifts of the creative kind. From fun painting and drawing sets to unique architectural and building sets, the following toys will allow her to explore her creative side and let her imagination run wild! Whether for Christmas or Birthdays, you can be sure these creative gifts for 7 year old girls will be received with a great big thank you!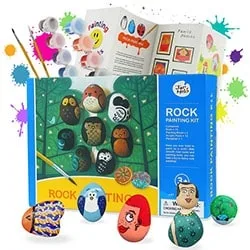 The first idea on our best gifts for a 7 year old girl list is a cool creative art kit for painting. The Jar Melo rock painting kit is great for cute little works that can be displayed on countertops, desks, and gardens. Featuring waterproof, non-toxic paint, the creative set contains twelve acrylic-based colors, two brushes, ten smoothed pebbles, and an instructions manual. A unique gift with unique results, this rock painting kit will stimulate her imagination and provide hours of artistic fun.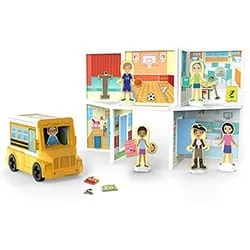 One of the coolest creative toys for 7 year old girls, this is one school every young girl will look forward to attending. The Magnetivity building playset allows her to create custom classroom setups, designing her own unique school. Included in the box is a magnetic school bus, thirteen double-sided panels, eighty-seven accessories, two wooden play figures, and two stands. Panels are connected to each other magnetically, allowing for custom structures, while the accessories are used to decorate her construction. Great for experimentation and roleplay this set inspires hand on play with endless creative possibilities. In addition to this awesome school, alternative Magnetivity sets include a
medieval castle
,
underwater adventure
,
hospital
and more.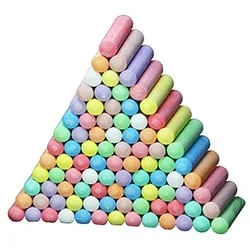 If you're after a simple and straightforward gift for young girls, the next idea encourages creativity and possibly some time outdoors. Perfect for chalkboards, driveways, and sidewalks, the Joyin jumbo chalk set contains one hundred and twenty pieces in twelve different colors. Each piece is four inches long, features a conical shape and is break-resistant for effective drawing. A creative gift that's easily washed and wiped away, this giant chalk pack will help facilitate endless hopscotch and tic tac toe games.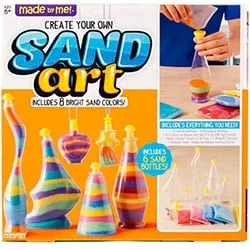 One of the best gifts for a 7 year old girl this upcoming Christmas or birthday is an artistic set perfect for display. Create Your Own Sand Art is a cool kit that encourages young girls to make their own sand display using whatever color patterns come to mind. Using the funnel, she is able to layer colors while the design tool enables her to create patterns by pushing one colored layer into another. Included in the vibrant set are two cute pendant style bottles, four large standing bottles, eight colors of sand and a satin cord.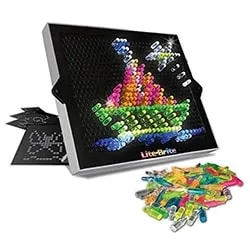 A blast from the past, the next toy for 7 year old girls is even more fun now than it was in 1967. The Lite-Brite Ultimate Classic uses a peg and board system that promotes imagination while also offering a guidance option. With six design templates to help her get started, the set includes a large screen and over two hundred colored pegs. This modern updated version of Lite-Brite features battery-powered LED lights and four different ways of lighting up the screen. In addition to the six included templates, more are available for download from the basicfun.com website, giving her a helping hand and a wider range of challenges.
Idea number six on the best gifts for a 7 year old girl compilation is a vibrant set of premium pencils great for books and freestyle scribbling. The Prismacolor Premier colored pencils set contains thirty-six robust colors helping the little artist create rich beautiful works. Ultrasmooth and deeply saturated, the Prismacolor Premier pencils feature thick cores that are resistant to chips and breaks. This vivid coloring set is available in five set sizes, with a range suitable for any creative coloring need.
Having a personal space for activity is important to any endeavor and for young girls, this is no different. The KidKraft art table is a place she can go to draw, color and create anything that comes to mind. This set features a chalkboard tabletop surface, paper roller, paint cups, mesh storage basket and two stools. If she's taking over the coffee table for her art and craft, the KidKraft creative center will provide a much-needed space for fun and creativity.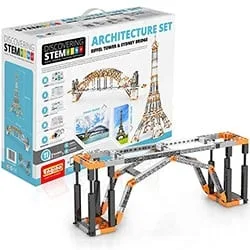 8. Architecture Construction Set
Maybe the coolest creative birthday and Christmas gift idea on the list, this architecture set includes scientific activities in addition to awesome structures. With its focus on the creative side of engineering and science, the set differs from most conventional kids sets that tend to be artistically centered. The Engino Eiffel Tower and Sydney Harbour Bridge set will help her construct these marvelous landmarks using a combination of miniature construction pieces. Another cool design feature of this set is the extended number of models she can build, including truss bridges, suspension bridges, and cable bridges. Engino offers a multitude of similar construction sets from
amusement parks
to
cars
and even a
physics set
, providing plenty of options to choose from.
Best Gifts For A 7 Year Old Girl: Fun
The following toys for 7 year old girls ooze fun, imagination, and entertainment all rolled into one! From dollhouses and playsets ideal for creative role play to interactive toys that will generate plenty of active fun, these are the perfect gifts for keeping young girls occupied for hours on end!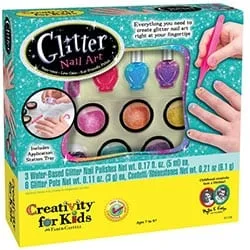 Just say the word glitter and the eyes of any 7 year old girl will light up with excitement! The Glitter Nail Art kit from Creativity For Kids is the perfect gift that will allow her to express her creativity and her own unique style. This complete nail kit for girls includes everything needed to create perfect sparkling glitter nail art in minutes! Included are 3 bottles of water-based, peel-off glitter nail polish, 6 glitter pots, and not forgetting confetti and rhinestones for ultimate dazzle. This set is perfect for youngsters, featuring non-toxic, low odor, water-based peel-off polish that is safe for children to use. The Glitter Nail Art kit is a 7 year olds dream gift for fun days at home, or as a group activity with her best girlfriends.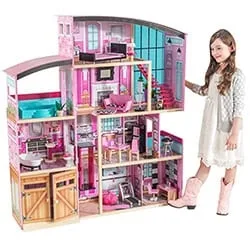 Large, intricate and beautifully detailed, the next toy for 7 year old girls has many features and stands more than four feet tall. The KidKraft Shimmer Mansion is a modern dollhouse that contains more rooms than she will know what to do with. Packed full of cool accessories, stunning decor, and spacious living areas, the mansion is truly a special Christmas and birthday gift. An interactive dollhouse experience like no other, she can activate lights, let her dolls ride the elevator and even flush the toilet. The Shimmer Mansion contains nine district rooms including a bathroom with a sink and tub, kitchen with an outdoor deck, and a loft sitting above the lounge which is accessible via the staircase.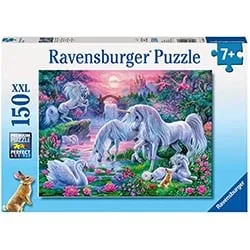 11. Unicorns Jigsaw Puzzle
If you're after a gift that is fun, challenging and takes her away from a screen, one of the best gifts for a 7 year old girl is a jigsaw puzzle. In addition to the hours of fun puzzles provide, they also help her develop visual-spatial reasoning and improve her short term memory. The Ravensburger unicorns puzzle contains one hundred and fifty pieces that seamlessly fit together creating a beautiful picture. The puzzle features extra-thick cardboard, an anti-glare surface and uniquely cut pieces that reduce confusion and inaccurate connectivity. Great for collective fun and individual play, this is one gift that will give her a feeling of accomplishment once the game ends.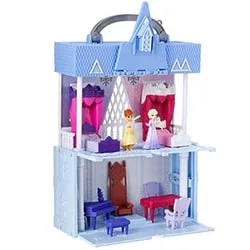 12. Frozen 2 Dolls Playset
If she's a fan of the Frozen movie franchise, she will absolutely love this beautiful gift idea. The Pop Adventures Arendelle Castle is a perfect home for Elisa and Anna, the popular movie characters which are included in the playset. As well as the two cute miniature dolls, the set comes with nine accessories including: throne, table, piano, stool, chairs, beds, and a key. The fun little dollhouse is portable so she can carry it with her wherever she goes, opening for play and folding for storage. The unlock and pop feature is activated upon opening, folding out the flaps and allowing her to place the accessories on both stories. As the castle is closed for storage and transport, the flaps safely fold back in place.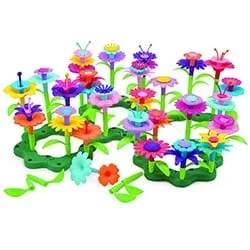 13. Flower Arrangement Set
With hours of fun and numerous arrangement combinations, the next toy for 7 year old girls is perfect for the little green thumb. This pretty toy flower set allows her to create her own small garden, combining all the pieces to make unique designs. Gardens can flow endlessly, curve or wrap around in small patches, adding a dimension to creative possibilities. Each part in the garden building block toy is interchangeable, dishwasher safe and free from harmful substances. The cool faux botanical set is available in three different sizes and is made up of bases, leaves, petals, pistils, and stamens.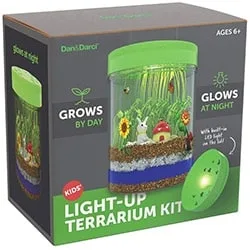 If you're looking for a unique birthday or Christmas gift that requires a little love and attention, this light-up Terrarium is your answer. What's a Terrarium you ask? It's a miniature garden that has been encapsulated to simulate a natural environment. Made to grow during the day and glow when the light goes out, this fun and educational gift idea is perfect for her nightstand. The kit includes a jar, light-up lid, soil, sand, rocks, seeds, USB charging cable, and accessories. A cool and decorative science project, the Terrarium kit will help her appreciate and interact with the beauty of nature.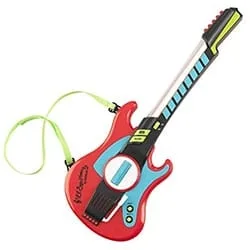 Best gifts for a 7 year old girl idea number fifteen is one for the little rockstar who loves her music. The Lil Symphony electric guitar encourages jam sessions, with funky tunes at her fingertips. The cool musical toy features an adjustable safety strap, flashing light bar, and a volume control so sessions don't get too rowdy. She can choose from one of two play modes options; one plays melody notes while the other guitar rhythms. Rather than traditional strings, the Lil Symphony contains eight buttons on the neck and a whammy bar that enables a special solo. An awesome gift to introduce young girls to music, this electric guitar toy makes rocking out simple and fun.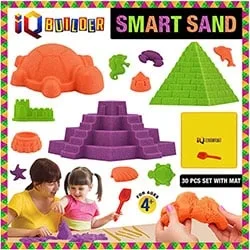 Soft, colorful, and easy to play with the next toy for 7 year old girls promotes creativity and is ideal for a young lady that doesn't mind getting her hands dirty. The IQ Builder Smart Sand kit inspires the imagination and encourages her to forge her own little world using all the tools at her disposal. What's in the set you ask? The art play sand includes twenty-four molds, five shaping tools, sand scoper, large nylon mat, storage box and over five pounds of sand. The thirty piece set has been independently tested and certified to be 100% child safe and is free from lead, BPA, and Phthalate. Large enough for group play and perfect for exploratory and creative play on her own!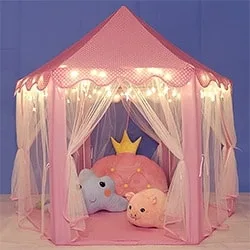 A special space she can call her own, this large tent encourages roleplay and takes her into a magical imaginary world. The Princess Castle Play Tent is perfect for outdoor games and as an indoor safe space. Standing over four feet tall, the beautiful pink castle features six retractable screens and sturdy pointed rooftop. The castle is shaped like a hexagon for added stability and is made from durable polyester that's easy to clean and maintain. Whether it's play, reading or hiding from the world outside, the 'Princess Castle Play Tent will make for a great gift this Christmas or birthday.
Best Gifts For A 7 Year Old Girl: Collectable
If you're searching for the best toys for 7 year old girls and want to please, you can't go past a fan-favorite collectible! 7 year old girls are proud of their toys and tend to take extra care of their prized possessions, particularly collectible items. The following fun and lovable collectible toys are sure to become treasured favorites that will make her day.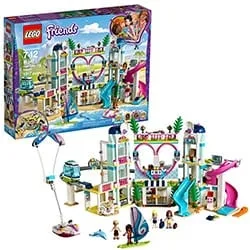 18. LEGO Heartlake Resort
Fun, extensive and collectible, ever-reliable LEGO offers a multitude of interconnective block sets for every age group. The Heartlake City Resort building kit includes over one thousand pieces and includes four mini-figures and a dolphin. In addition to the beautiful beachside resort, the set features a moving monorail, windsurfing board, slide, and a speedboat. With a multitude of fun and adventurous activities, this resort will quickly become the go-to beach spot, rain, hail or shine. Other awesome Lego Friends sets available as expansion or alternatives to the Heartlake City Resort include
Adventure Camp Rafting
,
Heartland Skate Park
,
Friendship House
, and
Pop Star Recording Studio
.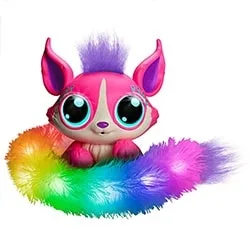 19. Lil' Gleemerz Adorbrite Figure
One of the coolest, cutest and best collectible gifts for a 7 year old girl, the Lil Gleemerz Adorbrite figure is sure to brighten up her room. From purrs, growls, and giggles to a soft fluffy tail, this doll is an interactive best friend. Featuring eyes that light up and a tail that produces a light show, the adorable bright pink figure reacts with over one hundred different sounds. The Lil Gleemerz figure responds to four touchpoints including the front of her head, back of the head, nose, and tail. In addition to the touchpoints, the doll has three modes of play, hangout mode, light party mode, and game mode. If you're after a friend or alternative, other Lil Gleemerz characters include
Rainbow
,
Amiglow
, and
Sungleam
.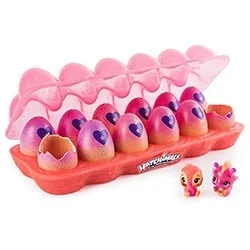 20. Hatchimals CollEGGtible
A carton of eggs with hidden surprises, the next of our toys for 7 year old girls are cute, collectible and glow in the dark. The Hatchimals CollEGGtibles pack comes with twelve eggs that hatch into neon night glow characters. All she has to do to hatch these little critters is rub the purple heart until it changes pink. Once the color changes, apply some pressure by pressing down and the shell will burst open revealing the delightful little friend inside. A cool accessory to the CollEGGtibles set is this
Talent Show
light up playset featuring a stage, runway, and lighting effects.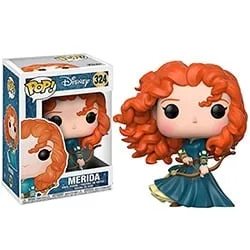 The final collectible gift idea for young girls is an awesome detailed figure from the movie Brave. Great for birthdays and Christmas, the Princess Merida Funko POP! Vinyl is sure to be treasured by any young Disney fan. Merida stands three and a half inches tall and is featured holding a bow and arrow, with her bright red hair blowing in the breeze. Some other cool Pop Vinyl collectibles you can partner with Princess Merida include
Alisa
from Frozen 2,
Moana
and
Rapunzel
from Tangled.
Best Gifts For A 7 Year Old Girl: Craft
Young girls are creative by nature, which is why some of the best toys for 7 year old girls are those that promote art and craft! From unique string art to her first sewing kit, the following selection of engaging crafting gifts will teach patience and perseverance, all while allowing her to express her creativity freely!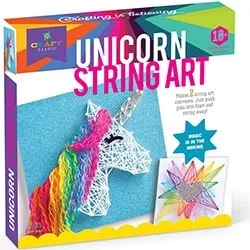 A creative and fun craft gift for young girls, this unique hobby is sure to stand out from the rest! The String Art Kit presents an all-inclusive set of craft pieces for her to complete her very own beautiful string art. Designs appear complex but are very easy to complete with clear instructions included. The kit includes two fun art projects featuring unicorn and star designs and comes with pre-printed sturdy foam canvases, card stock, cotton thread, polyester thread, acrylic yarn, 100 pins, and acrylic felt and paper! Everything she needs to get started is right at her fingertips, simply push pins into pre-patterned foam bases and she is ready to string away!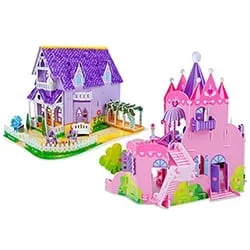 The second craft idea on our best gifts for a 7 year old girl compilation is a puzzle that can later be used for play. The Melissa & Doug 3-D Puzzle Kit contains two separate structures; the Pretty Purple Dollhouse and the Pink Palace. Each set contains over one hundred pieces which include: building structures, furniture, and figures along with building instructions so she can easily follow along. Both houses feature 2 levels and easy access spaces for dolls and some of her favorite accessories. If you're after alternatives, other cool 3D puzzle sets available are the
Rooftop Romance
,
Princess Birthday Party
and even a
Medieval Castle
with Pirate Ship for a more adventurous play.
The perfect Christmas or Birthday gift, this simple, yet engaging crafting activity will soon become a favorite pastime of hers. The Simply Needlepoint Flower set is an easy needlepoint kit ideal for beginners. Featuring a beautiful flower portrait, the all-inclusive set comes with a pre-printed plastic canvas, plastic frame, 8 colors of yarn, a plastic needle, and simple instructions so she can start stitching right away! If you're searching for timeless toys for 7 year old girls that cultivate patience through her creativity, this is a gift that will create skills to last a lifetime.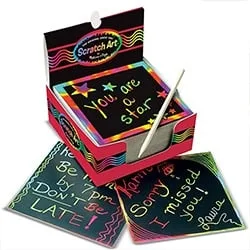 If you're after fun and simple, the next gift for 7 year old girls has you covered. These wonderful Rainbow Scratch Art Box Notes from Melissa & Doug are the perfect tool to get children away from the screens for hands-on creative play. This gift features a set of 125 brightly colored mini notes stored in a convenient desktop dispenser. Simply use the wooden stylus provided to scratch and reveal the vibrant rainbow hidden beneath! With so many uses, young girls can let their imaginations run wild and create cool illustrations, surprise notes, label items, or even unique art and craft projects.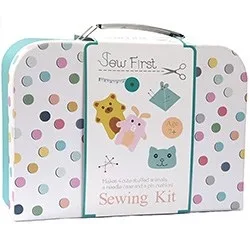 A beautiful keepsake any young girl will love, the next item is the perfect gift to introduce her to a new hobby. The Sew First Beginner Sewing Kit for Kids is a beautiful children's sewing set with complete easy to learn instructions, from cutting the thread, to finishing it off. The crafting case features 4 cute simple shaped animals that are easy to stuff, including 2 additional sewing accessory projects. The kit comes with large-eyed needles for easy threading, 7 embroidery threads wound on cards, over 45 soft felt components, a colored pinwheel, stuffing, and a real tape measure and sharp scissors! The cute and portable sewing box also includes handy storage drawers so she won't misplace any small bits and bobs.
Best Gifts For A 7 Year Old Girl: Books
If you're searching for some of the best gifts for a 7 year old girl, then look no further than a great book! Entertaining, engaging, and informative, the following books for young girls will capture their interest, whilst also promoting quiet reflection. These books will encourage her to take a step back from all the screens and engage in an old, but leisurely past time.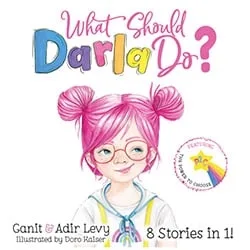 27. What Should Darla Do?
The perfect gift for Christmas or birthdays, What Should Darla Do? is a wonderful interactive story that will eagerly capture the interest of 7 year old girls. Featuring Darla, a young and spunky astronaut-in-training who hopes to make it to Mars one day, the story revolves around Darla using her power to choose wisely! Written in a "Choose Your Own" adventure format, young readers can help navigate Darla through her decisions by making choices for her! Featuring 8 interesting stories in 1, this fun and entertaining book features a lovable lead character that young girls will enjoy journeying with.
From chocolate to sharks, or the mysteries of history, the following book is sure to captivate and entertain her mind! One of the best gifts for a 7 year old girl, the fun-filled compilation book 5,000 Awesome Facts is jam-packed with fun and interesting facts to engage young readers. This will be one book she will enjoy opening, as each page not only presents new and interesting facts but also features eye-catching bold and vibrant designs. Encouraging young girls to learn, while satiating their curiosity for the world around them, this entertaining and stimulating book of facts will keep her hooked for hours on end.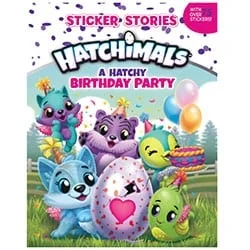 29. Hatchimals Sticker Book
This adorable sticker book will keep her happily entertained for hours, especially if she is a Hatchimals fan! A wonderful gift for a young girl, A Hatchy Birthday Party is a sticker storybook based on the popular collectible toys, Hatchimals! The interactive tale features a vibrantly designed story based around birthday festivities, allowing the young reader to have fun decorating pages with the cute stickers provided. An entertaining and artistic outlet for her, she will enjoy creating unique scenes while helping all kinds of Hatchimals prepare for the big party.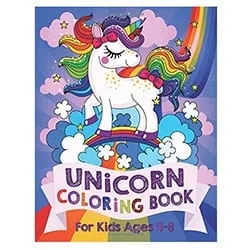 30. Unicorn Coloring Book
If she is in love with unicorns and all things fantasy, then this Unicorn Coloring Book will make her day. This wonderful children's coloring book presents 50 individual illustrations of happy, smiling, beautiful unicorns! All illustrations are single-sided, featuring a variety of adorable unicorns with detailed backgrounds. From rainbows, stars, castles, meadows, and even mushroom houses, she will enjoy experimenting with all the colors of the rainbow and letting her imagination run wild with this fun coloring book.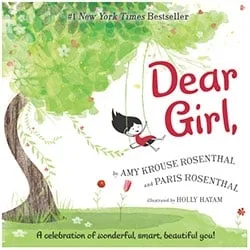 A beautiful treasured gift suitable for any occasion, Dear Girl, is the perfect book for a special young girl in your life. Written as a remarkable love letter, Dear Girl, encourages young girls to always be themselves and love who they are – inside and out. This encouraging book is a gentle reminder that she's powerful, strong, and holds a valuable place in the world. Through charming text and stunning accompanying illustrations, young girls reading this story will feel empowered that they are great, just the way they are.
Best Gifts For A 7 Year Old Girl: Games
Everyone loves a bit of friendly competitive fun, so it's no surprise that some of the best toys for 7 year old girls are games! Perfect as Christmas or Birthday gifts, we have selected a few classic favorites that will be enjoyed time and time again.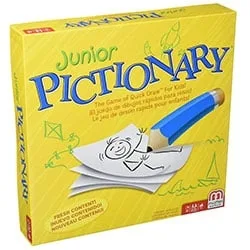 A hands-down favorite for parties, games night, or those rainy days indoors, Pictionary is one board game that will keep the laughs rolling! This revamped children's edition of the game is just as entertaining, with hundreds of new words to draw, including helpful hints to assist youngsters. Very similar to the classic game of charades, Pictionary Junior allows teams to go head-to-head to guess the word their "picture" draws in just 60 seconds as the timer counts down! The set features two-sided game cards, with one side more challenging, and the other easier for younger players. This fast-paced game sees teams make their way around the game board to see who will make it to the finish line first!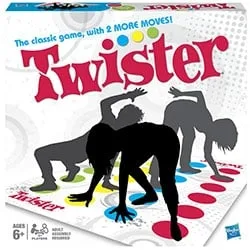 One of the simplest games, and still one of the best gifts for a 7 year old girl, Twister is the ultimate party game for hours of jovial fun! Players listen to the referee call out body parts and colors to place that part on a vacant circle. While it sounds easy, players soon end up reaching around other players in an effort not to topple over, since the last person standing or crouching wins! The entertaining game includes a plastic mat with colored spots, a spinner, and instructions. Suitable for 2-4 players, Twister will test her balance and flexibility and is the perfect game to bring friends and family closer together.
There are some classic toys for 7 year old girls that she will never grow tired of and Connect Four is one of them! Simple, challenging, and fun, Connect Four is a game where strategy drives the competition. A great fast-paced game for two, choose the gold or red discs and drop them into the grid to make 4 discs in a row to win! Stack discs vertically, diagonally, or line them up side by side.. either way she will need to make sure to stay one step ahead of her opponent and block their attempt to get 4 in a row first!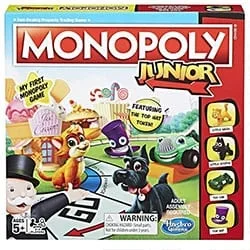 A wonderful Christmas or Birthday gift for her, this fun junior version of Monopoly has been specifically designed for younger players to introduce her to the wonderful world of Monopoly! The fast and simple version has kid-friendly properties such as the zoo, movie theatre, and video game arcade, and comes with 4 delightful tokens. Children will enjoy making their way around the board buying properties until a player goes bankrupt! This edition also features single banknotes for easy transactions and is the perfect opportunity for parents to introduce counting and simple math. The Monopoly Junior board game will soon become a favorite pastime for playing with her family and friends.
Best Gifts For A 7 Year Old Girl: Outdoors
The following toys for 7 year old girls will encourage her to take a step back from the screens and get active. From entertaining outdoor toys that promote physical activity, to engaging gifts for role-playing fun, you can be sure she will enjoy playing with these gifts for years to come.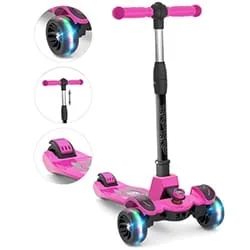 One of the best outdoor toys for 7 year old girls, this fun little scooter is bound to have her eagerly awaiting her next ride! The funky 6KU Kids Kick Scooter is a sturdy and durable 3-wheeled scooter built to last. Manufactured from superior high-density plastic, it's long-lasting design ensures children feel safe and secure while having a heap of fun! Featuring a lightweight design and lean to steer makes this scooter enjoyable and incredibly easy for children to play with. The 6KU Kick Scooter also includes a rear braking system and is equipped with cool LED wheels that light up when riding. Also featuring adjustable handlebars to fit riders from 3 to 8 years of age, this versatile scooter will grow with your child and endure plenty of years of play.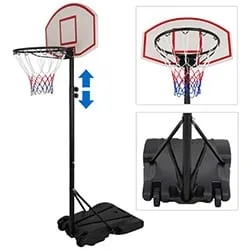 37. Portable Basketball Hoop
One of the best gifts for a 7 year old girl offering plenty of outdoor entertainment is this fun and versatile sporting utility. The ZENY Portable Basketball Hoop is a durable and highly authentic basketball hoop that also provides the convenience of portability. Featuring a sturdy weighted mobile base that is easily wheeled into the driveway for play, the base can be filled with either water, sand, or weighted further by placing heavy items on the flat upper surface. The ZENY Basketball Hoop presents a shatterproof backboard, nylon net, heavy-duty steel pool, and hoop that can be adjusted to heights from 5.4 up to 7 feet. Perfect for solo play shooting hoops, or casual games with friends, this active gift for 7 year old girls offers hours of fun and engagement outdoors.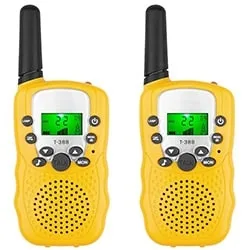 Whether for Christmas or Birthdays, a wonderful gift for young girls is the following toy that has been around for generations and never fails to entertain! The Retevis Kids Walkie Talkie set is a fun and engaging little communication device that delivers crystal clear transmission over very long distances. The perfect size for small hands, this device is light and easy to operate, featuring hands-free play and keypad lock functions. Available in three vibrant colors, this simple yet engaging gift for young girls will provide endless hours of adventure and role-playing fun with her friends and siblings!
If you're after toys for 7 year old girls that will encourage her imaginative side and offer hours of role-playing fun, then the following gift is for you. Pacific Play Tents have created a lovely house presented as a gorgeous large play tent for young girls. The cute little cottage home features a flap door that ties open and multiple windows with roll-flap covers for peekaboo games and ventilation. The mesh panels provide ample ventilation for little ones, also allowing adults to peek in every now and again! Measuring 58 x 48 x 58 inches, the play tent is made up of high-quality polyester taffeta that will prevent rips and tears, including shock-corded fiberglass poles to prevent splintering or shattering, and allowing for sturdy and easy assembly. This vibrantly colored tent is large enough to accommodate up to three or more of her friends, toys, even kid-sized furniture, and will encourage cooperative play and fine motor skill development, all while playing fun games.
Best Gifts For A 7 Year Old Girl: Educational
If you're searching for the best gifts for a 7 year old girl with an educational focus, then the following gifts tick all the boxes. These highly interactive learning tools encourage geographic, scientific, and even programming skills that will keep young girls actively engaged whilst they continue to learn.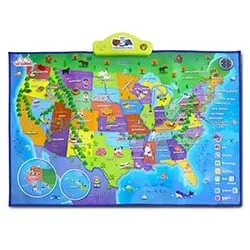 40. Interactive Learning Map
A truly fun, unique, and educational gift for any young girl is the MY USA Interactive Map. Winner of multiple awards, this beautifully illustrated floor and wall map for children will keep them engaged and continue their school learning at home. The touch-activated interactive map is packed with educational features for her to develop her skills in music, concentration, earth science, memory, problem-solving, geography, and the environment! Young ones can learn to sing the national anthem of the United States, the locations and capital cities of each state, typical weather patterns, monuments, and historical facts, as well as trivia and fun facts about each state! Featuring a high-quality fabric frame for durability, all that's required are 3 AAA batteries for her to have hours of fun playing while learning at the same time!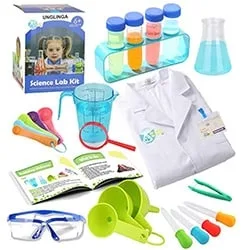 41. Science Experiment Kit
A wonderful Christmas or Birthday present for young girls, this unique gift promotes curiosity, learning, and fun! One of the best gifts for a 7 year old girl that will foster her interest in science is the UNGLINGA Kids Science Experiment Kit. The most popular primary laboratory science set for children, this engaging set includes a series of science experiment activity cards with easy to understand step-by-step instructions and comes with a variety of child-friendly apparatus such as test tubes and stand, eye droppers, funnels, measuring spoons and cups, a beaker, magnifier, and even a cool lab coat, safety glasses, and name badge! The variety of fun and interesting science toys and activities encourage early hands-on scientific exploration and endless fun for young minds!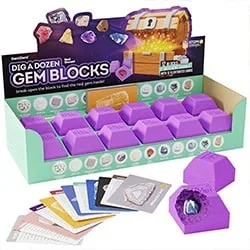 The perfect gift that will spark her curiosity in learning and discovery, the Dig a DozenGem Blocks are an exciting toy that offers hours of educational engagement. Featuring 12 Gem Blocks, each holding a unique stone just waiting to be discovered! A STEM.org authenticated learning toy, the fun set comes with 12 chisel brushes, 12 instruction guides, and 12 beautiful full-color learning cards – 1 for each gem. This wonderful discovery set contains everything needed for a young scientist to excavate the gems with ease and gain a deeper understanding of them.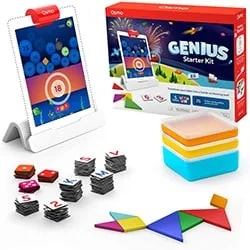 Another one of the best gifts for a 7 year old girl when it comes to education is the Osmo Genius Starter Kit. The highly interactive kit is intended for use with an iPad and comes packaged with numbers tiles, words tiles, tangram pieces, stackable storage, and a base for the iPad. While most educational apps and games are push buttons, Osmo encourages children to use real-world objects to interact with the digital display. How does it work? The device is set up by being placed into the provided stand for secure easy visibility, while the reflector is attached over the camera. Once launched, the game will display a challenge on the screen and the young girl will be required to solve the problem using the pieces provided! Conveniently, the app doesn't require a WiFi connection and excels at teaching vocabulary, math, problem-solving, and fostering her creativity.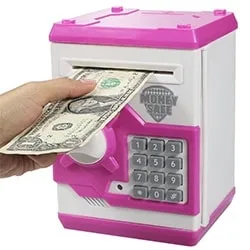 44. Electronic Piggy Bank
You can't go past this unique Christmas or Birthday gift for young girls that is both engaging and educational. Teach and encourage the benefits of saving from a young age with this fun Electronic Piggy Bank. The eye-catching electric saving device has been creatively designed as a mini ATM. The safe simulation design can store 600 pieces of coins and up to 100 pieces of paper money! Using 3 AAA batteries, the Electronic Piggy Bank is able to automatically absorb banknotes and also has the ability for four-digit electronic password protection for additional lifelike real-world security!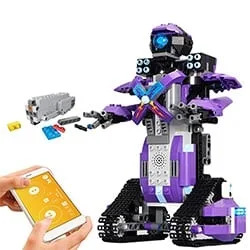 If you're searching for an educational toy that will encourage her creative thinking ability and dually increase her intellectual development, then this is the gift for you. The Mould King Remote Control Building Block Robot is the perfect way to introduce young ones to the wonderful world of coding. The 349 piece block set comes with easy to build, step by step instructions to build a real remote-controlled robot! She will experience a great deal of joy and accomplishment as she conquers this building task, with further fun to be had playing with her own robot! This robot can easily move smoothly in all directions, no matter flat or rough floors, and can even perform 360-degree rotating stunts under her control! Manufactured from high quality, child-friendly materials that are also easy to clean, this exciting robot is a gift both parents and children can build and enjoy together.
Best Gifts For A 7 Year Old Girl: Gadgets
We have put together the following gadget toys for 7 year old girls that are sure to spark her interest! These unique electronic gifts range from fun light projectors to creative drawing tablets, for hours of fun to be had!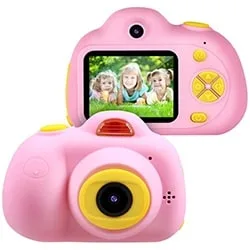 A wonderful gift for a young girl to encourage her curiosity for the world around her and promote her creativity is the OmWay Kids Digital Camera. Incredibly easy to use, the camera offers hours of fun as she points and shoots her friends, family, and surroundings, all from her own unique perspective. Boasting plenty of functions for creative capture, the camera includes features such as timed shooting, smile snaps, and captivating 1080p video for added fun! Featuring a durable shockproof silicone shell for extra protection, the package also includes a 32GB SD Card, USB cable, lanyard, fun cartoon stickers, and instruction manual to get her started.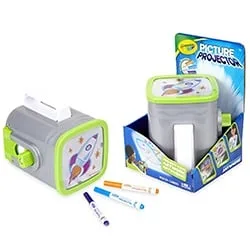 47. Crayola Picture Projector
The following item is a great gift for Christmas or Birthdays, or any special occasion for that matter! If you're searching for unique toys for 7 year old girls who have a creative spark, then the Crayola Picture Projector is a one-of-a-kind art project she will adore. The toy is a children's flashlight which allows young ones to draw and write on the top of the projected surface. With the simple push of a button, she is able to cast her creations onto any surface, then simply wipe the surface clean and start again! The creative projector comes with three colored markers that can be neatly packed away within the projector for convenient storage. Young girls will enjoy designing new and interesting creations to display for their family and friends!
48. Light Board Drawing Tablet
One of the best gifts for a 7 year old girl that will take her artwork and creativity to the next level is this unique drawing board from Crayola. As the name suggests, the Ultimate Light Board Drawing Tablet is the ultimate drawing tablet for youngsters! The budding artist will have loads of fun as she traces glowing designs and creates her own illuminated illustrations! The set includes 6 mini washable colored gel FX markers, and features 3 exciting light effects for 3 unique different displays! The tablet can be easily wiped clean for endless creations and also features storage for markers and a built-in kickstand for prominent display of her artwork.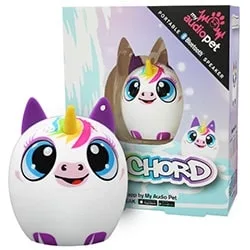 49. Animal Wireless Speaker
An adorable gift for any young girl is this cute little creature that delivers a roaring sound! The My Audio Pet Unicorn Bluetooth Speaker is the perfect companion for listening to her favorite tunes. The speaker can be used as a single speaker and also paired for stereo quality sound. Roughly the size of a golf ball, yet packing a powerful punch in terms of sound, the portable speaker is available in a huge range of other fun and endearing styles she will love such a reindeer, seal, chicken, penguin, owl and more!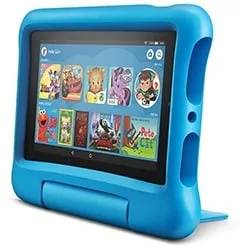 One of the best gifts for a 7 year old girl for birthdays and Christmas is the indestructible Fire 7 kids tablet. We say indestructible because if somehow it does break, Amazon will replace it free of charge! The vibrant tablet features a shatterproof case, 7-inch display, and up to 16GB of storage capacity. The case is available in bright blue, pink, and purple color options, and also includes a built-in stand so she can interact with the tablet without having to hold it in one hand. In addition to the tablet, Amazon includes a 1-year subscription to Freetime Unlimited, granting access to over twenty thousand games, videos, apps, and educational content to keep her engaged with hours of learning and entertainment.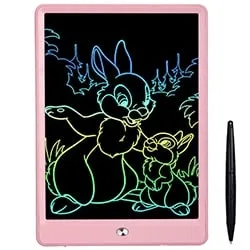 If you're searching for toys for 7 year old girls that will keep them busy bees for hours on end, you can't go past the next gift. The Ansel LCD Tablet is a colorful doodle and writing board made especially for kids. The 10-inch tablet features a bright colorful LCD screen with a clarity that rivals other competitors. Whether for writing, drawing, scribbling or doodling, she will enjoy having this fun little device by her side at home, or even on the go. The tablet comes equipped with a high-tech nib for precise accuracy, and is so simple to use – after drawing to her heart's content, she can either lock the screen to save her artwork or press the large delete key to wipe clean and start the fun all over again! The best part of all – this reusable, portable, paperless device never needs to be plugged in and charged because the battery can last up to 12 months!
Best Gifts For A 7 Year Old Girl: Usable
Sometimes the best gifts for a 7 year old girl are those practical pieces with a fun twist! From unique stationery to useful items while on the go, the following gifts for young girls will be well received and certainly get plenty of good use!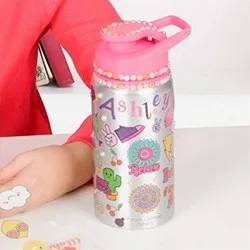 52. Personalized Water Bottle
You can't go wrong with a personalized gift for 7 year old girls and it doesn't get any better than one that combines practicality with fun! The Decorate Your Own Water Bottle is a 20 oz children's water bottle that comes with a plethora of stylish decorating stickers that will make any young girl squeal with delight! Featuring 7 sheets of super cute stickers in on-trend designs, plus additional glitter gem stickers, including 300 individual rhinestone style stickers for even more creative DIY options to add bling to her drink bottle! Decorative sticker themes include letters, mermaids, unicorns, kawaii, food, summer, fruit and so much more – there are bound to be plenty of leftover stickers for decorating her other accessories. BPA-free and manufactured to the highest quality, the top has an easy yet secure flip lid that is ideal for children, while it's sturdy construction and included carabiner make it the perfect bottle for on the go. This unique creative water bottle is a wonderful customizable gift young girls will be sure to adore.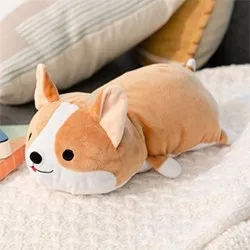 One of the best gifts for a 7 year old girl that screams ADORABLE is this one of a kind toasty toy! The Milo Corgi Toasty Plush is a cute innovative gift featuring a sweet little corgi plush toy that comes with a microwavable pouch to keep her warm and cozy! Very easy to use, simply remove the heat pouch from the plush toy and place it in the microwave for 60 seconds before inserting back into Milo for plenty of cuddles! Measuring 12 x 6.5 x 5.75, the toy is made from polyester and cotton, while the inner pouch contains flaxseed and sweet-scented lavender. Milo will soon become her favorite furry companion, keeping her cozy on those cold nights.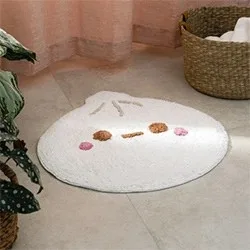 Christmas or Birthdays, no matter the occasion, the following gift is bound to be well received by young girls. A highly practical gift flaunting an adorable appearance, she will always want to be close to Lil B Dumpling! This uniquely designed bath mat features none other than a cute little squishy dumpling just waiting to be stepped on. Measuring 24.5 x 24.5 inches and conveniently machine washable, the soft and cozy cotton bath mat will become her bath time companion for years to come.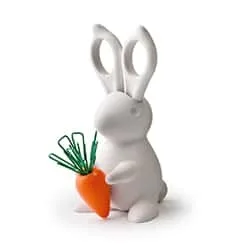 You'll be hard-pressed to find a young girl who doesn't love stationery, which is why the following gift is sure to be a pleaser! This adorable Bunny Desk Holder has been crafted in the shape of a stylish white rabbit holding a large carrot. The unique design incorporates a pair of scissors as the bunny's ears, while the carrot feature doubles as a useful magnetic paperclip holder. Organizing her workspace has never been so stylish and this much fun, as this cute little fella makes a striking appearance on her desk!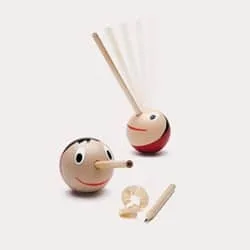 56. Geppeto Pencil Sharpener
If you're searching for the best gifts for a 7 year old girl that are a unique take on traditional utilities, then the following gift is for you. The Geppeto Pencil Sharpener is a gorgeous little pencil sharpener featuring none other than his favorite creation of all time. The uniquely designed round-shaped sharpener is based on Pinnochio, with a wooden pencil for his nose. From long to short, her pencils tips will be sharp, while she enjoys sharpening Pinnochio's nose time and time again.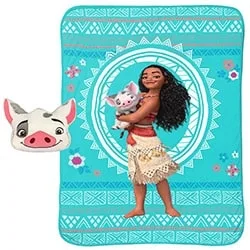 A favorite character of young girls around the globe, she will be thrilled to receive the following movie-themed gift. The officially licensed Moana Nogginz set is a lovable 2 piece throw blanket and pillow for her bedroom, camping trips, sleepovers, or long car rides. The fun and colorful blanket features none other than the iconic Moana and cute little pig Pua, while the cushion is creatively designed in the shape of Pua's head! Measuring 40 x 50 inches, the blanket can easily be rolled up for convenient portability. This super plush and cozy bundle is the perfect set for her to use anywhere and everywhere!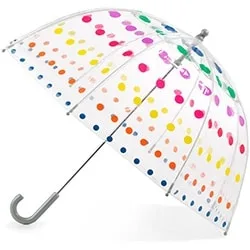 A highly practical Christmas or Birthday gift doesn't necessarily need to be boring! Not often gifted, yet highly useful in nature, one of the best gifts for a 7 year old girl is a gorgeous umbrella to help her out on those rainy days. The Totes Kid's Clear Umbrella boasts a clear bubble shaped see-through canopy design and features a simple, yet stylish colored dot design. The large dome shape canopy offers great protection from the elements, while the child-friendly design is lightweight and includes an easy-grip curved plastic handle, making it very simple for small hands to open and close the umbrella on their own. This cute umbrella is the perfect accessory for her to take to and from school or on outings about town!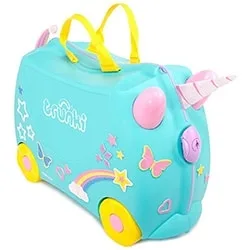 If you're after something special for someone special that isn't your everyday type of gift, then the next unique gift is for you. The Trunki Ride-On Suitcases are essentially travel luggage cases doubling as toys! These suitcases have been creatively designed to resemble unique themes and characters that will contain her belongings, while also serving as a super fun ride-on toy! Each case has its own unique vibrant style to select from including a unicorn, beetle, tiger, pirate ship, and more! The suitcase features a multifunctional strap, wheels, and easy to use secure catch for fun riding without the concern of the case opening. With an 18L storage capacity, elastic straps and internal pocket for segmented storage, this very cool suitcase is sure to be a favorite for all her trips, big and small!
Best Gifts For A 7 Year Old Girl: Wearable
We have put together some of the best gifts for a 7 year old girl that she can wear with pride! These fun wearables include funky accessories that she can enjoy both out and about or simply lounging about at home.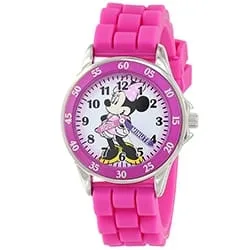 A hands-down favorite and beautiful item worth gifting is this gorgeous little watch every young girl will be proud to own. The Minnie Mouse Kids Watch is an analog watch featuring a vibrant pink silver-tone casing design. Central to the watch face is the classic character Minnie Mouse, also standing pretty in pink! With a comfortable and adjustable easy to buckle strap, this wonderful children's watch features bold numbers for simplicity and also comes with hour and minute hands labeled with large markers to help children learn how to tell the time. The Minnie Mouse Kids Watch comes beautifully packaged in a Minnie Mouse keepsake box, all ready for gifting a special little miss.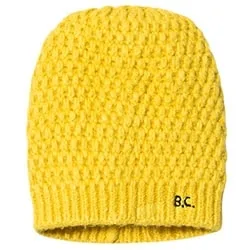 Both a practical and stylish gift for Christmas or Birthdays is this super comfy beanie for young girls. Made by popular Spanish designer Boho Choses, this cozy knit beanie features a unique dandelion color with a modern chunky knit design that is both fashionable and warm. Made from a combination of polyamide and viscose, this funky and functional gift will soon become one of her wardrobe staples.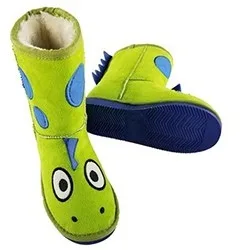 The best gifts for a 7 year old girl are unique, comfy, with a little bit of crazy thrown into the mix! What 7 year old doesn't love dinosaurs? The Kids Dinosaur Green Toasty Toez Slippers are sure to be a hit in any household during those cooler Winter days! There is no better way to express herself than with these cozy vibrant dinosaur slippers. Featuring a big-eyed dinosaur friend with 3D details, these slippers are super comfy and feature a full fleece lining for extra warmth and friendly stomping!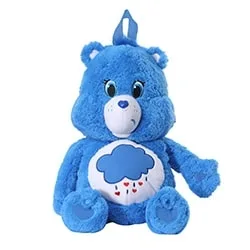 If she's a fan of the series, or you'd simply like to introduce her to the wonderful world of Care Bears, then the next gift is for you. Keep the loving protection of the Care Bears with her no matter where her travels take her, with this exclusive backpack. Featuring none other than adorable Grumpy Bear, she will boldly and bravely sport her unique vibrant blue accessory! The 8 x 20-inch plush style backpack has two different pouches for her to store all her necessities and also features the soft-sculpted face and iconic embroidered belly badge of this unique little Care Bear.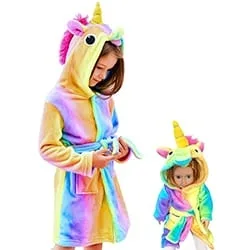 64. Unicorn Hooded Bathrobe
Most things are best enjoyed when shared, which is why the following gift is perfect for a young girl and her favorite doll! She will fall head over heels for this super comfy, unique unicorn hooded bathrobe set, which also includes a matching miniature version for playing dress-ups with her dolls and toys. Made from high-quality soft polyester, this creative hooded robe features a unicorn head on the hood, including funky 3D features. The set is available in plenty of colorful, vibrant designs she will fall in love with, including rainbow, pink galaxy, purple unicorns, rainbow star and more!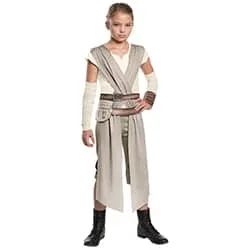 One of the best gifts for a 7 year old girl to introduce her to the epic Saga of the galaxy far, far away is the following role-playing costume for young girls. Continuing their tradition of strong female characters, this official Star Wars Episode VII costume features none other than fearless hero fighter Rey. Made from 100% polyester, the realistically designed dress-up costume has been designed in a comfortable jumpsuit style and comes with an attached apron, detachable sleeves, and belt. Rubie's Costume Company in partnership with LucasFilms has also developed a series of other officially licensed costumes such as Captain Phasma, Kylo Ren, Flametroopers, and Stormtroopers, for endless dress-ups and role-playing fun! Whether for Christmas or Birthdays, this Star Wars Rey printed costume is bound to inspire and capture her imagination, while igniting her passion for the Saga.
Searching for more than the Best Gifts For A 7 Year Old Girl? Check out some of our other great list for more awesome gift ideas.