Wini Gifts is supported by our readers. At no additional cost to you, we may earn a small commission from the purchases you make using our links.
Learn more
Best Lego Sets For Gifting & Self
Are you or someone you know well a huge LEGO fan? If you've been searching for the ultimate list of LEGO collectibles, we've put together the 50 best LEGO sets for adults, kids & collectors. From architectural wonders to sets for Star Wars and car fans, even cool toys for children of all ages, you'll be sure to find the best of the best here!
Best Lego Sets For Adults
Want the best LEGO sets for adults? We've done our research and put together some of the coolest toys for adults to build. From the unmistakable Batmobile to majestic iconic structures, grown-ups will enjoy carefully constructing these detailed replicas to produce stunning works of art worthy of display.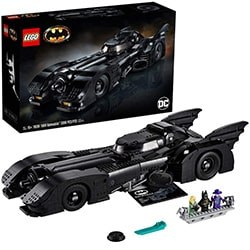 One of the most iconic vehicles in television history, the 1989 Batmobile is unforgettable in appearance and perfectly replicated in this set, made for enthusiastic DC Comic fans. The amazingly detailed and extraordinarily accurate model is built using over three thousand pieces, providing ample challenge and a grown up's superhero toy to display with pride! Featuring two pop-out machine guns, grappling hooks, and dual-cockpit, the classic Batmobile includes a minifigure display stand and three figures: Batman, Joker, and Vicki Vale. Whether for gifting for yourself or another Batman fan, you will not be disappointed with this stunning build, which also comes equipped with a rotating display stand for showcasing once complete.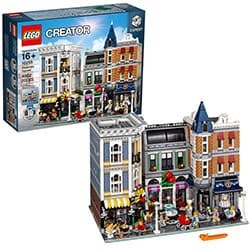 Second up in the best LEGO sets for adults section is intricate, vibrant, and depicts a joyfully lively scene. Creator Expert Assembly Square is a thriving city block full of unique and interesting characters going about their daily lives. The set focuses on three buildings, three levels high, pieced together using modular building. With over four thousand bricks to connect, adult enthusiasts will have a blast building this marvelous commercial hub. Assembly Square features easy to remove sections that include a florist, bakery, cafe, dental office, music store, dance studio, photography studio, and an apartment. With an extensive array of accessories and detailed decorative items, some of the most notable include a central fountain, musical instruments, fold-out sofa, and street lamps.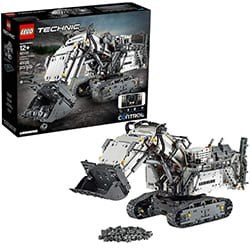 3. Liebherr R 9800 Excavator
With the ability to build complex systems, LEGO Technic is a little more advanced than standard sets. The Liebherr R 9800 Excavator is a great gift idea or personal challenge for all grown-up LEGO lovers looking to build and show off their collection. This high-end replica features motorized functions in addition to it's unbelievable resemblance to the real world mining excavator. Powered by three extra large and four large motors, the completed model can also be controlled via the Technic Control App. In addition to back and forward motions, the replica can extend, raise, and lower the boom, rotate the entire structure, and tilt the bucket. The set contains over four thousand construction pieces, providing ample challenge and hours of construction fun!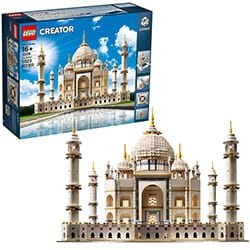 One of the best LEGO sets for adults who love architecture or are travel buffs, this stunning structure is made up of almost six thousand pieces! One of the world's most famous and recognizable landmarks, the ivory-white marble mausoleum is a testament to human ingenuity. Although not the same as building the real thing, completing this amazing construction is a feat in and of itself. The set is one of the largest ever made, in terms of the number of pieces and the grandiose size by which it stands. Featuring rich details and ornate decor, the beautiful Taj Mahal will come to life right before your eyes. Worried about moving the structure once finished? The building divides into seven easy to disassemble sections so transportation doesn't require destroying your creation before it's prominent display.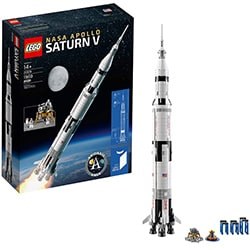 Whether for your amusement or as a cool gift idea, the NASA Apollo Saturn V is a LEGO set high on every fanatics list. The spectacular 1967 rocket replica is made up of three distinct stages and comes equipped with a lunar orbiter, lunar lander, and three stands that allow for horizontal display. In addition to the structures, the two-thousand piece set comes with two regular-sized figures, four micro figures, and an American flag. With an enormous standing height of over three feet, the Apollo Saturn V will bring each builder's inner astronaut to life.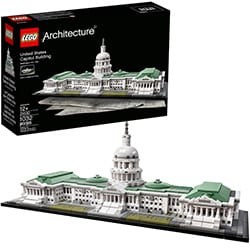 While LEGO offers a large range of thematic construction sets, the Architecture series focuses on the many iconic structures from around the world. The United States Capitol Building allows its creators to construct and relocate congress to their coffee table or benchtop. The set features an extensive brick count of over one thousand pieces, enough to challenge any adult. The Capitol Building LEGO model is seventeen inches wide, six inches high, five inches deep, and features a smoothed brick exterior for a striking shiny finish.
Best Lego Sets For Star Wars Fans
If you're after the best LEGO sets for adults and kids who are Star Wars fans, the next section is most definitely for you! Featuring iconic spacecraft, classic scenes and notable characters from the series, you can be sure Star Wars and LEGO fans alike will be most impressed.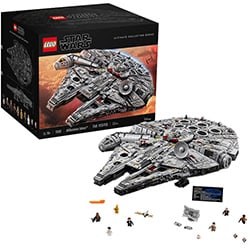 Arguably the best LEGO set for adults, teens, hobbyists, and of course Star Wars fans, the Millennium Falcon is a sci-fi legend. The Ultimate Collectors Series version is the largest LEGO construction set ever produced, containing over seven and a half thousand blocks! With a structure of this magnitude, you would expect some cool features and the Millennium Falcon doesn't disappoint. An open cockpit, removable hull panels, laser cannons, and realistic design are just a few examples of the detail that's gone into this model. In addition to the craft, the set contains figures from multiple films including Han Solo, C-3PO, Chewbacca, and Leia.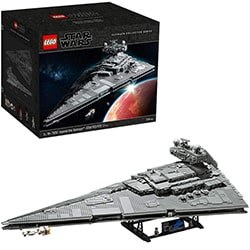 Bring the Saga to life and throw a spanner in the works of the rebellion with the magnificent Imperial Star Destroyer. Just as intimidating of a construction as the Millennium Falcon, the 2020 version of the Destroyer captures the starship from the opening scene of Episode IV – A New Hope. The monstrous replica contains close to forty-eight hundred pieces and features amazingly detailed engine exhausts and bridge tower. The set also comes with a fact plaque and display stand, allowing you to display your stunning construction with pride.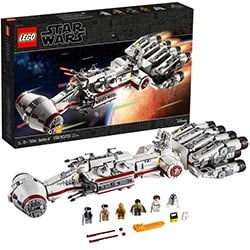 A great gift idea for young teenagers or a cool addition to your existing collection, the Tantive IV is a challenging construction without the grandiose statue of the first two Star Wars themed sets. Containing over seventeen hundred blocks, the personal starship of Princess Leia is a stunning two feet long and six inches high when completed. The set itself features spring-loaded shooters, firing turrets, escape pods and a very detailed interior. In addition to the craft, the building kit comes with six figures: Princess Leia, Bail Organa, R2 D2, C-3PO, Captain Antilles, and a Rebel Fleet Trooper.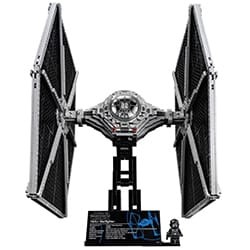 One of the best LEGO sets for Star Wars fans who choose to align with the dark side, a large scale TIE Fighter model is perfect for display. The iconic TIE Fighters are seen throughout the movie franchise and are best known for their battles with Rebel X-wing Starfighters. Featuring over sixteen hundred pieces, this set includes a TIE Fighter Pilot figure, display stand, and an informative fact plaque. Once completed, the structure stands eighteen inches tall and a foot wide, adding presence to any LEGO collection.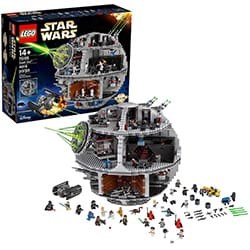 We've covered the most powerful starships, now for the deadliest space station in the galaxy. The LEGO Death Star is a combination of a single construction and an action scene, and is made up of over four thousand bricks! An amazing gift idea and also a perfect addition to your personal collection, the kit includes over twenty mini-figures such as Luke Skywalker, Han Solo, and Princess Leia. The set features Darth Vader's TIE Fighter and numerous iconic movie elements – from the trash compactor to the droid maintenance room, and even Emperor Palpatine's throne. The finished product stands over sixteen inches tall and is perfect for teens over fourteen years of age.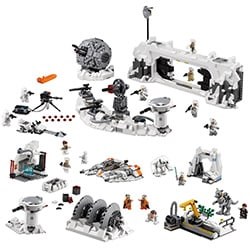 While most sets focus on individual constructions, the Assault on Hoth is an entire scene, composed of many separate sections. One of the best LEGO sets for teens to build and roleplay the Saga, the two thousand plus brick count provides ample challenge and post-construction fun. The extensive scene features a wall section, Rebel base, trench section, and a multitude of bits and pieces such as figures, weapons, cannons, and craft! Although the set has been officially retired by LEGO and no longer available for purchase on their official site, the set can currently be found on Amazon.
13. BrickHeadz Kylo Ren & Sith Trooper
Comparative to the LEGO version of a POP! Vinyl, the Star Wars Brickheads set contains two unique buildable brick characters. Kylo Ren and Sith Trooper are featured in this cute, fun, collectible set that contains two hundred and forty intricate pieces. Made for build and display, the miniature forces of evil stand two inches tall and make a perfect addition to any bedroom, man cave, or gaming space. If you're looking to balance the dark side with the light, the Brickheadz Star Wars figures also come as a
Baby Yoda and The Mandalorian
set,
Princess Leia
, and
Chewbacca
.
Wondering what the best LEGO sets for teens are? From iconic monuments (some with a twist!) to movie-inspired scenes, we have put together the perfect sets teens will love to call their own – for role play, display, or both!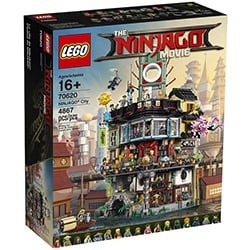 Epic in every sense of the word, one of the best LEGO sets for teens follows the entertaining world of ninjas fighting the forces of evil. Based on the LEGO Ninjago Movie, the Ninjago City set is an extraordinary gift idea for a very special occasion. The extensive and finely detailed set contains forty-eight hundred pieces including sixteen unique character figures from the film. The first level features translucent water, an elevator, a seafood market, and a bridge providing passage over the sewer. Level two features a restaurant, construction site, ATM, and a fashion store. The third and final level is equipped with a sushi bar, radio tower, and an apartment! In addition to the enormous array of detailed rooms and accessories, the set features numerous interactive aspects. A cool rotatable sushi conveyor belt, interchangeable posters, and a functional elevator are all part of daily life in Ninjago City.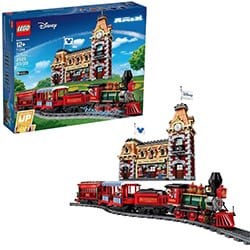 The perfect gift for every teenage Disney fan, the next LEGO set can also be controlled using an App! The Disney Train and Station LEGO set is a magical, twenty-nine hundred piece set that includes five classic characters: Mickey Mouse, Minnie Mouse, Goofy, Chip, and Dale. Featuring a stunning motorized steam-style locomotive that glides effortlessly over a twenty-piece track, the train and iconic station are as much fun after construction is completed as the build itself.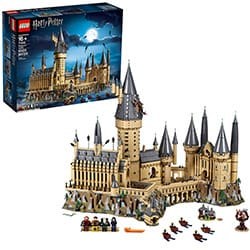 Undoubtedly one of the best LEGO sets for adults, teens, and collectors ever produced is the Harry Potter Hogwarts Castle. A six thousand piece model that rivals the Millennium Falcon, fans will build with enthusiasm and look on in astonishment at the detailed structure they've assembled. The magical set features the great hall, chamber of secrets, moving staircase, and Hagrid's hut. While the structure itself is incredible, the furnishings and extras are just as amazing! With chairs, stained glass windows, boats, and nano figures, the construction challenge is immense. Whether a LEGO lover or Harry Potter fan, the Hogwarts Castle is the perfect set to gift yourself or a loved one.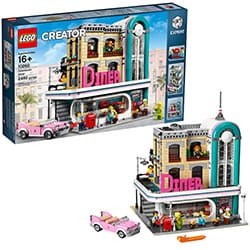 A cool gift idea for teens that love a 60's vibe, this is one classical building that will never get old. The LEGO Creator Downtown Diner is a twenty-four hundred block kit that presents as a unique retro structure. Included in this set are six mini-figures that mingle seamlessly into the building, transforming the scene into a dynamic living world. While the American style diner is the focal point, the boxing gym and recording studio are also key features of this stunning building. The Downtown Diner perfectly integrates with other sets in the LEGO Creator Expert range such as
Parisian Restaurant
, and
Palace Cinema
, to create an impressive thriving street.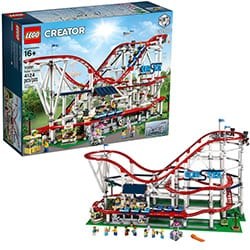 Winner of the 2019 Toy of the Year Awards in the playset category, the next building kit will take you on an adventurous journey. Part of the Expert Creator series, the LEGO Roller Coaster set depicts an enormous and active fairground ride. Pulled into place using a winding mechanism, the unique roller coaster train barrels down the rails once it reaches the top. This amazingly fun set is made up of over four thousand pieces and even includes a cotton candy cart, waiting area, and concession stand!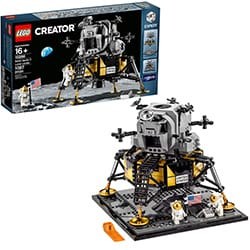 19. Apollo 11 Lunar Lander
One of the best LEGO sets for budding teen astronauts, the Apollo 11 Lunar Lander will bring them one step closer to the surface of the moon. Loaded with intricate detail, the model was developed for the 50th Anniversary of the first moon landing. Made up of over a thousand pieces and standing seven inches tall, the Lunar Lander features detachable stages, ladder, two astronaut figures, and the American flag. This rewarding build is an accurate representation of the spacecraft, even sporting golden legs and satellite dishes on its roof.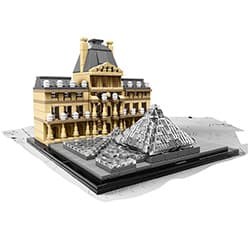 A LEGO set that's made for art and architecture lovers, both teens and adults will love this classic construction. Place the world's largest art museum on your desktop, displaying the heart of Paris for all to see. The LEGO Louvre is a modest seven hundred-odd bricks and stands five inches tall when fully assembled. Featuring the iconic glass pyramid and Pavillon de l'Horloge, this stunning detailed structure also comes with a collectible booklet containing historical information.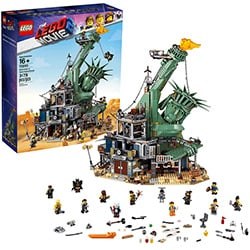 21. Welcome to Apocalypseburg
For LEGO and LEGO Movie fans, the next post-apocalyptic model is a perfect gift for birthdays, Christmas, and just because they love building blocks! The Welcome to Apocalypseburg set is an intricately detailed structure based on the LEGO movie. Awe-inspiring and creative, the Mad Max style scene features a fallen crumbled Statue of Liberty intertwined into a commercial building. The building itself features a police station, gym, coffee shop, and several accessories scattered all over the place. In addition to the structure, the set is packed with a myriad of character figures for role-playing fun, including classics such as Batman, Harley Quinn, and Green Lantern.
Best Lego Sets For Kids 9 To 11
If you're searching for the best LEGO sets for kids aged 9 to 11 years, then we've got you covered! From movie inspired scenes to real world action, these fun and adventurous play sets will challenge young minds while keeping them engaged.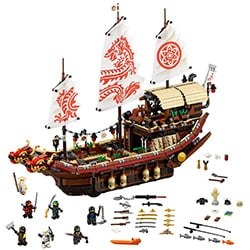 22. Ninjago Movie Destiny's Bounty
In all likelihood the best LEGO ship set ever released, the Ninjago movie-inspired Destiny's Bounty is a spectacular twenty-three hundred brick set. The lively ship boasts many features including soft material sails, ornate twin dragons on the bow, and an aft observation deck with a telescope. Amazingly well detailed, the deck is bustling with action and includes hidden weapons storage, rotatable anchor windlass, decorative plants, hanging lanterns, and even a few fishing rods! The ship's upper cabin features tan colored roofing panels that can be opened so kids are able to expose the space for play or keep it covered up. If you're looking for an amazing LEGO gift idea for kids over nine, the Destiny's Bounty set is the perfect gift for Birthdays and Christmas.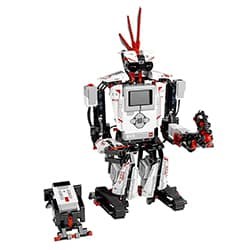 If you're after a versatile building kit that can create a multitude of models, one of the best LEGO sets for kids is the Mindstorms EV3. More Technic than traditional LEGO, this modern set allows children to build robots that walk, talk, and perform functions! Perfect for those over ten years of age, the six hundred piece set can create seventeen different unique designs. While challenging and educational, LEGO's flagship STEM robotics kit makes engineering fun, creative, and relatable for young minds.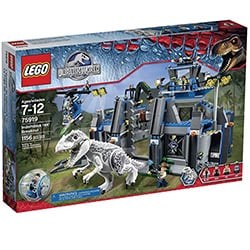 24. Indominus Rex Breakout
Jurassic Park fans are sure to love the next Amazing LEGO building set, featuring over eleven hundred pieces and based on the Jurassic World movie. Although the theme is centered around the breakout scene, the clear focal point of the set is the giant white Indominus Rex, a genetic hybrid of the Tyrannosaurus and Velociraptor. The intimidating, yet highly complex dinosaur can move its legs and arms, rotate its neck side to side, and even turn its hands from the wrist. The structure itself is triangular and features large sliding gates, floodlights, an electric fence, observation area, and Dr. Wu's office. In addition to all of the structural elements, the Indominus Rex Breakout set also includes a helicopter, gyrosphere, and four figures for role-playing fun.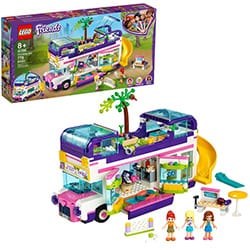 If you're after a gift for a young daughter or niece, one of the most beautiful and best LEGO sets for girls is the glamorous Friendship Bus. Part of the LEGO Friends series, the feature-packed bus is a moderately challenging, seven hundred and seventy piece set. The create to play Friendship Bus offers an abundance of cool features and play options that will keep her entertained for hours after construction is complete. While the bus has many amazing accessories and furnishings, the best aspects are the sliding roof, pop out hot tub, giant yellow slide, and fold-out side windows! Unique Mia, Stephanie, and Olivia mini-dolls are also included, rounding out an adventurous and fun playset.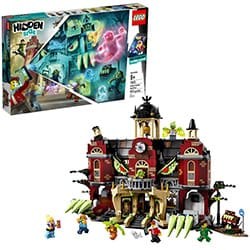 26. Newbury Haunted High School
Perhaps one of the spookiest LEGO sets ever created, the interactive ghost hunter theme kit is sure to be an instant hit. Newbury Haunted High School is an augmented reality set from the Hidden Side series. Hidden Side focuses on combining AR, tech toys, and creative building, bridging the gap between virtual gaming and physical play! The supernatural school is a large fourteen hundred piece set with seven mini-figures and a multitude of accessories. With all of the learning spaces you would expect in a high school, the bustling set has a classroom, chemistry lab, canteen, and computer room. The coolest aspect of the kit is its ability to transform from a regular school to a haunted one with claws, intimidating eyes, and even a hidden evil teddy bear.
27. Overwatch Watchpoint: Gibraltar
The next LEGO gift idea for kids who love video games is a cool spacecraft construction they can later show off to friends! Based on the popular Watchpoint Gibraltar map, the Overwatch rocket and launchpad set is a demanding seven hundred plus block set. Some of the most notable aspects of the set include the launch tower, accessible rocket cargo area, and the ability to split the rocket in two, with each having its own cockpit. The fun gaming themed set also comes with the mini-figures Reaper, Mercy, and Pharah, and an extra-large Winston figure.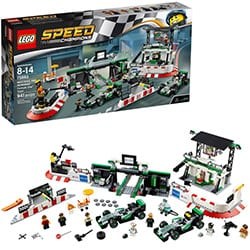 28. Mercedes Formula One Team
Amongst the best LEGO sets for kids is this pit crew themed kit, perfect for those who love race cars and racing! The Mercedes AMG Petronas Formula One Team is made up of just under one thousand pieces and plays like a toy as well as a building challenge. Versatile and detailed, the extensive set is structurally made up of a hairpin turn with an active cameraman, a corner barrier, a pit wall with monitors, a pit garage with a car jack, and a double-story grandstand. As far as the active bits and pieces are concerned, this LEGO set features two Mercedes F1 cars, a hotdog stand, eight mini-figures, spare wheels, and much, much more.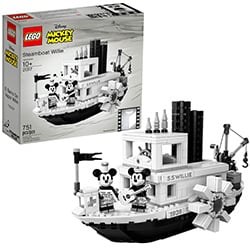 Hands down the best retro LEGO set, this Disney boat is designed to look like it just popped out of a black and white cartoon! Based on the 1928 short film Steamboat Willie, this unique building kit is made up of seven hundred and fifty bricks. The cartoon was the first appearance of Mickey and Minnie Mouse who are featured in the set, one holding a music sheet, the other a guitar. The most notable aspects of this set are the working crane, moving steam pipes and the rotating paddle wheel. While the crane can be manually manipulated, the steam pipes and paddle wheel are activated when the boat is being pushed. The steamboat itself looks much more detailed than the one featured in the film, as is expected, while the set also comes with a collectors LEGO brick plaque. A perfect gift for boys and girls over ten years of age and Disney fans alike, the nostalgic steamboat is a fun build and a stunning iconic display.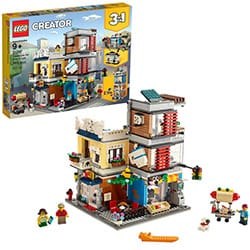 30. 3-In-1 Townhouse, Pet Shop & Café
The LEGO 3-in-1 series is designed to let kids be a little more creative, allowing them to experiment with different types of constructions. As the name suggests, the Townhouse Pet Shop & Café set allows for three distinct constructions. The first is a large multi-story complex that uses all of the nine hundred and seventy included pieces. It features a cute cafe with outdoor seating, a pet shop with ATM, three apartment spaces, and a cool rooftop flower garden. The second build is a strip mall featuring a barbershop with a rooftop eatery, dentist's office with an examination area, public transit stop, and even a classic style street food trolley! The final construction is a vertical three-story building with a rooftop space. The building features a bank that takes up the first two levels, an apartment with gadgets and decor, and a greenhouse on the rooftop. With so many fun and unique construction combinations, this versatile LEGO set will keep young minds engaged for hours!
Best Lego Sets For Kids 6 To 8
Wondering what the best LEGO sets for kids aged 6 to 8 are? From real-world faculties to magical movie-themed sets, the following LEGO kits are the perfect gift ideas to ensure young ones are engaged and entertained for hours on end.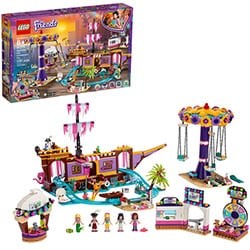 31. Heartlake City Amusement Pier
The first LEGO set in the six to eight age range is the Heartlake City Amusement Pier. Although six and seven-year-olds may need a helping hand, this set is perfect for eight-year-old girls. The set includes over twelve hundred pieces, however, the fact there are five major elements makes construction a great deal easier. Centered around the roller coaster ghost ship, the entertaining set includes five structures in total with a swing chair carousel, ticket kiosk, spin the wheel game, and snack stall also part of the set. In addition to the structures, Amusement Pier comes with many interesting accessories and five mini-dolls she will have fun playing with.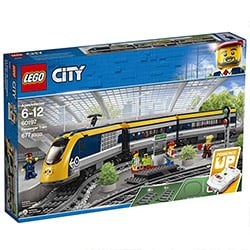 One of the best LEGO sets for kids who love trains is undoubtedly the large interactive City Passenger Train with over six hundred and fifty pieces for hours of fun! A gift idea that's exciting on many levels, construction is enjoyable and playtime even better. Propelled by a battery-powered engine and Bluetooth control, the train features options for ten different speeds. In addition to the impressive train, tracks, and remote, the set also comes with four mini-figures, a platform, and accessories. If you're interested in expanding the rail system there are
rail extensions
and
switch tracks
available, turning a local trip into an epic journey.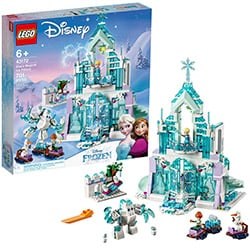 33. Princess Elsa's Magical Ice Palace
Little Frozen movie fans will love constructing and roleplaying with the stunning Princess Elsa's Magical Ice Palace LEGO set. The Disney inspired castle contains seven hundred pieces and stands over a foot tall once constructed! Featuring a revolving staircase, large balcony, and opening doors, the set is decorated with translucent pieces that add realism and character. As well as the beautiful castle the set comes with a three carriage sleigh, playground, and a large constructible Marshmallow snow monster. Included accessories are also plentiful with elements such as cake, sheet music, teapot, and chocolate adding to roleplaying fun! The best LEGO set for young girls who are in love with the Frozen franchise, the Magical Ice Palace is a great Christmas or Birthday gift idea.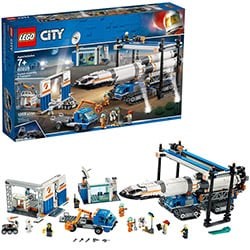 More than your regular rocket and launchpad, the Rocket Assembly & Transport set is made for post-construction roleplaying enjoyment. Perhaps the best LEGO set for boys and girls who have shown an active interest in space, the kit includes multiple increasingly challenging structures. The main attraction of the model is the large multi-stage rocket with a dual mini-figure cockpit, that can be easily separated and placed back together during play. A large rocket transporter takes the spaceship to its destination, while the control room oversees all activities and launch. Also included in the set are a rover payload module, assembly crane, transport truck, and a rover lab with a raising platform and fun sliding doors.
Young nurses and doctors will love the next building kit, with multiple levels and cool side projects that add to roleplaying fun. A great gift idea for children between six and twelve is the LEGO City Hospital, which also comes with an ambulance and helicopter! The building is three levels high and contains an x-ray room, baby delivery room, reception area, and undercover drop off. Included in the set are eleven minifigures, from patients to staff, and even a cool skeleton! In addition to all of the novel equipment and decorative pieces, the set also comes with a bright helipad so the chopper knows exactly where to land.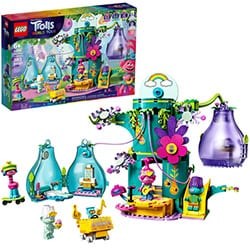 36. Trolls Pop Village Celebration
The last set in the six to eight age range is a fun fantasy world that is part of the Trolls World Tour theme. Inspired by the 2020 Trolls movie, the Pop Village Celebration is vibrant, cute, and unique in its design. Featuring a happy little village, the set requires just under four hundred pieces to assemble and includes a funky treehouse, two pods, a stage, music cart, and even adorable accessories to style the 5 Trolls mini-figures included with this enchanting set.
Best Lego Sets For Kids 3 To 5
In the following gifts you will find the best LEGO sets for kids 3 to 5 years of age. Considering safety for little people, LEGO developed the DUPLO range of bricks specifically for younger children. Twice the length and height of traditional LEGO, DUPLO bricks are less likely to be swallowed and also easier to handle for simple construction. These vibrant and fun real-world sets will give children the freedom to build and allow their imagination to grow.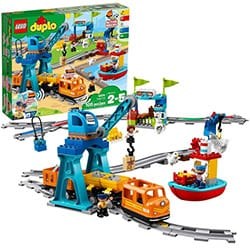 A cool LEGO gift idea for young boys in the three to five age range is the exciting DUPLO Cargo Train. The fun buildable toy combines construction with train play and also contains some cool additions. While features like the harbor, large crane, cafe, and DUPLO figures are a nice touch, the vibrant train, tracks, and carriages remain the main focus. Set in motion with a gentle push, the train can easily be brought to a halt by lifting it off the track or simply placing minimum pressure on the top.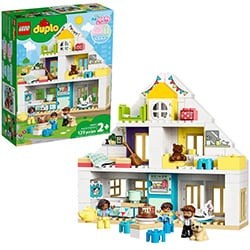 One of the best LEGO sets for young girls and boys is the Modular Playhouse which can create three beautiful and unique building types! The house is made up of a series of rooms which include a bathroom, kitchen, bedroom, and living area, all containing adorable mini detailed furnishings. Great for creative learning, the three house types the set is capable of constructing include a tower house, residential house, and a row of three houses.
If your little one loves farm animals, the next LEGO gift idea is sure to put a smile on their face! The Farm Adventures DUPLO set is a busy and vibrant one hundred piece set that features a barn, double-story farmhouse, farming equipment, mini-figures, and of course farm animals. Easy on little hands, the Farm Adventures set is perfect for roleplay scenarios and fun family constructions.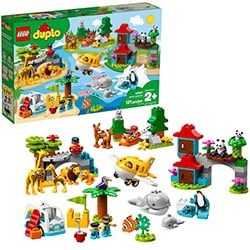 The best LEGO set for teaching children about the broader environment and its wildlife is the World Animals set. The extensive set features vehicles, scenery, and plenty of animals to help tell the story. Visit beaches in the kombi van, and watch penguins slide into the ocean! Row your boat through a forest, or catch a plane into the jungle! With so many animals and accessories to choose from, playtime will be a fun new experience each and every day.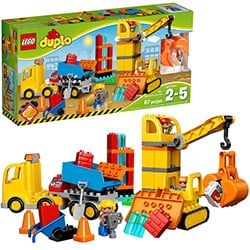 41. Big Construction Site
A simple, straightforward, and playfully fun LEGO kit is the sixty-seven piece Big Construction Site. Featuring a dump truck, bulldozer, and crane, kids can engage in roleplay and even create their own unique structures! In addition to the heavy-duty vehicles, this set includes a couple of figures, tools, and additional bricks to help the construction site come to life.
Best Lego Sets For Kids 1 To 2
Get them started young and let their creativity flourish with LEGO DUPLO sets! Twice the size of regular LEGO, these sets have been designed for younger minds to explore and play (always under adult supervision of course!). Here are the best LEGO sets for kids 1 to 2 years of age. These adorable, fun and vibrant kits are the perfect gift idea for Birthdays and Christmas to introduce young minds to the wonderful world of LEGO!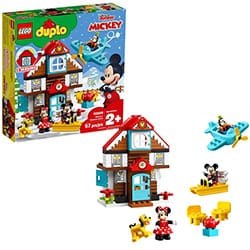 42. Disney Mickey's Vacation House
The first LEGO set for young toddlers is Mickey's Vacation House. The Disney inspired set is a fun family project, helping refine motor skills and teaching young chicken the process of building. Featuring a cute traditional log cabin, the set comes with classic characters such as Mickey Mouse, Minnie Mouse, Goofy, and Pluto. The kit also includes a bright mini sleigh and airplane for characters to ride on.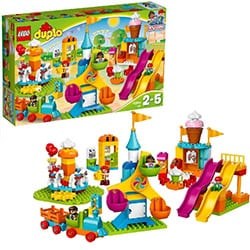 Amongst the best LEGO sets for kids two and over is the LEGO DUPLO Big Fair. Although the set is over one hundred pieces, which may seem large for children this young, the bricks are used to build six unique structures. Featured rides and amenities in the Big Fair set include a vibrant carousel, colorful Ferris wheel, fun super slide, mini train with carriage, restrooms, and even an ice cream kiosk! While the attractions are plenty, extras such as the five figures, ice cream cone, balloons, and camera will make playtime even better.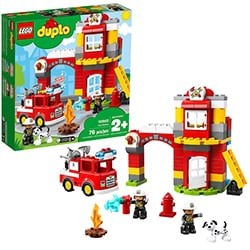 A cool little gift idea young boys and girls are sure to love is the LEGO DUPLO Town Fire Station set. In addition to the cute two-story station, the set includes a bright red fire rescue truck equipped with a siren and lights, ladder, extinguisher, fire hydrant, campfire, dog, and two firefighter figures! A fun little building assignment and cool roleplay toy, the seventy-six piece set will have him driving to the rescue, and putting out the flames.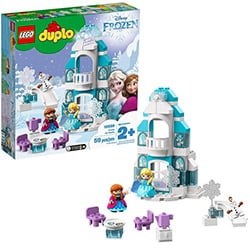 Definitely the coolest LEGO set for young girls, the Frozen Ice Castle from the Disney franchise is sure to make for an exciting building experience. Her little imagination will run wild pushing Olaf down the slide and sitting Anna and Elsa down for a cup of tea. The beautiful ice castle features multiple stories, transparent ice bricks, and mini kitchen equipment. Most striking of all features is the multi-colored snowflake light that sits on top of the palace, easily activated with a push of a button.
Best Lego Sets For Car Lovers
And last but by no means least in our LEGO gifts list, we have featured the best LEGO sets for adults who love their LEGO and also love their cars! From sleek and elegant cars to iconic transport pieces, the following vehicles are all definitely worth showing off!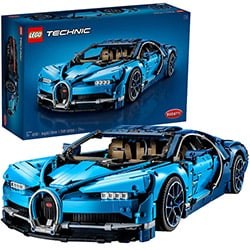 46. Technic Bugatti Chiron
The LEGO Technic series aims to provide a more challenging building experience and even allows for the construction of some real-life functions. The ultimate gift for car lovers or yourself is the Bugatti Chiron race car that uses the Technic building system as just mentioned. The set contains three and a half thousand pieces, creating a massive twenty-two inches model! Whilst the list of features are seemingly endless, the highlights include a striking two-toned blue paint job, doors that open and shut, and a steering wheel which actually controls the wheels. The sheer detail of this vehicle is amazing – from the aerodynamic body to the springy suspension. One of the best LEGO sets available, the Bugatti Chiron race car is a model both teens and adults will enjoy showing off.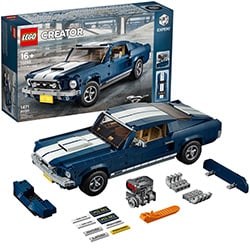 47. Creator Expert Ford Mustang
Iconic American muscle car, fifteen hundred bricks, what's not to love about the LEGO Creator Expert series Ford Mustang? Rev heads are going to drool over this 1960's model, packed with cool features and fine details. The stylish vehicle contains opening doors, boot, and bonnet, to expose the finely detailed interior, while the outside displays realistic badges. Featuring amazing customizable extras, car lovers can add a ducktail spoiler, beefy exhausts, and even a supercharger to customize this ride.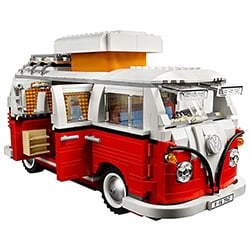 48. Vokswagon T1 Camper Van
If you're not after a sports car, the iconic 1962 Volkswagen Camper Van is a great choice. The set is a moderately challenging thirteen hundred pieces and approximately twelve by six inches once complete. The intricately detailed stunning replica has all the famous features including pop up roof, opening doors, rear door with engine access, windshields that open outwards, and even plaid curtains on the interior!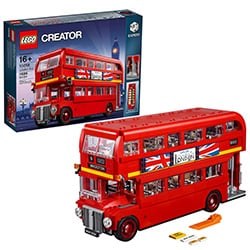 As far as global icons are concerned, not many are as easily recognizable as London's bright red double-decker buses. Extraordinarily well detailed, the bus features large windows, advertising posters, and standard-tread tires. On the inside, the London Bus even contains worn-out seating, a fire extinguisher, ticket bin, and a cool spiral staircase leading to the top deck! If you're looking for a classic collectible, or a cool gift idea for a LEGO obsessed loved one, look no further than this awesome vibrant set.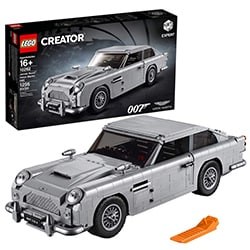 50. James Bond Aston Martin DB5
The final idea on our best LEGO sets list is the Aston Martin DB5 from the James Bond movie franchise. Made popular in the 007 Goldfinger movie, this authentic replica allows fans to relive the action and excitement. Featuring a highly detailed interior, revolving number plates, and many cool interactive elements, the LEGO BD5 is an absolute must-have for fans of all ages.
What are the most popular LEGO sets?
Because LEGO has a long and rich history dominating the building block market, there have been thousands of popular sets created since 1932. Some of the current popular sets include:
Adults – Ship in a Bottle

Teens – NASA Apollo Saturn V

9 To 11 – Legacy Golden Dragon

6 To 8 – Mia's Tree House

3 To 5 – Mars Research Shuttle

1 To 2 – Town Fire Station
What is the best LEGO set to buy?
The best LEGO sets to buy depend on the age and interests of the intended recipient. LEGO offers a variety of themed sets that include:
LEGO Technic – For a challenging building experience using pieces that are different from traditional LEGO blocks

LEGO Architecture – Offers a variety of iconic buildings such as the Statue of Liberty, Trafalgar Square, and Paris Skyline

LEGO Friends – Primarily aimed at girls between six and eleven and feature colorful blocks

LEGO DUPLO – For young children just starting their building journey

Movie & Television Themed – Featuring sets such as Harry Potter, Star Wars, Jurassic World and Marvel

LEGO Creator 3 In 1 – Offering a variety of challenges in a single set, enabling the construction of three different designs in each box
What is the hardest LEGO set to build?
Although there is some debate about which LEGO set is the hardest to construct, the three that are consistently mentioned include the Star Wars Millennium Falcon, London Tower Bridge, and the Disney Castle.
What is the best LEGO set for adults?
The best LEGO sets for adults tend to be collectible, iconic, and complex to construct. Sets such as the Star Wars Imperial Star Destroyer, Batmobile, and the United States Capitol Building are among the most popular and best LEGO sets for adults.
When should you stop playing with LEGO's?
The short answer is – never!! Although many children will eventually grow out of playing with LEGO as they become older and find other interests, some will continue to become enthusiasts. As children become adults and later parents themselves, they will most likely purchase or be gifted LEGO for their next generation, which will bring back fond memories of their own childhood as they build and connect with their children.
Searching for more than the Best Lego Sets For Adults, Kids & Collectors? Check out some of our other great list for more awesome gift ideas.