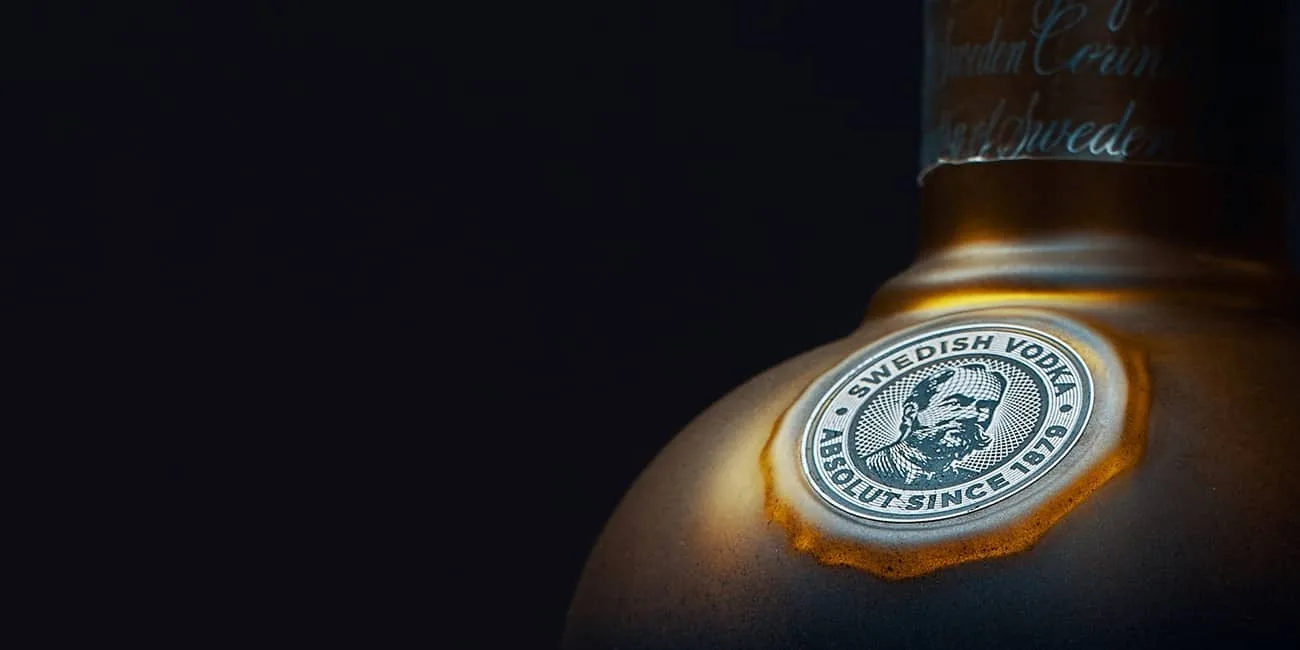 Wini Gifts is supported by our readers. At no additional cost to you, we may earn a small commission from the purchases you make using our links.
Learn more
Best Gifts For Vodka Lovers
Wondering what the best gifts for vodka lovers are that will make their day? We've compiled the ultimate vodka gift list, from novel items to the highly practical with a unique twist, and even a few options for those with a great sense of humor!
Best Gifts For Vodka Lovers: Glasses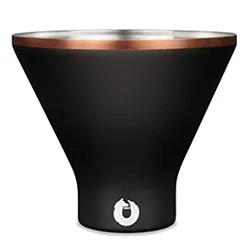 The first item on our gifts for vodka lovers list is perfect for men and women who love a casual cocktail with a friend. The Snowfox Martini glass set includes two stylish insulated stainless steel glasses, keeping your drinks ice cold. Each unique glass has an 8oz capacity and is perfectly paired with the Snowfox
stainless steel shaker
for a chic cocktail set. The glasses are available in a variety of contemporary color options including black, white, light gold, lime, olive-grey, and stainless. Stemless and elegant, these shatterproof cocktail glasses are a perfect option for a relaxing drink outdoors.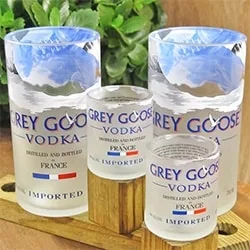 Great for vodka lovers and perfect for those whose drink of choice is Grey Goose, this cool glass set is a gift every vodka lover can enjoy! Featuring two unique shot glasses and tumblers, the glasses are crafted from upcycled vodka bottles that have been beautifully cut, leveled, and smoothed. Unique, innovative, and environmentally friendly, these creative craft glasses are a perfect gift for close friends and loved ones.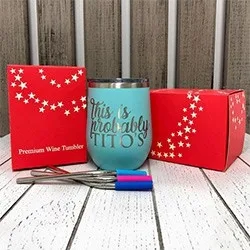 One of the best gifts for vodka lovers, this versatile tumbler has many uses outside of drinking their beloved vodka. The 12oz stainless steel tumbler features unique alcohol inspired slogans for your tipple of choice, including "This is probably Tito's" for vodka connoisseurs. A fun Christmas and birthday gift, this tumbler comes packaged with a clear lid, stainless steel straw, and a cleaning brush, and available in nine elegant and vibrant color variations.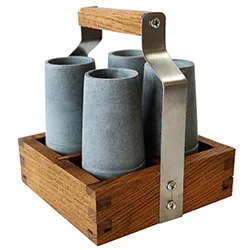 If you're after a modern set of shot glasses, look no further than this unique home Vodka shooter set. The elegant looking shot glasses are perfectly shaped and much more durable than a glass alternative. Crafted from textured sandstone, these glasses can be placed into a freezer to provide a chilled drinking experience without the need for diluting drinks with ice cubes! The set comes with a beautiful ash caddy which perfectly holds the glasses when they are not in use while doubling as an attractive decorative piece when serving. A great gift idea for birthdays, Christmas, and any other special occasion, your vodka loving recipient is sure to put this set to good use.
The best gift for vodka lovers who also enjoy a good game of chess, this shot glass set is a perfect addition to any lounge or game room. The Checkmate chess set includes thirty-two contemporary shot glass chess pieces and a stunning fifteen-inch square gameboard with beautiful frosted details. Featuring study glass construction from board to shot glasses, this set is destined to become a favorite drinking game at any gathering.
Best Gifts For Vodka Lovers: Bar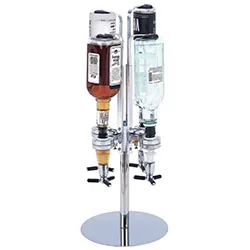 6. 4 Station Liquor Dispenser
A great gift for any vodka and liquor connoisseur, this elegant unique four-station liquor dispenser provides a quick and easy way to top up an empty glass! With a capacity to house four of his or her favorite drinks, the dispenser features a convenient rotating function and easy to use push release valves. Bottles rest on ribbed rubber inserts that prevent spillage, while a secure clamp-like mechanism extends to fit the entire length of a bottle, including a sturdy chrome base to provide stability. The sleek modern design is a perfect fit for any bar and display stand.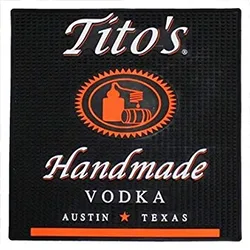 A cool decorative, yet functional gift idea for any home bar is a professional grade bar mat. Tito's Handmade Vodka bar mat is made from heavy-duty rubber which is easy to clean and also dishwasher friendly. A great novelty gift for vodka enthusiasts and loved ones who have a home bar, the mat is sixteen inches wide and features a vibrant orange and black design. If you're after a companion to the mat, this
Tito's rail runner
is also perfect for capturing drips and spills, while adding a decorative element to your bar top.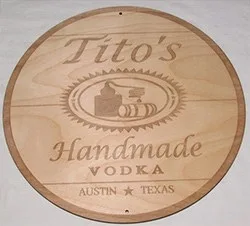 Best gifts for vodka lovers idea seven is a decorative wall art, perfect for home bars and gaming rooms. The Tito's Vodka rustic wood barrel style sign features stylish laser engraved etching and measures a foot in diameter. The light wood grain has an authentic, yet clean and modern feel, suiting most interior spaces. Whether it's showing their love for vodka, or decorating a common space, this striking wooden barrel top wall art can be hung almost anywhere.
Best Gifts For Vodka Lovers: Storage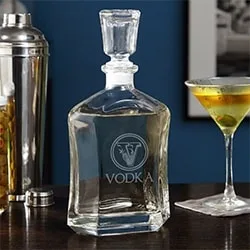 Looking for a custom gift idea with a personalized touch? The Top Shelf liquor decanter is perfect for vodka lovers, gin drinkers, and those who enjoy a drop of rum. Featuring an ornate shape and classic style engraving, the options include Absinthe, Whiskey, Bourbon, Vodka, and more. The decanter is made from premium glass and is a perfect gift for people who love to customize their serving canisters. If you're after an alternative style, other great options include the
Draper Top
,
Versailles Crystal
, and the majestic
Bryant Royal Crested
decanter.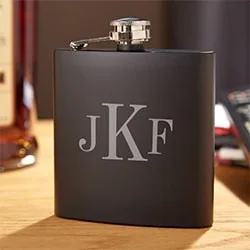 A liquor flask is a great gift for vodka lovers, allowing them to conveniently carry their favorite drop, and also doubling as a decorative piece on desks and benchtops. This classic stainless steel flask comes presented in a beautiful wooden gift box and features a modern sleek black matte design and chrome-colored lid. Personalized monogram options allow you to create a lasting memory by initializing the recipient's name in bold elegant text. Perfect for special occasions such as birthdays and Christmas, or as a thank you gift for your groomsmen, every vodka lover will cherish this thoughtful gift.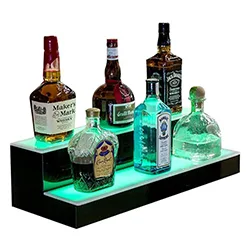 11. Liquor Bottle Display
One of the coolest and best gifts for vodka lovers who love to show off their top-shelf liquor is a lighted liquor display. The stunning two-tiered liquor bottle display stand is suitable for housing six to eight bottles of Vodka, Bourbon, and Whiskey. Featuring an inbuilt LED lighting system, the display stand illuminates to highlight your drinks, with a selection of up to twenty colors and multiple lighting modes! The stand rests on rubber feet, preventing the bottom surface from contact with wet surfaces, while two units can be seamlessly placed side by side. The option to expand the display surface makes this a perfect gift for home bars and regular open benchtops.
Best Gifts For Vodka Lovers: Gift Sets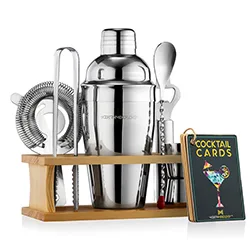 Does the Vodka enthusiast in question love to make cocktails and mixed drinks? If the answer is yes, then the next item is a perfect gift idea! The Modern Mixology bartender kit comes equipped with a stylish wooden stand and features all the tools they will ever need. The set itself includes a Martini shaker, ice tongs, jigger, mixing spoon, strainer, and bottle opener, all made from heavy-duty, high grade and rustproof materials. Making drinks from home will be easier than ever as they flip through the pages of the cocktail cards that contain an array of fun recipes to try.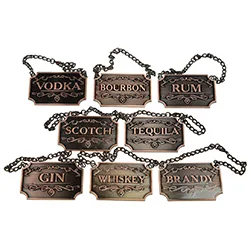 13. Liquor Decanter Labels
A great way to place liquor labels on decanters is to hang one around its neck! A cool gift for vodka lovers who also enjoy a range of spirits is this unique engraved set of liquor decanter labels. The set contains eight different spirit labels including Scotch, Gin, Whiskey, Rum, Tequila, Brandy, Bourbon, and of course Vodka. The most notable feature of the labels are the adjustable chains which can be lengthened and shortened to fit numerous decanter neck sizes. While the copper tags provide a classic vintage look, a cool alternative is this
silver version
which offers a more modern feel.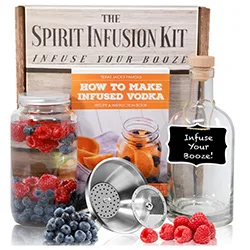 A unique gift idea that allows your vodka loving recipient to experiment with flavors, this spirit infusion kit provides all the tools they need! The set comes with a 25oz liquor bottle, 34oz jar, stainless steel strainer funnel, filter disk, and cute chalkboard hang tag to label your handmade creation. In addition to the necessary components, the fun kit also includes a "how to make infused vodka" recipe booklet, providing over one hundred pages of ideas and detailed instructions. The simple and straightforward gift idea allows friends or loved ones to make tasty flavors in as little as a day.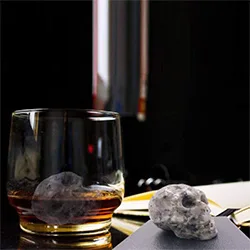 Help them avoid watered-down drinks with a set of unique chill rocks with a haunting twist. One of the best gifts for vodka lovers, these hand-carved skull bones will keep drinks cool without the dilution that occurs when using standard ice. Crafted from premium natural granite, the stones are polished to avoid scratching the inside of precious glassware. These cool chill stones will chill drinks in under two minutes and are ready to use within just a few hours of placing them in the freezer.
Best Gifts For Vodka Lovers: Funny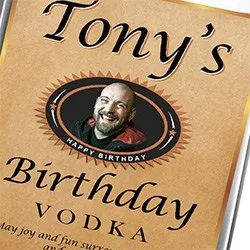 If you're searching for a funny and unique vodka gift idea, look no further than these personalized vodka labels. The custom labels are a perfect Christmas and birthday gift idea for a fun-loving vodka enthusiast, making them chuckle every time they refill their glass! Although the labels themselves will need to be printed, the personalization options are extensive and the labels can be designed to fit bottles of all shapes and sizes. If you're after a more refined design that arrives ready-made, this
personalized vodka label
may be more up their ally.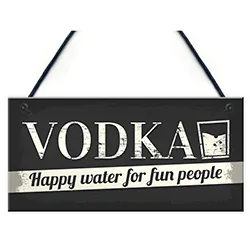 A simple and straightforward gift idea for vodka lovers is a humorous hanging plaque for their home. Small hanging plaques and signs featuring funny messages are great conversation starters to help get the party going! Novelty signs are ideal gift ideas for friends and family to hang in home bars, gaming rooms, and communal spaces. While this hilarious sign claims vodka to be "happy water for fun people", other funny signs include "
this house runs on love, laughter, and vodka
" and "
vodka bar – where drink responsibly means don't spill it
".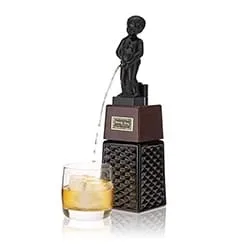 If you want to make them really laugh, one of the best gifts for vodka lovers is a fun gag alcohol dispenser. The Bonny Boy liquor dispenser is a unique and humorous replication of the Brussels famous Manneken Pis statue, depicting a young boy doing his business into a fountain. The funny model stands approximately a foot tall and holds up to 16oz of enticing liquid. The most notable feature of the Bonny Boy liquor dispenser is the ability to fill glasses with the push of a button, which requires 2 x AA batteries for operation.
What do you get a vodka lover?
If you're not interested in buying them a bottle of vodka, then some of the best gifts for vodka lovers include gifts for their home bar, vodka themed decor, funny vodka items, drinkware, and storage items such as decanters and flasks.
What is the best vodka to give as a gift?
The best vodka to give as a gift is often the recipient's favorite brand, which is likely the one you see them drinking most often. While giving them their favorite drop might be the best option for intimate settings, in the event everyone has the same idea, a unique bottle may be a better option. Some of the most popular brands of vodka include:
Smirnoff
Grey Goose
Absolut Vodka
Tito's
Stolichnaya
If your after something a little more unique, great brands for gifting vodka lovers include:
Svedka
Rain Vodka
Sobieski
Skyy
What is the best vodka for a martini?
Using vodka in a Martini is a great alternative to gin, especially for those who prefer vodka. While you can essentially try any vodka brand, top-shelf bottles will tend to make for a much more pleasing drinking experience. Some top-shelf vodkas to consider include:
Stolichnaya Elit Pristine Water Series
Blue Harbour Black Truffle Vodka
Belvedere Silver Saber Bespoke
Scheibel Woodka
Beluga Vodka Gold Line
Crystal Head Vodka
U'Luvka Vodka
Searching for more than the Best Gifts For Vodka Lovers? Check out some of our other great list for more awesome gift ideas.