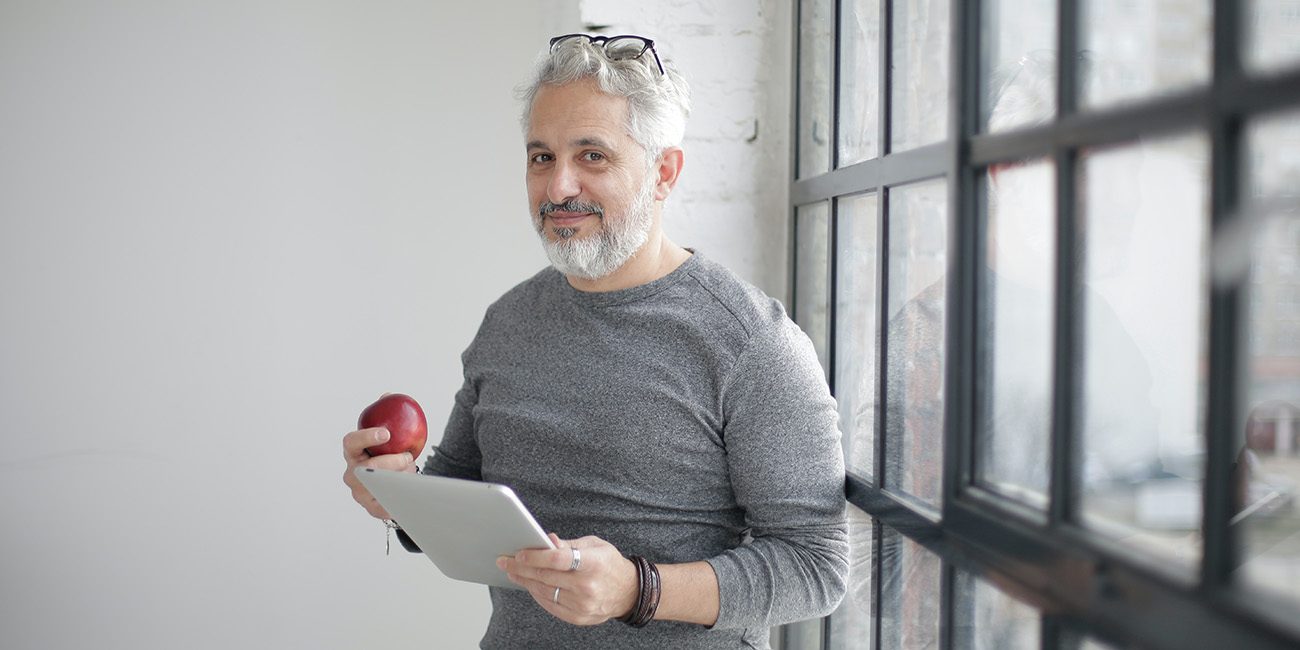 Wini Gifts is supported by our readers. At no additional cost to you, we may earn a small commission from the purchases you make using our links.
Learn more
Smart Gifts For Older Men
Let's be honest, finding the perfect gifts for older men can be a highly challenging task! When it comes to men, simply sourcing gifts can be an arduous feat in itself, let alone older gentlemen who've had many birthdays and seem to have it all. Which is the very reason we've compiled this easy guide of smart gifts for older men. From practical gifts for the home to new and interesting gadgets, we'll help you navigate your way to the ideal gift for him.
Gifts For Older Men: Home & Garden
When considering the best gifts for older men, those for the home and garden tend to jump out. The following interesting and practical gifts offer useful, yet unique gifting options that are bound to be well received.
One of those highly unique gifts for older men that are sure to spark a conversation or two is this innovative smart garden system. Perfect for older men who don't have a backyard of their own or simply take an interest in plants, this unique set provides everything they need to grow and harvest their own miniature indoor garden! The smart garden features automatic watering and just the right amount of lighting, oxygen, and nutrients to produce the freshest ingredients 365 days of the year. Free from pesticides, herbicides, and GMO's, he can enjoy watching his greens and fruits thrive without the labor-intensive work of a large garden.
For older gentlemen who enjoy spending time outdoors tending to their garden, the perfect gift is a quality gardening set. This comprehensive gardening tools set includes 14 high-quality stainless steel hand tools for a variety of purposes outdoors. Featuring rakes, shovels, plant rope, shears, secateurs, a weeding knife, and more, the large set has everything needed to meet his gardening requirements. Perfectly packaged in a compact and lightweight, easy to store and carry shell toolbox, this set is the ultimate gardening toolkit he'll ever need.
One outside the box gift idea for an older man is a unique modern style bean bag. The generously sized Lovesac Citysac offers a new level of comfort in the form of a bean bag seat! Filled with premium duraform, this bean bag evenly absorbs weight without compressing over time for the perfect molded fit. Perfect for relaxing (or even snoozing!), the Lovesac is available in 17 attractive cover options, including up to 165 custom designs if you wish to personalize. This bean bag will be the perfect lounging companion for years to come.
Some gifts for older men are bound to entice and the following item is no exception. The Cuisinart Electric Fondue Maker is the ultimate fondue set with everything he needs to make a delicious snack or two. This elegant set features a stunning brushed stainless steel 3-quart bowl with a non-stick interior for easy, dishwasher friendly cleaning. Ideal for entertaining family and friends, the set includes 8 fondue forks, a fork rack, and adjustable temperature control, perfect for delectable chocolate, cheese, broth, or oil recipes.
If you're looking for a fresh, clean, and healthy gift idea, look no further than the Brondell Circle Reverse Osmosis water filter. The system can produce over one and a half gallons of pure drinking water an hour, eliminating the need for bottled water. Featuring four-stage filtration, the main unit hides under his sink, while the elegant chrome faucet is conveniently located on the benchtop. With easy to replace filters and even an LED filter change indicator, the Rondell Circle is a perfect choice for home water filtration.
Gifts For Older Men: Beverage & Bar
If you're searching for smart and unique gifts for older men, you can't go past those that cater to an enjoyable pastime. Whether he's a coffee drinker, soda enthusiast, or appreciates a quality recreational drink, the following gadgets and accessories are sure to captivate his interest.
One of the best gifts for older men who simply must have their coffee each morning is a new coffee maker. The Keurig K-Classic is a single-serve machine that brews a classic style coffee with the push of a button. Compatible with K-Cup pods the Keurig K-Classic features a removable 48oz reservoir, energy-saving function, and easy to use button controls. If he's more of a latte drinker, a great alternative is the
Nespresso Vertuo
by Breville, which uses Nespresso sized coffee pods and comes with an Aeroccino for a perfectly frothed milk.
Refreshing sparkling water, delicious tasting soda, and perfectly balanced cocktails, the Sodastream One Touch completely reinvents ordinary tap water! He can finally say goodbye to store-bought sodas with the elegant sparkling water maker that comes with a carbonating cylinder and sleek 33oz bottle. Expand on the starter pack with the option to bundle your gift with his favorite flavors, whether it be a tasty diet cola or a fresh fruity mocktail.
The ultimate wine preservation utility, this amazing tool allows him to drink his wine and keep it fresh for months at a time. Red wines take approximately two weeks to go bad after uncorking and whites only last for a week. The Coravin Model Six will allow him to serve a glass of wine without requiring the bottle to be finished in such a short period! How does it work? The system attaches to the top of his bottle, piercing the cork with a specially designed needle. Argon gas is injected into the bottle as wine is poured, displacing the oxygen that would otherwise spoil the contents. This process ensures he can enjoy a freshly poured glass of wine whenever he chooses and put the bottle away to savor at a later date.
Simple, straightforward, and practical, this personalized glass and drink stones set is a perfect gift for older men who enjoy a casual glass of whiskey. The set includes eight quality black onyx stones for chilling drinks and an elegant glass with a personalized engraving that includes his first name, last name, and initial.
If you're after a gift he can both use and display as a decorative item, the next gift idea is for you. Great for birthdays, Christmas, retirement, and romantic holidays, the personalized globe decanter set makes every drop of whiskey much more enjoyable. The set features an eye-catching globe-shaped decanter with a unique glass ship inside that all rests elegantly within a smooth wooden stand. Also included are two classic Glencairn whiskey glasses featuring a customizable name and initial.
Whether you would like to gift him a personal keepsake or a means of covertly transporting his favorite drop, an elegant hip flask is your answer. The personalized flask gift set includes two stainless steel shot glasses, a stainless steel funnel, all boxed in a sophisticated branded faux leather case. The timeless flask features a 6oz capacity, faux leather casing, and the same dual initial personalized monogram, which is also etched on the case.
Gifts For Older Men: Wearable
There are no better gifts for older men than those which combine practicality and style. From striking accessories for special occasions to quality training gear for staying fit, the following gifts are sure to get plenty of wear.
Much more than an accessory for telling the time, a watch tells a story about the man who wears it. The Hamilton Khaki Field Quartz watch is the modern construction emerging out of classic design. Rooted in military heritage, the elegant wristwatch is made from stainless steel and features sapphire crystal, 164 feet water resistance, synthetic strap, and pin-buckle fastening. A unique luxury gift for men, the Khaki Field Quartz is fitting for both formal events and casual daily wear.
If it's gifts for older men who are active that you seek, then the following present will be right up his alley. The unique style Reebok ZigWild Trail 6 shoes present bold trail-inspired running shoes with enhanced cushioning. Designed for running, the comfortable shoes feature an innovative ZipTech outsole that disperses energy for enhanced cushioning from heel-strike to toe-off. These eye-catching shoes will bring an outdoor feel to his everyday routine.
Just as perfect for outdoor training, as relaxed days indoors, this Reebok UFC Fight Night Walkout Hoodie offers comfort and style for UFC fans. Featuring a bold, yet minimalist design and attractive slim fit, the French-terry fabric will keep him comfortable, while a full-zip construction allows for easy layering. The design incorporates a generous-sized hood with drawcord, providing additional warmth with a customized fit, and also includes open pockets for handy storage.
There are some gifts for older men that just have gentleman written all over them. If you're searching for a dapper gift for him, you can't go past these stylish dress shoes. Featuring a classic wingtip pattern with intricate piping, the Fuel Wingtip Oxford shoes seamlessly blur the lines between dressy and casual. Crafted from leather and nubuck and fully cushioned with a removable footbed and rubber wedge sole, these sleek shoes are as comfortable as they are attractive.
This unique men's cap exudes style – for men both young and old! The Brixton Hooligan Snap Cap is a classic driver cap that has both a vintage and modern feel. Made from polyester and wool with a beautiful satin lining, the comfy cap presents fine attention to sewing details and features a front-snap brim and custom lining. Whether out on the golf course, or a trip down to the shops, this timeless cap will keep him warm and dapper.
Gifts For Older Men: Decor
If you're after something just a little bit different from the norm, these decor inspired gifts for older men could be just what he needs. Combining practicality with an artistic touch, he is sure to love the following gifts if he appreciates art in all its forms.
Help him lighten his pockets while supporting the street music of this tiny busker with the "spare some change" money plate. The unique style plate features a silhouette of a guitarist strumming away and is also available as a tiny saxophonist. The change tray is made from solid metal and works well as a functional utility and a decorative desk item.
Are you struggling to source gifts for older men with an element of uniqueness? Look no further than this rustic tabletop lamp, a decorative utility that will brighten up any space. Drawing inspiration from the Edison light bulb and the steampunk sub-genre, this one-of-a-kind design is handcrafted using high-quality materials. The base is available in three wood options: red mahogany, rustic oak, and weathered, while the sockets themselves can also be customized. With a unique design and dimming options, this lamp will provide just the right ambiance and decorative touch his room needs to feel warm and welcoming.
There's no better decorative gift for your husband or father to place in his man cave, office, or living room wall than a print of his favorite sporting teams venue. Available in NCAA, NFL, Soccer, Hockey, and more, the vintage style stadium blueprints are a unique way for him to display his support. If he's a racing fan, there's Daytona. Is he a Lakers fan? You have the Staples Center. No matter the sport, there's an Arena to match. The prints are available in a multitude of sizes, from the compact 16 x 12 inch, to the enormous 6 x 4 feet to fit any space.
While not specifically for decorative purposes, the Poppin file cabinet adds a contemporary feel to any modern space. Available in three vivid color options, this rolling drawer file cabinet features two deep drawers and smooth locking wheels that prevent runaway. The cabinet is perfect for storing his important documents, arranging files, and also displaying decorative pieces in his office.
Gifts For Older Men: Gadgets
Men of all ages tend to love their gadgets, so when searching for the perfect gifts for older men you cannot go past these very cool gifting options. From new and useful tech to those that aid sore muscles and promote relaxation, you can be sure these unique gadget gifts for older gentlemen will be welcomed with open arms!
The perfect gift for a man on the go, the Sennheiser Momentum True Wireless 2 turns down the world around, allowing him to focus on rich and crisp audio. Free from the restriction and bulk you would find with traditional headphones, these earbuds sit comfortably in the ear and are perfect for long listening sessions. A Built-in EQ is easily accessible via the Smart Control App, allowing him to tailor the sound to his liking. Despite their miniature appearance, the Momentum True Wireless 2 Earbuds produce a powerful sound and have a long battery life that lasts up to twenty-eight hours. What's in the box you ask? The earbuds come with a charging cable, multiple silicone ear adapters, and even a charging case for extending battery life.
One of the smartest gifts for older men who love their gadgets is a powerful tablet for work and play. The Microsoft Surface Pro 7 is the perfect tablet-laptop hybrid, enabling him to finish work on the go, or stream sports from any room in the house. While most tablets operating systems run on Android or iOS, the Surface Pro 7 uses Windows 10, providing a seamless transition for any PC user. The tablet is available in two sleek color options and is equipped with a 10th generation Intel core processor, USB-C port, and Bluetooth 5.0. In addition to best-in-class specs, the tablet features a ten-hour battery life, fast recharge, and a compact lightweight design.
A great gift for the tech-savvy older man, a reliable wireless fast charger provides simple and easy through-case charging. Doubling as a phone stand, the elegant Anker PowerWave II works with all Qi Certified phones. The charger features an exclusive safety system that ensures shielding from radiation, foreign object detection, battery safety, and temperature control. In addition to its safety features, the Anker PowerWave II charges phones in both a vertical and horizontal position and cleverly switches wattage levels to suit each device's requirements.
The next of our gifts for older men relieves muscle tension, treats physical ailments, and if he's still active, enhances physical performance. The Theragun G3Pro delivers an effective deep tissue massage, accelerating muscle recovery. Whilst most vibration massagers are only capable of surface-level massage, the G3Pro is capable of extending 16mm into the muscle. The professional massager features two-speed settings, adjustable arm angle, ergonomic handle, swappable batteries, and multiple head attachments. Easy to hold and control, the G3Pro doesn't require much downward force to provide a strong sensation during a massage session. Inside the box you will find the G3Pro percussive therapy device, six pro attachments, attachment pouch, battery charger, 2 Lithium-ion batteries, and a premium travel case.
Gifts For Older Men: Grooming
Those gifts for older men that cater to grooming and presentation are always going to be well received! From unique personalized fragrances to those that tend to a prim and proper appearance, the following gifts are sure to make a lasting impression.
A cool, creative, and unique gift for older men who have everything, a custom fragrance allows you to customize a scent you know he will love. WAFT makes the experience of gifting perfumes and colognes recipient-centric and fun! The custom fragrance builder begins with three options: masculine, unisex, and feminine. Once a preference is selected, the following steps are choosing between day or night wear, and whether it's intended for work, play, love, or on the move. The final four choices: relaxed, elegant, sexy, and fresh speak to the type of scent before moving on to selecting the bottle and customized box label style. The final stages of the process include naming his fragrance, writing a message on the bottle, selecting his "go-to" fragrances, and suggesting up to three ingredients.
Some gifts for older men get straight to the point and the following is certainly one of them! The Murdock London Bailey set maintains his facial hair, helping it look neat and presentable. Featuring all the ingredients for sheen and shine, the pack comes with a Keats wood brush, beard oil, shampoo, and moisturizer.
Murdock London puts the man in manicure with their Hardenburg 7 piece manicure set. The hardy set ensures he has all the tools required to keep his hands and feet in pristine condition. What's in the set you ask? The set includes two scissors, one for his beard and his nose, durable nickel-plated nail clippers, nail file, tweezers, and nail nippers.
Gifts For Older Men: Travel
Is he an active gentleman who's always on the go? The following are smart gifts for older men that we can almost guarantee he won't already own! From portable coffee kits to useful travel cases, these items make the perfect presents for any gentleman on the move.
Perfect for brewing when he's away from home, the Pakt coffee kit is a thoughtful gift every caffeine loving man is sure to appreciate. Perfect for transporting to the office, hotel, or vacation rental, this coffee kit is both portable and carry-on friendly. Inside the extremely durable case he will find a pop-up pour-over cone, reusable filter, bean storage container, mug with a secure lid, and an electric kettle. All the equipment easily stacks inside the larger component, so it's easily packed away after use.
One of the most useful gifts for older men who are regular jet setters is a compact luggage set. The sleek Carry-On Pro suitcase and included removable Tech Case are designed to make his journey seamless, providing easy access to everything he needs while traveling. Made from durable polycarbonate, the luggage boasts multiple features including silent Hinomoto wheels, secure TSA locking YKK zippers, as well as handy internal organizational pockets and custom magnetic compression features. This set is the perfect bundle for short trips, with the Tech Case doubling as a stylish day bag for use when he arrives at his destination.
Every traveler knows the importance of separating clothing, accessories, and gear whenever on the road. The Alpaka anti-odor packing cubes take this one step further by protecting content from spills and odor, or containing smelly and moist items inside the case. The case itself is constructed from ripstop nylon and lined on the inside with Japanese odor-absorbing mesh. The mesh easily recovers its odor-absorbing function after a wash so it can be reused for every trip.
If he loves to take golfing vacations, the next gift idea is right up his alley. This wheeled golf bag travel case will keep his clubs safe and secure on each and every flight. Featuring a TSA locking system, industrial-strength latches, and a perfectly contoured design, the case is able to accommodate all his clubs up to four feet long.
Gifts For Older Men: Subscription
Subscriptions make the ideal gifts for older men, particularly those whose interests are known. Does he enjoy quality coffee? Or perhaps appreciate the occasional drink? Gifting a subscription allows you to select a gift that stays true to their passion while providing the opportunity for him to explore and learn new and exciting options.
You will be hard-pressed to find better gifts for older men who enjoy their whiskey than the following present. A wonderful treat for a man who appreciates quality whiskey, The World of Whiskey gift basket is packed with goodies to consume and keep. Starting with the drinks, the set includes a bottle of Jameson Black Barrel Irish Whiskey, Laphroaig Scotch, and Suntory Toki Japanese Whiskey. Does he love cigars? The set also includes three Nicaraguan cigars, a cigar cutter, cigar lighter, and a cedar cigar case. Flavored popcorn, chocolate bars, branded glass, whiskey stones, and a reusable crate round off the list of treats also included in this wonderful gift basket.
The perfect gift for a caffeine connoisseur, the next idea is for the gentleman who loves to brew his own coffee. With the Bean Box Coffee of the Month Club, he will receive a selection of handpicked roasts from some of Seattle's premier coffee roasters. The package includes 12 ounces of freshly roasted beans, artisan chocolate, and brewing tips.
The last item on our smart gifts for older men list is the perfect choice for wine lovers who like to explore new, exciting exclusive wines. From trending wines to recent cellar releases, Vinebox's Quarterly Wine Club sends each recipient a selection of the season's best wines. The beautifully presented gift box includes nine wines that feature five reds, three whites, and a rosé. Bottled by the glass, the set will introduce him to new vintners and help expand his long list of favorites.
Searching for more than Smart Gifts For Older Men? Check out some of our other great list for more awesome gift ideas.