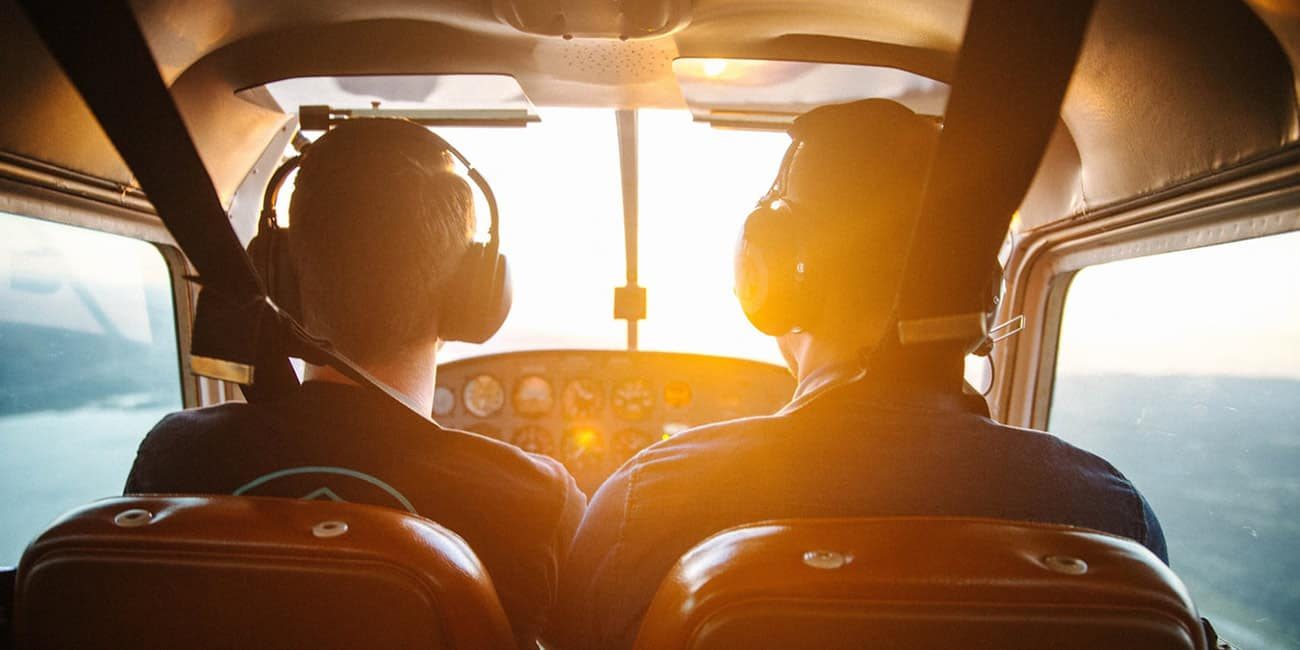 Wini Gifts is supported by our readers. At no additional cost to you, we may earn a small commission from the purchases you make using our links.
Learn more
From take-off to landing, and all the important preparation in between, the role of a pilot requires great patience, training, focus, leadership, and dedication. If you're searching for the best gifts for a pilot or aviation enthusiast in your life to show just how much you appreciate them, then our comprehensive list of gifts is for you. From stylish accessories and beautiful keepsakes to practical utilities and gifts to help relax after a long day. Whether they're flying a professional aircraft or recreational plane, you can be sure to find the perfect gift for the pilot in your life.
Best Gifts For A Pilot: Wearable
From unique cufflinks for special occasions to comfortable clothing for everyday wear, the following aviation-themed gifts make style a priority, while up in the air, or back on the ground.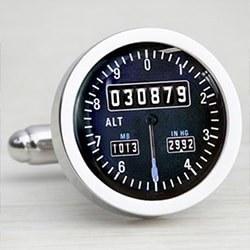 You will be hard-pressed to find a more dapper aviation-inspired gift than these eye-catching cufflinks. The perfect gift for pilots or aviation-enthusiasts, these airplane altimeter cufflinks are as striking as they are unique. Featuring a digitally created 'altimeter gauge' that can be personalized with a significant date (or dates) for your choice, these cufflinks are the ideal gift to commemorate a special occasion. Manufactured from high-quality stainless steel with a hard-wearing resin-covered insert, these custom altimeter cufflinks come presented in a beautiful midnight blue Richard Cammish branded metal box, covered in soft-feel Italian rubber and satin-lined, perfect for gifting someone special.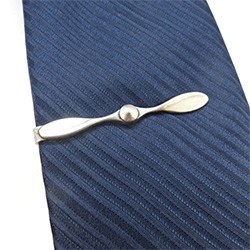 There are certain gifts for a pilot that will always stand out and the following is no exception. This vintage style airplane tie clip has been designed in the unique shape of a propeller and will make a striking statement. Available in thick sterling silver and antique brass finishes, both lacquered to resist tarnishing, this eye-catching tie bar comes beautifully boxed with a ribbon, all ready for gifting.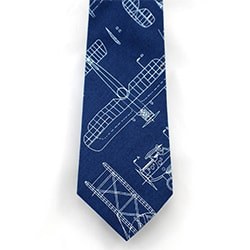 The ideal accessory to accompany a pilot's formal attire is this aviation-themed tie. Made from 100% soft cotton, this stylish tie presents an elegant, minimalist design featuring various sketched airplane plans. Perfect for pilots or anyone who appreciates planes, this design is available in both attractive blue and black options.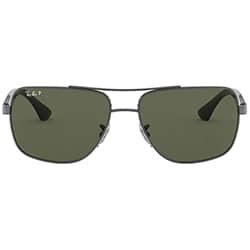 Whether up in the air or firmly on the ground, these stylish sunglasses are a must-have accessory for any pilot. Made by the world's most iconic eyewear brand, these Ray-Ban Aviator square sunglasses feature a distinguished square metal design with a classic double brow bar and oversized square frame. Including fashionable dark grey gradient lenses with 100% UV protection, and signature Ray-Ban branding, these classic yet contemporary sunglasses will create a timeless look with unmatched quality.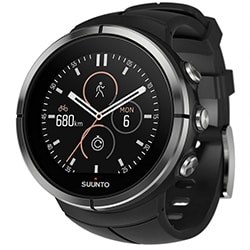 One of the coolest and most useful gifts for a pilot who loves to keep fit is a sports watch that helps with tracking his exercise routine and performance. The Suunto Spartan Ultra HR is perfect for outdoor use with superior visibility in glaring sunlight and water resistance up to 100m. Packed with all of the features you would expect, the Spartan comes equipped with eighty sports modes, GPS route navigation, GPS altitude, barometer, digital compass, and up to twenty-six hours of GPS activated battery life.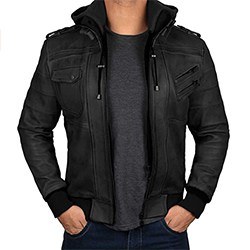 This bomber leather jacket epitomizes stylish comfort at it's finest. Crafted from 100% genuine lambskin hand waxed leather, the eye-catching bomber jacket is designed to keep any pilot toasty warm. A modern fit with sharp detailing features decorative seams, parallel zipper pockets, snap buttons, patch pockets, and adjustable strings with industrial metal holders. This stylish bomber jacket also includes a detachable hood that not only looks great but provides additional protection from the cold.
If you're after a relaxed, straightforward gift for an aviator they'll be sure to appreciate, then the next item is for you. This aviation-inspired T-Shirt features a simple, yet witty design that presents an eye-catching conversation starter for pilots and their comrades. The creative design depicts the silhouette of an airplane which is made up of the many aviation words and language that only pilots are privy to! The comfy T-Shirt is made from soft, lightweight material, available in a range of colors and sizes, with the option to gift this unique design as a hoodie or long-sleeved top as well.
Best Gifts For A Pilot: Utility
If you're after practical gifts for the aviator in your life, the following presents are purposeful with an element of uniqueness and style. From beautifully crafted wallets to vintage style coasters, these stunning aviation-inspired gifts are guaranteed to be well received by any flying enthusiast.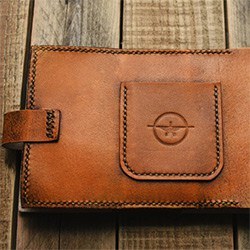 If their logbook is slightly dated or has seen better days, the perfect gift for a pilot is this stunning pilots' logbook with a vintage touch. Designed to add a layer of protection and style to their flight log, the logbook style also features a unique branded card pocket on the back. Crafted from the highest quality natural vegetable-tanned leather with an authentic antique tan finish, this logbook has been designed, cut, finished, assembled, and hand-stitched with love. The cover has been designed to fit ASA Pilot Logbooks, Jeppesen Pilot, or Professional logbooks, simply select sizing preference when ordering.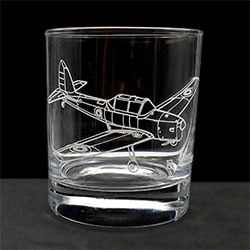 Both beautiful and practical keepsake gifts for a pilot don't get much better than an airplane themed tumbler. This 300ml whiskey glass is the perfect size for everyday use and features a vintage style Royal Air Force Chipmunk aircraft. The classic straight-sided styling is perfect for engraving, with the option to create a truly personalized bespoke gift for your recipient. Crafted from quality glass and featuring a heavy base, the tumbler is well balanced and makes an ideal glass to hold and enjoy a drink from.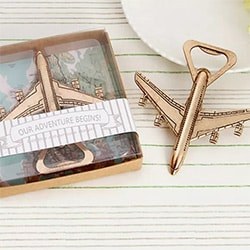 A small special gift for a pilot that will get plenty of good use is a bottle opener. Measuring 102 x 95mm, this bottle opener has been uniquely designed in the style of a Boeing aircraft. Made from aluminum alloy and featuring a beautiful bronzed toned vintage finish, the bottle opener is creatively presented in a transparent gift box, perfect for gifting.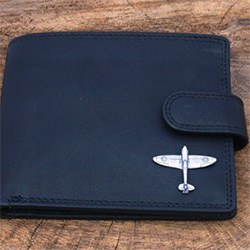 The perfect gift for updating an existing veteran of theirs, this wallet will be a welcome gift for any aviator. The sleek wallet available in either brown or black leather is adorned with a pewter enamel emblem in the iconic shape of a classic Spitfire. Measuring 4 x 4 inches, the bi-fold wallet features 8 card slots, 4 clear view ID slots, and 2 note compartments, all held securely shut by a popper.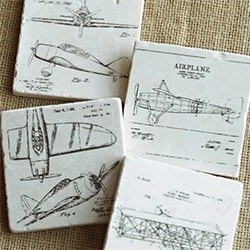 If you're searching for purposeful and creative gifts for a pilot then these unique coasters offer the best of both, serving multiple uses as well. The airplane coasters feature a beautiful vintage design showcasing traditional airplane patents. The set of 4 coaster tiles are individually handcrafted from natural tumbled Botticino Italian marble, while the hand printing technique used provides a naturally aged feel, still allowing the natural qualities of the marble tile to shine. Sealed to protect the stone from staining when in use, the coasters have a cork backing to protect surfaces and can also be purchased with a
matching holder
. These coasters are a wonderful gift for aviation enthusiasts, that can also be hung as artwork, used in a kitchen backsplash, bathroom, fireplace mural, and more.
If they're the type of pilot who doesn't take themselves too seriously and appreciates some cheeky humor, then the next gift will be right up their alley. This pilot themed mug features a dark retro-style design with humorous branding 'Pilot – getting high is my job'! Crafted from high-quality ceramic, the 11-ounce mug has a premium hard coat that provides crisp and vibrant color reproduction that will stand the test of time. Dishwasher and microwave safe, this one of a kind mug is perfect for all hot and cold beverages and a good chuckle too.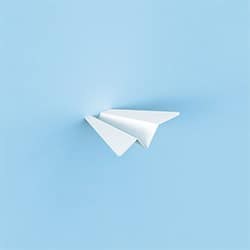 A unique and slightly quirky decor piece, these one of a kind wall hangers are sure to make a lasting impression on pilots and their guests alike. The Paper Planes wall hangers are a set of 3 paper airplanes, appearing partly stuck inside the wall to create an eye-catching effect. Constructed of sturdy metal, the set includes bolts and mounting instructions for easy assembly wherever they please. Reminiscent of simple airplanes from their childhood, the sleek white modern, minimalist design is sure to stand out in their home or office space.
Best Gifts For A Pilot: Travel
It goes without saying that pilots are habitual travel bugs, which is why the following gifts are essentials for their jet setting adventures. From universal travel adapters to useful bags for sorting belongings, the following highly practical gifts will be well received and get plenty of good use!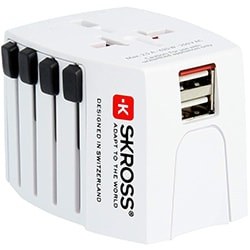 There's nothing more frustrating than packing all of your tech gear and cables, only to find that you can't use the power outlet. With the Skross World Travel Adapter, no pilot will ever be caught off guard when they head abroad. Featuring multiple input connections, multiple output connections, and dual USB ports, the versatile adapter will keep them powered up, no matter where their flight ends up.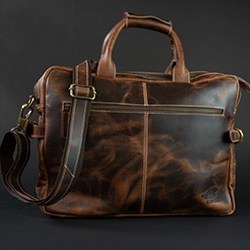 One of the best gifts for a pilot to transport their essentials in style is this attractive leather pilot's bag. Crafted from high-quality grain buffalo leather, this versatile briefcase-style bag is the perfect accessory for casual and formal work settings alike. The interior contains two separate large canvas-lined compartments including a laptop compartment, book pocket, zip pocket, multiple card and pen holders, and a phone pocket. With four convenient external pockets for additional storage, this pilot's bag also includes durable handles, an adjustable and detachable shoulder carry strap and features fine detailing using premium hardware, magnetic closures, and sturdy YKK zippers. Available in both antique brown and dark walnut color options, this stunning leather pilot's bag will not fall short of compliments.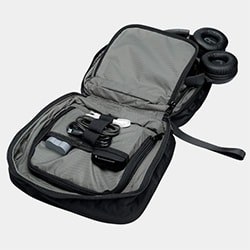 An essential piece of luggage for a pilot who loves tech, this bag will keep electronic accessories in check. Designed to store all their personal digital gear, the Tech Dopp Kit conveniently and neatly organizes electronics in the one space. The kit is made from highly durable 1000D weatherproof ballistic nylon and features specially designed compartments including a headphones compartment, internal molle for hard drives and power banks, and pockets for cables. Storing all the dongles, cables, and adapters they'll ever need for travel in the one spot, the Tech Drop will simplify travel ensuring nothing ever gets lost when packing, or unpacking.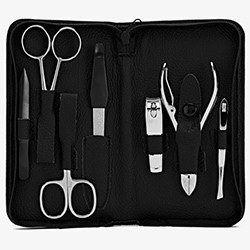 One of the more unusual, yet basic necessity gifts for a pilot is this comprehensive manicure set. Being completely focussed on the important task at hand, grooming may be a forgotten priority, but is one nonetheless! The Murdock London manicure set is a 7-piece grooming kit to ensure they make a positive impression while setting their flight path. Manufactured in Germany featuring quality workmanship, the set includes nickel-plated nail clippers, beard and nose scissors, nail nippers, tweezers, and even a file to keep those mitts in mint condition.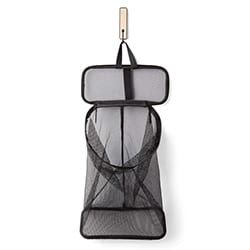 It may not be at the forefront of their mind while traveling, however, the following gift certainly comes in handy for pilots on the go. The NOMATIC Laundry Bag is a versatile bag designed to keep dirty clothes separate and organized. With a sturdy wire frame and breathable mesh, the bag's unique design includes a convenient expand-collapsible feature that is ideal for packing, even when full. The bag also has a useful hanging strap to attach to a doorknob or hangar for easy accessibility.
Best Gifts For A Pilot: Flight Companion
Where would a pilot be without a trusty companion? These great gifts for pilots cover those items which either assist their task at hand or help make it more interesting!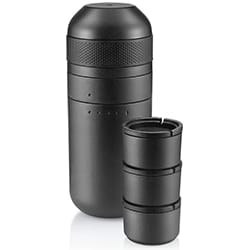 20. Portable Espresso Machine
Offering the ultimate convenience of portability, the WACACO Minipresso GR provides pilots the hit of caffeine they need during their travels. Producing barista-style coffee, the manually operated espresso machine does not require any batteries or power to use. Simply fill the unit with ground coffee, add hot water to the tank, and with the press of the pump, pilots will have a piping hot espresso in the palm of their hand.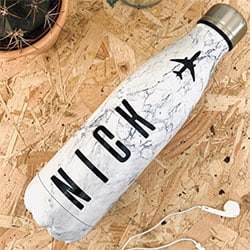 One of those highly practical gifts for a pilot that doesn't necessarily have to be boring is a water bottle. When staying hydrated is of utmost importance, particularly when flying, this personalized drink bottle will come in handy. Featuring a plane-inspired design and available in a variety of stylish color options, you can also personalize this unique gift for your recipient in a choice of 4 modern text colors. Manufactured from quality stainless steel, the 500ml water bottle features a leak-proof double wall to keep drinks chilled for up to 24 hours, and warm for up to 12 hours. The perfect accessory for pilots and stewards to quench their thirst in style.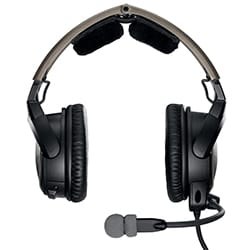 Light, comfortable, and with impeccable clarity, the Bose A20 is an aviation headset that can be used for helicopters in addition to civil aircraft. Allowing pilots to focus on what matters most, the premium headset features a 30% noise reduction, Bluetooth connectivity, double-sided microphone connectivity, and active EQ for additional clarity. In addition to the range of features, this durable aviation headset allows pilots to prioritize communication using customizable settings on the included control module.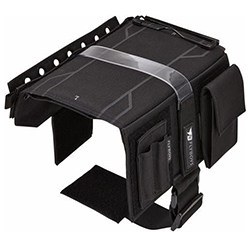 Number twenty-three on our best gifts for a pilot list is a reversible kneeboard, suitable for both left and right-handed use. The Flyboys kneeboard keeps all information organized and available while not becoming a hindrance to the pilot mid-flight. The key features include detachable accessories, flexible elastic leg strap, and a sturdy clipboard clamp. Practical, reliable, and customizable, the Flyboys kneeboard adapts to the needs and preferences of each pilot.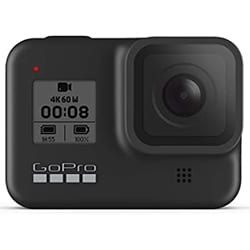 Perfect for recording flights, live streaming, and creating lasting memories while traveling, the GoPro Hero 8 is the powerful compact companion every pilot will love. The versatile action camera features three levels of stabilization, touch screen functionality, and stunning 4K Ultra HD for capturing high-quality videos. Unlike bulky alternatives, the Hero 8 is compact enough to be carried inside of a pocket, while still capable of producing professional quality images and video.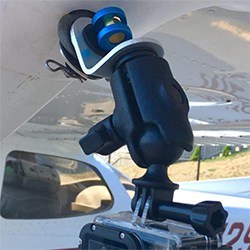 A perfect partner to the Hero 8 above, this professional swivel mount facilitates unique flight recordings, only a pilot can capture. Featuring vibration mitigation and sturdy aircraft aluminum construction, the mount is compatible with all action cameras, including the entire GoPro line. The professional swivel mount easily attaches to the tie down ring of a plane and includes two safety hair pins for an additional layer of attachment security.
Best Gifts For A Pilot: Keepsake
If it's an anniversary, special occasion, or you're simply searching for the perfect gift for a pilot, then the following keepsake gifts offer a sentimental touch that will be received with gratitude.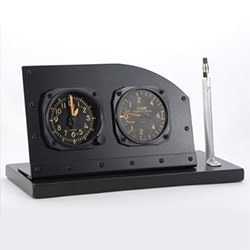 A truly special keepsake gift for a pilot that will stand the test of time is this one of a kind display for their desk or bedside. The unique desk display features a traditional Trintec cockpit-style battery-powered quartz alarm clock and a facsimile cockpit instrument. The display piece also presents a pen or pencil holder including a grease pencil, just like those previously used by pilots to write flight information back in the day. This striking display is beautifully handmade by a craftsman who once serviced KC-135s for the Air Force, making it a fittingly appropriate gift for pilots and aviation enthusiasts alike.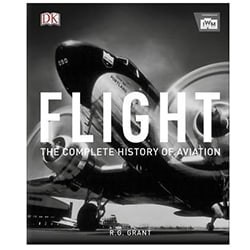 27. Flight : The Complete History of Aviation Book
If you're after gifts for a pilot that will capture their attention, this present is perfect for anyone interested in airplanes and vehicles of the sky. Flight : The Complete History of Aviation is a stunning 452-page hardcover book packed with information on the history of aviation. Charting the trailblazers, jet test pilots, and cutting-edge technology over the years, every aspect of flight is explored. This book is a wonderful visual guide and keepsake, featuring remarkable photography on every page and galleries throughout to showcase iconic aircraft.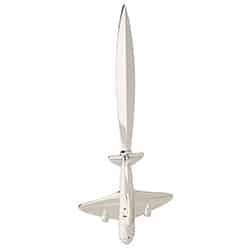 Far from your average letter opener, this is a gift that is bound to impress! The GODINGER Airplane Letter Opener features a letter opener, beautifully crafted in a unique airplane design. Specializing in handcrafted silver, crystal, stainless, and alternative metal giftware since 1973, GODINGER has created this one of a kind nickel plated letter opener that will never tarnish. Aviation fans of all ages will appreciate the attention to detail and unique style of this unique letter opener that will remain a keepsake for generations to come.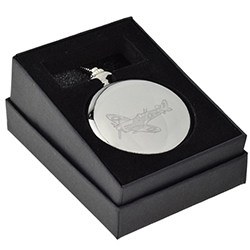 A very unique keepsake gift that any pilot would be proud to own is an elegant pocket watch. This Spitfire Pocket Watch presents a classic Spitfire plane design on the pop-open cover, which opens to reveal a stunning traditional roman numeral design watch face. Featuring a stylish chain with clip and made from quality stainless steel, there is also the option to personalize this beautiful gift with a thoughtful engraved message in a choice of up to 12 fonts. The pocket watch is presented in an attractive black box, ready for gifting a special pilot in your life.
Best Gifts For A Pilot: Decor
Aviation inspired decor for the pilot in your life, the following gifts offer just the right amount of uniqueness, elegance, and artistic flair.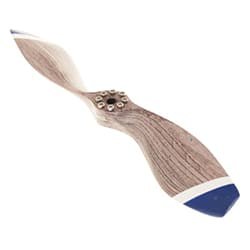 If you're after a truly unique piece of decor for an aviation enthusiast, then the next gift is for you. Replicating wooden propellers from the beginning of the last century, the beautiful 12-inch sized airplane propeller is handcrafted from birch plywood and features stand out hand-painted blue tips with a white stripe. This vintage style propeller will make a striking decorative statement piece in any home or office space.
There are no better gifts for a pilot than those that remind them of their travels and adventures abroad. This elegant push pin world map is the perfect inclusion for their home lounge or office space. The large navy blue high detailed map features all countries of the world, including 2,500 large and medium-sized cities, main islands, oceans, bays, seas, lakes, and even rivers. Featuring up to 100 pins and a sturdy foam backing, tracking the places they've visited will be a fun adventure in itself. Made from durable cotton canvas with a UV-protective coating and wooden underframe, the high-quality Canon ink vibrant colors of this map will remain unchanged up to 80 years.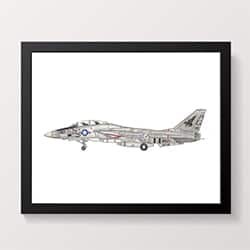 A special gift for any aviation enthusiast is this stunning collection of art prints. The set of airline fighter jets contains original individual watercolor paintings that feature 8 different airplanes including an A-6 Intruder, A-10 Thunderbolt, F-4 Phantom, F-14 Tomcat, AV8B Harrier, F-16 Falcon, F-22 Raptor, and T-45. Available in various sizes, all artwork is printed on smooth, neutral-white, acid-free matte paper that will last for many years to come.
Best Gifts For A Pilot: Relaxation
What could be more important than flying? Rest and relaxation to rejuvenate them for their flight endeavors of course! From gifts for their favorite past times to sleeping and lounging in comfort, the following gifts for pilots will most definitely appeal to their sense of calm and content.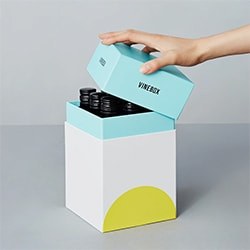 There are certain gifts for a pilot to help them relax that you can be sure they'll appreciate and the following gift is just that. This white wine tasting subscription is perfect for anyone who appreciates white wines, but can never decide which to order! From white wines with oak and mineral overtones to rich, crisp, honey-laced, and citrus-tinged flavors, this set offers an ideal broad selection of 9 different 100ml wines. The spectrum of enticing white wines from France, Spain, and Italy are sure to delight any white wine fan.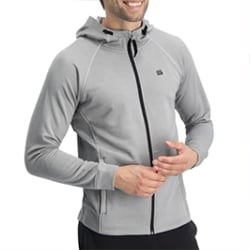 It can be challenging staying seated while flying long hours at a time, so it goes without saying that most pilots enjoy a good workout back on land. This Three Sixty Six hoodie sweatshirt is the perfect combination of sporting comfort and style. The sweatshirt features dry-fit technology which allows the moisture-wicking fabric to draw sweat away from their skin, while the flexible zippered design with built-in adjustable drawcords and a breathable mesh neck vent further ensure breathability and comfort. Featuring a sleek and smooth French terry fabric, this lightweight, absorbent, and stylish zippered performance hoodie is suited to relaxed weekends and sweaty training sessions alike.
What better gift to receive than that which promotes a good night's sleep! Perfect for pilots during their travels and also back home, this super-soft sleep mask from Allbirds has been designed to provide peaceful shut-eye. Crafted with ZQ Certified Merino wool, Allbirds have utilized the highest quality superfine Merino wool to ensure breathable, temperature-regulating, and moisture-wicking material without the irritating scratchiness of inferior wool products. Featuring a unique side-eye design, this comfy sleep mask will aid blissful hours of slumber.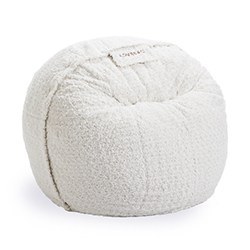 Last, but certainly not least of our gifts for a pilot offers generous comfort in the form of a seat. The Lovesac Citysac offers a unique modern take on the traditional bean bag. All Sacs are filled with durafoam, a premium filling that doesn't compress over time and evenly absorbs weight for the perfect molded fit every time. Available in 17 stunning cover options, as well as 165 custom designs if you wish to personalize further, this ultimate bean bag will offer hours of blissful relaxation in front of the TV, or with a favorite book and glass of wine.
Searching for more than the Best Gifts For Pilots? Check out some of our other great list for more awesome gift ideas.