Wini Gifts is supported by our readers. At no additional cost to you, we may earn a small commission from the purchases you make using our links.
Learn more
The best gadgets for men are captivating, purposeful, and most importantly – hold an element of uniqueness! If you're after a special gift for your husband, partner, brother, a male relative or friend, then the following selection of interesting gadgets is for you. We've chosen highly practical gadgets for everyday use, to those for fun and entertainment, even some quirky and intriguing items he wished he owned! Our extensive list of amazing gadget gifts for men covers a myriad of exciting tools for his enjoyment (or possibly even yours!).
Best Gadgets For Men: Gaming
It's safe to say that men who love gaming, hold their electronic toys and gadgets with high regard. For this very reason, the following list contains some of the best electronic gaming tools available for the gaming enthusiast in your life. From unique virtual reality headsets to useful tools to help streamline his gaming experience, it's hard to go wrong with any of the following great gaming gadgets for men.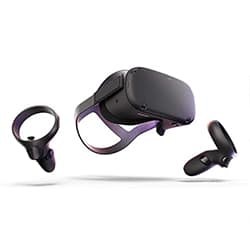 The first cool gadget gift idea for gaming enthusiasts is every inner child's dream come true. The Oculus Quest Virtual Reality Gaming Headset provides an amazing gaming adventure, each and every session. Forget sitting and playing from afar, this VR system enables him to literally step into his games, fully immersed in the action. The Oculus Touch controllers provide in-game precision, accurately mimicking actions such as grabs, throws, and slashes. In addition to a premium gaming experience, the VR headset is versatile, enabling play in any environment – large or small. Worried about real-world obstacles? No need, the built-in Guardian system helps gamers avoid hazards while they play. The Oculus Quest headset is available in 64GB and 128GB storage capacity and comes boxed with two Touch controllers, frame spacer, 15W power adapter, and two AA batteries.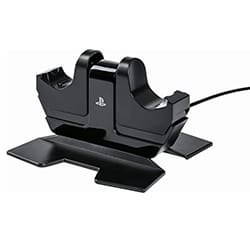 2. Controller Charging Station
One of the most useful gadgets for men who love gaming and spend their time in front of a Playstation or Xbox console is a controller charging station. The officially licensed PowerA Charging Station enables him to simultaneously charge two PS4 or Xbox One controllers in under one and a half hours! The charger features a click down mechanism which secures controllers as they charge, while also allowing the control to be released to rest in place when completed. A perfect birthday or Christmas gift for your husband or boyfriend, he will never have to endure the frustration of running out of battery mid-game again.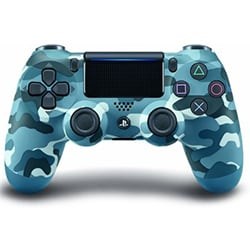 A cool gaming gift idea is a brand new replacement for his banged-up veteran that's seen better days. A new gaming controller instantly increases battery life, alleviating the frustration of low levels in the middle of a game. This officially licensed PS4 Bluetooth control boasts striking camouflage design and features a vibration function, built-in battery, and LED strip. Xbox one owner? You're in luck! This unique special edition "
The Joker
" controller features an artistic comic design that will make him the envy of all his gaming buddies.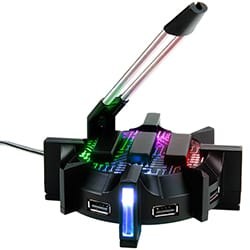 If he's constantly getting himself and his gaming gear tangled in seemingly endless cords and cables, the next gift idea is for you. The Enhance bungee mouse cable holder will not only tidy his setup, but it will also improve accuracy and act as a useful USB Hub! The cable management system features four USB 2.0 ports, seven LED color modes, and also a spring-loaded mouse cable support. The Hub itself provides easy access for his headsets and disk drives, while the sturdy structure makes swapping out gear easy and mess-free. A cool gift no matter the occasion, this accessory will enhance his gaming experience, manage his cables, and add a creative aesthetic to his gaming setup.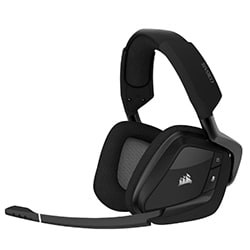 One of the premier must-have gadgets for men who love their gaming is a reliable and comfortable headset. The Corsair Void is a sleek looking wireless headset that can be connected to his PC and PS4 gaming console. Key features of the Corsair Void are on-ear volume controls for quick and easy adjustment, omnidirectional mic for crisp clarity, and 7.1 surround sound for extraordinary sound quality. The stylish headset is built for hours of gameplay and comes in contemporary black and white color options to suit all tastes.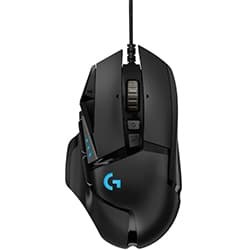 The next gaming gift on our gadgets for men list is actually maneuvering my cursor as I write this list! The Logitech G502 high-performance gaming mouse is shaped to perfection and even offers adjustable weighting so he can customize to his heart's content. The modifiable weight system is distributed over five metallic 3.6-gram pieces that can be slotted and removed from a compartment attached to the bottom of the mouse. While weight customization is a nice touch, the G502 allows him to save up to five profiles and contains eleven customizable buttons for assigning gaming commands. A metal spring system is responsible for controlling the tension of the right and left mouse buttons, producing a perfectly responsive click every time. The programmable lighting function allows him to adjust the mouse colors, synching them with the rest of his setup. An amazingly versatile mouse, the Logitech G502 is also a great gift idea for general computer activities in addition to gaming.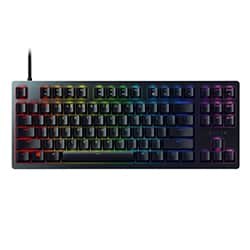 Whether it's his birthday or Christmas that's around the corner, a great gaming gadget gift idea is an exciting new keyboard. The Razor Huntsman Tournament Edition is a mechanical keyboard that will instantly improve his PC gaming experience. A solid aluminum construction is matched by the tough and durable double-shot PBT keycaps, producing keys that will amazingly never chip or fade. Lightning-fast key switches instantly respond to keystrokes, while the onboard memory allows for multiple profiles to be stored. The keyboard itself is connected via a USB-C port, making this a great choice for a serious gamer who requires a portable option.
Best Gadgets For Men: PC & Mac
If he's the sort of guy who treats his computer like his best friend, then the following gadgets for men gift ideas are going to be right up his alley. From gadgets to improve his user experience to those that help speed up his workflow, these elegant and purposeful tools are bound to be well received and get plenty of use.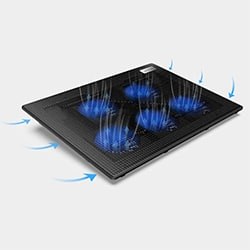 The first PC & Mac gadget for men will make using a laptop on his lap more comfortable while helping keep the device cooler for longer. The Lamicall laptop cooling pad is perfect for Macbooks & laptops alike, aiding lap use and desktop ergonomics. Using five fans for increased airflow, the pad effectively dissipates heat in an ultra-quiet manner. Two foldable legs activate the stand function, raising the height of his laptop for an improved ergonomic workflow. This awesome cooling pad features a speed variation wheel to control fan speeds and two USB ports for extended device connectivity. The sturdy construction contains a polished metal finish, solid mesh upper surface, and blue LED lights that are activated when the pad is on. In addition to its wide range of functions and features, the pad is slim and portable, conveniently slotting into his laptop bag for when he's on the go.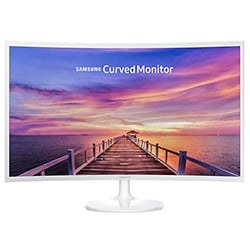 While he will find all the various peripherals useful, the one computer gadget that will attract his undivided attention is inevitably his monitor. The Samsung 32 inch curved LED monitor opens the door to an immersive work and gaming experience. Active Crystal Color technology ensures a brilliant color display, while Game Mode eliminates choppy screen movement, supporting smooth gameplay. The 1800R curved monitor also automatically adjusts brightness levels with its energy-saving function and features a slim profile and elegantly curved base.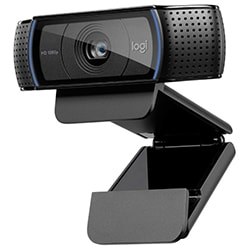 If your intended recipient spends hours video calling with his old or built-in camera, a cool Birthday & Christmas gift idea is a new webcam. Featuring full HD 1080p resolution, the Logitech HD Pro C920 is perfect for calling, streaming, vlogging, and recording. While most cameras are just for video, the C920 also features two microphones enabling him to chat without additional audio devices. The adjustable clip located on the bottom of the webcam can attach to multiple surfaces including tripods, laptops, and monitors. With high definition video and clear stereo audio, the Logitech C920 is a logical choice for on-the-go video conferencing and video calling from the comfort home.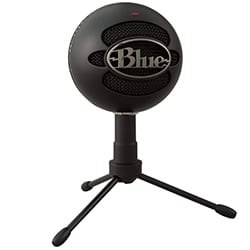 If he's constantly complaining about poor quality sound whenever he records or makes a video call, the next gift idea may be what you're after. Number 11 on our cool gadgets for men compilation is the vintage style Blue Snowball iCE USB Mic, perfect for all his audio recording needs. The charming retro-style microphone comes in classic black and white color options and is certified for Skype and Discord. This microphone will look amazing on his desk, while features such as the adjustable stand, custom condenser capsule, and cardioid pickup pattern make communication and recording a breeze. While the Snowball iCE microphone will make for a great gift, Blue also offers a range of striking alternative mic options such as the
Yeti
and the
Snowball
.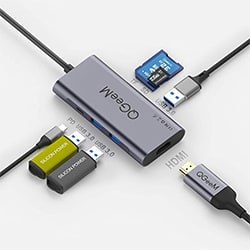 "So many devices, but so few available ports" will be a phrase soon forgotten with our next gift idea. The 7-in-1 USB Hub connects all of his devices to his PC or Mac and keeps his workspace tidy in the process. Making use of USB C connectivity, the hub features ultra-fast transfer speeds, fast charging, and video output. The seven ports contained on the hub include HDMI, SD Card Reader, TF Card Reader, 3 x USB 3.0, and a Power Delivery Charge port.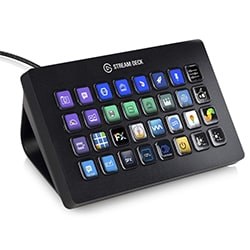 One of the best PC and Mac gadgets for men who are into streaming and gaming is a cool customizable control pad. The Elgato Stream Deck makes real-time adjustments to scenes, audio, and media quick and painless. Featuring fifteen LCD Keys, the Stream Deck will allow him to allocate functions to each button and customize the displayed icon. Actions are easily set up via the Stream Deck app, which features a search function and a variety of built-in streamlined options. The stream deck is compatible out of the box with Game Capture, Mixer, OBS Studio, Stream Labs, and more.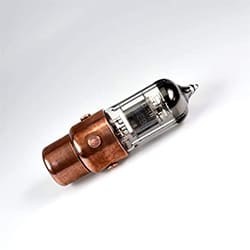 If you're looking for a Christmas or Birthday gift that's both functional and unique, the next idea is a great option. Constructed in a steampunk theme, the USB 3.1 flash drive is handmade to replicate a pentode radio tube. The drive is available in a variety of storage size options, ranging from a modest 8GB, all the way up to a large 256GB capacity. With backward capability, the drive supports USB 2.0 and USB 3.0, while a flashy LED light adds to the rustic feel when the drive is plugged in.
Best Gadgets For Men: Music
If he's a music aficionado and appreciates some quality bass, then the following music-themed gadgets for men will without a doubt make his day! From gifts geared for every day, to specialty toys for those with unique taste, these premium quality gadgets are bound to be music to his ears.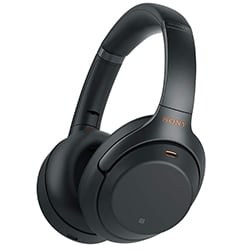 A staple gift idea for any music enthusiast, these noise-canceling headphones may be just the gadget he needs. Perfect for men who love to listen to audio on their way to work, exercising, or at their computer, the Sony over-ear headphones offer unparalleled sound and comfort. Featuring thirty hours of battery life, quick charge, and Alexa built-in, the wireless headphones are available in elegant black and white color options.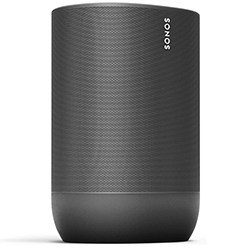 The next of our cool gadgets for men allows him to play his music wherever he goes. A massive upgrade from his phone speaker, the Sonos Move smart speaker produces amazing sound both indoors and out. With up to ten hours of playback with each charge, he can breathe life into a house party, or take it with him on weekend fishing trips. The Sonos speaker has multiple streaming options, allowing him to connect over Bluetooth or enjoy the benefits of Wi-Fi while at home. Controlling the speaker is easy too, with numerous choices that include the Sonos App, AirPlay 2, Bluetooth, or he can just use his voice! Some additional features that make the Sonos Move one of the best portable speakers on the market include a shock-resistant case, an IP56 water-resistant rating, and it also comes with Alexa built-in.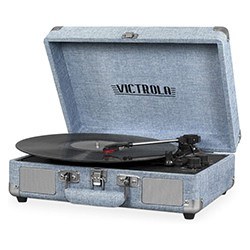 A perfect birthday or Christmas gift idea for any music lover with a collection of old vinyls, this gadget fuses the analog world with modern connectivity. If his collection has been gathering dust for decades, the Victrola suitcase record player will give him a reason to bring them back out to play. The turntable does have built-in speakers, however the key feature of this gadget is its ability to send Bluetooth audio! With this gift, he will be able to stream his records directly to his Bluetooth compatible home audio system and existing portable speakers. The vintage turntable can play at three speeds and is available in over twenty-five color options to suit any interior setting.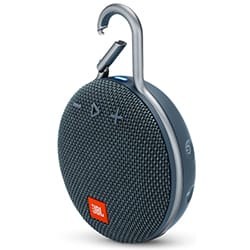 One of the coolest portable music gadgets for men, this powerful little speaker can be taken anywhere and in any weather condition. Not only does the JBL Clip 3 allow him to take his music with him on hiking trips and bike rides, the IPX7 waterproof rating means he can even shower with it too! The speaker itself is small enough to fit into the palm of his hand, making it a convenient source for quality audio. The portable speaker packs a punch when it comes to volume and sound quality, while the ten-hour battery life will allow him to stream all day long.
Best Gadgets For Men: Interests
If you're after a special gift for a man with unique taste and hobbies, then the following gadgets could be right up his alley. These gifts will inspire and encourage his creative side, providing him the perfect outlet to embrace his passions or cultivate new interests.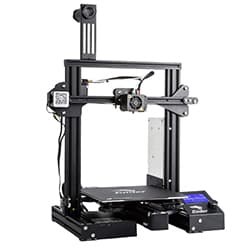 Our next gift idea is the ultimate gadget for tech enthusiasts, allowing him to build awesome three-dimensional objects with the push of a button. The Comgrow Creality Ender 3 is a 3D printer that can print detailed models he can later use or proudly display. While quality printing is the main feature of the 3D printer, another highlight is the resume print function, which allows a print job to resume if the power is abruptly turned off. An added layer of protection is the safe power supply which prevents surges, while the removable build surface evenly distributes temperature and allows works to be easily removed once cooled.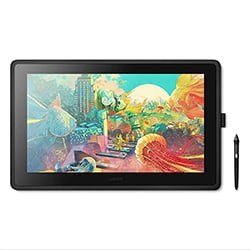 If the man in question is an animator, passionate about drawing, or works professionally making digital designs, the next gift is a perfect fit. One of the most amazing gadgets for men, the Wacom Cintiq 22HD is a drawing tablet that facilitates creative works on screen. The art tablet comes with a Wacom art pen, one of the best on the market, and an adjustable stand, allowing him to position the screen for a comfortable ergonomic workflow. The creative possibilities are endless as the device is able to pick up a pens barrel rotation and even the pens tilt angle.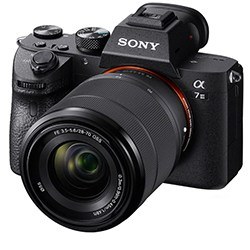 If he loves taking snaps and videos with his smartphone, the next gift idea will help him take professional quality photos each and every time. Perfect for his upcoming Birthday or even this Christmas, the Sony a7 III reduces image noise, renders in realistic detail, and provides 5-axis stabilization. The mirrorless camera features continuous shooting, wide image coverage, and high tracking autofocus for instant response. So what's in the box? The Sony a7 III comes with an AC adapter, rechargeable battery, body and shoulder straps, micro USB Cable, and an eyepiece cap.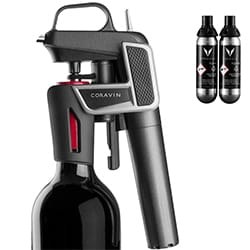 22. Wine Preservation System
If preserving an expensive drop of wine is high on his priority list, the next gadget allows him to pour a glass without removing the cork. The Coravin Model Two gives him the freedom to enjoy any wine on his rack without exposing the contents. Once a bottle is opened using the Coravin system, the wine will continue to taste like a freshly opened bottle for years, giving him the freedom to drink what he loves, not just the wines he has open.
Best Gadgets For Men: Home & Garage
If he's the sort of guy who's a handyman, embraces a bit of DIY, or just enjoys spending time at home, then the following home and garage inspired gadgets for men will be right up his alley. From hi-tech home security options to tools to enhance his home, these gifts feature unique gadgets that are both practical and entertaining, which he will have plenty of fun playing with around the house.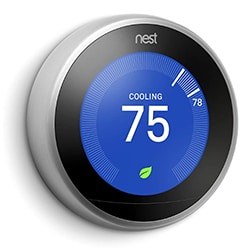 The next gadget helps him save on power bills by adjusting the temperature of his house to optimal levels while he's home and turning usage off when he's away. The Google Nest learning thermostat is an excellent tool for people who have a consistent routine as it tracks temperature setting habits and adjusts accordingly. While this is its main feature, he can also customize a schedule, turn the schedule function off, and conveniently control the device from his smartphone.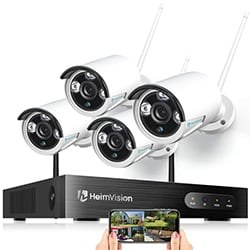 Helping keep his house secure, the next of our cool gadgets for men provides multiple lines of defense by keeping an eye out for intruders. The Heimvision 1080P full HD security system is perfect for monitoring surrounding activity with its 110-degree wide-angle view and night vision capability. False alarms can be managed using customized detection zones, while breaches will trigger a push notification. The durable dust and waterproof cameras can withstand rain and snow, and can be displayed simultaneously for convenient monitoring.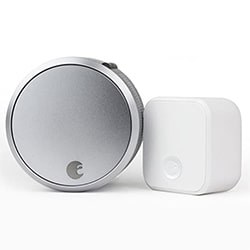 With smart home technology on the rise, any gadget-loving man will appreciate the ability to enter his home using only his phone. A perfect gift idea for Birthdays and Christmas, the August Smart Lock Pro makes keys a thing of the past. The innovative device allows him to lock his door, grant temporary entry, and check that his door is closed from anywhere using an app. In addition, the Smart Lock is compatible with Alexa, Google Assistant, and Siri so he can conveniently use voice controls, no matter the device.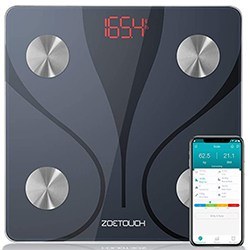 Measuring body weight is challenging when you have started a healthy diet and a new exercise routine at the same time. With every step onto your average scales, digits read the same as the last time and you can feel like nothing is happening. One of the best gadgets for men who are serious about tracking their progress, the Zeotouch body fat scale interprets actual gains and losses. While most scales only display bodyweight, this scale displays muscle mass, visceral fat, body fat percentage, water percentage, and more. Best of all, he will have an app that records all of his progress, so he won't need to write it down or memorize it.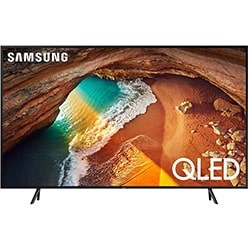 Is he still watching a screen that's equally as thick as it is wide? The time may have come for a new TV, and this sixty-five inch Samsung is one of the best. Utilizing Samsung's proprietary QLED panel, the 4K smart TV displays over one billion colors for a vivid viewing experience. Featuring wide-angle viewing, and a beautiful ambient mode, the TV upscales the quality of images using its Quantum 4K Processor to create highly realistic picture quality.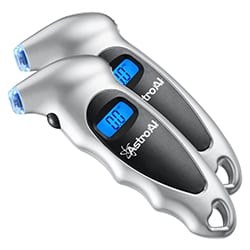 28. Digital Tire Pressure Gauge
No longer will he be required to visit a service station to check his tire pressure with this next gadget gift idea. The AstroAU digital tire pressure gauge easily attaches to the Schrader valve and displays his tire pressure on a backlit LCD display. Conveniently fitting into glove compartments and car toolboxes, the device allows him to maintain correct pressure, extending the life of his tires.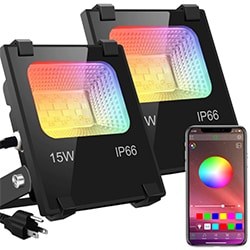 If you're searching for unique gadget ideas for his birthday or Christmas, the next gift is most definitely for you. Perfect for adding vibrance to house parties, accents to water features, and bringing Christmas displays to life, these LED color changing flood lights can do it all. With rich color and custom effects, the lights are centrally controlled using a smartphone app. The flood lights offer thick housing, tempered glass covers, and 150 degrees of rotation, so he can get the angle just right and illuminate to his heart's content.
Best Gadgets For Men: Outdoors
If he's a man who appreciates spending time outside and is usually on the go, then the perfect gift ideas are gadgets that combine portability with the great outdoors! Featuring a cool Go Pro that anyone active will love, as well as quirky items such as a tactical pen, he will be sure to enjoy and appreciate having the following unique gadgets by his side.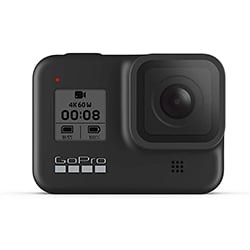 One of the best gadgets for a man who gets a kick out of recording and replaying his adventures is undoubtedly the GoPro Hero 8. The touch screen action camera is compact and sturdy, allowing him to take it wherever he goes. The camera is perfect for recording action sports such as mountain biking, diving, and snowboarding, producing high-quality 1080p footage. In addition to action sports, the Hero 8 is great for filmmakers and vloggers, capturing footage where ordinary cameras can't.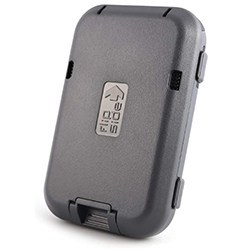 A one of a kind Birthday & Christmas gadget gift he will be sure to love is this industrial wallet. The Flipside 4 is a unique and secure RFID blocking wallet for men that will keep his financial information safe. The wallet includes 3 RFID-blocking card slots that are scan-proof to protect against RFID skimming of credit and debit cards. Featuring a sturdy and durable design manufactured from heavy-duty polycarbonate and aircraft-grade aluminum ensures the wallet is crush resistant and very secure. The Flipside 4 also includes an automatic lock on close and assisted flip button opening for quick and convenient access, and is available in a selection of finishes.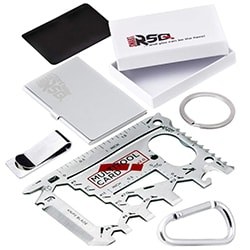 The next of our cool gadgets for men is a modern twist to the Swiss army knife, without the extra bulk. Fitting comfortably into his wallet, the credit card multi-tool will be by his side when he needs it most. Featuring thirty-seven tools in one convenient slimline package, he can open bottles, peel cables, saw, cut, and even use the smartphone stand feature to position his phone upright.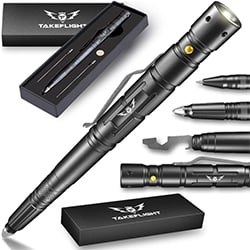 When the poop hits the fan, this is one gadget he will be happy to have by his side. A one of a kind gift idea carried by Navy SEALS, Military Pilots, and SWAT is the TakeFlight tactical pen, built for emergency situations. Made from Aircraft Grade machined aluminum, the multi-tool features a glass breaker tip, LED flashlight, bottle opener, and a ballpoint pen. Available in three color options, the tactical pen also comes with two refillable ink cartridges and an extra flashlight battery.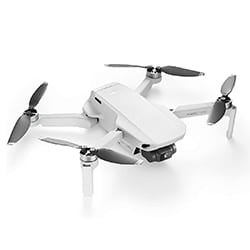 The ultimate gift idea for professional cinematographers and hobbyists, a drone enables him to take stunning aerial footage with his feet firmly on the ground. The DJI Mavic Mini is a cool gadget for men to endlessly enjoy, capturing smooth 2.7K HD videos for creative projects and adventurous memories. He can fly his lightweight companion for up to thirty minutes at a time, utilizing its many impressive settings and features. The drone is extremely portable and comes with a compact control that conveniently attaches to his smartphone.
The next gift idea is perfect for rideshare drivers who need to keep an active eye on the busy road ahead and the activity within their cabins. The Vantrue N2 Pro is the partner he can take on the road day and night, and even keeps a lookout while he's not around. Great for Christmas and Birthdays, the dual dash cam features infrared night vision, simultaneous dual 1080p recording, voice recording, 24-hour parking mode, and emergency lock. The parking mode feature is triggered by motion, resuming recording with activity, while the smart emergency lock feature detects collisions and prevents that footage from being overwritten.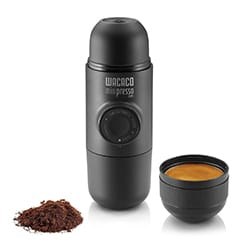 36. Portable Espresso Machine
Perfect for a quality cup of coffee while out on adventures, the Wacaco Minipresso GR is the barista he can take wherever he goes. The manually operated portable espresso machine conveniently requires no batteries or power to use. Simply fill with ground coffee, add hot water to the tank, and press the pump to extract a delicious creamy espresso.
Best Gadgets For Men: Kitchen
The following gadgets for men are perfect for gentlemen who enjoy their food and beverage, and will also appreciate any bonus convenience when it comes to their preparation! From stylish electronic salt and pepper grinders to a useful multi-purpose air fryer, these highly practical, and handy gadgets will be much loved in any household.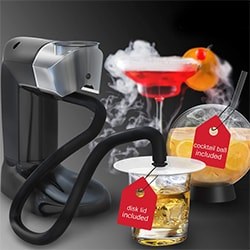 A gift bound to cause excitement from any gadget-lover is the Homia Smoking Gun Wood Smoke Infuser. Ready to use straight out of the box, the smoker features two smoking speeds that produce a cold smoke to apply a delightful flavor to any dish or beverage. He will have endless hours of fun experimenting with meat, fish, pasta, whiskey, cocktails, and more! This comprehensive portable electric smoking set includes everything required to prepare delicious smoked food both at home or out. Included are a smoking gun and ball, flexible hose, 7 flavors of wood chips, and a specially designed nozzle, lid, and cup cover disk.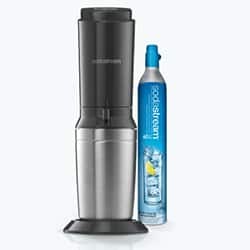 A premium kitchen gadget for men who love fizzy drinks, the Sodastream Aqua Fizz turns boring old tap water into a sparkling delight. The Starter Pack comes equipped with the sparkling water making unit, a single carbonating cylinder, and a stylish 21oz glass carafe. The extensive Sodastream flavor range will allow him to surrender to his taste buds with various mocktails, fruit drops, and even classic sodas. Perfect for Birthday & Christmas, the Aqua Fizz unit is easy to operate, producing tasty and refreshing beverages simply with the push of a button.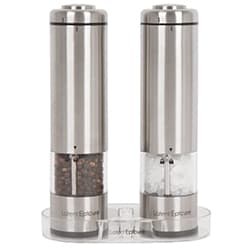 39. Salt & Pepper Grinders
A highly practical gift idea that will get plenty of use, the following gadget is a must-have in any household. This set of Latent Epicure Salt and Pepper Grinders easily and conveniently add seasoning to any meal. With a simple one-touch button operation, the device automatically grinds the desired spice, making it a quick and simplistic choice when cooking. The grinders also feature a ceramic grinding mechanism, known for its longevity and durability compared to metal grinders, but also perfectly suited for grinding more humid spices such as Himalayan Pink Salt or Wet Sea Salt. Varied coarseness settings using the adjustable knob underneath allow him to adjust his preference of coarseness as he pleases. The bright light is the perfect design feature, ideal for use in dimly lit conditions, or simply so he can see clearly how much seasoning is being used to prevent over flavoring! This set also includes a complimentary acrylic mill tray, ideal for storing the grinders when not in use and avoiding unnecessary kitchen and table debris.
Whether at work or home, the following gadget combines technology with the every day to enjoy the perfect hot beverage, from the first sip to the last drop. The Ember Temperature Control Smart Mug is an innovative mug, designed to keep your hot drink at the exact temperature of your preference, all from the touch of your smartphone! The mug connects to the Ember App, and using temperature-controlled technology, will let him set his ideal temperature and notify him when it's reached. The ceramic mug also has unique LED color personalization, and the ability to create temperature presents for all his favorite drinks. The Ember Smart Mug features up to 1 hour of battery life on a single charge or can be placed on the included charging coaster for all-day use.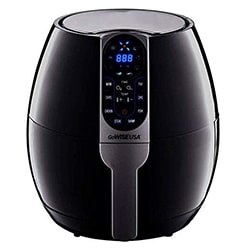 One of those gadgets for men that he'll be surprised he ever lived without is an air fryer! The GoWISE USA programmable air fryer provides a convenient and healthy cooking option, allowing him to easily cook all his favorite foods with little or no oil! Rapid air technology within the fryer uses circulating hot air to evenly heat and cook food to perfection, with a high power heating element enabling interior temperatures ranging from 170 degrees, to as hot as 400 degrees. The generous sized 3.7 quart non-stick coated basket and crisper tray offer optimal airflow while ensuring quick and easy cleanup! The air fryer includes 8 one-touch presets to make cooking easier, featuring quick settings for warm, fries/chips, chicken, steak, shrimp, pork, fish, and even cake! The digital screen also allows him to manually set temperatures and times if he's keen to experiment with some recipes of his own! Also included is a recipe book filled with 50 air fryer recipes for him to try, featuring a variety of meals to make for breakfast, lunch, dinner, or dessert.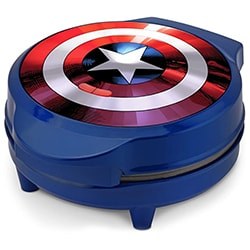 The next item is the best gift idea for his Birthday & Christmas particularly if he's a true Marvel fan. Designed in the style of Captain America's shield, this waffle maker creates delicious waffles in minutes, all sporting the iconic emblem star. Measuring approximately 6 inches, the maker features non-stick baking plates for waffles to easily slide right out and guarantees simple clean up with a damp cloth or sponge. Power and ready indicator lights let him know when his maker is plugged in (and hot!). Flour, milk, and eggs are all he needs to get cracking, however creative combinations can also include food colorings, flavors, and spices, not to mention the endless toppings – the sky's the limit! The Captain America Waffle Maker is a novel gift idea, perfect for patriotic-themed holidays and gatherings, and Marvel admirers alike.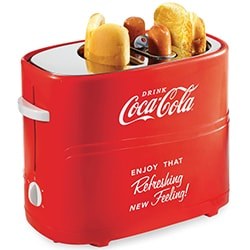 Some gadgets for men speak directly to their taste buds which is the case with the following gift for him. This unique pop-up style hot dog and bun toaster will be the envy of all his buddies come game day catch-ups. Perfect for any Coca-Cola collector, or 90's nostalgia fan, this double slot toaster is perfect for warming 2 delicious regular-sized or extra plump hot dogs and 2 buns at the same time! An adjustable toasting timer and stop button allow him to toast his dogs and buns to perfection, with mini-tongs also included to safely and easily remove hot dogs when ready. The removable hot dog cage and slide-out drip tray make for simple cleaning, while the neat cord wrap at the base of the unit ensures tidy storage. The iconic design features nostalgic 90's inspired Coca-Cola branding, bound to make a unique statement in any kitchen or man cave.
The perfect gift idea for coffee lovers and gadget enthusiasts alike is none other than a popular Nespresso coffee machine. Ideal for brewing barista-style coffee from the comfort of his home or office, the DeLonghi Nespresso Essenza Mini is a slick little coffee machine that comes bundled with an Aeroccino milk frother. The one-touch operation and extraction system delivers up to 19 bars of pressure to extract the delicate flavor of each pod, while the Aeroccino frother produces consistent frothy milk each time. A highly energy-efficient coffee machine, the water reaches ideal serving temperature in under 30 seconds, while the energy-saving mode automatically switches off the machine when left idle for 9 minutes. The Essenza Mini bundle is the ideal companion for single-servings, featuring adjustable cup size with two programmable Espresso and Lungo buttons. The Aeroccino produces both hot and cold frothy milk, for a delicious piping hot cappuccino, or iced latte creations. This attractive gift set also includes a complimentary Nespresso Original capsule welcome kit featuring a range of capsules with unique aroma profiles to get started brewing straight away.
Best Gadgets For Men: Accessories
If he's a man who loves his nifty accessories, then the following gadgets for men are bound to intrigue and captivate his imagination. From stylish and practical electronic gadgets to those that will enhance the aesthetics of his personal spaces, the following unique gadgets for men are all amazing items just waiting to be gifted!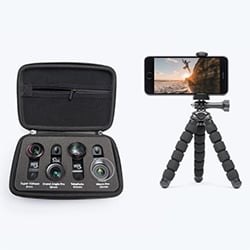 45. Photography Phone Lenses
Perfect as a Birthday or Christmas gift for any smartphone photographer, the Pixter Pro Pack expands the style of images he can capture. Whether its detailed close-ups or wide landscapes, Pixter has him covered. As far as lenses are concerned, the amazing bundle contains a wide-angle pro lens, macro pro lens, fisheye lens, and a telephoto lens. In addition to lenses, the Pro Pack also includes a tripod for stability and a sturdy case to protect contents from damage.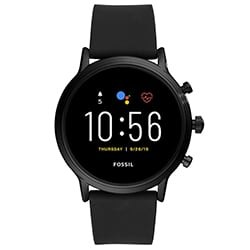 Customizable faces, Google assistant, and answering incoming calls, are just a few highlight features of the next item on our cool gadgets for men list. The Fossil Gen 5 smartwatch is a perfect gift idea for tech and gadget enthusiasts. Smart battery modes ensure battery life is extended, while Google Pay compatibility allows him to easily make purchases with the tap of his watch. He can select from hundreds of apps and customize wrist bands to match his attire. The Fossil Gen 5 also supports Bluetooth calling, heart rate tracking, and contains a microphone and speaker.
Who needs a cabled connection when you can charge wirelessly by simply placing devices onto a convenient pad? The Native Union Drop XL watch edition is a wireless charger that charges up to three devices at the same time! The sleek and slimline design matches perfectly with any modern room while reducing the clutter of endless cables.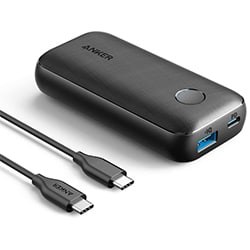 One of the more practical gadgets for men, the Anker PowerCore 10000 is ready to revive his devices whenever their battery life comes to an end. Portable and compact, the portable charger can fully power his phone more than twice over! The charger features 10000mAh capacity and is compatible with almost any device that charges via USB-C. While charging is a priority, the Anker PowerCore safety technology also protects connected devices, and Trickle Charging Mode detects the small power requirements of miniature devices.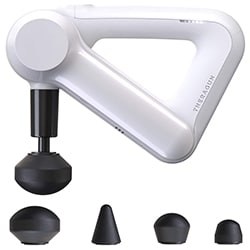 Perfect for pain relief, muscle recovery, and muscle relaxation the Theragun G3 provides deep muscle treatment with minimal effort. Featuring two-speed options and four massage head attachments, the professional massager allows him to self-treat or get help from his partner or friend. While the Theragun provides a strong percussive massage, the device is relatively light and doesn't require a heavy push. The sturdy design is supported by an ergonomic handle, which facilitates three separate grip points for comfort and ease of use.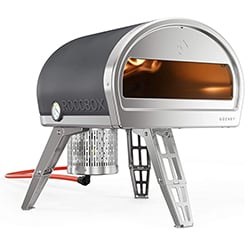 One of those grandeur gadgets for men he will forever be grateful for is this amazing outdoor pizza oven. The ROCCBOX is a premium, portable fire and stone pizza oven that will allow him to create restaurant-quality pizzas in the comfort of his own home! The oven can reach very high temperatures of over 9322ºF, ideal for perfecting a thin base and delicious puffed up, charred artisan crust in just 60 seconds. Featuring retractable legs and detachable dual-fuel wood and gas burners, the ROCCBOX offers very easy transport and setup, so he can always enjoy tasty pizzas with family and friends at picnics, the beach, or in his own backyard.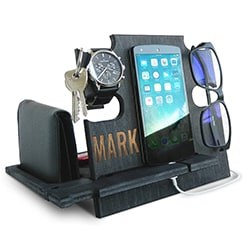 If you're after a gift idea for his Birthday & Christmas that will help tidy up his space in style, then the next item checks the boxes. This unique wooden docking station is the ideal organizational tool to keep all his accessories neatly and conveniently at hand. Italian in design and manufactured from eco-sustainable wood, this attractive docking station will keep his mobile device in charge, while dually storing other daily necessities such as his glasses, keys, wallet, watch, and more. Available in 8 stylish contemporary finishes and with the ability to personalize using high-quality laser engraving, this modern organizer will seamlessly blend into his workspace or bedside table.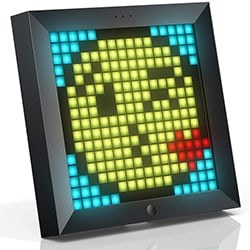 A slightly quirky gadget gift, the Divoom Pixoo DIY pixel art frame will allow him to personalize his space in a very creative way. This fun gadget features a 16 x16 inch full RGB LED panel which presents as a unique art canvas. Connecting to the Divoom Smart mobile app, he can explore his creative side by designing his own piece for illuminated display, or alternatively access over 1000 existing amazing designs created by the online community. The pixel art frame also doubles as a useful alarm clock and will make a great statement piece in any room.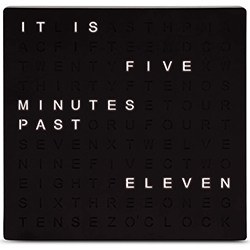 If you're searching for the sort of gadgets for men that stand out from the crowd, then the next gift will be right up your alley. The Electronic Word Clock is a unique statement piece perfect for his desktop, bedside table, dresser, or office space. The contemporary designed clock presents what appears to be an illuminated word puzzle that actually displays the time! A refreshing change from traditional analog or digital displays, this modern yet functional piece is stylish and compact, with the ability to tell the time in five-minute intervals. Featuring a very easy plugin and go USB setup, the Word Clock is available in both sleek black and on-trend copper finishes.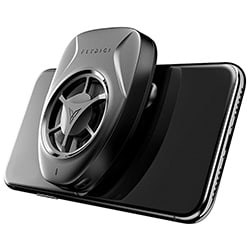 The perfect Birthday & Christmas gift for an avid gamer in your life, the following gift for him is stylish, highly practical, and there's a good chance he won't already own one! The Wasp Wing Phone Cooling Fan is a useful little portable device that will ensure his phone stays cool after hours of consistent use. The device includes a high-performance 700mAH capacity lithium battery for hours of play, while three levels of wind that can reach up to 4.9 cfm ensure the engine will never get too hot. The fan also features a striking RGB magical light that artistically illuminates the fan while in use to create a unique gaming atmosphere. This lightweight, durable, and compact pocket-sized fan provides silent cooling that does not interfere with voice calls and allows for cable-free gameplay. Featuring an easy one-click strong suction backing that can be used on any device with a width of 62mm or more, the Wasp Wing is quite possibly the best mini portable cooling fan on the market and is a unique and very useful gift.
Best Gadgets For Men: Business
Whether his business is at his desk, or perhaps traveling the globe, the following gadgets for men are the perfect accessories to make his working life easier. These useful gadgets are practical tools he may not even realize he needs, but will soon wonder how he ever lived without!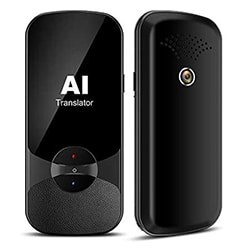 A useful gift idea for the jet setter in your life, the next item brings clarity to conversions where a common language is limited. The Buoth Language Translator quickly and accurately translates over two-hundred languages for the spoken word. While most languages require an active online connection, eight languages can be downloaded and used conveniently while offline. In addition to audible conversations, the photo translation function supports forty-five languages, easily recognizing and converting characters to your desired language.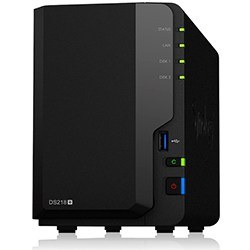 56. Data Protection & Storage
One of the best gadgets for men serious about data, the Synology DiskStation provides a reliable storage solution for backing up important files. Perfect for business and personal use, the network-attached storage (NAS) device supports multiple file-sharing protocols. The DiskStation facilitates collaboration in a work environment, allowing secure synchronization across devices and locations. While the business application is extensive, the Synology NAS can also be used as a personal multimedia server, streaming 4K 1080p videos to HD TV's.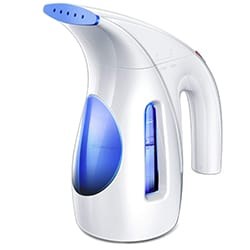 57. Travel Clothes Steamer
A wonderfully practical Birthday & Christmas gift idea for a man who is always on the road, the Hilife clothes steamer is the perfect accessory to keep his presentation on point. The handheld garment steam iron features a large 240ml capacity that ensures up to 15 minutes of continuous steaming. Producing 700W of powerful steam, he will quickly and easily remove wrinkles from packed clothes. Lightweight and featuring a useful 9-foot power cord, this portable clothes steamer is easy to pack, carry, and use, making it an ideal travel companion.
Best Gadgets For Men: Cleaning
If he's a bit of a neat freak, then the following cleaning gadgets for men are exactly what he needs! These amazing hi-tech devices will ensure his spaces are clean and tidy enough for even the pickiest perfectionists out there!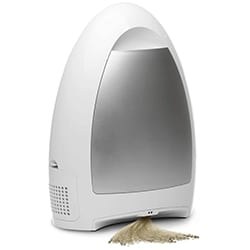 If you're searching for a gift for him that offers both efficiency and convenience, then the following gadget is for you. The EyeVac Home touchless stationary vacuum presents a sleek unit, packed with a powerful punch. The touchless activated unit is perfect for assisting with everyday cleanup, featuring infrared sensors that detect a sweeping motion which automatically activates the EyeVac for instant suction! The powerful 1000 watt 3.8L capacity vacuum removes 100% of dust, hair, and debris, even picking up pet food, pet hair, kitty litter, and more! The vacuum is equipped with a dual air filtration system including high-efficiency exhaust filters that work ensures the return of clean air to your environment. Available in a choice of white, black, and silver options, this contemporary style vacuum will seamlessly blend into his home or office environment.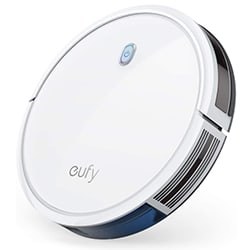 If you're after gadgets for men for the sort of guy who appreciates practical, yet unique gifts, then the next item on our list will be right up his alley. The all-new RoboVac from Eufy is a tiny portable vacuum boasting incredible suction power! Voted 'best robot vacuums of 2019' by Tom's Guide, this super quiet slimline vacuum boasts an ultra-thin 2.85-inch design that effortlessly glides under furniture and hard to get places. The portable vacuum features a 3 point cleaning system with increased suction at 1300Pa for up to 100 minutes of constant, powerful suction, while BoostIQ Technology automatically increases suction power within 1.5 seconds when extra vacuuming strength is needed to maximize cleaning on carpets. The smart design incorporates an anti-scratch tempered glass-top cover for protection, an infrared-sensor for evading obstacles, and even drop sensing technology to avoid falls. With super-easy set-and-forget cleaning and a convenient automatic recharge, RoboVac will effortlessly attend to the cleaning so he can focus on more important tasks at hand!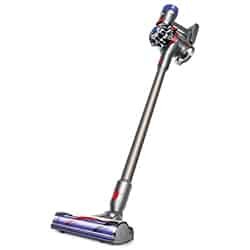 The following extremely useful gadget could easily top the list of best cleaning-inspired gift idea! Renowned as the experts in the field of vacuum cleaning, Dyson has developed a successful range of incredibly powerful cordless vacuums to, dare we say it, actually make cleaning up fun! The Dyson V8 Animal is a cordless stick vacuum cleaner designed to deep clean both carpets and hard floors with ease. Lightweight and versatile, the V8 makes for very easy home cleaning, with no cords for hassle-free maneuverability, and featuring an instant release trigger which means battery power is only used while cleaning! The vacuum boasts powerful suction, powered by the Dyson digital motor V8, which is engineered to pick up ground dirt and fine dust from hard floors and carpets. This incredible vacuum has up to 40 minutes of run time when using a non- motorized tool, and up to 25 minutes of working time when using an attached motorized floor tool, for example to deep clean carpets or homes with pets. The vacuum bin can hold up to 0.14 gallons of dirt and offers simple and hygienic bin emptying. The highly efficient and stylish Dyson V8 Animal will completely transform the way he cleans forever!
Best Gadgets For Men: Grooming & Hygiene
If he's a dapper gentleman who takes pride in his appearance, then the following grooming gadgets for men will be right up his alley. Whether for his birthday & Christmas, or any special occasion between, these gifts will ensure he's looking prim, proper, and is always well presented.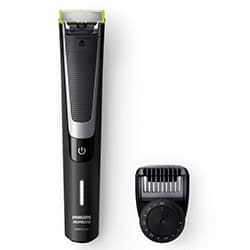 Trimming and edging his glorious beard will be a breeze with the Philips Norelco Oneblade Pro trimmer. The rechargeable electric trimmer can be used on both wet or dry facial hair and features twelve length settings, including a complete shave. One of the premier grooming gadgets for men, the Oneblade Pro features a replaceable blade and a long-lasting Lithium-ion battery for optimal performance.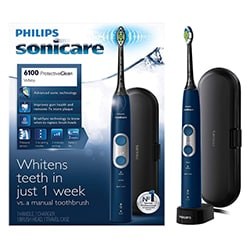 Does he have a gadget for everything you can imagine, but still brushes his teeth manually? The Phillips Sonicare will solve his problem and do a much better job in the process. Featuring three modes and intensities, the electric toothbrush cleans and whitens teeth, while also caring for his gums. The rechargeable toothbrush even alerts him when he presses too hard, prompting him to back off with a gentle pulse. In addition to the pulse, the toothbrush features a brush replacement reminder, a two-minute timer, and long-lasting fourteen-day battery life.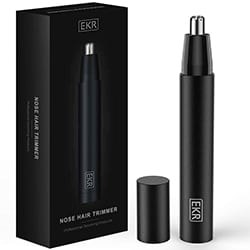 A unique gift idea for men who have yet to become masters of their hair, the EKR Professional nose and ear hair trimmer easily removes unwanted hair growth from the toughest of places. The versatile trimmer can also be used to maintain his beard and tidy up his eyebrows, making out of control hair growth a thing of the past. Perfect for his Birthday or Christmas, this simple and easy trimmer will keep him looking clean and presentable.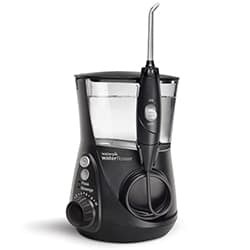 The final gift idea on our cool gadgets for men compilation is a natural companion to the electric toothbrush above. The Waterpik electric water flosser will keep the dentist away better than apples can and make his teeth shimmer every time he smiles! The professional countertop removes 99.9% of plaque and only takes one minute a day to achieve good oral health. Water flow is conveniently controlled from the handle, while the pressure can be adjusted via a knob on the unit.
Searching for more than the Best Gadgets For Men? Check out some of our other great list for more awesome gift ideas.