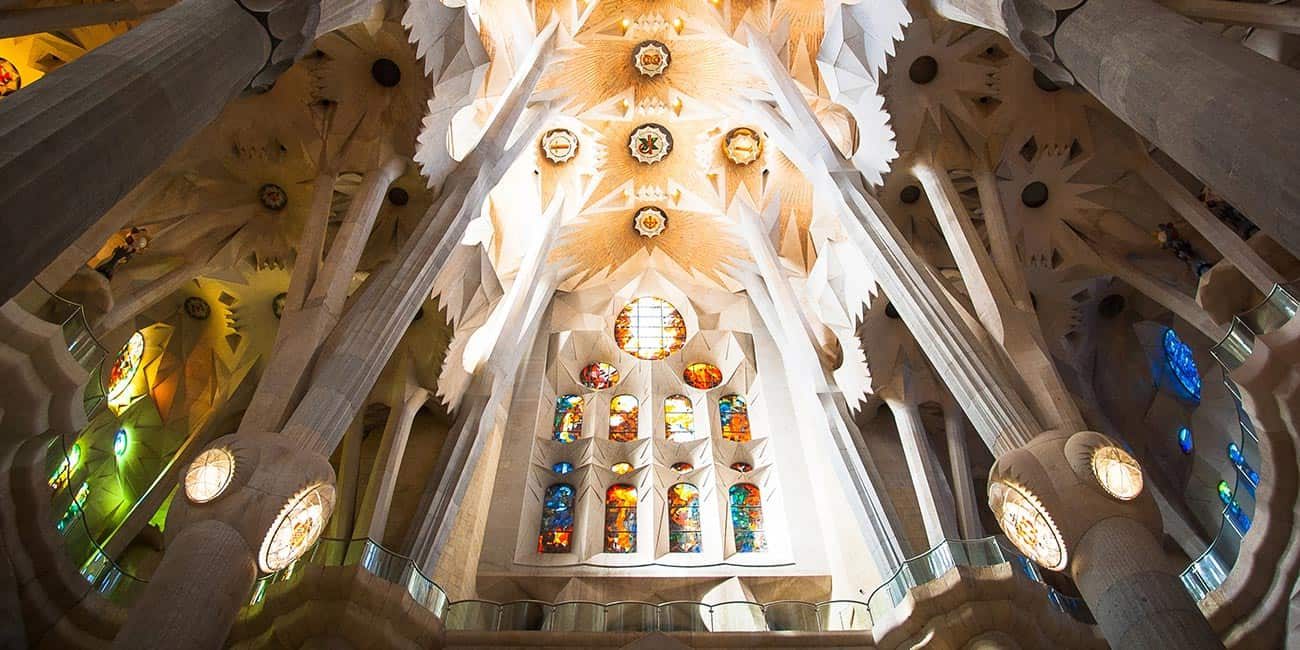 Wini Gifts is supported by our readers. At no additional cost to you, we may earn a small commission from the purchases you make using our links.
Learn more
Creative Gifts For Artists
Are you searching for the perfect gifts for artists that will appeal to their creative streak? Whether they are hobbyists or professional artists, we have put together the ultimate gift list for your artistic family and friends. From brilliant art tools to aid their craft and technique to uplifting decor to personalize their space, even quirky and inspirational one of a kind gifts for themselves, this art-inspired gift list has you covered!
Creative Gifts For Artists: Tools
High-quality tools of the trade are an obvious necessity for creatives. Whether just starting out, or a professional artist, the type and craftsmanship of art tools have a significant influence on your creative endeavors and desired outcome. From drawing and painting tools to exploring alternative creative endeavors, you can be sure to find a selection of the best tools gifts for artists below.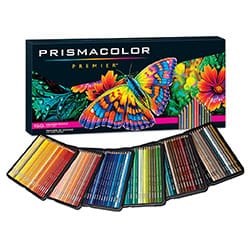 Creating beautiful and vibrant pencil artworks will become effortless with a new set of coloring pencils. The Prismacolor Premier set is a perfect birthday or Christmas gift idea, facilitating creative works wherever they find inspiration. Every artist will embrace the intense pigments, effortless blending, and detailed shading produced by the crack-resistant leads. The set contains 150 softcore pencils, providing the artist with an endless array of possibilities.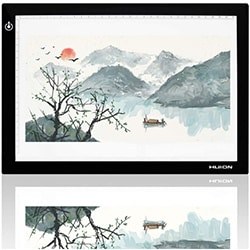 One of the best and most useful gifts for artists, a lightbox helps lay the foundations for brilliant works of art. Perfect for underdrawings and speeding up animations, the Huion LS4 lightbox provides ample illumination, creating an optimal tracing platform. The lightbox is portable enough to transfer from home to private workspaces and its USB connection provides a convenient power option. While powerful illumination is a major feature, others include adjustable brightness level, flicker-free LEDs, and a long fifty-thousand hour lifespan.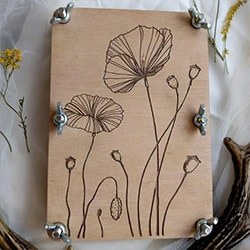 A beautiful and unique gift idea for artists who enjoy making cards, scrapbooking, or perhaps introducing them to a new hobby, is a traditional flower press. Perfect for anyone who takes delight and inspiration from the world around them, a flower press is a wonderful tool to expand their creativity. This pretty wooden flower press contains 6 layers of blotting paper and cardboard to create a beautiful smooth finish to their pressed flowers and foliage. Handmade from birch plywood in a choice of two natural finishes and featuring a stunning engraved poppy illustration, you can also select to include a customized inscription on the back to personalize this timeless keepsake gift.
The perfect accompanying gift to the flower press above is this beautiful designer Botanist Notebook. Handcrafted in Portugal, the notebook presents an eye-catching cover in a modern minimalist design. Featuring a striking copper foil title, the lightweight A5 sized notebook is ideal for collecting, storing, and display of pressed flowers, leaves, plants, and more. Made from eco-friendly 100% recycled paper and featuring a stylish discrete elastic band to secure findings, artists will also enjoy this notebook for taking notes about gardens, nature, or simply to jot down their thoughts and ideas as a source of inspiration for their creative endeavors.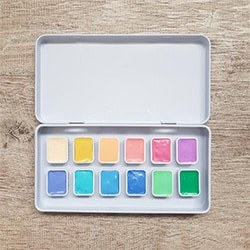 Idea five on our gifts for artists list is a unique paint palette, ideal for works that are made up of soft muted color tones. Perfect for the artist's birthday or as a Christmas gift, this beautiful pastel watercolor paint set features twelve ShinHan professional-grade color variants. The set arrives in a flat white tin box containing magnetic strips and a lid that can be used for mixing.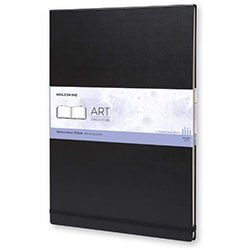 A perfectly paired gift with the pastel paint set above is this elegant hardcover art album. Renowned for their premium quality sketchbooks and sketchpads, Moleskine has produced a portable watercolor notebook specifically suited for painting and drawing. Created especially for Moleskine, the A4 sized book features 60 pages of heavy 200 gsm, cotton fiber cold-pressed, acid-free, pH neutral paper that is identical on both sides and of archival quality. Each book is perfectly thread bound with an internal accordion pocket to store notes and features the signature leather-like durable Moleskine cover that is finished with a neat elastic closure band.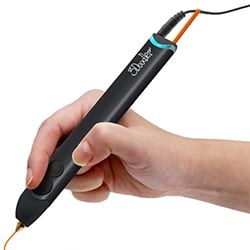 While we tend to consider works of art to be paintings, drawings, and sculptures, the next gift idea adds a modern twist to the classic practice. Creatives will be able to forge three-dimensional works of art using this amazing 3D printing pen. The pen requires no computer, files, or programming, as is the case with 3D printers, retaining the free and natural process of their craft. How does the pen work you ask? A stick of plastic is inserted into the device and heated by the nozzle. The outcome is a pliable plastic that rapidly firms, enabling the artist to draw and create in all directions.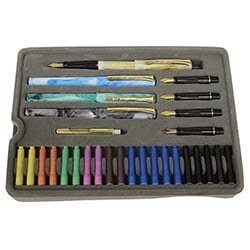 One of those unique gifts for artists for their birthday or Christmas that is a perfect introduction to a new hobby is this calligraphy pen set. The elegant Mont Marte Calligraphy Set is a 33-piece calligraphy set with everything required to practice beautiful handwriting. Featuring 4 calligraphy pens, 20 ink cartridges in 7 colors, and 4 calligraphy nibs grades: extra-fine, fine, medium, broad, and extra broad, for artists to experiment with Roman Round Hand, Italic, Gothic, and Uncial writing styles. Also included are an exercise book and instruction booklet featuring a letter-by-letter introduction for them to discover the art of beautiful writing and expand their creative repertoire.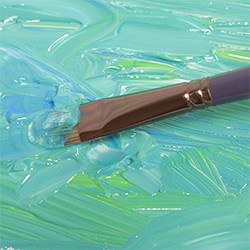 A great quality paintbrush to an artist is what a stethoscope is to a doctor, making this Mont Marte premium paintbrush set a highly welcomed gift by seasoned artists and art students alike. The 15 piece set features 15 unique shaped hog bristle and Taklon brushes suitable for watercolor, acrylic, oil, gouache, and tempera painting styles. The set is encapsulated in a premium brush wallet with a magnetic closure, perfect for easy transport, and to keep their workspace organized and their bushes in mint condition.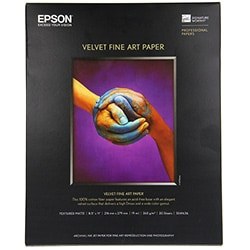 What better gift idea for photographers and artists than the perfect canvas for their creative endeavors. Epson Velvet Fine Art Paper is an acid-free, 100% cotton rag buffered paper particularly suited for archival fine art reproduction and photography. This specialty paper dries instantly, has enhanced 1440 dpi printing for high-quality output, and features a bright white surface for excellent color reproduction. The velvety surface of this fine art paper is a favorite of photographers and artists alike, offering a unique museum-quality feel.
Creative Gifts For Artists: Kitchen
Whether you're searching for a birthday or Christmas gift for an artist, our customized selection of kitchen and home inspired gifts are sure to capture their attention. These beautiful, unique items will make a striking statement and are sure to receive a warm welcome.
A perfect kitchen accessory for artists, creatives, and those obsessed with design, this elegant wooden board is the ultimate designer chopping board that will also wow guests as a cheese serving platter. Inspired by the beauty of natural rock formations and geodes, the Tiger's Eye crystal board is a synthesis of utility and art. The abstract resin board is made from antibacterial and water-resistant wood, making it an ideal surface for cutting and serving. Simple and straightforward to maintain, the resin design is strong, durable, and will not shatter if dropped.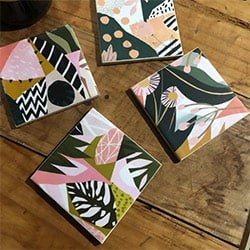 If you're after quirky gifts for artists, these ceramic tile coasters offer a functional utility in a unique layered abstract design. Whether it's for resting a cool beverage or placing down a hot cup of tea, these coasters will protect surfaces from heat damage and scratches. The coasters are constructed by hand using high-quality tiles and arrive as a set of four to be appreciated in the company of friends and family.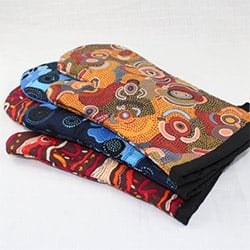 Add an element of artistic creativity to their cooking ventures with the following gift idea used to take hot dishes out of the oven. These unique handmade oven mitts feature beautiful Indigenous Australian artworks, printed on 100% cotton fabric. The oven mitts are a perfect gift for any occasion and are available in three vibrant options; Autumn, Blue, and Red.
Creative Gifts For Artists: Decor
Artists are naturally welcoming and appreciative of unique and creative decor, which is the very reason we have compiled the following gifts for your perusal. From abstract artwork to one of a kind decorative pieces, you can be sure they will appreciate having these items for display.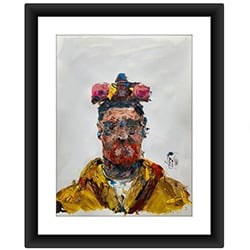 The ultimate Christmas or birthday gift for artists who are obsessed with television, video games, music, and comics, an original pop culture painting will brighten up their lives and their living space. This abstract palette knife painting features Walter White from the Breaking Bad series wearing his famous respirator on top of his head. Crafted on artboard, the original artwork measures 18 inches by 24 inches and is made by hand. In addition to this amazing painting, the artist has also created numerous unique works ranging from
Superman to Notorious BIG
.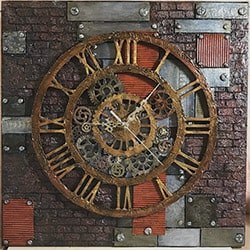 One of the most creative gifts for artists, this gritty wall clock is perfect for those captivated by the Victorian style steampunk genre. Informing onlookers of the time is a byproduct of the industrial-inspired decorative piece, which measures sixteen inches long and wide. The skeleton clock face rests upon a mixture of materials including plywood, polymer clay, and metal hardware. Handcrafted and finished in acrylic, the unique home decorative item will sit comfortably on the walls of any artist, sparking curiosity from every new visitor time and time again.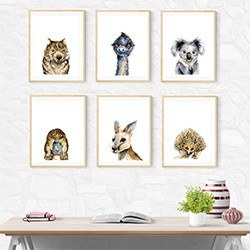 A cool gift idea for artists who enjoy soft touches and clean works, the Australian native animals' art prints are perfect for any living space. This beautiful set of watercolor prints features six cute animal illustrations including koala, emu, platypus, echidna, kangaroo, and the almighty wombat. Printed using professional-grade ink, the Australian native animals are available in five different size options.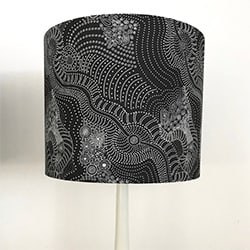 Made to direct light around a room while protecting eyes from glare, a unique artistic lampshade is the perfect gift for late-night ambiance. The design is inspired by the works of Aboriginal artist Anna Pitjara and is available in a variety of sizes ranging from 10cm wide to 45cm wide. While the Dreamtime Riverbed lampshade offers more subtle imagery, a selection of
vibrant alternatives
is also available.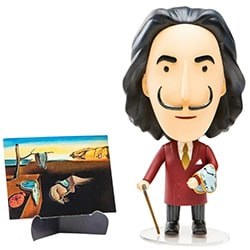 Add a miniature companion to their desk or workspace with one of the coolest gifts for artists you can find. The tiny Salvador Dali figurine is depicted holding a walking stick in one hand and his famous melting clock in the other. The fun little figure comes with an easel and mini artwork and features three interchangeable mustaches for funny customizations. While this Dali doll is sure to please, other artists to choose from include
Rene Magritte
,
Claude Mone
t, and of course
Vincent Van Gogh
.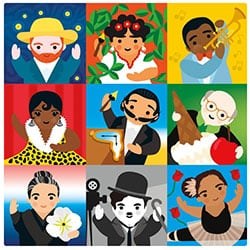 The perfect little birthday or Christmas stocking stuffer gift for artists is this cute puzzle set. The Little Artist puzzle is a 500 piece puzzle featuring vibrantly illustrated portraits of inspiring artists who have made historical impacts with painting, music, sculpture, and performance. Each 20 x 20-inch set is handmade using high-quality printing and materials and includes an insert. The puzzle is packed in a matte-finish sturdy box, perfect for gifting, reuse, and storage. If this style of puzzle isn't quite what you're after, there are plenty of other inspiring artworks in puzzle format to choose from.
Creative Gifts For Artists: Utility
If they're artistic, but you're unsure whether they'll love or loathe your art inspired present, then the perfect gift idea is one that is both practical and holds an element of artistic flair. The following unique and purposeful utilities are bound to be welcomed gifts for artistic family and friends.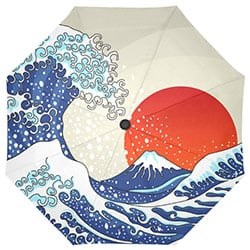 While not getting drenched in the pouring rain is a priority, standing under this beautifully designed umbrella will bring some light to the gloomy weather. Inspired by the famous The Great Wave artwork, this umbrella depicts a large wave, Mount Fuji, and the rising sun emerging in the backdrop. Perfect for any artist who loves to stand out in a crowd, this umbrella features a smooth open-close mechanism, anti-slip handle, and eight ribs for improved durability for those particularly windy days.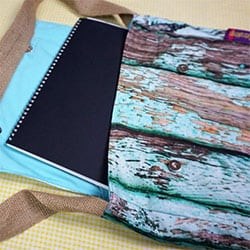 One of those highly practical gifts for artists that shouldn't have to be ordinary is a sketchbook bag. This unique handmade artist's sketchbook bag is fully lined and designed to hold up to two large A3 hardback sketchbooks. The quality cotton bag is fully lined, featuring durable hessian handles and is conveniently machine washable. From bright and vibrant, to classic and muted styles, this custom art bag is available in a variety of fabric designs to suit the taste of your intended recipient.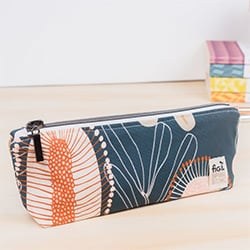 A gift idea for artists and creatives that is bound to get plenty of good use is a quality pencil case. Perfect for their stationery and small art essentials, this durable pencil case has been designed using quality cotton fabric and features a strong nylon zipper. Measuring 22cm x 8.5cm, the case is sized to grab easily with one hand and also features a neatly boxed bottom to stand upright on a desk. This pencil case design features a striking modern banksia, and is also available in other stylish contemporary patterns, including additional matching clutch and pouch accessories to pair as a gift.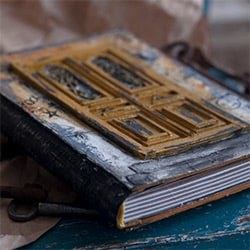 One of those gifts for artists they can never have enough of is a journal. The perfect place to jot their thoughts, ideas, and sketches, this journal features a unique one of a kind design. Handcrafted, the A5 notebook journal includes a combination of mixed, white, and natural pages, with the cover featuring an enchanting fairy door in rustic yellow tones. Crafted using a unique combination of acrylic and oil paints, the outer cover is also coated in a wax finish to protect the design. These exclusive handmade journals are also available in different tones and designs as the seller produces.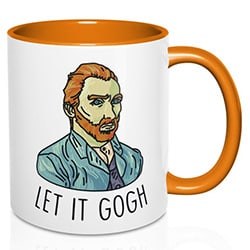 A cool birthday or Christmas gift idea for artists and art lovers, mugs are always welcome gifts that get plenty of good use. The Vincent Van Gogh mug depicts an illustrated image of the famous artist featuring a humorous wordplay on his name. The words "let it gogh" serve as a funny reminder to keep calm and get on with living life. Utilizing sublimation printing with ceramic inks that won't fade and featuring a high gloss and premium white finish, this fun and durable ceramic mug is available in two sizes and two handle color variations.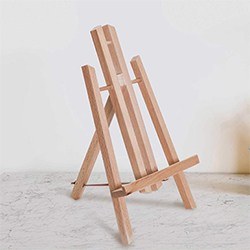 Gifts for artists to proudly display their work make a wonderful gift and gesture. Beautifully handcrafted from seasoned beechwood and finished with natural oil, this tabletop A-frame easel is ideal for painting and display of finished artwork. The sturdy 11-inch easel features a 0.75-inch deep edge for their canvas to rest, and being lightweight and compact, it easily folds flat with a secure leather strap, also making it an ideal portable travel and art class easel.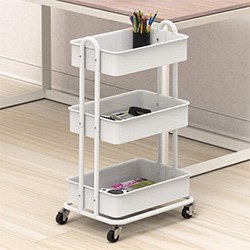 A practical, yet welcome gift idea for any artist to keep their space tidy is a storage cart. This heavy-duty rolling art cart is the perfect compact solution to neatly sort their art tools and accessories, while also providing easy access to them. The sturdy cart is the perfect size for artists working with paint and other mixed media, also featuring heavy-duty caster wheels with two lockable breaks for ultimate portability.
Creative Gifts For Artists: Gadgets
What better way to express their creativity and style than with technology. Gadgets to expand their artistic capabilities, or eye-catching accessories to showcase their style in subtlety, these unique gifts will be a pleasant surprise for any artist.
Creating stunning digital works has never been easier than ever with the Wacom Cintiq 22 HD drawing tablet. One-hundred and ninety-two pressure levels, tilt recognition, and color integrity makes this tablet a must-have for all digital artists and graphic designers. Wacom offers a range of drawing tablet options, so you can also choose the slightly smaller
Cintiq 16
or the
Cintiq Pro 24
with its 4K display. The smooth response rate makes working on the tablet an enjoyable experience, while the sharp clarity ensures no detail is overlooked.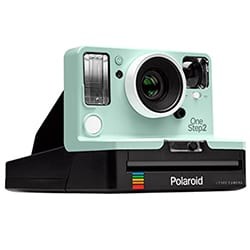 The art of capturing amazing photos will be greatly enhanced with the Polaroid Originals OneStep 2 camera. One of the best creative gifts for artists, Polaroid's snap and print capability enables instant images, creating tangible works in an increasingly digital field. Although the OneStep is not intended for high-end photography, the unique aspect of the camera allows artists to create breathtaking murals and wall art using the images they've captured. Key features such as sixty-day battery life and USB charging provide modern functionality, while the muted retro design gives off a unique vibe.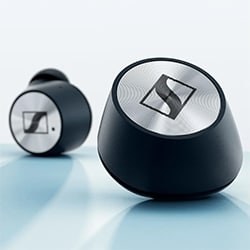 Make the next birthday, Christmas, or special occasion even more amazing with a quality pair of Sennheiser earbuds. While headphones and music equipment don't necessarily jump to mind when thinking about gifts for artists, listening to music has the ability to soothe, focus, and energize a listener. The Momentum True Wireless 2 earbuds not only produce an amazing sound, artists can also work unrestricted while drawing, painting, sculpting, or writing. In addition to their wireless nature, the Sennheiser earbuds feature an ergonomic fit and up to twenty-eight hours of play time.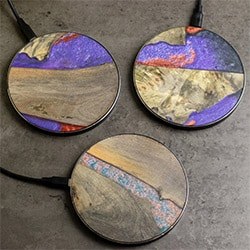 A gift idea for artists who have the latest smartphones, but are still plugging them in manually to charge. This Qi Fast Wireless Charger enables them to simply place their device on the top surface, rapidly charging their phones to full power. While function is the primary selling point, the artist in question will appreciate the charming wood and resin design. The charger is compatible with Qi-enabled smartphones and is powered via a wall socket or USB port connections.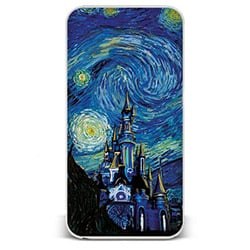 Influenced by The Starry Night painting by Vincent Van Gogh, the following gift for artists is the emergency backup everybody can use. The Cinderella Castle power bank is perfect for people who use their phone's battery to its full capacity each day. Conveniently carrying an additional 10000 mAh ensures they never miss a call or, God forbid, can't listen to music on the way home. While ample charge and portability matter, the built-in cable means they won't need to carry and connect additional wires when plugging in.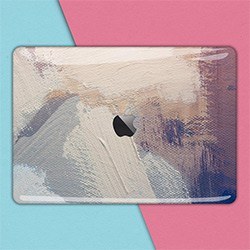 Add personality and artistic flair to their Macbook with a beautiful new protective case. Made to absorb shocks and prevent scratches, the pastel oil painting case features a flexible construction and stunning non-reflective matte finish. While this design is charming, many
alternative and equally creative designs
are available, so you can select one that best suits the preferences of the artists you have in mind. If sizing is a concern, fear not, the case is available to fit a wide range of Macbook models and dimensions.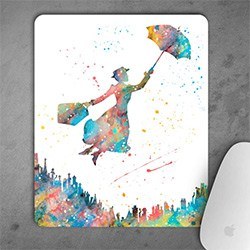 One of the best gifts for artists who spend time in front of their computer, a decorative mouse pad not only looks amazing, it improves the scrolling experience. Perfect for an artist who enjoys pop culture, this watercolor art print features the iconic Mary Poppins flying away with her umbrella. Of course, Mary Poppins isn't the only option, you can choose from a
large range of superheroes and movie characters
including Deadpool, Teenage Mutant Ninja Turtles, and Boba Fett from Star Wars.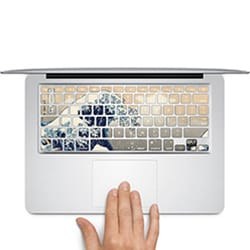 A unique and highly creative birthday or Christmas gift for an artist is this eye-catching laptop decal. The keyboard cover sticker decal takes inspiration from the famous Japanese The Great Wave of Kanagawa artwork. Made from custom 3M material, the decorative skin is both waterproof and anti-scratch, protecting their keyboard keys, while creating a special artistic effect to transform their ordinary keyboard into a unique creative scene. This particular cover is suited to a MacBook Pro Air, however, you can also find plenty of other
customized decals
for iPad, iPhone, Microsoft Surface, Dyson and more!
Creative Gifts For Artists: Wearable
The following art inspired wearables hold an element of uniqueness and quirkiness. From a one of a kind Salvador Dali watch to striking artwork inspired socks, let your artist friends and family showcase their creative side in style.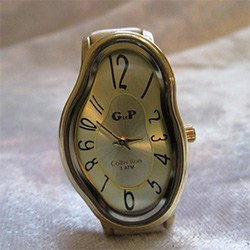 A very special gift idea for a true Dali-fan and artists alike is this one if a kind watch. Inspired by Salvador Dali's The Persistence of Memory, this art-deco style accessory features a unique melting analog watch with a striking gold face and genuine soft Italian leather band. Featuring high-quality Japanese Movement with a 1-year warranty, the watch face and band color, width, and style can all be perfectly customized to their liking. Packaged in a beautiful gift box ready for gifting, this delicate and elegant watch will make a statement piece for years to come.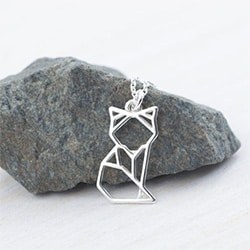 If you're searching for beautiful gifts for artists you can't go past this unique and dainty necklace. The origami fox necklace features an abstract sterling silver origami fox hanging from a delicate silver chain. Handcrafted using the highest quality sterling silver, there is also the option for adding a chain extension free of charge. Each necklace comes beautifully packaged in a white gift box with a handwritten note, perfect for gifting.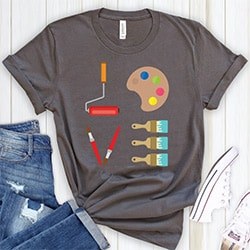 A great birthday or Christmas gift for art lovers who like to (literally) wear their art on their sleeve is an art-inspired T-Shirt. Featuring the word 'LOVE' written in abstract form using nothing but art tools, this branded shirt will boldly let the world know their appreciation of all things artistic. The stylish and comfy Tee is made from soft, lightweight material and available in both men and women's sizing, your choice of color, as well as a hoodie, long-sleeve, and tank top styles.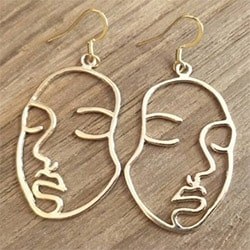 This art-inspired gift is a charming little accessory for an artistic loved one. These beautiful Picasso face hook earrings present a unique abstract design that is both stylish and creative. Two inches in size, the earrings are made from quality stainless steel with a striking high shine gold finish similar to a subtle rose-gold tone. Conveniently, these unique earrings will also arrive gift wrapped and ready for gifting.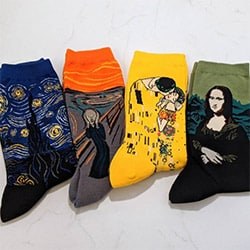 Keeping feet warm has never been as creative as the next gift idea on our best gifts for artists compilation. Featuring classic works such as The Scream, The Kiss, and Starry Night, these warm art socks will be worn with creative comfort. If the intended recipient is an admirer of Van Gogh, Klimt, or Botticelli, then this is undoubtedly the perfect gift for them.
Best Gadgets For Men: Inspiration
There is nothing more uplifting for an artist than to be inspired to create. Perhaps taking inspiration from artists past and present, or exploring a completely new craft to push their creative abilities, the following unique gifts are bound to captivate their interest and ignite their passion to create.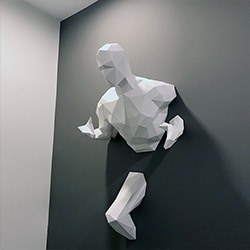 A highly unique birthday or Christmas gift for an artist, the next item takes origami art to the next level. Push their creative boundaries by challenging them to a new craft! This DIY paper craft tutorial features an original running man design that is sure to make a statement on any wall. Available in both A3 for an adult-sized sculpture and A4 for a child, simply download the pattern file and print on your desired medium. Best suited to thick 200-300gsm paper, the only items they need to get started are scissors, a ruler, white paper glue, and a scourer – tools that most artists already own. Design customization options are limitless, including using oil or spray paint to style and reinforce the paper to create a striking laminated-like masterpiece.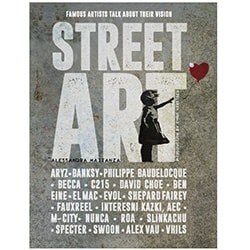 A creative gift idea for any street art enthusiast, this book titled "Street Art" features interviews from twenty of the world's top street artists. While Banksy's use of subversive satire has propelled his fame, this book also includes other artists who are yet to reach such widespread popularity. In addition to Banksy, the book features Aryz, Nunca, and EVOL, each of whom reveals their inspirations and the interesting stories behind their street art.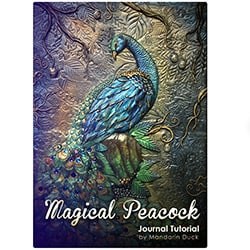 The last, but certainly not the least on our list of gifts for artists is another tutorial that will encourage and expand an artist's creativity mastering the use of polymer clay. This item features a 9-page downloadable PDF tutorial to recreate a beautiful, one of a kind magical peacock journal cover. With detailed step-by-step instructions, including beautiful photography, artists will also require some polymer clay tools, polymer clay, powders, and other decorative and finishing elements that can all be purchased from local craft stores, or available through the same store. Tutorials are also available for other designs such as this striking mystical wolf with wild animal fur texture, or an eye-piercing owl with golden eyes. Artists will feel a real sense of accomplishment and pride upon achieving this challenge.
Searching for more than the Creative Gifts For Artists? Check out some of our other great list for more awesome gift ideas.