Wini Gifts is supported by our readers. At no additional cost to you, we may earn a small commission from the purchases you make using our links.
Learn more
Contemporary chess sets come in various shapes, sizes, and materials, including abstract concepts and creative themed designs. The classic two-player board game is a test of one's strategic thinking, pattern recognition, abstract reasoning, and ability to solve problems. Whether you're a seasoned chess player looking to expand your collection or motivated to learn after watching The Queen's Gambit, we have included a chess set you're bound to fall in love with.
In the section below, the world of art and chess combine to create some truly magnificent, one-of-a-kind chess sets. These creative works of art feature abstract and avant-garde masterpieces showcasing expert craftsmanship and unique designs worthy of display.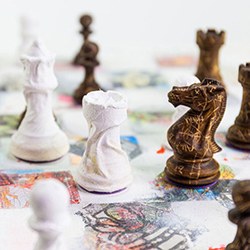 In collaboration with artist Daniel Brusatin, Purling London has released this extraordinary work of art, fit for a king and the envy of collectors. One of a kind, each chess piece is hand-carved from boxwood, the black pieces etched in rugged engravings, and the white intricately wrapped in textured canvas. The game is played on a hand-painted canvas board, where dark squares are adorned with acrylic artworks, while the white is juxtaposed with an empty canvas.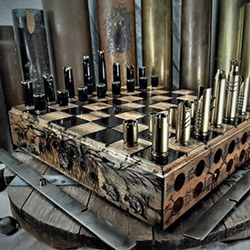 Steampunk inspired, this innovative iteration is played using .50 caliber bullet shells. Expertly handcrafted from solid wood, the chess board incorporates elements of an old typewriter and uses slots in either end for storing pieces when not in play. While an identical replica can not be reproduced, the set can be used as a foundation for an equally stunning, highly original chess set.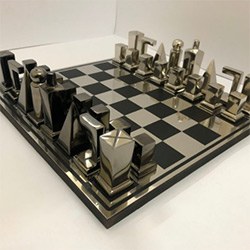 This spectacular work of art is one of the most unique chess sets for anyone interested in modernism and the Bauhaus movement. The eye-catching design presents truly original craftsmanship that transforms regular chess pieces into geometric symbols based on their functions. Featuring a series of elegantly smooth and highly polished aluminum crafted shapes and symbols to lead move by move, this beautiful contemporary design is available in both a stunning black and silver glossy polish for everyday play, and a black and gold luxury version, both sets creating an impressive centerpiece in any modern-day interior.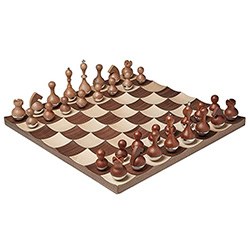 If you're after a set that can be moved without pieces toppling over, the Umbra wobble chess set is your answer. Constructed from beautifully polished maple and walnut, the novel concave board allows each move to create a gentle wobble, creating a unique experience every chess player will enjoy. Finely crafted, each piece is smooth to touch, hefty to hold, and accented with a chrome weighted base, ensuring it always remains in place.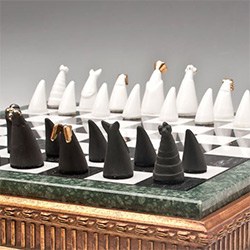 For a chess enthusiast who enjoys contemporary art, this wonderful abstract set is handcrafted from fine bone porcelain. The set includes sixteen black and sixteen white pieces with each bishop, king, and queen decorated in genuine gold accents.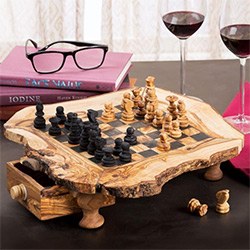 Whether you're a player or in search of a gift for a loved one, this rustic olive wood rendition is a great option. Decorative and functional, the natural wooden chess set is hand-carved, boasting fine craftsmanship in both board and chessmen. An interesting point of difference, this board stands on four solid legs, includes two drawers for storage, and can be uniquely personalized with a custom message.
If you're searching for a modern chess set with unique flair, the below section contains a variety of stunning handpicked game sets inspired by contemporary and minimalist design.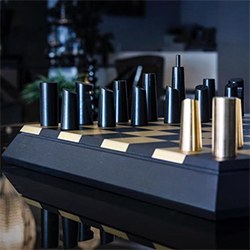 Maneuvering around this charming board carved from smooth Mapa burl and walnut are perfectly designed chessmen crafted from metal and satin brass. The two distinct materials unify to form a cohesive work of art, so high in excellence, it may require a designated space. Not to be overlooked, functionality is ideal for both masters and beginners, with sides wonderfully contrasted and coordinated with the squares.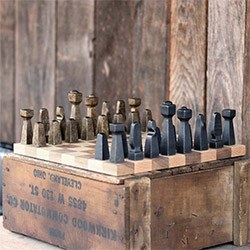 Your beloved chess lover is sure to appreciate the contemporary form and solid nature of a set that's crafted from solid steel. Arriving inside a smooth walnut storage box, this gritty industrial set is expertly hammered into shape by a seasoned blacksmith. While one side is black by default, the white pieces are available in four patina options including whitewash, bronze, brass, and silver. The unique collection of chessmen can be purchased alone or bundled together with a solid wooden game board.
While many chess sets focus on grandiose figures and intricate details, this charming modern adaptation is able to communicate unique elements using simple shapes and forms. Expertly crafted from hardwood, maple is combined with oak, maple, or walnut to create contrast and separation between sides.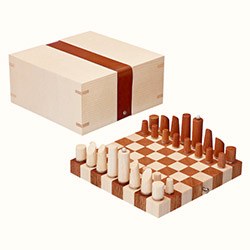 Stylishly combining fashion and the game is this exclusive chess set from iconic luxury goods manufacturer, Hermès. The miniature wooden set presents a sleek modern and minimalist design expertly crafted from natural sycamore and solid natural mahogany wood. Measuring a mini 4.7 x 4.7 inches, the portable travel-sized chess set is housed in a solid wood box with a bridle leather strap, the perfect size for a game or two whilst on the move.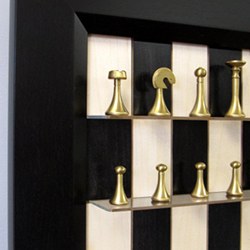 For a chess enthusiast in search of a different point of view, this amazing vertical chess set is playable from afar and looks amazing as a decorative piece. The Straight Up chess set is wall mountable, featuring a unique flat frame and removable acrylic shelves. The set also includes a marker signaling checkmate and last move, which are perfect when playing long games with family members and housemates.
Featuring one of the most unique chess boards we've come across, pieces are slotted in place with each move, ensuring they are immune to toppling over with bumps and movement. Supported by the folded aluminum base, the two-dimensional chessmen are precisely constructed from solid metal, carbon steel for the black side, and stainless steel for the white.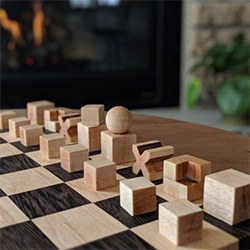 A highly unique chess set made from natural and ebonized boxwood, this minimalist set is a reproduction of the 1926 Bauhaus classic. Replacing traditional chessmen, geometric symbols are designed to represent the movement of each piece they are assigned. Queens are circular, indicating a complete range of motion, while bishops are a large X highlighting their diagonal movements.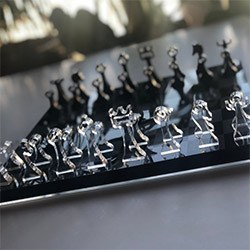 Made from stunning transparent and black Plexiglas, this modern acrylic chess set incorporates color from the surrounding environment. The modern minimalism motif is evident in the flat chessmen, clean playing surface, and silhouette storage compartment located under the board.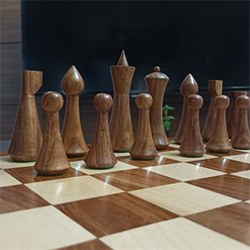 15. Minimalist Hermann Ohme
A name recognized by most players of the game, Hermann Ohme is renowned for his unique 1954 abstract designed chess set. This chess game presents a contemporary reproduction of the original mid-century minimalist chess piece. Crafted from a combination of boxwood, golden rosewood, and dark Sheesham wood, the stylish design presents a modern profile featuring weighted chess pieces designed with a stud of iron within the base.
Lovers of history and culture will be captivated by these iconic board games inspired by period and notable cultural events. Breathtakingly beautiful and highly detailed, the magnificent chess sets are just as enjoyable for play as they are for prominent display and appreciation.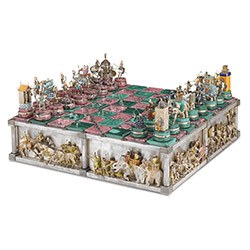 Touted as the greatest chess set ever crafted, The Battle of Issus centers around the conflict between King Darius III and Alexander the Great. Each individual piece differs from the others, depicting ancient structures, creatures, and gods of old. In addition to their unique aesthetic, mechanical movement adds an element of interactivity featuring opening doors, lifting swords, and rowing of the ship's oars. The chess board is adorned with precious stones, featuring intricately detailed carvings on all four sides. Laid out using elegant green malachite and pink rhodonite, squares match the bases of the pieces, pink for the Greek army, and green for the Persians.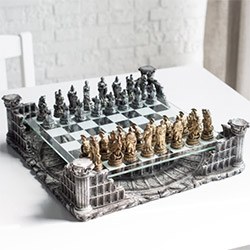 If you're after a set you won't find at the local chess club, this 3D Roman Gladiator version is for you. Maneuvering on a sleek glass board containing clear and frosted squares, the two sides are separated by magnificent gold and silver chessmen. Each piece is weighted for feel and comfort, while the cushy felt bottom ensures no damage to the board. Four pillars suspend the board over a detailed Colosseum, intricately detailed and expertly crafted.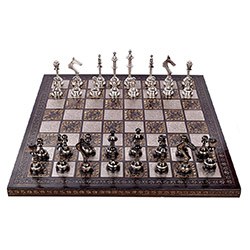 For players with a taste for classics, this amazing Soviet chess set features artistic hand-carved engravings on both board and chessmen. The solid brass set is available in three stunning variations, matching figures to squares in both color and detail. Silver-black and gold-black combinations are adorned by intricate engravings, while the unembellished chessmen are paired with a more subtle board design. The highlight of this set is its unique interpretation of the knight, which stands out in a sea of beautiful pieces. After play has concluded, the Soviet-style set packs away into an elegant velvet storage case which even has a place for the board.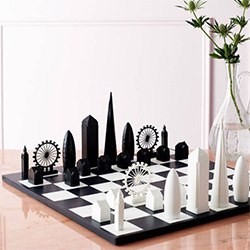 Designed around London's beautiful architecture, the London skyline set is constructed from high-grade acrylic and double-weighted to ensure every move is well balanced. Each pawn is represented by classical terrace housing, while the major pieces are represented by Big Ben, London Eye, The Gherkin, The Shard, and Canary Wharf. The architecturally inspired chessmen are coupled with a selection of three board styles: solid Carrara marble, wooden hatch, and a graphic London map.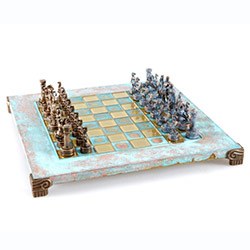 Inspired by the Roman-Greek wars, this handmade work of art is ideal for any chess enthusiast with a passion for history. Depicting the Greek army facing off against their Roman opponents, soldiers are trapped in an everlasting fight taking place on a brass battlefield. The period-inspired pieces capture the ferocity of war from the aggressive stance of the pawns to the stoical portrayal of the king.
If you're fascinated by the medieval period, this hand-crafted set is an ideal centerpiece to add to your collection. Featuring quality workmanship, the mythological set is beautifully contrasted, well-weighted, and made up of easily identifiable chessmen for straightforward play.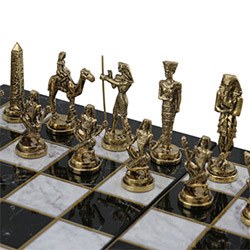 Chess lovers with a penchant for historical Egypt will be inspired and fascinated with this unique and enchanting chess set. The historical themed set presents ancient Egyptian time-worn decorative pieces featuring intricate craftsmanship with detailed engravings on chess pieces that include pharaohs, their staff, and even obelisks. Expertly handmade from Zamak with beautiful silver and bronze paint finished with special sealed coatings, these antique-style chessmen are sure to stand out as they traverse the stunning marble patterned wooden chess board.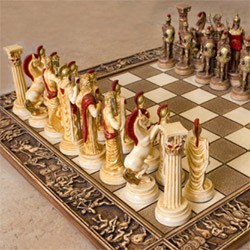 One of the most amazing cultural chess sets, Greek Gods of Olympus is a collection of mythologically inspired pieces worthy of the period. Led by King Zeus and Queen Athena, handmade ceramic chessmen are statically maneuvered around a board with stunningly detailed trimmings. The rook is made to resemble an ionic order pillar, while Pegasus and Poseidon are represented in the knights and bishops. Armed with shields and spears, hoplites provide the first line of defense while making their way across the board in hope of promotion.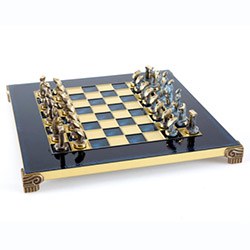 Forged from pure bronze, this Cycladic marble art-inspired set is played on a stunning blue-brass board. Opting for stylized representation over geometric lines, each player is transported to the Aegean Sea and into the heart of Europe's most ancient civilization. Pieces perfectly encapsulate the time period, with castles carved to represent the Naxos Island temple and knights that mimic the illustrious Trojan horse.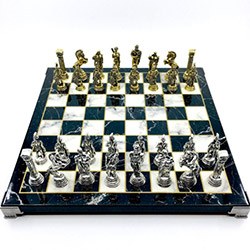 For chess lovers, history fans, or those after a classic decorative centerpiece, this wonderful Roman-themed set is a great option. Each chess piece is crafted from quality cast iron, while the classic marble pattern board is made from quality MDF. Although major pieces are identical, the set is available in three pawn variations, equally elegant with a unique aesthetic and feel.
One of a kind, this Carpathian masterpiece features a handcrafted alder wood board and hand-carved linden wood chessmen. An awe-inspiring addition to any chess collector's arsenal, this magic forest turns every game of chess into a mythological adventure. Each piece is professionally sculpted to craft a detailed forest motif that perfectly encompasses pieces and board.
From jaw-dropping crystal-designed sets to breathtaking abstract themed pieces, it is easy to see why the following elegant and refined chess sets are worthy of investment.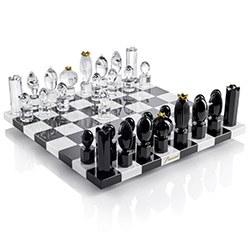 Truly spectacular, Baccarat Chess Game by Marcel Wanders Studio is a luxurious reinvention of the iconic game. The stunning collector's item features bulbous black and clear crystal pieces neatly positioned on an inlaid marble board. Ideal for players passionate about design, the set is destined to spark conversation and possibly a little envy.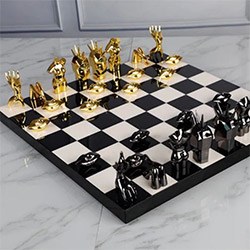 One of the most "out there" chess sets we've come across, this abstract masterpiece is a delicate balance of form and function. Perfect for those with eccentric tastes, the luxury handmade set features mannequin pieces made up of torsos, legs, hands, and lips.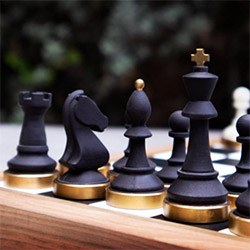 A great luxury gift or personal purchase, this charming Staunton set is perfect for chess enthusiasts, The Queen's Gambit fans, and collectors alike. The design balances classic and modern, an achievement that is especially evident in the detailed but minimal form of each knight. Chessmen are crafted from a resin-concrete composite and finished with an eye-catching and perfectly weighted brass base. Doubling as a storage box, the board's structure is made from walnut wood, while premium leather is used to create unique black and white leather squares.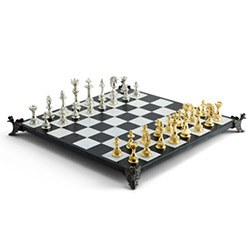 A centerpiece worthy of its own playing space, not a single aspect has been overlooked in crafting this jaw-dropping abstract set. The floral fantasy motif is evidenced by petal topped pieces, including the stunning knights artistically expressed as unicorns. Held in place by miniature black nickel plate stands, the charming marble board is adorned with traditional checkered squares. Rounding out this impressive work are gold-tone and nickel plate chessmen, teeming with character and elegant antique appeal.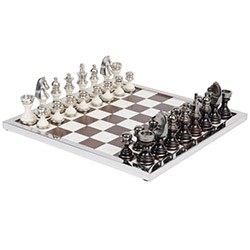 31. Oversized Nickel Ivory
Played on one of the most elegant chess boards you will come across, this oversized set is crafted from resin and accented with shiny nickel. The two sides are separated by beautiful ivory and mahogany-colored resin, a theme reflected in the squares of the board. Nickel tops craft the shape of Individual pieces, while the polished resin board also features nickel trims.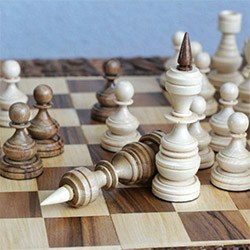 This wonderful wooden chess set adds a unique twist to vintage Staunton, using circular layers to form interesting shapes and textures. A fitting set for fans of The Queen's Gambit, the handmade set is carved from beautiful maple, walnut, and sycamore, resulting in stable and well-weighted chessmen and a solid board to match. Pieces are lined with soft felt for protection, while the folding board also offers a convenient place for storage.
From classic walnut brass to magnetic boards perfect for chess whilst on the go, the below section presents a hand-picked selection of popular chess sets, all featuring classing Staunton design.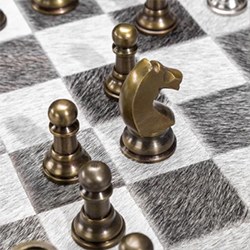 If you're after a premium design with unique elements, you can't go past the elegantly constructed Ellis. Individual pieces are crafted from antique brass, while the board is a beautifully textured combination of walnut and hide. White squares are fashioned using light hide, while the dark squares are predominantly gray hide with some tan and brown hues.
Utilizing a classic Staunton design, this set is carved from stunning green and white onyx and features unique striations adding charm and character. The handmade marble set includes 32 felt bottom figures and a 12" square with marble white edges. If you're not a fan of these color combinations, this quality set is also available in several alternatives including
black & coral
,
coral & red
, and
black & white
.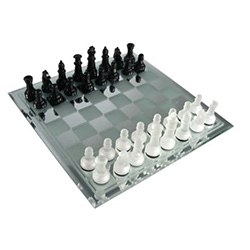 A great alternative to wood and marble, this glass chess set invokes luxury appeal without a premium price tag. The charming Staunton chess set features a clean look and feel, using black and frosted glass pieces to separate one side from the other. Padded protection ensures movement and castling are safe, so there's no need to worry about glass on glass.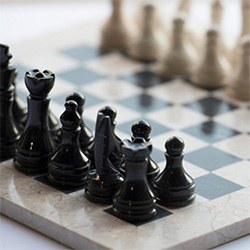 Filled with natural beauty and classic appeal, this handcrafted marble chess set is perfect for players who prefer a little weight behind each move. Crafted from high-quality onyx and marble, the set is heavy, sturdy, and available in nine primary color variations.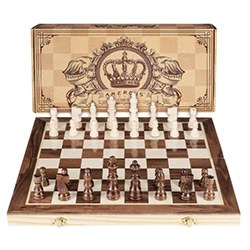 If you're searching for traditional chess sets that are perfect for beginners and experts alike, this versatile wooden set presents a charming classic style with the bonus of portability. Crafted from high-quality wood, the folding chess board presents hand-carved Staunton wooden pieces with an anti-scratch velvet padded bottom that magnetically attaches to the board. The extremely lightweight, magnetic, and compact folded design makes this chess set easy to carry and convenient for transport and play whilst away from home.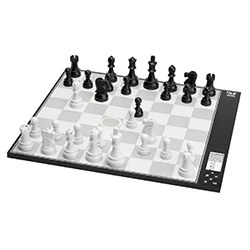 The best chess set for players without an opponent, each game can be played solo and adjusted to a suitable level. Based on the Stockfish engine, the DGT Centaur chess computer allows for natural play, anywhere, anytime, with no screens required. The Staunton-style pieces are refined, smooth, and weighted, delivering a realistic playing experience, not just a portable opponent. Built-in sensor technology complements the board's lighted display, highlighting the next move with a thin ring that lights on both squares. The final feature of note is the miniature e-Paper display screen, allowing players to access settings, clock, previous moves, and view hints.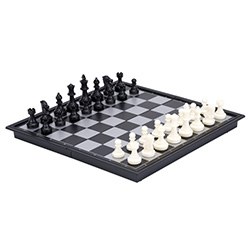 Another perfect set for chess games on the go, this handy travel board is lightweight, portable, and built to withstand the rigors of the road. Constructed from premium plastic, each piece is smoothed to eliminate sharp edges and padded for silent movement. The sturdy folding board is magnetic, ensuring pieces stay in place when playing outdoors or relocating the game.
From subgenres to iconic movie-inspired sets, the following unique themed chess sets will add a new dimension to gameplay, making this already thrilling board game all the more fun and interesting.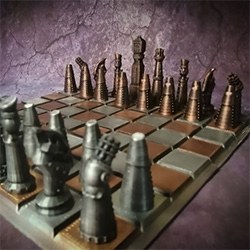 In this innovative iteration of the classic game, steampunk-inspired chessmen are separated by steel and brass designs. The industrial-style game board and pieces are 3D printed, hand-painted, and finished with a spray varnish. Kings and queens are represented by towers, the rooks by gun turrets, while the pawns are dressed in goggles and hazmat suits awaiting orders from above.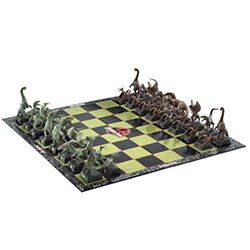 The perfect birthday or Christmas gift for any chess lover who is a fan of the popular movie franchise is this remarkable Jurassic Park inspired game set. Featuring a fully branded graphic playboard, this amazing themed set presents 32 finely sculpted, intricately detailed PVC dinosaur pieces including the queen as Spinosaurus, bishops as Dilophosaurs, knights as Velociraptors, and the King as none other than Tyrannosaurus Rex.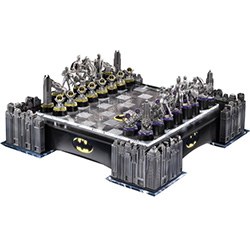 A unique chess set for chess players and comic fans alike, this breathtaking masterpiece pits the forces of evil against Gotham's finest. On one side, Batman is supported by Batwoman, Robin, and James Gordon, while his opponents consist of Joker, Catwoman, Penguin, and the Riddler. A black and yellow bat signal rests under the glass board which is held in place by an intricately detailed cityscape. Adding a layer of wonder to an already stunning set is the illuminating effect the LEDs create when the set is powered on.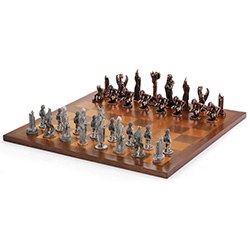 A set worthy of the franchise, Sauron's forces of evil do battle with Aragon, Galadriel, and a miniature army of hobbits. The Royal Selangor War of the Rings set is crafted from premium pewter and wood, with each chess piece detailed to perfection. While the set is ideal for chess games, Lord of the Rings fans will also appreciate displaying the work as a stunning decorative centerpiece.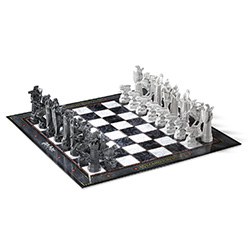 One of the most sought-after themed chess sets, Potterheads will adore is this unique Harry Potter Wizard chess set. A magical twist on the classic game, the officially licensed chess set presents a series of highly detailed pieces that are a recreation of the actual chess set seen in Harry Potter and the Sorcerer's Stone! This amazing collector's set features 32 creative wizard-themed pieces that go head-to-head over a marble artwork playing board.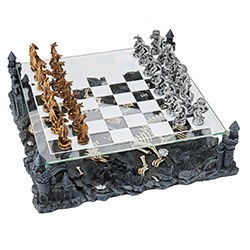 An extraordinary chess set for players looking to increase their personal collection or gift a dragon lover on a very special occasion. Holding symbols for identification, pieces are detailed, hefty, and lined with felt, ensuring the playing surface remains unscathed. The intricate dragon pieces are complemented by a scenic medieval base featuring towers, dragon bones, and the damaged weaponry used to help slay the savage beast. Elevated above the detailed polyresin base is a glass board, providing a playing surface and a view into the canyon below.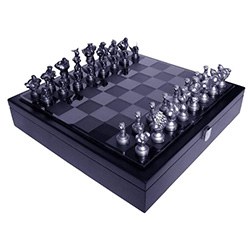 Classic console enthusiasts, adults, kids, and collectors alike will love battling it out on this awesome Street Fighter themed iteration. Expertly constructed from highly detailed pewter, the silver side is led by Ryu and Chun-Li, while the dark is headed by M. Bison and Juri. Doubling as a display table, the case is a perfect setting to place the sandblasted glass board.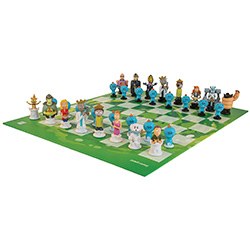 For Rick and Morty fans who enjoy a game of chess, this cool collectible centers around two teams of Rick, one Evil Rick, the other a little less so. Each character is countered by the worst version of themselves, with Evil Morty, Post Apocalyptic Summer, Beth Mytholog, and Snowball making an appearance. Poor old Mr. Meeseeks make up the expendable pawns, while the game itself is played on a vibrant interdimensional portal-themed board.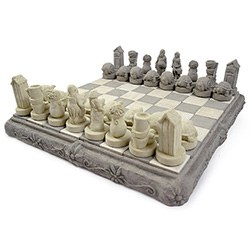 If you're after a chess board built to withstand life outdoors, this cast stone set is suitable for almost any climate. Snails and turtles slowly make their way across the ravine, hoping to reach the end and receive a promotion. Following the garden motif, kings and queens are gardeners, bishops are flower urns, towers are garden sheds, and knights are stacked buckets.
From iconic LEGO sets to fun gaming-themed pieces, the following section contains fun, lighthearted, and playful themed chess sets suitable for youngsters and even kids at heart.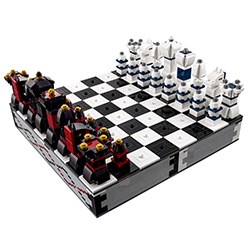 One of the coolest chess sets for kids, this enjoyable structure is built from ground up using 1450 pieces. While primarily a toy for creativity, the LEGO Iconic set is also ideal for sparking interest in the classic game. The chess piece's color scheme is fitting, with the white combining blue and metallic tones, while the black side incorporates striking bronze and red accents.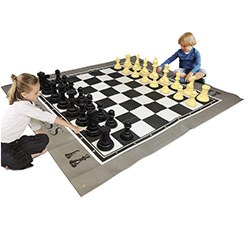 For a young chess player captivated by the game, this giant set is ideal for trips, parties, and a little competitive fun outdoors. Although large, pieces are lightweight, solid, and easily packed into the included plastic box. The mat is tear-resistant, improving longevity and protecting from the wear of kids treading to make a move.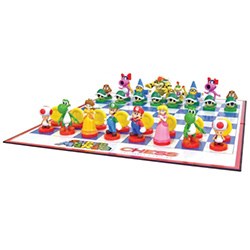 A chess game perfect for children and gaming enthusiasts, this Mario collector's edition set features all the classic characters from the franchise. In this kid-friendly version, team Mario is doing battle with team Bowser for control over the mushroom kingdom. Each piece is hand-painted, vibrantly detailed, and packed inside a solid tin case.
Searching for more than Amazing Chess Sets? Check out some of our other great list for more awesome gift ideas.