Wini Gifts is supported by our readers. At no additional cost to you, we may earn a small commission from the purchases you make using our links.
Learn more
Fun and happy decorative pieces to vibrant, eye-catching clothing and accessories, our handpicked collection of wonderful bee gifts will have bee lovers buzzing with excitement! Whether they enjoy beekeeping or simply have a penchant for these friendly and hard-working pollinators, our selection of bright, adorable, stylish, and useful bee gifts are bound to make enthusiasts of these busy little creatures very happy indeed.
The below section contains a hand-picked selection of the most gorgeous accessorizing bee-themed gifts worth showing off. From stunning jewelry for everyday wear or special occasions to a subtle yet stylish hair clip and earrings set, these charming and unique bee-inspired treasures are sure to get plenty of compliments.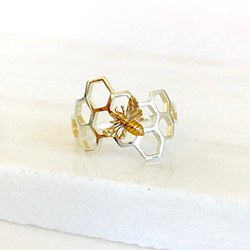 A glamorous gift idea for a busy bee, this stunning ring is sure to turn heads. The honeycomb bee ring presents a highly unique design featuring an abstract collection of hexagons encapsulating a sweet bronze bee. Expertly handcrafted from sterling silver and bronze, this intricate and sturdy, yet dainty ring is bound to receive plenty of compliments.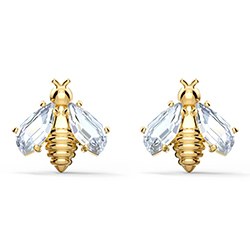 When it comes to beautiful and elegant gifts for bee lovers, this stunning set is the perfect embodiment of sophistication and style. Part of the Eternal Flower Collection, these charming Swarovski bee earrings present a pair of sparkling, clear winged bees with a white gold toned plated body. The intricately designed pair feature small antennae and body markings that add a vivid appeal to this playful and stylish gift.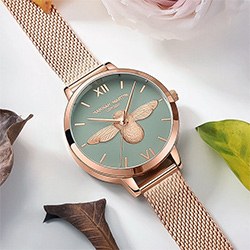 Effortlessly chic, this gorgeous watch is one of those amazing bee gifts that radiate understated elegance. The beautiful personalized gift presents a contemporary and sophisticated watch featuring a striking three-dimensional bee just hovering above the watch face. With stunning rose gold-toned detailing including a matching elegant band and premium fixtures, this amazing gift also includes the option of custom engraving on the strap, including further personalization featuring your own handwriting.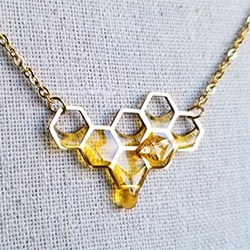 The perfect gift for a bee loving young lady's birthday, this beautiful boho style necklace has a natural honeycomb look, dripping in lifelike mouth-watering sweet honey. Expertly handmade from resin and stainless steel, the unique pendant and chain combo is guaranteed to catch the eye of onlookers. The necklace itself is available in both silver and gold finishes and the hypoallergenic design ensures no skin irritations for those with sensitivities. Alternatively, this stylish
hexagon-shaped bee pendant
offers another unique, yet subtle design available in both pretty gold and silver tones.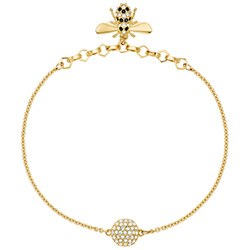 This beautiful bracelet is a lovely birthday or Valentine's gift idea for someone special. Subtly elegant, the stunning Swarovski piece presents a stylish gold-plated strand featuring black, clear, and golden crystal embellishments and unique invisible magnetic closures. Central to the design is a magnificent shimmering queen bee attached to distinctive gold-toned plated links, creating an eye-catching accessory that can be worn solo or a unique double-wrap bracelet with added strands.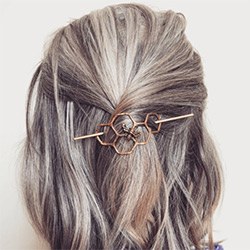 One of the small and pretty bee gifts on our list is this gorgeous hair accessory. The original design presents a bee hair clip featuring a signature brass honeycomb design with an unmissable gold plated bee perched in the middle. This unique clip is perfect for styling a small amount of hair or in an updo.
Some of the best bee gift ideas are those personalized pieces that allow bee lovers to flaunt their enthusiasm with pride. From Queen bee socks to a super stylish and comfy pajama set, the following bee themed clothing and personal pieces are bound to get plenty of good wear and use.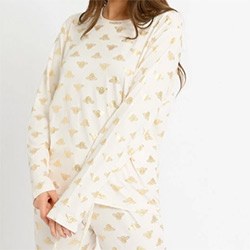 Casual and comfy, this stylish eco-friendly pajama set is adorned with this industrious pollinator in a striking gold foil pattern. The luxuriously styled sustainable loungewear is constructed from a soft, stretch jersey uniquely made from recycled polyester. Featuring a relaxed fit crew neck top with drop shoulders and matching joggers with an elasticized drawstring waist, this playful bee pajama set is just what you need for comfortable, all day and night wear.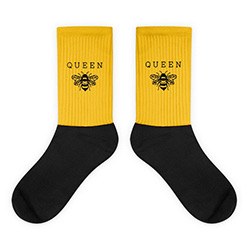 For anyone in love with bees and bee-ing boss, you can't go past these statement socks. Presenting striking bee artwork in crisp, bold black that will not fade, these vibrant Queen Bee socks feature strong and impactful branding that is unmissable! Made from a cotton-nylon blend, the crew length socks feature a stylish ribbed leg and are very comfortable due to a cushioned bottom design.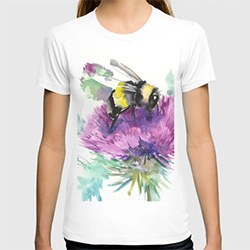 Portraying a busy bumblebee pollinating a vibrant thistle flower, this watercolor T-Shirt is ideal for everyday wear. Perfect for Christmas and birthdays, the shirt is made from fine soft jersey cotton and features a large eye-catching frontal print design.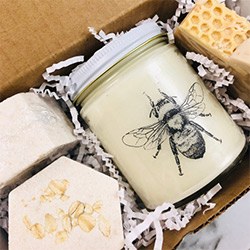 Consisting of two bath bombs, soap, and a stylish candle, this wonderful honey bee gift set will have them buzzing with excitement the moment they step inside their relaxing bath. The scented set is a perfect fusion of oatmeal, almond, honey, and milk, producing a soothing fragrance that also rejuvenates the skin.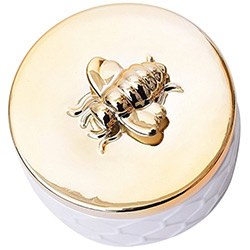 This on-trend jewelry box is a cute and unique gift perfect for birthdays, Valentine's day, or even a baby shower. The beautiful jewelry box presents a lifelike 3D golden honey bee design on the lid with a contrasting white ceramic honeycomb-patterned base. Perfect for storing small jewelry pieces and other trinkets or even office accessories, this stylish organizer will elegantly blend into any dresser, bedroom, office, or bathroom space.
From unique honeybee brass knobs to a stunning illuminated lantern, the below section contains the perfect bee themed gifts full of beautiful home decor and utilities that will make wonderful gifting options for any occasion.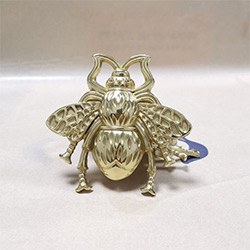 Providing secure grip and a decorative finish, these custom brass pulls are perfect for cabinets, drawers, and wardrobes. Each honeybee knob is intricately detailed, carefully shaped, and styled to produce a beautiful contrast. This unique idea is sure to complement any modern home, gifting your loved one with a keepsake they will cherish for a lifetime.
Combining original art and soft furnishings, this amazing cushion cover will forever grace the couch of people in love with this fuzzy little insect. Embellished with a detailed illustration, the throw pillow cover is fade resistant and printed with eco-friendly inks. You can choose from cotton linen or velvet materials, both of which are soft to touch and easy to care for.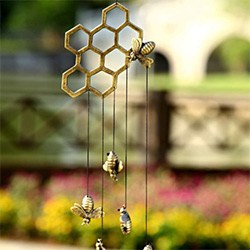 If you're after decorative honey bee gifts that can be placed indoors, on the porch, or in the backyard, these lovely windchimes are a perfect fit. Finished in brushed brass, the aluminum chimes feature large buzzing honey bees casually flying around a honeycomb structure.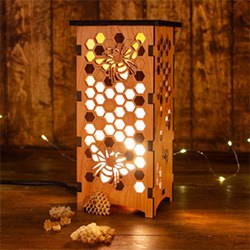 An illuminating honey bee gift that will leave your lucky recipient speechless, this beautiful lantern is perfect for their living room, bedroom, office, and porch. The night light is handmade from solid Cherry or White Maple, featuring detailed honeycomb carvings that are backed by frosted vellum and lit with an incandescent bulb.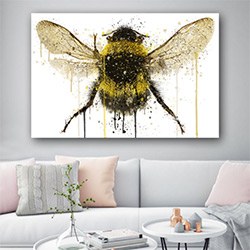 One of the most impressive gifts for bee lovers is this unique painting presenting the humble bumblebee depicted in a truly abstract fashion. The original art splatter effect creates a striking, distinct design, also featuring intricate brushstrokes and fine detailing, from the creature's delicate transparent wings to fine-haired antennae. Produced on a high quality brilliant white canvas using deluxe pigment inks and available in a variety of sizing options, this striking artwork is bound to stand out in any living or office space.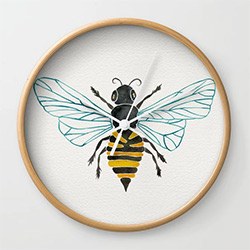 Help create a buzzing vibe with this charming wall clock, adorned with a creative design. A selection of frame colors ensures the timepiece complements their existing decor, while the vibrant illustration catches the eye, even when not in search of the time.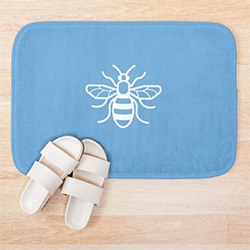 Soaking up excess water every time they step out of the shower, this regal bath mat features a non-slip underside and a fade-resistant color print. In addition to proving a perfect platform for drying, the bath mat is a perfect gift for a bathroom void of color, vibrance, and of course bee love.
If you're searching for unique bee gift ideas that stand out from the rest, the following portable utilities are sure to pique your interest. From a luxurious notebook to an elegant travel set, even a fun versatile pouch, and playful beach towel, these practical bee-inspired gifts will be warmly welcomed and are sure to get plenty of great use.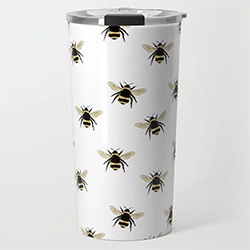 If you're searching for the ultimate bumblebee gift for those who require a coffee in their grip whenever they leave home, you've found it! Decorated with a delightful wrap-around pattern, the giant bee mug can house 20oz of tea, coffee, or water, retaining the temperature of contents for hours. The lightweight travel mug will comfortably fit cup holders and prevent annoying spills with its vacuum sealed lid.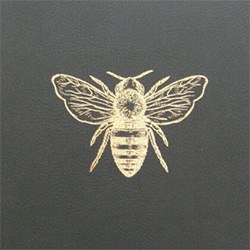 Who doesn't adore beautiful stationery? There are certain bee gifts you know will be cherished and this elegant notebook is surely one of them. Perfect for writing, taking notes, exercise logs, or even as an exquisite keepsake, this stylish bee notebook presents an eye-catching limited edition print. Featuring a soft flexible faux leather cover with a striking gold foil stamped bee, the luxury notebook includes twin wire spiral binding, lined internally with deluxe heavyweight cream paper and a honeycomb design on both interior covers. This exclusive notebook is perfectly paired with the
busy bees memo block
, featuring a stunning fine art illustration of two bees in action.
If your loved one is an avid jetsetter, a fitting personalized gift featuring their buzzing little friend is this luxurious travel set. Containing an elegant luggage tag and passport cover, you can select from a myriad of tag and stain colors, creating a combination that's unique to each recipient. The set is crafted from vegetable-tanned leather beautifully hand-stamped and finished with varnish.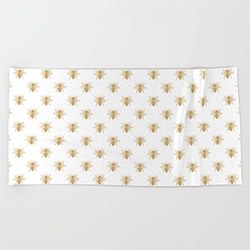 What could be better than spending a summer break lounging by the water? This oversized bee themed beach towel is sure to become an essential companion, providing a stylish buffer between themselves and the sand.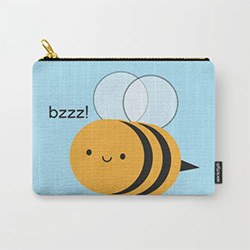 Any bumble bee lover will be head over heels to receive this adorable little pouch! The sweet design presents a vibrant and friendly animated bee, buzzing away over a bright blue sky. Featuring a durable canvas exterior with a faux leather pull tab, this versatile pouch is available in 3 sizing options and is perfect for storing makeup, stationery, or small electronics and accessories, simply pop this cute travel pouch in your bag whilst on the go.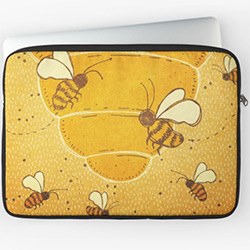 Between feeding on pollen and nectar, these busy bees are determined to protect your recipient's enclosed laptop from scratches and bumps. A handy gift for bee lovers, this honey-colored laptop sleeve is reinforced with foam padding and decorated with a swarm of bees buzzing around their hive.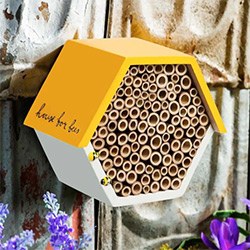 Providing a home for buzzing little pollinators to thrive, your beloved bee lover will get a tiny glimpse into the life of a beekeeper with this unique gift idea. Sealed with a water-based finish, the modular bee hive is a functional furnishing for the garden, handcrafted from bamboo and wood. The habitat is made to attract and conserve native bees which are solitary nesters and non-territorial, making them friendly tenants.
From an exquisite honey jar to fun and playful teapots and cookie cutters, below you will find a handpicked selection of the best bee gift ideas to brighten any kitchen or dining experience.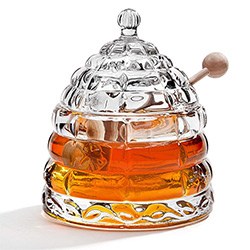 What bee gifts could be more fitting for a lover of bees than a beautiful honey jar? This exquisite Godinger crystal honey jar presents an expertly crafted unique design featuring an elegant towering beehive shape with a wooden dipper included. Made from premium lead-free Godinger crystal, this stunning functional and decorative piece is the perfect jar to store, preserve, and display delectable raw honey.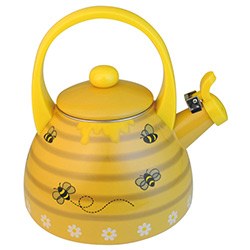 Every busy bee deserves a well-earned break and what better way to relax than with a hot beverage made using their very own bee kettle! This traditional whistling kettle presents a vibrant and unique design featuring a group of bees busy at work gathering pollen from florals below. With a generous 2.4 quart capacity that whistles when boiling, the bright yellow unmistakable design of this kettle will make a playful statement within any household.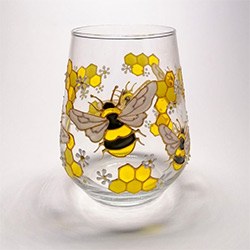 This eye-catching wine glass is a beautiful personalized gift any bee lover will appreciate after a hard day's work. The artisan designed tumbler presents a stunning design featuring vibrant bees scattered over a bright hexagonal floral pattern. Meticulously hand-painted using non-toxic paints and baked for durability, this pretty bee glass can also be personalized with a name or any text of your choice.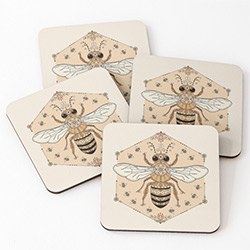 Surrounded by workers and drones, this lovely coaster set focuses on an abstract Queen, designed using mesmerizing shapes and colored in muted tones. The mystic queen bee coasters protect from scratches, perspiration, and heat, providing a little extra pop with their vibrant glossy finish.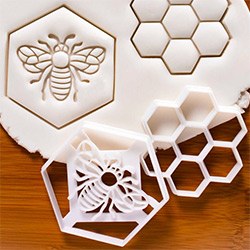 If you're considering curating a custom gift box, this pair of cookie cutters are a fun addition to their birthday basket or Christmas stocking. Available as both a set and individually, one stencil is a minimalist honeycomb pattern, while the other is a realistic bee. The cookie cutters are a great gift idea for a honey bee lover who enjoys baking and eating perfectly shaped cookies.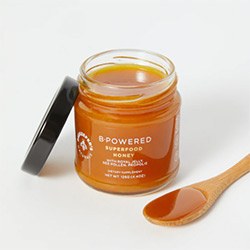 For the honey lover who is focused on health, a jar of superfood honey provides the nourishment they require and a flavor they will love. While most bee-themed gifts are intended to generate an "aww, how cute" response, this unique gift will help bee lovers stay fresh and sharp. A single teaspoon can be drizzled on food, mixed into a hot beverage, or applied as a face mask to improve skin.
From adorable plush toys to fun and functional magnetic clips and tags, the following section contains bee-themed gifts that are full of youthful playfulness and enjoyment.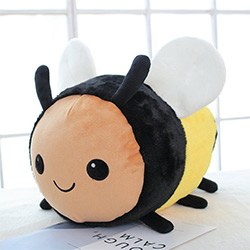 This friendly and adorable pollinator is bound to capture the hearts of bee lovers and budding beekeepers everywhere! The handmade plush toy presents a cute and happy bumblebee pillow featuring charming large features and 3D antennae and wings. Available in 3 sizing options, this super soft and squishy bee is a sweet and unique gift for both kids and kids at heart.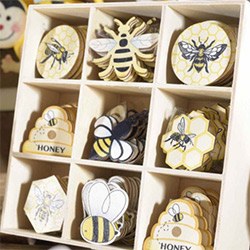 These adorable adhesive tags are the perfect gift to accessorize gifts and homemade goodies. The charming wooden tags feature an assortment of 18 bee-themed self-adhesive tags including beehive, bee, and honeycomb designs. Each measuring approximately 1 ¾ x 1 ½ inches, these playful and vibrant tags are great for scrapbooking, dressing up party favors, or as gift wrapping embellishments.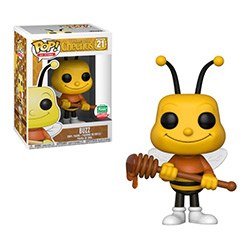 One of the most unique and intriguing bee gifts you will ever come across is this adorable figure of the Honey Nut Cheerios mascot. Part of the POP! Ad Icons collection, Buzz the determined young bee is firmly grasping his dipper which is still dripping with honey. This cute figurine is perfect for enthusiasts, collectors, and Cheerio fans who have an affinity with the classic character.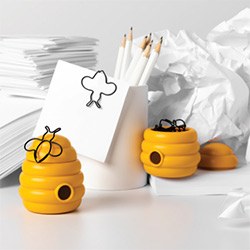 An office gift idea for keeping papers attached and organized, this decorative utility contains twenty busy bees buzzing about in a vibrant yellow hive. Extraordinarily cute, each paper clip is a giant silhouette outlining the body, antennas, and wings of a caricature style bumblebee. The hive itself has a removable lid and magnetic structure, allowing clips to be attached for easy access whenever they're needed.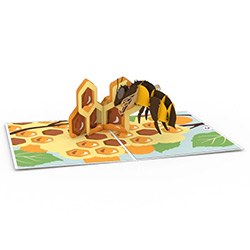 Any bee enthusiast will adore this surprise 3D gift card that features none other than their favorite buzzing creature! The laser-cut card presents a delightful honeybee set against a bright yellow honeycomb. Open opening, the card reveals a bustling busy bee, who literally pops out of the card in brilliant 3D, bounding amongst the sweet bounty of honeycomb cells. Measuring 5 x 7 inches, this vibrant and beautifully illustrated card also includes a little hidden notecard to include a personalized message.
Searching for more than Buzzing Bee Gifts? Check out some of our other great list for more awesome gift ideas.