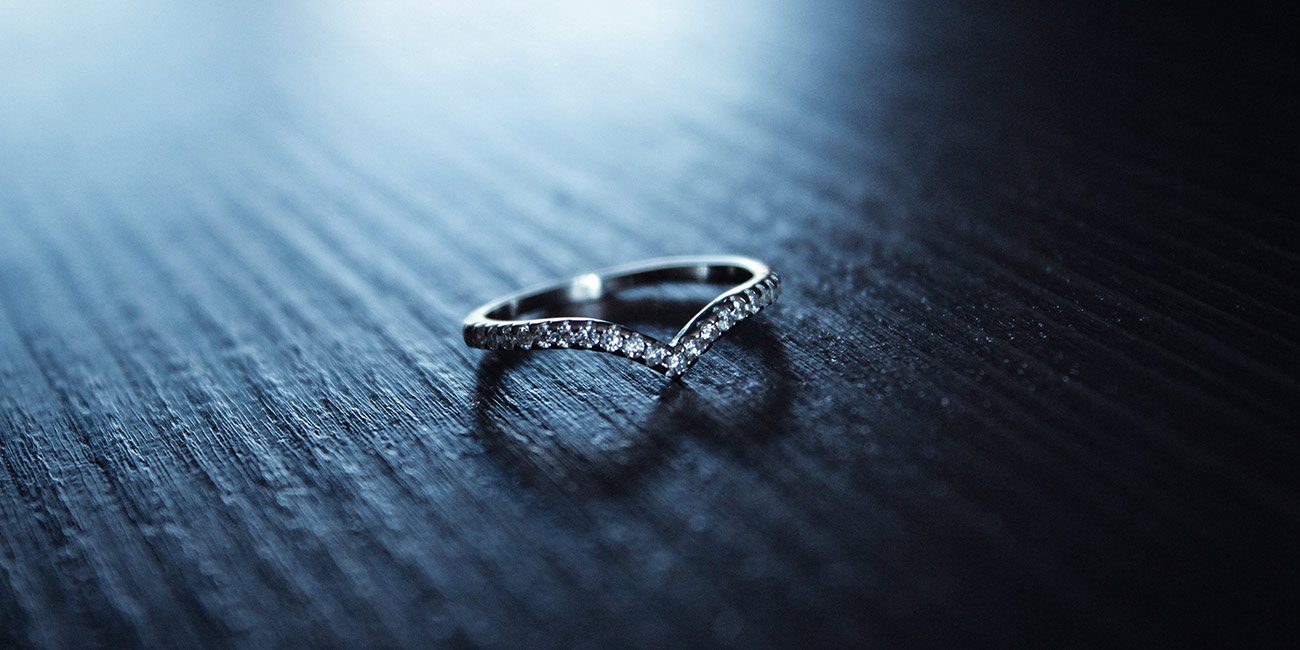 Wini Gifts is supported by our readers. At no additional cost to you, we may earn a small commission from the purchases you make using our links.
Learn more
Anniversary Gifts For Her
Are you stumped with ideas for the perfect anniversary gifts for her? Whether you've been together for one year, or ten, we know it can be challenging to decide on the ideal gift that represents your love and appreciation of her. We have found that the best anniversary gifts for your girlfriend or wife are those which truly reflect her personality and tastes. Lucky for you, being so close you will already be privy to all her likes and dislikes! This is why we have put together the ultimate list of anniversary gifts for her, helpfully categorized for you too! Whether it's romantic displays of affection you're after or beautiful and practical gifts that cater to her interests, you will be sure to find a very special gift, for a very special lady.
Anniversary Gifts For Her: Special
If you're after only the best anniversary gifts for your wife to make her feel truly special, the following selection of gifts is worth perusal. Whether she appreciates extravagant displays of affection or perhaps prefers more intimate gifts, you will be sure to find the perfect special gift for her below.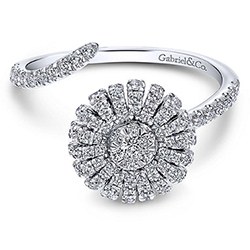 When it comes to luxury gifts for your wife to celebrate a very special occasion, you cannot go past a beautiful diamond ring. This timeless masterpiece from Gabriel & Co. presents an elegant design, featuring an open silhouette 14K white gold band encased in shimmering 0.53ct pavé diamonds. Delicately wrapping around the finger, the smaller diamonds subtly lead your gaze towards a magnificent floral center. This thoughtful and breathtaking gift will leave her in awe and is a stylish and sophisticated token of your love.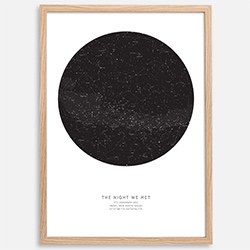 2. Personalized Constellation Art
If you're after the sweetest, most charming anniversary gifts for her, then the following present makes for a very special gesture. A romantic alternative to framed photography, this custom star map will create a wonderful memento to mark a very special milestone. The personalized star map print features the stars and constellations from a unique moment in time. Perhaps it's the first time you met, your first kiss, your wedding day, or current anniversary, this one-of-a-kind print is a thoughtful way to document your love for one another.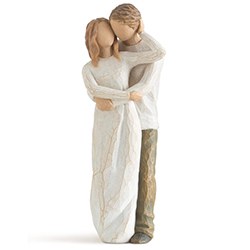 For those who have found their true partner in love and life is the perfect sentiment that embodies this beautiful ornamental gift to celebrate your anniversary. Willow Tree's Together intricately depicts a man and woman in close, loving embrace. The delicately sculpted hand-painted resin figure speaks for itself, with each angle representing a unique perspective of tenderness, communicating beyond words through gesture to represent pure emotion at its finest.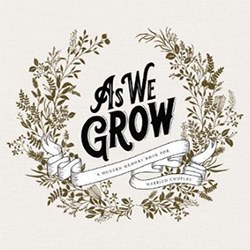 Some romantic anniversary gifts for her will also create priceless heirlooms for generations to come. As We Grow is a modern memory book perfect for all couples, from newlyweds to those married for years. Featuring sections such as How We Met, Our First Year, Kids, The Times That Shaped Us, and including letters to one another, this beautiful archival-quality keepsake is a thoughtful gift to capture precious memories and also the perfect opportunity to reminisce the fond years you've shared.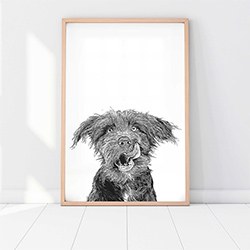 If you're after anniversary gifts for her that will pull on her heartstrings, you can't go past a custom portrait of her (other) favorite companion! This custom pet portrait is a wonderfully special and unique gift of her best pal or pals, those treasured past or present. Each portrait is digitally-mastered from a supplied photograph, available in a variety of sizes and produced at photo-quality on premium bright white, rich, velvet paper stock, ready to frame.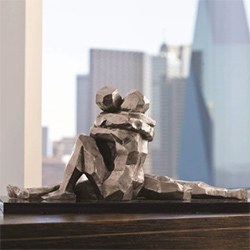 If you're after romantic luxury gifts for your wife with an element of uniqueness, the following anniversary present is sure to stand out from the crowd. An eye-catching work of art, this contemporary sculpture captures the intimate moment of a couple within affectionate embrace. Beautifully depicting the human condition through raw materials, this one-of-a-kind sculpture features global views, making it a perfect statement piece within any modern interior space.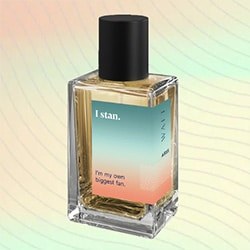 If you're after a special anniversary gift, this custom perfume from WAFT is sure to please. Unique and practical, WAFT offers fragrance curation, allowing you to create a personalized scent that's just for her. You can also personalize the bottle labels and select from three sizes: Sample, Savor, and Splurge.
Anniversary Gifts For Her: Personal
It goes without saying that the best anniversary gifts for your wife will be those with a personal touch. Most likely no one knows her better than you do, which is why your anniversary is the perfect opportunity to surprise her with a personalized gift. From beautiful and unique accessories to cozy therapeutic blankets, you will find the perfect gift that's just what she wants and needs.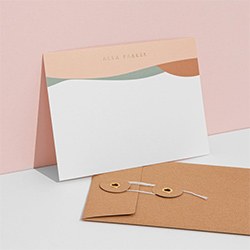 8. Personalized Notecards
What are unique anniversary gifts for your girlfriend or wife you can be sure she'll adore? Custom pieces will always be well received, which is why this bespoke gift is a must-have anniversary gift for her. The luxury set of personalized letterpress notecards presents a modern header with blush and earthy toned slopes sitting elegantly under her foil printed name or initials. Beautifully typeset by hand and printed onto luxury 350gsm card, this set of 10 personalized notecards will make the perfect gift for creative souls and stationery lovers alike.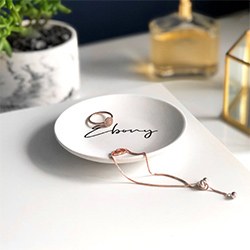 One of those unique anniversary gifts for her that will get plenty of good use is a beautiful jewelry dish. Ideal for storing and displaying a few of her daily staples, this stylish handmade jewelry dish features a modern, minimalist design that can be personalized with her name, initials, or even branding of your choice. Handcrafted from solid ceramic and coated to protect the surface, lettering is intricately cut from vinyl and applied to create a flawless finish. Lettering is available in on-trend glossy navy, metallic copper, metallic silver, and matte gold tones, creating an elegant trinket dish perfect for her desk or dressing table.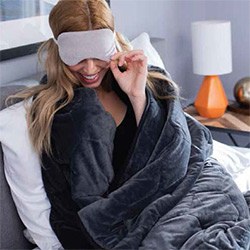 A warmly welcomed gift (pardon the pun!), the Layla Weighted Blanket is a thoughtful and caring anniversary gift for your wife. Designed to improve sleep quality and relieve anxiety, this special blanket will be the perfect comfort for her if she struggles to relax or fall asleep at night. Based on Deep Touch Pressure which is proven to release calming serotonin, this cozy blanket is designed with microglass beads, providing a gentle pressure across her body during sleep. Made from 100% cotton and with a snuggly plush-like fur, this comforting and therapeutic blanket will ensure hours of blissful slumber.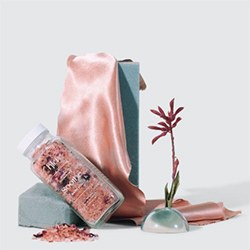 Romantic anniversary gifts for her don't get more thoughtful than a luxurious bath soak. The perfect opportunity to let her (or you both!) relax and unwind, this Rose & Coconut Milk scented bath soak has been designed to delicately soothe and balance her skin. The mineral-rich, floral-scented soak combines a beautiful blend of essential oils, including enriching coconut milk, French rose clay, and therapeutic dead sea salt to leave her completely relaxed and smelling divine.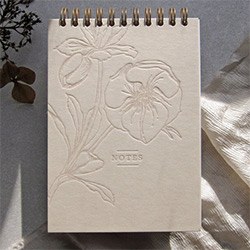 The perfect anniversary gifts for her if she appreciates beautiful stationery is a bespoke luxury notepad, ideal for To-Do lists, jotting down her thoughts, or perhaps even casual sketching. Handmade in the Cotswolds, England, this fine art letterpress notebook features an intricately detailed Hellebore floral illustration, precisely and beautifully debossed into a robust cover. The notepad design presents a warm earthy tone paired with hand-mixed tonal ink, filled with 40 pages of high-quality textured stock, vintage punched, and finished with a carefully selected bronze metal wire.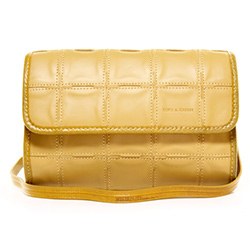 If you're looking to spoil your wife this anniversary, this unique and stylish bag epitomizes modern luxury with a sustainable focus. Renowned brand Elvis & Kresse are proud of their sustainable, ethical, and transparent values, that combine hand-woven rescued leather and London's decommissioned fire hoses to create one-of-a-kind accessories. The Fire & Hide Crossbody Bag presents a modern shoulder bag with a timeless, sophisticated design. Featuring an adjustable shoulder strap for over the shoulder carry or across the body, this bag is the perfect size for her daily essentials. Internally, the bag is lined with beautiful reclaimed military-grade parachute silk and contains a convenient zip pocket to keep valuables separate. Handmade with hand-painted and bound edges and finished with an embossed Elvis & Kresse logo, this bag boasts understated elegance and style.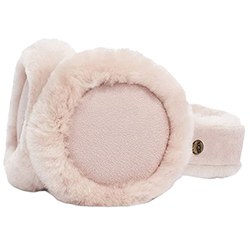 The best anniversary gift perfect for those cold winter months, these unique Bluetooth earmuffs will make a wonderful companion during her outdoor adventures. Makers of the classic sheepskin leather boots, UGG, have created these warm and cozy sheepskin earmuffs, ideal for listening to her favorite tunes in comfort while on the go. With a plush lining and water-resistant design, these stylish earmuffs feature the signature UGG logo pin and are available in eight attractive color options to suit any style.
Anniversary Gifts For Her: Interests
You will find only the best anniversary gifts for your wife that cater to her interests below. Does she adore arts and crafts? Or perhaps she enjoys cooking or photography? Whether it's her favorite pastime, or you'd like to introduce her to a new hobby, these new and unique gifts are bound to captivate her interests.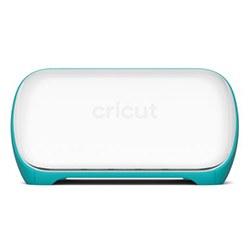 If she's into arts and crafts, the following gift will make her eyes sparkle with delight! The Cricut Joy in the ultimate DIY tool that will push her creative endeavors to the limit. This tiny, yet powerful cutting and writing device can personalize almost anything she can think of! Featuring a high-quality precision blade, the Cricut Joy cuts over 50 different materials, from vinyl and cardstock to iron-on transfers and peel-and-stick labels. Whether she's creating vinyl decals to spruce up a wall or water bottle, making labels for her kitchen and office, or creating a custom card or birthday banner, the creative possibilities are endless with the Cricut Joy.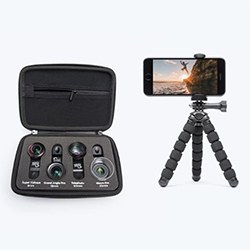 A fun and creative anniversary gift for her is this unique set of clip-on phone lenses to enhance and enrich her cellphone snaps. Suitable for both Android and iOS devices, the Pixter Pro Pack features four quality lenses and a flexible tripod for additional stability, making her phone easier to hold and position during capture. The four included lenses; fisheye, macro, and portrait, will expand her phone's photo capturing ability to produce spectacular, portrait-worthy end pictures.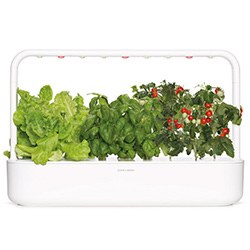 One of the most unique gifts for your wife is the ability for her to grow fresh herbs and plants indoors with minimal effort and attention. The Smart Garden 9 features a large built-in tank for self-watering, including pro-grow lights for perfect light exposure. A set of nine plant pods are included with the garden, while the Click and Grow online store offers over sixty varieties ranging from delicious edibles to beautiful flowers.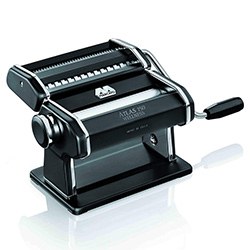 Is she obsessed with cooking? A creative and unique gift idea that she is unlike to already own is a genuine Italian pasta machine. The world-famous Marcato Atlas pasta machine is the only tool she will ever need to make delicious homemade fettuccine, lasagne, and tagliolini. The machine comes equipped with a pasta cutter, hand crank, and clamp, featuring ten position settings allowing her to easily make pasta as thick or thin as she likes.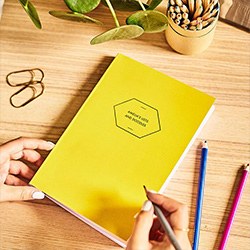 19. Personalized Journals
When it comes to stationery anniversary gifts for her, a set of personalized journals is a wonderful choice for writers and stationery fans alike. These beautiful A5 notebooks are a very unique gift, allowing you to truly personalize each journal for her. Handcrafted, each journal is typeset, printed, and bound in house using 250gsm soft-touch laminated stock and personalized with your chosen words foiled in gold on both the cover and spine. Add a personal message or quote, or gift her a collection of journals in mixed colors customized to her passions and interests.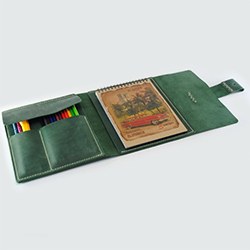 A unique gift idea with a personalized touch, this sketchbook cover is a great gift for a creatively inclined wife! The cover is the perfect portable accessory to store her sketchpad and artist tools. Handcrafted with high attention to detail, the A5 cover is made from high-quality genuine leather with a vintage appearance and has been carefully hand-cut and stitched using polyester wax thread. Featuring two sturdy pockets to house her pencils, pens, markers, and brushes, this beautiful leather cover is available in 11 classic finishes with the option to personalize her name or initials.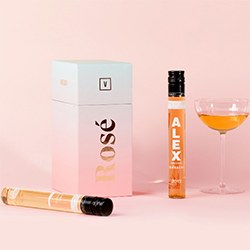 One of those unique gifts for your wife she is sure to welcome with open arms is a delightful wine gift box. A thoughtful gesture for a rosé admirer, this sampler set features a unique selection of 6 delightful rosé wines, each bursting with flavor. From oak-aged to light and zippy, rich and textured, even a wine-rosé hybrid, she will enjoy sampling the variety of European wines from Spain, all the way to the base of the Alps.
Anniversary Gifts For Her: Accessories
If you're wondering what best anniversary gifts for your wife will make her happy, you can always count on beautiful accessories. From modern bracelets with a personalized touch to timeless jewelry for every occasion, these unique and stylish pieces are sure to be warmly welcomed.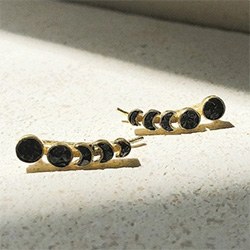 If you're after beautiful luxury gifts for your wife to surprise her on your anniversary, these unique style earrings are sure to please. The Panther Ear Climbers are a special limited edition accessory that will certainly stand out from her everyday pair. These stunning 18ct gold plated earrings are crafted from crushed black diamonds, incorporating a unique setting technique that uses dark resin to surround and secure the pieces, giving each crushed diamond a beautiful shine. Symbolizing power, originality, and passion, the Panther Ear Climbers are the perfect synergy of femininity and strength.
There are those anniversary gifts for her that are simply breathtaking and the Grande Amara Necklace is without a doubt one of them. An elegant, 24K gold plated piece, this stunning accessory features a delicate spider-like orb encapsulating a striking large freshwater pearl at the heart of the pendant. This beautiful pendant comes with a fine gold plated chain that will sit gracefully around her neckline, perfect for layering or wearing on its own.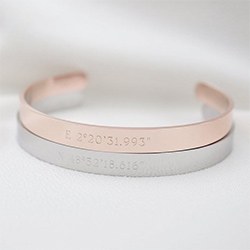 The perfect anniversary gifts for your girlfriend or wife that will hold a lasting sentimental touch are these unique cuff bracelets. A romantic gesture, this stunning couples set of handmade bracelets can be personalized to create a beautiful, meaningful gift. Available in gold, rose gold, silver, and stainless steel, each cuff can be customized with up to 35 characters to display your names, date, or even a short message.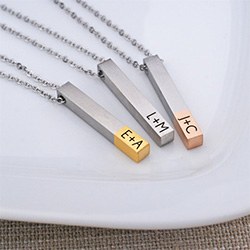 High on the list of unique gifts for your wife is this striking personalized necklace. Crafted from quality stainless steel, the vertically designed pendant features a hanging bar in a beautiful brushed finish. Each steel tip is customized with both of your initials, including rose gold or gold plated finish options if you prefer. Presenting a minimalist style with a personalized touch, this unique necklace will make the perfect romantic statement piece.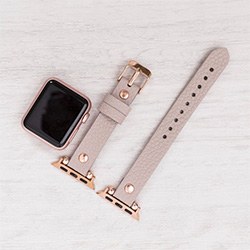 If she's a proud owner of an Apple Watch, the next of our anniversary gifts for her will be the perfect accessory to complement any of her outfits. Elegant, slim, and unique, this selection of leather Apple Watch bands transform a tech gadget into an elegant timepiece. Compatible with the complete series of Apple Watches, these bands are available in four adapter color options to match any frame.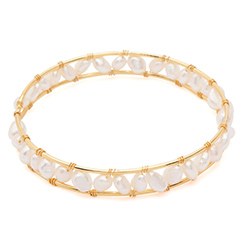 If you're after beautiful luxury gifts for your wife, the Marcelle bracelet is a gift worth considering. This unique style bracelet is crafted from cultured freshwater pearls, gracefully encapsulated within a 24K gold plated bangle. An idyllic epitome of unstructured beauty, this stylish accessory will gracefully adorn her hand by day or by night.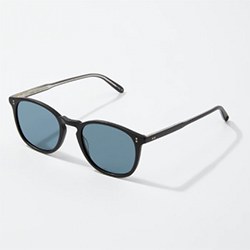 If you're after practical and stylish anniversary gifts for her, you can't go past a good looking pair of sunglasses. The Kinney A 49 glasses feature a classic square-frame with clean and even proportions that suit most face shapes. Characterized by their sleek and elegant design, these chic and classy sunglasses will be perfect for her, no matter the season.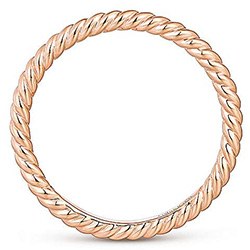 Beauty in simplicity is the perfect statement to describe this classic ring from Gabriel & Co. The timeless design presents an alluring twisted rope design that sits gracefully on the hand. Available in 14K rose gold, white gold, or yellow gold options to suit her taste, this pretty ring is perfect for stacking, or as an elegant standalone piece.
Anniversary Gifts For Her: Beauty
If she takes pride in her appearance and enjoys a bit of glam, then the best anniversary gifts for your wife are going to be beauty-centric! From surprise gift boxes to useful styling gadgets, she will truly appreciate these unique primping gifts.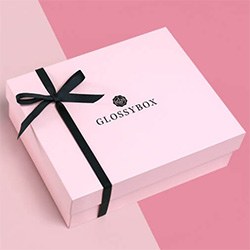 A creative anniversary gift for your wife or girlfriend is a gift that keeps giving each and every month. The Glossybox monthly subscription contains a unique selection of quality beauty products ranging from shampoos and perfumes to eyeliners and lip creams. Each case contains five special items which are carefully wrapped in a beautiful pink box and delivered straight to her door.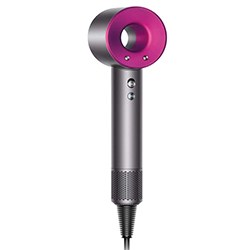 If you're after smart anniversary gifts for her, a quality hair dryer will give her a salon-like finish from the comfort of your home. The ultimate hair dryer, the Dyson Supersonic produces ultra-fast drying, while protecting her hair's natural shine by controlling air temperature to prevent heat damage. This iconic hair dryer comes with three magnetic Dyson attachments that smooth, concentrate, or disperse airflow, to achieve styling perfection for all hair types.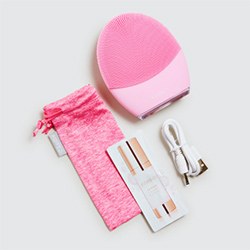 Made from silicone, this innovative skincare device will cleanse her skin, keeping her pores clean while delivering a firming facial massage. The Foreo Luna 3 is easier to use than a bristle brush alternative while being thirty-five times more hygienic. Featuring T-Sonic pulsation technology, the device effortlessly removes sweat, oil, and dirt, for superior deep cleansing of the pores.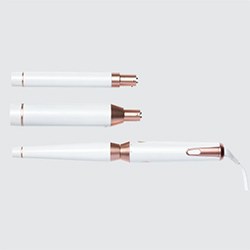 One of the best beauty anniversary gifts for her to effortlessly style her hair is this comprehensive curling wand set. Engineered with three cutting-edge and interchangeable barrels, the Whirl Trio features a ceramic surface that allows for smooth gliding and frizz-free styling. Including five adjustable heat settings for the perfect temperature balance and a convenient cool tip stand, the set also comes with a heat-resistant storage tote for easy portability.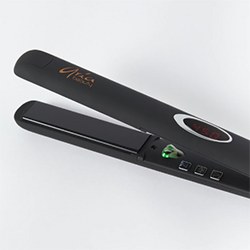 A highly practical and welcomed beauty gift for your wife, the Aria Beauty tourmaline hair straightener features a 1-inch size plate width, an ideal compact size for travel. The dual-voltage straightener uses deep and clean infrared heat to protect hair as it straightens. A handy little tool to have while on the go, the Aria Beauty will quickly and easily remove static and frizz and is suitable for all hair types.
Anniversary Gifts For Her: Home & Decor
Searching for the best anniversary gifts for your wife who enjoys entertaining and takes pride in your home? From unique and useful gadgets to stylish decor accents, these creative and beautiful gifts for your home will be welcomed by you both!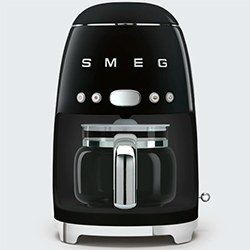 If brewing a fresh cup is part of her morning routine, this retro-inspired coffee maker is a great alternative to an espresso-style unit. Available in four classic colors, the stylish Smeg drip filter coffee machine can brew up to ten cups, which can be kept warm for up to an hour using the keep-warm function. The filter and water tank are accessed via a lid on top of the unit, while the glass carafe sits comfortably within the belly of the machine. Other notable features of the Smeg Drip include a LED display, four cup function, programmable auto-start, and adjustable intensity setting.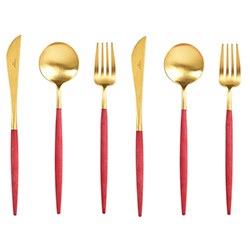 Elegant, vibrant, and unique in style, this cutlery set is the perfect addition to your romantic anniversary dinner. Handmade from matte stainless steel and resin, the artisanal designed Cutipol Goa cutlery set is both ergonomic and decoratively charming. The set contains two knives, two forks, and two spoons, which are perfectly weighted and exceptionally practical.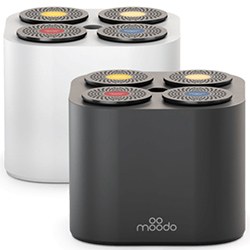 One of the most innovative anniversary gifts for her, the Moodo Smart Home aroma diffuser continuously fills the air with delightful scents using coffee pod-style capsules. Suitable for living rooms, bedrooms, and kitchens, the device is capable of producing up to sixty hours of fragrance per capsule! The Smartphone App will allow her to control fragrance intensity and also create unique custom fragrances by mixing different amounts of the four inserted scent pods.
If you're after a creative anniversary gift for a tech-savvy lady, the next idea will appeal to her interests and warm her heart. A contemporary twist to a single traditional "photo of us", the Nixplay Smart Picture Frame has modern romance written all over it. Easy to set up, connect, and mount, the smart device allows for continuous display of images and even videos of loved ones for her to always enjoy.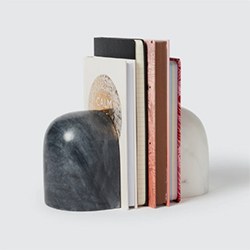 Add a touch of modern elegance to her bookshelf with a beautiful pair of quality bookends. Perfect for a bookworm happy to show off her collection, or equally eye-catching as a mantlepiece display, the Luru bookends are crafted from Black Indian Selvara marble and White Indian Banswara marble. Bold, natural, and sophisticated in style, the bookends feature a balanced color contrast that provides a soft balance to desks and shelving.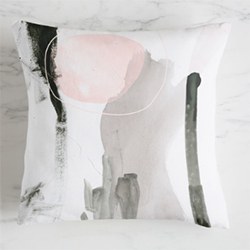 Are you searching for purposeful anniversary gifts for her that combine comfort and style? A unique gift that will accentuate her personal or living space is a stylish cushion. This beautiful cotton cushion features a modern design that combines brushed watercolor strokes with muted tones for a contemporary look. Perfect for adding a splash of color to her favorite couch or chair, this cushion can be gifted alone, or mix and match with coordination prints to gift as a set.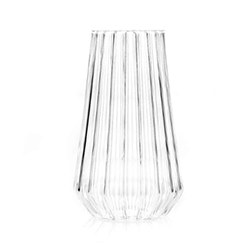 There are those luxury gifts for your wife that present timeless elegance and the Stella vase does just that. Crafted in the Czech Republic using durable borosilicate glass, the Stella vase accentuates any floral arrangement, whether it be a single stem or beautiful bouquet. This elegant vase will gracefully display her flowers for everyday use or formal settings.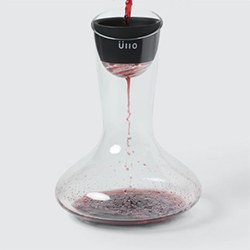 If you're looking for unique gifts for your wife or girlfriend, the next idea is perfect for a woman who appreciates a quality glass of wine. The elegant Ullo wine purifier and decanter is hand blown and made from quality lead-free crystal. Removing sulfites and aerating wines is this decanter's specialty, with features such as an adjustable aerator and Selective Sulfite Capture technology, allowing her to enjoy her favorites to the fullest.
While most of us have heard of
Sodastream
, the Aarke sparkling water maker is an elegant alternative that also puts fizz into drinks. A perfect anniversary gift for her to enjoy daily, the Aarke Carbonator II is great for creating healthy beverages and sweet delights. The cordless unit features a bottom loading carbonator, a drip tray, and a carbonating lever that adds just the right amount of bubbles to each bottle for her to enjoy.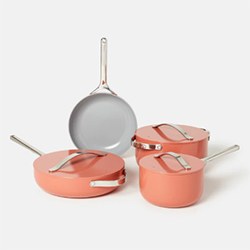 A quality cookware set is essential to every kitchen, and if she loves cooking, the next gift will be cherished for years to come. Available in three beautiful color options, the four-piece set includes a frying pan, sauté pan, dutch oven, and saucepan which feature an eco-friendly ceramic coating that holds heat more efficiently and evenly than any of her traditional pans. The Caraway Non-Stick ceramic cookware set is free from toxic materials such as Teflon, heavy metals, PFAs, and PFOA, and is oven safe up to 650 degrees.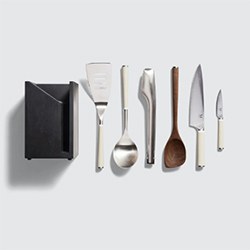 If chopping, flipping, and stirring are part of her daily routine, a quality set of kitchen utensils could be your anniversary answer. The Fundamentals seven-piece set has been designed with the utmost attention to detail and precision, featuring two razor-sharp Japanese cutting knives, stainless steel tongs, spatula, metal spoon, and an American walnut / European beech wooden spoon. The set sits comfortably inside a midnight black base which features plenty of storage to slot her new favorite tools.
Anniversary Gifts For Her: Gadgets & Tech
The best anniversary gifts for your wife who is tech-savvy are of course going to be the latest gadgets and tech. From the ultimate listening devices to those that offer therapeutic comfort, these cool electronics and accessories are bound to spike her interest!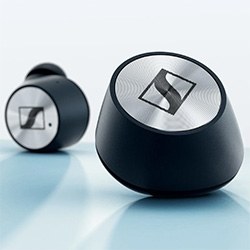 Whether for gym workouts, train journeys to work, or home entertainment, a pair of wireless earbuds provide a powerful listening experience in a small convenient package. The Sennheiser Momentum True Wireless 2 will fit comfortably into her ears without the restriction of the bulky cups and headband presented in over the ear headphones. These beautiful discrete earbuds feature up to eighteen hours of playtime, active noise-canceling functionality, and a rich crisp sound that facilitates easy listening. The Smart Control App allows her to conveniently pair the earbuds and customize her experience via EQ control and transparent hearing. In addition to a pair of Momentum True Wireless 2 earbuds, she will find a durable charging case, four silicone ear adapter sets, and a USB-A to USB-C Charging Cable inside the box.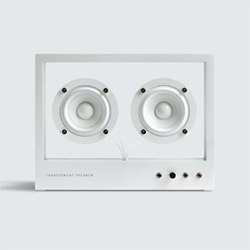 One of the more unique anniversary gifts for her, a home speaker can be both a decorative statement and functional apparatus. This small Transparent Sound speaker is constructed from premium hardened glass and aluminum, providing a powerful sound in a sustainable casing. Stripped to the bare essentials, the speaker automatically detects broken parts, alerting her to required updates and replacements. With a focus on sustainability, this speaker is not only an audible treat but an environmentally conscious accent that's perfect for any home.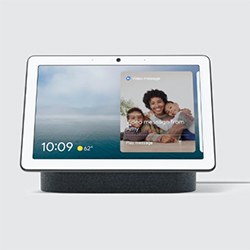 The ultimate gift idea for a tech-savvy woman, the Google Nest Hub Max enables her to make video calls, leave messages, and check-in on the home while she's away. A step up from the Google Nest Hub, the Max version features a ten-inch display, front camera, and high-quality speakers. The smart speaker contains stereo speakers on the front and a three-inch woofer on the rear, producing a rich crisp sound that rivals the Google Home Max. Suitable for large desk spaces and benchtops, the device is not only great for listening to the audio, but also displaying her favorite photos.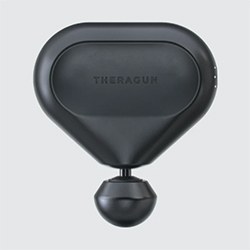 A useful and unique gift for your wife this anniversary is a mini massager that's compact and lightweight, yet powerful enough for deep tissue therapy. The Theragun Mini provides percussive therapy on the go, comfortably packing into her sports bag or handbag. Featuring three operational speeds, the massage relieves pain, improves sports performance, and accelerates muscle recovery.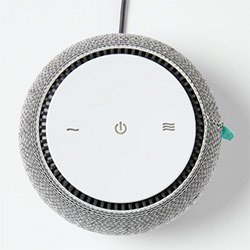 If she has trouble falling asleep at home or on the road, a thoughtful anniversary gift for her is a modern sound machine. Designed by experts in the field, the Snooz white noise sound machine features an internal fan, tone control, and two volume control buttons. Whilst most sound machines use recordings for white noise, the Snooze uses a real fan to create an authentic and calming sound. Wrapped in an elegant cloud design, the Snooze connects to an app that will allow her additional control and customization.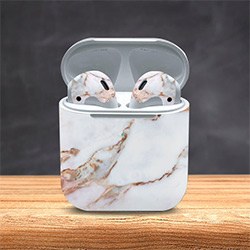 If you're after creative anniversary gifts for her to spruce up her gadgets, you can't go past a decorative skin. Designed using eco-friendly vinyl and non-toxic paint, this AirPods case and pods wrap is the perfect addition to accessorize her set. Presenting a beautiful soft marble design, the full decal wrap is also available in a range of other artistic and vibrant options, allowing her to personalize her accessories to suit her style.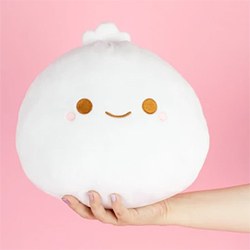 A cute little companion to keep her warm, this toasty plush toy will make a unique anniversary gift for your wife. Featuring an adorable, plump dumpling, the cuddly toy also includes a removable flaxseed pouch to heat up in the microwave. Once warmed, the pouch exudes a calming lavender scent and when reinserted, makes this charming dumpling a warm delight to snuggle into.
Anniversary Gifts For Her: Utility
Sometimes what turns out to be the best anniversary gifts for your wife are not always the most obvious! The following presents for her offer the perfect combination of practicality and style. From a giant beanbag for hours of lounging comfort to the perfect accessories for outdoor adventures, she will be sure to welcome these highly purposeful gifts with open arms.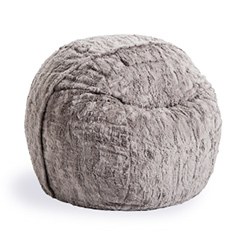 Comfortably lounging in front of the TV, or quietly reading in her personal space, this modern take on a classic comfy chair is sure to be a wonderful anniversary surprise! A creative and unique gift for your wife or girlfriend, the Lovesac Citysac beanbag is filled with premium shredded durafoam which amazingly maintains its integrity over time for the perfect molded fit. With such a wide variety of bag cover options, the Citysac will seamlessly blend into any home or living space.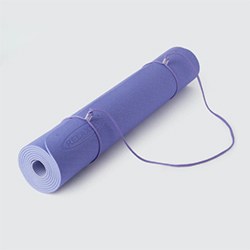 Whether she's a yoga master or amateur at the beginning of her journey, the next idea will make the perfect anniversary gift for her. The Relaxus Yoga Eco Mat is an environmentally-friendly exercise mat that provides superior grip, while effectively supporting and cushioning her back, feet, and knees. Available in two vibrant colors, the Eco Mat is the companion she needs for home sessions or studio classes.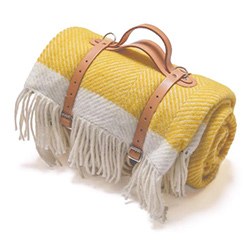 While it may not be one of the more conventional romantic anniversary gifts for her, this beautiful woolen blanket is a charming gift that you can both enjoy. This stylish wool herringbone picnic blanket is a wonderful gift for weekend getaways in the great outdoors. Designed with both style and comfort in mind, the blanket is made from soft and cozy British wool, complemented with a waterproof backing and sturdy carry straps for easy transportation. Versatile, washable, and perfect for picnics in the woods or lazy beach days, this blanket will soon become essential for all your future adventures.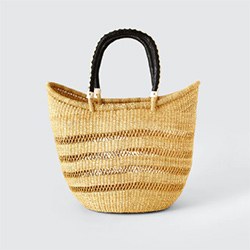 The perfect accessory to accompany her on outdoor adventures, this lace straw basket offers functionality with a unique style. Handwoven exclusively by indigenous women in Northern Ghana, Africa, this beautiful Bolga basket is a one-of-a-kind piece she will be proud to own. Made from all-natural lace straw, this savanna-inspired basket will be just as perfect for toting her groceries, as it is for storing her accessories when on the go.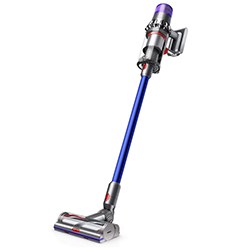 The final idea on our anniversary gifts for her list is a vital household utility that keeps floors and carpets spotlessly clean. An industry leader in home appliances, the Dyson V11 torque drive is one of the most powerful cordless vacuums on the market. Featuring superior suction, convenient drop-in docking, and a simple "point and shoot" emptying mechanism, the V11 torque drive is capable of capturing allergens and bacteria to leave your home without a trace of dirt.
Searching for more than the
 Best

Anniversary

Gifts For Your Wife or Girlfriend?
Check out some of our other great list for more awesome gift ideas.