Wini Gifts is supported by our readers. At no additional cost to you, we may earn a small commission from the purchases you make using our links.
Learn more
60th Birthday Gifts Ideas
From special keepsakes to purposeful utilities, we have put together an extensive collection of 60th birthday gift ideas to suit every personality. Whether it's elegant jewelry and beautiful keepsakes, practical gifts for the home, or handy travel accessories, our hand-picked selection of wonderful gifts for both women and men are bound to make them feel special as they celebrate this milestone.
Purposeful and stylish, the below 60th birthday gifts for her present a range of wonderful accessories and gadgets that she will adore. From an eye-catching one of a kind ring holder to the ultimate self mani-pedi set, these amazing utilities will be warmly welcomed.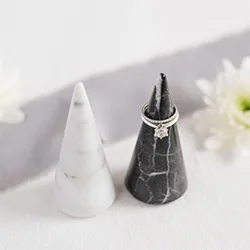 Effortlessly chic and stylish, this unique ring holder is a beautiful gift to surprise her for her 60th birthday. The handcrafted cone-shaped ring holder is shaped to perfection, made from the highest quality white Italian Carrara marble or black Nero Margiua marble and featuring a classic polished finish with a beautiful sheen. Perfectly packaged in a luxury gift box, this eye-catching ring holder will add a touch of modern elegance whilst holding her most treasured rings.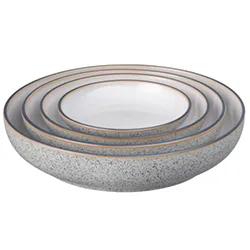 A beautiful and functional set of nesting bowls is the perfect gift for an avid cook or entertainer. This unique set contains 4 elegant bowls of varying sizes, each hand-crafted from high quality, locally sourced clay, and expertly glazed for enhanced durability. Conveniently oven, microwave, dishwasher, and freezer safe, these impressive serving bowls are ideal for a variety of foods for informal gatherings as well as special occasions.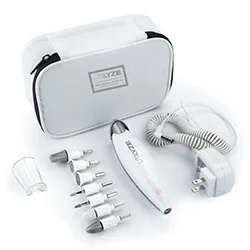 3. Manicure & Pedicure Set
If you're searching for practical and thoughtful 60th birthday gift ideas, this professional manicure and pedicure set is sure to get plenty of good use. The 10-in-1 electric set offers professional results to shape, buff, file, and shine nails, remove excess cuticles, and effectively smooth corns and calluses to create beautiful hands and feet! The unique device features an innovative touch control system for simple operation, including a precise built-in 10-speed motor system and handy carrying case for easy storage.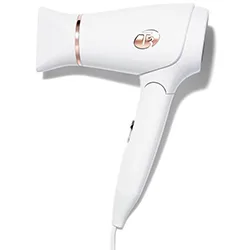 A highly practical and welcome gift particularly for travelers is this sleek compact hair dryer. The T3 Featherweight is a highly compact, ultra-lightweight folding hair dryer featuring Tourmaline SoftAire technology The unique system is perfect for rapid drying of large sections of hair without frizz, whilst also enhancing shine. Presented in an elegant white with rose gold detailing, this conveniently compact hair dryer packs a powerful punch for smooth high-speed drying.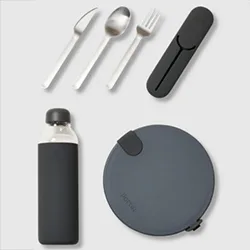 A wonderful eco-conscious gift for anyone on the move is this charming Eco Gift bundle. A versatile portable set to transition to the reusable, this comprehensive travel pack includes a sleek and durable porter plastic bowl, a porter utensil set featuring compact, stainless steel components, and a stylish and durable porter water bottle. Say goodbye to plastic and hello to stylish, everyday reusable utilities!
Searching for the most impressive 60th birthday gifts for her which all have that wow factor? From designer sunglasses or totes to the most stunning jewelry, the following handpicked selection of gifts are sure to take her breath away.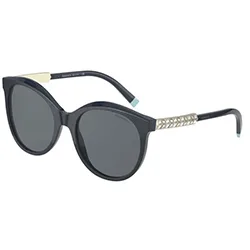 Stylish and sophisticated, these stunning sunglasses are a wonderful 60th birthday gift to let her know just how much she's appreciated. Luxury fashion retailer Tiffany & Co have created their own eyewear lines that carry the brand name synonymous with elegance and contemporary charm. Crafted with exceptional attention to detail, these beautiful cat-eye shaped sunglasses will provide optimum levels of protection whilst making an effortless, yet impactful statement.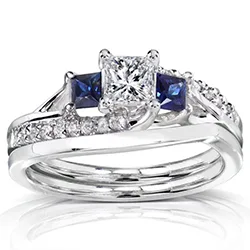 A very special gift for a very special lady, this stunning ring is bound to take her breath away. Featuring a delicate yet solid 14K white gold band, the unique design presents a series of beautiful smaller round diamonds, elegantly placed to gently lead your gaze towards a striking central masterpiece. Featuring an eye-catching princess cut diamond surrounded by vibrant blue sapphires on either side, this beautiful piece is the perfect surprise to commemorate her 60th birthday celebration.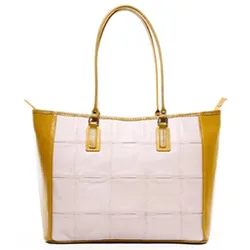 One of the most impressive and breathtaking 60th birthday gift ideas for her is undoubtedly this luxury tote from renowned brand Elvis & Kresse. A staple accessory with a twist, the Fire & Hide classic tote is handcrafted using the finest rescued leather, accentuated by signature decommissioned fire-hose, and finished with a beautiful reclaimed parachute silk lining. Designed to be held in the hand or carried over the shoulder, this striking and sophisticated tote is the perfect size to store everything she needs while out and about.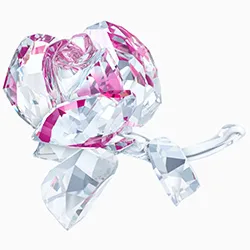 A beautiful keepsake for collectors and admirers alike is this striking rose ornament. The stunning Swarovski Blossoming Rose sparkles brilliantly in clear crystal with a pretty ruby-colored crystal center, offering tantalizing glimpses of color from different angles. This masterpiece has been expertly crafted with delicate facets to recreate a true-to-nature effect, representing a symbol of love, sensuality, and timelessness – the perfect gift to commemorate a special 60th birthday celebration.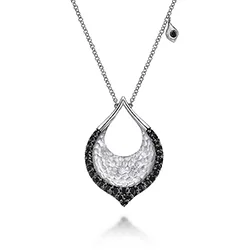 Feminine and bold, this gorgeous pendant necklace is a pretty and unique gift she is bound to fall in love with. Featuring hammered sterling silver rimmed with glossy black spinel, this daring necklace presents an alluring pear-shaped cutout that will stand out from the crowd. The 17-inch necklace includes a unique mini teardrop feature that will perfectly adorn the neckline and looks even more stunning paired with these gorgeous leverback teardrop earrings for a matching gift set.
When it comes to one of a kind 60th birthday gifts, some of the most unique gifting options can be found below. From unique lifelong keepsakes to beautiful and practical decor pieces, the following gifts for the home are bound to be received with enthusiasm.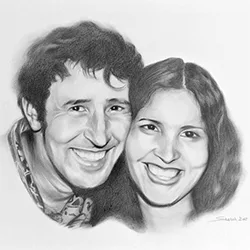 A sentimental gift and a wonderful keepsake for generations to come is a beautiful custom portrait. Expertly hand-drawn using the highest quality graphite pencils and premium art paper, each unique piece features a beautifully detailed sketch line drawing. Simply provide an individual or family photo of your desired recipient and the artist will produce a highly accurate professional portrait with high-quality details and shading. Available in a variety of sizing and formats, this unique personalized gift will arrive securely packaged, ready for framing and surprising someone special on their 60th.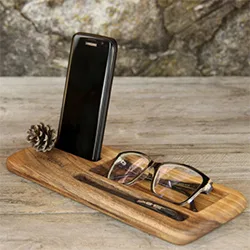 If you're searching for stylish and purposeful 60th birthday gift ideas, you can't go past a handy desk organizer. Handcrafted from premium walnut wood, this useful dock will neatly store all their useful accessories at hand. The beautiful organizer presents a compact stand, allowing minimum use of desk space, yet is large enough to store a phone, pen, sunglasses, or other small bits and bobs. This elegant dock includes unique personalization with their name or a logo and also offers a special gift wrapping option.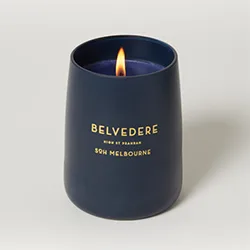 Indulge the senses with a luxurious candle from SoH Melbourne. Handmade in Australia, each candle is designed to be a natural reflection of the ingredients and the freshness and simplicity the brand associates with its country. Uncut Belvedere tobacco and rose come together for a sensual aroma that deserves burning with the lights down low and a drink in hand. Every candle is beautifully housed in a sophisticated navy matte glass vessel, each mouth-blown and exquisitely hand-painted.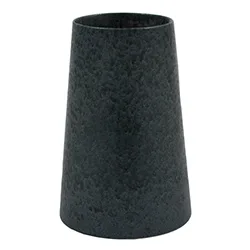 The eye-catching Aron Cone vase was inspired by Scandinavian design traditions and pottery making. A slightly textured hand-painted surface gives the ceramic, cone-shaped vase a vivid and highly unique character. This striking utility is perfect for small bouquets and branches and makes for a beautiful decorative object also when empty.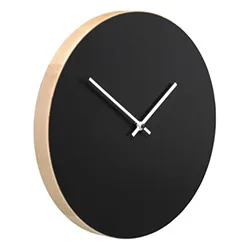 If you're after one of a kind 60th birthday gift ideas for a modern minimalist, then turn your gaze towards this unique and stylish clock. The Kiekko wall clock presents a simple clock face with sleek hands and a dark laminate surface, surrounded by soft natural birch edging. With high-quality German machinery that runs almost silent, this playful and minimalist clock also features a chalkboard paint coating and comes with white chalk, allowing complete customization of the clock with personalized decoration or even as a fun note board.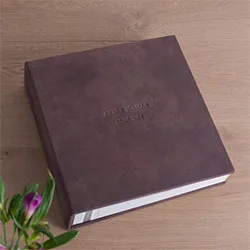 A beautiful memento and gift to securely house their many precious memories is a premium photo album. This luxurious album is expertly handmade from genuine Italian eco-leather and acid-free paper, each page containing a clear protector, to simply pull back and secure printed memories. Available in a wide selection of over 45 vintage, nubuck, nappa, and metallic leather finishes, the cover includes personalization options in elegant blind embossing, creating a wonderful keepsake they will cherish for years to come.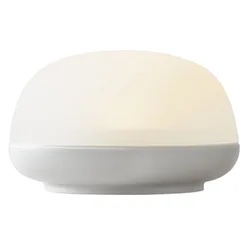 A unique gift for the home, this soft spot table lamp offers a lovely alternative to burning candles. Danish designed, the discrete lamp emits a gentle, flickering glow that creates a cozy ambiance in bedrooms or living rooms. Featuring adjustable light intensity to create the idyllic ambiance, this pretty table lamp is rechargeable via USB, lasting up to 18 hours at maximum intensity, and also features an automatic timer that shuts off after 6 hours.
The below section contains the best 60th birthday gifts for those interested in their health and wellbeing. From a handy smartwatch to promote staying active to the ultimate massage tool for relieving those niggling aches and pains, these amazing gifting options are the perfect ideas to encourage healthy bodies and minds.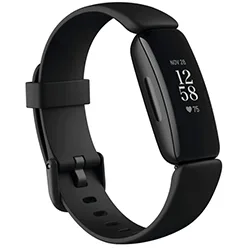 A gift to improve motivation and health, a fitness tracker is perfect for measuring activity and sleep. The Fitbit Inspire 2 tracks heart rate, steps, calories burned, and sleep quality along with sleep cycle stages. Battery life is an excellent ten days and its waterproof design means the lucky recipient will never have to take it off.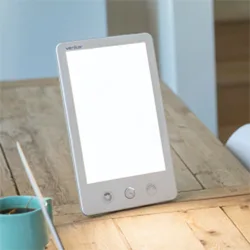 A gadget that simulates daylight without the nasty UV rays, HappyLight Luxe is the ray of sunshine that illuminates dark spaces. With natural light proven to help improve sleep, mood, and more, this tablet-like device safely mimics sunlight when natural light isn't abundantly available. Happy Light offers full-spectrum lighting with adjustable brightness and color temperatures that range from warm white to daylight.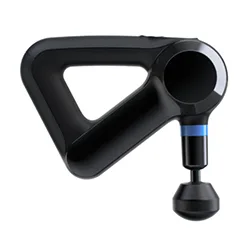 Elegant, powerful, and effective, Theragun Elite is the ultimate massage tool, featuring five-speed settings, two hours of battery life, and capable of delivering up to 30 lbs of force. This amazing percussive therapy massager is an ideal tool for relaxing tight muscles while reducing soreness and tension.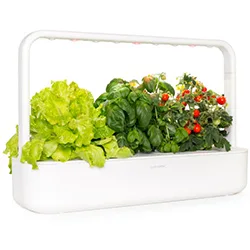 A 60th birthday gift idea for loved ones who lack the time, space, or experience to cultivate a large outdoor garden, Smart Garden 9 produces fresh herbs indoors without requiring hours of attention. Simply fill the water reservoir, insert plant pods, power up the unit, and Smart Garden does the rest. Pro grow lights ensure perfect light exposure, biodomes add a greenhouse effect for fast sprouting, and a large water reservoir ensures plants remain well watered for weeks on end.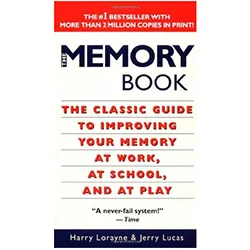 A very useful and practical gift for anyone about to turn the big 6-0 is this powerful and insightful mental resource. As the name suggests, The Memory Book is a classic guide to improving your memory at work, school, and at play. This simple guide for everyone presents a fail-safe memory system to master the power of our memory to become more effective, more imaginative, and more powerful at everything we set our mind to. Reading with speed and greater understanding, filing phone numbers and data right in your head, and learning foreign words and phrases with ease are just a few of the many tasks which you can master with this incredible learning resource.
Do they have a zest for innovation and technology? If so, the following creative 60th birthday gifts will be right up their alley! Whether it's a unique photo frame, an innovative diffuser, or a useful phone sterilizer, these amazing gadget gifts are bound to spike their interest.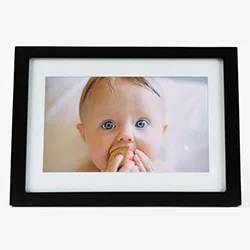 The modern way of displaying beautiful pictures of family and friends, a digital photo frame offers flexibility and convenience. Changing slideshow displays and adding new photos with the Skylight Frame is as simple as sending an email, with attachments of course. Using the touchscreen display, users can add and delete pictures from their gallery and are alerted every time a new photo is received. Photos can be viewed without a WiFi connection, ensuring loved ones are close by even when an active internet connection is not.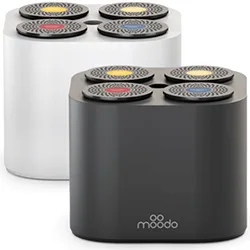 The smartest 2-in-1 apparatus for diffusing and purifying, the Moodo Air can be loaded with four scent capsules and fine-tuned to achieve alluring personal fragrances. A unique birthday gift idea, the innovative device is smart home compatible, fully controlled via a Smartphone app, and simple enough for anyone to use.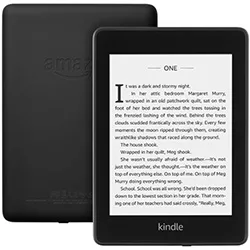 One of the best 60th birthday gift ideas for bookworms, the Kindle Paperwhite is an amazing reading tablet without the tiring glare of regular devices. Optimized for comfort in a wide variety of settings, the reader is lightweight, portable, and can even handle an accidental splash.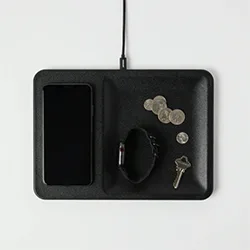 A charming gift idea for men and women alike, this charging pad and tray is available in stylish black and bone white options. The sleek leather pad and tray combo feature a beautiful pebble grain texture, offering blistering fast charging speeds and a decorative space to store keys and loose change.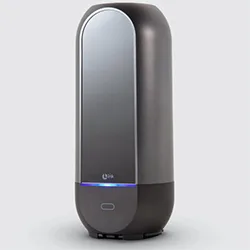 Say goodbye to lingering Smartphone microbes with the Link UV + Ozone phone sterilizer. Capable of eliminating 99.9% of bacteria, the device provides 360 degrees of sterilization, utilizing the power of UV-C light technology. The Link UV + Ozone features dual-band UV lamps, USB charging, and a speedy disinfection time of under seven minutes.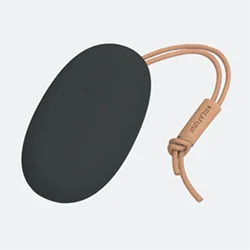 An essential companion for portable devices, a power bank is the perfect 60th birthday gift for her and him. Kreafunks' toCharge Mini is designed to both look and feel unique, opting for minimalistic elegance over a traditional tech gadget feel. The power bank is well suited to tablets and Smartphones, featuring a 3000 mAh lithium battery, anti-slip surface, and a recharge time of 2-3 hours.
A well-rounded camera for capturing lasting memories, the Panasonic Lumix features point and shoot functionality, suiting users of all levels. Capable of also capturing 4K video, the 18.1-megapixel camera features 60x zoom, a high-resolution viewfinder, and a crisp three-inch screen allowing snaps to be easily viewed.
Unique, thoughtful, and practical, this soft illuminating light is perfect for late-night reading sessions. Made in the image of a charming mini linen notebook, this smart book light emits 400 lumens of warm radiant light, providing visibility and a comforting ambiance to anyone in its vicinity. The book opens up 360 degrees and features a water-resistant construction and tear-proof soft touch papers.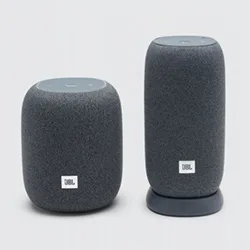 A birthday present for music enthusiasts and loved ones who could benefit from an audio upgrade, JBL Link portable speakers offer portability with up to eight hours of playback time. For at-home use, the speaker rests on a silicone charging dock, providing crisp highs and deep powerful bass. The device is suitable for streaming audiobooks, listening to music, and interacting with Google assistant for voice activation or a little helping hand.
If you're searching for unique and practical gifts for a 60 year old man, the below section contains a selection of handpicked gifts with purpose! From the ultimate all-purpose wallet to unique grooming essentials, these unique and useful gifts are sure to come in handy and be most appreciated.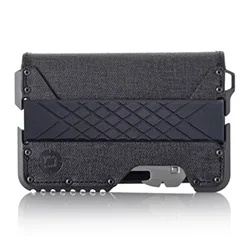 Best thought of as a fusion between a hard case wallet and a Swiss army knife, this daily accessory is the ultimate men's utility. Refined and practical, the Dango Tactical bi-fold wallet is packed with functionality; from its fourteen facet multi-tool to its RFID blocking capability. The wallet is constructed from aerospace-grade aluminum, holding up to seventeen cards, whilst protecting them from the elements.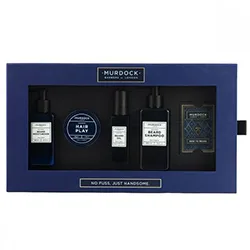 For the bushy-bearded man who takes pride in his appearance, an essential beard kit contains everything he needs to maintain, grow, and shape his facial hair. The beard shampoo retains natural oils, while the moisturizer softens and conditions. Beard oil ensures a radiant shine and the Hair Play putty is for sheen and a light hold. The final piece is the How To Beard guide which includes hacks and shaping advice from seasoned barbers.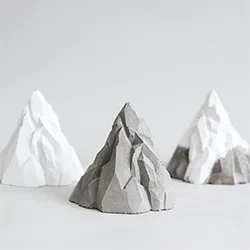 One of the most unique 60th birthday gift ideas for him, this eye-catching jewelry holder encapsulates the perfect synergy of bold beauty and practicality. Exquisitely constructed from 100% concrete, this stunning handmade piece is designed to proudly display his precious rings, bracelet, or watch. Available in 3 stylish finishes, the gorgeous mountain-shaped stand will be a statement piece for his jewelry and accessories.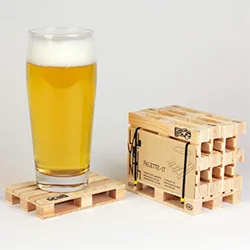 Finally, a decorative set every manly man can get behind, industrial and gritty, these palettes are shrunken down to hold his beer and wine. The innovative coaster set is constructed from recycled wood, containing four sturdy coasters suitable for hot and cold drinks. The only thing missing is a miniature forklift to pick up these tiny palettes and lift each drink to his lips.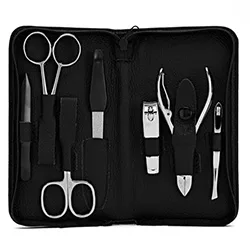 A hardy kit for maintaining his nails and facial hair, Murdock London's manicure set contains seven essential pieces, elegantly packed in a secure zip lock case. The handy set includes high-quality beard and nose scissors, nail clippers, nail nippers, a file, and a pair of tweezers.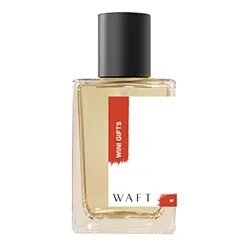 A wonderfully unique and personalized gift for his 60th birthday is his very own custom perfume. WAFT offers custom curation of perfumes to create a one of a kind scent that is completely unique to him. Select from an enticing range of high-quality natural ingredients, including unique personalization of the bottle label to gift a signature scent that will make a lasting impression.
The below section contains some of the best luxury gifts for a 60 year old man. From designer sunglasses to eye-catching accessories, these are the perfect gifts for a dapper gentleman.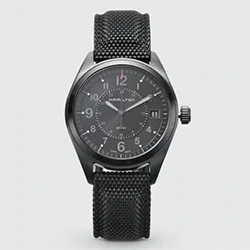 A modern and elegant timepiece by watchmaker Hamilton, the Khaki Field Quartz features an updated military design and 150ft water resistance. The all-black premium stainless steel design is complemented by a smooth pin buckle strap, allowing the lucky recipient to match with his formal attire and casual daily wear.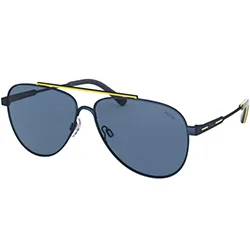 Sleek and sophisticated, these attractive men's sunglasses are the perfect accessory to complement his style. Inspired by the Polo Ralph Lauren clothing aesthetic the Polo eyewear collection captures the same refined, timeless sensibility of the brand. These stylish aviator frame sunglasses feature a semi-shiny navy blue and yellow design paired with stunning dark blue lenses that embody authentic, lasting style.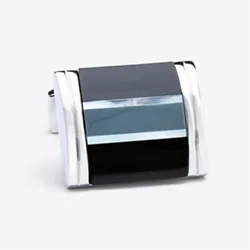 If you're after luxury in a small package, a fitting 60th birthday gift idea for men is a fashionable set of cufflinks. Rhodium-plated, these elegant rectangular striped cufflinks contain pearl and enamel inserts and come packaged in a stamped Bugatchi gift box.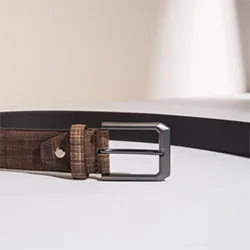 Dark and stylish, this unique men's leather belt oozes charm and finesse. Made in Italy, the contemporary style belt features an elegant textured pattern printed on 100% genuine suede and finished with bold metal alloy hardware that perfectly complements this sophisticated piece.
If you're stuck for new and unique 60th birthday gifts for your family and friends, it's hard to go wrong with gifts surrounding food and beverage! Whether they're foodies, coffee aficionados, wine connoisseurs, or all of the above, the below amazing gadgets and enticing gift packs are bound to satisfy.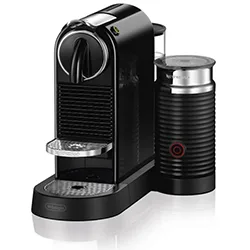 For ladies and gentlemen who prefer barista-style lattes over instant coffee, a coffee machine is a gift that adds extra motivation to get out of bed each morning. The DeLonghi Nespresso bundle consists of a high-performance unit and an Aeroccino machine that produces a delicious frothy finish. Featuring adjustable cup sizes, a speedy heat-up system, and a removable water reservoir, the DeLonghi Nespresso machine produces a perfect cup each and every time.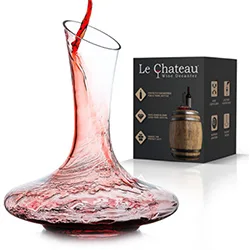 Enhance the flavor and aroma of any bottle of red with a modern elegant decanter. Le Château crystal decanter maximizes aération, allowing the wine to breathe in its large flat reservoir. The hand-blown carafe is engineered to suit 750ml bottles and features an easy pour spout that eliminates spills or drips.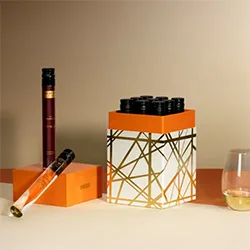 One of the best 60th birthday gift ideas for those who appreciate quality wines is this unique wine subscription. Featuring a delightful assortment of reds, whites, and rosé, The Vinebox quarterly wine club delivers nine of the season's best wines, each bottled in an elegant glass tube. Perfectly packaged in single glass servings, cases contain an enticing selection of both trending and vintage cellar releases.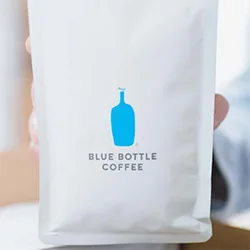 The perfect gift for coffee aficionados doesn't get much better than fresh coffee delivered straight to their door! A Blue Bottle Coffee subscription offers a unique gifting option, delivering their rich, bodied flavors on a weekly or monthly basis. Ensuring peak freshness and prompt shipping of coffee within just 24 hours of roasting, coffee selections include a choice of espresso, single-origin, and mouth-watering blends packaged in 6oz or 12oz bags.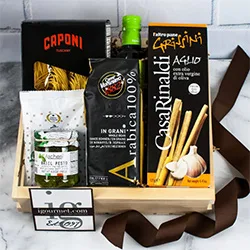 A tantalizing gift for the tastebuds, this mouth-watering Gourmet Italian Essentials crate will be welcomed with open arms! This delicious gift pack contains a carefully curated assortment of essential, authentic Italian foods. Featuring Caponi egg pasta from Tuscany, Ascheri basil pesto from Liguria, Taralli from Puglia, plus more, this generous gourmet set is presented as an attractive colorful assortment within a lovely hand-assembled wooden crate and finished with an elegant dark brown ribbon ready for gifting.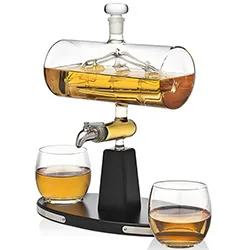 Sophisticated whiskey storage with quick access, this charming set comes with a 33oz decanter, two bold whiskey glasses, a wooden tray, and a tap to help get drinks flowing. A striking bar and benchtop piece, the antique ship whiskey decanter is a perfect 60th birthday gift idea for men with a taste for classic design and fine liquor.
A modern minimalist kettle for all their boiling needs, the Fellow Stagg EKG not only aids in crafting a perfect tea or coffee, it looks stunning in the process. The electric kettle is available in an assortment of stunning colors ranging from matte black, to warm pink, and even polished copper. This amazing contemporary style kettle offers variable temperature controls, temperature hold, and unrivaled pouring precision to ensure there are no spills.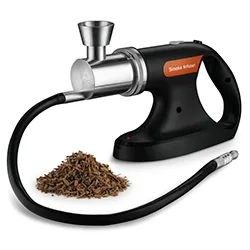 After a 60th gift that's truly unique? This innovative gun infuses food and beverages with a smoky flavor that elevates every dining experience. Perfect for meats, vegetables, and cocktails, the cold smoking gun is fun, easy to operate, portable, and controlled by a single button.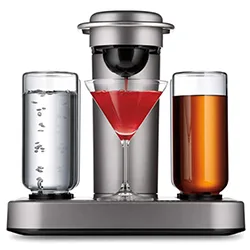 A push-button mixologist that crafts delicious margaritas, the Bartisian cocktail machine mixes quality drinks from the comfort of home. A unique premium gift for 60 year old men and women, the intelligent cocktail maker operates in a similar way to coffee machines. Spirits are pre-poured into its four external reservoirs while water is poured into the rear reservoir. When it's time for a drink, simply insert the desired cocktail capsule, select the preferred strength, and ensure there's a chilled glass waiting underneath.
If they enjoy the great outdoors and new experiences, the following unique 60th birthday gifts will perfectly suit their lifestyle and interests. From a luxurious picnic blanket to the ultimate in portable accessories, these special purposeful gifts will be much appreciated whilst on their many adventures.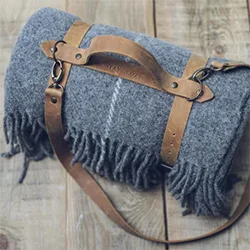 A cozy gift perfect for lazy days at the beach or special weekend getaways, this gorgeous woolen throw blanket will make a wonderful birthday gift for those who enjoy being out and about. Handmade in Europe, this charming and inviting blanket is made from 100% soft sheep's wool and includes a comfortable leather handle strap to carry in hand, on the shoulder, or across the body. Available in a beautiful selection of colors and classic patterns, this delightful woolen blanket also has the option to customize the leather handle strap for a truly personalized gift.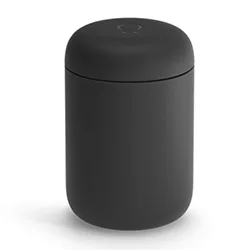 Named the Everywhere Mug for a reason, this exceptional modern travel tumbler offers much more than merely heat retention. Elegant in appearance and thoughtful in function, the Fellow mug places emphasis on aroma and the sipping experience. Its ceramic coating reduces odors and oils, while the leak-proof seal ensures the inside of bags and cases always remain dry.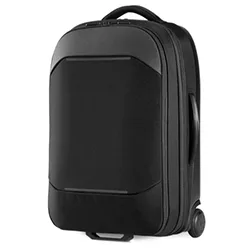 A fundamental accessory for boarding a flight, the Navigator carry-on offers outstanding organization and tamper-proof zippers. One of the most practical 60th birthday gift ideas for jet setters, this hard-cased carry on is crafted for securely transporting clothing and tech. The thirty-seven-liter case features an RFID safe pocket, seven-liter expansion, and a three-stage aluminum handle to help make use of its steady wheels.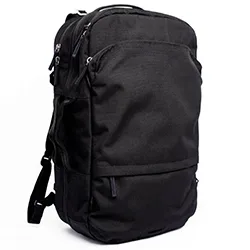 Intelligent packing on the go, this backpack was designed with the help of seasoned travelers, to craft the perfect pack. The imaginative Pakt travel backpack is not your ordinary bag, utilizing a unique zip around design with dual compartments. Backed by a lifetime guarantee, packing for trips is effortless, whether it be weekends away or overseas flights.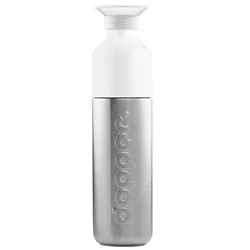 An intelligent and practical 60th birthday gift idea, the Dopper drinking bottle presents in charismatic fashion, while saving the planet by reducing plastic consumption. The bottles are available in a myriad of stylish color schemes and vary in size from 12oz to 27oz capacity.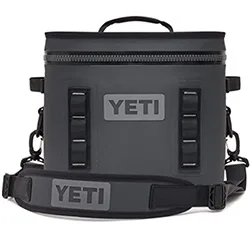 Ideal for outdoor adventurers, this gift idea is for securing food and drinks while keeping contents icy cold. Yeti's Hopper flip excels at retaining temperature while providing structural integrity and a waterproof seal. A great camping, boating, and beachside companion, this portable cooler is available in over twenty different colors.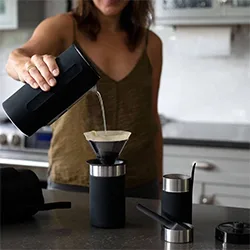 A gift for people who enjoy a quality brew while traveling, this coffee companion alleviates the need for a Nespresso machine when staying at a hotel or B&B. The Pakt Coffee Kit bundles all the parts needed for a fresh pour-over coffee, in a small and secure package. The versatile six-piece set contains a kettle, travel mug, dripper, coffee grounds container, coffee scoop, and reusable mesh, so all they need is power and water for a steaming hot cup wherever they stay.
Searching for more than 60th Birthday Gifts Ideas Check out some of our other great list for more awesome gift ideas.